Registration is for Yachts only.
If you wish to recieve updates from a yacht go to their yacht page and select the subscriptions tab beneath the map.
Step 1 Register
Using the Apps (easiest):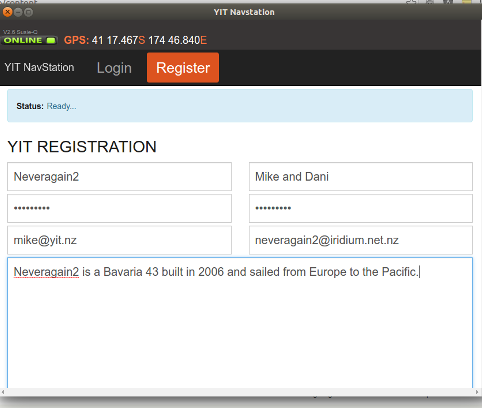 Download one or all of the apps below. Mobile has a small cost due to the costs associated with releasing on those platforms. The Chrome desktop App is free. They are exactly the same Apps, and all can register your boat with ease.



or by email:
IMPORTANT: This must follow the exact format as per the example below substituting your own details.
Email: register@yit.co.nz
Subject: Your boat name
In the email text body write:
[register]
password: hondaXR250 (choose something you will remember!)
Your radio call sign ie ZM2721
 
A description of your boat ie
Mirabilis is a flush deck, monohull steel yacht with a sloop rig. She was built in Whangerei in 1987 and lived most of her life in the Nelson NZ area. She ventured to the islands for the first time last year (2012) and performed extremely well. Her current owners...
This information will appear on your YIT boat page and maybe edited or updated anytime you wish.
Step 2 Submit essential information
After registering, log in to the website and you will be taken to your yacht page and then add the following essential details along with anything else you would like Gulf Harbour Radio to know by clicking on the "Yacht, crew and emergency info" link under the "Your yacht" block on the right hand side. If you are going to use GHR, you MUST provide this information as it is a big task keeping track of so many yachts and this makes David and Patricia's lives a lot easier. Not a big ask for such a great voluntary service.
Crew names
Length and type of boat e.g. 36ft steel monohull
Call sign (this is a legal requirement)
Emergency contact details
Season intentions (a very brief outline of where you will be for the season)
Step 3 Get Started
That's it, you are now a YITster with your own yacht page and ready to start using YIT. To start sending or requesting information either launch the app, or if you are using email, refer to the Email User Guide to performing key tasks. If you wish to know about anything in more detail, look at the full printable Help Page.
IMPORTANT NOTE: It is essential that in all emails you type the commands exactly as per the examples including any square brackets and substitute your own details. Without these commands YIT will be unable to process your email correctly.
Hot tip: You can use the YIT app to generate the correct text with commands to simply paste into an email so is a great tool even when you are at sea and away from internet.
Enjoy!