Ambler 2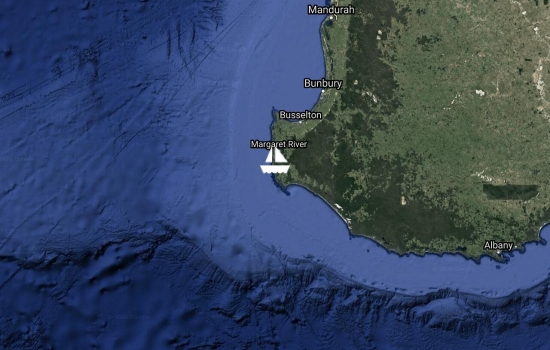 Sun Mar 8 13:51 2020 NZDT
Speed:
At anchor
knts
GPS: 34 12.77S 115 01.55E
Run: 1192.6nm (2158.6km)
Avg: 5.5knts
24hr: 132.4nm
Weather: light SE forecast to pick up during the day
Greetings from Hamelin Bay, where Ambler is riding at anchor whilst en route to Bussleton W.A. Tom, a young friend from Perth ( all 6 feet four inches of him), joined the boat for a couple of days as replacement crew for Peter and Gary who journeyed back to Adelaide yesterday, farewelled from Augusta and who have been great company.

Judging by the number of people on the beach here, Hamelin Bay is quite a tourist destination, due it seems, to the rugged beauty of the area but also the number of stingrays which swim in the shallows within a few metres of the beach.

Sailing, since our last report, has involved a fast, downwind slide from Albany to Augusta and a short trip, mainly under power, around the reefs of Cape Leeuwin to the current anchorage.

Forecast for today is favourable and we aim to stop again at Quindelup, about 10 miles east of Cape Naturaliste, before moving on to the Bussleton Marina.

Have been surviving on fresh seafood, squid caught last night and a Bluefin Tuna which converted to meals of sashimi and steaks.

All well.

Jim and Tom Sent from my iPad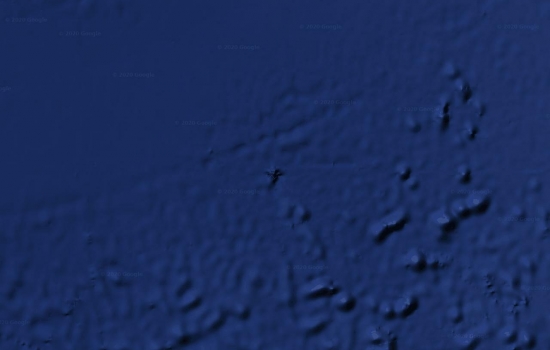 Wed Mar 4 20:00 2020 NZDT
Speed:
8.5 knots
knts
At the time of writing Ambler is fast closing in on her current destination of Albany with only 100 miles left to go. We intend staying overnight before moving on to Augusta , which is situated just east of Cape Leeuwin. Augusta has a fairly new marina and we plan to stop another night there before day tripping around to Busselton, about 90 miles south of Perth. At Augusta Gary and Peter will probably leave the boat to meet commitments at home.

Since leaving Port Lincoln we?ve had a mixed bag of conditions with about 48 hours of motoring followed by a variety of off wind sailing conditions, all very acceptable to vessel and crew. The last 24 hours has been quite exhilarating with the spinnaker in action for most of the day followed by a downwind configuration of main and poled out jib for most of the night in a fresh N E breeze.

All well on board and no incidents apart from a couple of bowls of stew which decided to upturn on the galley bench at the time of serving. Looking forward to a beer at the Albany pub later today.

Cheers for now, Jim, Peter and Gary Sent from my iPad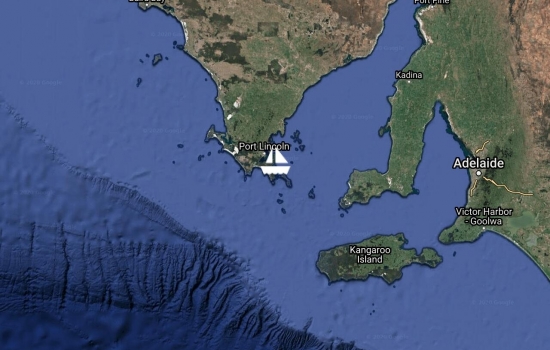 Fri Feb 28 13:42 2020 NZDT
Speed:
6.5
knts
GPS: 34 57.17S 136 00.16E
Run: 79.8nm (144.4km)
Avg: 29knts
24hr: 696.4nm
Hi all, We departed Port Lincoln Marina at 0700 hours this morning after loading diesel fuel AND after a fairly hectic and somewhat nerve wracking, couple of days of maintenance and preparation, tied up in the marina, next to Cookie, in her beautifully maintained Island Packet yacht, Island Pearl.

A potentially major issue arose when we went to lift the anchor after our last fishing stop on Tuesday at which time and quite fortuitously in retrospect, the anchor winch failed. We managed to retrieve the anchor using one of the jib sheet winches to assist. At this point we had stayed the previous night in West Bay on Wedge Is and had a reasonable haul of whiting, flathead and squid on board after working our way along the coast of Thistle Is. during the day. Some of these have now been consumed but we have a couple of seafood meals in the freezer for our trip across the Bight.

But back to the winch.

Our best hope was that the winch would prove to be repairable in Port Lincoln without the need to fly in parts such as a new gearbox or motor. Thankfully the diagnosis turned out to be a failed bearing which was available locally for the princely sum of $19.

With some hard work by Gary and Peter and great service by a local auto electrician we were able to demount, disassemble and then reassemble the winch which is now working a treat. I should add that our stay was not all work as we had a couple of great nights out with old friends. The marina was also abuzz with yachts and crew who were participating in the Lincoln Week regatta.

Currently working our way south, under motor, past Memory Cove towards our turning point at Cape Catastrophe when, hopefully there will be enough wind for us to set sail.

Forecast for the next few days is looking pretty good at this stage and Ambler is well victualled.

Jim (still scribing) Peter and Gary Sent from my iPad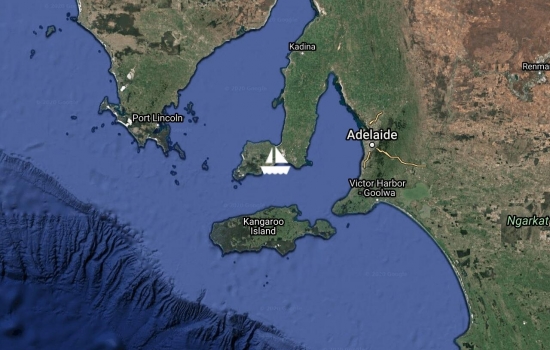 Fri Feb 28 10:57 2020 NZDT
GPS: 35 14.90S 137 22.02E
Run: 622.3nm (1126.4km)
Family and friends, Well.....after much planning and preparation we are finally away on the first leg of the next adventure of Ambler 2.

We departed Marina Adelaide shortly after 0600 hours this morning in calm conditions and motored most of the way to our turning point, near Edithburgh, before our current sailing breeze set in.

On board are two new crew members, Gary and Peter and me, skipper and scribe (until this task can be reassigned). It?s early days but no complaints received thus far and for three fellows who have never sailed together before we seem to be getting on with each other very well.

The ultimate destination for 2020 is Cape Town S A but at present we are on a beam reach, with 12 knots of wind, heading west along the foot of York Peninsula, in ideal sailing conditions at 6 knots speed over ground.

Our immediate objective is to arrive Port Lincoln by tomorrow evening for some additional scheduled maintenance and to provision for our Bight crossing and to then move on Friday 28/2.

We plan to stop, later this evening, at Wedge Is and then at Thistle Is tomorrow for a while before sailing on to Port Lincoln Marina. The prospect of catching a few fish at either of the islands, is appealing! Cheers for now, Jim Sent from my iPad
No blogs available for this yacht.
Loading map and updates ....
Loading track, please wait ....