Ambler 2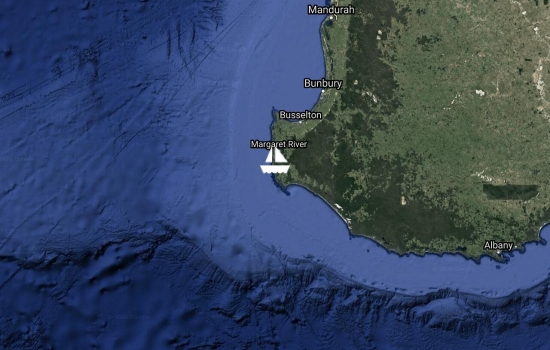 Sun Mar 8 13:51 2020 NZDT
Speed:
At anchor
knts
GPS: 34 12.77S 115 01.55E
Run: 1192.6nm (2158.6km)
Avg: 5.5knts
24hr: 132.4nm
Weather: light SE forecast to pick up during the day
Greetings from Hamelin Bay, where Ambler is riding at anchor whilst en route to Bussleton W.A. Tom, a young friend from Perth ( all 6 feet four inches of him), joined the boat for a couple of days as replacement crew for Peter and Gary who journeyed back to Adelaide yesterday, farewelled from Augusta and who have been great company.

Judging by the number of people on the beach here, Hamelin Bay is quite a tourist destination, due it seems, to the rugged beauty of the area but also the number of stingrays which swim in the shallows within a few metres of the beach.

Sailing, since our last report, has involved a fast, downwind slide from Albany to Augusta and a short trip, mainly under power, around the reefs of Cape Leeuwin to the current anchorage.

Forecast for today is favourable and we aim to stop again at Quindelup, about 10 miles east of Cape Naturaliste, before moving on to the Bussleton Marina.

Have been surviving on fresh seafood, squid caught last night and a Bluefin Tuna which converted to meals of sashimi and steaks.

All well.

Jim and Tom Sent from my iPad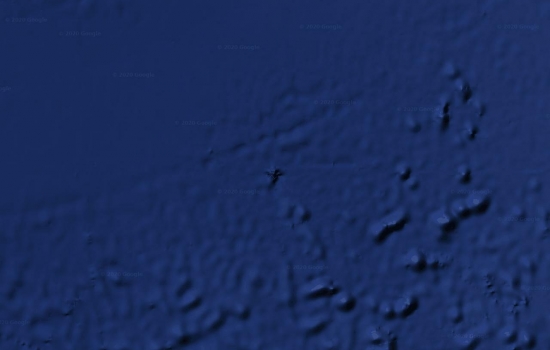 Wed Mar 4 20:00 2020 NZDT
Speed:
8.5 knots
knts
At the time of writing Ambler is fast closing in on her current destination of Albany with only 100 miles left to go. We intend staying overnight before moving on to Augusta , which is situated just east of Cape Leeuwin. Augusta has a fairly new marina and we plan to stop another night there before day tripping around to Busselton, about 90 miles south of Perth. At Augusta Gary and Peter will probably leave the boat to meet commitments at home.

Since leaving Port Lincoln we?ve had a mixed bag of conditions with about 48 hours of motoring followed by a variety of off wind sailing conditions, all very acceptable to vessel and crew. The last 24 hours has been quite exhilarating with the spinnaker in action for most of the day followed by a downwind configuration of main and poled out jib for most of the night in a fresh N E breeze.

All well on board and no incidents apart from a couple of bowls of stew which decided to upturn on the galley bench at the time of serving. Looking forward to a beer at the Albany pub later today.

Cheers for now, Jim, Peter and Gary Sent from my iPad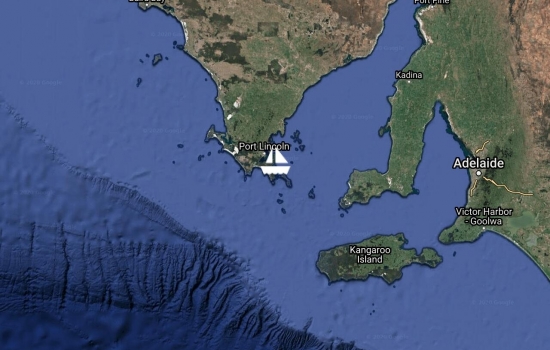 Fri Feb 28 13:42 2020 NZDT
Speed:
6.5
knts
GPS: 34 57.17S 136 00.16E
Run: 79.8nm (144.4km)
Avg: 29knts
24hr: 696.4nm
Hi all, We departed Port Lincoln Marina at 0700 hours this morning after loading diesel fuel AND after a fairly hectic and somewhat nerve wracking, couple of days of maintenance and preparation, tied up in the marina, next to Cookie, in her beautifully maintained Island Packet yacht, Island Pearl.

A potentially major issue arose when we went to lift the anchor after our last fishing stop on Tuesday at which time and quite fortuitously in retrospect, the anchor winch failed. We managed to retrieve the anchor using one of the jib sheet winches to assist. At this point we had stayed the previous night in West Bay on Wedge Is and had a reasonable haul of whiting, flathead and squid on board after working our way along the coast of Thistle Is. during the day. Some of these have now been consumed but we have a couple of seafood meals in the freezer for our trip across the Bight.

But back to the winch.

Our best hope was that the winch would prove to be repairable in Port Lincoln without the need to fly in parts such as a new gearbox or motor. Thankfully the diagnosis turned out to be a failed bearing which was available locally for the princely sum of $19.

With some hard work by Gary and Peter and great service by a local auto electrician we were able to demount, disassemble and then reassemble the winch which is now working a treat. I should add that our stay was not all work as we had a couple of great nights out with old friends. The marina was also abuzz with yachts and crew who were participating in the Lincoln Week regatta.

Currently working our way south, under motor, past Memory Cove towards our turning point at Cape Catastrophe when, hopefully there will be enough wind for us to set sail.

Forecast for the next few days is looking pretty good at this stage and Ambler is well victualled.

Jim (still scribing) Peter and Gary Sent from my iPad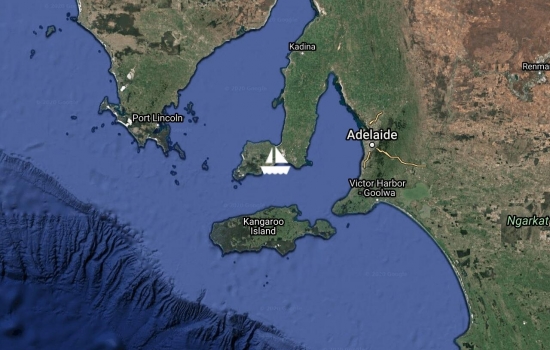 Fri Feb 28 10:57 2020 NZDT
GPS: 35 14.90S 137 22.02E
Run: 622.3nm (1126.4km)
Family and friends, Well.....after much planning and preparation we are finally away on the first leg of the next adventure of Ambler 2.

We departed Marina Adelaide shortly after 0600 hours this morning in calm conditions and motored most of the way to our turning point, near Edithburgh, before our current sailing breeze set in.

On board are two new crew members, Gary and Peter and me, skipper and scribe (until this task can be reassigned). It?s early days but no complaints received thus far and for three fellows who have never sailed together before we seem to be getting on with each other very well.

The ultimate destination for 2020 is Cape Town S A but at present we are on a beam reach, with 12 knots of wind, heading west along the foot of York Peninsula, in ideal sailing conditions at 6 knots speed over ground.

Our immediate objective is to arrive Port Lincoln by tomorrow evening for some additional scheduled maintenance and to provision for our Bight crossing and to then move on Friday 28/2.

We plan to stop, later this evening, at Wedge Is and then at Thistle Is tomorrow for a while before sailing on to Port Lincoln Marina. The prospect of catching a few fish at either of the islands, is appealing! Cheers for now, Jim Sent from my iPad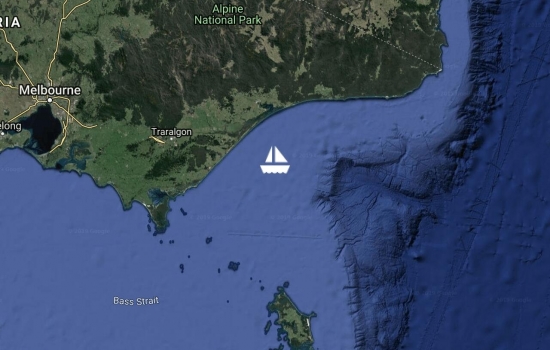 Wed Oct 2 8:33 2019 NZDT
GPS: 38 33.73s 147 50.71e
Run: 361.7nm (654.7km)
Avg: 4.1knts
24hr: 97.8nm
Hello all, Ambler is currently working her way through Bass Straight, having departed our mooring at Eden at 2130 hours last night. At present about 80 miles north east of our turning point at Wilson?s Promontory (in amongst the Bass Straight oil rigs) and hoping to make it to Portland or Port Fairy ahead of a predicted change on Thursday. Have had no wind of any significance thus far so the iron genoa is getting a good work out in calm, sunny, conditions.

Whales, Humpbacks we think, are in this area in abundance as they move along in their migration process.

All well on board. Graham is back in harness as ships poet so will leave you with his latest missive.

Jim(scribe), Graham and Tom I?ve got to tell you about this bird I met My god she was a beauty I was sitting in the cockpit It was my turn on watch duty The weather it was calm and clear I was lookin? out for whales When suddenly I saw her Just underneath the sails She was flying in straight for me On a pair of gorgeous wings I tell you her exquisite poise Just made my old heart sing She wheeled around right by me And settled on the water By geez I thought, what a sort Maybe I should court her So I did call out, not a shout Just to ask her up aboard But maybe she didn?t hear me Cause she spread out her wings and soared Well she made a couple of passes And we caught each other eyes Then that gorgeous albatross She flew off to other skies.

Sent from my iPad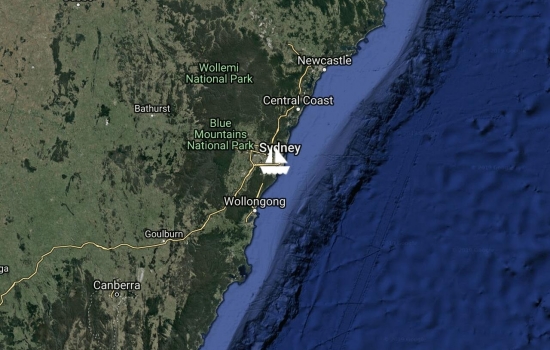 Sat Sep 28 14:48 2019 NZST
GPS: 34 03.33s 151 08.99e
Run: 107.7nm (194.9km)
Avg: 269.1knts
24hr: 6457.5nm
Skipper?s wife is back on board and enjoying some one on one time with her intrepid sailor husband.( Actually I?m incredibly proud of the old sea dog who looks younger than he did a year ago.) Arriving in Sydney airport I was chauffeured up the coast to pretty Port Stephens by Leroy and Janet who kindly delivered me to Nelson Bay Marina.

A pleasant Italian dinner was enjoyed with the Gordon?s , Bill who was farewelling the boat and some other friends.

Next day we anchored in picturesque Fame Cove and the following day commenced our journey south, only getting as far as Newcastle as winds did not arrive as expected. Bill met us for dinner at the yacht club and we continued down the coast to the Pittwater the following day, only just making our 1 pm luncheon booking having set sail at 4 am.

(The Sheppard offspring kindly gifted Jim a voucher at the Cottage Point Inn for his 70 th. The degustation delights were delicious and only a few steps back to Ambler resting gracefully on restaurant pontoon.) Next day sailed us into the beauty of Sydney Harbour where we anchored in Rose Bay ready for the scenic cruise under the Bridge the following day finishing off on anchor at Taronga zoo ( terribly muddy so a mooring next visit) Final day of my journey to Port Hacking in sunshine but under motor then an evening trip on land to Opera House for West Side Story.

Father and son, Graham ( of fame as ships poet) and Tom arriving Thursday 26 th to return Ambler home .

Libby xx Sent from my iPad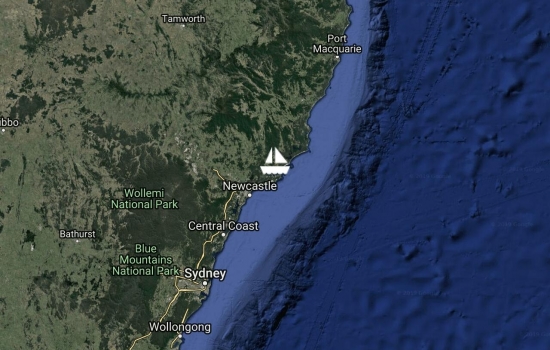 Sat Sep 28 14:24 2019 NZST
GPS: 32 43.03s 152 06.32e
Run: 506.5nm (916.8km)
Just a brief note to say that we arrived in Coffs Harbour early on the 16th and after clearing in to the country enjoyed a couple of days in their seriously upgraded marina.

The clearance process was easy and only involved two members of the ABF who ?multi tasked? all aspect of the process ( ie Customs, Quarantine and Immigration).

Mike was able to leave Ambler in good time to catch a flight home.

Bill and I set off for Port Stephens late in the day on Monday, under motor, after waiting in vain for a forecast change in wind direction. The northerly eventually arrived around 2300 hours and we enjoyed good sailing the rest of the way to Port Stephens, berthing in the d?Albora Marina around 1600 where we were joined by Libby who had been kindly transported from Sydney airport by Leroy and Janet who were, coincidentally, returning to their Port Stephens home.

Sent from my iPad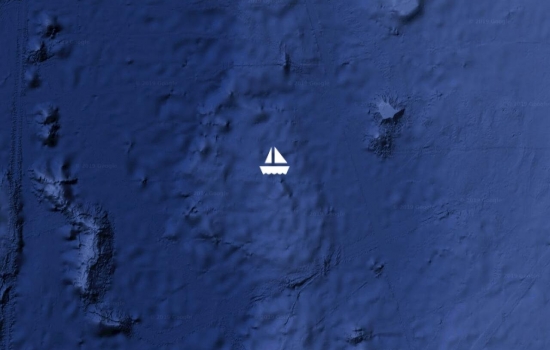 Sat Sep 14 11:00 2019 NZST
GPS: 27 26.09sS 157 58.8eE
Run: 638.9nm (1156.4km)
Avg: 3.8knts
24hr: 90.7nm
Ambler 11 is back on the waves, that is both air and sea waves. However, as seems so often to be the case HF radio is performing less than ideally and is probably due to atmospherics. VHF on the other hand is booming in from places as far away as Bundaberg and Tin Can Bay!

At the moment we are motoring on a course of 220 degrees and are about 040 degrees 295nm from Coffs Harbour.

Allow me to digress; Michele and Cathy flew home to Australia and left Jim, Mike, Murray and I to sail Ambler home to either Southport (Gold Coast) or Coffs Harbour (NSW) as our points of entry to home.

The weather in Noumea was unusual and we encountered a prolonged period of westerly winds which necessitated us delaying our departure until Wednesday 11 September.

However we were joined in Noumea, at Port Moselle, by our friends aboard Muse: Phil, Sarah, Ollie and Hannah the famed artisan baker who again presented the Skipper with one of her excellently crafted loaves, this time, together with the recipe (see image).

As we ran out of jobs to do Jim suggested we hire a car and explore the island of New Caledonia. Saturday we headed up the west coast, including a walk in a national park, to the capital of the North Province, Kone, where we stayed overnight at the excellent Hibiscus Hotel. The next day we drove north to Koumac and checked out the marina and sea snakes around the edges of the breakwater rocks! Then across the island for a drive down the very scenic north-east coast, across a river on a punt to lunch at Koulnoue Village Hotel, followed by another crossing of the central ranges back to Kone and returning to Noumea. Over 1000km for the weekend drive.

Unfortunately our delayed departure meant that Murray had to return to Australia to meet other commitments; our return crew shrunk then to three.

But, back to our sailing - we departed Noumea at 07:30am Wednesday 11 September for Coffs Harbour. Thus far we've had two days of good sailing on bumpy seas with the occasional rain shower and squall, and we are now into our second day of motoring in clear blue weather.

The only significant events have been two potentially, I repeat potentially, dangerous encounters with cargo ships. The first was about three o'clock yesterday afternoon when a freighter bound for NZ crossed our path at about 90 degrees. On that occasion we took the appropriate action and turned starboard to pass safely astern of the ship. This morning at about 08:15am we had a freighter heading from Australia to New Caledonia that was due to cross immediately in front of us at slightly less than a head-on angle. Again at a safe distance avoiding action was taken, this time by the ship, which turned starboard to pass behind us. The message here of course is "don't rely on the big sea theory" and think that upon this vast ocean one would be unlikely to find sea traffic conflict. Good lookout and seamanship with supporting alarm systems are essential.

At this stage we anticipate a mixed bag of motoring and sailing and we expect to be in Coffs Harbour Monday 16 September.

Australia looks very inviting.

Until we can again speak on the phone, we think of you all,

Regards from Jim, Mike and Bill(scribe).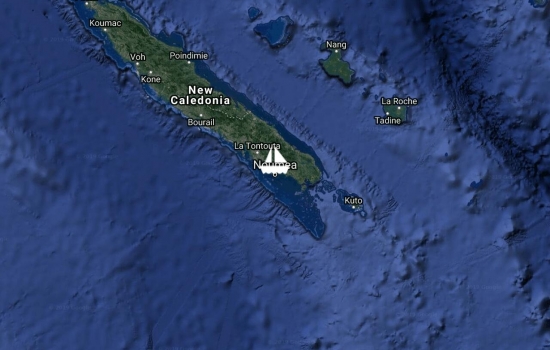 Sat Sep 7 10:00 2019 NZST
GPS: 22 16.603S 166 26.387E
Run: 285.1nm (516km)
Hi all,
Ambler II is now back in Port Moselle after a week cruising in the New Caledonia lagoon and we are now waiting for some favourable weather for the journey back to the Australian coast. We are currently readying the boat and preparing some meals for the freezer.
We were joined for the previous week by Mike, Murray and spouses (Michele and Cathy, who have now gone home). Mike and Murray are staying on as crew for the next leg.
Last week we made our way down to The Isle of Pines again, via anchorages at Maître and Mato and returned via Baie De Prony where we spent two nights on a mooring in the SE corner. Hired a car for a drive around Isle of Pines and climbed the hill up to the lighthouse and lookout on Prony
A highlight of this trip was the fairly substantial Wahoo ( also known as a Spanish Mackerel) that we managed to land and which converted to a meal plus Sashimi and Kokoda (pronounced Kokonda = delicious raw cubes marinated in lemon or lime juice and coconut milk). To everyone's delight we are eating very well.

Sent from my iPad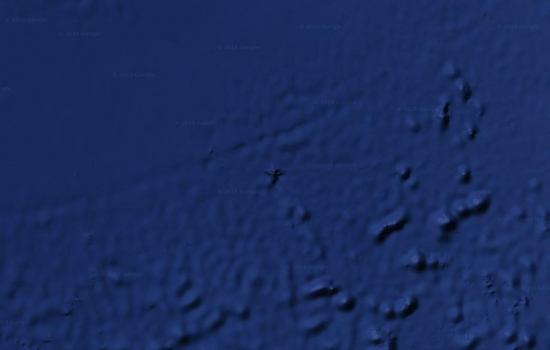 Thu Aug 22 9:45 2019 NZST
Weather: sky clear, sea calm
Hello folks As planned, last Thursday Jim and I went diving on the outer reef. The wind was from the south west at 15 knots, enough to make the sea choppy and, with us going into it at about 30 knots in an open boat, very uncomfortable. Bang, bang, for about 45 minutes, our knees were worn out and our bottoms were sore. Two boats with about twenty divers of varying experience. We now realised why this excursion was relatively cheap - it was spartan (back packer style) diving for young purists who like ?camping out?.

However once in the water we were at home and we had two dives; the first on the inside of the reef within sight of Amedee Island and the second was a drift dive through the main shipping channel to the outside of the reef. Features, apart from coral etc included some Grey(Nurse) sharks and a Manta Ray.

On Friday we were joined by our new crewman Pedro des le Isle des Hindmarsh, aka Mount Gambier Pete. Saturday was another pleasant day in Noumea preparing for the next adventure.

Sunday August 18 we motored south in very light winds to Mato Island. The lagoon and anchorage there - simply fantastic; with wonderful snorkeling from Ambler?s stern. On Monday we motored again, in still glassy conditions, through the channels in the reefs, across some open ocean and into the a beautiful bay of the Island of Pines. One of the nicest places we have been to - a safe sandy anchorage, a couple of friendly resorts with beachside dining, white sandy beaches and easy snorkeling around a little island connected to the beach by a shallow sand spit. Picture perfect! Tuesday night the wind blew up from the south-south-west, as forecast, and on Wednesday morning we sailed north-west toward Noumea. The sail north was pleasant with the added bonus of seeing Humpback whales on several occasions and catching a Bonito; which subsequently became a sashimi lunch and a fish steak dinner. Delicious! It is now Thursday morning, 22 August, in the Bay of Saint Marie and we, having just devoured Pedro?s famous chilli ? beans for breakfast, anticipate motoring out to Maître Island for little bit more resort and snorkeling time on this beautiful sunny (windless) day. This afternoon we will head back into Port Moselle, Noumea before another crew change on the weekend.

Until next time, cheers, Jim, Pete and Bill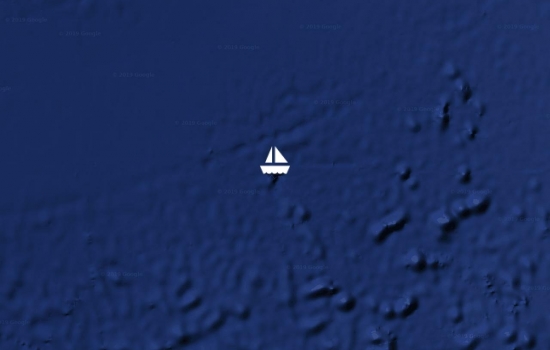 Thu Aug 15 7:27 2019 NZST
Weather: wind light and variable, sea calm
Good afternoon friends and families, As planned we carefully managed our speed to ensure we arrived at the start of the South Lagoon entry at dawn last Thursday 08 August. By 12:30pm, having navigated the long winding passage, we were secured in Port Moselle Marina, Noumea. We cleared Customs in the afternoon and on Friday completed our Immigration and Quarantine clearances. Friday night we had a very pleasant crew dinner at La Petite Cafe. (*** recommendation).

Saturday, 10 Aug, we departed Noumea for the nearby Maître island, and resort, where we had some great snorkeling which included turtle, stingray and sea snake sightings. In the afternoon we departed for a very safe anchorage in Bay Alric.

Sunday 11 Aug we departed for Port Boise, seeking a sailing guru who we believed resided there on his boat. However, no guru! Mark and Jo set off for a walk around the bay to a hotel and when the weather changed for the worse the Skipper braved the rain and ?rescued? them.

Monday morning, 12 Aug, we departed for Amedee Island and despite the weather managed some more snorkeling which included more turtles and a small White Tip reef shark sighting. In the afternoon we anchored in Baie De Sainte-Marie (Port Ngea) a small island and bay off the coast of the southern suburbs of Noumea. Beautiful night lights.

Tuesday, 13 Aug, we sailed back to Maître Island for coffee at the resort and more snorkeling before heading back to Port Moselle Marina for our crew change.

Tuesday night we had a fabulous degustation dinner at Chez Toto Restaurant (****recommendation).

This morning Wednesday, 14 Aug, Jim and I sadly farewelled Libby, Jo and Mark as they headed home.

Today Jim did some servicing of the engine while I shopped and made arrangements for our dive trip tomorrow.

Until next time we chat, regards from, James and William (Sailors & Divers Inc) Wed Aug 7 10:27 2019 NZST
GPS: 18 27.04S 168 05.01E
Run: 52.6nm (95.2km)
Weather: wind ESE 20kt, overcast with showers, sea 2m
Good afternoon friends and families, Ambler II is back at sea on a somewhat lumpy, reaching passage on our way to New Caledonia.

We have had some fun in Vanuatu including the National Day celebrations, the Skipper achieving PADI Open Water status and a delightful couple of days in Havannah Harbour. We made our central anchorage in front of the Havannah Resort and from there explored the Harbour with one foray outside the main bay to an excellent snorkeling site. The resort welcomed us for drinks on both nights, and on Sunday night we dined there. A magnificent ?adults only? establishment, beautifully appointed, catering for up to 17 couples, including fine dining.

Back to our present activity of sailing to New Caledonia - a voyage of about 320nm which has us expecting to be in Noumea sometime on Thursday, depending on the weather. The lumpy conditions could be made a lot more enjoyable with a little sunshine which would eliminate the showers as well as enhancing our tans.

But, as we all know - someone?s got to do it. On with the show! All for now, regards from Jim, Libby, Jo, Mark and Bill (scribe)
Sat Aug 3 14:27 2019 NZST
Run: 43.1nm (78km)
Weather: wind SE 15kt, sea slight, overcast
Well, well folks, on with the Show Ambler II rested for 6 days in wonderful Port Vila. Harry and George undertook some touring while the Skipper and I scuba dived; he is now a PADI qualified ?Open Water Diver?. Congratulations mate, in military parlance - ?well done that man?.

The crew changeover was finalised with the arrival of Libby, Jo and Mark and after Jim, completed a two and a half hour PADI diving exam we departed Port Vila for Mele Bay and the famous Friday night ?fire dance? at the Mele Beach Bar Resort. The place was booked solid and even though we had a table, the menu, lineup for drinks, loud music and general ambience dictated a retreat to Ambler for dinner. Occasionally we watched some of the fireworks from aboard as we dined on beautiful fillet steak complemented by a stunning SA Barossa Shiraz.

This morning we are on a pleasant south-westerly reach along Mele Bay aiming to turn north and finally north-east into Havannah Harbour. The harbour hosted, along with other islands, elements of the USN Pacific Fleet as they gathered for the Defence of Australia in the Battles of the SW Pacific during WW II.

With the sky clearing we?re looking forward to swimming and snorkeling.

All for now, regards to all, Libby, Jim, Jo, Mark and Bill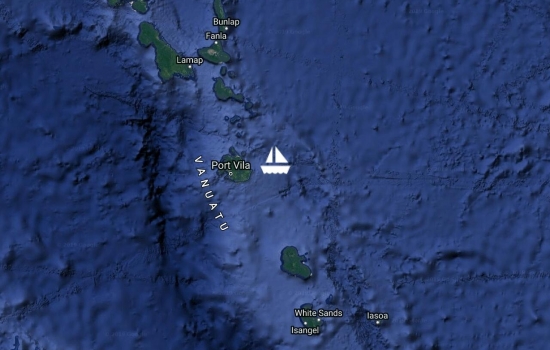 Fri Jul 26 13:18 2019 NZST
GPS: 17 44.777S 168 53.865E
Run: 394nm (713.1km)
Avg: 8.2knts
24hr: 197.2nm
Weather: wind SE 15-25kt, sea moderate 2m, cloud 5/8Sc, occasional rain showers
Howdy customers, howdy After a slow start,Huey has blessed us with some stronger winds. The assymetric spinnaker has been put away and for the last 24 hours we have been sailing with the jib poled out and the main sail completing our ?goose-wing? configuration. With winds around 23kts we have been sailing 7-10kts, occasionally surfing 10-13kts. Nice work if you can get it! Our original aim of getting to Port Vila before close of business today, (Friday) is now a distinct possibility. The Skipper has made contact with Justin at Vanuatu Yacht Services who is informing Customs and, with a bit of luck we will minimise any overtime rates but surely be secure in Port Vila before nightfall.

Our passage has been quite uneventful, except for catching another tuna which made an excellent dinner via the culinary skills of the Chef/Master of the vessel. For those music fans younger than sixty years young who did not recognise my quip about Harry and George: two young immigrants to Australia from Holland - Harry and George Vanda and another young immigrant from England - Stevie Wright formed a very popular group in the ?60s called The Easybeats. Perhaps best known for their international best seller ?Friday on My Mind?.

Ambler?s Harry and George are yet to show any musical talent at all??????? However, they make a welcome addition to the crew and continue to contribute in other meaningful ways. Onya chaps.

At this stage, with little more to say than our tongues are hanging out for a cool throat elixir this afternoon, may I wish you all a good weekend.

As always, fondest regards, James, Harry, George and Will (scribe)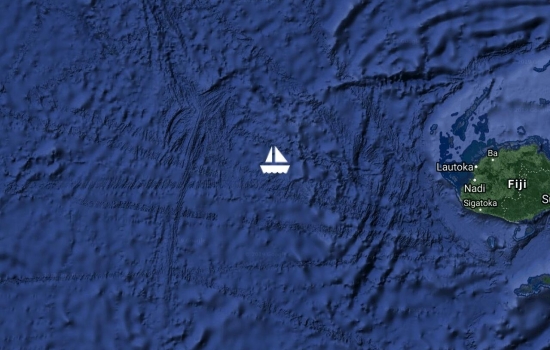 Wed Jul 24 13:21 2019 NZST
GPS: 17 42.871s 174 52.970E
Run: 164.7nm (298.1km)
Weather: wind SSE 10 kts, sea slight
Good morning Sports Fans on behalf of all viewers I would like to express our thanks to Libby for her contributions to this record of ?The Adventures of Ambler II?. Job well done that Lady.

After celebrating a memorable birthday occasion the Skipper farewelled the last of the family over the weekend (19-20-21 July) and replaced them with more of the motley crew. This time we have Harry and George (no Easybeats) aboard with me taking up the number four (general dog?s body) position.

Our shopping and other duties were finalised on Monday and after satisfying the Immigration and Customs formalities we were cleared to depart Port Denarau and Fiji at 10:00am. Two hours later we cleared the last of the Fijian reefs and islands and set course for Port Vila, Vanuatu: 257 degrees magnetic. One course, for the next 3-4 days depending on wind velocity.

At the moment and for the last twenty four hours the wind has been almost abeam, generally from the south, and very light, about 10kts. Consequently our speed over the ground is also slow, averaging about 5-7kts. We started with the jib and main but this morning at 08:30am we hoisted the asymmetric spinnaker. Beautifully done! The crew dynamics, as usual, are working perfectly, like a hand in a good fitting glove. Smooth as.......

Yesterday, late in the afternoon we did catch a small yellowfin tuna which is now awaiting its presentation as a sashimi lunch.

The forecast is for light weather so this leg is unlikely to be record breaker. However, we do not complain. We will graciously accept the sunshine, gentle breeze and slight conditions.

All for now and regards to all, Jim, George, Harry and William (scribe)
Sun Jul 21 9:36 2019 NZST
GPS: 17 46.368s 177 23.012e
Run: 31.1nm (56.3km)
Well hello strangers, No , I?m not on strike I?m just well and truly initiated into living my life on Fijian time.


Ambler 11 is resting up in Denarau Marina in the very capable hands of Ravi who has been upgrading the electronics before setting sail for Vanuatu with a fresh , new crew.


Skipper, wife and Sheppard family have been resting up in the Intercontinental hotel for a week of 70 th Birthday celebrations. So back to my designated job as scribe for the sailing week before our hotel stint..


Family flew into Denarau on Saturday July 6 th.Sunday we were Marina bound due to Generator problems so the grand children were introduced to Big Bula( a Fijian vision of Wet and Wild) and the the adults loitered in a near by resort .


Our marina neighbour was a super yacht owned, apparently, by Larry Page so we goggled at the Google boat. Chatted to several of the crew who were all super nice folk but alas no invite onboard.


Monday am saw the arrival of the ubiquitous Ravi who worked his magic on an ongoing generator issue and we set sail for the Manamuka Islands.First stop Musket Cove on Malololailai.


Two days spent deep sea snorkelling, surfing and reading with evenings on the sand bar eating BBQ and drinking Vonu.


On the morning of July 9 th we were delighted to hear that Winnie Rose had arrived the night before. 3rd beautiful daughter to Anna and Alex.


We moved onto Mana Island and celebrated her arrival with champagne (Bollinger, imported by Nick)) at the the Mana resort hotel.


Thursday and Friday were spent anchored off Castaway Island.


Good snorkeling and surfing and a yachtie friendly in a resort called Qalito .


On our return to Musket Cove the Skipper was persuaded to detour to Cloud 9 ,the floating bar.Such fun to see and awesome jumping from the top level into the crystal clear water. Over to you now, Bill ....Bula vinaka, Lib
Fri Jul 5 19:15 2019 NZST
GPS: 17 27.542s 177 02.646e
Run: 108.4nm (196.2km)
Bula from the boat.

I will try and amend my ways and learn how to use an apostrophe instead of a question mark.... errors just spotted when I did a reread !!! So we holed up in Blue Lagoon during a night of wind and rain and enjoyed drinks with the folk on board the Oyster - Nikitoo.

We then set sail for the limestone caves of Sawa - I -Lau situated on the southern end of Yasawa Island which is part of the group of Islands known as the Yasawas Before entering the caves we took the dinghy to the shore with our gift of Kava and experienced a SevuSevu with the boss man on the isle ...basically a lot of chanting and clapping.

Kava means intoxicating pepper and is a strong sedative which to be honest I could have benefited from before my near drowning event in the caves.

I?ll not bore you with the details now but I thought I was drowning and all I could think of was my diamond ring going to waste on the South Pacific sea bed.

As our provisions were low we decided to head back to Blue Lagoon and the Nanuya Resort where we could eat ashore and also ask ?Farm Boy ? to deliver some fruit and veg ... Fijian equivalent to Uber Eats.

Introducing ourselves to the owners of the resort we discovered they were Aussie?s and were invited to return the following evening to a night of entertainment .

Fire dancing and belly/ buttock movements to be envied.

One final piece of news , we managed a scuba dive .

Jim was confident and cool as a sea cucumber , I was a nervous wreck .

Our instructor, obviously sensing my anxiety, took my hand and I held onto it with an iron grip throughout the dive .

Fabulous experience in the profoundly silent world of a 10000 Nemos.

Last night saw us in Manteray Bay ( Southern end of Naviti Island)so pre dinner drinks at the Manteray Resort and we had hoped to swim with the Mantas themselves this morning but they were sadly not to be found. Currently at anchor at Vanua Levu Island in the Mamanuca Group and heading to Denarau in the morning.

BFN ( as Jimmy Young used to say ) Only the British readers would have spotted my mistake it wasn?t a Terry Wogan acronym Thank you to my Big Bro Colin for pointing that out .

It?s beer O? Clock so over and out from Diver Dan ( aka Skip Jim ) and Her Down Below( aka the boss lady )
Sat Jun 29 14:45 2019 NZST
Bula to you all, Well Bill?s off the hook and I?m now the designated scribe.

I realise I?m talking to a mostly male audience so I?ll not start off by telling you about my bad hair day! Do you know what Bula actually means? ?Life? what a fabulous greeting .

So down to task in hand...The boys have all departed leaving my husband and I ( I sound like the Queen) to sail the Fijian Islands...all 322 of them.

We?ve started on the Yasawa group . Due North of Nadi .

Set sail for Waya and anchored in Yalobi Bay for a night having first stocked up on a pile of Kava for the local islanders....( Breaking Bad visions in my head) Tootled up the coast to spend the night in a beautiful bay and an equally beautiful resort called the Octopus.

Now we are further North again on Nacula Island with more remote stunning resorts.

We are in Blue Lagoon territory, where the movie was filmed in 1980... Brooke Shields and Christopher Atkins growing up together and falling in love....

Anyone remember it ? Holed up here for at least 3 days as we have torrential ,tropical rain and howling winds.Skipper happy as water tanks are filling .... Our next door neighbours are Brits and are on an Oyster with a barrel of Rum on board so our evenings are taken care of...

BFN( asTerry Wogan used to say) Libby
Mon Jun 24 8:21 2019 NZST
Weather: nil wind sea calm sky clear
Good morning good people Another of our amazing voyages has been completed. We are at rest in the beautiful Port Denarau Marina, on the main island of Viti Levi, Fiji. Very close to the bustling community of Nadi (pro-Nandi) and of course the international airport.

Let me describe the final leg of our journey. Our friends on ?Muse? sailed about 5 nm behind us and on arrival at Volivoli they presented us with another artisan loaf of bread baked by their daughter Hannah.

We had a wonderful night at the Volivoli dive resort on the north coast of Viti Levi. The skipper negotiated our entry and participation in the Fijian cultural show, a night of feasting, singing and dancing. The skipper was of course the feature dancer of the visitors known as Big Jim and The Boatboys.

On Friday morning we up-anchored and departed Volivoli at 06:15am bound for Port Denarau via the inner channel which weaves along the north coast,inside the surrounding coastal reefs, and passes nearby the industrial port of Lautoka.

Port Denarau has been a magnificent ending to our voyage from Tonga to Fiji.

On Saturday we did a walking tour of the Denarau shopping precinct, followed by a bula bus tour of the nearby resorts, then finally we caught a public transport bus into Nadi for a eyeball tour of the provincial capital. All very interesting.

Yesterday, Sunday, Jim and Bill went diving in the vicinity of the world renown surf spot - ?Cloudbreak?. What a great experience; the water was warm, sky clear, sea calm visibility about 30m and fish and corals aplenty. The surfers were out in their numbers rivalling a good day at Seaford or Middleton. Jet skis and tending boats were everywhere. We actually had an incident when one boat infringed our dive area, which was marked by our tender with the appropriate ?danger divers in area? pennant displayed. The captain was a local and our Dive Marshall admonished him, took his details and will notify the authorities.

Apart from that, the diving was fantastic with a swim through tunnel, stingrays, plenty of fish, one small black tip shark and the unusual worm-fish.

Oh, I should mention one dive boat/ship stood out it was the CEO?s of Google! Compete with helicopter and a mass of jet skis.

This morning at 06:30am The Kaiser departed and Jock and Bill will leave about lunchtime. Bill rejoins Ambler on 21 July after the skipper and family have celebrated his significant birthday. Until then, regards to all, Jim, Bill(scribe), Kai and The Jockey.
Thu Jun 20 12:12 2019 NZST
GPS: 17 21.945s 178 41.111e
Run: 271.4nm (491.2km)
Weather: wind ese 15kt, cloud 5/8 sc, rain showers, sea slight less than 1m.
Good morning customers, May I apologise for some tardiness in reporting; I fear that sometimes we/I lapse into ?islander syndrome?.

We arrived at Savusavu at 01:30am last Monday morning and anchored in the suggested quarantine area until 08:30. Shortly after speaking with the Copra Shed Marina we were alongside in a very short floating berth, stern in to the berth, with a securing anchor forward in to the channel. (Half of Ambler was protruding, like the other larger vessels, into the channel). That was the very first time we have tried this trick marina method of securing a yacht. The rest of Monday morning was taken up by officialdom. In the afternoon a couple of technicians and the skipper attended to a minor generator concern. I say minor because it was not a ?mission critical item? but nevertheless time and money was necessarily expended. On Tuesday the generator was serviced and we started to prepare for a Wednesday departure. But, not before a magic young lady by the name of Hannah baked another artisan loaf for the captain and crew of Ambler II.

Savusavu was a pleasant stop mainly due to the Copra Shed Marina and it?s facilities. Savusavu is a beautiful port with a handful of resorts and excellent diving areas. However during our stay the dive companies weren?t diving, preferring to conduct inventory activities during the unseasonal rainy weather.

Wednesday morning saw us at both Immigration and Customs at 08:00, finally organising our departure for 10:00.

With about 45nm to Makogai (pronounced Makongai) Island we could not dither, lest we arrive in the dark, consequently the yanmar sail (read motor) was used for quite some time. Makogai was another wonderful anchorage. Formerly a leper colony the island now hosts government controlled turtle and clam breeding projects. I have been there twice before on the Fijian cruise vessel MV Reef Endeavour; diving on each occasion.

Our friends on the catamaran Muse were already there and we were welcomed in on the VHF radio by the very competent Hannah.

At 07:00 this morning we cleared the Makogai anchorage and set sail for the entrance to the Nananu channel which will take us, along with Muse, to an overnight anchorage off Volivoli Beach Resort.

At the moment we are sailing ?goosewinged? at a very pleasant 6.5-7.0kts heading north west along the shoreline of the main island of Viti Levu and we expect to make our anchorage before dark.

Fondest regards to all, Jim, Bill (scribe),Jock and the Kaiser.
Sat Jun 15 18:54 2019 NZST
GPS: 17 45.722s 177 13.060w
Run: 221.4nm (400.7km)
Weather: winds se 15-20kt, cloud 6/8 Sc base 300m, rain showers, sea slight se swell 1-2m.
Good evening friends and families of Ambler II, Friday saw us finalise our shopping and official duties in Neiafu and at about 4:00pm we departed the Customs wharf, negotiated the port channel and set sail at around 4:30pm for Fiji.

For an hour or so we motored in light winds, then just on dusk the wind steadied at 10-15kt from the south east. We continued through a comfortable night of shift working with the jib and main gliding us gently toward Fiji, on a heading of 280 degrees magnetic.

Today saw us zipping along at 8.5kt with the jib being polled out on one side with the mainsail set on the opposite side; a configuration known as ?goosewinged?, that is, like a startled goose raising both wings in alarm or surprise. This configuration is only achievable when the wind is coming from an astern/rear quarter. We had anticipated arriving in Savu Savu early Monday morning but with such good sailing conditions we now expect to pass through the easterly Lau Group of Fijian Islands about dawn and with a little luck we may make Savu Savu before nightfall, Sunday evening.

We are all travelling well, in good spirits and are about to tuck in to one of Jim?s spaghetti bolognaise.

Until next time, take care and needless to say we miss you all.

Regards Jim, Bill (scribe),Kai and Simon.
Tue Jun 11 14:54 2019 NZST
GPS: 18 39.755s 173 58.892w
Run: 4nm (7.2km)
Weather: light and variable winds, thunder and some heavy showers, low cloud.
Hello Sportsfans, welcome back to the adventures of Ambler II.

We are still hard at it in northern Tonga, sailing and exploring the Vava?u group with occasional sorties into the capital, Neiafu, and The Mango Bar and Restaurant.

The last correspondence was from our arrival in Port Maurelle on 04 June. Since then we ventured to Kenutu island which involved a touch of expertise in boat handling and navigation. Kenutu is about the most easterly anchorage in the group and from there, beyond the fringing reef, is the open ocean and French Polynesia.

On Thursday 06 June we decided to enter Neiafu, pay a courtesy visit to Customs and check out the scene. Wow, what a scene. The Mango, The Tropicana, The floating Gin Barge/floating fish and chip shop/late night boozer is about it; save for the fresh produce market and a couple of general stores.

We agreed The Mango was more our style and we have frequented the establishment on the odd occasion (good wifi).

Peter and Bob left us on Saturday 08 June and Simon and Kai replaced them; so after a day of introductions to Neiafu and The Mango we departed that location for more thrill seeking.

Our first port of call was an island lagoon at the south west tip of Vava?u which required us to enter via a surging rock entrance no wider than three boat widths. Captain Jim steered us into a magnificent lagoon where two other yachts were anchored including, believe it or not, a large South African flagged yacht which was crewed by a couple of.....wait for it ......nudists!!!! We kid you not. Two suntanned blondes who simply went about their chores with no special regard for our presence.

Sorry, I didn?t mention a couple, as in man and woman. Nevertheless, they did attract some modest attention.

After ?Nudist Lagoon? we headed east again to another fabulously sheltered bay where we spent last night. As we headed east we crossed the path of a large contingent of the Island Cruising Rally from New Zealand who are travelling together as far as Noumea and returning to NZ before the cyclone season.

Today, Tuesday, we ventured to Swallow Cave and while Kai and I circled the entrance in Ambler, Jim and Simon explored the cave in the tender. However, we did not hang about because the endless traffic heading to Neiafu continued and we feared not getting a mooring/anchorage within a reasonable tender distance of The Mango.

Now here we sit at anchor in the rain hoping it stops soon because we have booked our table for dinner at The Mango. Neiafu harbour and surrounds is chockablock full of yachts and catamarans from around the world.

We await good winds at the moment and we are likely to leave on Friday for Fiji. When we have made that decision we will of course advise you all, until then take care and, as always, our thoughts are with you.

Regards, Jim, Simon, Kai and Bill
Tue Jun 4 17:21 2019 NZST
GPS: 18 41.96s 174 01.78w
Run: 72.4nm (131km)
Weather: ese 10kt, 6/8Sc base 400m, seas calm, 26 degrees Celsius
Hello family and friends, Our stay anchored off Sandy Beach Resort has been brilliant! We shared the anchorage with a lovely family from Sydney who have their young son and daughter out of primary school for a year and are sailing their catamaran around the islands.

One morning father and daughter paddled alongside to deliver a loaf of bread the young lady (about 10years old) had made for us. Fantastic.

The snorkeling, swimming, weather, and all round ambience of the resort on Foa Island, Ha?apai Group, has been beautiful.

The resort also has a dive shop and yesterday (Monday)Jim and I had two scuba dives each. The first was a pleasant tropical reef dive with a sea temperature of 30 degrees celsius but the second dive featured a large reef area with caves, canyons and swim through tunnels which created a simply magic diving experience. We were taken to the dive spots in the ?dive boat? and as the only divers we had the undivided attention of the dive master. Good stuff.

Today we set sail about 08:00am for the northerly Vava?u Group of Islands and we have had fabulous sailing all day with the asymmetric spinnaker set for most of the journey. We are now anchored alongside two catamarans and three mono-hull yachts at Port Maurelle. A lovely spot but with no visible habitation.

This journey through the Tongan archipelago has been very satisfying indeed but unfortunately it is coming to a close with us planning to enter Neiafu harbour either Thursday afternoon or Friday morning. The crew changeover is Saturday.

For the next two days we anticipate enjoying the many islands of the Vava?u Group.

Fondest regards, Jim, Bill(scribe), Pete and Bob.
Sat Jun 1 19:00 2019 NZST
Run: 7.3nm (13.2km)
Weather: easterly
Hi to you dwellers in the cold,

After a very pleasant overnight tied to the wharf at the village port of Pangai we departed at 08:30am and headed north along the Ha'apai Group to Foa Island.

At the northern tip of Foa Island is Sandy Beach resort. From this resort they conduct the world acclaimed snorkeling with Humpbacks program. Unfortunately we are too early for the whales presence but we are anchored in the most beautiful lagoon not far off the beach. Shortly after arrival this morning we all had a snorkel in the lagoon which was followed by lunch at the resort. We have ordered the pork belly for dinner at 7:00 tonight.

This is by far the best place we've found so far and we intend to stay tomorrow (Sunday) and continue with our snorkeling.

I can say no more, other than we are anchored in a beautiful place in great weather and we are a very happy little crew.

But, we still think of you all at home.

Cheers,

Jim, Bill (scribe), Pete and Bob
Fri May 31 20:30 2019 NZST
Run: 28.7nm (51.9km)
Weather: easterly wind 5kt, smooth to slight seas, cloud 1-2/8 Sc,
Good afternoon all,


What a beautiful morning's sailing we've enjoyed today.


We pulled the anchor at Peapea Isl at about 08:00 am and turned slightly east of north with an eight knot easterly breeze driving us along at about 5.5kt.


We arrived at Pangai port at 1230 and now sit comfortably alongside the main wharf.


This afternoon after lunch ashore we retreated to the yacht and whilst going about our business youths from the local high school rugby team entertained us. They had just finished playing another youth team and came for a swim at the wharf. Spontaneously they burst in to song. MAGNIFICENT indeed!!! After plenty of diving and swimming they again gave us an animated performance which included Pedro, who shouted them all an ice cream. With their teachers permission of course.


We hope the attachment of the boys works out.


Cheers all,


Jim, Bob, Pete and Bill (scribe)
Thu May 30 15:39 2019 NZST
GPS: 20 02.64s 174 42.67w
Run: 50.3nm (91km)
Weather: easterly wind 5kt, smooth to slight seas, cloud 1-2/8 Sc, 26 degrees Celsius.
Hi there folks, Further to yesterday?s stop press announcement we did in fact catch two tuna. One, the chef turned into beautiful seasoned tuna steaks served with a rice and vegetable pilaf like dish. The other I have prepared as a fish and vegetable curry (of sorts), for tonight?s dinner.

We had a very peaceful night, not at an un-named island (as was previously indicated) but at Kelefesia Island in the Nomuka Group. Surrounded by breaking surf, except for our entry passage, the anchorage was excellent.

Ambler pulled anchor and departed Kelefesia at a very civilised 0900 this morning, shortly after morning prayers. Noon saw us past Nomuka as we sailed beautifully with both main and jib looking for our chosen anchorage at Oua Island. That was not to be. The entrance information was a little light on and it was extensively protected by a shallow reef so we continued a little further to Peapea Island, where we now sit calmly at anchor.

The Skipper has done some minor running repairs to the auto helm system that we may have to re-calibrate in the morning. However, the system does appear to be working as advertised.

Tomorrow we will probably head for Pangai port, the ?capital? of the Ha? Apai or central group of Tongan Islands. Unbelievably, we must clear in and out again despite having an intra-island itinerary approved in Nuku?alofa! Since all jobs have now been done and we?ve all had a swim and shower Pete is moving for an early opener. Far be it for me to miss out. The curry is on the stove. I?ll second that motion.

Cheers all, Jim, Bob, Pete and Bill (scribe)
Wed May 29 13:03 2019 NZST
GPS: 20 31.75s 174 77.38w
Run: 42nm (76km)
Weather: nne winds 10-15kt, slight seas, cloud 2-3/8 Sc, 26 degrees Celsius.
Hello to all you beautiful people, Today we have left the Tongatapu, or southern Tongan island group, and we are motor sailing north towards Nomuka in the very south of the Ha?apai, or central Tongan island group.

The weather is pleasant and our new crew members Bob and Pete seem to be coping with the cultural adjustment of this demanding life.

Flying fish are plentiful but that?s about all we are seeing, apart from Islands and the occasional surf breaking on reefs along the way. We have been sailing on the eastern (seaward) side of the archipelago and a long barrier reef or a series of atoll reefs has continued north, paralleling our northerly route, for much of the way.

However, as we are now between the groups and in deeper waters there is no more surf and we have the fishing line out hoping for mahi mahi, tuna, Spanish mackerel or perhaps a swordfish. We have decided we will take shelter tonight in the lee of an unnamed small island just south of Nomuka and all going well we expect to be secure there an hour or so before dark.

Must go now, lunchtime is calling.

Until we chat again, regards from Jim, Pete, Bob and Bill (scribe) STOP PRESS adventurers? luncheon disturbed as tuna jumps on to skipper?s line.

Tuna for dinner tonight.
Tue May 28 15:33 2019 NZST
Run: 8.3nm (15km)
Weather: moderate ene winds, smooth seas, clear sky, 26 degrees Celsius.
welcome back sports fans, how sweet it is to be back communicating with you all and highlighting details of this amazing voyage.

Last Wednesday after a brief rest at Atata Island we entered Nuku?alofa harbour (flying the yellow quarantine pennant) and commenced the clearance procedures.

Overall the whole process went well, with us being tied up at the Customs wharf. We stayed on that wharf until Friday when our Dutch friends aboard NOK entered and needed our position to do their clearances.

Ambler moved to a nearby wharf where we sat out the continuous rain and wind.

Saturday night we farewelled Steve and Tim and welcomed Pete and Bob.

On Sunday the weather slowly improved and as forecast, on Monday we made final preparations (shopping and matters bureaucratic) for our journey north, leaving today to sail among the islands of Tonga.

Well may you wonder, ?how far did these adventurous fellows make?? The answer is about 3nm! Again, the wind is not quite as listed in the brochure and so we are having a very pleasant day at anchor in the lee of a lovely island in the outer Nuku?alofa Bay area rather than motoring or beating into wind.

A couple of highlights from our stay in Nuku?alofa: One, the Waterfront Lodge and Restaurant, where we spent considerable time - excellent food, service, internet and other facilities (read toilets).

The second was having NOK rafted up to us with Heinze and Anne close handy. They were an affable couple who left Holland a couple of years ago and Heinze gave us a few tips from his experience. Those tips ranged from navigation through mechanics to rigging advice; all well received and in some cases implemented.

That is about our lot as we sit here anticipating tomorrow?s adventures.

Fondest regards , Jim, Bill (scribe) Pete and Bob
Wed May 22 10:12 2019 NZST
Run: 129.7nm (234.8km)
Avg: 5.6knts
24hr: 134.2nm
Weather: strong wind warning Tongan waters, heavy rain, poor visibility.
Good morning one and all, The Bay of Islands, NZ, to Tongatapu Island, Tonga, an eight day voyage including one beautiful day at South Minerva Reef. We had a glorious first six days sailing and a not so glorious last two. In particular, the last 30 hours were initially spent motoring into a stiff 20-25 kt nor-easterly breeze, followed by a gusty reach toward the end. But, Huey had more in store for us; conditions deteriorated to winds gusting 40 kt with heavy rain showers. Most unpleasant, especially in the dark of night. As a prelude to this unseasonal tropical depression developing we saw a waterspout, which in hindsight was an indicator of the unstable atmosphere.

However, not to be deterred the gallant crew of Ambler II manoeuvred her at first light through the channel and in to a safe anchorage at Atapa Island, part of Tongatapu. Some might say ?well done those men?. We simply take it in our modest stride.

We have made contact with the authorities who understandably are allowing us to stay here until the conditions abate and we can comfortably enter Nuku?alofa harbour. I did forget to say that the Skipper caught a 2m shark at Minerva. We believe it was a Long Nosed Grey Shark and in the interests of the environment we let it go.

We have seen quite a lot of small flying fish along the way with two of them flying aboard; one was alive and we rejoined him/her with the school, the other unfortunate individual had a bad case of rigor mortis and was buried at sea.

I?m now struggling to not enter the realm of verbal garbage.

May I leave you with the same: thinking of you all, always, Jim, Steve, Tim and Bill(scribe)
Tue May 21 11:00 2019 NZST
Run: 298.4nm (540.1km)
Avg: 12.3knts
24hr: 294.7nm
Weather: 6/8 Sc patches of AltCu, wind ene 20-25kt, swell ne 2-3m short period.
Good morning viewers Huey has stuck to his word and whilst the conditions are unpleasant they are well within the capabilities of Ambler II. The 2-3m large chop from just 30 degrees off the starboard bow is giving us an uncomfortable pitching with some rolling motion as we advance toward Tonga. Sleeping was not easy last night. However with our crew roster of 2hours on and 6 off. We are all adequately rested.

The Yanmar engine has been purring now for about 9 hours and it looks as though we will stay motoring for about another 30nm until we are clear of a small islet and shoal. We then anticipate setting course and reaching for the western tip of Tongatapu where we will anchor and spend the late night/early morning hours before entering Nuku?alofa harbour.

No complaints; ocean sailing is not all smooth seas and following winds! But, given the beautiful days we?ve had thus far we cannot complain. Arriving a little earlier In Nuku?alofa may also allow us to partake of other tourist activities - perhaps even exploring the caves and/or fishing, diving and snorkeling.

Meantime, we will keep beating into this wind for another few hours then we should be able to enjoy a more pleasant beam reach.

Thinking of you all, Jim, Bill (scribe),Steve and Tim
Mon May 20 10:42 2019 NZST
Run: 166.4nm (301.2km)
Avg: 3.5knts
24hr: 84.9nm
Weather: sky clear, wind se 10-15kt, sea slight, 1 m low sse swell.
Good morning customers, Huey has threatened us with less than perfect weather towards the end of the week so we have decided to bypass North Minerva Reef and set course for Tonga. We need to be cleared into Tonga at Nuku?alofa before the weekend.

Our reef expedition returned to Ambler yesterday afternoon without any delicacies however they did invite them crew of an adjacent catamaran for dinner, as long as they brought their own tuna steaks. Great initiative. Not only did they bring tuna steaks but they also brought a beautifully presented plate of fresh sashimi. Great dinner, pleasant evening.

Today we are enjoying an easy reaching sail with the main and jib pulling us through the water at 8.5 kts. The sun is brilliant, the sky cloudless and the temperature warm.

We acknowledge the hard life but we are prepared to shoulder the burden.

Of course our thoughts always return to our family and friends.

Hoping all are well, Jim, Tim, Steve and Bill(scribe)
Sun May 19 14:09 2019 NZST
Weather: 4-5/8 Sc base 3-400m, sea slight, wind ese 10-15kt, pressure 1019mb, warm
Hello smilers and frowners, Well, apparently it?s all over? The smoke signals we are receiving at anchor in the lagoon of South Minerva Reef are indicating that Bill Shorten has beaten John Hewson by a considerable margin in this last election! There is some word that JH will be handing over the Lodge?s wooden spoon to BS later this week at a wake in NSW ALP HQ in Sussex St Sydney. Feeling surprised and amazed! We are very comfortably at anchor in a lagoon nearly 300nm from anywhere; sharing an unbelievable peaceful coral lagoon with three catamarans. Tomorrow we will venture 30nm north to the adjoining North Minerva Reef and after a full day there our intention is to press on to Tonga on Wednesday aiming to clear in before the weekend.

Again, missing you all and take care, commiserate or celebrate carefully.

Jim, Bill(scribe), Steve and Tim.
Sat May 18 11:39 2019 NZST
Run: 167.9nm (303.9km)
Avg: 7knts
24hr: 168.3nm
Weather: fine with wind east-south east 10-15kt gusts 18kt, cloud 4/8 Sc base 4-500m, visibility unlimited.
Hello voters, Saturday morning finds us in a very pleasant east-south easterly breeze of generally 10-15kt with occasional gusts around 18kt.

Friday?s weather was again as forecast with the morning south westerly winds backing through south to the south east later in the day. Towards dusk we decided to pull down the assymetric spinnaker and set the main and jib, in anticipation of reaching (with the predicted beam winds) through the night. That sail configuration and south easterly wind produced a beautifully steady reach and a restful night; which continues to this time. With about 150nm to go and sailing at about 7.5kt we expect to arrive at South Minerva Reef early tomorrow morning.

We are all reading and sleeping when not on watch, discussing the elections (not) and the captain continues to provide us with excellent nourishment, ie, minus any alcohol of course when oceanic cruising. Oh what healthy lives we live! The only thing missing is of course the regular conversation and company of yourselves??. That?s enough of that sentimentality we?re supposed to be rugged adventurers. That being said, Regards from Jim, Steve, Bill(scribe) and Tim
Fri May 17 11:42 2019 NZST
Run: 180.4nm (326.5km)
Avg: 7.2knts
24hr: 172.5nm
Weather: 3-4/8 Sc base 300m, sea slight, wind sw 10-15kt, pressure 1020mb, warm
Hello sports fans, Another wonderful day sailing with the assy spinnaker. We are now of a similar latitude to Brisbane and the temperature is warming. The wind has held steady through the night from the south-south west, as forecast, and we expect later today it will back around to the south east.

The spinnaker has been performing well and in these conditions it is the sail of choice (for the moment at least). That is not to say that, like all spinnakers, they can?t rapidly turn the mood from one of pure pleasure to one of serious concern.

Last night with the spinnaker and main both up we had some moments of concern but with the near full moon, starlight and feverish crew work we were able to recover the situation, pull down the assy and continue our journey on the jib alone, albeit with some rocking and rolling.

This morning we repacked the spinnaker, re-hoisted it and today the assy spinnaker continues as the sail of choice.

At our present rate of progress we expect to arrive at the Minerva Reef South during Saturday night. Given the narrow entrance to the lagoon we expect to hold off for the evening and enter in good light on Sunday morning.

We hope you at home are as well as can be; we certainly are.

Regards from Jim, Steve, Tim and Bill(scribe).
Thu May 16 10:36 2019 NZST
Run: 171.9nm (311.1km)
Avg: 7.1knts
24hr: 170.8nm
Weather: 2/8 SC base 300m, visibility unlimited, wind sw 10-15kt, sea slight 1m sw swell.
Hi all, The last couple of days have seen us coping with very light winds that have swung about the stern, never quite settling to enable an ideal ground track course to be set.

However, no complaints! With the sun breaking through for prolonged periods of warmth we?ve never been more than 5nm of course as we?ve chased the wind using the asymmetric spinnaker.

Yesterday on sunset, with the moon already into a clear sky and with the promise of a steady sw wind we changed tack and switched the assy to the starboard side. That fortunate decision resulted in Ambler II sailing through the night at a modest 5plus kts in a 5-10kt sw breeze. (NB Spinnaker all night) This morning the breeze has increased to 10-15kt and we are now sailing beautifully with the assy combined with the mainsail to produce a steady 7-8kt speed on course for South Minerva reef where we anticipate spending Sunday. The crew are rested and coping well with conditions.

Cheers from Jim, Bill, Tim and Steve
Wed May 15 10:27 2019 NZST
Run: 169.6nm (307km)
Avg: 7.5knts
24hr: 180.5nm
Weather: Sky: 8/8 overcast low strato-cumulus cloud. Cloud base estimated 300 metres. Sea: slight with surface chop less than one metre, low south easterly swell of one metre. Wind: fluctuating easterly less than 10 knots.
Ambler II is motoring at 7.8 knots, having used an asymmetric spinnaker for part of the previous afternoon and evening.

All four persons on board are all well and rested but looking forward to a stronger breeze.

590 miles to South Minerva Reef. No complaints about the tucker. In any case the cook is not listening!
Tue May 14 11:54 2019 NZST
GPS: 35 01.309s 174 17.478e
Run: 14.1nm (25.5km)
Weather: clear sky, wind under 10 knots from SE
Hi all, Departed Opua this morning, bound for the Minerva Reefs, after enjoying the community and hospitality of the Marina over the last 4 or 5 days.

All well on board, sun is shining but light on for breeze. Hoping this will improve as the day goes on.
Sat May 11 7:27 2019 NZST
Run: 11.5nm (20.8km)
Hello Readers, We continue to be impressed and delighted by the Bay of Islands with its cornucopia of safe and commodious anchorages.

Actually James Cook described these bays as ?commodious ?so there?s s little plagiarism happening here.

Last Friday we arrived into Opua and were able to do laundry, collect provisions and refill gas bottles.

A very kind gentleman loaned us his van to get us into Paihia thus making life a lot easier.

Opua is a clearance port and this is where the next crew will clear Customs en route to Tonga ( hopefully the officials will allow an excess of good Australian Red to depart with the vessel) The last few days have been spent hopping in and out of the dinghy , exploring on terra firma , walking a few trails drinking a latte or two and sampling NZ ice cream The museum in Russell was well worth a visit as was the French cafe ( with internet ad handmade chocolates.) Russell was described as ?The Hell Hole of the Pacific ?in the early 1800?s until a vigilante group , the missionaries and the Temperance Society instilled some changes and now it?s a beautiful little town of law and order.

Zane Grey?s name frequently pops up usually accompanied by a photo of a huge sword fish .

He fished a lot in these waters and hence its popularity for deep sea fish .

Tonight we are anchored in Paradise Bay( aptly named)on Urapukapuka Island. We will sleep well having walked up to the Haruru waterfall from Pahia earlier in the day. Fern glens with some mango swamp and kiwis( non sighted probably because they are nocturnal) Apparently Kiwis use their whiskers like a barometer to check the weather !! Libby
Moody sea and sky
Looking from the sailors eye When out upon the sea Many moods have sea and sky So read them cautiously These two they live together In symbiotic glee To tease and tempt and terrorise The sailor endlessly From balmy warm serenity You?d rove the globe to see Through playful bright frivolity To tempestuosity These moods can swing so suddenly So scan for every clue For if you sail carelessly This day you?ll surely rue It?s much a judge of character The sailor must perfect To avoid abject disaster To avoid the tragic wreck But, if he reads the moods right A sailors life is grand So go out there, sit tight And strive to understand.

Contribution from Poets collection
Fri May 3 6:27 2019 NZST
Run: 110.1nm (199.3km)
Here are the latest goings on from Ambler .

2 days spent in Westhaven Marina in Downtown Auckland along with the other 2,400 boats...

Jim holed up in the library on WiFi ( forward planning)while I cleaned up boat and Graham did Chandlery shopping ( more fun cleaning the boat than doing that genre of shopping) Discovered Cafe Hanoi for dinner .

We sadly farewelled our poet and experienced sailor Graham and headed North to another stunning island called Kawau. Went ashore to Mansion House whose owner in the 1860?s shipped all sorts of plants and trees from around the world for his garden. Impressive to say the least. I suspect he had a lot of time to garden because his wife had her eye turned by a young sailor and ran off to Rio de Janeiro .

Today was a 12 hour sail to Bland Bay ( nothing bland about this beauty spot) It took us slightly longer than expected because while the skipper slept I managed to take us off course !!!! Enough of my rantings. Libby
It is with great good fortune we made it here at all What brought us to this moment? Can you now recall? And can we take full credit for being here tonight We started on this journey with the absence of insight With an appetite for knowledge for stimulus and love The rest has been a process of didactic push and shove We recoil from the painful and we crave a life of ease We hasten for a tablet at the first sign of a sneeze Our life is a deep mystery, why are we here at all What is our life?s purpose and why is it so cruel Perhaps the only purpose is to navigate a course To shine a light for others and eliminate remorse To tread so very lightly and not squander a resource And to focus our minds inward on what our senses feel Not open up the floodgates to the thoughts that are not real To build a human network to savour and to nourish And to see that every single one of us can have a chance to flourish. Poet (now safely arrived home in Port Lincoln)
Tue Apr 30 13:33 2019 NZST
Run: 44.6nm (80.7km)
Hello from the crew on Ambler this fresh ,sunny Monday morning.

We are as I scribe ,sailing into Auckland from a rather beautiful , green island called Waiheke where we anchored last night in Man of War Bay.

The skipper is in need of internet and some provisions wouldn?t go amiss. I can never say No to a laundromat and we do need to deposit Graham near an airport... so Auckland here we come.

Will be very sad to farewell our resident poet. We?ve made a deal, he shares his poetry with me and I share my play list with him. ( a man with musical taste as well as literary style .. not to mention his exceptional sailing abilities.) Not meaning to become too technical but we enjoyed a 20 mile Spinnaker sail yesterday at about 9 knots. Everyone was happy.

The day before we dinghed ( is that a real word?)ashore to Bush Beach on Great Barrier Island with a view to ?bagging? Mt Hobson.

No mean feat more like sore feet.

It was a relentless climb up with over 2,000 steps accompanied by the production of a load of lactic acid.

As always an absolutely magnificent view from the top so well worth it.

We ambled down the South Fork Track and were somewhat delighted to eventually spot the boat mast .. only one more step up onto the boat.

Graham?s poems included in today?s update capture the walk in its essence.

Actually he had plenty of time for poetry cogitation on the walk as he was back at the dinghy waiting a long time before the older members of the party reached their destination.

My evening was spent luxuriating in a shower / library all in one .

I could multitask ( a female thing) whilst conditioning my hair I was able to browse the shelves for a interesting book and soak in the most beautiful sunset view of our anchorage at Smoke House Bay.

Whilst I abluted to my hearts content( water heated by a wood stove which a rather feral but extremely pleasant young kiwi gentleman kept loading up.) the boys drank beer near the wood fired oven which was cooking our spuds and patiently waited for a sweet smelling lady to return from her anti fouling procedures.

This little bay is a sailor?s delight.. only boat access to this heavenly spot and equipped with oven , fire pit, tables ,chairs , bath and shower and even some old wringers and washingline ... set up by a family of sailors called the Websters and kept going by volunteers and donations...

I?ll be donating ,my shower was worth a packet( maybe an Island packet???) On that note ,tootle pip my hearties, From the only sweet smeller on board.

X Sent from my iPad
Fri Apr 26 22:30 2019 NZST
Run: 208.7nm (377.7km)
Avg: 2.8knts
24hr: 66.6nm
Scribe Bill has disembarked and I?m taking over his job with strict instructions from Skipper( aka husband) to keep it short.

Apparently my title is boss lady which I think is a bit rough... a lady through and through but Boss on the Boat I am not ! Anyway back to our journey so far..

We left Whitianga ( pronounced Fittyanna) On Wednesday and tootled up the most stunning coastline to the Mercury Islands where we overnighted.

Thursday we continued North to Great Barrier Island under sail so there was wind( no idea about direction of this wind) I believe we were traveling at around 8 knots. My sort of sailing when you can drink a cup of English Breakfast without it spilling into your lap.

Anchored in Smoke House Bay(recommended by fellow sailor in Mercury Bay) Beautiful spot with shore facilities set up by a sailor for other such types .. only water access.

An open air bath ( rain water heated by a wood stove)library of well read books and an oven for smoking fish or cooking a pizza or in our case baking our spuds.

A pleasant evening was spent ashore chatting to other boaties.

Today we enjoyed a wee tramp( in Australian, a short walk)in a protected area free of possums , stoats and Norwegian rats .. not sure about rats of other nationalities.!! Saw a few kauri trees ( actually climbed one of said trees with the help of a swing bridge and a ladder)and some Moho Pererus( banded rails ) Amazing dinner at a run down boat club in Fitzroy.. all organic with freshly baked bread... I purchased a lunge scarf made from alpaca wool by a lass on a boat from Guatemala.

Hmm better close here as maybe I?ve gone over my word limit.!!!!! Libby There?s white caps on the water The clouds are low and grey The wind is in the mainsail We?re rolling home today There?s landmarks are familiar Slip by the larboard side And meanwhile in the cockpit The crew enjoy the ride Their heads are full of memories Laid down in recent days Of the sea and all it?s wonder It?s crafty, fickle ways It?s a cruise of self discovery Of ones capacity for awe Of simple truths of nature Of what a life is really for! Poet
Tue Apr 23 19:15 2019 NZST
Run: 119.6nm (216.5km)
Avg: 3588knts
24hr: 86112nm
Tue Apr 23 19:13 2019 NZST
Run: 147.9nm (267.7km)
Avg: 10.5knts
24hr: 252.9nm
Tue Apr 23 5:11 2019 NZST
Run: 108.1nm (195.7km)
Arrived at Tauranga at about 2300 hours on Friday 19th after sailing (motoring) past the actively volcanic White (Whakaari) Island, about 50 miles east of Tauranga and picked our way against a very strong tide into the visitors berth of the Tauranga Yacht Club.

After overnighting we decided to move to the Bridge Marina which was closer to the city centre and more convenient for a couple of blokes without wheels.

Spent sometime at the local Jazz Festival which has been an annual event for 30 plus years, walked to and climbed Mount Maunganui for some spectacular views and had a meal out with Libby's cousin Christine and her husband, Andy.

Monday spent most of the day sheltering from rain below decks but later moved out to anchor near the harbour entrance, ready for an early departure for Whitianga today where we plan to meet up with Libby on Wednesday.
Fri Apr 19 10:27 2019 NZST
Run: 161.9nm (293km)
Avg: 3.4knts
24hr: 81nm
We arrived at Napier at 13.30 hours on the 17th in plenty of time to offload Fred who had a flight to catch to Queenstown to meet old friends.

Our berth at the Napier Yacht Club was extremely well located, right in front of the club rooms and less than 50 metres from their facilities and a short walk to shops, bars and restaurants. The staff were very hospitable and welcoming and it would have been great to stay a day or so longer.

Given the forecast, however, decided to move on and currently making our way to Tauranga where we anticipate waiting for a few days and also to meet Libby.

Had a great sail under spinnaker yesterday morning but had to motor for about 12 hours after rounding Portland Island. (Jim) And now the sun has ushered in Good Friday and it?s bathing our windward coast. Sailing along under its lee we have a glorious view of thrusting sunlit peaks and shadowed plunging valleys that fan out to short, verdant coastal slopes - dropping at last in low rocky cliffs to the sea. This is the prominence at the eastern end of the Bay of Plenty. We are twenty four hours sailing from Napier and happily the wind returned this morning as we rounded East Cape so we are now sailing again - real sailing, with sails! Eighty something miles to go to Tauranga and the wind is forecast to take its leave of the Bay of Plenty so our current circumstance, as ever in this sailing lark, may change! (Graham)
Wed Apr 17 10:30 2019 NZST
Run: 163.5nm (295.9km)
Avg: 8.5knts
24hr: 203.8nm
We spent our first night as legally entered aliens in the Waikawa marina, toward the southern end of Queen Charlotte Sound. The skipper had his first night off from cooking duties as we made a bee line to the local tavern, the ?Jolly Roger?. A memorable and adequately lubricated night ensued followed by our first gloriously uninterrupted nights sleep since departing Tasmanian shores. The following morning after rising at a respectable hour, we ambled a little further up the Sound to Picton.

Picton offered a supermarket for revictualing, cafes with wifi for eating, coffee drinking and a frenzy phone messaging, email checking and the like. Picton also saw the piping off of Bill ( the Commander and scribe). Bill boarded a small plane to Wellington, being the first leg of his travel back to Australia. We three remaining cast off the warps after lunch to proceed north and east out of the Sound to an anchorage within the Tory Channel. This channel provides an alternative route back into Cook Strait, exiting from a point much closer to Wellington. Our night was spent in a glorious little inlet close to the channel?s northern opening into Cook Strait. We slipped the mooring at about 0415 to re enter the Tory channel and out into the Strait on a course to the south eastern corner of New Zealand?s north island. The wind, being fresh SSE had us rollicking along through seas that were being thrust into steep peaks by the tidal flow. We made good, albeit wet progress out of Cook Strait in the conditions but reflected on how treacherous this waterway must be with southerly gales and tidal flows working in opposition. The following days ( Tuesday 16th) sail north was steady progress against the spectacular western backdrop of thrusting peaks and verdant plunging valleys. Steady progress continued through the night with the breaking out of our big green and gold gennaker at daybreak and as I write this update we are closing with Cape Kidnapper at seven knots - bellies full of breakfast, mild sea and sky, life aboard Ambler is grand! We are making for Napier where will stop for at least a night. Fred will leave the team here to fly south to visit old mates hiding in the SW fjord lands. Jim, Fred and Graham (scribe)
Tue Apr 16 15:15 2019 NZST
Run: 72.4nm (131km)
Rounded Cape Palliser en route to Napier
Sun Apr 14 18:43 2019 NZST
GPS: 41 17.307S 174 00.605E
Run: 347.2nm (628.4km)
Avg: 4.4knts
24hr: 106.5nm
Update 4 from Ambler II Sunday 14 April 19
Hello Sports fans,

We have completed the final stage of the inaugural Trans Tasman race for Island Packet yachts and we are now in the beautiful Picton Marina.

Thursday 11 April was a beautiful sailing day with a following southerly sea and a pleasant 15 kt breeze with sunny skies.

Late in the afternoon the breeze picked up and we managed to surf a couple of swells and achieve 15.8 kts. The yacht handled the conditions superbly.

One great feature of Ambler is the dropdown side curtains which keep the cockpit dry and warm.

During the early hours of Friday 12 April we encountered the last of our significant low pressure events and again Ambler excelled and produced a new top speed of 17.7 knots speed over the ground. Had it not been dark we could have wake surfed!

Friday was again a beautiful sail; hardly changing the set and just cruising/surfing along.

With conditions easing in the early afternoon it was time for the spinnaker with the South Island now clearly visible. What a beautiful sight: Ambler II with main sail and spinnaker and NZ in the background. The image that makes the effort worthwhile.

Well, we thought we were home and hosed; thinking Picton in the early afternoon, but not to be!

A late afternoon headwind, followed by a veering wind that went from northerly to south easterly with an opposing Cook Strait current delayed our arrival until 4:30 pm. Might I say, still a record for Ambler II.

Customs and Quarantine??? No sweat, easy going - four honest men. Done deal!

Regards to all ,

James(skipper and cook),Graham(poet),Frederick (counsellor)and William(scribe).
A sailors job upon a boat

'S to keep the bloody thing afloat

And to cast an eye upon the seas

To check for any signs of breeze

To hoist the sails and swab the deck

To plot a course and hope like heck

Not to be a sunken wreck
Thu Apr 11 12:27 2019 NZST
Run: 400.3nm (724.5km)
Avg: 8.2knts
24hr: 197.3nm
Notes from Ambler II, Thursday 11 April 2019 Hi folks, Our forecasts continue to be quite accurate and Tuesday unfolded much as was expected with winds and swell gradually increasing in velocity and size from the west south west. During the afternoon the weather and the associated sail configuration changed little and the evening shift work started with smooth sailing. We had anticipated the ?worst ? weather to hit us about midnight but, no problem - easy going. That was until 4:30 am Wednesday morning, on the Skipper?s shift, when the wind rapidly increased to a sustained 30 knots with gusts observed to 38 Kts. Of course the sea state changed just as quickly to a mass of white caps which developed further into rollers. The worst aspect of the ?change? was the accompanying heavy, continuous, rain. ?Water, water everywhere....? In an instant our sleepy warm evening with one watch keeper changed, and would stay that way for almost 12 hours until about 3:30 pm Wednesday afternoon. But, with excellent seamanship, management and leadership the Captain and crew sailed Ambler II into a glorious sunny late afternoon complete with a colourful pink sunset.

Today, Thursday 12 April: quite good conditions - some sun, some cloud, some light sprinkles of rain but generally pleasant. Twenty knot winds with a moderate south west swell of about two and a half metres producing 7 kts over the ground (plus or minus two knots depending on.....).

*****Newsflash, the original estimate of nine to ten days sailing is likely to be slashed with Ambler II now predicted to cross the finish line in a record breaking eight days. Experts predict Ambler will be in Picton by early Saturday afternoon. The inaugural Shedantucjoh cup is likely to be presented to the owner and crew at the quarantine holding station. In fact several cups are likely to be presented to this otherwise abstaining crew. Cheers?? In the meantime as we approach the coast of NZ we leave with this simple poem: Weere out upon the Tasman sea Sex days now afloat Weere hudding for New Zealand In our funcy sailing boat Weeve had fair winds Weere sailing fast Weere very nearly theere You meebe can teel that From the inflection in this note All for now from Ambler II, Jim, Graham (poet),Fred and Bill (scribe)
Tue Apr 9 11:45 2019 NZST
Run: 437.8nm (792.4km)
Avg: 9.2knts
24hr: 220.3nm
Notes from Ambler II, Tuesday 09 April 2019.

Today we find ourselves approaching the halfway point mid Tasman Sea.

Since our last message on Sunday morning 07 April we have had a mixed bag of sailing conditions but overall we must say Huey has been kind to us.

For much of Sunday we generally had winds from the north quarter but with an unpleasant north easterly swell giving quite a lot of rocking and rolling.

A highlight of the day was a near miss with a Sunfish, a very unusually shaped large fish which often basks on the surface of the open ocean. (google sunfish).

Monday 10 April saw us with an early period of head winds from the north east which necessitated the use of the engine for a couple of hours. However, the day settled down to ideal sailing conditions with the wind slightly forward of the port beam and Ambler sporting three sails: jib, staysail and main. This pretty configuration produced 8 knots speed over the ground with only a 12 knot breeze. With the sun out - picture perfect! To complete the picture, late in the day we were visited for a long time by a very large pod of dolphins; many of them being juveniles.

Those pleasant conditions stayed with us through the night (two sails, jib and main) until about 4:30 am when abating conditions called for use of the engine.

Today, Tuesday, we await the passing of our most likely significant weather. At about 9:30 am we encountered the first of the pre-frontal cloud-banks which rapidly increased to 25 knots from the north. We expect that from about noon, though to just after midnight, we will encounter a wind shift through north to south west. The wind velocity is likely to be up to 30 knots.These conditions will be accompanied by a rising south west swell of about three metres.

After the cold front passes we settle into a beautiful sustained period of moderate south west winds and swell; all heading in the right direction.

All for now from Ambler II, mid morning Tuesday 09 April 2019.

Regards to all, Jim, Graham, Fred and Bill (scribe)
Sun Apr 7 12:03 2019 NZST
Run: 228.7nm (413.9km)
Avg: 3.2knts
24hr: 76.1nm
At 3:00 pm on Friday 05 March Ambler II and her crew were cleared by the Hobart Border Force officials to leave Australia (much like the airport really, checked faces to passports). However, the clearance was issued on the assumption that we would not be leaving the yacht; if we had an unforeseen need to get off the boat we would need to advise Border Force of the circumstances.

Ambler sailed south down the Derwent River and turned at the ?iron pot? to head north east toward a safe overnight anchorage in the vicinity of Dunally. We settled for a restful evening at Primrose Bay.

Saturday 06 April at 7:55 am Ambler sailed for Dunalley and the Dennison Canal; a very interesting narrow canal with a swing bridge to allow us through. On exiting the canal and sailing through another bay we were at the entrance to the ocean where we negotiated the channel and the surf to begin the real journey. The highlights of the trip to this point were undoubtably the Dennison Canal with all the traffic at the swing bridge watching our passage, and the surfer on a surf-foil cruising past us on a wave, with his jet skiing photographer in close pursuit.

The afternoon and evening of Saturday 06 morphed into the morning of Sunday 07 April as we all took our turns on shift through an uncomfortable night of mixed wind conditions, rocking and rolling through various sail configurations supplemented by the engine.

However, at about 2:00 am (Sunday morning) the wind shifted in our favour and since then we have had pleasant sailing with the wind abeam and the foresail up and producing a reliable 7.5 knots heading in the right direction. Albeit still with a lumpy sea.

Having changed our clocks from daylight saving time and having eaten breakfast we thought it timely to let you folks know of our progress, which is about 1000 nm to go. All good on board Ambler II.

Regards to all, Jim, Graham, Fred and Bill.
Thu Apr 4 13:07 2019 NZDT
Thu Apr 4 12:57 2019 NZDT
We have just finished antifouling the boat after two days in the Cleanlift yard and are now back in a berth at the RYCT in Hobart ready to have the engine serviced and to attend to providoring prior to our planned departure on Friday afternoon. Destination Picton NZ.

Sent from my iPad
No blogs available for this yacht.
Loading map and updates ....
Loading track, please wait ....