Corcaigh
Thu Oct 16 8:32 2014 NZDT
Speed:
7.1
knts
Run: 171nm (309.5km)
Avg: 7.1knts
24hr: 170.7nm
Weather: 100%cc no wind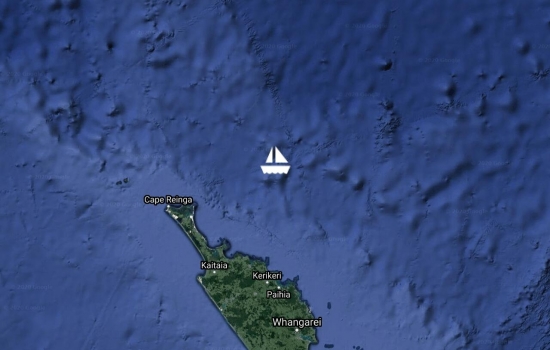 Wed Oct 15 8:29 2014 NZDT
Speed:
5.5
knts
Run: 141.7nm (256.5km)
Avg: 5.9knts
24hr: 141.9nm
Weather: se8
Tue Oct 14 8:31 2014 NZDT
Speed:
6
knts
Run: 132.7nm (240.2km)
Avg: 5.5knts
24hr: 132.7nm
Weather: 21SE 10%cc
ETA 3 days. wind backing will help
Mon Oct 13 8:31 2014 NZDT
Speed:
4
knts
Run: 126.8nm (229.5km)
Avg: 2.6knts
24hr: 63.6nm
Weather: 26SSE 70%cc
grumpy after strong winds over the weekend. Will fix a minor problem with the main today
Sat Oct 11 8:39 2014 NZDT
Speed:
6.5
knts
Run: 171.8nm (311km)
Avg: 7knts
24hr: 168.7nm
Weather: 30SW, 30%cc,
enjying the effects of the double low
Fri Oct 10 8:13 2014 NZDT
Speed:
7.5
knts
Run: 169.3nm (306.4km)
Avg: 7.2knts
24hr: 172.2nm
Weather: 100%cc, light rain , 15-20ne, mod seas
birthday 71 for the cook and all on board seem to be getting ready to party
Thu Oct 9 8:37 2014 NZDT
Speed:
7.5
knts
Run: 194.9nm (352.8km)
Avg: 8.1knts
24hr: 195nm
Weather: NNE20, 80%cc, seas mod
bacon and eggs on the go with improved conditions!
Wed Oct 8 8:38 2014 NZDT
Speed:
8
knts
Run: 150nm (271.5km)
Avg: 6.2knts
24hr: 150nm
Weather: 100%cc, 23E, seas rough
Will have plenty of passage food left on arrival!
Tue Oct 7 8:38 2014 NZDT
Speed:
5.5
knts
Run: 121.5nm (219.9km)
Weather: 30E, 100%cc, rough seas
passage to AKl and will remain nasty tll Thursday
Sun Oct 5 7:44 2014 NZDT
No position sent.
We have our full complement of 4 for our trip home.
Trevor is now on board, and J9 has arrived back in NZ on the big bird.
Just working through last minute jobs for departure tomorrow(Monday)
Wed Oct 1 17:56 2014 NZDT
GPS: 17 40.865S 177 23.215E
Run: 16.3nm (29.5km)
In Vuda marina with two crew on board. Ian and Brien arrived Monday. We had planned on going sailing for a few days before I fly home Friday but the wind has not played ball with us. Been too windy to go too far. Our third crew member Trevor arrives on Friday and the men plan on clearing customs at 10am Monday morning unless the weather window chnages.
Fri Sep 19 15:28 2014 NZST
GPS: 17 45.187S 177 09.030E
Run: 57.6nm (104.3km)
We are on countdown now. Back at Musket Cove for a week and then back to Denarau to supply up and pick up 2 crew (Brien and Ian) who arrive on the 29th. I have a few days with them and then I fly home on the 3rd October and the final crew member arrives. The men are going to tiki tour around until they are ready to sail home.
Sat Sep 6 15:38 2014 NZST
GPS: 16 56.694S 177 21.961E
Run: 29.9nm (54.1km)
We had a wonderful week with Suzanne and Charlie. Weather in North Waya drove us back to Musket Cove but we all had a great time. Nalauwaki was I think the worst night we have ever had in Fiji. Poor Charlie but he survived. Heading once again up the Yasawas with Suzanne and had a night in South Waya and Manta
Bay Naviti and now anchored in beauitfil Blue Lagoon. Here for a few days now and Sue will probably ferry back to fly home next Friday.
Tue Aug 26 13:26 2014 NZST
GPS: 17 18.580S 177 07.303E
Run: 32.3nm (58.5km)
Have had a wonderful time at Musket Cove with Kent, Mark and Bec's. They had some of the best surfs of their lives and were all very sad to leave and return to cold Melbourne. We now have Suzaane and Charlie onboard and had a rather rolly night in Yalobi Bay South Waya. Heading to Nalauwaki Bay but still blowing so not sure whats in store for us tonight.
Fri Aug 15 16:24 2014 NZST
GPS: 17 46.304S 177 11.611E
Run: 74.8nm (135.4km)
Very happy to be in marina at Musket Cove. Strong winds. Kent is onboard and went for his second surf today. Surfed Cloudbreak and its the biggest surf he has ever been in. Going back tomorrow!!! Mark and Becs arrive tomorrow and Suzanne and Charlie the end of next week. Lovely family time.
Tue Jul 29 8:26 2014 NZST
GPS: 17 18.213S 178 12.971E
Run: 49.6nm (89.8km)
Back at Nananu I Ra with our family from Melbourne. Unfortunately for them this is the coldest week we have had in Fiji since we arrived in May. Been windy and showers. Shame for our visitors but we are still having fun. They are now ashore in Bethams cottages on Nananu I Ra and we join them ashore each day until they leave us Thursday.
Tue Jul 22 15:45 2014 NZST
GPS: 17 26.500S 178 57.199E
Run: 38.2nm (69.1km)
Just had 2 lovely days at the interesting Makogai. Found the clam and turtle hatchery very interesting. Water so lovely and clear here, best so far. Just about to anchor in Viti Levu Bay for the night and then back to Nananu I Ra tomorrow..
Sat Jul 19 0:00 2014 NZST
GPS: 17 32.080S 178 22.887E
Run: 19.3nm (34.9km)
Have had a lovely week with my friend Pat and was sorry to see her fly home today. Motored from Volivoli to Tobabasaga Bay this afternoon heading to Makogai for a couple of days before the 1st of our family arrive. Shane, Sheryl, Cody and Josh from Melbourne. Looking forward to sending time with them at Nananu I Ra.
Mon Jul 14 8:33 2014 NZST
GPS: 17 18.215S 178 13.023E
Run: 59.1nm (107km)
After a couple of nights in both Vuda and Denarau marinas restocking etc our 1st quest arrived Saturday. We motored to Vitogo Bay for the night and then had a long 9 hr motor up to Nananu I Ra. Lovely spot. Had swim and Pat was pleased she didnt see any sea snakes while swimming:-) Will spend the rest of the week in this area before Pat goes home on Saturday.
Sat Jul 5 15:36 2014 NZST
GPS: 17 38.518S 177 23.635E
Run: 35.4nm (64.1km)
After swimming with the mantas (what a thrill) we headed back to Nalauwaki Bay - North Waya for a couple of days. Windy at times here but pleasant. Motored back and now anchored at Saweni Bay just south of Lautoka today. Beautiful day. Need to get supplies in as our 1st guests arrives next Saturday, my friend Pat from Pukekohe. Going to bus to Lautoka and Nadi early next week before we go into Denarau Marina next Thursday.
Tue Jul 1 0:00 2014 NZST
GPS: 17 10.177S 177 11.295E
Run: 8.6nm (15.6km)
Anchored up from Manta Ray resort Naviti. Wonderful spot and great calm night. Swam with the Manta Rays this morning, just an amassing experience. Enjoying the company of SV Chantalle.
Mon Jun 30 0:00 2014 NZST
GPS: 17 16.421S 177 06.980E
Run: 13.6nm (24.6km)
Anchored in North Waya - Nalauwaki Bay. Even worse night than Navandra. Left 1st thing in morning for Naviti.
Sun Jun 29 0:00 2014 NZST
GPS: 17 27.319S 177 02.230E
Run: 11.5nm (20.8km)
Anchored in Navandra. Terrible rolly night but beautiful spot.
Fri Jun 27 15:06 2014 NZST
GPS: 17 18.649S 177 07.409E
Run: 30.6nm (55.4km)
Anchored at Yolabi Bay South Waya.
Thu Jun 26 12:10 2014 NZST
GPS: 17 45.190S 177 09.036E
Run: 22.5nm (40.7km)
Just had another lovely 5 days back at Musket after Robinson Crusoe. The resort put on an excellent Fijian show at Robinson Crusoe The weather has been lovely and settled this week. We caught up with friends on another yacht from Nelson, Kelly, Rose and Donna. We met Kelly and Rose in 2012. Had a neat couple of nights with them. We had a neat snorkel on the sand cay just off Musket also. We have just anchored in a lovely spot of Waldigi Island for the night. All is well on board.
Wed Jun 18 13:25 2014 NZST
GPS: 18 3.097S 177 17.153E
Run: 20.4nm (36.9km)
Just had a lovely relaxing week at Musket Cove. Nice walk and pool swim each day. Island bar has been rebuilt after last cyclone and it is bigger and better than the old one. Now in Likuri Harbour just anchored off Robinson Crusoe resort for a few days.
Wed Jun 11 17:17 2014 NZST
GPS: 17 46.378S 177 11.132E
Run: 24.3nm (44km)
After a couple of nights on a mooring at Denarau we are anchored at Musket Cove for a few days. No alternators available so Clive had to rebuild the old one and we will get one brought up with a friend next month from NZ.
Fri Jun 6 17:22 2014 NZST
GPS: 17 33.648S 177 28.811E
Run: 48.7nm (88.1km)
Long day but lovely weather today on our trip down the west coast of Viti Levu. At Vitogo Bay and closer to getting our new alternator!!!!!!
Thu Jun 5 16:44 2014 NZST
GPS: 17 18.858S 178 10.311E
Run: 10.8nm (19.5km)
Lovely afternoon ashore at Volivoli Point Resort for lunch and a swim in their pool. Very friendly place. Heading back south tomorrow and into Denerau Monday.
Wed Jun 4 16:31 2014 NZST
GPS: 17 26.659S 178 15.695E
Run: 38.8nm (70.2km)
Lovely sail from Ovalau today. Stopover for the night in Viti Levu Bay and then onto Volivoli Point tomorrow. Such a lovely day after all the rain and winds over the past days.
Tue Jun 3 15:20 2014 NZST
GPS: 17 44.444S 178 45.670E
Run: 7.1nm (12.9km)
Due to high winds and constant misty rain we have ben stuck between Moturiki and Ovalau. We have a issue with our alternator so need to head back to Denerau ASAP weather permitting.
Thu May 29 15:55 2014 NZST
GPS: 17 38.260S 178 45.128E
Run: 6.6nm (11.9km)
Moved from southeast end of Ovalau to Rukuruku Bay top southeast end of Ovalau. Have 2 other yachts in bay with us for 1st time for a few days.
Thu May 29 7:24 2014 NZST
Run: 0.9nm (1.6km)
Weather: sw 25-30
left Ovalau and waiting for conditions to improve before continuing
Tue May 27 17:44 2014 NZST
GPS: 17 44.439S 178 45.669E
Run: 13nm (23.5km)
Motored from Naingani to the inside of Ovalau today. strong southeast winds today but nice spot.
Mon May 26 15:37 2014 NZST
GPS: 17 34.264S 178 40.610E
Run: 35.5nm (64.3km)
Long day, motored from Nananu I Ra 37.1 nm - 7 hours and now anchored at Naigani Island. Just having a beer and swim. Beautiful spot.
Wed May 21 16:28 2014 NZST
GPS: 17 18.274S 178 12.958E
Run: 58.9nm (106.6km)
Anchored in Nananu I Ra. Just a beautiful spot. Here for a couple of days now.
Mon May 19 15:57 2014 NZST
GPS: 17 38.437S 177 23.652E
Run: 9.2nm (16.7km)
In Saweni Bay for the night and then heading north tomorrow.
Sun May 18 20:29 2014 NZST
GPS: 17 46.374S 177 22.927E
Run: 26.3nm (47.6km)
Thu May 8 7:51 2014 NZST
Speed:
7
knts
Run: 204.6nm (370.3km)
Avg: 8.4knts
24hr: 202.2nm
Weather: E14 30%cloud 27deg
1hr 20min (but who is counting) from Vuda passage
Wed May 7 7:34 2014 NZST
Speed:
7
knts
Run: 142.8nm (258.5km)
Avg: 6knts
24hr: 144.2nm
Weather: ese14 10%cloud
Tue May 6 7:48 2014 NZST
Speed:
5.1
knts
Weather: 1-2SE 95%cloud swell
Finally! It is good to set the TX freq as well as the RX!
No blogs available for this yacht.
Loading map and updates ....
Loading track, please wait ....