Dafne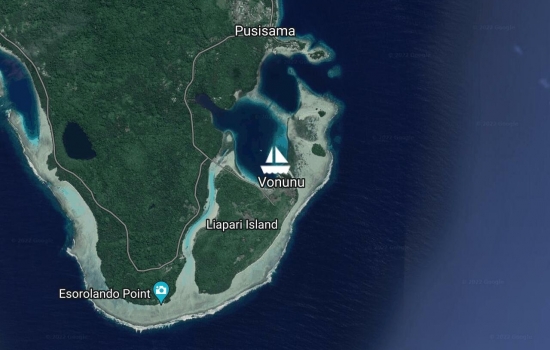 Tue Nov 27 0:00 2018 NZDT
GPS: 7 56.857S 156 42.886E
Run: 6.1nm (11km)
We've anchored the boat at Noel Hudson's marina in Liapari. He'll look after it for two weeks while we fly home.
Sat Nov 24 0:00 2018 NZDT
GPS: 8 01.256S 156 45.819E
Run: 7.7nm (13.9km)
Weather: sunny, SSE 10 kts
We found a beautiful spot to anchor on our way to Liapari: Clear water, pristine beach. We'll spend a restful night here and then press on to Liapari, where we'll leave the boat for a quick (15 day) trip back to the States.
Thu Nov 22 0:00 2018 NZDT
GPS: 8 05.823S 156 50.698E
Run: 86.9nm (157.3km)
Avg: 3.6knts
24hr: 86.9nm
We've stopped in Gizo just for the night to buy some cockroach traps for when we leave the boat next week.
Wed Nov 21 0:00 2018 NZDT
GPS: 8 27.946S 158 03.595E
Run: 6.4nm (11.6km)
Our friends on Pelican have dubbed this anchorage "fish soup," for the abundance of fish on the reef. It can get a bit sharky at dusk. But, we've had a pretty successful run here. I even speared a pompano yesterday.
Sun Nov 18 0:00 2018 NZDT
GPS: 8 29.811S 158 08.857E
Run: 11.9nm (21.5km)
Weather: SSE 10 kts
We're anchored in a spot called Sarumara. It's on the outer reef of the lagoon, but still gets some traffic from fisherman and locals wanted to sell some carvings—which are pretty amazing. We've done a lot of diving and spearfishing.
Wed Nov 14 0:00 2018 NZDT
GPS: 8 39.875S 158 11.300E
Run: 8.9nm (16.1km)
Weather: sunny
We're anchored across the pass from Mbili, a super friendly village with a robust volleyball tradition. We did a dive on the reef with a local dive master, Lisa, which was great.
Sat Nov 10 0:00 2018 NZDT
GPS: 8 47.191S 158 13.918E
Run: 125.6nm (227.3km)
Weather: SSE 15 kts
We're anchored up in Peava, on the southeastern tip of the Marovo Lagoon. The diving, freediving, and spearfishing are great here. The girls did a freediving course at a local resort. We've also connected with two other kid boats, Whiskey Jack and Pelican.
Mon Nov 5 0:00 2018 NZDT
GPS: 9 25.624S 159 57.217E
Run: 398.6nm (721.5km)
Avg: 2.8knts
24hr: 66.4nm
Weather: sunny
We've spent several days here in Honiara, the capital, topping off on diesel and provisioning. The diesel has to be carted by hand from the petrol station, which is a bit of a pain. There's a bulk shop that has some provisioning, and a good butcher. As expected, we're able to find some stuff, but not others. Such is life on a boat. No big deal.
Tue Oct 30 0:00 2018 NZDT
GPS: 10 16.990S 165 44.591E
Run: 28.6nm (51.8km)
Weather: clear, sunny, ESE 10 kts
Conditions are pretty light, so we're motorsailing. All day we've had the stratovolcano Tinakula off our port beam, replete with its frothy, exploding peak. Pretty spectacular.
Mon Oct 29 0:00 2018 NZDT
GPS: 10 12.464S 166 09.361E
Run: 9.5nm (17.2km)
Weather: calm, sunny
It was hard to pull ourselves away from the villagers in Mol'a, but we finally headed out to the outer reef. This place looks epic in Google Earth, and it is indeed beautiful. But, on our spearfishing expedition this afternoon we didn't see much wildlife. Not sure if maybe it's overfished?
We asked permission to visit this spot from chief John in Mol'a, who assured us it was ok. Nontheless, at dusk a speedboat from another distant island came by, claimed ownership, and said that we were lucky that they didn't charge us $1000 USD as a fine. (Ouch!) We took our cue from that and are heading out this morning for a 3-day sail to Honiara.
Mon Oct 22 0:00 2018 NZDT
GPS: 10 12.433S 166 17.731E
Run: 6.2nm (11.2km)
Weather: sunny, calm
Wow. This place is off the charts. We followed Field Trip's track and anchored up off the northern tip of Fenualoa, off the village of Mol'a. The people here are wonderful. They greeted us with breakfast! Then, we played an epic soccer game. Early morning church services were lovely, too.
The nearby island of Nifioli is also great. We went lobstering with some locals there and played a super volleyball match. Volleyball is the main sport here.
This is the kind of anchorage—shallow, super clear water—that we love. We'll park for a week, then explore the far western reaches of the reef, before heading to Honiara.
Fri Oct 19 0:00 2018 NZDT
GPS: 10 17.837S 166 17.955E
Run: 44.1nm (79.8km)
Weather: squally
We hit some pretty intense squalls on the way across to the Reef Islands, including a near whiteout. We had to anchor a bit blind, trusting our Google Earth images in Ovital.
The village here wants to charge $40USD for anchoring, which is a bit absurd. We refused and bartered, instead, to repair some of their broken stuff in exchange for staying for a few days. Things improved a bit when one of the elders took us to a nearby village for a big festival, which was awesome. We had a ton of lap lap, their local cassava casserole, and were regaled with dancing, music, and smiles. Everyone's hugely friendly and welcoming. We've been here a couple of days, and will head into the inner reef and Fenualoa tomorrow.
Mon Oct 15 0:00 2018 NZDT
GPS: 10 44.206S 165 49.777E
Run: 181nm (327.6km)
Avg: 3.8knts
24hr: 90.5nm
Weather: clear, SE 10 kts
We've arrived in the town of Lata on Nendo Island (Santa Cruz) in the Solomon Islands. There's no place to anchor in front of the town, so we're over on a ledge across the harbor. The town is extremely dirty and everyone seems to be high on betel nut. Check in was relatively painless, except the bank doesn't function so the financials are a bit tricky. We were able to pay our immigration fees in USD and change a few more USD in order to pay the health fee. But, luckily, they're letting us pay the expensive custom fee when we check out.
We'll leave tomorrow for the Reef Islands, 20 nm away.
Sat Oct 13 0:00 2018 NZDT
GPS: 13 14.789S 166 35.753E
Run: 54nm (97.7km)
Weather: clear, SE 10-15 kts.
We had a pleasant day sail over to the Torres Islands yesterday, our last stop in Vanuatu. It's been a fantastic two months. We've loved the people and the landscape. The village here on Tegua is on the east side, about 2 miles by foot. So, the anchorage is super quiet. We traded some gasoline for a heap of fresh fish and did some snorkeling. But, since we're checked out, we're staying away from the shore. We'll head off tomorrow for the Solomons.
Fri Oct 12 0:00 2018 NZDT
GPS: 13 32.511S 167 20.393E
Run: 13.1nm (23.7km)
It's pretty cool anchoring up in an extinct volcano. The harbor is a bit deep, but there's a ledge in the southeast corner, near the village, where we found about 13 meters with good holding. The village is nice, but a little pushy with expecting donations. We traded a bit for fruit and a tour of the place, and the captain repaired some electronics for one of the council elders. As a result we received an invitation to a ceremony for the chiefs and were offered a taste of kava in the ceremony.
Wed Oct 10 0:00 2018 NZDT
GPS: 13 38.219S 167 30.471E
Run: 17nm (30.8km)
Weather: clear
Lovely anchorage along the reef at Rowa, just north of Vanua Lava. Uninhabited, but some fisherman from a village on VL came over for the night, bearing fish! Had a great snorkel on the reef. Will head to Ureparapara tomorrow.
Mon Oct 8 14:54 2018 NZDT
GPS: 13 52.705S 167 33.199E
Run: 22.8nm (41.3km)
At anchor in Sola. All checked out, but the locals are having a celebration with lots of singing, string bands, and kastom dancing, none of which can be missed! The musical culture in this part of the world is really rich. We've loved Vanuatu and will be sorry to leave. But, cyclone season approaches. Also, there are some kids boats up in the Solomons and we're hopeful to connect.
Wed Oct 3 17:00 2018 NZDT
Speed:
6.0
knts
GPS: 14 12.501s 167 34.152e
Run: 71.7nm (129.8km)
Weather: 10knts SW .5m swell from the W 20% cloud cover.
Easy day sail around to the top of Gaua, ferrying a sick woman from a remote village here for medical attention. Anchored off Losalava.

Psyched to do the waterfall hike tomorrow.
Fri Sep 28 17:50 2018 NZST
GPS: 15 8.835S 167 6.749E
Weather: Rainy
At anchor in Hog Harbor, Santo, Vanuatu. Waiting for this freak TC Liua to head far away west before we continue to the Banks and Torres.
No blogs available for this yacht.
Loading map and updates ....
Loading track, please wait ....