Eagle's Wings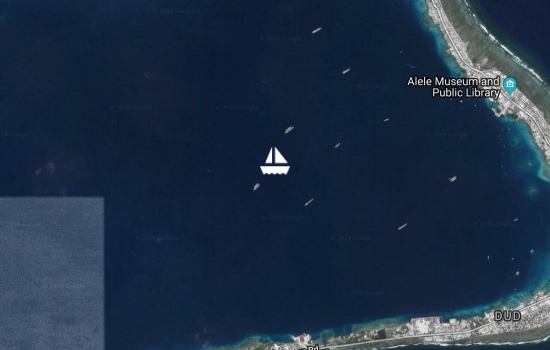 Mon Dec 2 22:15 2019 NZDT
Run: 21.4nm (38.7km)
Weather: Wind 12 knots from NE. Baro 1009.
We arrived safely in Majuro early this afternoon. The transmission behaved itself and worked fine all the way into the mooring field. We motored quite a bit over the last few days, which was a very good thing given the light winds. We had some nice wind for our arrival and were able to sail for the last several hours. It is great to be in port and the folks here are really friendly and helpful. Should be a very nice stay.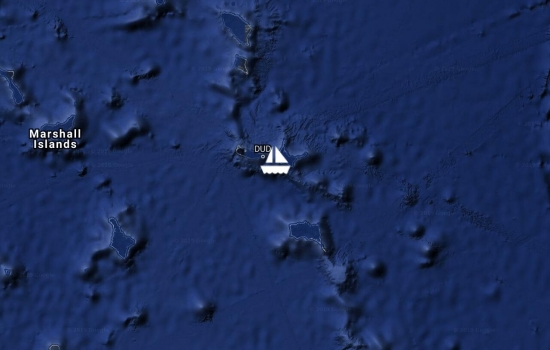 Mon Dec 2 8:42 2019 NZDT
Speed:
6
knts
Run: 173.3nm (313.7km)
Avg: 7.1knts
24hr: 171.2nm
Weather: Wind 9.8 knots from 75T. Baro 1008. 1 meter swells. Squalls and lightning overnight. Almost completely cloudy, with more weak squalls around.
Motored all of yesterday in light headwinds. We passed a series of floats to our port side yesterday. May have been a fishing net. Started sailing again early this morning when the clew of the genoa blew out. Ken was able to get the sail rolled up and then secured it by winding several halyards around the sail. Motorsailing now and getting close to Majuro. We should arrive today. The transmission has been cooperating and we're hopeful we'll get into the atoll under our own steam.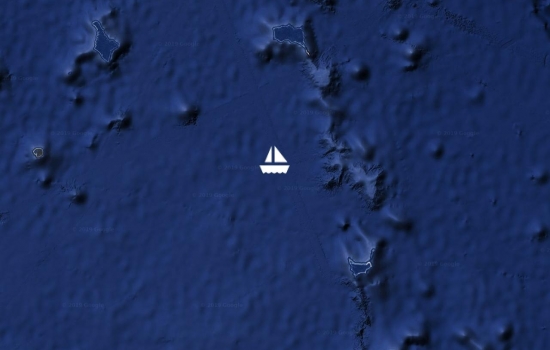 Sun Dec 1 8:24 2019 NZDT
Speed:
6
knts
Run: 169.3nm (306.4km)
Avg: 7.1knts
24hr: 170.4nm
Weather: Wind 6.7 knots from 352T. Baro 1008.5. 1-2 meter swells. Lightning in the distance overnight. Lots of cloud around but no ominous looking squalls in our path at the moment.
We motored all yesterday in light winds. We've been able to increase the rpms of the engine gradually with no additional vibration. Hopefully we'll get some wind later today so we can start sailing again. We've been seeing little lights darting around at night in the water around the boat. Maybe we're seeing squid eyes?
Sat Nov 30 8:33 2019 NZDT
Speed:
5.5
knts
Run: 150nm (271.5km)
Avg: 6.3knts
24hr: 150nm
Weather: Wind .9 knots from 263T. Baro 1008.5. 1-2 meter swells. Small squalls ahead and lots of cloud all around on the horizon. But some blue sky, too.
We crossed the equator yesterday. This is the first time since 2006 that we have been in the Northern Hemisphere with the boat. Although the wind was light (10-12) during the day, it was from a good direction and we could sail. The wind slowly petered out by late afternoon. We crossed our fingers and started up the engine. The transmission engaged and we've been motoring slowly ever since. It doesn't look like there will be any wind in the near future. The sea is very placid, though there are some big rollers coming in from the north. It is actually good we are going slow as it is giving some big storms up north a chance to move off. The sky cleared enough last night to see planets and northern hemisphere stars. It was glorious to see the northern sky again.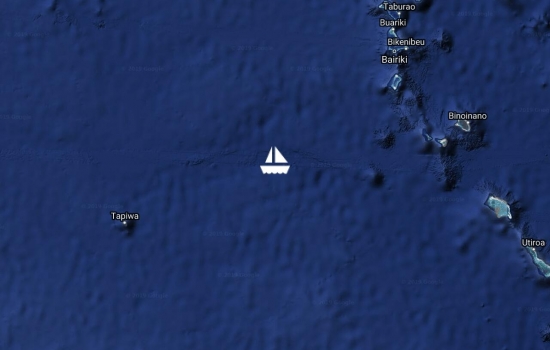 Fri Nov 29 8:33 2019 NZDT
Speed:
6.2
knts
Run: 147.7nm (267.3km)
Avg: 6.3knts
24hr: 151.2nm
Weather: Wind 9.8 from 122T. Baro 1008.5. 1 meter waves. A few small squalls, but also patches of blue sky.
After mostly a light air day, the wind picked up yesterday evening and we're back to sailing. While we were motoring earlier in the day, the transmission was behaving, although we still had to run at reduced rpms. We've seen a handful of ships and fishing boats on the AIS since we started, but yesterday (9 days out), we had our first visual on an actual ship (as opposed to just its lights). We had a few squalls yesterday and overnight but they just had some rain and wind up to 24 knots. Luckily we haven't seen any lightning in several days. We should cross the equator soon. The highest water temp we've seen is 87.8F and that was at 5 37 south. The temps have actually been decreasing as we're approaching the equator (between 84 and 85 degrees F). But it is more humid, so is very sticky. Ken says we should "embrace the sweat". Beth is considering shaving her head.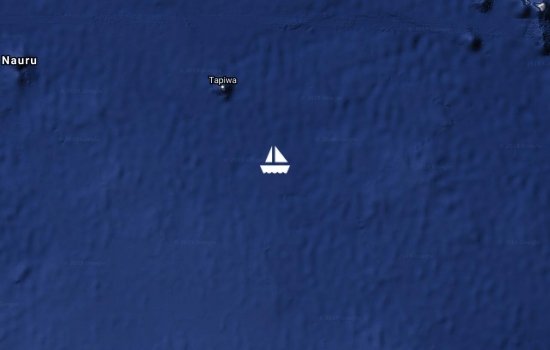 Thu Nov 28 9:06 2019 NZDT
Speed:
3.7
knts
Run: 115.6nm (209.2km)
Avg: 5.2knts
24hr: 124.9nm
Weather: Wind 3 from variable directions. Baro 1008.5. Waves miniscule. Squalls around, but seemed to be defanged.
We picked up some nice wind during the day yesterday and it was from a favorable direction and we were able to sail all day. As squalls started to pop up, we reduced our sail plan to a very conservative rig (2 reefs in the main and staysail). It was killing us to have all of the nice wind around that we couldn't take advantage of. As it turned out, the squalls never delivered a big punch (even though they looked impressive on the radar). The wind gradually died during the day and bit by bit, our speed bled away until we were like a big cork, just bobbing around. After our alarming experience getting the engine in gear yesterday, we were reluctant to turn it back on. But, we held our breath and Ken gave it a whirl. The transmission engaged, but with a lot of vibration. We found that the vibration was manageable if we ran the engine at low rpms. We've been inching along ever since. We have to run up the rpms every hour to blow out the carbon, and that is a teeth rattling experience. But, at least we are able to motor in the light conditions. We've been in contact with the excellent mechanic we have worked with for many years in NZ and he is helping us sort through options. We've also been in contact with a person in Majuro who could provide us with a tow once we get to Majuro if we need it. He had some very helpful ideas for helping us get this fixed. So, we're much more optimistic about the prospects for getting the transmission sorted once we get to port.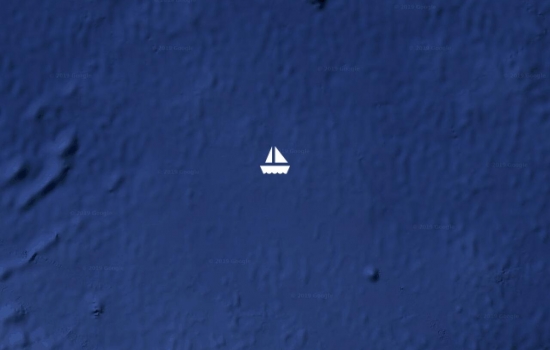 Wed Nov 27 10:53 2019 NZDT
Speed:
5
knts
Run: 160.9nm (291.2km)
Avg: 6.2knts
24hr: 149.8nm
Weather: Wind 14 350T. Baro 1008. Waves 1 meter from the north. Squalls all around (we're in one right now).
The wind held from a good direction all day today. We had expected it to shift to the North and northeast and lighten, but we were able to sail all day. We sailed through several squalls, but there wasn't much in them. Overnight we had more significant squalls with wind up to 33 knots. The wind finally went north a few hours ago and we are now motorsailing in a more northerly direction. When we tried to put the engine in gear, we had the same horrible noise we had two days. Ken believes there is a problem engaging the transmission. He was able to make an adjustment to get it to engage, but we're not sure what the scope of the problem is. Will do more troubleshooting during the day today. It was very hot today during the day and we turned our dorades forward to get more air through the boat. But then we forgot to turn the dorades back later in the day and when the squalls hit overnight we got a bit of water down below. Some clothes and bags got wet, and the forward head had quite a bit of water on the floor. But nothing got damaged. Guess we won't make that mistake again any time soon.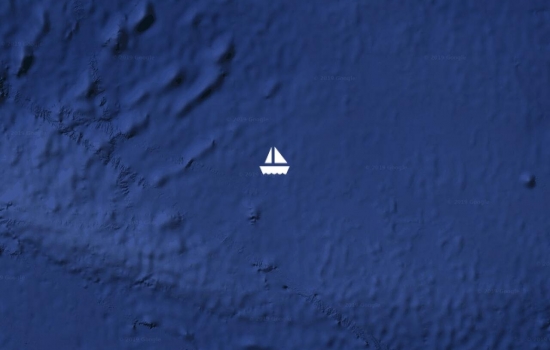 Tue Nov 26 9:06 2019 NZDT
Speed:
7
knts
Run: 180.9nm (327.4km)
Avg: 7.4knts
24hr: 178.7nm
Weather: Wind 14 331T. Baro 1006.5. Waves 1 meter. Squalls off in the distance. Some blue sky
We motored during the day yesterday in light winds but started sailing again early evening when the wind started picking up. Ken saw lightning in the distance on his watch, but we haven't heard any thunder. We reefed down for squalls and also because Beth has limited maneuverability. Her injury (likely a cracked rib) is constraining her from doing quick or involved sail changes on her own. Wind has been up and down all night with squalls, but we're sailing along nicely at the moment. We have about 1/2 knot of counter current. It has been very HOT during the daytime. Yesterday it was over 95 degrees down below, so we turned the dorades around to get more air. The water temp is over 85 degrees. We have two fans going in the pilothouse and it really helps to have so many hatches in the pilothouse. Beth has been sticking her head under a sink faucet to cool off, but that water was also very hot! There is always an ice bag on the head technique?.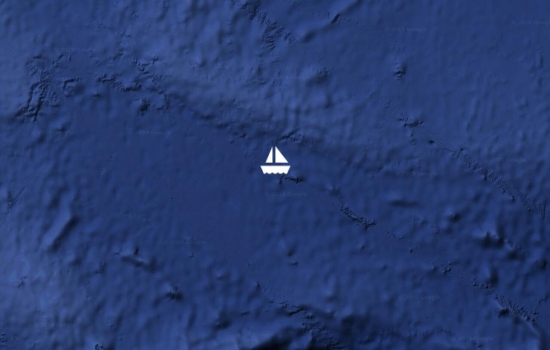 Mon Nov 25 8:48 2019 NZDT
Speed:
6.5
knts
Run: 195.5nm (353.9km)
Avg: 8knts
24hr: 192.3nm
Weather: Wind 4 158T. Baro 1005. Waves 1-2 meters. Cloud everywhere. A few patches of blue sky. Looks pretty muddy to the north and east.
We got through the sling shot maneuver without a hitch and are continuing to head NE. We want to mention that we've been working with Bruce Buckley, a weather router based in Australia. We've worked with him on many passages and he has been fantastic. In this case, our initial impulse was to try to get past this system on the east side. That would never have worked, and we would have aborted the effort. But, we would not have had the confidence to try this sling shot move without Bruce. It's one thing to try to maneuver around a tropical low once it's up and running, it's another thing entirely to figure out where it will form up and what it will do afterwards. Bruce was also able to keep us out of most of the squalls and thunderstorm activity surrounding this thing. He was a senior meteorologist at the Perth Tropical Cyclone Warning Centre and he's vastly better at it and has far more information about it than we have. All told, it has been an excellent passage so far. We had a very nice day of sailing yesterday, with good wind all day and overnight. We went through one squall during the day that dumped a lot of rain on us, but thankfully no lightning. The wind held out much longer than we expected overnight and we just started motoring around 1800 UTC after the wind dropped below 7 knots. We had a bit of excitement when we Ken test started the engine (for the first time in 5 ½ days!). After Ken put the engine in gear, it started to make a horrible screeching noise. Ken turned it all off and inspected everything but couldn't see any problem. This noise happened on another starting attempt. It was almost like the shaft couldn't turn. Ken fiddled with it some more, muttered some incantations, and then it worked! We're still not sure what the problem was, but at least it is working now.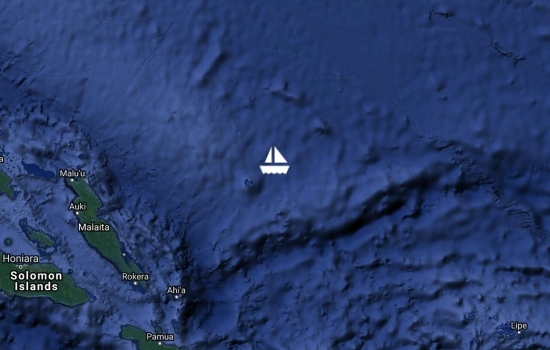 Sun Nov 24 8:24 2019 NZDT
Speed:
8
knts
Run: 156.3nm (282.9km)
Avg: 6.5knts
24hr: 155nm
Weather: Wind 23 194T. Baro 1003. Waves 3 meters from the SE. Lots of cloud around.
We executed the sling shot maneuver about 12 hours ago. So far so good. We're expecting to encounter some thunderstorms, but have only gotten a few bouts of light rain. The developing cyclone to our SE is giving us a very nice boost. And it is great to finally be heading more to where we are ultimately trying to go. We are thinking we'll have to carry on further east than the Longitude of Majuro, so that we can head back to the NW when we hit easterly winds. Three boobies visited us about sunset and tried to land on our hardtop (which has solar panels). Ken maintained a watch to shoo them off (they make a real mess). He convinced them to head back to the Solomons (which are very close) after a lot of very vigorous whooping. So far we've only run the engine for 30 minutes (to get out of Port Vila), so we?re happy about conserving our fuel reserve. We had expected we'd need to motor a lot. Sat Nov 23 8:12 2019 NZDT
Speed:
6.7
knts
Run: 175.9nm (318.4km)
Avg: 7.7knts
24hr: 183.9nm
Weather: Wind 23 135T. Baro 1005. Waves 2-3 meters from the SE. We're sailing deep downwind. Water temp 82.85F. Had winds to 33 knots earlier this morning, sustaining 30+ for a time.
We've been working to position ourselves to sling shot off the backside of the tropical storm developing just NE of the Solomons. We're aiming to stay close enough to it to have good wind but not TOO close. Will be interesting to see how this works. We can always run further west if we have to. We've been paralleling some impressive looking squall lines, but we haven't gotten into one yet. We've been alternating between double reefed and triple reefed main, with no headsail, but there is plenty of wind to move us along. Very pleasant at the moment. Hope it lasts.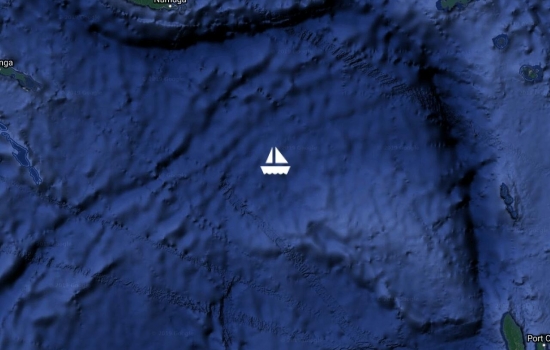 Fri Nov 22 9:15 2019 NZDT
Speed:
5.5
knts
GPS: 12 55.94S 163 38.06E
Run: 166.8nm (301.9km)
Avg: 6.7knts
24hr: 160.8nm
Weather: Wind 14.7 145T. Baro 1007.5. Waves 2 meters from the SE. We're sailing deep downwind. Air temp 81.77F.
Very nice sailing conditions all day yesterday. We reefed down about sunset, as squalls started to pop up. So we've been meandering slowly since then. The wind gets sucked up by the squalls but then the next minute it can be 22 knots. Most we've seen so far is 26 knots. The wind has also shifted around a good deal, but the monitor wind vane is handling that well. Our course is looking a little bit wobbly. The clutch for one of our jib sheets lost the spring which holds the clutch mechanism in place (allowing the line to move freely). Fortunately Ken found a spare and was able to install the new spring. Both of us have also developed minor injuries. Ken banged his elbow very hard and it swelled up. Ice and an anti-inflammatory is helping that. Beth lost her balance and fell on her side/back into the vanity in the aft head, breaking the toilet paper roll holder and bruising her back. Ice and Panadol is helping that. Between the two of us, we have one intact person. We'll have to be more careful...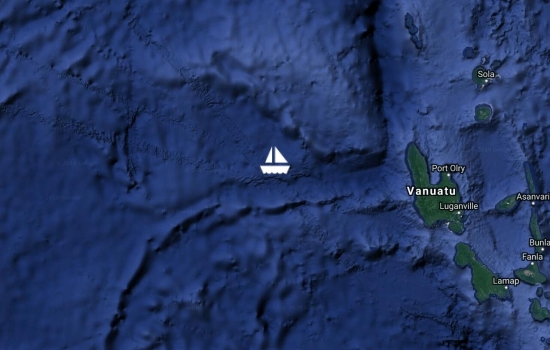 Thu Nov 21 8:21 2019 NZDT
Speed:
7.8
knts
GPS: 15 02.33S 164 50.91E
Run: 187.5nm (339.4km)
Avg: 7.6knts
24hr: 182.9nm
Weather: Wind 18-22 SE. Baro 1007. Mostly cloudy with some blue skies to the south. Waves 2 meters. Very pleasant temps. Short sleeve weather even overnight.
Very nice sailing conditions since we started the trip. Jibing downwind as we make our way NW. Have seen no boats other than those at the dock in Port Vila since we left. We know Cetacea is out here, but we haven't been able to connect with each other via VHF or AIS.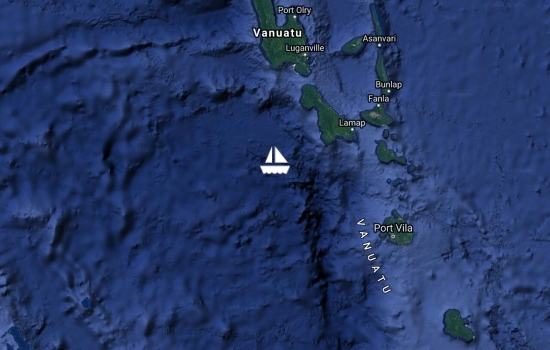 Wed Nov 20 7:45 2019 NZDT
Speed:
7.7
knts
GPS: 16 58.99S 166 49.03E
Run: 111.8nm (202.4km)
Weather: 19 ESE. Baro 1008. Mostly cloudy. Line of squalls passed behind us over the past several hours
We left Port Vila yesterday afternoon and are enjoying very nice sailing conditions. We are bound for the Marshall Islands, but are sailing to the west first to get on the west side of some nasty looking cyclonic activity brewing to our north. We're not sure if it will amount to anything, but decided to be safe. This promises to be a long passage and likely to be very squally.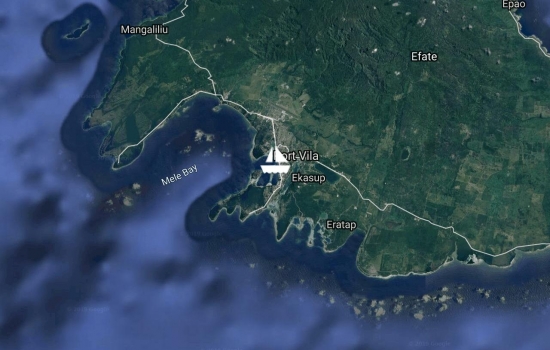 Sun Jul 28 18:54 2019 NZST
GPS: 17 44.87S 168 18.65E
Run: 77.8nm (140.8km)
Avg: 3.6knts
24hr: 86.2nm
Weather: 6 ESE. Baro 1014. Few scattered clouds.
We motorsailed from Erromango to Port Vila today. The weather was beautiful and we had a good trip. We caught a mahi mahi along the way. It is great to be back in Port Vila.
Sat Jul 27 21:15 2019 NZST
GPS: 18 37.822S 169 02.79E
Run: 68.6nm (124.2km)
Weather: 6 SE. Baro 1016. Very dark sky with lots of stars out.
Sailed from Port Resolution to Ponamias Bay on the NW corner of Erromango today. We had great wind all day for the trip which was a good thing as we had a long way to go. The anchorage at Ponamias Bay is very small but surprisingly well protected from trade winds. We had trouble setting the anchor, though. Took 4 tries. We thought the holding would be good as there is a river at the head of the bay so there should have been good mud. But, if it is soupy mud the Rocna doesn't grab so well. We're planning to make a push to Efate tomorrow.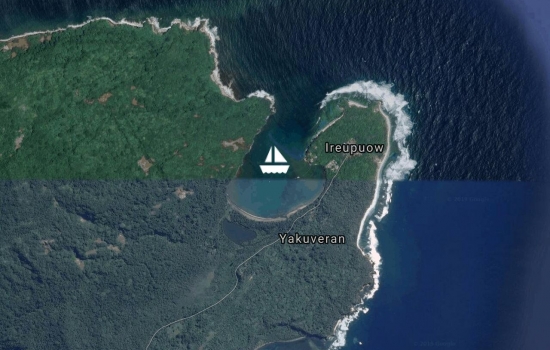 Fri Jul 26 16:09 2019 NZST
GPS: 19 31.64S 169 29.73E
Run: 47.1nm (85.3km)
Weather: 8 ESE. Baro 1013.5. 99% cloud.
After some very nice diving at Anawamet Bay, we decided to start heading to Port Vila. We sailed to Port Resolution on Tanna today and had super wind for sailing. And to top it off, we caught a small yellow fin tuna. Will leave tomorrow morning for Erromango.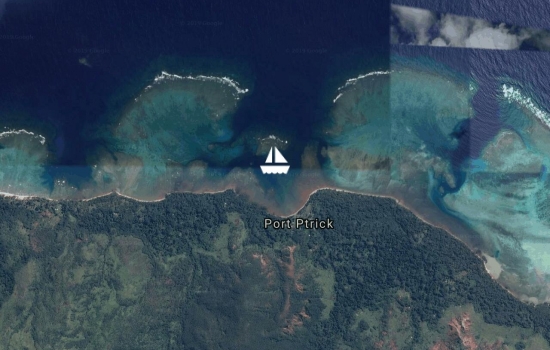 Sun Jul 21 9:09 2019 NZST
GPS: 20 08.017S 169 49.619E
Run: 7.9nm (14.3km)
Weather: 15 SSE. Baro 1015.5. 20% cloud.
Moved to the north side of the island yesterday and are anchored in Anamnet Bay. Very beautiful and peaceful. Hope to dive on the nearby reefs today. Noke, the chief's son, paddled out to us in his dugout outrigger. He returned later in the afternoon with loads of fruit, a pumpkin, bok choy, and an unusual vegetable called a snake bean. The bean is almost a meter long! Just as an update on our vibration issue: Ken found no damage when he dove on the prop after we arrived in Aneityum over a week ago. The prop speed had been scraped off in some places on the skeg and prop but otherwise no sign of any problem. All of the zincs were intact, much to our surprise.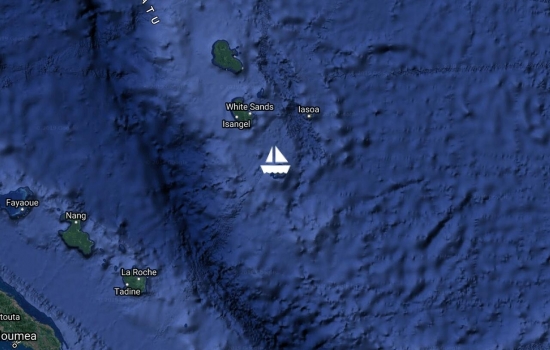 Thu Jul 11 21:21 2019 NZST
GPS: 20 14.268S 169 46.60E
Run: 90.1nm (163.1km)
Avg: 6.3knts
24hr: 152.3nm
Weather: Wind 15 knots, (ENE-ESE). Baro 1017.5. 80% cloud.
After a slow start this morning, the winds really picked up and we had great sailing all day, arriving in the afternoon at the Anietyum Anchorage. We're looking forward to exploring the place.
Thu Jul 11 7:09 2019 NZST
Speed:
8.5
knts
GPS: 21 30.13S 170 06.88E
Run: 187.9nm (340.1km)
Avg: 7.9knts
24hr: 188.7nm
Weather: Wind 18-20 knots, (ESE). Baro 1017. 80% cloud. Swell 2 meters.
Reached the trades yesterday morning and Eagle?s Wings spread her wings. We were moving along very nicely in light air under full hoist, but had to reef down overnight with brief squalls and winds up to 26 knots. We also found an adverse current for many hours during the night. Great to be sailing again. We got permission to stop at Aneityum and with luck (e.g., no more adverse currents), we?ll be in before nightfall. If not, we?ll heave to and go to the anchorage tomorrow morning.
Wed Jul 10 7:15 2019 NZST
Speed:
6.2
knts
GPS: 24 12.10S 170 27.90E
Run: 165.3nm (299.2km)
Avg: 7.5knts
24hr: 180.7nm
Weather: Wind 5-8 knots, (SE-SSE). Baro 1017.5. Clouds all around horizon. Patchy clouds overhead. Swell 1-2 meters.
Motored slowly all day yesterday, as the wind dropped to zilch (and we are trying to keep the vibration to a minimum)down). The grib files show little circles (instead of wind barbs) in the area we are traveling through (which means no wind!). Fortunately we have a favorable current giving us a boost. We expect the wind to pick up today so we should be sailing again soon. We did have temporary bursts of wind yesterday in small squalls. We saw a spectacular full rainbow yesterday afternoon that lasted 15 minutes and dazzled us with the most vibrant violets. The angle of the sun was just right and the rainbow continued onto the surface of the water at each end.
Tue Jul 9 9:18 2019 NZST
Speed:
6.3
knts
GPS: 26 28.85S 171 16.11E
Run: 194.4nm (351.9km)
Avg: 7.6knts
24hr: 181.9nm
Weather: Wind 5 knots, shifting directions (ENE-SE). Baro 1017.5. Clouds all around horizon, rhead. Patchy clouds overhead. Swell 1-2 meters.
Wind up and down yesterday but were able to sail for a while. Motoring now. Boat had a strong vibration early this morning. It wasn?t an earthquake but Ken thinks that maybe one of our prop zincs came loose. Vibration decreases a lot if we turn down the rpms, so we?re motoring more slowly.
Mon Jul 8 7:39 2019 NZST
Speed:
5.8
knts
GPS: 29 11.93S 172 05.05E
Run: 187nm (338.5km)
Avg: 7.6knts
24hr: 183.6nm
Weather: Wind 10.7 SSW. Baro 1019. Cloud and squalls on horizon. Patchy clouds overhead. Swell 1-2 meters.
Wind picked up a little yesterday and were able to sail in the afternoon. Motored for a while overnight but wind came up in squalls and have been sailing since early morning. Squalls giving us wind, but no rain yet. We can see rain on the horizon but we?ve only gotten the wind part (up to 22 knots) of the squalls.
Sun Jul 7 7:12 2019 NZST
Speed:
7.4
knts
Run: 189.5nm (343km)
Avg: 7.9knts
24hr: 188.7nm
Weather: Wind 8 SSW. Baro 1024.5. 50% cloud with showers on the horizon. Swell 1 meter. Temps didn?t change much during the day but now they are slowly inching up.
Very nice day of sailing yesterday but wind died off early this morning and we are now motoring. Wonderful to just sit and read or listen to books and music.
Sat Jul 6 7:06 2019 NZST
Speed:
7.7
knts
GPS: 34 20.196S 174 12.979E
Run: 96.4nm (174.5km)
Weather: 19 SSW. Baro 1023.5. Some clear sky with clouds around the horizon. Swell 2 meters. Temps slowly but steadily rising.
Left Marsden Friday afternoon, bound for Vanuatu. Had a pleasant sail up the east side of the north island. Lots of squalls around when we left, but miraculoudsly they didn't hit us. Beautiful stars out ovenight.
No blogs available for this yacht.
Loading map and updates ....
Loading track, please wait ....