Eagle's Wings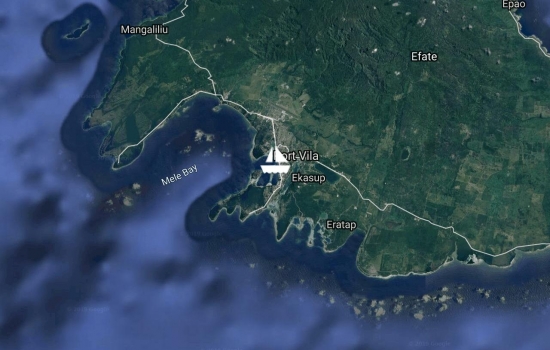 Sun Jul 28 18:54 2019 NZST
GPS: 17 44.87S 168 18.65E
Run: 77.8nm (140.8km)
Avg: 3.6knts
24hr: 86.2nm
Weather: 6 ESE. Baro 1014. Few scattered clouds.
We motorsailed from Erromango to Port Vila today. The weather was beautiful and we had a good trip. We caught a mahi mahi along the way. It is great to be back in Port Vila.
Sat Jul 27 21:15 2019 NZST
GPS: 18 37.822S 169 02.79E
Run: 68.6nm (124.2km)
Weather: 6 SE. Baro 1016. Very dark sky with lots of stars out.
Sailed from Port Resolution to Ponamias Bay on the NW corner of Erromango today. We had great wind all day for the trip which was a good thing as we had a long way to go. The anchorage at Ponamias Bay is very small but surprisingly well protected from trade winds. We had trouble setting the anchor, though. Took 4 tries. We thought the holding would be good as there is a river at the head of the bay so there should have been good mud. But, if it is soupy mud the Rocna doesn't grab so well. We're planning to make a push to Efate tomorrow.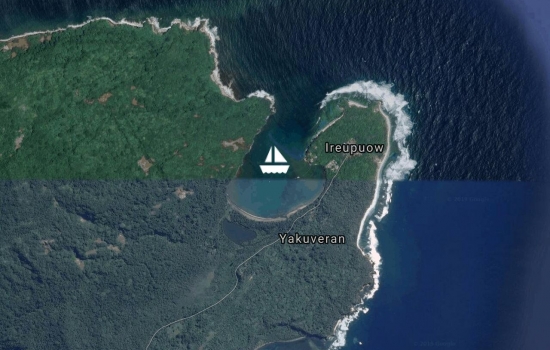 Fri Jul 26 16:09 2019 NZST
GPS: 19 31.64S 169 29.73E
Run: 47.1nm (85.3km)
Weather: 8 ESE. Baro 1013.5. 99% cloud.
After some very nice diving at Anawamet Bay, we decided to start heading to Port Vila. We sailed to Port Resolution on Tanna today and had super wind for sailing. And to top it off, we caught a small yellow fin tuna. Will leave tomorrow morning for Erromango.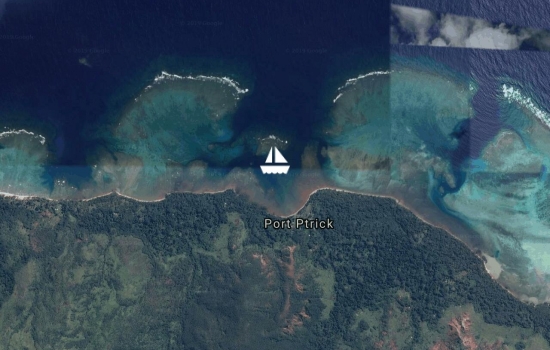 Sun Jul 21 9:09 2019 NZST
GPS: 20 08.017S 169 49.619E
Run: 7.9nm (14.3km)
Weather: 15 SSE. Baro 1015.5. 20% cloud.
Moved to the north side of the island yesterday and are anchored in Anamnet Bay. Very beautiful and peaceful. Hope to dive on the nearby reefs today. Noke, the chief's son, paddled out to us in his dugout outrigger. He returned later in the afternoon with loads of fruit, a pumpkin, bok choy, and an unusual vegetable called a snake bean. The bean is almost a meter long! Just as an update on our vibration issue: Ken found no damage when he dove on the prop after we arrived in Aneityum over a week ago. The prop speed had been scraped off in some places on the skeg and prop but otherwise no sign of any problem. All of the zincs were intact, much to our surprise.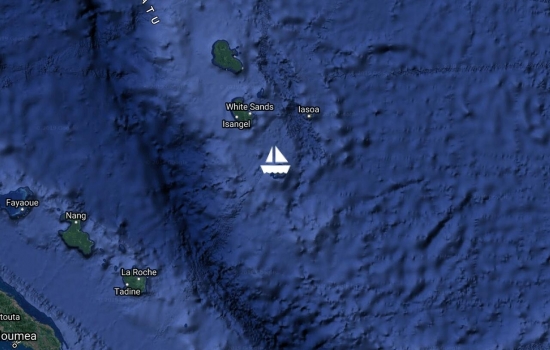 Thu Jul 11 21:21 2019 NZST
GPS: 20 14.268S 169 46.60E
Run: 90.1nm (163.1km)
Avg: 6.3knts
24hr: 152.3nm
Weather: Wind 15 knots, (ENE-ESE). Baro 1017.5. 80% cloud.
After a slow start this morning, the winds really picked up and we had great sailing all day, arriving in the afternoon at the Anietyum Anchorage. We're looking forward to exploring the place.
Thu Jul 11 7:09 2019 NZST
Speed:
8.5
knts
GPS: 21 30.13S 170 06.88E
Run: 187.9nm (340.1km)
Avg: 7.9knts
24hr: 188.7nm
Weather: Wind 18-20 knots, (ESE). Baro 1017. 80% cloud. Swell 2 meters.
Reached the trades yesterday morning and Eagle?s Wings spread her wings. We were moving along very nicely in light air under full hoist, but had to reef down overnight with brief squalls and winds up to 26 knots. We also found an adverse current for many hours during the night. Great to be sailing again. We got permission to stop at Aneityum and with luck (e.g., no more adverse currents), we?ll be in before nightfall. If not, we?ll heave to and go to the anchorage tomorrow morning.
Wed Jul 10 7:15 2019 NZST
Speed:
6.2
knts
GPS: 24 12.10S 170 27.90E
Run: 165.3nm (299.2km)
Avg: 7.5knts
24hr: 180.7nm
Weather: Wind 5-8 knots, (SE-SSE). Baro 1017.5. Clouds all around horizon. Patchy clouds overhead. Swell 1-2 meters.
Motored slowly all day yesterday, as the wind dropped to zilch (and we are trying to keep the vibration to a minimum)down). The grib files show little circles (instead of wind barbs) in the area we are traveling through (which means no wind!). Fortunately we have a favorable current giving us a boost. We expect the wind to pick up today so we should be sailing again soon. We did have temporary bursts of wind yesterday in small squalls. We saw a spectacular full rainbow yesterday afternoon that lasted 15 minutes and dazzled us with the most vibrant violets. The angle of the sun was just right and the rainbow continued onto the surface of the water at each end.
Tue Jul 9 9:18 2019 NZST
Speed:
6.3
knts
GPS: 26 28.85S 171 16.11E
Run: 194.4nm (351.9km)
Avg: 7.6knts
24hr: 181.9nm
Weather: Wind 5 knots, shifting directions (ENE-SE). Baro 1017.5. Clouds all around horizon, rhead. Patchy clouds overhead. Swell 1-2 meters.
Wind up and down yesterday but were able to sail for a while. Motoring now. Boat had a strong vibration early this morning. It wasn?t an earthquake but Ken thinks that maybe one of our prop zincs came loose. Vibration decreases a lot if we turn down the rpms, so we?re motoring more slowly.
Mon Jul 8 7:39 2019 NZST
Speed:
5.8
knts
GPS: 29 11.93S 172 05.05E
Run: 187nm (338.5km)
Avg: 7.6knts
24hr: 183.6nm
Weather: Wind 10.7 SSW. Baro 1019. Cloud and squalls on horizon. Patchy clouds overhead. Swell 1-2 meters.
Wind picked up a little yesterday and were able to sail in the afternoon. Motored for a while overnight but wind came up in squalls and have been sailing since early morning. Squalls giving us wind, but no rain yet. We can see rain on the horizon but we?ve only gotten the wind part (up to 22 knots) of the squalls.
Sun Jul 7 7:12 2019 NZST
Speed:
7.4
knts
Run: 189.5nm (343km)
Avg: 7.9knts
24hr: 188.7nm
Weather: Wind 8 SSW. Baro 1024.5. 50% cloud with showers on the horizon. Swell 1 meter. Temps didn?t change much during the day but now they are slowly inching up.
Very nice day of sailing yesterday but wind died off early this morning and we are now motoring. Wonderful to just sit and read or listen to books and music.
Sat Jul 6 7:06 2019 NZST
Speed:
7.7
knts
GPS: 34 20.196S 174 12.979E
Run: 96.4nm (174.5km)
Weather: 19 SSW. Baro 1023.5. Some clear sky with clouds around the horizon. Swell 2 meters. Temps slowly but steadily rising.
Left Marsden Friday afternoon, bound for Vanuatu. Had a pleasant sail up the east side of the north island. Lots of squalls around when we left, but miraculoudsly they didn't hit us. Beautiful stars out ovenight.
No blogs available for this yacht.
Loading map and updates ....
Loading track, please wait ....