FLASHGIRL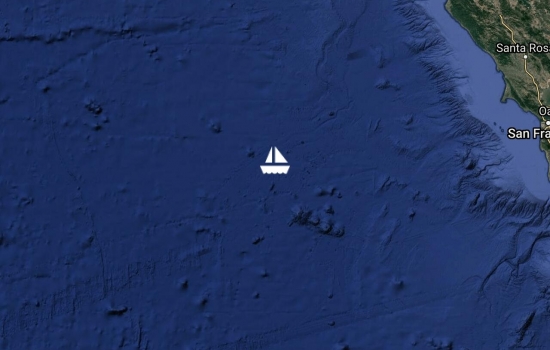 Tue Nov 1 16:47 2016 NZDT
Speed:
7 knots
knts
Run: 101.7nm (184.1km)
Avg: 6.1knts
24hr: 145.3nm
0330 UTC - Tues 01Nov16: Our weary sailors are taking it easy, sailing with a triple reef and a staysail. They are currently on starboard tack, sailing a course of 095M in 20-25 knots of wind and going about 7 knots of boatspeed. The true wind direction is 260T. They estimate to be about 200 miles offshore. To get some rest tonight, they will probably set up the boat to jog along with a minimum sail plan. Forecast is for light and variable winds 10-15 knots, starting in the next 8-10 hours. I am sure they will be ready for that! FLASHGIRL goes very well in 10-15 knots of wind and we are expecting them to arrive on Wednesday. Can't wait! We are a gathering flotilla of boats to meet them if they arrive in daylight hours.
Tue Nov 1 0:00 2016 NZDT
Run: 211.1nm (382.1km)
Avg: 26.9knts
24hr: 646.3nm
2200 UTC - 01 Nov 2016: Last night was a windy one with 25 knots and this morning has brought the light airs I've been promising them. They are in light airs, with left over lumpy seas, sailing with a full main, and red sail, our high clewed reacher and going at around 2 knots. So far, the best day's run has been 160 miles, and the worst was 80 miles, while lying ahull and getting some much needed rest. We estimate their position to be about 100 miles outside, arriving perhaps tomorrow evening. Happy they are so close andI will keep you posted.
Mon Oct 31 16:09 2016 NZDT
Run: 336.3nm (608.7km)
Avg: 3.8knts
24hr: 91.6nm
0200 UTC 31Oct16 - the boys have been running deep all day in a gale. Y'know, when the wind makes those long streaks of white foam on top of the waves. Exhausted, in a dying gale, they are now lying ahull, hoping to get some rest for the next 2-3 hours. They have the sails ready to set the third reef once the wind has abated, the conditions are right and they feel rested enough. These are two men practicing excellent seamanship. The wind is blowing directly down their course to San Francisco at 080M. I think in about 12 hours they will see the wind moderating, which would be very good news for these weary sailors. Tuesday looks like light airs, and hope they will sail under the Golden Gate Bridge on Wednesday.
Fri Oct 28 0:00 2016 NZDT
Run: 311.5nm (563.8km)
Avg: 6.5knts
24hr: 155.8nm
Commodore and Robert have been running deep....seems to be a trend. Today's variety of SW breeze has been about 15 knots, and the current sail plan is single reef and stay sail, trucking along at 7.5-8 knots on starboard tack. As I watch the weather and provide support for the passage from my laptop at home in Mill Valley, I see westerlies and SW winds for the remainder of the passage. There is a chance they will see light and variable winds on Monday, but I think they are north enough to stay in the wind. We are thinking they will be sailing under the Golden Gate Bridge in 4-5 days, on Tuesday or Wednesday.
Wed Oct 26 0:00 2016 NZDT
Run: 326.9nm (591.7km)
Avg: 6.8knts
24hr: 163.5nm
FLASHGIRL has been running all day with the red sail, our high-clewed reacher, and a double reef. They are seeing 12-15 knots from WNW, about 290M. Bar is 1017. Interesting to note that they have only run the engine about three hours the entire trip! There is not much of a battery draw with no refrigeration and no autopilot and no wind instruments! The solar array has been sufficient for water making. About 900 miles out. There are a couple of lows they will need to sail through before reaching SF Bay.
Mon Oct 24 0:00 2016 NZDT
Run: 284nm (514km)
Avg: 5.9knts
24hr: 142nm
Things are looking good! Awoke to a 7:30am PDT call from Commodore They are sailing between the lows at the moment in 10-20 knots. The wind is SW from 240M and they are sailing a course of 065M towards San Francisco. We expect a moderate system of winds to 25 knots to roll oast and then they will have northerly winds, making this passage a piece of cake!
Sat Oct 22 0:00 2016 NZDT
Run: 155.1nm (280.7km)
Avg: 3.2knts
24hr: 77.6nm
1393 miles to go at 5pm local time today! The westerlies have finally filled in, hurray!

FLASHGIRL is on port tack with 2-reefs and the #3. There is 22-25 knots of wind and it is squally with passing rain showers. In the next 24-hours I expect them to get the outer rings of a low pressure system which will continue to give them favorable winds. They will have enhanced westerlies and maybe even south-westerlies. Now that sounds like fun!
Thu Oct 20 0:00 2016 NZDT
Run: 169.3nm (306.4km)
Avg: 7.1knts
24hr: 169.3nm
Received call 2300 hours PDT. Headwinds. NE 20-25 knots. It appears they are in a squash zone between two high pressure systems. As they continue east, the winds will get lighter. I am reviewing weather data from home and relaying to them, as they have been unable to get weather data on the boat, which is frustrating for them.
Wed Oct 19 0:00 2016 NZDT
Run: 260nm (470.6km)
Avg: 5.4knts
24hr: 130nm
So great to hear Commodore and Robert's voices. The guys are unable to connect to Sailmail, so they are calling me for weather data. They report: Headwinds. Wind is 20 degrees east of magnetic North. FLASHGIRL is sailing with 2-reefs and the stay sail. I have spent the past hour looking at several weather forecast models. There might be a developing low in their track next Wednesday. However, it is difficult to predict weather a week out so will keep a sharp eye on the weather models and keep my fingers crossed.
Mon Oct 17 0:00 2016 NZDT
Run: 278nm (503.2km)
Avg: 5.8knts
24hr: 139nm
FLASHGIRL is still heading north, looking for the westerlies. The weather prognosis has shifted from looking pretty stroppy to looking like very light airs through most of the week. There are a series of big, fat, highs that will be rolling through their area. Good thing our boat is wicked fast in light airs!

There will be a fundraiser concert in Sausalito on Sat, Nov 5th to help with the boat restoration.

Ramblin' Jack Elliott and friends will be play some great music. Lagunitas Brewing Co will supply their tasty beer to keep things festive. A good time will be had by all, to help Commodore put his boat back together again. Tickets will sell out. Get yours at: http://spauldingcenter.org/events.html
Sat Oct 15 0:00 2016 NZDT
Run: 309.3nm (559.8km)
Avg: 6.4knts
24hr: 154.7nm
Two and a half days into the passage back to the US mainland. This was not our plan before the lightning strike. We had planned to sail to one of the "nesias"....either Micronesia or back to French Polynesia. so, now we are dealing with Plan B. FLASHGIRL is enjoying light airs so far, sailing with full main and our carbon "black beauty" #1 headsail. The crew has been calling me on the sat phone every day or two with their position, as neither of them really has time to deal with the computer. Remember, they are double-handing and there is no autopilot. They seem to be in good spirits which is great news for me, the ground crew at home in Mill Valley
Thu Oct 13 0:00 2016 NZDT
Run: 200.7nm (363.3km)
FLASHGIRL was hit by lightning when Tropical Storm Darby passed over the island of Oahu on 24 July 16. The strike hit the wand at the masthead and vaporized it. The strike broke a pvc pipe in the galley and our sweet boat partially sunk up above the counter tops. When the batteries became submerged the electrolysis was intense. It destroyed whatever the lightning strike missed. All electric, electrical systems were destroyed, hand tools, anything metallic. Also lost Force-10 stove, paper charts, manuals, etc. Through 2-months of hard work, Commodore restored the boat enough to be sailed home. The sailing parts work, but little else does. No autopilot, no wind instruments, fathometer, refrigeration, etc, and engine only running on 2-cylinders. Commodore and long time friend Robert Flowerman are double-handing the boat home to SF Bay to continue the restoration process. They began the voyage from the Waikiki Yacht Club. We are fundraising and people have been great. If you want to help, contact us at: FlashgirlFund@gmail.com. Thank you
Wed Dec 2 5:51 2015 NZDT
Speed:
0.0
knts
Run: 128.1nm (231.9km)
Avg: 5.5knts
24hr: 132.3nm
Weather: clear and calm
Tuesday, December 1st at 0400. We are anchored in Kailua Bay, 19 38.1N and 155 59.7W, on the Kona Coast of Hawaii. It seems so strange to be aboard a quiet and still boat after all the rock and roll motion of being at sea. Our day had begun on Monday with a string of squalls 25-32 knots, with around 22 knots in the lulls. Then the squalls were gone, and we had a steady 25-28 knots through most of the day. As we closed in to the Big Island of Hawaii, the swells got quite a bit larger and the breeze freshened. Commodore decided to turn off the autopilot to have some fun steering through 30 knots of wind. He caught a few waves which had him laughing with delight. The last day of a passage is always special. On the one hand, you are ready for the shore, but on the other, you never want the moment to end.

We passed Cape Ka Lae, and marked 11.5 days from Nuku Hiva to the South Cape to conclude one truly fantastic passage.

During our passage we motored no more than 12 hours, during one calm spell just north of the equator. We encountered no ITCZ zone at all.

After getting into the shelter of the cape, the seas smoothed out and not toon long after that, the wind went down from 23 knots to just 7.5 knots. We started up the engine to motor sail up the lee side of Hawaii. The sun setting was a huge red ball of fire, which seemed appropriate for this island of fire. Once dark, we could see the lava flows slowly working there way down to the sea, an amazing sight! Once Commodore came back on deck, he spent the next four hours non-stop cleaning the boat up, so there was nothing to do when we anchored except have a little snack and hop into bed.

I want to thank my daughter, Serena, who made it possible for us to share our passage with you via YIT-Yachts in Transit and thank you YIT! Thanks also to Bob McDavitt for his weather wit and wisdom, it is always good to have him along with us, and thank you all for your interest. Aloha!
Tue Dec 1 6:37 2015 NZDT
Speed:
7.2
knts
Run: 196.2nm (355.1km)
Avg: 8.8knts
24hr: 211.8nm
Weather: 22kn from 070 true. 2m NE swell
Monday, 7:30am HST - Another squally morning, following a squally night. Just 70 miles to Ka Lae, the South Cape of Hawaii. Yesterday we found ourselves feeling sad at the approach to the end of this passage. In the book, 50 South to 50 South, Commodore's father wrote: "For all the joy of the moment, we turn with sadness to the land." On day 10, our noon to noon run was 195 miles, an 8.13 knot average. This is pretty good speed for this little red boat, which has a hull speed of 7.5 knots. Our best day ever was 201 miles. On this passage our best days have been 195 and 198 miles. In the past, good runs have been achieved with s generous sail plan. However on this 195 miles day, we carried a triple reefed mainsail and our staysail about half the time. Ah yes, the joys of sailing off the wind! Today at noon, we will conclude day 11, and should be very close to the South Cape. We will turn the corner into the lee of the Big Island and probably motor sail for the 50 miles north to Honokohau Harbor. We are hoping they will have a berth for us, so we can make repairs on our mainsail. This fix should make for a better sail through the Hawaiian chain. Aloha!
Mon Nov 30 8:23 2015 NZDT
Speed:
7.2
knts
Run: 208.2nm (376.8km)
Avg: 8.8knts
24hr: 212.3nm
Weather: 25kn from 080 true. 2m NE swell over squall chopped seas
9am HST - The days are getting shorter and the nights are getting colder as we move into winter. Last night we were treated to an unending parade of squalls in the 25-30 knots range, with thelulls in the 20-24 knot range. Carried on through the night with triple reefed sail and staysail, making 7.5 to 9.5 knots at 080 AWA. It was a very bumpy night. At 0600 we took down the staysail to slow things down for better motion and still fast enough at around 7 knots. There are no squalls this morning, it is just very windy! We are seeing a steady 25-28 knots and the sea is stroppy. Waves are occasionally breaking over the boat with some drips here and there and the cockpit is one very wet place. Good thing our autopilot is doing the job of steering. We have about 230 miles to the south cape of the Big Island and expect these o continue conditions the rest of the way. Looking forward to the calm, smooth waters in the lee of the Big Island and the trip up to Kona.
Sun Nov 29 8:51 2015 NZDT
Speed:
12.0
knts
Run: 9.7nm (17.6km)
Avg: 16.6knts
24hr: 399.1nm
Weather: 28kn from 080 true. 1m NE swell over squall chopped seas
9:30am HST - Demon sailor at the helm, surfing through squall at 12 knots and laughing his head off!
Sun Nov 29 8:16 2015 NZDT
Speed:
8.5
knts
Run: 57.9nm (104.8km)
Avg: 1158knts
24hr: 27792nm
Weather: 21kn from 080 true. 1m NE swell over smooth seas
9am HST - 420 miles to the Ka Lae, the South Cape of the Big Island. Earlier yesterday we had two headsails hoisted to help offset our triple reefed main. However, took it down during a squall, and then justified that we were going fast enough....but knew we could do better. So when Commodore came back on watch at 0200, he had dinner, I went to bed, then he rehoisted our red sail high-clued reacher. We immediately picked up a knot of boat speed. Yes! So much better. Continued through the night and still sailing with triple reefed main, staysail and redsail. A squall has just descended and hubby is hand steering through 26-30 knots and the boat is doing 9-10 knots! We will be in Hawaii sooner than expected at this rate.
Sun Nov 29 8:13 2015 NZDT
Speed:
6.7
knts
Run: 342nm (619km)
Avg: 7.4knts
24hr: 178.7nm
Weather: 16kn from 080 true. 1m NE swell. Silvery moonlight over smooth seas
2am HST - 484 miles to the Ka Lae, the South Cape of Hawaii! We are at 13 35N and 149 37W, sailing with triple reef and staysail, going around 6.7 knots at 080 AWA, on a course of 305M. The sea has smoothed out and we are sailing through the moonlit night with an easy motion. I just made my famous chicken with carmelized onions, a dash of curry and brown rice for Commodore's 0200 watch. Nice for him to have a hot meal, now that the nights are cool. From about 5 South to 5 North, life was quite hot. We drank a lot of cold water and mostly ate salads. Adding heat by cooking was to be avoided. So now it is rather pleasant to be able to cook again. Tomorrow night plan to bake up our remaining potatoes, as all of our produce must be eaten or tossed when we clear into the USA.

The sea state has quieted down over the past day, and just a small amount of rain in one large system that went through this afternoon. Now that the wind has moderated, it gets pretty tough on us when the wind goes below 15 knots. This is when we are aching to make sail and shake out a reef or three, but no can do with the tear in the mainsail. This is a lively boat and we like it when she goes fast. We have become accustomed to seeing the speed gauge 7-9 knots with the occasional surf at 11-12 knots thrown in for the fun factor. However, we must make do in the light stuff, and when we get above 18 knots, the boat begins to kick up her heels. This passage from Nuku Hiva to Hawaii has been a beam reach all the way....woo hoo! With the exception of a couple of days of large and confused seas, this has been a most delightful passage.

I am soaking up the magic of being at sea as I know we will be making landfall in about 48 hours
Fri Nov 27 10:17 2015 NZDT
Speed:
7.8
knts
Run: 159.8nm (289.2km)
Avg: 9.1knts
24hr: 218.3nm
Weather: 25kn from 070 true. Overcast skies and rough sea state
It has been blowing 22-26 knots from 070 true steadily for the past 16 hours. Our boat speed has been 7-9 knots, sailing with two reefs and staysail. Our most recent noon to noon was 192 miles, an 8 knot average. The skies are overcast and the sea state is rough. We are at 10 07 north and 145 51 west. We have left the equatorial zone and heading quickly into the winter of the northern hemisphere. Each day, since around 6 north has been getting cooler. This morning we noticed a tear in our mainsail between the second and third reef, so were forced to put in the third reef to preserve the mainsail and prevent it from blowing out. This has handicapped us a little bit and it feels comparatively slow on board. Gosh but rocketing through the night in 25 knots with two reefs and staysail felt balanced, fun and fast! Hopefully the mainsail will hold together and as more wind is expected ahead, think we will continue to make good progress. We expect at noon today to have 750 miles to go to Cape Ka Lae, the South Cape of Hawaii. Commodore is making his Captain's breakfast, we shall enjoy together, then he will go off watch and I will take over the deck.
Thu Nov 26 16:43 2015 NZDT
Speed:
7.3
knts
Run: 191nm (345.7km)
Avg: 8knts
24hr: 192.3nm
Weather: 14kn from 070 true. It is noticeably cooler. Finally got the NE breeze at 8 degrees north and we are rocketing towards Hawaii
The seas smoothed out again last night and had good sailing under the full moon. Helped hubby through a hard squall around midnight. Near the end of my watch, at around 0400 hours, saw an ominous pile of clouds in the moonlight, bore off and eased the main. Hubby came on board to drop the jib. The moon was low in the sky and cast a gigantic moon-bow across the eastern sky. The entire solid white arc was boldly in view, and the morning star rose right up through the middle of it as the eastern sky was lighting up with the new day. Meanwhile, the moon shone through the cloud now to leeward, illuminating its high fluffy piles.....magic stuff!
Wed Nov 25 16:53 2015 NZDT
Speed:
6.5
knts
Run: 96.2nm (174.1km)
Avg: 8knts
24hr: 191.3nm
Weather: 10kn from 080 true and lumpy conditions which started this morning. NE swell and confused wind chop from various directions.
The day has gotten progressively choppier since this morning, which definitely puts on damper on our sailing. Steering a slightly higher course to get some better apparent wind. Small puffy clouds around with the occasional thunderhead. Full moon on the rise. We were greeted by a large pod of maybe 50 dolphins at 1500 hours. They came leaping to the boat from both sides of the boat from seemingly great distances and played in our bow wake for a while. Absolutely delightful!
Wed Nov 25 4:49 2015 NZDT
Speed:
6.0
knts
Run: 234.4nm (424.3km)
Avg: 8.6knts
24hr: 207.1nm
Weather: 8kn SE breeze over a smooth sea and gentle rolling swell. We are WICKED FAST in these conditions! Going 6 knots in 8 knots of wind.
Last night, Sunday, 22 November shortly after nightfall, we saw a dark cloud getting closer, and took down our red sail reacher as a precaution. I then went off watch and to bed, until awakened by a 20 knots gust that rocked the boat. I went forward to see if I could help, but hubby sent me back to bed. While I was sleeping, there was a squall, and my 84-year old stud muffin hubby, got the red sail back on deck, raised it, then lowered it when the wind went forward. Next he got the #3 on deck, hoisted it, then lowered it when it got too windy, and finally reefed the main, then unreefed it when the squall had passed. He did this all by himself and the boat was so comfortable that I slept through the whole thing. He is a STUD! Once the squall had passed, conditions got light and smooth.

Finally, around 2 degrees north, the wind quit and we began to motor. At 11:30am, we decided to stop the boat and take a swim. It was magical swimming in the crystal clear sapphire blue seas that had a gentle rise and fall....so special. We resumed motoring and eventually got a steady SE breeze ranging from 5-8 knots over a very smooth sea. We put up the read reacher and have been having one of the best sails ever. So sweet and gentle that we ate dinner on deck in the moonlight. We were visited by a pod of dolphins with several small calves and they entertained us for quite a while. I had never seen dolphins swimming at the bow in the moonlight, what a treat! It is now about 0500 early Tuesday morning and the almost full moon has set. In the gathering dusk last night, a weary bird made numerous close passes at the boat. At one point, he attempted to land on the still arrayed solar panel. Later he landed inside the life lines on the folded #3. He couldn't get a grip, and took off. In the early morning light, we discovered a roosting bird, head under wing, clinging to the very formost part of the bow pulpit. We have no idea how long he had been there. At this stage, we are beam reaching with our red sail. This means the AWA is about 60. Somehow this character managed to arrest his flight, in close proximity to the lee side of the head sail, and achieve a landing and then a grip on the polished stainless steel pulpit. It did not look very comfortable, but seems to have served his purpose!
Tue Nov 24 1:39 2015 NZDT
Speed:
6.0
knts
Run: 158.6nm (287.1km)
Avg: 5.4knts
24hr: 130.7nm
Weather: 9kn se breeze. smooth seas. Magical place....tropical hot! Clothing optional
We crossed the equator this morning, Sunday, 22 November at 06:36am, exactly three days out of Anaho Bay. At noon today, we were 540 miles from Anaho Bay, Nuku Hiva. This leaves 1320 miles to the South Cape of Hawaii. The sunrise at 05:40 was fantastic. Equator crossing breakfast was Fatu Hiva banana pancakes topped with butter and Marquesan honey...delicious! Sailing across the equator, and in fact the entire 120 miles of a zero degree heading,00-59.9 South to 00-59.9 North is always special and exotic. We are now at one degree north and skimming along on this lovely day. The boat is performing well, and we are both having a great time!
Sun Nov 22 20:31 2015 NZDT
Speed:
7.5
knts
Run: 183.9nm (332.9km)
Avg: 8.9knts
24hr: 212.5nm
Weather: 14kn se trades 1m swell. At these latitudes it is beastly hot all day and still pretty warm through the night.
Glorious sailing under full main and high clewed sail. The waxing moon is making for some great night sailing. The sea state is pretty smooth now and we are happily rocketing along through the night. Took hubby aloft in the moonlight tonight so he could repair the starboard check stay that carried away just outside Anaho Bay. Had been waiting for these smooth seas to make the repair. All is good. We will cross the equator tomorrow!
Sat Nov 21 23:45 2015 NZDT
Speed:
7.5
knts
Run: 277.3nm (501.9km)
Avg: 8.8knts
24hr: 210.1nm
Weather: 16kn se trades 1m swell.
Last night was a wild toad's ride with huge foaming bow wakes in almost constant squalls 25-30 knots. Been smooth sailing all day with two reefs and high clued reacher we call red sail. Tonight is a magic carpet ride in the moonlight smoothly riding along in classic trade wind conditions. Wind gradually tapering off as we get closer to the equator.
Fri Nov 20 16:04 2015 NZDT
Speed:
8.3
knts
Run: 96.5nm (174.7km)
Avg: 5knts
24hr: 120.8nm
Weather: 22kn e. 2m swells. sunny with scattered squalls
Fast & Fun! 83 miles in 10 hours! Booming along....Sleigh ride towards the equator. Beam reaching....hand steering because it is too much fun to let the autopilot do it!
Thu Nov 19 20:54 2015 NZDT
Speed:
n/a
knts
Weather: squally with occasional downpours, gusts up to 29 knots
Anchored in Anaho Bay on Nuku Hiva, Marquesas. Will make sail for Hawaii in the morning.
Sat Jun 20 4:00 2015 NZST
No position sent.
The yacht left yesterday afternoon in brisk conditions from Vavau, headed to Tahiti. This is Nancy and I am at home and will join the boat in Tahiti. There is no email on the boat. I am hoping they will tune in for weather and gave them your frequency and transmission time. My hubby estimates a two week passage to Tahiti.

Hands on board:

Captain Warwick M. Tompkins

Crew: Hugh Higgins and Bruce Ladd
No blogs available for this yacht.
Loading map and updates ....
Loading track, please wait ....