Gigi
Sun Sep 15 9:24 2019 NZST
GPS: 17 26.491s 178 57.120e
Run: 52.3nm (94.7km)
A 6:00 am departure from the Copra Shed Marina on Friday the 13th saw us lay the anchor off Dalice village on Makogai at 4 pm. We were here two years ago when there was visible damage after Cyclone Winston but now the vegetation has fully grown back and there are 4 new homes and a couple of sheds. A large turtle surfaced 1 metre from us while we breakfasted in the cockpit Saturday morning before we went ashore for a short visit to say hello (BULA) and to present our gift of kava.
Thu Aug 22 13:00 2019 NZST
GPS: 16 46.653S 179 19.923E
The big day had come. Now that the windlass was once again fitted to the fore deck, both gypsies and the drum were replaced and all electrical connections were fitted. It was time to test. Since we could not have accomplished the project without Randy, it was only fitting that he was the first to operate the foot switch on the fore deck. We were once again ready for new adventures with an operational windlass.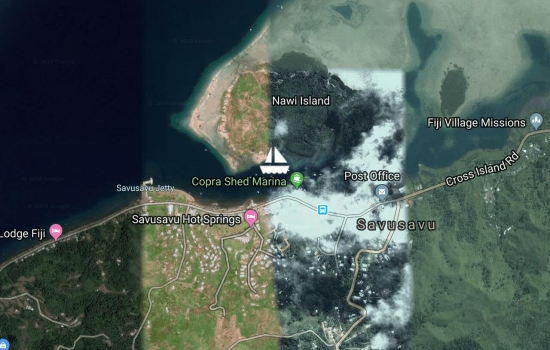 Thu Aug 15 16:23 2019 NZST
GPS: 16 46.653S 179 19.923E
We tackled the removal, disassembly, and cleaning of the windlass over a period of many days, recording various steps in each stage. We frequently referred to the manufacturer's notes to ensure we would be able to put back to together what was a moderately complex machine. We were very grateful for the guidance of Randy from Velic who generously gave his time and expertise as we worked together on the project. His experience with the details of mechanical disassembly and reassembly was particularly valuable. He fixed burs, tapped threads, fabricated a screw, replaced seals and bearings and was able to do anything else required to make the repair possible – all without a workshop, bench or specialised tools. We normally worked in the mornings and celebrated daily progress over lunch in several of the restaurants in Savusavu. Randy and Ruth gave us confidence and made what would otherwise have been a stressful period an enjoyable time. We cannot thank them enough. Finally the windlass gearbox was in one piece again and we were ready to refit on deck.
Sun Jul 14 15:00 2019 NZST
GPS: 16 46.653S 179 19.923E
Another lovely curry lunch at Arun's Taste of Hidden Paradise with Ding (Chiquita) and his crew Rave.
Sat Jul 13 18:00 2019 NZST
GPS: 16 46.653S 179 19.923E
What a difference a good sleep makes. Waking at 7:00 we finished tidying and cleaning Gigi below before tackling the engine problem. The hose from the water inlet at the seacock was removed relatively easily however after 3 hours we still could not remove the hose from the elbow near the inlet to the engine's strainer where we expected the blockage to be. Sticking an electrical mouse up the open hose end and blowing from the strainer end saw a lot of dirty water exiting the hose. Paul and Ed decided to reconnect the hose to the thru hull to check the water flow again before doing anything else. Yahoo! Water flowed freely and testing with the engine running we are happy that all seems to be resolved.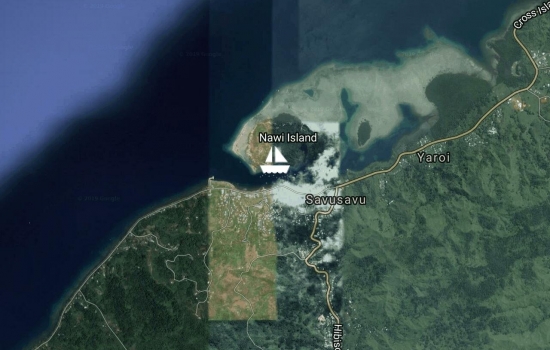 Fri Jul 12 19:00 2019 NZST
GPS: 16 46.653S 179 19.923E
Run: 39.1nm (70.8km)
Departed Paradise at 4 pm, motored for an hour to top up the batteries. Then sailed with double reefed main, staysail and yankee with 20-25 kts from the ESE averaging speed of 6.5 kts. We slowed ourselves down at 1 am to ensure arrival in daylight; taking in all sails except the staysail and sailing now at 4 kts. Entering Makogai Channel at 3 am we encountered the current against us and our speed dropped to 1.8 kts. Concerned about lack of steering through the channel we turned on the motor for back up if needed but when we put it in gear at 3.30 the engine overheated and there was very little water being expelled from the exhaust. We thought that we may have sucked up a squid or fish into the engine water intake.

With no engine and a windlass that may not work we turned around to sail back to Savusavu where we could troubleshoot the engine problem on a mooring. Now heading into the winds which had become ENE at 15-20 kts Gigi bashed through waves resulting in water coming through the forward hatches and wetting the forward stateroom and head areas. Cereal for breakfast and dry crackers for lunch was all we could put together with the conditions and our lethargy; only 2 hours sleep each during the night.

We arrived through the entrance to Savasavu pass just before 2pm the following day and anchored off Cousteau Resort so we could lower the dingy and put the outboard motor on. We didn't know if the anchor windlass would lift the anchor but had to risk it. With the dingy tied mid-ships to Gigi Paul raised the anchor. My fingers were crossed but fortunately the bearings held out although the unit became very hot. We proceeded up the channel to Nakama Creek under sails that Karen was managing while Paul in the dingy was constantly pumping sea water out as waves were breaking into the dingy. When off the main commercial wharf of Savusavu Karen furled the sails and Paul started the outboard for propulsion with Karen at the helm of Gigi steering. The Copra shed staff and fellow cruisers Karen & Chuck (Katie G) and Ed (AKA) assisted Gigi in securing a mooring safely; another great example of cruisers helping cruisers.

We drank a couple of cold beverages ashore before baked beans on toast (all that I could manage) before bed at 8pm.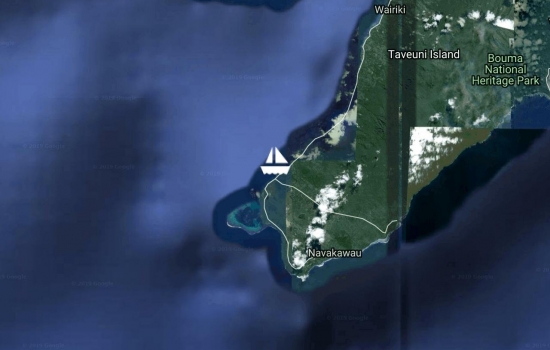 Thu Jul 11 9:49 2019 NZST
GPS: 16 56.054S 179 54.000E
Run: 41.8nm (75.7km)
We have been on a swing mooring off Paradise Taveuni Resort for the lat 3 days in company with Randy & Ruth (Velic). The resort is yachtie friendly allowing us to use their facilities and encouraging us to have meals ashore. We will depart this afternoon as our anchor windlass needs repairs and we need to be on the western side of Fiji to receive parts from the US and be closer to skilled trades people should we require assistance.
Thu Jun 20 9:00 2019 NZST
GPS: 16 46.683S 179 19.981E
Run: 37.9nm (68.6km)
After 11 hours hove-to we calculated the time was right at 9 pm to sail the remaining 50 nm to Savusavu. Tied up to a floating pontoon at the Copra Shed at 8.30 am.
Wed Jun 19 11:45 2019 NZST
Speed:
0.8
knts
GPS: 17 13.121s 179 40.509e
Run: 195nm (353km)
Avg: 8.1knts
24hr: 193.4nm
Weather: 15 knts SE, 2m SE swell, 75% cloud cover. Baro 1019.5
Had been sailing at a consistent 7 knots since yesterday lunch time and we are now in Fiji waters. Unfortunately we were not going to make it into Savusavu before dark (by only about 2 hours) so are hove-to waiting until late tonight to continue on. Boat movement is very comfortable so will do a little clean up below in preparation for the Officials coming on board tomorrow morning for the check-in formalities.
Tue Jun 18 11:33 2019 NZST
Speed:
5.7
knts
GPS: 19 55.410s 178 49.836e
Run: 161.5nm (292.3km)
Avg: 7knts
24hr: 167.8nm
Weather: 15-18 knts ESE, 2m swell from the SE, 5% cloud cover & Baro 1021.
The second half of last night was frustrating with a few sudden wind shifts, or no wind at all. By 6:00 this morning we had ESE trade winds and have been sailing along nicely. Quite warm in the cockpit, sunscreen and hats on!
Mon Jun 17 12:27 2019 NZST
Speed:
7.1
knts
GPS: 22 11.798s 178 14.896e
Run: 163.6nm (296.1km)
Avg: 7.3knts
24hr: 174.9nm
Weather: 12-15 knts ESE, 1m SE swell, 80% cloud cover & Baro 1022
We may not have arrived yet but we are now in the Tropics having crossed the Tropic of Capricorn during the night and are now 800 nautical miles from New Zealand. The Gigians are very happy this morning after turning the motor off at 7:40. Since then we have been enjoying the fantastic sailing and listening to the sounds of the wind in the sails and the water rushing along the hull.
Sun Jun 16 14:00 2019 NZST
Speed:
6.5 under motor
knts
GPS: 24 23.894s 177 18.117e
Run: 184nm (333km)
Avg: 7.1knts
24hr: 170.5nm
Weather: Variable winds, .5 m long swell from the SW, 40% patchy cloud cover, sunny & warm.
Have now been motoring for over 24 hours. There are some minor wind patterns on the ocean so hopefully the winds will fill in later today and have us sailing again. It is very comfortable as the seas are flat, however we did resort to wearing handyman's ear muffs when off watch last night so we could sleep with the engine noise. There was a stunning moonset this morning with a band of clear sky above the horizon and below the heavy cloud cover. The moon (which is almost full) was a large, brilliant golden orb sinking into the ocean and reflecting a silver wake on the water. Paul is now snoozing in the cockpit and I am reading my 2nd novel for this passage. Highlight for today may be the pre-cooked Penang beef & potato curry taken from the freezer for dinner.
Sat Jun 15 12:06 2019 NZST
Speed:
5.8 Kts under motor
knts
GPS: 26 48.848s 176 03.617e
Run: 147.1nm (266.3km)
Avg: 6.1knts
24hr: 147.1nm
Weather: Variable winds
All good things must come to an end and so has our sailing for the time being as we motor through a ridge of high pressure with very little wind. We sailed with a poled out head sail all afternoon and through the night on calm seas. No speed records were made however it was mostly comfortable except for the noise of the sail flapping from time to time when it lost the wind. Goose-winged for a time this morning making the most of the dying winds from behind. We expect to motor for approximately 24 hours. The good news is that the weather is now much warmer than our departure and therefore less layers are required in the evening.
Fri Jun 14 12:06 2019 NZST
Speed:
6
knts
GPS: 28 45.167s 175 04.017e
Run: 167.8nm (303.7km)
Avg: 7knts
24hr: 168.9nm
Weather: 15 kts from the SW, SW swell 2 m, 20% cloud cover and the barometer is 1018 and rising
With the increasing swell and winds from behind the beam Gigi was surfing down the waves until late afternoon when we slowed her down by reducing sail in readiness for the evening. We thought the possibility of another squally night was high although this didn't eventuate. We did have a casualty on board which we discovered when checking for chafe; a small squid had been washed up on our deck and had died before we found it. A great evening of sailing and we settled in to our normal pattern of 3 hours on and 3 hours off. We were sufficiently sleep deprived so fell asleep soundly straight away and were not bothered by the various boat noises. We are enjoying that it is quite light at night and with the clear sky the stars were shining.


Less cloud cover this morning and another sunny day which is great for crew morale. We have covered 385 nautical miles so are 1/3 of the way there.
Thu Jun 13 12:15 2019 NZST
Speed:
6.2
knts
GPS: 31 08.700s 174 35.278e
Run: 155.8nm (282km)
Avg: 6.8knts
24hr: 164nm
Weather: 18-24 knots SW, 3m SW swell, 80% cloud cover and currently raining. Baro 1016.
Great afternoon sailing in pleasant conditions. However, it was a squally night with some heavy rain and lightning which kept us busy. At 3.30 am after a squall with 37 kts of wind we decided to keep a reduced sail plan (reefed main and staysail only). This would reduce boat speed but no further sail changes would be needed until daylight. We kept this configuration until 10 am this morning; not falling below a sailing speed of 4 knots. Now Gigi is sailing under full yankee, staysail and 1 reef in the main. Dried some clothes in the sunshine coming into the cockpit earlier. Both of us well on board.
Wed Jun 12 13:27 2019 NZST
Speed:
7.1 kts
knts
GPS: 33 23.562s 174 22.500e
Run: 133.8nm (242.2km)
Avg: 4.4knts
24hr: 105.5nm
Weather: 17 knts W, 1.5m swell from the SW 30% cloud cover, Baro 1017.
After last minute securing of items below we departed Bay of Islands Marina at noon Tuesday. Motored to the entrance of the Bay on glassy seas with no wind. Put full sails up at 16:15 in NE winds of 10-12 knots. Today we are catching up on missed sleep as with the first night's out excitement and apprehension, along with having to put sails up and down a couple of times during the evening meant we didn't get our full off-watch times. This morning was very cloudy with a short rain shower but now it is lovely and sunny and we have shed a couple of layers of clothes. Gigi experienced about 1/2 hour of rolling from side to side in the swell as winds become more variable which was a bit uncomfortable however the wind has settled at 17 knots from the West and we are sailing along beautifully. A good 24 hours.
Tue Jun 11 7:00 2019 NZST
GPS: 35 19.035S 174 07.221E
Weather: Foggy, chilly morning with no breeze
Checking out with Customs this morning and should be on our way by noon.
Tue Jun 4 15:00 2019 NZST
GPS: 35 19.035S 174 07.221E
Run: 2.7nm (4.9km)
Moved into berth at Bay of Islands Marina, Opua.
Sun Jun 2 23:00 2019 NZST
GPS: 35 16.778S 174 07.810E
Run: 32.6nm (59km)
With no weather window obvious for the next week we decided to head north to Opua. This would give us the opportunity to test all systems and give Gigi and crew a much needed shakedown. Left the Town Basin at just after 7.30 am Sunday on a rainy 9 degree morning with very little wind. The sun came out at 9.30 when we were off Marsden Point and the wind started to fill in around 10.00. A pod of 10-12 dolphins surfed in our bow wave for a while after rounding Bream Head and with the headsail poled out it was a comfortable and enjoyable sail in conditions much more favourable than the forecast. We dropped anchor in Pomare Bay at 10.30 pm happy to be back on the water and pleased that all systems were working well.
Fri May 31 11:06 2019 NZST
GPS: 35 43.429s 174 19.594e
Rainy day in the Town Basin. Gigi and crew are ready and waiting for the next weather window to head to Fiji.
No blogs available for this yacht.
Loading map and updates ....
Loading track, please wait ....