Hylite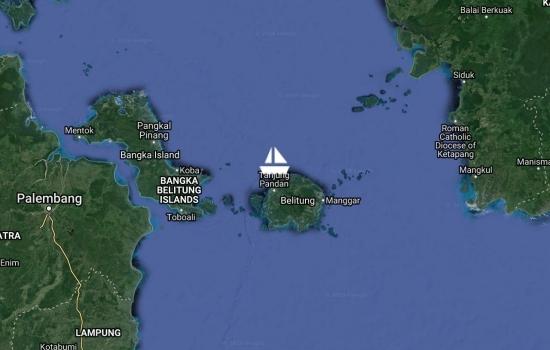 Thu Oct 17 11:25 2019 NZDT
GPS: 2 33.145s 107 39.777e
Run: 297.5nm (538.5km)
Arrived Belitung on Sunday 13th October after 54-hour sail from Karimunjawa. We plan to depart Belitung this morning 17th, bound for Batam near Singapore. All well onboard.
Tue Oct 8 20:49 2019 NZDT
GPS: 5 51.521s 110 25.677e
Run: 154.3nm (279.3km)
Arrived Karimunjawa Island after 26-hour sail from Bawean Island. We will stay a few nights before sailing to Belitung. All well onboard
Fri Oct 4 19:30 2019 NZDT
GPS: 5 43.894s 112 40.124e
Run: 306.5nm (554.8km)
Arrived Bawean Island yesterday morning after a nice 48-hour passage from Lombok Marina. All well onboard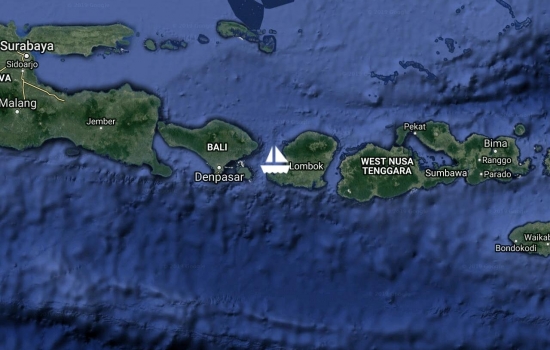 Wed Sep 18 13:24 2019 NZST
GPS: 8 45.742S 115 55.894E
Run: 270.1nm (488.9km)
Arrived Lombok Marina after stopping and visiting Rinca Island and seeing the Komodo Dragons, Sebajor Besar Island (great snorkeling in the pass), Gili Lawa Darat (more snorkeling), then Saleh Village on Sumbawa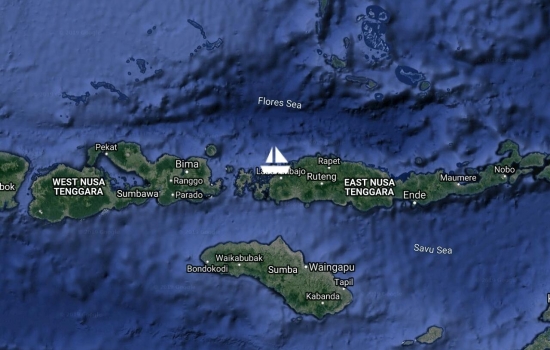 Tue Sep 3 11:59 2019 NZST
GPS: 8 30.258s 119 52.537e
Run: 111.9nm (202.5km)
Arrived Labuan Bajo town on Flores Island on 3rd September. Nice to be in a town with some facilities and shoreside restaurants. All well onboard.
Sat Aug 31 11:56 2019 NZST
GPS: 7 03.502s 120 36.694e
Run: 176.8nm (320km)
Arrived Pulau Jampea in the Taka Bonerate Islands. All well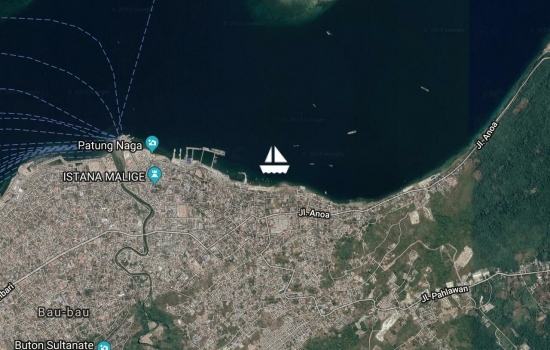 Sat Aug 24 19:00 2019 NZST
GPS: 5 27.382s 122 37.128e
Run: 16.4nm (29.7km)
Arrived Baubau in Buton Island Southeast Sulawesi, all well onboard
Mon Aug 19 18:00 2019 NZST
GPS: 5 31.226s 122 50.885e
Run: 55.4nm (100.3km)
Arrived Pasar Wajo on 19th August. All well onboard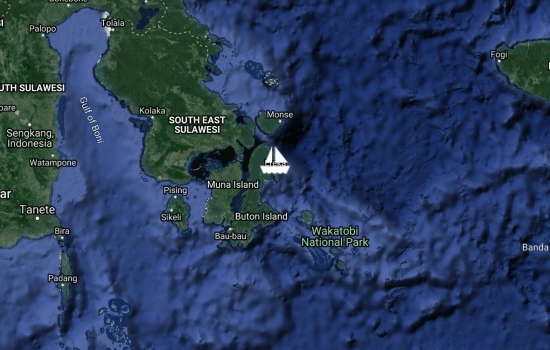 Fri Aug 9 16:00 2019 NZST
GPS: 4 47.055s 123 09.915e
Run: 234.9nm (425.2km)
Arrived Ereke in North Buton on 9th August. A larger fishing town with houses on stilts out over the water. All well onboard.
Fri Aug 2 15:00 2019 NZST
GPS: 3 42.863s 126 23.969e
Run: 247.5nm (448km)
Arrived Tifu village on 2nd August. All well. No cellphone coverage, no electricity, no running water. Very small isolated community of about 300 people
Mon Jul 29 10:26 2019 NZST
GPS: 4 31.405s 129 53.846e
Run: 209.4nm (379km)
Arrived Banda Naira Island yesterday around 2PM local time. Got the last remaining spot med-moored to the deck in front of a small motel. This means we dropped the anchor then reversed towards the motel and tied lines ashore to keep us in position.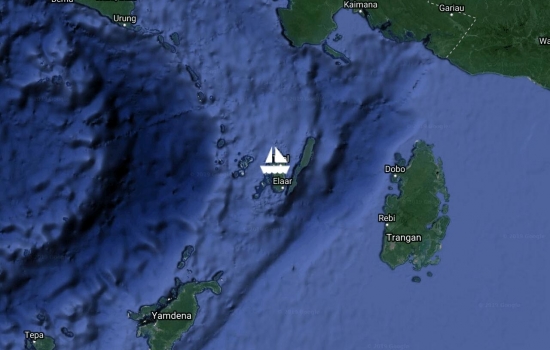 Sun Jul 21 11:12 2019 NZST
GPS: 5 44.806s 132 40.830e
Run: 734.7nm (1329.8km)
Avg: 3.4knts
24hr: 81.2nm
Arrived Debut, Kai Islands, Indonesia on Saturday 20th July around 2pm local time. Did about 700nm from Thursday Island Australia in 4 days and 5 hours. Lots of paperwork for customs and immigration in Indo but all officials were polite. They did look through the boat fairly closely.
Fri Jul 12 10:00 2019 NZST
GPS: 10 35.655s 142 14.496e
Run: 497.5nm (900.5km)
Arrived Thursday Island at the top of Australia yesterday. Left Cairns 2nd of July, stopped at Lizard Island, Portland Roads, and Margaret Bay. All well.
Sat Jun 15 16:04 2019 NZST
GPS: 16 55.101s 145 46.905e
Run: 175.3nm (317.3km)
Arrived Cairns on Tuesday 11th of June after overnight passage from Townsville. We'll stay here a couple of weeks.
Thu Jun 6 20:23 2019 NZST
GPS: 19 15.180s 146 49.468e
Run: 173.1nm (313.3km)
Arrived Townsville this morning (Thursday 6th June). Fast 20 hour passage from a Hook Island in the Whitsundays. Wind was solid 20 knots with gusts to 25. Will stay at Breakwater Marina for a few days. All well.
Wed May 29 17:46 2019 NZST
GPS: 20 32.623s 149 6.386e
Anchored for three nights at Thomas Island. We hiked along the rocky shoreline and then went swimming in beautiful clear water. Very refreshing. Heading to Hamilton Island on Thursday morning for a few days.
Mon May 27 20:47 2019 NZST
GPS: 20 32.623s 149 06.394e
Run: 210.5nm (381km)
Avg: 2.6knts
24hr: 62.3nm
Arrived at Thomas Island Monday afternoon after two nights anchored at Scawfell Island and before that an overnight passage from Keppel Bay Marina to Scawfell. No rain the last three days—nice for a change. All okay on board. SV-Hylite.blogspot.com
Fri May 24 11:39 2019 NZST
GPS: 23 9.678s 150 47.129e
Run: 0.4nm (0.7km)
Departing Keppel Bay this morning bound for Scawfell Island, then Thomas Island, then Hamilton Island. Taking about a week to get to Hamilton.
Wed May 22 20:38 2019 NZST
GPS: 23 10.030s 150 47.209e
Run: 284.1nm (514.2km)
Arrived Keppel Bay Marina yesterday (Tuesday 21st of May) at 11AM. We did 340 nautical miles from Mooloolaba in 48 hours for average speed of 7.1 knots. A bit rough first 24 hours with wind and waves on the beam and contrary current. All ok.
Wed May 15 18:45 2019 NZST
GPS: 26 41.205s 153 7.760e
Run: 53.4nm (96.7km)
Avg: 4.2knts
24hr: 101.4nm
Arrived Mooloolaba around 4pm. Rained about half the time but wind was good. Got soaked when we arrived to dock. All okay otherwise.
Wed May 15 6:07 2019 NZST
GPS: 27 27.471s 153 11.383e
Run: 37.8nm (68.4km)
Departing Manly, QLD for Mooloolaba this morning.
No blogs available for this yacht.
Loading map and updates ....
Loading track, please wait ....