Katie M II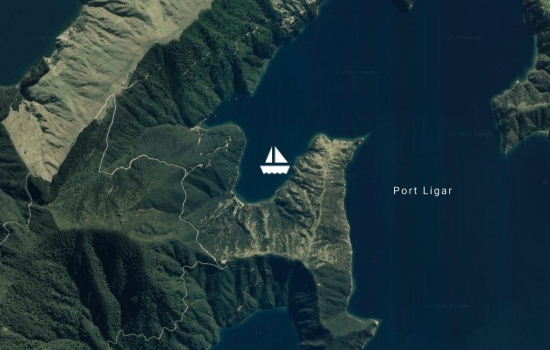 Tue Feb 11 18:03 2020 NZDT
Speed:
0.0 Knts
knts
Run: 23.7nm (42.9km)
Weather: W's 07 N Baro 1018
We are enjoying cruising first in Queen Charlotte Sound and now in Polorus Sound. It was good to meet up, in person, with Serge on Spirare after being radio friends for the past month. We are now in Homestead Bay. The weather this morning on our move from Forsyth Bay was cool but it is now clear and settled. All's well on board.
Sat Jan 25 14:06 2020 NZDT
Speed:
0.0 Knts
knts
Run: 60.4nm (109.3km)
Avg: 3.1knts
24hr: 74.5nm
Weather: W's 10 N Baro 1017
Position as of 1800 Hrs NZ Time. Arrived safely at Waikawa Marina at 0945. Two very nice ladies from Customs and MPI were there to meet as well as a Guy from Port Services to help out afterwards. Everyone was very friendly and it all went smoothly. It feels good to be back in NZ. I timed my arrival at Cape Jackson just as we were getting the first rays of light - sailed all the way to that point. I'm very glad I didn't try the 24 nm up the channels in the dark - the charts are accurate but you needed to see all the twists and turns. I feel I was very lucky with the weather for the last 120 nm - it would be very tough in stormy conditions....like the ones coming this way on Tuesday. All in all a great trip. I haven't slept or napped for about 30 hours and believe it or not I am not tired....too wired I guess but I know it will hit me at some point!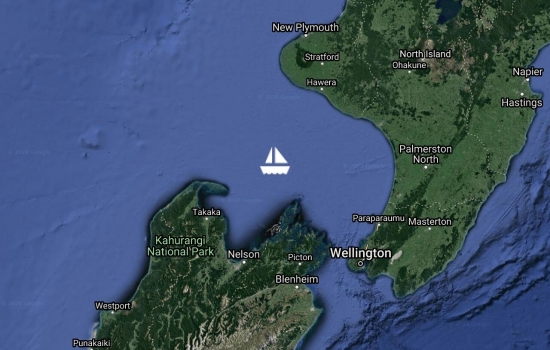 Fri Jan 24 18:39 2020 NZDT
Speed:
4.5 Knts
knts
Run: 134.4nm (243.3km)
Avg: 5.6knts
24hr: 133.8nm
Weather: W's 15 NW Baro 1017
Position as of 1800 Hrs NZ Time. Land-Ho....always an exciting moment after a long passage! I can see Stephens Island and behind that D'urville Island off my starboard bow. Actually it should have been land-ho this morning when I past farewell spit but the visibility wasn't great this morning and I deliberately gave the spit a wide berth so I didn't see it. No problem with vis this afternoon though - the sky is bright and clear. I have chosen to do the last 24 nm into Picton in daylight because of the narrow channels and less straight forward coastal piloting. To do this I am having to slow the boat down so as to arrive at Cape Jackson close to daylight. It's a pity because I currently have a nice NW wind and following sea that I could very easily be doing hull speed in. Instead we are bareheaded with a triple reefed main. Apart from that minor self inflicted frustration, all is well aboard.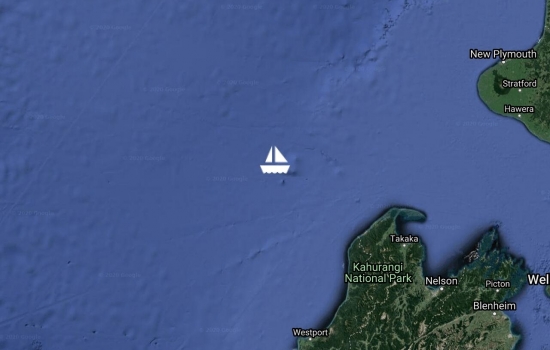 Thu Jan 23 18:33 2020 NZDT
Speed:
6.1 Knts
knts
Run: 153.6nm (278km)
Avg: 6.7knts
24hr: 160.6nm
Weather: W's 7 SSE Baro 1016
Position as of 1800 Hrs NZ Time. Started motoring today at first light. Motor would not start. No matter, switched and started it on the house bank. Got a fishing line out early and was rewarded with a nice tuna. Fast forward a couple of hours....after the clean up; tachometer is not working, oil pressure guage and temperature guage are not working. Turned off engine.....no engine alarms....not good. So what do all these things have in common....yeh....a common ground and I have a pretty good idea where it is. Take the side panel off the motor....there are actually two ground wires going to a 12mm bolt that a steel brace attaches to....take hold of the brace....it is flapping around and the other end is completely fractured off. The brace triangulates the bracket for the alternator and watermaker. Probably not a good idea to run without it so I decide to fabricate a replacement out of SS flat bar which hopefully will last the passage. Fast forward a couple of hours.....the new brace in on, the two ground wires are reconnected.....fire up the engine....engine alarms,tach, instruments etc are all working and hopefully the starter battery will now charge. And some people ask "don't you get bored on passage?" All is not totally peachy on board but we will probably get through OK! Separate subject....please raise a glass to the finest crew mate a Guy could ask for. I'm talking of Monty....on Mon, Tues and Wed he did a fantastic job of helming the boat for three days of great sailing in 15 - 25 knots of wind and kept Katie M exactly in the grove. He did this 24/7 and didn't even use any of my rations or beer. All he asks for is that I balance the sail plan. I used to think I could helm better than him...at least for short tricks on the wheel but after this stellar performance I have to say Monty.....you've got me beat....you are the helming champ! (Note: As most will deduce - Monty is my Monitor wind vane)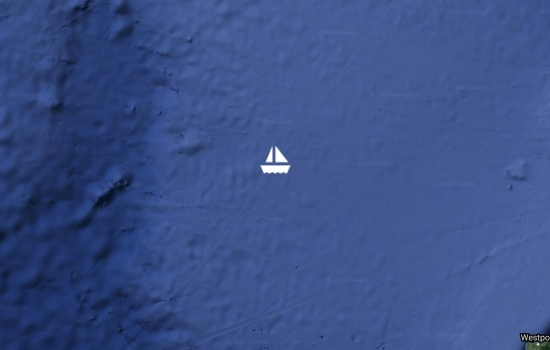 Wed Jan 22 19:36 2020 NZDT
Speed:
6.5 Knts
knts
Run: 163.8nm (296.5km)
Avg: 6.6knts
24hr: 158.8nm
Weather: W's 19 N Baro 1016
Position as of 1800 Hrs NZ Time. The front came through at 2230 hours last night. Winds about 25 knots - we were already reefed down so we just rode it out...not to bad. Another good days sailing....140+ nm day. I am not pushing....I have 3 reefs in the main and just the working jib but it is a good strength and direction and Katie is in the groove. Huge Mackeral sky at 1400 today....Mackeral skies and Mares tales, make tall ships carry small sails....so the wind is not over yet but I am expecting to be motoring on Thurs / Fri. An Albatros joined soared around me today....wish I had their speed - they can cover up to 1200 miles (or is it Kms!?) in a day. All's well on board.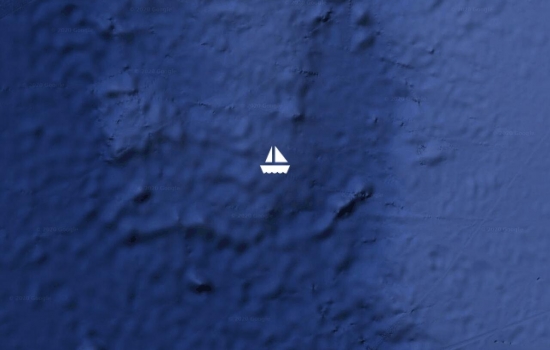 Tue Jan 21 18:51 2020 NZDT
Speed:
6.1 Knts
knts
Run: 168nm (304.1km)
Avg: 7.2knts
24hr: 171.9nm
Weather: W's 17 N Baro 1015
Position as of 1800 Hrs NZ Time. HEADLINES, HEADLINES, HEADLINES :- Katie M II sails into the roaring 40's (look at the Lat!) Well OK, only just into the 40's and they are not exactly roaring but I'm going to take bragging rights anyway! We sailed 149 nm in the last 24 hours with a pretty conservative sail plan. Katie M is pretty easily driven in good conditions. There are some darker clouds to the SW of us but nothing too serious looking. The barometer has dropped 2 points since 1000 hrs. A weakened front is expected to come through tonight....it would be good if this happened before dark. Anyway I don't have too much sail up so will deal with whatever is dished out. All's well on board.
Mon Jan 20 19:24 2020 NZDT
Speed:
6.7 Knts
knts
Run: 156.1nm (282.5km)
Avg: 6.8knts
24hr: 162.5nm
Weather: W's 19 NNE Baro 1017
Position as of 1800 Hrs NZ Time. Great sailing day today. Wind has freed up a touch and apparent wind angle is about 70 degrees. The waves are not adding to our speed (forward of the beam) but they are not too big (1.7M) so they are not knocking us back either. The wind has got steady pressure in it constantly at 17 - 21 kts....the sort of conditions the Grand Prix racers love....Katie and crew are liking it too! I do however have a crisis of sorts - I am running out of underwear. How can that be you say - you have only been out 5 days....well it goes like this....everytime I put a clean dry pair on I spot a loose line or something that needs doing on deck. I'm not wearing wet weather gear - too warm and dry in the cockpit for that so I make an evaluation....the decks look pretty dry, we haven't had a green one over for hours, and it's only going to take me a minute....it will be fine. As soon as I venture out I get drenched from head to toe by the big green one....I swear it's happened to me within hours of my last 3 underwear changes. Once salty and wet they don't dry out. It's a crisis of sorts and I'm down to my last two clean dry ones....come what may I can't risk these! Like every cruising crisis there is a solution....the next time I venture out I will be naked - apart from my lifejacket and harness that is.....I'll leave you now with that frightful mental picture. All's well on board.
Sun Jan 19 20:21 2020 NZDT
Speed:
4.9 Knts
knts
Run: 119.9nm (217km)
Avg: 4.7knts
24hr: 112nm
Weather: W's 19 NNE Baro 1016
Position as of 1800 Hrs NZ Time. I downloaded Gribs when I filed my YIT report yesterday. It was apparent (subsequently confirmed by a weather update from Bob McDavit) that I was going to get winds of this strength and this direction for several more days. I had been sailing with reefed main, my staysail and a partially rolled Genoa which we all know is too full....I was hoping it would work well enough to leave but I was just procrastinating. I made the decision to change to a working jib while I still had daylight - not an easy job with 20 kts of wind and 2.5M seas. Short story is I got the job done. Man...what an ugly sail it is...it only gets put up about 5% of the time when I get headed on passage and it's covered in rust stains from being put away wet next to the spare anchor; but it's built flat and strong which is what I needed. Once I got everything set up the boat was sitting up more and pointing higher and the helm is perfectly balanced. At about five knots the progress is OK but slow enough to minimize slamming. In the last 22 hours I haven't had to adjust the Monitor windvane or adjust jib or main trim....Katie just keeps jogging along. All's well on board.

PS ....had some trouble connecting tonight. The propagation models suggest later may be better...will try again in a couple of hours.
Sat Jan 18 18:39 2020 NZDT
Speed:
6.0 Knts
knts
Run: 134.6nm (243.6km)
Avg: 5.6knts
24hr: 133.8nm
Weather: W's 19 NE Baro 1013
Position as of 1800 Hrs NZ Time....have changed both my watch and my chartplotter. Mixed bag today up and down my reefs and roller furling with winds from light to squally. The Barometer has now risen and the skies have cleared and winds have settled in the 14 - 20 area.....usefull strength but too much east in them to be comfortable...currently sailing about 60 degrees off the wind which is as close as Katie and I can handle in ocean conditions. All's well on board.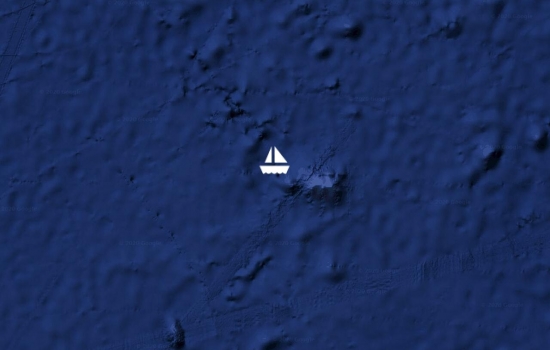 Fri Jan 17 18:30 2020 NZDT
Speed:
4.5 Knts
knts
Run: 121.1nm (219.2km)
Avg: 5.1knts
24hr: 121.4nm
Weather: W's 12 NNW Baro 1009
Position as of 1800 Hrs NZ Time. Was hit by a squall of more than 30 knots in the night. I was already sailing with 3 reefs in the main and some rolls in the headsail but a ton of pressure in that on the grind in. Katie M heaves-to best with just the deep reefed main so I soon had things set up....like someone had turned off a light switch! I've had a ton of rain on this trip - Katie's decks are the cleanest they have been for 3 months....wish I could send some to the firefighters in Aus! After the squall the wind was all over the place and I finally had to turn the motor on (batteries needed a charge anyway). Started sailing again at 1100 hrs NZ time. Wind has been anything from 10 to 22 kts mostly NNE - good sailing in patches. All's well on board.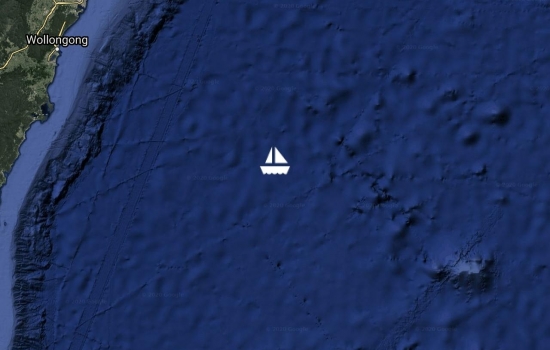 Thu Jan 16 18:33 2020 NZDT
Speed:
6.2 Knts
knts
Run: 155.4nm (281.3km)
Avg: 6.6knts
24hr: 157.4nm
Weather: W's 16 NNE Baro 1006
Winds were in the 20's last night and we were down to 3 reefs + the staysail. It has moderated and freed up today and there has been some great sailing apart from some thunder / lightening / rain in the middle of the day.....fortunately not too close. I had good copy with my Ham friends this morning and Dieter pointed me in the right direction to fix a little glitch in my recently downloaded frequency list. All's well aboard! Wed Jan 15 18:51 2020 NZDT
Speed:
6.5 kts
knts
Run: 39nm (70.6km)
Weather: W's 08 NE Baro 1008
Position report as of 1600 hrs Sydney time. Customs clearance went smoothly and got out to harbour entrance by 1030 hrs. Currently motor sailing. Great Dolphin encounter a couple of hours ago....bottlenosed I think....stayed with the boat for quite awhile. All's well aboard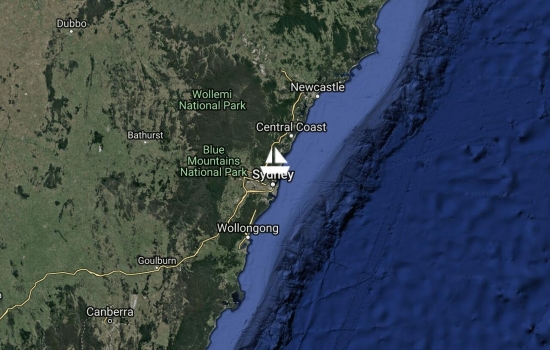 Thu Jan 9 18:57 2020 NZDT
Speed:
0.0 Knts
knts
Run: 626.7nm (1134.3km)
Weather: W's 02 S Baro 1014
This is a test....the position is our anchorage in Sydney and I am verifying I can send position reports for the upcoming voyage to NZ
No blogs available for this yacht.
Loading map and updates ....
Loading track, please wait ....