Macushla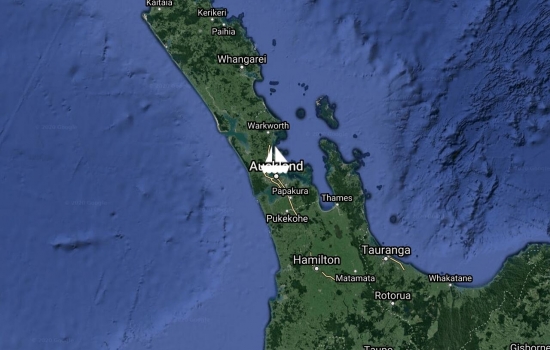 Thu Jun 30 10:53 2016 NZST
Speed:
0.0
knts
Run: 70.6nm (127.8km)
Weather: 4kts W, 100% cc,1005 Baro
Safely tucked in to our winter berth in Westhaven Marina, Auckland. Now tackling the job of replacing the Macushla's headlining (deep joy!) and glad to have the delights of metropolitan life on our doorstep.
Sun Feb 7 19:40 2016 NZDT
GPS: 35 50.24S 174 28.11E
Run: 33.3nm (60.3km)
Have been in Marsden Cove marina for the last month as we've been completing some upgrades to electrics. Have managed to escape boat jobs a few times to get out hiking, including the long stair climb to the top of Mount Manaia. View from the top was well worth it. Hoping to dust off our sea legs this coming week and head in the general direction of Great Barrier / Kawau depending on the weather, as always.
Fri Jan 8 10:22 2016 NZDT
GPS: 35 21.87700S 174 21.32000E
Run: 43.2nm (78.2km)
Tucked up in Puriri Bay, Whangaruru Harbour, have started heading south. Stopped to allow weather to pass through, don't sail in the rain!
Mon Dec 21 21:00 2015 NZDT
Run: 30nm (54.3km)
Enjoying Whangaroa, great walks up to Duke's Nose and Totara North, quirky pub The Gumstore as just reward.
Sat Nov 28 7:04 2015 NZDT
Run: 233.8nm (423.2km)
Avg: 9.6knts
24hr: 231.5nm
Weather: 14kts NW, 100% cc,1015 Baro, rain
Arrived Opua late last night. Our heartfelt thanks to all your support during the trip, we would love to meet up with you and David to thank you personally during our stay in NZ. We will be on the lookout for you.
Fri Nov 27 6:50 2015 NZDT
Speed:
3.2
knts
Weather: 8kts NNW, 600% cc,1019 Baro
Glorious night goose winged in 15kt tailwind, now backed to NNW so have needed to gybe for the first time since leaving Minerva!
Thu Nov 26 6:28 2015 NZDT
Speed:
3.2
knts
Run: 112.5nm (203.6km)
Avg: 4.7knts
24hr: 112.8nm
Weather: 8kts NNE, 100% cc,1022 Baro
What happened to the sunshine? Not noticed any significant current either fore or against yet. Starting to focus on using up all our freash food supplies, will need to have a gin and tonic tonight to finish off the fresh lemons!
Wed Nov 25 6:32 2015 NZDT
Speed:
4.0
knts
Run: 202.5nm (366.5km)
Avg: 8.4knts
24hr: 201.5nm
Weather: 8kts NE, 20% cc,1021 Baro
A glorious moonlit night with good progress, hope we can hold on to enough wind to keep moving.
Tue Nov 24 6:25 2015 NZDT
Speed:
5.2
knts
Run: 85.8nm (155.3km)
Avg: 3.6knts
24hr: 86.5nm
Weather: 8kts E, 20% cc,1019 Baro
Another stunning morning, flat seas, looks like the pretty sails will be flying again today.
Mon Nov 23 6:37 2015 NZDT
Speed:
4.8
knts
Run: 149.6nm (270.8km)
Avg: 6.3knts
24hr: 151.7nm
Weather: 10kts ENE, 30% cc,1018 Baro
Very comfortable sailing, flat seas and sunshine, not needed the wooly hat yet!.
Sun Nov 22 6:57 2015 NZDT
Speed:
5.8
knts
Run: 161.3nm (292km)
Avg: 6.7knts
24hr: 160.5nm
Weather: 13kts ENE, 10% cc,1016 Baro
Fast and bumpy first day, but swell now less than 1 metre. Now very comfortable and sailing along nicely.
Sat Nov 21 6:50 2015 NZDT
Weather: 15kts ESE, 25% cc,1014 Baro
Trough passed over Minerva yesterday with sustained winds at mid 20s gusting 35 knts and some heavy rain for 5 hours, peaking around 4 pm. We plan to leave N Minerva reef this morning Sat 21st with an ETA in Opua by 29th. Will bring the summer with us!
Fri Nov 20 6:33 2015 NZDT
Weather: 12-15kts SE, 100% cc, light rain,1010 Baro
At anchor in N Minerva reef with four other boats.

We plan to depart on Saturday 21st, plan to head west of rhum line for at least first 48 hrs and then direct if forecast proves stable, expected ETA in Opua by 29th.
Wed Nov 18 7:21 2015 NZDT
Run: 5.9nm (10.7km)
Weather: 9NNE, 80% cc, 1013
At anchor in N Minerva reef with four other boats, very keen to hear David's update on what to expect when the trough passes us on Friday. We plan to sit it out here and set off on the impending arrival of the next high on Sat / Sunday.
Mon Nov 16 11:30 2015 NZDT
Speed:
4.9
knts
Run: 463.7nm (839.3km)
Weather: 14.9kts E , 1m swell, 60% cloud 1016 baro
On way from Tongatapu to Minerva and 5m out. About 5 other boats there so good company for collecting all those crayfish.
Mon Oct 19 12:05 2015 NZDT
GPS: 18 39.20628S 173 58.95456W
Run: 365.6nm (661.7km)
Wed Oct 7 15:54 2015 NZDT
No blogs available for this yacht.
Loading map and updates ....
Loading track, please wait ....