Malakite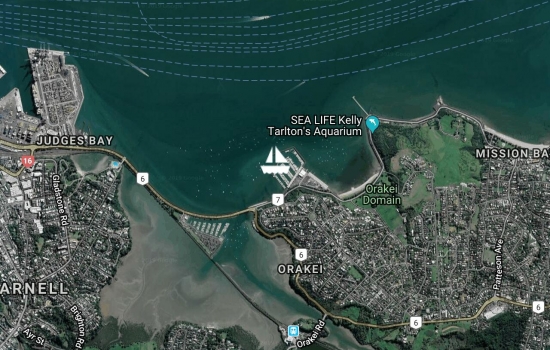 Thu Nov 14 17:01 2019 NZDT
GPS: 36 50.9976S 174 48.462E
Run: 31.6nm (57.2km)
Automated update - Terestial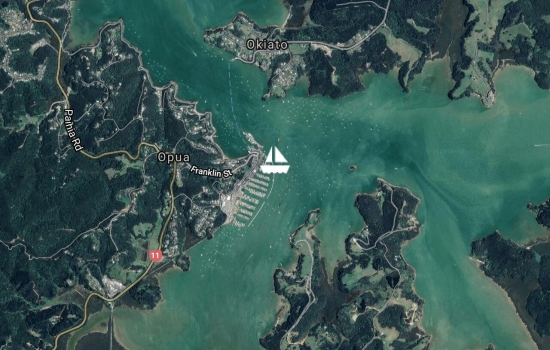 Fri Nov 8 6:51 2019 NZDT
GPS: 35 18.868S 174 07.369E
Good morning from the Opua Q dock, we arrived at 10.00pm last night, completing the Denarau to Opua passage in 6.5 days. There are 20-25 other boat on the Q dock all waiting to clear into New Zealand. A very good passage, thank you to the crew David and Karl.

Cheers Glen Captain SV Malakite Thu Nov 7 7:39 2019 NZDT
GPS: 33 44.400S 173 54.620E
Run: 13.2nm (23.9km)
Avg: 6.2knts
24hr: 149.3nm
We unrolled the code zero at midday yesterday and had some great sailing until 3.00am this morning, when in the moonlight the wind dropped away and our speed dropped to below 5 knots. So I woke Karl up to help roll it away. Only 95nm to Opua, we hope to be on the Q dock by 9.00pm NZST making it a 6.5 day passage. Sausages and eggs for breakfast. We currently have 8 knots of wind from the NE, less than half a metre of swell and 75% cloud cover.
Wed Nov 6 9:00 2019 NZDT
No position sent.
253 nm to Opua. We have another beautiful day, with 25% cloud cover, 5-10 knot northerly wind and 0.3m of swell as we motor towards Opua.

All aboard had mince on toast for breakfast, we have to much food on board that we are trying to eat our way through it all, before it is taken off us in Opua. Do we have pies or lasagne for lunch? Butter chicken for dinner? Cheers Glen, David and Karl Wed Nov 6 9:00 2019 NZDT
GPS: 31 07.640S 173 24.750E
Run: 32.6nm (59km)
Avg: 7.2knts
24hr: 172.1nm
253 nm to Opua. We have another beautiful day, with 25% cloud cover, 5-10 knot northerly wind and 0.3m of swell as we motor towards Opua.

All aboard had mince on toast for breakfast, we have to much food on board that we are trying to eat our way through it all, before it is taken off us in Opua. Do we have pies or lasagne for lunch? Butter chicken for dinner? Cheers Glen, David and Karl
Wed Nov 6 9:00 2019 NZDT
GPS: 31 07.640S 173 24.750E
253 nm to Opua. We have another beautiful day, with 25% cloud cover, 5-10 knot northerly wind and 0.3m of swell as we motor towards Opua.

All aboard had mince on toast for breakfast, we have to much food on board that we are trying to eat our way through it all, before it is taken off us in Opua. Do we have pies or lasagne for lunch? Butter chicken for dinner? We had a fish strike early this morning, Karl was playing the fish, but unfortunately we lost it.

Cheers Glen, David and Karl
Tue Nov 5 10:45 2019 NZDT
GPS: 28 41.400S 173 06.830E
Run: 5nm (9.1km)
Avg: 4.9knts
24hr: 118.4nm
The wind has dropped to 6-8 knots this morning, we are now motor sailing with clear skies and smooth sea's.

The sunrise this morning was beautiful. Only 400 nm to Opua, we should arrive on Thursday night or early Friday morning.

We all had a bacon, cheese and onion omelette for breakfast this morning, cooked by the skipper.

A great day to be at sea!
Mon Nov 4 9:39 2019 NZDT
GPS: 25 46.400S 174 10.160E
Run: 65.5nm (118.6km)
Avg: 9knts
24hr: 214.9nm
sailing nicely in 20 knots, ran one motor for half a hour last night when the wind dropped briefly to 10 knots.

Have cleaned 4 flying fish off the decks. All well on board. Sun Nov 3 7:27 2019 NZDT
GPS: 22 38.650S 174 55.100E
Run: 15.6nm (28.2km)
Avg: 7.7knts
24hr: 185.2nm
Red Wine Beef Casserole for dinner last night, thank you Jillian. All good on board.

Still making good progress in 17-23 knot of wind from the east. Fri Nov 1 18:54 2019 NZDT
Speed:
7.5 knots
knts
GPS: 18 38.440S 176 41.500E
Run: 14.5nm (26.2km)
Avg: 8.8knts
24hr: 210.3nm
We departed Denarau at 9.00am this morning for Opua, with Glen, David and Karl on board.

Sailing in 20-30 knots in 2-2.5 metre seas, a bumpy start to the passage.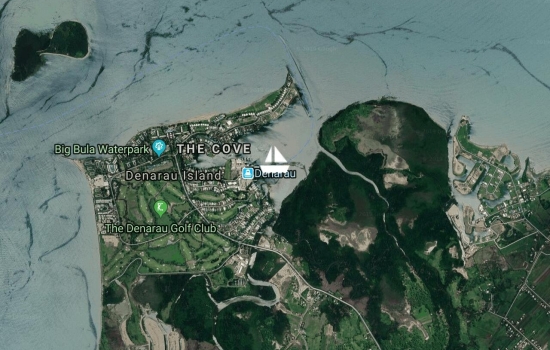 Fri Oct 25 11:12 2019 NZDT
GPS: 17 46.361S 177 23.026E
Run: 13nm (23.5km)
We are on the marina at Denarau, Fiji waiting for a weather window to depart for Opua. It currently looks like there will be a window to depart somewhere between Monday and Friday next week.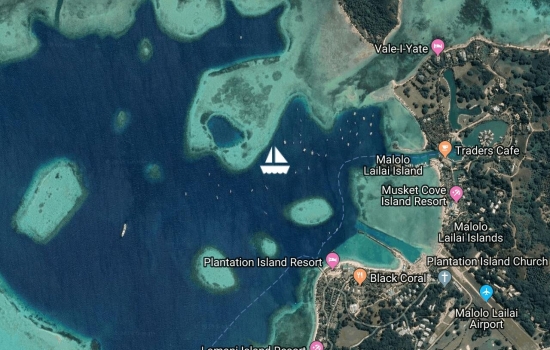 Wed Oct 16 14:03 2019 NZDT
GPS: 17 46.322S 177 11.165E
Run: 568.5nm (1029km)
Our time in Fiji is unfortunately coming to an end. We have had a great time exploring new islands and meeting some interesting and lovely like minded cruisers along the way. This was our first 'do it by ourselves cruising adventure' and it was great to cruise along and stop to spend more time in a place when we wanted too. We first arrived in Savusavu the 4th August. Rob and Jenny from Bonnie Lass did the passage from Tonga to Fiji with us which was great. It was nice to have some company for the trip. We had a lot of time exploring around Vanua Levu and then on to Taveuni and further north into Budd Reef. Savusavu is a quaint old town on Vanua Levu which is getting a new marina built. Hopefully this doesn't impact the town too much, but this a a major clearance port for yachties coming from Tonga into Fiji. Vanua Levu and Taveuni are the wet islands in Fiji but that makes them more lush and interesting. Then making our way down towards the bottom of Viti Levu the climate is quiet different with a lot less rainfall. We stopped at Beqa Lagoon which is surrounded by a large reef. This is where Glen went diving with sharks and really enjoyed it!! We slowly made our way around the bottom of Viti Levu to Denerau and picked up Kristy and Scott then headed to the beautiful island group called The Yasawa's where we spent 3 weeks in total. We snorkelled with Mantas and saw some stunning coral and fish life. The Yasawa's is definitely on the list for another visit another year. Fiji is made up off over 300 islands so there is definitely more exploring to do. Glen is looking for a weather window to head home to NZ anytime from Monday 21st October. Once again David and Karl are going to help Glen sail Malakite home. They make a good team and we pray for good seas and a safe passage.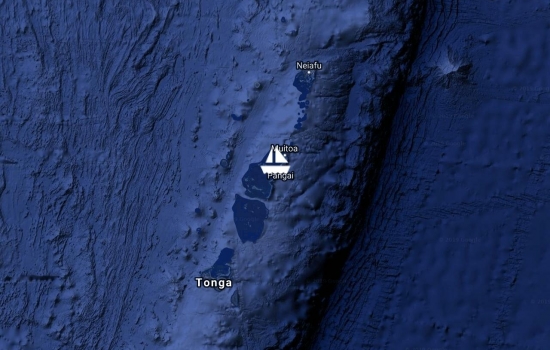 Thu Jun 13 10:21 2019 NZST
GPS: 19 53.433S 174 24.911W
Run: 98.1nm (177.6km)
We have been to some gorgeous little islands and enjoyed some beautiful beach walks. Along the way always looking for the perfect shells to add to the collection. Our first little island stop was Kelefesia which had an anchorage for only 5 boats surrounded by reef. But what a place. Crystal clear water in close, with white sand underneath. The island was large/small enough to walk the whole way round. After staying here for two nights we went further North to Nomuka Iki. A bit of navigating getting into here but lovely when you put the anchor down and relax. We were greeted here by two black tip sharks that stayed around for awhile making us apprehensive about swimming. Glen's idea that Sharks are Friends is not always so!! At this island there is a ship wreck that we explored but it has been hollowed out and only the hull is on view now. From Malakite we watched and listened to a local man on the beach heading across the bay to the next village. His dog keep woofing and obviously wanted to go along as well. So he paddled after his owner in the dinghy. He dog paddled past us and we cheered him on but he swam for 1.8 kms to Nomuka, crazy with the black tips down there and it was just getting dark. Hopefully he made it!! The things you see. After leaving here the next day we went to Uonukuhihifo, for those who want to try pronouncing this, OO-oh-NOO-Koo-hee-HEE-foh. This is a large sand bar group of islands. Lots more exploring and the occasional added addition to the shell basket. The next morning Anj went for a paddle board and found a large Painted Cray body. Glen and Karl got the flippers out to find some live crayfish but none to be found in the Reef ?? however on shore Karl found a rock pool with some crays in it. He managed to get 4 which was a nice change to our diet. Thanks Karl. The crays started of as a blue colour but once cooked turned the more traditional bright orange. Yummy crayfish pasta for dinner that night. Thanks Anj. The next day Karl and Anj were leaving us so we went into Pangai which is where the airport is. First we had to do our coastal clearance into the Ha'apai group from Nuku'alofa. We found the customs office reasonably easy and the lady there also helped us obtain a car for getting Karl and Anj to the airport. There are no taxis here so she told us she would organise for her husband to take them but it ended up being her taking them, which was really nice. The airport is 3kms from where we dropped them into Pangai. Tongan people love ice cream, who doesn't right?? We had a Tip Top ice cream cone here and in Nuku'alofa. You can also buy 2 litre tubs that are in freezers alongside your traditional frozen root veges and meat. Since saying goodbye to our guests we have been hanging around a bit due to either big swells or winds and just recently heavy rain ??Not what the brochure promised!!! We have meet some new people, one family living on the Peninsula not far from us. Small world really. Yesterday was Glen's birthday. It was a calm but overcast day so we headed across the bay to a little uninhabited island surrounded by Reef for lunch and a walk around. Then back to our previous anchorage for the night. Heavy rain and wind overnight and still raining now as I write. It feels like that kind of day where a movie and popcorn might be the thing to do. We are all good on board and looking forward to some adventuring before we leave here next Wednesday and head to Vavau.
Wed May 29 18:12 2019 NZST
GPS: 21 07.508S 175 09.778W
Run: 0.1nm (0.2km)
Life on board Malakite is becoming normal routine after being on board for 6 days. Anj and I arrived last Friday from Auckland to meet the boys who arrived into Nuku'alofa and did all there clearance on Thursday 23rd. Rod left us on Saturday night and Karl and Anj are on board with us until next Tuesday. The weather started off a bit grey and very windy but it is warm. I am writing this at 6.30pm local time and it is still 27.7 deg. We have visited an island called Atata which has a resort on it that we looked around and decided not a good holiday destination, as well as a good walk along a lovely beach. The produce markets are really great in town with everything you need. Every time we bought some items the seller gave us a lettuce for 'free' hence we have lettuce coming out our ears!! Yesterday we found out from a neighbouring boat about a good dentist in town. As Glen had lost a crown on his way up here he took the crown top with him and visited the dentist. Toda y he had the crown attached at a very good price and an invitation to a traditional Tongan feast with the dentist and her Husband, although lovely idea we declined. We have also today done our inter island clearance. This is something required when moving from one island group to another. Trying to find the right people for this is very difficult as there is very little signage on buildings, patience is KEY. So we are leaving Nuku'alofa tomorrow and heading to the Haapai group of islands, which are beautiful. Due to our mainsail having a tear in it we will be motoring or motorsailing with our genoa everywhere until we reach Vavau early July, and hopefully a repair can be done. All good on board
Thu May 23 13:06 2019 NZST
GPS: 21 07.500S 175 09.876W
Run: 25.7nm (46.5km)
Arrived Tongatapu last night motored up and down outside the Reef until morning, so we could see the Reef as we came in through it. We cleared customs etc and are now at anchor off Pangaimotu island, just over a nm form the main wharf a with a cold beer in our hands.
Wed May 22 8:12 2019 NZST
GPS: 21 17.800S 175 31.130W
Run: 225.2nm (407.6km)
Avg: 9.5knts
24hr: 228.5nm
Making slower progress, we have 73 nm to go to Nuku'alofa will arrive about 9.00pm tonight.
Tue May 21 8:33 2019 NZST
GPS: 24 28.850S 176 16.250W
Run: 210.8nm (381.5km)
Avg: 8.8knts
24hr: 210.8nm
210nm to Nuku'alofa, still hoping to arrive tomorrow afternoon. We motored most of the night and turned the engine off at 4.30am and are now sailing in 15-20 knots of wind.
Mon May 20 8:33 2019 NZST
GPS: 27 01.600S 178 08.181W
Run: 206nm (372.9km)
Avg: 8.5knts
24hr: 204.3nm
Making good progress, hope to be in to Nuku'alofa late Wednesday afternoon, 388 nm to go well over half way.
Sun May 19 8:21 2019 NZST
GPS: 29 08.470S 179 28.890E
Run: 96.1nm (173.9km)
Avg: 7.3knts
24hr: 175.4nm
We spent all night motoring with less than ten knots of wind. Still motoring with the wind not forecast increase until this evening.
Sat May 18 19:12 2019 NZST
GPS: 30 03.677S 178 16.924E
Run: 82.9nm (150km)
Avg: 7.8knts
24hr: 187.7nm
Another good day sailing, we ran the code zero for 7 hours. We currently have 8-12 knots of wind from the south east, not sure now long it will be before we start an engine.

The water temperature has increased by 2.5 degrees since leaving Opua.
Sat May 18 8:36 2019 NZST
GPS: 30 55.700S 177 19.200E
Run: 107.7nm (194.9km)
Avg: 7.8knts
24hr: 186.6nm
A great 44 hours sailing until the wind dropped away and we started an engine just before 7 am this morning, waking me for my watch. We are now just over 300nm from Opua and 459 nm from South Minvera Reef.
Fri May 17 18:45 2019 NZST
GPS: 32 05.430S 176 06.12E
Run: 80.4nm (145.5km)
Avg: 8knts
24hr: 192nm
Moroccan chicken for dinner tonight served on rice with beans, yum yum. Great sailing today, making great progress.

Karl's quote of the day "We should survive" the power of positive thinking!
Fri May 17 8:42 2019 NZST
GPS: 32 47.400S 175 00.050E
Run: 122.8nm (222.3km)
Avg: 8knts
24hr: 191.4nm
With the wind ranging between 15 and 30 knots, it made for an interesting night at sea, dodging the rain showers that show up on the radar. Rod just made the comment that all is good, we are afloat, that always helps when you are sailing! We are making good progress with 614nm to South Minerva Reef and 158nm from Opua. Currently we have about 20% cloud cover and 12-15 knots of wind from the south.
Thu May 16 17:18 2019 NZST
GPS: 34 29.755S 174 24.385E
Run: 49.1nm (88.9km)
Glen and Rod departed Auckland on Monday afternoon at 5.30pm after waiting for the wind to drop, we sailed through the night and arrived in Opua at 1.15pm on Tuesday afternoon. Jillian left Auckland by car with Karl late morning on Wednesday.

We had a good night at the Opua cruising club with Graeme, Sue, Ben and Helen joining us for dinner.

This morning we cleared customs after having breakfast at the cafe and departed Opua for Minerva Reef about 10.30am.

We are having a great sail in 15-20 knots and are just over 50 miles from Opua.

The potatoes are in the oven, as we prepare for our first night at sea. Karl has just spotted a pod of large dolphins at first thinking they were whales.

Great to be at sea again.
Malakite - Second update
Motored for the first 40 hours, on very calm seas with less than 10 knots of wind. Heading east so we could make the most of the easterly wind when it arrived.Beautiful sunsets and an amazing full moon. Caught an albacore tuna which was enjoyed for dinner last night. We turned of the engine and started sailing at 2.30am this morning, the wind has been slowly building and we are currently sailing in 20-25 knots of wind, doing 7-8 knots boat speed in lumpy seas.
Malakite - Opua departure
We departed Opua, Bay of Islands this morning with Glen, Ben and Ken on board. We are motoring at 6.2 knots, with no wind and glassy seas. Heading east so we can make the most of the wind and it's forecast direction as we get closer to Minerva reef. 749nm to South Minerva Reef. What a great day to depart.
Malakite - Auckland to Opua
We, being Glen, Jillian and Ben left Orakei Marina on Thursday 23rd April at 1700hrs heading to Opua in the Bay of Islands. We motor sailed until around midnight and then were able to turn the engines of and enjoy the peace with only the wind in our sails. Ben kept watch until midnight then Glen took over. Glen heard unusual splashing sounds on his watch and shone the torch into the water and found a pod of dolphins playing alongside us. They didn't care for the torch beam and soon left us. Read more...
The wind was picking up by now with 25 knots showing on the wind gauge. Glen saw 12 knots of speed while surfing of a wave. Both Glen and Malakite were enjoying their sail. Glen thinks it is the best 3-4 hours of sailing he has ever done. His smile was pretty big. Jillian, not so enthusiastic about the trip!!! We rounded Percy Island (the hole in the rock) about 0830hrs and headed to our berth in Opua Marina. We will be based here awaiting the departure to Tonga. The date to leave is 2nd May, but this of course if weather dependant.
Loading map and updates ....
Loading track, please wait ....