Meikyo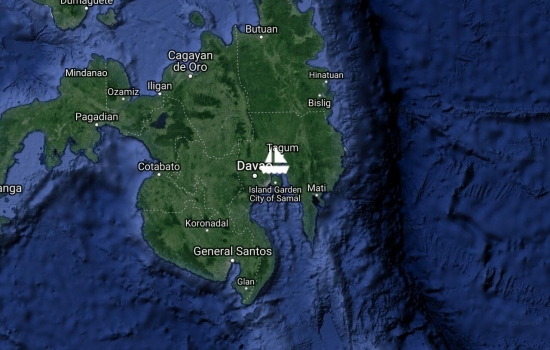 Tue May 7 10:03 2019 NZST
GPS: 07 11.86N 125 42.67E
Run: 230.9nm (417.9km)
Avg: 2.8knts
24hr: 67.5nm
Arrived yesterday at Holiday Ocean View Marina, Samal Island Philippines. This will be our home for the rest of this year as we do much needed repairs and improvements.
Sat May 4 0:00 2019 NZST
GPS: 03 59.82N 126 40.47E
Run: 168.8nm (305.5km)
Avg: 3.1knts
24hr: 73.9nm
Arrived Talaud today after an overnight motor from Morotai. We were siting in the cockpit in the afternoon thinking about how to arrange a bit more diesel, just in case. No wind and current against us for the last leg. Then the tender for the Indonesian navy ship that was nearby arrived. We were invited on the ship and treated very well ( cookies and coffee served!) They even arranged our diesel and delivered it to the boat! Awesome! Love Indonesia!
Wed May 1 17:12 2019 NZST
GPS: 02 05.11N 128 11.78E
Run: 170.1nm (307.9km)
Anchored Dodola after returning from Doruba where we were able to get fuel. Leaving for Talaud in the morning.
Wed Apr 24 16:09 2019 NZST
GPS: 00 17.15N 129 52.54E
Run: 26.7nm (48.3km)
Anchored Sayang in 5 meters of crystal clear water.
Mon Apr 22 11:24 2019 NZST
GPS: 00 00.86S 130 07.15E
Run: 46.2nm (83.6km)
Anchored Kawe Island, almost directly on the equator. Supposed to be some fruit trees ashore, going to check it out when we take Scupper to shore this morning.
Wed Apr 17 19:42 2019 NZST
GPS: 00 30.56S 130 34.06E
Run: 164.2nm (297.2km)
Left Sorong this morning now anchored Besir Bay. Will continue our trip north to Philippines in a few days
Tue Apr 9 19:18 2019 NZST
GPS: 02 37.38S 131 39.23E
Run: 171.4nm (310.2km)
Anchored Pulau Sabuda after an overnight motor trip from Kaimana. Chance for us to all get to the beach again before the last leg to Sorong
Sat Apr 6 21:45 2019 NZDT
Run: 11.8nm (21.4km)
Back in Kaimana doing all the fun stuff, groceries, diesel, etc. Plan to depart for Sorong on Monday
Mon Apr 1 21:21 2019 NZDT
GPS: 03 52.66S 133 56.14E
Run: 21.3nm (38.6km)
Anchored southern end of Namatote Island. The Bagans have moved here so off to swim again with the Whale Sharks tomorrow.
Tue Mar 26 15:27 2019 NZDT
GPS: 04 01.60S 134 12.41E
Run: 31nm (56.1km)
Left our anchorage at Triton Bay Divers. Enjoyed our three weeks there. Did a few dives with them and some on our own. Liliane was able to do treatment with some of the guests and staff.

Currently anchored at the southern end of Aiduma Island. Have a beautiful beach all to ourselves. Scupper is thrilled.
Fri Mar 1 18:18 2019 NZDT
GPS: 03 42.90S 133 53.01E
Run: 22.4nm (40.5km)
Anchored Namatote North after last 4 days provisioning in Kaimana. There are about 8 Bagans nearby, so we will try for a whale shark swim tomorrow morning.
Mon Feb 4 10:45 2019 NZDT
GPS: 03 56.26S 134 07.22E
Run: 19.3nm (34.9km)
Anchored in front of Triton Bay Divers. Really nice spot. Think we will hangout here for awhile and do some diving.
Fri Feb 1 21:30 2019 NZDT
GPS: 03 44.78S 133 55.02E
Run: 12.5nm (22.6km)
Anchored Raf Bay. Hope to swim with the whale sharks tomorrow. The wind is out of the N, so we?ll see. Here?s hoping.
Wed Jan 30 19:15 2019 NZDT
GPS: 03 39.60S 133 45.50E
Run: 161.6nm (292.5km)
Arrived yesterday at Kaimana for provisions. Plan to leave tomorrow for the anchorage close to the whale sharks.
Thu Jan 24 14:39 2019 NZDT
GPS: 02 37.70S 131 39.44E
Run: 97.4nm (176.3km)
Stopped at Palua Sabuda for the night. Will wait for the wind to fill in tomorrow or the next day to continue south.
Tue Jan 22 20:42 2019 NZDT
GPS: 01 23.41S 130 59.02E
Run: 125.8nm (227.7km)
Left Sorong this morning, anchored for the night at Seget. On our way down to Triton Bay for a couple of months.
Mon Jan 7 12:06 2019 NZDT
GPS: 00 09.74N 130 01.97E
Run: 59.1nm (107km)
We have been a bit lax in our updates. After Christmas we left Besir Bay for Uranie. After five days there we grew tired of the swell coming into the bay so headed to Wayag. Enjoyed it last time we were here. Flat calm, beautiful scenery, very little garbage, decent snorkeling. Hard to beat.
No blogs available for this yacht.
Loading map and updates ....
Loading track, please wait ....