Out of the Bag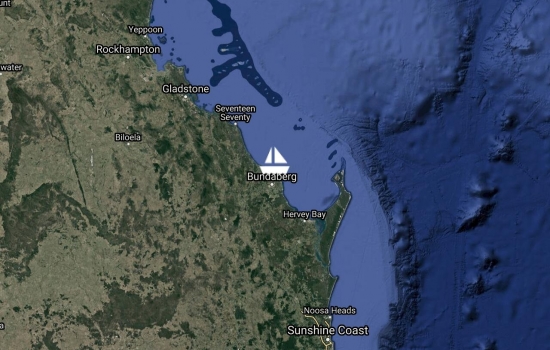 Wed Sep 20 18:03 2017 NZST
GPS: 24 45.653S 152 23.205E
Run: 129.7nm (234.8km)
Avg: 3.7knts
24hr: 89.7nm
Weather: Sunny, but cool 23 deg, 70% cloud, barometer 1011
At a berth at Port Bundaberg Marina. Arrived 2300 Tuesday night, cleared by Customs Wednesday morning. Circumnavigation completed. All well onboard OOTB.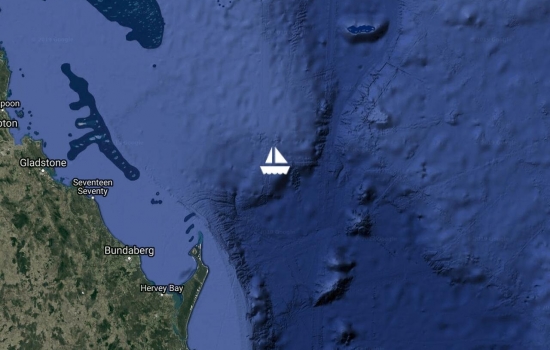 Tue Sep 19 7:22 2017 NZST
Speed:
6m
knts
Run: 152.9nm (276.7km)
Avg: 6.4knts
24hr: 154.4nm
Weather: no wind, less than 1m seas, 70%cc, 1019
wind might go on the nose but very light
Mon Sep 18 7:35 2017 NZST
Speed:
8
knts
Run: 860.4nm (1557.3km)
Avg: 2.8knts
24hr: 66.4nm
Weather: SE15, 50%cc
Closing on Bundaberg and current eta is tomorrow evening. However that means a very sport windy and wet arrival so they may think of slowing a bit to enable that weather to pass. Hard to do this when conditions are so good at the moment so stay tuned for an update tomorrow morning!
Tue Sep 5 8:40 2017 NZST
GPS: 17 44.2791S 168 18.5987E
Run: 0.6nm (1.1km)
Weather: Calm conditions, bit hazy
Anchored about the same spot Bill anchored when he first arrived in Vanuatu in 1976. Anchored off the water front almost outside the Rossi Hotel Bill used to run when he lived here. The Yacht Club Bill started operated out of the Rossi but it has moved now. There is now a road along the water front which Bill said was a grassed garden area. He says the council must have resumed the land. The remains of the jetty are still to be seen off the hotel.
Tue Sep 5 7:35 2017 NZST
GPS: 17 44.80553s 168 18.69654e
Run: 135.1nm (244.5km)
Avg: 5.9knts
24hr: 141.4nm
bi passed erromango and sailed through the moonlit night
Mon Sep 4 8:38 2017 NZST
GPS: 19 23.578S 169 25.427E
Run: 10.3nm (18.6km)
Avg: 9.4knts
24hr: 226.4nm
Weather: Clouding over, under 10 k SE wind, less 1/2 m swell
Whales off to port, can see the expelled air and tail slapping. First whale sighting this season. As left Port Resolution saw a whale to starboard, lots of tail slaps. Good views of volcano from sea.
Mon Sep 4 7:33 2017 NZST
GPS: 19 31.64562s 169 29.5794e
Run: 52.5nm (95km)
Weather: 30%cc, 1014, SE10
Left Tann, port resolution,, for a day trip to Erromango. Tomorrow on to P Vila.
Tue Aug 29 22:44 2017 NZST
GPS: 20 14.258S 169 46.733E
Run: 116.8nm (211.4km)
Weather: No breeze tonight, flat calm anchorage, cloudy
Can hear the surf on the outer reef, but it is very calm inside. We are hoping for fine weather tomorrow to enable us to go for a snorkle bear Mystery Island before the cruise ship arrives on a Thursday with 3000 plus folks onboard. Wow I hope they don't all go ashore. Mystery Island is very small.
Sat Aug 26 7:42 2017 NZST
Speed:
7
knts
Run: 410.6nm (743.2km)
Avg: 8.6knts
24hr: 205.3nm
Weather: N up to 10-12, 90%cc, 1.5-2m swell
97.7nm to Anetyum so will put the pedal down to arrive this evening.
Thu Aug 24 7:42 2017 NZST
Run: 33.1nm (59.9km)
Weather: 90%cc, 12S
left for Vanuatu. 450 t go to Aneityum
Mon Aug 21 7:01 2017 NZST
GPS: 17 46.26S 177 11.22E
Run: 58.3nm (105.5km)
Weather: Very light rain falling, 100% cloud cover, SE wind 3-5 knots
At Musket Cove where we watched first match of Bledisloe Cup rugby on a ginormous screen with a large bunch of good natured Kiwis and Aussies. Bill the only Wallabies supporter who had a Wallabies shirt on. Preparing to leave for Vanuatu. Tony Tactical Directions and Two Up Together here at Musket also.
Wed Aug 9 17:49 2017 NZST
GPS: 16 56.726S 177 22.049E
Run: 19nm (34.4km)
Weather: Blue Lagoon 80% cloud wind due east 10 knots
Very calm in anchorage. Anchored behind sheltered land max height 53 m. Small reef either side of us will be good for a snorkle tomorrow. Today we went for a walk around the island. We almost went all the way around but at the windward side it was very windy. We walked to the very narrow channel between Nanuya-Sewa island and Turtle Island Nanuya-Levu. There were mangroves either side of that narrow channel. It was low tide so was easy to walk around. We were actually going to the tea house in a small village where apparently you can buy lovely donuts. We didn't make it after walking for an hour. We turned back. Instead we had a pie, cassava chips and coleslaw. Ben just caught the first fish. Ben is on again. Rob must be sitting on the wrong side of Out Of The Bag. This second fish is bigger.
Wed Aug 9 10:12 2017 NZST
GPS: 17 09.775S 177 11.561E
Run: 0.8nm (1.4km)
Weather: Manta hunters successful
The guys saw more than ten Manta rays. Ben and Lucie went in the water for a closer look. They reported that the Mantas had lots of small fish around their mouths. They also had remora hanging on them. They were all very excited when they were back onboard, huge grins. It is not often you get to see them. Lucie said they were very cool. Once we had up anchored and were motoring past on OOTB looking back at the gap, you could see their huge wings coming out of the water.
Wed Aug 9 8:03 2017 NZST
GPS: 17 10.3795S 177 11.2499E
Weather: 90% cloud, light wind ESE with stronger gusts.
Ben, Lucie and Claire off Manta Ray watching. Bill, Rob and Gene waiting for report.
Tue Aug 8 16:53 2017 NZST
GPS: 17 10.3795S 177 11.2499E
Run: 46.1nm (83.4km)
Weather: NE wind 12 knots in gusts wind has flicked around possibly go back SE later. Clouding over. Been a hot day. Time 1700.
Anchored adjacent to Tokatokanu Passage where the Manta Rays feed at high tide. Sadly high tide is at six p.m. So we may not see them because it will be dark by then. Probably have to try again tomorrow morning. Ben is going in the dingy, as forward scout to see if there is any sign of them. Usually if Mantas are there the guys at Manta Resort on tip of Nanuya Balavu know the mantas are there they signal to the yachties. No movement with any yachties, Resort folk busy with a small fleet of Howie cats, conclusion no mantas presently.
Sat Aug 5 11:34 2017 NZST
GPS: 17 50.407S 177 10.928E
Run: 5.1nm (9.2km)
Weather: Anchored at Namotu
Ben and Raphael from Brazil who now lives in Aus, surfing the left hand break at Namotu Island. Anatta a 216 foot yacht anchored nearby. Eight women in bikinis onboard says Lucie, that's why guys, you are distracted by it.
Sat Aug 5 7:09 2017 NZST
GPS: 17 46.S 177 10.65537E
Run: 0.7nm (1.3km)
Weather: Musket Cove 20% cloud, E wind 10 knots
At Musket Cove, about to go out to Namotu Island so Ben surf.
Fri Aug 4 16:27 2017 NZST
GPS: 17 46.26S 177 11.220E
Run: 8.3nm (15km)
Weather: 1640 Musket Cove, SE 12k
Arrived from Mana Island after snorkling this morning, partaking of a Fijian Indian Curry on the beach at Mana Island for lunch which was delicious. Beef curry, prawn curry, papadams, roti, Dahl, rice. Great spicy curry. Saw lots of small fish species while snorkling and Ben spotted a moray eel.

We had planned to go off to Namotu for Ben to surf but he said he'd done enough for the day but we'll go for an early start tomorrow and get out there.
Thu Aug 3 15:49 2017 NZST
GPS: 17 40.6938S 177 06.3564E
Run: 23nm (41.6km)
Avg: 2.8knts
24hr: 66.7nm
Weather: Best day we have had so far. 7 k SE. Flat sea. Clear blue sky. 29.6 deg C Time 1350.
Anchored at Mana Island. Have been for a snorkle out to the reef and then dinghies out to drop off. Lovely to be back in the water swimming again. We'll snorkle along the edge of the drop off tomorrow. Saw a ray and a few fish. Update to follow tomorrow. Sea clean, clear, lovely blue. Off the beach cats out enjoying smooth seas and light winds. Didn't take long this morning to wash the sooty ash off, such fine pieces were everywhere. Morning work out.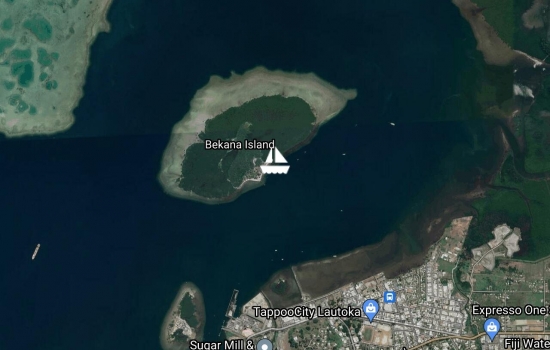 Thu Aug 3 7:32 2017 NZST
Run: 12.1nm (21.9km)
Weather: 30% cloud, 21 deg c, 4 knots SE
OOTB covered in a very fine ash like sand all over her. Pain in the arse says Bill sitting on lounge listening to GH. Anchored opposite Lautoka smelt like rubbish dump on fire during night, like burning plastic. Sitting outside Resort called Belo Vula where had pleasant night up to that point. Yesterday had northerly winds to 24 knots made Suweni Bay unpleasant so moved here. Dropped out at dusk switched back to light SE. Gotta go and assist Ben cleaning off ash.
Tue Aug 1 18:28 2017 NZST
GPS: 17 45.62255S 177 23.71777E
Run: 0.6nm (1.1km)
Avg: 5knts
24hr: 120.3nm
Weather: Glorious day. Lovely orange sunset. Wind easing SE 8knots
We have had a lovely day with Ben and Lucie onboard beginning with a quick sail over from Musket Cove this morning over to Denarau followed by a ride into Nadi on the yellow $1 bus to visit the market after which we adjourned to the Hard Rock Cafe for happy hour. Piña Coladas only 2 for $16 plus tax ha ha in Fiji it can be up to 25% more. This time was only 15 however. Soon will go to Free Spirit for dinner but not until the chocolate cake has finished baking (for Ken's birthday yesterday).
Tue Aug 1 18:21 2017 NZST
GPS: 17 45.55S 177 23.19E
Run: 5.4nm (9.8km)
Fri Jul 28 7:31 2017 NZST
GPS: 17 40.8558s 177 23.1824e
Run: 249.2nm (451.1km)
Avg: 10.4knts
24hr: 249.3nm
they are there! Well -within spitting distance. They are through the reef and 6 miles to Vuda.
Thu Jul 27 7:31 2017 NZST
Speed:
7.4m
knts
Run: 208nm (376.5km)
Avg: 8.7knts
24hr: 208.1nm
Weather: N5 but just gone se5, s swell
Wow, that engine is working well! 200nm to go to Vuda. Gulf Harbour Radio hopes the visitors arriving by air know how to fix their radio. The signal is very muffled and hard to understand.
Wed Jul 26 7:32 2017 NZST
Speed:
7
knts
Run: 238.2nm (431.1km)
Avg: 10knts
24hr: 239.1nm
Weather: 10SW, will back to SE tomorrow and be light
380nm to Vuda. I am absolutely assured that they will be there early friday - just in case the air travellers think that they will have no accommodation! However the early may not be quite correct as the winds will be light bewteen now and then. However they had a 205nm last 24 hours so their spirits are up for the friday morning time frame! we will see who gets to Vuda first.
Tue Jul 25 7:37 2017 NZST
Speed:
9
knts
Run: 202nm (365.6km)
Avg: 8.4knts
24hr: 201.4nm
Weather: 1010, NW20 now. Had from O wind to squalls last night
Mon Jul 24 7:33 2017 NZST
Speed:
7.3
knts
Run: 365.4nm (661.4km)
Avg: 5.2knts
24hr: 126nm
Weather: 15sw, 1.5m south west swell, 70%cc, 1011
on passage to vuda from Marsden Cove. relay from Villamee
Fri Jul 21 9:55 2017 NZST
Run: 31.9nm (57.7km)
Weather: Cloudy with sun breaking through n patches. Lovely in the sun in Whangarei.
Going back in the water today and hoping to head for Fiji Saturday afternoon or Sunday morning.
Tue Nov 15 8:34 2016 NZDT
Out Of The Bag is safely on a mooring and we are off in Fiji waiting to deliver K1W1-Beanz to Auckland for Sarah and Gavin. Lovely conditions in Fiji. Currently listening to GHR and weather for next few days.Trust we can have a good trip to Auckland.
Mon Nov 7 12:34 2016 NZDT
Run: 65.3nm (118.2km)
Arrived Opua and cleared by Customs by 16:45 4/11/2016. Enjoying time catching up with friends and fellow cruisers. Especially enjoyed celebrating Trevor's birthday on 5th Nov and an early celebration of Bill's birthday 6th with lamb roast and Opua YC
Fri Nov 4 8:32 2016 NZDT
Speed:
8.5
knts
Run: 219nm (396.4km)
Avg: 9.2knts
24hr: 220.4nm
Weather: SSW18, 1m seas, 48%cc, 1009
50nm to Opua. Well done and happy landfall
Thu Nov 3 8:42 2016 NZDT
Speed:
10
knts
Run: 135.2nm (244.7km)
Avg: 5.6knts
24hr: 134.9nm
Weather: 2.5m swell,
250 to opua. Look out for the rooster tail!
Wed Nov 2 8:38 2016 NZDT
Speed:
6.3
knts
Run: 170.7nm (309km)
Avg: 7.1knts
24hr: 169.6nm
Weather: SE10, 1m seas, 100%cc, 1012
365 to Opua. Looking good.
Tue Nov 1 8:28 2016 NZDT
Speed:
10
knts
Run: 192nm (347.5km)
Avg: 8.1knts
24hr: 193.6nm
Weather: NNE15-18, 1015, 100%cc, bit sloppy
great cat conditions except for the sloppy swell
Mon Oct 31 8:40 2016 NZDT
Speed:
8.5
knts
Run: 186.7nm (337.9km)
Avg: 7.8knts
24hr: 187.8nm
Weather: E12
about the best signal from a cat we have heard
Sun Oct 30 8:48 2016 NZDT
Speed:
6
knts
Run: 222.4nm (402.5km)
Avg: 4.6knts
24hr: 111nm
Weather: se15,dropping, 1m seas, 30%cc
674 to Opua. i think they are counting!
Fri Oct 28 8:44 2016 NZDT
GPS: 22 16.617s 166 26.396e
reported that they have returned to Noumea due adverse winds
Thu Oct 27 8:34 2016 NZDT
GPS: 22 16.617s 166 26.396e
Weather: 20SE
on their way to Opua. Complaining about wind direction and speed and Bill wants to go to Bundaberg instead. It might be colder here in NZ but we dont have crocodiles, snakes, poisonous jelly fish & spiders& octopi, ,...flies, excessive heat,....
Fri Oct 21 8:36 2016 NZDT
GPS: 22 16.617s 166 26.396e
Weather: got gusts to 36kt when trying to anchor yesterday!
yep. Confirmed by GHRadio. Thanks for relays Gene
Thu Oct 20 8:35 2016 NZDT
GPS: 22 16.617s 166 26.396e
Run: 179.3nm (324.5km)
Avg: 7.5knts
24hr: 179.7nm
Weather: no wind, 1015, 30%cc
Through Havannah Pass with good current to continue on to Noumea. Have put their position there as I dont have coords for Havannah
Wed Oct 19 8:38 2016 NZDT
Speed:
5.5
knts
Run: 171.2nm (309.9km)
Avg: 7.1knts
24hr: 171.5nm
Weather: 10ese, 70%cc,
Gene was sounding cheerful and said all was well on board. And thankyou for the relays as your strong signal was very helpful to get detail from the light boats. They have 123nm to the Pass
Tue Oct 18 8:41 2016 NZDT
Speed:
8.4
knts
Run: 153.6nm (278km)
Avg: 6.4knts
24hr: 153.6nm
Weather: SE10, bkn sky
Mon Oct 17 8:41 2016 NZDT
Speed:
6.5
knts
Run: 306.5nm (554.8km)
Avg: 6.4knts
24hr: 153.1nm
Weather: 100%cc, rain, 2.5m swell, 25Kts wind
2 very tired crew as they have autopilot problems. There is 800 to Opua so they may elect to keep heading to Havannah Pass New Cal as the auto pilot can handle that and the winds will be better to go that direction. And it is closer.
Sat Oct 15 8:38 2016 NZDT
Speed:
6-7m
knts
Weather: light sse, flat seas
No blogs available for this yacht.
Loading map and updates ....
Loading track, please wait ....