P'zazz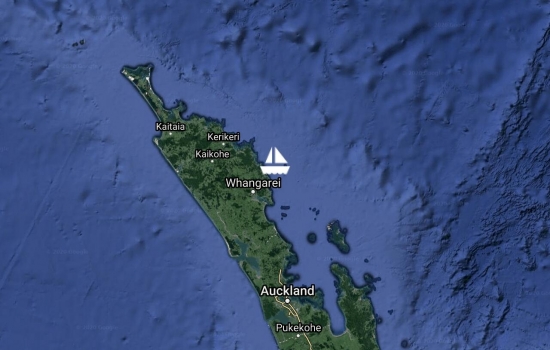 Wed Oct 17 7:30 2018 NZDT
GPS: 35 33.18s 174 36.28e
Run: 85.5nm (154.8km)
Apologies for no update since arriving last Thursday afternoon at 3.30 pm

That morning we got a Northerly spring up at 04.00 , had a wonderful sunrise , a school of dolphins with us for 20 mins , saw a whale and caught a tuna before 9 am - what a welcome back.

By the time we entered the Bay the northerly was up to 20 knots and the front was coming in behind us - we got to Q dock , got cleared , went and refueled and were in our marina by 5 pm . The weather was starting to pack in at this stage. Showers ashore and a meal and beer in the Opua Cruising Club . Good to be home :)

Yesterday ( Monday) we left Opua after getting a whole lot of jobs done in the time we were there ,had a scallop dive and rounded Cape Brett where a nice NE propelled us down the Coast to Bland Bay ( Whangaruru) for the night . Scallops and fish for dinner - everyone very happy.

Today we head for whangarei and haulout tomorrow afternoon.

In the last 6 months P'zazz has done 7500nm and seen some amazing places - now it's time for 2 weeks tlc and get her ready fo the summer
Thu Oct 11 0:18 2018 NZDT
GPS: 33 79.05S 174 39.94E
Run: 211.5nm (382.8km)
Avg: 7.8knts
24hr: 187.7nm
Weather: clear sky calm seas baro 1022 wind NE 5-10 knots temp 23
the last two days have both been beautiful days at sea albeit not as much wind as we would have liked and therefore interspersed with sailing and motorsailing - plus beautiful sunsets each night.

Temperatures during the night steadily dropping as the water temp as our latitude increases - our course being 176 - not far from direct South.

Currently just 89 nm to go - wind has swung to NW where it will freshen during the night and hopefully give us a good sail into the Bay.

Looking forward to beers and a meal at the Opua Cruising Club tomorrow night !
Tue Oct 9 21:15 2018 NZDT
GPS: 31 17.54S 174 72.55E
Run: 224nm (405.4km)
Avg: 8.9knts
24hr: 214.2nm
Weather: sky mainly clear wind E 12-14 knots dropping to 8 sea 0.5 m calm baro 1022
we had a great sail through the night last night clocking a 200 nm run through to this morning when the wind started to ease , however it subsequently filled in again to give us a nice days sail before dropping to 8 knots just before sunset .

We are back to motorsailing to keep a steady pace as we have just entered the wind hole we always knew we have to get through before the wind sets in again for the final push into the coast.

Late this afternoon we caught a small tuna so sushimi and sunsets :) It is 240 nm to Opua now so eta is around midday Thursday - we are over eating trying to get rid of all the food that we know will be confiscated once we arrive ! Two cooked meals a day ! We are all excited to think just 2 more nights and we will be there :)
Mon Oct 8 20:09 2018 NZDT
GPS: 28 03.44S 175 26.83E
Run: 67.2nm (121.6km)
Avg: 6.7knts
24hr: 159.7nm
Weather: sky mainly clear - some high cloud sea 1,5 m wind E 12-15 knots temp 21 tonight !
what a difference a day can make - started this morning with a Easterly filling in until we got 12-15 knots with not too bad a sea state so we all enjoyed a great days sailing with speeds in high 8?s and 9?s for a lot of it . Forecast suggests it will last through to tomorrow night when it starts easing but we will have chalked up some reasonable mileage by then - hopefully we will get some wind to carry us through to Opua but at this stage the last 100 nm looks rather light .

Hope to get in on Thursday before the front comes through Friday / Saturday .
Mon Oct 8 10:03 2018 NZDT
GPS: 26 67.04S 175 43.59E
Run: 182.3nm (330km)
Avg: 6.6knts
24hr: 158.8nm
Weather: fine with some high cloud temp 23 wind E 10 knots sea 1 m
after another day of motoring yesterday the wind finally filled in from the East and is steady at 10 knots supposed to be building up to 15 during the next 24 hours which is giving us a nice push in a relatively settled sea state - boat is doing 6-7 knots laying our course at 50 apparent wind angle - long may it last ! Just on 500 nm to go so hopefully we will get into Opua on Thursday however we do have another projected light patch to negotiate probably 100nm off the coast .

Yesterday the weather was stunning - flat calm seas , clear sky and another beautiful sunset but happy to trade that for some wind and cloud now ! All is well :)
Sun Oct 7 6:30 2018 NZDT
GPS: 24 35.74S 175 95.20E
Run: 155.6nm (281.6km)
Avg: 6.6knts
24hr: 159.6nm
Weather: cloudy SE 10 knots temp 24 baro 1020 sea 1 m E swell
the predicted SE didn?t kick in until 16.00 but then it built slowly until just on dark yesterday we had 14 knots for a brief period plus frontal cloud and some light rain .

Is good to be sailing again. Just before dark we spotted two yachts within 4 nm - one of which climber higher during the night . Good to know there are other boats around although we didn?t get any ID on the AIS which I suspect isn?t working properly .

During the night we made steady progress with the wind varying between E and SE but mainly SE and around 8 knots which means we are laying through to just above North Cape.

The forecast suggests the next 2 days will be lightish then a freshening Easterly to carry us into the NZ coast which is perfect . Fingers crossed that eventuates :)
Sat Oct 6 7:06 2018 NZDT
GPS: 22 22.51S 176 59.53E
Run: 129.3nm (234km)
Avg: 5.4knts
24hr: 129nm
Weather: seas calm wind 3-5 knots N sky clear baro 1020
yesterday was much the same - motor into a then 7-10 knot Southerly plus tide making progress slow but onward and forward. PredictWind shows a SE/E setting in this morning building to around 10 knots - it actually started a few hours ago so we set the jib and were making much better progress ie 6 knots ! But unfortunately that only lasted 1.5 hours before dying out and switching to a light Southerly again.

Fingers crossed the forecast eventuates and we can get sailing again later this morning.

Yesterday was a glorious day - sunny and warm - we did our washing which dried promptly .

The temps at night are dropping - I think the blankets will come out from tonight which will be the first time since the passage up to Tahiti.
Fri Oct 5 7:03 2018 NZDT
GPS: 20 32.04S 176 80.78E
Run: 71.9nm (130.1km)
Avg: 3.4knts
24hr: 81.6nm
Weather: cloudy temp 28 wind S 5-8 knots sea 0.5-1 m E swell
our northerly yesterday slowly dwindled to the point we dropped the screecher and flattened the main out and sailed a direct course just under main making better vmg albeit still painfully slow especially taking in to consideration the 1 knot tide we were pushing . Into the afternoon the wind subsided enough for the motor to come on ( I hate motoring on passage!) then we motored just before dark into a frontal system that completely enveloped us in a horse shoe before letting loose with rain and would you believe a 15 knot Southerly at which point we kept motoring hoping the wind may swing to SE which never eventuated so out we decided rather than keep motoring into that we would set the jib and take a starboard tack which really only had us laying Minerva Reef way out of our course . After dinner the jib was furled and motor started hoping we would motor to some breeze we could sail in however during the night the wind which died away to 5-7 knots is direct Southerly - every now and again we get a glimmer of hope it is swinging to SE for it to come back - at least the 1 knottide against us yesterday has turned to 0.8 knots in our favour at the moment which is greatly appreciated :) I imagine it is going to be more of the same today ie motoring before we are able to pick up any useful wind.

Our hopes of getting into Opua by Wednesday are fast fading as our speeds have been painfully slow for us on a passage .
Thu Oct 4 9:54 2018 NZDT
GPS: 18 90.44S 176 91.66E
Weather: temp 27 baro 1020 wind N 10-14 knots some cloud cover swell 1 m E
after checking out in Denarau 3.30 pm we carried a nice 15-18 knot Northerly to Navula Pass which we exited on a magnificent sunset . Putting a reef in we soon found the wind swing to East and decreasing to 10 so with a clear sky suggesting that frontal activity was unlikely the reef was taken out and we were sailing for a direct course for the Bay of Islands albeit at a slow speed until 10 pm when the wind died . Motoring easily for 6 hours then a Northerly of 10 knots set in and we were sailing again . Daybreak set the screecher and having to sail angles but if one looks at PredictWind it suggests we are in a wind vacuum at the moment so happy to be tacking downwind in a now 15 knot Northerly . Shame our gennaker is unusable as it would be just perfect at the moment.

Easy 1 m easterly swell - sea conditions are slightly sloppy but the breeze is easily enough to drive you through so all in all happy with what we got.

The big question is do we sail into the big hole that PredictWind suggests - behind us the breeze looks set in so we will take it while we got it.

We are happy we made the split decision to check out yesterday as although sailing at reasonably slow speeds ( currently around 6.5 knots SOG - 1 knot tide pulling us back) and sailing extra distance we seem to be carrying what Northerly there was around south Fiji with us and that was the plan. Hopefully this breeze will stay for a while but realise it isn?t forecast to so v grateful :)
Thu Oct 4 9:54 2018 NZDT
GPS: 18 90.44S 176 91.66E
Run: 81.3nm (147.2km)
Avg: 5.1knts
24hr: 122.3nm
Weather: temp 27 baro 1020 wind N 10-14 knots some cloud cover swell 1 m E
after checking out in Denarau 3.30 pm we carried a nice 15-18 knot Northerly to Navula Pass which we exited on a magnificent sunset . Putting a reef in we soon found the wind swing to East and decreasing to 10 so with a clear sky suggesting that frontal activity was unlikely the reef was taken out and we were sailing for a direct course for the Bay of Islands albeit at a slow speed until 10 pm when the wind died . Motoring easily for 6 hours then a Northerly of 10 knots set in and we were sailing again . Daybreak set the screecher and having to sail angles but if one looks at PredictWind it suggests we are in a wind vacuum at the moment so happy to be tacking downwind in a now 15 knot Northerly . Shame our gennaker is unusable as it would be just perfect at the moment.

Easy 1 m easterly swell - sea conditions are slightly sloppy but the breeze is easily enough to drive you through so all in all happy with what we got.

The big question is do we sail into the big hole that PredictWind suggests - behind us the breeze looks set in so we will take it while we got it.

We are happy we made the split decision to check out yesterday as although sailing at reasonably slow speeds ( currently around 6.5 knots SOG - 1 knot tide pulling us back) and sailing extra distance we seem to be carrying what Northerly there was around south Fiji with us and that was the plan. Hopefully this breeze will stay for a while but realise it isn?t forecast to so v grateful :)
Wed Oct 3 17:57 2018 NZDT
Run: 15nm (27.2km)
We had been contemplating a departure for NZ for tomorrow however on looking at the local conditions we made a snap decision to clear customs in Denarau at 3.30 pm and head for Navula Pass which we should get through just before dark. While there s a frontal system about to go through here tonight it is giving us a 20 hour head start on what we would have had and the idea is to stay near or with it as long as possible with the northerly it is bringing - it will possibily be a few rain squalls tonight and fresh winds but hey it is right up our behind enabling us to making good vmg before it moves off In a SE direction ahead of us tomorrow. The next week will be challenging with some patches of light wind and head winds ahead so we will no doubt need to use the motor at times to get us through to the next patch of wind.

Our target is to get to NZ by Wednesday next week when there may be a frontal system coming across the Tasman onto NZ - hopefully that may not eventuate but we will be keeping an eye out for it.
Wed Oct 3 8:46 2018 NZDT
GPS: 17 77.22s 177 18.81e
Run: 18.9nm (34.2km)
After coming out from Denarau we have had 2 nights at Musket Cove where the wind has died off completely giving a mirror calm anchorage in the morning. However the sky out west looks as though something is brewing ( it is!) and we wait patiently to see what the next few days will bring- according to the forecast some wind and rain then no wind at all for a few days.

The frontal system just off the coast is blocking us from departing back to NZ - it apparently will dive south quickly leaving a big void in its wake with no wind/ light winds and to top it all off what wind there will be is likely to be headwinds!

Our hope of getting away tomorrow ( Thursday) looks slim and indeed it may well be into next week before the situation arises where we can get away - unfortunately for us there looks a reasonably extended settled period around the NZ coast of SW which will make any passage difficult. Meantime we will make use of our time here :)
Sat Sep 29 7:58 2018 NZST
GPS: 17 77.01s 177 36.12e
Run: 20.8nm (37.6km)
We came into Denarau on Wednesday afternoon , anchored outside the marina area at the beginning of the Channel along with a dozen other boats - the marina and moorings inside are completely booked out with a waiting list - we are due to take a mooring on Thursday . Went into the office and registered etc and saw some familiar faces including Grant on Spontaneous who is leaving for Opua tomorrow and whose mooring we will go onto. Organised the help we need to look at the furler ,etc for tomorrow as well.

Thurs morning despite customs booked for Grant it took until 11 am for them to get on their way - we waved as we passed them in the channel. On the mooring by 12 , stripped the electric motor on the furler by late afternoon - inside was full of corrosion where salt had obviously been finding its way in despite the area being quite fully packed with grease. The guys are going to strip the motor down in the workshop to see if it can be salvaged meanwhile we got a winch fitting welded to a bit for the electric drill so we can operate the furler with that as a back up - will be much quicker than doing it by hand.

After playing with the wiring of the Whispergen and cleaning the contacts it has now worked flawlessly for half a dozen tests and hopefully that is fully operational again - Jan from Offgrid energy in ChCh has been great in giving advice on possible ways of sorting out any issues on it while we have been away and consequently it has now done around 520 hours since we left NZ on this trip. We have also done 5471 nm since we left Bayswater on the 3rd May.

Over the last few days we have achieved quite a bit in fixing the items we had identified needed doing for the trip back to NZ although we won't know the state of the motor on the furler until it is reinstalled on Monday - is likely it will need to be replaced back in NZ. Now the frustrating thing is trying to get a good weather window to get back to NZ - e had hoped to leave either Monday or Tuesday however there are weather systems that have formed that most likely will prevent us getting away next week at all . The mooring here in Denarau is booked until Monday so we will most likely go out to Musket Cove and wait for the weather to present an opportunity which with our haulout booked for the 18th Oct is starting to loom fast !

Fingers crossed 5ings fall into place soon,

Meantime Gil and Susanna have rented a car and tripping around the island for a few days while Graham and I do a few jobs and enjoy the restaurants and bars in Denarau
Tue Sep 25 12:10 2018 NZST
GPS: 17 84.32s 177 18.69e
Run: 77.3nm (139.9km)
Last Friday after looking at the forecast we decided to move to the Manumuccas so we sailed/ motored up to Mana Island resort where we spent 2 nights enjoying the restaurant/ bar on the beach and having a wander around. The last night the wind had come up from the south so in the morning next day we motored up to Castaway where we got a good anchorage tucked in around the corner . Graham and Paul ashore for sundowners.

Next day we came round to Namotu Island which was looking good but the wind came up so we went back to Musket Cove for the night plus have a wander around the shore -it has certainly changed a bit since I was last here 4 years ago ...lots of progress - a lot of which is still under way.

On Thursday we go into Denarau to try and get a few things sorted and experience civilisation again!
Thu Sep 20 19:30 2018 NZST
GPS: 17 17.21s 177 18.82e
Run: 28nm (50.7km)
Weather: Beautiful day with clear sky however wind built to 15-20 knots SE during the day after a calm early morning
We moved yesterday morning (Wednesday) from Nanuya to Drawaqa Is or commonly known as Manta Ray Bay - having fond memories of our time here 4 years ago it was good to get back. 8 other boats in the bay - we went ashore to look at the first resort which seemed a bit messy and unorganised - on asking about having a meal ashore we were quoted $60 Fijian a head for a curry set meal which we promptly decided to eat back on the boat . The resort wasn't that busy so we thought they would have tried to make prices reasonable to encourage extra business.

Today on going to the other resort ( Manta Ray Resort ) it was far better organised and prices more reasonable - in fact will do a dive with them tomorrow - Gil and I did a dive on a reef 1.5 miles out from anchorage from the inflatable but it was a bit average with the coral bleached and dead . Hopefully tomorrow will be better .

Tonight the whispergen faulted with a fault I haven't had before and looks reasonably involved in overcoming - I have emailed Christchurch and await a reply hopefully tomorrow to see if there is a simple remedy .
Wed Sep 19 6:35 2018 NZST
GPS: 16 94.36s 177 36.84e
Weather: SE 5-10 knots sky clear 30 degrees
After sending a night in delightful Corolevu Bay on yasawa is enjoying an idyllic sandy beach all to ourselves we continued on sailing under main only in a 12-14 knot SE along the rest of Yasawa Is onto Nanuya Is where there is a resort and also Blue Lagoon cruises use the far end of the beach for their boat to do an overnight stopover . Anchoring here we explored ashore ,happy hour at the bar and caught up with John and Lynn Martin who were on Avante anchored in the same bay.

Yesterday Gil and I did a dive on the reef of a nearby island that had been recommended by the dive shop on the resort - some nice coral heads but visibility was a bit limited compared to what we have had.

Wind is easing each day and now is light SE ( 5-10 knots) .

The plan is to keep cruising the Yasawas this week and probably head into Denarau to get a few things sorted including our furler motor looked at.

Just an explanation - looking at some posts I can see the predictive text has been coming up - my English isn't that bad so am sure everyone will understand !
Tue Sep 18 13:32 2018 NZST
GPS: 16 94.36s 177 36.84e
Run: 578nm (1046.2km)
Avg: 10.9knts
24hr: 261.7nm
From our last idyllic anchorage at Corolevu Bay where we spent a night and absolutely loved the beautiful white sand of a stunning beach all to ourselves we left the next morning sailing down under main the rest of Yasawa Is in a 12-14 SE . Continuing on to an island called Nanuva Sewa where there is a resort and on the other end of the island is where Blue Lagoon cruise boats come in and offload the passengers for half a day on the beach.

On entering the bay to anchor we had a wave from John and Lynn Martin who were on Avanti and we subsequently briefly caught up with.

The bay here is also stunning - we are anchored just off the resort ( Graham and I went in for happy hour while Susanna and Gil paddled the stand up boards).

We will stay another night here as I found out that the shop in the resort will order produce from the mainland and they can be delivered by 5pm which is awesome ( know it will cost!) as we have run out of most fresh goods since leaving Savu Savu . Gil and I had a dive on a nearby reef this morning and this afternoon is general laze around.

On the way here our electric furler failed and we wound it up manually - have been in touch with Nick from Doyle's in Auckland and also a place in Denarau. Having stripped the covers off I am pretty sure the bearings have gone in the motor so no point in trying to deal with it out here. Talking to Nick again Rooney but when the wind allows we will go to Denarau and a contact there said they may we'll be able to match the bearings once it has been stripped.

If no,luCk we may need to rig something temporary for the trip back to NZ as it would be a right hassle having to manually wind it in from the bow in a sea - given we didn't need to reef it at all on the way up to Tahiti it may not be a game changer but certainly would be bette to have something better than how we can operate it now.

For the time being we will continue in the YASAWAS AND GO INTO DENARAU when the wind is favourable
Sun Sep 16 8:31 2018 NZST
Run: 533.6nm (965.8km)
Avg: 8.6knts
24hr: 205.2nm
2 days ago after spending the night anchored off Volivoli Resort we decided to sail down to the Yasawas in what was a solid SE of 25-30 knots .

It is approx 50 nm however I decided we would go around the northern end of Yasawa Is which means sailing about 3-4 nm extra each way to go around a reef system that extends out - even though it is 5 m deep in a fresh wind with a short sharp 2 m seas it wasn't worth taking chances.

It was also a good sail for the crew to get used to sailing in stronger winds ( though we have had a few on recent passages !).

We set off with a deep reef main only as it was a dead run and we were cruising for most of it . I had a big hit on one of the lures that was as powerful as either of the marlin we landed. It wasn't ideal conditions to be dealing with a fish that powerful and by the time we slowed the boat I was quickly running out of line even with the drag cranked right on. The fish didn't let off and with the end of the spool just metres away the mono film just stretched to beyond its 37kg limit and broke. Don't know what it was but I suspect a big yellow fin - but whatever it was it was extremely powerful .

There are a couple of reefs we had to sail deep to clear 2/3 of the way to the yasawas then we tightened slightly so we could unfurl the jib - P'zazz was surfing away in the 2 m seas. Gybing around the end of the reef in 30 knots we were sailing quite tight to get to the northern end of Yasawa Is so the apparent wind increased to 35 at times - it was a solid sail by the time we pulled into the northern most bay with 4 other yachts at anchor.

The bay is set just inside a small island with some beautiful small beaches on both islands.

Next day was paddling , exploring the beach and in the afternoon diving at the back of the small island which was in the Lee of the still fresh SE.

The landscape was different to what is normal in that there was a lot of rock formations - in a lot of ways similar to NZ - also lots of big rocks and and a good steep face 25m - interesting terrain, a good sized napoleon fish and a curious black tip shark to keep us company. Gil and I enjoyed the dive a lot - thanks Graham - our boatman who has been doing a sterling job when we dive.

Today (Sunday ) the wind has finally eased a bit and we will start making our way down Yasawa Island .

Water temps definitely cooler (25- as opposed to 27 in FP) and overall temps around 2-3 degrees cooler - however the weather has been a bit ordinary with fresh winds , a lot of cloud and some rain since we have been in Fiji .

Watched the All Black game on the herald website - we will fly our All Black flag at half mast today !
Thu Sep 13 18:07 2018 NZST
GPS: 17 31.16s 178 17.24e
Run: 63.7nm (115.3km)
Weather: Wind SE 15-25 knots cloudy skies clearing to a beautiful day temp 27
After leaving Namena in 15 knots but threatening skies we had some showers as we exited the pass and made the 20 nm to the Vanua Levu reef - going around the end of the reef would have entailed a beat then extra distance so we elected to be through what looked like a reasonable reef entrance and reasonably clear water inside - this proved correct however the wind had increased to 20+ so we furled the jib to keep speeds down as we traversed the 12 nm inside reef then unfurled as we exited into the Va Tu R I channel which would take us down to Nani R I . This passage is bit of a wind funnel and we had 2 m seas on our quarter with wind 20-25 so we averaged over 10 knots for the whole trip with the speeds we were doing here constantly seeing 12-15 knots.

R dropping anchor Graham and I went ashore for a walk - there was still visible damage from cyclone Winston but generally things were ok - the windsurfing/ kite boarding / dive spot on the ocean side beach looked as though it had never really opened again properly however the owner was away and had someone temporarily looking after it but it was more or less closed - such a shame to see the effects a cyclone can have on local life .

On our way back we stopped for a beer at one of the 2 cafes - 1 was shut the other supposedly open although after ringing the bell as per the sign we were told it would be a 15 minute wait for his wife to wake up from her siesta! We decided to wait and enjoyed a beer there.

On our way back we met a NZ couple who own a beautiful beach house just in front of where P'zazz was anchored ( which is for sale -wwwbeachhouseinfiji.com) we talked briefly and went back to the boat for a nice dinner cooked by Gil and Susanna.

First thing in the morning was washing time which took no time at all to dry out in the fresh winds and sun that had broken through from a decidedly threatening look earlier on.

Before leaving Graham and I hope to enquiry a bit more about the house and were duly shown through and given a great coffee and carrot cake to boot :) The house is really a great set up ( look at the website) - any takers for going in a syndicate ?!

Thanks guys for the hospitality in showing us through which we reciprocated by having them aboard P'zazz briefly before we left for VoliVoli resort just a few miles away .

Went ashore to check out the dive price but was a bit expensive considering the dive sites tomorrow will be inside reef ones as the wind is likely to still be fresh so we decided to pass and will look at sailing the 50+ nm to the yasawas tomorrow which will be straight downwind in a fresh wind.
Tue Sep 11 17:00 2018 NZST
No position sent.
Weather: cloudy wind SE 5-10 knots temp 28
on arrival at the pass to Namena reef we anchored just inside and Gil and I did a drift dive on the outside wall. It is an impressive wall dropping to a deep abys and made a good dive. After that we carried on to Namena Island where we anchored just inside another kiwi boat. Turns out they are keen divers ( own a dive shop in Bay of Islands ) so we had a chat and made a plan to dive together in the morning. The morning dive was on a bunch of pinnacles which were full of life and also a good dive . In the after noob we dived again on the south side on the drop off and again a good dive - this has been a great little stopover. Tomorrow we will head through the reef to Na N U Ra passage and to Volivoli on vita Levu - the wind is due to pick up for 3-4 days after that so being a kite boarding / windsurfing hot spot let alone world class diving we will probably sit tight keeping ourselves amused :)
Mon Sep 10 12:30 2018 NZST
Run: 57.5nm (104.1km)
Weather: cloudy sky wind 10-12 knot SE seas 1m temp 27
after pushing ourselves to arrive in SavuSavu in time to get cleared before the found on arrival that it was actually a public holiday and got charged $580 Fijian to clear which was really disappointing but not much we could do about it.

The night before as predicted the wind died off before we cleared Taveuni so we motored the last 50nm but that was better than motoring 150nm which is what it would have been if we hadn?t kept the pace up.

Despite having to motor those last few miles it was probably the best leg sailing since being away with winds of generally 14-28 knots and seas just on the right angle and not too steep . P?zazz really relished those conditions and for us to hit 21 knots fully laden and often see 15-18 knots at times was really exceptional- she was never pressed and just loved surfing down those waves.

However it was unfortunate about the gennaker - we dried it out and laid it up on the grass lawn outside the SavuSavu yacht club and it looks as though the repair we did ( with strong tape) in the head didn?t hold - the end result isn?t pretty and I fear it may be unrepairable but will wait until we get back to NZ and see. After that the screecher did an amazing job especially as the wind lightened on our approach to Taveuni and it made a huge difference over just having had the jib up.

SavuSavu turned on the rain for us on Friday night with a tropical downpour which filled our tanks to brimming again. The next day - Saturday was like a big festival as the prime minister was there to open an internet service.

Talking about internet - it is so refreshing to be able to buy reasonable data packages again and have reasonable speed- FRench Polynesia is way behind the times in this aspect and it made things frustrating at times.

Sunday we motored our to Cousteaus resort just inside the reef entrance and had a dive and spent the night there. To our surprise in the afternoon Blinder ( Grant and Jude ) and Obbession ( Leister and Lisa) turned up so it was catchup on P?zazz for sundowners with sushimi.

Today we stocked up at the local market- great range of produce - as it will be our last market opportunity for prob 3 weeks as we head towards the yasawas . Firstly we are just an hour away from Namena reef - 20 nm south of SavuSavu where we whole to be able to spend a couple of nights behind the island and enjoy the world class diving it has to offer. There used to be a dive resort there but it got wiped out in cyclone Winston 2 years ago and they are still rebuilding it.

Bring on Fiji ! Just as we were about to leave SavuSavu - Different Drummer arrived who also was on the rally last time we were away so was good saying hello to them as well. I get the feeling there will be a lot of familiar boats around once we get to the mainland.

Even watched the All Blacks play Argentina on sat night in the bar at the yacht club .
Wed Sep 5 17:39 2018 NZST
GPS: 15 54.83S 176 09.19W
Run: 280.2nm (507.2km)
Avg: 2.7knts
24hr: 64.4nm
Weather: clear sky wind E 18-28 knots sea 2-3 m temp 30
our time in Apia was well utilised as we did chores that are easier to do in a marina environment like a good outside wash , cleaning the tender,flushing The outboard , plenty of washing etc.

Also we hired a van for a day and did a tour around half of the island stopping at waterfalls ,pools and a resort for coffee which we didn?t ask the price on beforehand and got charged $12 nz for a very average flat white.

Time to go and clearance involved a few hassles which meant we were a couple of hours later than we would have liked getting away - setting sail at 11.00am turns morning - one hour later we hooked and landed a nice 8 kg yellow fin tuna to add to our reserves and had fresh tuna sushimi 3for lunch 30 mins after it was caught .

The wind was a bit variable going through the straight between the two main islands of Samoa then later in the night it kicked in and ended up with squalls up to 30 knots but mainly in the 20-25 range with a step 2 -3 m swell.

As it was at 140 apparent which is a nice angle I kept the full main as we needed to make ground to get as far as we can towards Fiji before the forecasted winds die right off. Subsequently we were surfing quite nice as the night progressed and when dawn broke I did a 8 hour stint on the helm to try and maximise the waves.

Under main and jib we hit a cruising record for P?zazz of 21 knots and had lots of bursts around 15-18 so was probably the best sailing conditions since the trip began. Mid afternoon the wind started to die off slightly so I threw a lure out and 30 mins later had a blue marlin tail walking away from us - we landed him but unfortunately my eager gaff person had a miss hit before I decided we would release him and he was hut bad enough that we pulled him aboard and kept him. Now the freezer is absolutely full to the brim. We are trying to think of different ways to have our fish as it will be twice a day for a while to make room for drinks and other stuff ! We are hoping that the PredictWind forecast of winds dying out tomorrow afternoon doesn?t eventuate as it will leave us with a reasonable motor for the last part . Be nice to be able to throw the gennaker up in the morning and eat up so,emmiles for a Friday morning arrival.

Looking forward to downing our first Fiji bitter for a while
Sat Sep 1 9:09 2018 NZST
GPS: 13 82.75S 171 75.94W
Run: 181.8nm (329.1km)
Avg: 4knts
24hr: 94.9nm
Weather: sky clear wind E 5-10 knots 30 degrees
our last night at sea on arrival to Apia was more of the same - deep reef main only we tried to lose speed to prevent getting there before dawn however we needed to gybe out to sea for 5 nm then gybe back in to waste a bit of time so we could make the approach in light - as we go further west the sun sets later in the day then rises later - also we didn?t realise as we crossed the dateline between US Samoa and Western Samoa that not only do we get back to the same day as NZ but also lose an hour so that worked against us as well.

On making the approach to the harbour we couldn?t raise the port Authority so entered regardless and once inside we all took a drenching as a heavy rain cloud opened up and we needed to stay outside for visibility such was the strength of the downpour .

We anchored outside the entrance to the marina where therewere also a dozen boats.

Finally port authority responded and I started ferrying 4 lots of officials back and forth between the marina and the boat at anchorage - a process that took half the day - it wasn?t helped by the fact that a Canadian boat had been searched the day before and found to have some ?personal drugs? aboard- the police arresting him , impounding his boat and searching all the other boats in the bay. Hence the process on our boat included thorough investigation of all our cooking spices etc ! Having finally cleared I went in to the marina and picked up Susanna and Gil the new crew and got them settled - there are now 5 of us aboard .

Leaving Susanna and Gill on board to settle in we took off into town to have a look - a rather uninspiring town which is why I don?t have very vivid memories of it from 2010 when I was here on Cool Change.

On getting back to the marina and talking to the marina manager I decided to shift the local craft that was in the only berth capable taking us to the next berth so we could come in from anchorage before dark.

With the cafes deck extending slightly over the water there wasn?t a lot of room to manoeuvre however it was still probably more than getting into the marina in our berth at Bayswater (home)and there were probably a few interested punters in the bars looking on - all went well and we got P?zazz hooked up to shore power for the first time since leaving Auckland on May 5 - must say it feels good to know we have unlimited power ( be good for the batteries to have 100%) and water for a few days.

There are a few jobs we will tend to before leaving which will probably be Tuesday - our next stop is Savu Savu in Fiji which we are looking forward) to.

After( fish )dinner )on board in the marina last night Graham and I decided to walk round to the bar for a night cap however we were both so tired after the last few nights at sea that finishing the jug of beer was a chore and he had to kick me a few times as I slumped in my chair ! Needless to say everyone slept v well.

This morning our Aussie friend Nick from Urchin pulled into the marina opposite so we helped him berth( he is solo) and he finished breakfast with us with was on the table - good timing Nick ! Today into the vege market and doing a few jobs- including LOTS of washing -over the next few days we will probably rent a car and do a tour of the island before leaving.
Thu Aug 30 11:09 2018 NZST
GPS: 13 52.95S 169 36.16W
Run: 289.4nm (523.8km)
Avg: 9.7knts
24hr: 233.9nm
Weather: grey skies with some bright periods rain cells passing through Sea 3-4M wind 20-33 knots
yesterday we had 2-3 m seas with winds from SE at 18-23 knots. PredictWind had forecast winds increasing slightly to a max of 25 during the night and easing after that so we sailed the day with full main and jib not quite able to utilise the sea angle as well as would have liked but it was backing slowly to more on our quarter. After 12 hours sailing we caught the other 2 yachts that had left Suwarrow also bound for Apia when they left 10 hours earlier. We radioed up Nick from Urchin the Elan 38 and had a chat.

Late in the afternoon we put a reef in in preparation for the evening thinking a max of 25 knots at 130 degrees is fine however into the evening we got hit by rain cells - some of which had a small amount of rain others more- some reducing the wind most increasing it . As we got into more into the night the seas had become 3-4m and we were getting sustained 33 knots wind with us surfing down waves at sustained bursts of 15+ and hitting a max of 17.6- averaging over 10 - all quite exciting in the dark !! Even though P?zazz loves those conditions we put a deep reef in to get the speed down to a a more sedate 8 knots with bursts to 12.It was good when dawn broke and a nice cooked breakfast was heartily appreciated ! Despite having throttled back we did over 200 nm in 24 hours.

We are now 137 nm from Apia so have furled jib to slow us down and prevent us getting there in the dark tomorrow morning.

Conditions have moderated today but still a reasonable sea running.

Look forward to hopefully being in a marina berth for the first time this trip tomorrow morning.
Wed Aug 29 5:27 2018 NZST
GPS: 13 23.03S 164 79.46W
Run: 144.2nm (261km)
Avg: 8.8knts
24hr: 211.7nm
Weather: sky mainly clear wind SE 18-20 swell 2m
on reflection that we will lose a day when we cross the international date line between US and Western Samoa I decided to clear out from Suwarrow 12 hours earlier ie Monday so we can get into Apia and get organised by Friday. Unfortunately just as I was about to go ashore another yacht arrived and our efficient caretakers were in their dinghy pronto . With the amount of paperwork to go through I knew they would be tied up for at least 1.5 hours so I went for a paddle to the pass entrance to try and get a wave on the ski meantime ! Going through the pass 3 times the ski was hit by grey sharks - the last time shunted the ski forward - luckily the rudder doesn?t taste that good . The sharks here are definitely the most aggressive I have come across.

On my return we cleared and motored out the pass at 1800 . Leaving at this time did have one drawback - it meant that our fishing opportunities going down the reef weren?t going to be as good as leaving in the morning as it was close to dark - I was reasonably confident of getting something in that very fishy stretch of water but getting to Apia on time was the priority and our freezer still has a good supply although we did give quite a few meals away to the boats in Suwarrow.

Once we cleared the leeward side of Suwarrow the wind settled in from SE at 12-14 knots and we were away. 2 hours out we had a concentrated rain cell that lasted only 30 mins but killed the wind completely then the SE filled in again until we were steaming along at 8-9 knots in 18 knots of wind - it stayed consistent the rest of the night and we covered 87 nm in 12 hours which is good considering we had to clear the island and it was night.

This morning we have 350 nm to Apia and with the forecast saying it will strengthen tonight to 25 and slowly tend East it should be a quick trip.

In Apia we will reprovision and pick up the Spanish couple who were going to join in Bora Bora before passport issues determined otherwise . Also 2 of the yachts that were in Suwarrow are 12 hours ahead of us - a Canadian and Aussie boat ( and my diving buddies) so we will all catch up in the marina there.
Tue Aug 28 13:06 2018 NZST
GPS: 13 24.77S 163 10.80W
Weather: clear sky wind SE 8-10 knots temp 33
hard to believe this is our 4 th day here - time sort of melts away in a place like this. We have been incredibly lucky with the weather hasn?t been over 12 knots since we arrived which for an anchorage that is slightly exposed in trade winds is a blessing- in fact it swung to NE which is directly off the motu in front of us - perfect :) We went ashore and walked around the motu which has been kept in pretty good condition however Tom Neales hut ( the Kiwi who lived here for 25 odd years in solitude) has been destroyed by nature - I would have thought it would have deserved some effort by the caretakers / Cook Govt to preserve as it is a big part of the history of this island. The slight offhandness of the caretakers at check in has since been observed as a totally disappointing attitude to what they have here and the experience they are trying to give visitors.

Basically all you can do is come in and anchor and stay put - you aren?t allowed to shift your boat without prior permission- we subsequently found out. Not allowed to do so many things including scuba diving inside the reef without a permit ( applied for and denied with no reason)- you can snorkel the surrounding bombies from tenders . The sign on the beach where you pull the tenders up has been extended to reflect the rules - it takes a bit of reading to go through all the things you aren?t allowed to do .There were 6 cruising yachts here and we had an evening ashore for sundowners / drinks - the caretakers were invited by 2 different people but didn?t bother to turn up ( don?t know what they do for socialisation here!).

Anyway 3 of us got together and decided to go for a dive on the outside of the pass where the regulations don?t apply was similar to pass dives like Rangiora - Tiputa. 50+ plus visibility , healthy coral ( some of the best I have seen this trip) , dogtooth tuna,barracudas,napoleon fish, trevally , black tips and greys- in fact most of the sharks on the outside were greys . I got the feeling that we may have been some of the first to dive there it was that sort of feeling- where we dropped in was a drop off that even with that visibility it was sheer - bit like Ras Mohammed in the Red Sea.

Everyone came back very happy - then sundowners to finish the day off :) This morning after checking the injectors on our starboard motor ( it had overheated in Bora Bora before we left) we up anchor to test it unde load before setting off for Samoa tomorrow.

We hadn?t even got as far as the entrance to the pass and the rangers came chasing us in their dinghy saying it was illegal to motor anywhere in the atoll- ffs I wasn?t impressed and explained we need to test the motors before leaving and they said go outside the pass to do it ! After the warm welcome we received in 2010 this is very disappointing- I have dived many national parks in various countries in the world and in fact been a Divemaster helping protect one of the most amazing places ( Red Sea) so to be denied the ability to dive inside a reef for no apparent reason ( didn?t want to spearfish- just take photos) seems like they have lost touch. I definitely will be emailing the Cook Govt National Park minister to express disappointment on how they making what is a special place not welcoming to people who are only there to appreciate the beauty - we even collected plastic we found on the coral beach and bough t it back to the boat to take away .

Anyway tomorrow morning we are off - there is a system coming in a few days and looks like we will get reasonable wind (up to 25!) and waves up to 3-4 m but from behindso we are getting away early to avoid the worst of it.

h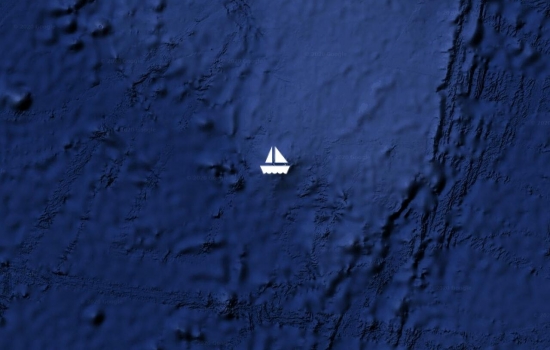 Sat Aug 25 15:27 2018 NZST
GPS: 13 24.79S 163 10.78W
Run: 104.2nm (188.6km)
Avg: 4.6knts
24hr: 110.2nm
Weather: cloudy wind E 12-14 knots
afterward 4 nights at sea we were looking forward to seeing landfall at dawn- however just before dawn we had a big rain cell which pummelled us with rain and the wind dropped so we had to motor 28 mikes before the wind came up enough to enable us to sail the last bit.. On approaching Suwarrow it definitely started bringing back memories of 2010 especially as it was a similar time we got here.

I had 2 lures out when both were hit at the same time - a wahoo jumping over the other line and we were only a few hundred metres off the reef . Jumping into action the first one dropped the lure so we cleared that line and worked the other which ended up being 15 kg Wahoo - what a welcome - this place is magic On entering the pass we saw the masts of several other boats at anchor - 6 in total including us now.

At anchor the black tip sharks immediately were circling the boat just like last time - we counted 14. and by the time I had finished filleting the wahoo there were more ! It took a little while for the caretakers to come out and clear us - I had obtained previous clearance but even with that there were bio security ( they sprayed the boat) , immigration and customs - this is an island with no permanent population and miles from anywhere ! With that done I needed to dive on the anchor as the chain was caught on a bombie - while clearing that a grey shark came right up to me so close I had to use my flipper op him coming any closer. Despite being fobbed off he circled really close and several times more he got an extended flipper to keep him at bay- despite having dived with literally a thousand sharks his behaviour was a little un Nerving - ha had no fear and was too curious - even slightly aggressive.

This place is something very special - we won?t go ashore until tomorrow as there were chores like washing and cleaning up but everyone is quite excited about exploring this little haven tomorrow
Fri Aug 24 16:45 2018 NZST
GPS: 13 86.51S 161 62.59W
Run: 126.4nm (228.8km)
Avg: 6.6knts
24hr: 158.4nm
Weather: wind E 18-20 k seas 2 M skies clear
after a rain cell went through this morning the skies cleared to a beautiful day with a nice following 2M sea and the wind from behind at 16-20 .

The seas have settled a little from yesterday- it?s a shame with conditions like these we can?t use the gennaker ( repaired the few tears) but there is no point with the distance left to travel we need to pace ourselves in order to arrive after sunrise.

We had Marlin steaks for lunch which were delicious :) I wasn?t going to put out a lure today as obviously we have quite a bit of fish but decided to put out 2 small lures this afternoon hoping to pick up a Mahi-mahi as they are also one Of my favourites and I haven?t had one this trip.

Also I am sure the local Cook Island caretakers on the island would be appreciative of any fish thrown their way ! Just as I was going to bring the lures in for the day one reel started screaming again and another marlin was tail walking across the surface in a hurry. We were doing 8 knots so by the time I got to the rod and wound up the drag he was still doing acrobatics some distance away and the swivel parted with the load .

As I believe the strike we had 2 days ago was also a marlin ( bigger weight than the one yesterday) that is 3 in 3 days and we only had lures out for 3 hours today.

This is s fishing paradise ! Last time at Suwarrow I had a memorable fishing adventure with the local caretaker so look forward to seeing how this stop over goes - we got some big hits last time and often when you have some fish is the time you get lucky again - time will tell.

It is likely Surreal 2 is also at anchor so will be good to catch up with them.

Tomorrow morning will be breakfast at anchor hopefully
Thu Aug 23 21:36 2018 NZST
GPS: 14 85.29S 159 86.72W
Run: 338.6nm (612.9km)
Avg: 9.6knts
24hr: 230.9nm
Weather: wind E 18-20 knots seas 2-3 M
after sailing on Tuesday with gennaker in trade wind conditions we got a wrap around the forestay when it collapsed - it subsequently wrapped at the top as well and the situation didn?t look great especially when my attempt to go up in the bosuns chair was too dangerous in the seas . Last straw - we tried the electric jib Furler which succeeded much to our relief :) As we weren?t going to make it to Suwarrow by thurs afternoon we then decided to throttle back and sail just under main especially as the seas were building. The seas are similar to what we had on the trip up - what a difference going the right way makes both in comfort and stress on the boat ! When we had the gennaker up I was looking out the hatch and noticed a small raft less than 30 metres pff our course - we went by at 9 knots and the raft appeared to be some sort of FAD ( fish attracting device) but was drifting - I could see several mahi-mahi under it but it was too late to throw out a lure but it made me realise how dangerous these things are- when they anchor them I guess no maintenance is ever done and eventually they break loose - if we had hit that it would have caused considerable damage and were only 30 m away ! Yesterday ( Wednesday) I decided To re spool one of my fishing reels as I lost a lot of line when I had a strike a few days? ago so after doing that I set a lure ( already one out) and hey bingo another strike :) I knew it was a reasonable fish although I suspect the lure I lost was a bigger one and got the trace to the boat when it set off again with another 100 m burst - at this stage we still hadn?t seen it as it was under the boat before the last run but eventually we got it traced and gaffed and we had a 80+ kg stripped marlin - high fives all round.

Greg - this one was for you - we tried so hard and were so desperately unlucky not to land something like this when you were aboard .

Now our freezers are to the brim with marlin and I can see fresh fish on the menu for some time :) Hopefully now the bogey has been broken our success rate will increase however the need to put a lure out at the moment has obviously greatly diminished! Fresh sushimi for dinner was appreciated .

Tonight we are still under deep reefed main which we will maintain until the morning as we didn?t want to arrive to Suwarrow early and in the dark but with the forecast winds due to lighten tomorrow and a gibe needed to get us on the right line for our final approach we will probably be able to go back to full sail tomorrow.

'
Wed Aug 22 10:24 2018 NZST
GPS: 15 72.72S 155 25.18W
Run: 146.3nm (264.8km)
Avg: 7.9knts
24hr: 188.8nm
Weather: fine in intervals with some cloud cover and a few rain cells coming through wind E 10-20 knots
after settling into a slightly bumpy sail at 60 AWA the wind slowly picked up towards dusk so we threw a reef in for the wind to average only 10-14 during the night but we still managed 7-8 knots and as the evening went on it slowly backed from S to SE , which lead to a easy first night out for the new team.

This morning dawned fine and we threw the reef out and put up the gennaker at 6 am ! Seas still confused and beam on to start but as the morning went on and the wind backed to east the swells slowly came around to but not to the point they were easy surfing.. the wind got up to 20 knots and we were cruising at 9-10 touching 13 but having to sail as deep as we could (130j to try and keep the gennaker setting with the sea state which was throwing us around a little. Just before lunch a nasty looking rain cell approached and as the wind hit 22 knots we doused the gennaker then reset after it passed - however in its remnants the wind dropped to 14 knots so our first 24 hour run which was shaping to be around 225 despite being over reefed during the night will be less plus our hopes of getting into Suwarrow by sunset on thurs look gone so another night at sea but the forecast is at least saying it will be all downwind ( with some gybes ).

After that rain cell passed the sun is shining and it is generally pleasant trade wind sailing- just could do with another 5 knots of wind .

Today no lures out as we have the gennaker up - after yesterday?s effort - that reel is down to half a spool of line now so some running repairs are needed.

Will be fun to get to Suwarrow again after originally spending some time there with My brothers friend Alan on Cool Change many moons ago .
Tue Aug 21 15:48 2018 NZST
GPS: 16 21.05S 152 73.16W
Run: 85.8nm (155.3km)
Avg: 3knts
24hr: 71.5nm
Weather: Wind S 12-16 knots swell 1m cloudy
after dropping Zuny at the dock and setting off for Mautipi on a beautiful day we managed to sail with the gennaker in 8-10 knots of wind for approx 1/3 of the trip - ie 9nm then the wind dropped and we motored the rest arriving at Mautipi at 3pm to find Sayaou - the Spanish boat so we anchored next to them and caught up. A local who they had met was a OC 1 paddler so we went for a paddle out the pass which is where I had my meeting with the reef last time ! Outside the pass we had some humpback whales surface only 150 m away - an amazing sight especially with that huge tail in the air . Back to the boat for one of the best sunsets you could wish for.

First thing in the morning we motored up to town and went ashore to do another. Limb of the 380 m mountain- Graham and I who competed in Ironman managed the climb in 35 mins working up a good sweat! On getting back I downloaded the latest forecast to see that on Friday there would be no wind on our approach to Suwarrow so we made the decision to up anchor and get going st4aightbaway as the wind had gone from flat calm in the morning to 10 knots so we set sail from outside the pass at 1300 hrs. At first we hoisted the screecher and were trucking along at 8-9 knots when we got a big hit on one of the lures .with the schreacher up it was impossible to slow the boat and even with the drag on max the line was peeling until it broke just before I got spooled - must have been a nick in the line - goodbye to one of my expensive Daniels lures from Papeete .

Lesson - no lures with the schreacher or gennaker in future - it?s too hard to slow the boat.

We are settled in to 15-18 knot breeze now sailing at 60 awa - tomorrow the wind is due to back to the East which should give us a nice slide-we need to do a good mileage each day to get there before sunset on Thursday so hopefully the forecast will prove correct !
Mon Aug 20 11:00 2018 NZST
GPS: 16 46.76S 152 00.27W
Run: 19.8nm (35.8km)
Weather: light Easterly 5-8 knots slight seas fine
after having a huge email (6gb) sent through to us it took 2.5 days to clear our system back to normal so no updates for a while sorry ! Back to normal now . The last few days of just Zuny and I were coming to a close as we cleaned and prepared the boat for the upcoming crew arrivals. Graham and Martin arrived within an hour and Martin immediately had our anchor problem sorted which had been worsened when I hooked up to an unmarked power cable of the Hilton ! After that we had to take a mooring as the anchor winch was faulty but back to normal now. The unfortunate news is that the Spanish couple who were going to join rang us in despair as he just realised that his passport had only 3 months left and couldn?t get a new one in NZ before his flight was due to leave ( a days time!) so they had to pull out . Maybe our Spanish friends on Sayaou will take them if they can reschedule their flights so all may not be lost.

We finalised our check out on Friday, refueled Sat morn and did a big reprovision then took a mooring off Bloody Mary?s where Zuny and I were going to have our last dinner.

While motoring there our starboard motor all of a sudden lost power so I shut it down. Not good timing just before we leave but Martin who is a mechanic and I worked on it and have eliminated serious damage in the fuel pump which we feared it could be as a result of the water contamination problem we had on the way up. Any way Zuny and I had a special dinner and then we said goodbye on dropping her off at the ferry for the airport and we left for Mautipi where we will stay until Tuesday when the trades are due to kick in and we will set off for Suwarrow.

It is hard to believe the French Polynesia trip is almost over ( Mautipi still is in FP) but am certainly ready to get on the move again and the forecast suggests some reasonable trade wind sailing once we leave on Tuesday so fingers crossed.

While in Mautipi we will work on the injectors of the motor to eliminate a few things - the motor started ok but we have refrained from testing it further ( after changing fuel filter ) until we have done further work.
Tue Aug 14 10:39 2018 NZST
GPS: 16 52.51S 151 77.15W
Run: 0.1nm (0.2km)
Weather: fine wind NW 10-14 knots temp 30
sorry for lack of updates last few days - life can get busy cruising ! After diving the outside of the reef by the main pass and having 50 m vis plus plenty of sharks we decided to go back around to the eastern side of the island and dive the manta cleaning station plus get out of the wind from the westerly which got up to 30 knots and is probably the worst wind on Viatape side of the island. Anchoring off the St Regis resort the wind was much better and we did 2 dives on the cleaning station in limited visibility not seeing any Mantas :( Caught up with a kiwi Cat - Off2C which is going to spend a year here - sundowners on P?zazz .

Back to our anchorage off the Hilton on the west side again now for internet as we got the news that Zuny?s son and partner just had a baby boy - 10 days early . This week is about getting ready for the arrival of the new crew over the next few days and Zuny?s departure in the weekend , then our departure straight after We have had a problem with some of the supplies we bought being infested with eggs that turn into caterpillars then moths -over 3 days we stripped all our provisions,cleaned,threw some out and reoacked but is a never ending war :( What a hassle .

Was supposed to be due after Zuny arrived back however he decided to enter this world early - all are well ! Note: Sending a brief description of the weather you are experiencing is a great help to David and Patricia (Gulf Harbour Radio) for monitoring the weather.
Fri Aug 10 6:30 2018 NZST
Run: 8.5nm (15.4km)
Weather: mainly fine with some could build up wind NW 12-15 knots temp 29
after the days around the east side of Bora Bora we came back to town to get a few supplies taking a mooring off the mArina ( if you can call it that!) while we went into town in the inflatable. Anchored off town was a massive 44 M blue Cat that we had seen in Papeete and Maupiti - the volume in this boat is unbelievable and it is probably one of the biggest sailing Cats in the world - I would imagine there are probably 3 levels in each hull the volume is so big - it is rumoured to be owned by Stephen Spielberg - anyway it certainly makes you feel small when you go past it ! After reprovisioning we motored around to Motu Toopua and Baie Tehou in front of the workers village for the resort of the Hilton and where we stayed earlier . This is one of the better anchorages as it is sheltered in winds from SE to NW plus is only 7 m deep so can anchor easily . The main problem here is the resort ferries that bring the workers in come in at speed of up to 25 knots literally within 15 metres of any anchored yachts where they could easily detour around on the perimeter and come in safely - I am thinking of lodging a complaint to the gendarmes in town next time I am there plus email the resort as there will be an accident if they don?t change . 2 nights ago when one came in at speed in the dark it narrowly missed one of the resort boats moored in the bay ( with no lights ) - they had to swerve at speed at the last moment to avoid the collision so was a close call - we certainly make sure the boat is well light up at night! Anyway we do have the benefit of a weak wifi from the workers village ( unsecured) intermittently which is a huge bonus as well.

We are also joined here by Daryl and Annie ( No Rehearsal - Catana) and Spanish Paul (Sayaou) who has picked up his Uncle and Auntie and girlfriend since we saw him a day ago and gone from being by himself to 4 people on a 10 m mono ! Sundowners aboard P?zazz with the crew of Sayaou and lots of Spanish talking / laughing /dancing and some games of Rummikub which they are very good at - 2 of them beating Zuny just after she had showed them how to play! The last 2 days here there has been a squashed convergence zone squeezing this area with winds from N to NW up to 30 knots and it seems most nights a rain band ( short and sharp ) going through. The first night the wind went right around the compass within 2 hours with one of these fronts - not great weather to be out on a passage in . The forecast has the wind staying in the same direction but getting lighter for the next week which has resulted in a few frustrated yachts that are waiting to head west having cleared needing to stay put . Will be good to see the wind revert to the trades E/SE by the end of the week so that our departure after the crew has arrived won?t be affected .

Yesterday all 3 boats went out to the banks on the inner reef in our inflatables to see the shark / ray feeding - some quite friendly black tips where in attendance.

Hopefully as the wind backs off we can get some diving in over the next few days.
Mon Aug 6 13:39 2018 NZST
GPS: 16 49.10S 151 70.38W
Run: 4.9nm (8.9km)
Weather: cloudy with some fine periods - wind NW 10-14 knots
spent 2 nights at our anchorage - the first day I had my first in water kite board lesson which went ok and managed to keep the kite under some sort of control doing a few exercises . The next day we went further out to get more wind but it was too deep and for my skill level I found it challenging keeping afloat trying to control the kite plus the wind caught me and catipaulted me a few metres at one stage ripping my sunglasses off - I tried to recover but they were just out of reach as the kite pulled me further away - that is the 2 Nd pair I have lost in a week - the other being in the surf ski/ reef incident ! Today we went to Temira Point for some snorkelling and then ashore for a walk . This is supposed to be one of the nicest beach areas on Bora Bora but most of the beach is taken up with resort and is private but we did find a landing area and a nice cafe for a pizza lunch.

Back to the boat and we shifted anchorage further North to Motu Tupe inbetween 2 resorts . There is a manga spotting place nearby so we will dinghy over in the morning to have a look.

The weather is still rather unsettled with quite a lot of cloud plus the wind being NW which suggests there are fronts going through is predicted to stay like this for the next few days
Sat Aug 4 13:51 2018 NZST
GPS: 16 53.34S 151 70.43W
Run: 11.9nm (21.5km)
Weather: 29 degrees cloudy wind NE 12-14 knots odd shower
on getting back to Bora Bora we went around to the Southern tip of the island to Baie Rofoul where There is a workers residence for the local resort -it also has wifi without a password :) - Rob from Southern Comfort had alerted us to this and to boot is a nice anchorage . This allowed me to download a new google earth based navigational programme called OvitalMap although the signal was too weak to download to the level I would like the basic programme is up and running and looking promising - thanks again Rob for putting me onto it.

Next morning No Rehearsal (Catana 52) came and joined us at the anchorage plus we had met during the day a Spanish Solo sailer Paul who all came over for sundowners and pizza .

Paul is a sailing instructor ( dinghies) in Barcelona and has offered to teach me to kite board :) mmmm more injuries ?! Lol Anyway we motored round to the Eastern side of the island and are holed up in a bay - motu Te Hura -which hopefully will get enough wind for me to have a go over the next few days.

The unsettled weather seems to have returned with today being cloudy with bright periods and the odd shower .
Thu Aug 2 12:15 2018 NZST
GPS: 16 49.14S 152 00.53W
Run: 33.6nm (60.8km)
Weather: cloudy 29 degrees sea 0.5-1 m N swell wind 10-14 knots northerly
on approaching Mautipi the pass entrance didn?t become entirely clear until we were just out from it - for a while I was wondering whether we were going to have to turn around and sail back to Bora Bora which would have had us having to motor sail the 30 nm v hard on the wind so we were pleased when the entrance finally became clear and we entered no problem against a 3 knot current. We motored up to the main village where we anchored in 5 m of water . Soon after an Aussie ( Rob) from. a 54 ft monhull called Southern Comfort came over and introduced himself - later that eve we had sundowners on his boat, then the ne t morning we climbed the mountain at the back of the village - a 380M hill with ropes on rock faces at the end but a great view to show for it. Back to a cafe on the waterfront ( the only one) for a cold beer and lunch :) Later that night we had Rob and Lauren ( his wife) over for dinner which was a great night-he kindly left us with his hard drive full of movies of which we downloaded approx a terrbyte worth onto our hard drive and started watching new movies soon after ! Next day we motored down towards the pass where there is a sandy bank ( plus bombies) in 7m of clear water which is where the Mantas play in the mornings - apparently there are 50which call this lagoon home.

That afternoon I took the surfski out to the pass entrance and decided to catch what looked like a good right hander on th the outside.

First wave came through and hooked onto it for a good ride but when I pulled out the following wave which was bigger and looming into a solid face-I paddled desperately to try and get on the out side of the break to go over but it popped up into a solid wall so I st4aightened up to a 2 m wall of breaking water. It ripped the ski away from me and I was in whitewater holding onto the paddle desparately looking for my ski spotted it 20m away and swam hard on Y to have another wave rip it away just before I got there. The situation now wasn?t looking gr3at - solid whitewater and v shallow reef plus I was in the water on the outside of the reef-swimming hard I made the reef which had waves pounding on top and had to scramble about 30 m across the top while getting pounded then got to slightly deeper water where I swam to the waiting ski ! Managed to paddle over the top and get out again then straight back to the boat to nurse my wounds which consisted of scrapes to one forearm and leg. Luckily the first aid kit is in good shape and patched everything up - not that major but I was very lucky - it could have been a lot worse ! Next morning the Mantas were 50m from the boat so despite the scrapes Zuny and I hit the water and swam with 2 Mantas for 45 mins.

The wind being from the North I decided to take advantage and cut our stay slightly short so we could lay back to Bora Bora - slightly eased sheets - am 2/3 of the way across now on a nice easy sail so back to Bora Bora now and this time we will do some exploring around the island .
Mon Jul 30 6:21 2018 NZST
GPS: 16 48.22S 151 91.03W
Run: 16.6nm (30km)
Weather: clear sky 1 m swell wind E 12 knots
we ended up spending 3 nights off Bora Bora Yacht Club as it was such a great situation - as much as I hate paying for moorings- to be 50 m off the dock in a totally sheltered position plus being able to offload rubbish ,get wifi etc was a nice change . However I did get bit of a shock when I asked about water - even after paying for a mooring and eating in there twice if you want water it is charged out at a rate of 20c NZ a litre ! Around $100 just to fill one tank .

Last night we had Daryl and Annie from the Catana ? No Rehearsal ? and their daughter Lisa over for sundowners ( repaying for the night before)then went ashore to the yacht club for dinner and caught a taxi into town to see a Dance/cultural show.

The taxi who they had used during the day and charged $15 US ( for less than 5 km) Told us as we got out that because it was night the rates go up and is now $50 US - we queried the change for him to say - ? welcome to Bora Bora ?! Needles to say we weren?t impressed and after the show we saw him waiting hoping to give us another ride we told him politely no thanks - put our thumbs out and got a ride right in front of him.

The show was only average as it was a bit repetitive but overall an ok experience.

This morning we dropped mooring early 6.30am and set sail for Maupiti which is an island 28nm to the east which we have heard good things about although the pass is one of the trickiest ones.

Have a 12 knot Easterly behind us with just the main up so should be there by midday.

Looking at the long range forecast it is likely we will spend up to a week there and wait for the wind to hopefully swing next weekend so we can lay back to Bora Bora
Sat Jul 28 15:27 2018 NZST
Run: 50.9nm (92.1km)
Weather: sky cloudy but cleared wind E 12 knots temp 32
yesterday woke up at our glassy anchorage behind ile Tomarao to a pod of dolphins playing just 50 m from the boat as we raised anchor to set off for Bora Bora. Nice send off :) motored for 40 mins to get away from the Lee of the impressive mountains that had given us such a peaceful night then a nice NE set in swinging slightly more east as we got away from Raiatea. Had 2 strikes - the second peeled off 400 metres of line in literally a minute however neither stuck - even a wire trace got bitten through. Just off Bora Bora was a bird work up so we deviated and got a skippie however the local boats were onto the workup in a hurry and as we were still under sail I continued on to the passage but am sure there would have been bigger fish under the workup .

Took a mooring off the Bora Bora Yacht Club and settled in to wifi and some snacks in a ost pleasant environment. Then dinner ashore which was the best food we have had in French Polynesia so far . Plus full moon ? - quite a setting .

Today the sky was threatening but cleared as the day went on - went into town and did some shopping plus looked into Zuny?s flight for Papeete in a few weeks.

Another night on the moorings at the Yacht Club tonight as it is too deep to anchor here or around the corner closer to town. Is a local festival tomorrow night in town so will head into see that.

Looking at this site on wifi it seems that some of the recent posts haven?t uploaded - not sure why .
Thu Jul 26 18:42 2018 NZST
GPS: 16 84.55S 151 48.61W
Run: 51.4nm (93km)
Weather: fine light SE (10knots ) clear sky temp 32
after breakfast there were a few things we needed to top up from the supermarket then it was off to Raiatea. Going through the pass 2 charter Catania 55 ?s were leaving at the same time . They started with full mains and jibs then furled the jib and unfurled their screechers - at that stage the wind had settled to 12-15 at 100-120 apparent so we hoisted the gennaker . By the time we got to Pass Teavamoa we had put 15 mins on them cruising at 8-10 and hitting 12s -a lovely sail.

Had a look at the bay with the Taputapuatea Marae but there was only deep water and with an onshore wind couldn?t get an anchorage so we could have a look.

Carried on around the inside of the reef to a motu Nagano.

A beautiful motu and we managed an anchorage in the Lee in 2 m on a sandy bank of crystal clear water.

Threw a tank on and cleaned the bottom of the hull .

Lovely night in a special spot joined by the 2 Catanas .

This morning we carried on the inside of the reef to motu arvo which is a similar situation to last night .

Full moon with the mountains in the background- pretty special backdrop and wind dropped right off to glassy calm.

Tomorrow if there is any wind we will go to Bora Bora.

Note: Sending a brief description of the weather you are experiencing is a great help to David and Patricia (Gulf Harbour Radio) for monitoring the weather.
Tue Jul 17 13:54 2018 NZST
GPS: 16 71.30S 151 04.01W
Weather: glassy wind and seas , intermittent showers 30 degrees
after waking up to a much clearer morning we got excited about the prospects of a day without rain ( hasn?t happened for 3 days now) so we ventured into town straight after breakfast to try and book a rental car to no avail as everything booked until tomorrow so we booked one for tomorrow morning. After consultation we decided to look into trying to change the flights of Wendy , Neil and Grant to here ( Huahine ) as we didn?t realise there was an airport here when we booked them and we didn?t realise how nice this place would be so makes sense not having to rush back to Raiatea. For a small fee all fares changed so we can stay here all week which is great.

Just as we got back to the boat to do the washing then head into the beach it started raining again! Oh well siesta time and catch on chores etc Note: Sending a brief description of the weather you are experiencing is a great help to David and Patricia (Gulf Harbour Radio) for monitoring the weather.
Mon Jul 16 14:03 2018 NZST
GPS: 16 71.30S 151 04.01W
Run: 39.6nm (71.7km)
Weather: glassy wind and seas , intermittent showers 30 degrees
after waking up in our idyllic anchorage ( prob the best of the trip) we saw that the wind had swung more to the South and we would lay across to Huahine -25 nm away so we set sail at 6.30 am and had a good sail in 10-14 knots of wind pulling into Fare before midday to see Surreal 2 anchored so we found a spot and anchored up as well. The skies opened up and heavy rain set in so I set up our water catchment system and collected another 200 litres so our tanks were full.

Just as we were about to go ashore Wendy developed chest pains and was v uncomfortable plus short of breathe - was rather disturbing to watch - we took her BP and pulse and all was normal. I shot ashore and found the local Gendarme , related what had happened - he made a call and we agreed to meet on the dock in 10 mins. This was Saturday afternoon and everything was closed. 10 mins later with Wendy I arrive at the dock in the tender to have 3 ambulance crew greet us plus 2 gendarmes who helped her to an ambulance then took us to a medical centre - being Saturday they had to get the doctor out from home - he arrived and set up an ECG and did other tests then announced she was ok . The service was first rate and everyone v friendly . When we went to pay - they refused and said it is part of the service ! Amazing in a reasonable small town to have that sort of service.

That night we came into the Huahine Yacht Club - a bar/ restaurant on the waterfront and enjoyed happy hour and a meal. Have to say that despite persistent rain Fare and Huahine seem a lovely place and will be in no hurry to leave.

200 metres from anchorage we have a bar and 200 metres the othe way in the pass there is a great left hand surf break which I enjoyed a great session on this morning .

Paradise ! Note: Sending a brief description of the weather you are experiencing is a great help to David and Patricia (Gulf Harbour Radio) for monitoring the weather.
Sat Jul 14 14:12 2018 NZST
GPS: 16 78.95S 151 39.06W
Run: 13.8nm (25km)
Weather: wind NE/E 10-12 knots mainly clear with few showers
after spending most of the day at a lovely motu just near a pass (Ile Mahaea) off Tahaa we kept sailing around the island in a fresh 25 knot breeze doing 6-7 knots just under jib finally finding a sheltered bay to spend the night. Next morning we continued our way around Tahaa pulling into a few bays then continuing back to the marina at Apooti where we took a mooring again and went ashore for a drink and meal to farewell Maureen who got a connecting flight from the local airport back to Papeete and NZ..

First thing in the morning we pulled into the dock and topped up its water before motoring up the eastern side of Raiatea - the idea being to see if we could get to a pass that would enable us to sail the 23nm over to Huahine however there was sone North in the direction meaning it would be a dead beat so we settled into a motu - Tipeamau - nestling right up to the beach in 15 m and hung a stern line out to a coconut tree 20 m astern on the shore.

What a setting although it wasn?t long before 2 boats dropped in and joined us. A lazy day with swims and siesta after lunch .

Hopefully the wind will swing to SE tomorrow to enable us to sail to Huahine.

Meantime we have one of the most unique anchorages of thectrip :) Note: Sending a brief description of the weather you are experiencing is a great help to David and Patricia (Gulf Harbour Radio) for monitoring the weather.
Thu Jul 12 10:57 2018 NZST
GPS: 16 68.68S 151 45.49W
Run: 99.8nm (180.6km)
Weather: wind SE 15-20 knots sky clear 31 degrees temp
after setting off from Moorea in conditions that had moderated significantly we encountered winds up to 25 knots and 2-3 M seas an hour into dark - deep reefed the boat was comfortable but there were a few cases of mal de mere including my 2 brothers ! Everyone could do their watch and conditions moderated as we progressed .as we approached Raiatea we got wind gusts from the hills and with the swells wrapping round the island we were surfing at up to 15 knots and prolonged periods of 10+ . It made a great end of the sail as we got into Raiatea ( passé de Rautoanui) at 8.30 am going to marina Apooiti and taking up a mooring as the water was deep.

Quick trip ashore and sorted a transfer for Alex for his flight back then we went into town for a look. Good supermarkets and supplies but this side of Raiatea doesn?t look to offer much in the way of shelter further up the coast in trade wind conditions .

Bye to Alex who returned to NZ and dinner aboard.

Today motoring to Tahaa for a night before returning to drop Mauree off for her flight Note: Sending a brief description of the weather you are experiencing is a great help to David and Patricia (Gulf Harbour Radio) for monitoring the weather.
Tue Jul 10 14:54 2018 NZST
GPS: 17 48.89S 149 85.07W
Weather: cloudy in the morning clearing to clear sky , wind S 20-30knots
after deciding to stay another night late afternoon the weather really packed up as a front came through . During our venture around the island it started raining but just before dark the wind had swung to the South and was blowing 25-30 with intermittent rain. 2 local yachts - one moored and one anchored starting banging into each other so Grant and I along with 2 French guys from another boat managed to separate them and one of the French guys initiated enquiries on who the owners were.

I decided to re anchor P?zazz as with the wind shift there wasn?t the same clearance between boats and the anchorage was busy anchored out on the fringe just on dark.

Through the night we had rain on and off- I set up the water collection hoses and we gathered 400 litres by the morning which was well needed with 7 of us aboard! The wind also got up to at least 35 knots so was good to see daylight and that all the boats were ok.

Easy morning today doing chores ( fixing catches , reglueing seals etc) then ashore to the reserve for a swim and back to the garden cafe down the road for another nice lunch and some v slow wifi.

During the afternoon the wind eased to 20-25 and as it forecast to ease more as the night sets in we have decided to make a run for Raiatea tonight so we can get there in time for Alex to get his flight tomorrow afternoon. Seeing the wind is South it should be a quick sail however we will need to deep reef in order to avoid getting there before dawn.

Note: Sending a brief description of the weather you are experiencing is a great help to David and Patricia (Gulf Harbour Radio) for monitoring the weather.
Mon Jul 9 15:24 2018 NZST
GPS: 17 48.89S 149 85.07W
Run: 4.3nm (7.8km)
Weather: intermittent rain wind S 20 knots
after deliberating on whether to wait until Tuesday for our gas bottle to arrive we decided to go back to Papeete to pick it up so our options are open on when to leave for Raiatea . Had a good sail across to Papeete but on arriving just before the pass we were greeted by a flotilla of boats that had come across from the other side of Moorea . It was a 6 man Waka race - it was amazing to see the number of boats following it - in NZ you would never get that level of support - paddling is a national sport here.

Anchoring outside the marina we popped in and picked up a gas bottle - the other they refused to refill as it was too rusty even though it was in test and was a swap in NZ just before Xmas ! No drama we can manage with 2 bottles . Alex and Maureen booked their flights back from Raiatea using wifi then we left sailing back to Moorea anchoring in Baie De Cook just after dark.

The forecast was suggesting the wind which has been NE would swing around to south then SE then blowing a full Maramaru ie 20-25 knots which would send us across to Raiatea pretty quickly (120nm ) but the wind was taking its time in going around so we decided to stay another day in Moorea and let the wind change swing and settle .

To make use of the day we hired a car and drove around the island . Everyone enjoyed - just a shame it was very cloudy and towards the end raining but it was good use of our time.

Hopefully tomorrow we set sail again.

Note: Sending a brief description of the weather you are experiencing is a great help to David and Patricia (Gulf Harbour Radio) for monitoring the weather.
Sun Jul 8 4:48 2018 NZST
GPS: 17 48.10S 149 81.28W
Run: 23.8nm (43.1km)
Weather: cloudy some light showers with fine breaks .wind SE 5 knots
after picking up the car we drove into town and spent the morning in the market and doing some shopping. By the time we got back out there was only time to start the reprovisioning shop .i dropped Dave off at the airport and picked up Wendy,Neil and his partner Maureen , drove back to Taina to meet the others at happy hour! Next morning we refuelled , topped up the water ( different dock to the refuel) then left for Moorea - no wind so motored the whole way. Unfortunately our lpg bottles weren?t ready before leaving so we decided to leave without and sort it later -Taranoui are coming to Moorea on Tuesday so we may wait around until then rather than loose a day going back and forth .

Anchored at Baie de Opunohu which has a great reserve and sandy beach just in from the mooring area. Walks ashore and swimming then next day down to see the rays and sharks and meet up with Tusi 2.

Snorkelling in 2m of clear sandy water with numerous rays and black tip sharks was an unique experience and everyone loved it. Stayed the night at anchorage close to that site so we could go back first thing again in the morning before the hordes arrive and we had perfect conditions with Mike from Tusi 2 armed with strips of tuna and putting on a Peter Pan show with the rays mobbing him . Alex and I had a dive on the outside reef .

Motored up to Baie de Cook where we spent the night after sundowners ashore at Moore Beach Club.

Note: Sending a brief description of the weather you are experiencing is a great help to David and Patricia (Gulf Harbour Radio) for monitoring the weather.
Wed Jul 4 5:27 2018 NZST
Run: 157.7nm (285.4km)
Weather: cloudy some light showers light SE
during the sail from had a solid 20 knot E breeze which during the night increased up to 27 so we had a deep reef so that we didn?t arrive in Papeete before daybreak . What a difference it makes having the wind at a better angle ( still 70 AWA so forward of the beam) - with a moonlit night we were charging along at up to 12 knots despite being deep reefed and arrived just after daybreak taking 8 hours less than the same sail going the other way when we went up ( for 180nm) .

Back to the mooring minefield of Taina and we got a space . Clean up of the boat and we went to the Carrefours supermarket for late morning tea at a cafe and to show Zuny what the supermarket was like - bought a few provisions but am leaving the major stock to Wednesday- the day Wendy , Neil and Maureen arrive.

Took the part for the autohelm into our repair guy he finished putting it together and I installed - hey presto we have a autohelm again for the first time in 6 weeks! Certainly done a lot of handsteering in that time - will be a luxury to be able to use auto again ! Caught up with Mike on Tusi 2 and Mike and Chrissy on Taranoui and we all had happy hour drinks ashore - was good to hear what everyone had been up to.

Have decided to hire a car for Wednesday- Dave?s last day - so we can have a look around plus get him to the airport and pick up the others and to get all the provisions back to the boat from the supermarket. A busy day ahead today packing in as much as we can while we have the car.

Also got the paperwork under way to enable us to get duty free fuel so that we can refuel tomorrow at the marina before leaving for Moorea and the Society Islands .

Note: Sending a brief description of the weather you are experiencing is a great help to David and Patricia (Gulf Harbour Radio) for monitoring the weather.
Sun Jul 1 13:24 2018 NZST
GPS: 15 55.85S 148 56.36W
Run: 63.2nm (114.4km)
Weather: wind E 15-20 knots Barometer 1020 skies clear with patchy cloud seas 1-2m
we have really enjoyed spending an extra 2 days in Tikehau- a quick visit to the village and the cleaning station where the resident population of Mantas (approx 100) will some times congregate to get cleaned by fish however we weren?t in luck and with the resorts bringing day boats out full of guests the site is slightly over busy which probably is off putting to the Mantas.

We came back to the high end resort which I believe was once owned by Marlon Brando and now his son with Bures over the water . We had only just anchored and one of their boats came up and asked us to move 100 m siting we were too close to their Chanel ( it was over 200 m away) so we did then went ashore to have a look . On reporting to the desk at reception we were then told again we would have to shift because we were ? affecting the view of the bures!? They then had to confirm with the manager we could have a drink which we did - not one staff member smiled so we up and left and went back to the resort we were at the previous day - Relais Royal Tikehau booking in for dinner and having a sundowner drink . What a contrast to the other resort - the owner ( French couple) who we had met the previous day welcomed us and the dinner included 1/2 a freshly caught crayfish per person plus a shrimp salad and dessert -plus a cultural show and all the time we had prolific fish feeding plus 6 black tips circling just 5metres under our table on the deck - a very pleasant evening and highly recommended if anyone is lucky enough to get to Tikehau .

During the night the wind came up to 20 knots and first thi in the morning we decided it was time to make our way to Papeso we left the pass at 10.30 am and am now heading to Papeete - a 180nm sail - Willa arrive tomorrow morning and reprovision plus get the autohelm finally put together. Brother and sister will arrive on the 3 Rd.

Note: Sending a brief description of the weather you are experiencing is a great help to David and Patricia (Gulf Harbour Radio) for monitoring the weather.
Sat Jun 30 5:15 2018 NZST
GPS: 15 11.53S 148 22.81W
Run: 29.2nm (52.9km)
Weather: wind E 10 knots
we spent 2 nights at Avatoru pass doing a dive and catching up with our friends before setting sail for Tikehau which was a nice gennaker run in 12-14 knots of wind which had us doing up to 10 knots - it was just the third time the gennaker has been up since leaving NZ and the longest at just 25 nm - the wind faded towards the end and we motored the last bit to the village just inside the pass where we spent a night on the way up.

Next morning the intention was to sail for Moorea however on getting outside the pass the seas were flat calm so we went to plan B and moored not far from the pass and did a dive on the drop off then motored back inside the atoll to the other side near the village hooking a barracuda and nice trevally on the way.. pulling up to probably the nicest beach we have seen in the Tuomotus with a resort nearby I reflected on how different these atolls can be from one side to the other - the village on the other side was very uninspiring and now we were in paradise r having drinks ashore at the resort where the bar overlooks an inlet teaming with fish including 4 nice blacktips we decided that Moorea can wait and we will spend a few more days here and go straight to Papeete from here.

Today we are going to go into the village which apparently does have some fresh supplies ( not holding our breathe) and also look into a site inside the lagoon where Mantas congregate so will dive that .

Note: Sending a brief description of the weather you are experiencing is a great help to David and Patricia (Gulf Harbour Radio) for monitoring the weather.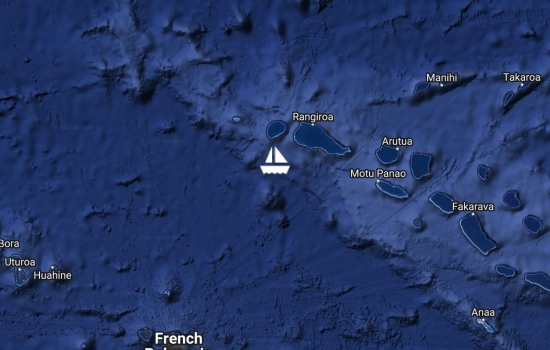 Wed Jun 27 6:54 2018 NZST
GPS: 14 94.25S 147 71.07W
Run: 119.3nm (215.9km)
Weather: wind E 10-14 knots skies generally clear - few clouds temp 32
sorry the lack of updates but life seems to be so busy! Since arriving back in Rangiora after an easy overnight sail from Ahe we have said goodbye to the remainder of original crew - Martin , and Greg plus Greg?s wife Mary who joined for 3 weeks plus we have greeted brother Grant , and friends Dave and Alex who all arrived on the same flight. With Dave and Alex being keen divers we stepped straight into the diving and were doing 2 dives a day the last 3 days through a local operator as the Pass at Tiputa is a strong current dive and in open water on the outside of the reef..

During those 3 days we have had some world class diving with yesterday being the highlight. Some of the dives included seeing 200-300 white tip sharks who are congregating for mating - they were literally swarming under us at about 50 m - quite a sight. Then yesterday had an hours encounter with a small group of bottlenose dolphins ( 5) who literally came up to us and demanded we rub their them- stopping upright in the water beside us and just drifting dormant with us as we gave them a gentle tickle - smiling at us in appreciation was a once in a lifetime experience especially as they stayed so long and the video footage we have will be a cherished memory of the experience. Just to finish that dive off we saw some barracuda and some Sharks.. The afternoon dive started with Dolphins in the first 2 minutes of the dive t- this time they only stayed 10 mins ( we are getting spoilt!) .Then to continue that dive we saw probably around 100 sharks , more barracuda plus a Tiger Shark of around 3.5 m which is the first Tiger Shark I have seen in all my diving - the three of us came out of the water buzzing from what we had experienced and with Alex and I having over 3000 dives between us to be able to say that was one of the best days diving either of us had experienced is really something.

After the afternoon dive we upped anchor and motored down to the Avatoru Pass where our American friends from Ahe on s/v Sea Dragon had come down overnight. Brian has bought a 47? Cat in the Caribbean and is flying out tomorrow to check her out and take it over - we are very excited for him and Kristin and celebrated in style with them rafting up along side on the mooring at the side of the Pass. Dinner and drinks went into the night! Also good news yesterday is that good friends Steve and Heather who are selling their property in Sydney are due to join the boat for the trip back from Tahiti but were in doubt because of issues with the sale have confirmed that they will be joining so that topped off a great day.

Today we will see if the supermarket at this end of the motu has any better produce than the 2 at the other end which wouldn?t be hard as there was nothing in the other two! Plus we hope to do a drift dive of the pass . Also won?t be long before the rest of the family join in Papeete on the 3rd so need to start thinking about leaving Rangiora probably in about 3 days time and maybe head for Moorea for a few days before getting to Papeete for the 3rd.

Will be sad to leave the Tuomotus especially not getting to Fakarava as it was a goal but we can?t control Mother Nature.

All for now .....

Note: Sending a brief description of the weather you are experiencing is a great help to David and Patricia (Gulf Harbour Radio) for monitoring the weather.
Wed Jun 20 14:12 2018 NZST
GPS: 14 45.69S 146 36.32W
Run: 9.2nm (16.7km)
Weather: skies generally clear though some rain showers wind SE 20 -25knots barometer 1018
since last update we have been camped up at the Kamoka Pearl farm with hosts Frenchman Patrick and his co workers Brian and Kristin - two Americans who sailed here to Ahe 18 months ago and never left ! What an amazing time we have had with these people over the last 5 days - sharing meals , stories ,spearfishing and fishing and learning what is involved on a pearl farm and helping them out a little. An unique experience and we feel so blessed and enriched for meeting these wonderful people- it is with sad hearts we leave them and their amazing set up for Rangiora overnight. . Having made our way out the pass we stopped on a mooring besides the current and fished for an hour bagging some trevally ,barracuda and grouper - let alone getting fish taken by sharks and landing a shark which we threw back..

Now back to Rangiora and time for crew changes over the next 4 days- a new chapter! Note: Sending a brief description of the weather you are experiencing is a great help to David and Patricia (Gulf Harbour Radio) for monitoring the weather.
Sat Jun 16 20:00 2018 NZST
GPS: 14 53.68S 146 35.73W
Run: 102.6nm (185.7km)
Weather: SE 20 knots rising to 25 in squalls cloudy with fine intervals 30 degrees
the overnight sail to Ahe was straight forward though Zuny unfortunately wasn?t feeling the best but as we approached the atoll at dawn we got several rain squalls come in at 30 knots and the wind shifted to the East making the last bit a beat so we dropped the sails and motored the last 10 nm. The pass was relatively straight forward - outgoing ebb of 5 knots and the channel through to the village on the other side through the bommies and pearl farm buoys well marked which was just as well as we still had showers and reduced visibility. Dropping anchor in 7 m of clear water off the village wharf was a relief as the anchorage is very sheltered from the E/SE trades which is what I had read about the place and with fronts forecast for the next few days we will be holed up for a while.

Quick visit ashoreto a well kept village plus we managed to score some green papaya so Zuny will do her special recipe. That night it rained hard and blew so I put the water collection pipes on and filled our tanks totally collecting approx 500 litres before removing them - feels good to have totally full tanks again seeing we haven?t topped up anywhere along the way - just using water maker which will get a well earned rest for a few day.

Yesterday the supply boat arrived to the wharf so we went as and looked with interest - the wharf becomes a general trading place with most coming into town for the few hours while the boat is unloading. We picked up some green veges but little else - still no potatoes Today we go to the other side of the atoll and take up a mooring on a pearl farm and will spend a few days with them - I had heard about this place in a blog and phoned them - they have a pension on the farm plus do meals ashore and do daily diving and fishing in the pass so we will join in - always good to have local knowledge on the pass dives and fishing .

Note: Sending a brief description of the weather you are experiencing is a great help to David and Patricia (Gulf Harbour Radio) for monitoring the weather.
Wed Jun 13 15:36 2018 NZST
GPS: 14 95.81S 147 57.08W
Run: 39.7nm (71.9km)
Weather: SE 14 knots seas 1 m easy cloudy skies
after thinking about making a dash for Fakarava yesterday morning we sailed back across Rangiora atoll to see that the weather front had turned the wind to SE rather than S we were hoping to be able to sail to Fakarava in so we pulled up to the village besides Tiputa Pass and anchored up again. Went ashore by the wharf and found the cafe that had always been shut was open so we had a nice fish lunch, cold beer and as it is built out over the water could look out the window besides our table and see myriads of fish swarming around ( think they know it I a cafe ) and 4 black tip sharks ! Quite novel watching sharks swim literally 5 m away while you enjoy a beer over lunch - v pleasant .

Went to the supermarket - still no flour ! Back to the boat for a rumikab session and dinner .

Today Greg and I did another dive on the aquarium - lots of fish - just 1 shark . Back to the cafe for another lunch and watch the sharks then off to th the Pearl Farm. Was v interesting tour and of course Mar and Zuny had a black pearl bought for them :) Ba Decided to make a dash or the northern atoll of Ahe before the wind freshens and the seas build - set off at 17.00 going through the Tiputa pass with a 7 knot current behind us doing 12 knots SOG ! Nice 14 knot SE which means we will lay through and get there tomorrow morning .We can then get settled in to a new location which apparently has a good anchorage from SE/E while the wind builds over the exit few days .

Zunys first night sail this trip ! Look forward to seeing a new island Note: Sending a brief description of the weather you are experiencing is a great help to David and Patricia (Gulf Harbour Radio) for monitoring the weather.
Sun Jun 10 11:21 2018 NZST
GPS: 15 03.68S 147 69.96W
Run: 61.9nm (112km)
Weather: light SW 5-7 knots clear skies temp 30
2 days ago - the morning after our entry to the pass at Avatoru we motored up to the Tiputa pass anchorage - 5nm through a well defined area marked either side by either bombies or pearl farm buoys to the main anchorage just near the is a lovely area and had a dozen other boats there plus a 5 star resort with bungalows over the water .

We took the inflatable and went to a small Motu which is a local dive site and Greg and I had a dive while the others snorkelled - we saw a couple of sharks plus good fish life although the visibility was limited .

Found a nice place ashore for sundowners at a Pensione which has a deck overlooking the water of the pass and we watched dolphins play in the ovrfall waves just 100metres away while we enjoyed a local beer.

Yesterday was a big day with the arrival of Zuny Ann the midday flight.

.i motored down to the airport in the inflatable (just over a mile) so she had an ?island style?trip back to P?zazz. Her flight had been a bit of a mission with connections etc so we settled her in. Ashore for more sundowners at the Pensione with the dolphins making another appearance was a grand welcoming for Zuny -then aboard for a nice dinner.

Today Greg and I did a dive on the famed pass with a dive operator- acclaimed to be one of the top 5 sites in the world- vis was great at 40+ m but the current of the last few days gone so fish life was not as prolific as it can be but still managed to see several sharks , schools of barracuda , dolphins and trevally etc- best dive for ages - keen to see more.

This afte4noon e have decided to sail to the other side of the atoll 20nm for the night to a motu which is deserted .sailign across a long gone like this is quite an amazing feeling- calm water , 30 m deep apart from a few marked bombies - apparently the motu we are visiting is gorgeous.

Life is good :) Note: Sending a brief description of the weather you are experiencing is a great help to David and Patricia (Gulf Harbour Radio) for monitoring the weather.
Wed Jun 6 9:15 2018 NZST
GPS: 15 46.59S 148 43.56W
Run: 176.7nm (319.8km)
Avg: 2.7knts
24hr: 64.4nm
Weather: wind E 10-14 knots sky generally clear temp 31
since returning to Papeete to pick up Greg?s wife Mary who bought our part we found that we had been supplied the wrong part !!!! All this time for nothing - phone calls etc and correct part is being ordered from Australia and hopefully will be available for Zuny to bring on Friday though we have now left for the Tuomotus and can?t fit it until we return to Papeete in a months time. Although frustrating it isn?t that bad as we can steer with our wheel and with new bearings it feels so good compared to before.

E had light to moderate easterly winds last nigh to get us up to Rangiora but it appears we won?t have enough daylight to get to the pass at a safe time so we have decided on plan B - go to the neighbouring ( and closer ) atoll of Tikehau where we can anchor outside for the night then we will head the last 20nm to the pass at Rangiora at first daylight tomorrow.

Although the anchorage is relatively deep 18-20m it should be good with this wind and will be nice to maybe get a snorkel in after an overnight and 2 day sail.

Mary has adjusted well tin her longest passage and first night shifts on the helm! Note: Sending a brief description of the weather you are experiencing is a great help to David and Patricia (Gulf Harbour Radio) for monitoring the weather.
Sun Jun 3 15:27 2018 NZST
GPS: 17 48.07S 149 81.38W
Run: 133.2nm (241.1km)
Weather: no wind , hot and sticky 33 degrees a few showers
after cruising across from Papeete to Moorea yesterday on a beautiful day sailing at 6 knots just under main we pulled into Baie de Cook channel and took a left to find an idyllic spot just outside a beach bar in crystal clear water . Went ashore for limited wifi and a couple of beers ($100 !) ouch ! Last night we turned the underwater light on and had several stingrays turn up putting on a show. Was the second night in a row we had moon fish for dinner - mist won?t have heard of that but it is a deep water delicacy we saw in the supermarket and Greg tempted me to buy some - v nice indeed.

This morning we had a pooper session from the inflatable just inside the reef - got a blue trevally and a coral trout both of which I returned but several other hits - was fun.

After breakfast we had a dive on the edge of the the pass in through the reef-ok dive -only rather 3 Rd since being away so we need to get some in ready for the Tuomotus shortly ! Went up to top of baie de cook- supermarket shut in fact everything shut so came back to where we were moored last night.

BCk to Papeete tomorrow morning.

Note: Sending a brief description of the weather you are experiencing is a great help to David and Patricia (Gulf Harbour Radio) for monitoring the weather.
Tue May 29 15:27 2018 NZST
Speed:
)
knts
GPS: 19 20.83S 148 68.56W
Run: 358.3nm (648.5km)
Avg: 6.6knts
24hr: 159.4nm
Weather: wind 3-5 knots NE seas glassy calm clear sky
yesterday afternoon the wind filled in enough for us to sail at 4-6 knots into the evening . Sunset was stunning as normal with a full moon on the other horizon - makes you feel you are somewhere special when you see it like this - just wish there was some wind though ! Wind died during early hours so motored from 4 am - still motoring at 5 pm so boat def getting lighter in diesel! Gribs suggest wind will fill in a little tonight so would be good to turn the motor off and sail the last part to Papeete.

All going well we will get there tomorrow afternoon and will immediately look for a suitable engineering place to help fix our bearing for the er a month away now will feel funny getting to civilisation again- but certainly need to catch up on emails so wifi will be good ,plus beer Slowly making our way through the excessive lot of bananas that we bought - Banana pancakes for breakfast and a banana cake a day are standard fare.

Will be good to think that after 800 nm of handsteeing we will have an auto pilot again v shortly ! Note: Sending a brief description of the weather you are experiencing is a great help to David and Patricia (Gulf Harbour Radio) for monitoring the weather.
Sun May 27 9:30 2018 NZST
Weather: E 5-12 knots bright skies with some cloud seas flat
decided this morning to head to Papeete to get our steering repaired - the replacement bearing arrived yesterday but the seized bearing is frozen on the spline and we need a proper engineering set up to fix it.

The forecast is light so we will prob take until early Tuesday to arrive and stay long enough to effect repairs, restock and then try and get to the Tuomotus although it is likely to be at least a 120 nm slog ! Currently we we have the gennaker up for the first time since leaving NZ and gliding along at 5-7 knots though the forecast is for v light winds for 2 days from tonight Note: Sending a brief description of the weather you are experiencing is a great help to David and Patricia (Gulf Harbour Radio) for monitoring the weather.
Thu May 24 13:39 2018 NZST
Weather: flat calm and balmy 31 degrees
after spending 2 days up inside the lagoon on a couple of Motus with Taranoui and Surreal 2 nestled amongst bombies anchored off a beautiful beach which is privately owned . We swam , dived and generally lazed about - got some great drone footage then cam back to a village on main island called Anatonu where there is an American guy ( Dennis) and his Tahitian wife who own a Pensione .plus a store which we managed to get petrol for the outboard which was a bonus. I organised Koro Taranoui and us to go in for dinner which was a smorgasbord with 3 different types of fish which everyone loved . They also or*anised some fruit for us which although being pricey means at least we have something now - our reserves were bare ! Went to the P.O today hoping our bearings would be on the plane to learn they ha$nt made it and will be Friday :( Outside the reef for a fish - couple of hits and one bottom fish on the jig - enough for dinner but only just.

That?s life in Raivavae ! Note: Sending a brief description of the weather you are experiencing is a great help to David and Patricia (Gulf Harbour Radio) for monitoring the weather.
Sun May 20 10:12 2018 NZST
Weather: north wind 12-15 knots cloudy but bright periods temp 28
Raivavae is an example of how life used to be in the islands before tourism changed everything . The locals are friendly but not imposing themselves wanting anything and there is just nothing commercial about this place at all - it makes a refreshing change to see that places like this still exist - the natural beauty of the mountains would make this an attraction especially for divers and fisherman I would think but nothing will change here fast at all.

Such a good place to wind down at afte4 a passage .

Each day mounds into the next - today we are out fishing the outside reef in hope of a fish dinner :) Note: Sending a brief description of the weather you are experiencing is a great help to David and Patricia (Gulf Harbour Radio) for monitoring the weather.
Thu May 17 20:48 2018 NZST
Run: 3.2nm (5.8km)
Weather: se 20 knots clear skies
we woke up to see Taranoui had arrived - had breakfast and came into the pass and moored off the jetty . The mountains in the background are breathtaking- soaring ridge peaks . Cleared customs and had a look round the sleepy town .

Reasonably big surf on the reef outside.

Can?t wait to explore this place but clean up day as well getting P?zazz back in order plus laundry .

Venison on bbq for dinner after we had caught up with Surreal 2 crew for sundowners Life is good :) Note: Sending a brief description of the weather you are experiencing is a great help to David and Patricia (Gulf Harbour Radio) for monitoring the weather.
Wed May 16 18:33 2018 NZST
GPS: 23 83.945S 147 68.09W
Run: 161.3nm (292km)
Avg: 19.2knts
24hr: 460.9nm
Weather: SE 20-37 knots rain squalls
after a day that started threatening then cleared into great sailing conditions then changed to rain squalls with gusts to 36 knots and sustained periods of 30 + as we approached Raivavae.

Arrived just too late to enter in the dark ( by 30mins after 13 days at sea!) so anchored off the entrance to the reef in 12m of water - will be quietest night for a while and will enter the pass in the morning to clear in .

Feels good to put the anchor down again :) Note: Sending a brief description of the weather you are experiencing is a great help to David and Patricia (Gulf Harbour Radio) for monitoring the weather.
Wed May 16 10:09 2018 NZST
GPS: 24 159.45S 148 47.2W
Run: 142.8nm (258.5km)
Avg: 7knts
24hr: 167.6nm
Weather: SE 20-25 2- 3 m seas with wind chop sky clearing
after a solid night which produced SE ( which would head us up to 30degrees at time)with wind 25-35 and 3 m seas interspersed with a few showers the day has lightened and sun broke through :) we shake out 1 reef - been deep reefed for over48 hours until then and enjoying the final sprint into Raivavae. After doing 1 hour shifts during the night on the tiller it is a testament to the crew that with the sun shining and the boat sailing nicely that it is hard to get them off the helm. The boat actually feels so nice and light on the helm it takes you back to days of dinghy sailing - it would be interesting to see if it feels the same deep reaching and at speed.

Just 48nm to go now and it is a race to get in before dark which Des Des really early here. We are excited to be in with a chance to get to an anchorage tonight but if it works out we have to have to outside and go in tomorrow morning so be it.

Spirits are good and we can just about taste the rum! Note: Sending a brief description of the weather you are experiencing is a great help to David and Patricia (Gulf Harbour Radio) for monitoring the weather.
Tue May 15 13:42 2018 NZST
GPS: 25 44.475S 150 51.05W
Run: 220.2nm (398.6km)
Avg: 8.5knts
24hr: 202.9nm
Weather: SE 20-30knots skies grey seas with surface chop barometer 1025
since changing over to tiller steering we have been making good progress doing 165 nm last 24 hours under deep reefed main and jib . Boat feels good and tiller is nice and light to steer with. We are as at 1.35 pm NZ time 181nm from Raivavae so if we can keep good progress in the next 24 hours should be at anchorage tomorrow night which will be a change from the bouncy nights we have had for some time now . We are all anticipating a nice dinner and a bottle of wine in what would be the first stationary night for 14 nights.

Efforts are well underway to organise a replace,ent part for the steering wheel so hopefully that can be fixed v shortlywill also be good to seee if there are some fresh supplies we can buy on the island as our fridge is starting to loook empty ! Note: Sending a brief description of the weather you are experiencing is a great help to David and Patricia (Gulf Harbour Radio) for monitoring the weather.
Mon May 14 11:39 2018 NZST
GPS: 27 27.15S 153 51.44W
Run: 191.9nm (347.3km)
Avg: 7.7knts
24hr: 184.6nm
Weather: SE 20-28knots 2-3 m swell clear sky.
with just 400nm we were on the home run when the bearing in our steering wheel failed - we are continuing to Raivavae at this stage under emergency steering (tiller) while we try to locate a part. All is well and everything under control - still sailing at 7-8 knots so with a push we may get into Raivavae late Wednesday afternoon .dont think we will put the fishing lines out today! Everyone in good spirits and enjoying a spot of tiller helming but am sure after 400 nm we will be happy to be at anchor ! There is another boat in our vicinity and they know the situation.

Note: Sending a brief description of the weather you are experiencing is a great help to David and Patricia (Gulf Harbour Radio) for monitoring the weather.
Sun May 13 10:42 2018 NZST
Run: 203.7nm (368.7km)
Avg: 7.9knts
24hr: 188.8nm
Weather: SE 15-20 cloudy with some bright periods.
it seems each night is a repeat of the one before - starting at around 4 pm the wind lifts to 25-30 on and off for about 6 hours making a bouncy night then wind moderates during early hours but we continue with deep reef just in case there are more squalls to come which results in 24 hr mileage?s being modest at around 160 .

This morning we have we assume Taranoui 3 nm to weather - we are all still trying to get as east as possible but with 30degree windshifts sometimes we aren?t even laying our destination - hopefully we will be able to ease our sheets a little in a days time for the final run north but it is a possibility it could be on the wind all the way.

Coen developed his bread making skills into olive and sundries tomato range and tastes pretty good.

This morning we had a strike on the lines but by the time we furled the jib ,got the motor going we lost the fish - we are all hanging out for a feed of fish :( Today?s problem solving includes trying to work out why our chart plotter is alarming on the fish finder mode ( we think) and drawing 10 amps of power which is making life hard on one of our batteries. These days are starting to blend in to one another - we try not to think too much about dropping anchor at destination as it is still 3 hard days away ! Note: Sending a brief description of the weather you are experiencing is a great help to David and Patricia (Gulf Harbour Radio) for monitoring the weather.
Sat May 12 8:48 2018 NZST
GPS: 29 60.79S 159 41.75W
Run: 154.4nm (279.5km)
Avg: 6.7knts
24hr: 161.5nm
Weather: wind ese to se 14-20 knots barometer has been stuck on 1030 ! Overcast sky swell 2 m with a chop
as per normal just before dark wind got up to 29 knots then stayed a solid 20-25 during the night before backing off slightly this morning.we are sailing hard on the wind trying desperately to still get as much east as possible as forecast suggests wind will swing to ESE in a day or two which will mean we won?t lay Raivavae unless we plan for that now. We are just over 700 nm from our port of entry however it?s a long on the wind leg to get there ! Saw a boat behind us first light this morning but can?t see now - not sure if it is Surreal 2 or Taranoui. We made pretty solid progress during the night . Taking each day as it comes rather than get excited about finishing the leg as 700nm hard on the wind is still a long sail in its own right but grabs show we should have wind all the way there which is good.

Note: Sending a brief description of the weather you are experiencing is a great help to David and Patricia (Gulf Harbour Radio) for monitoring the weather.
Fri May 11 9:51 2018 NZST
GPS: 30 24.976S 162 14.318W
Run: 191.4nm (346.4km)
Avg: 8.1knts
24hr: 195.5nm
Weather: SE 20-22 knots seas 2-3 M with surface chop . Sky generally bright but some cloud and grey on horizon
yesterday was quite special having the 3 boats within 2 nm for quite some time . As the day progressed the wind freshened until just on dark we were getting gusts 25-30 and pretty bouncy seas . Put in a deep reef and everything was good - during the night we felt it wise to get a bit of separation from Surreal 2 as at times we were still within 800 m in conditions that we were both deep reefed so we bore off and sailed to leeward . Early morning the wind dropped but were loathe to take the reef out in case the wind freshened again ( radar was clear but increases in wind often weren?t accompanied by rain . For 4 hours we suffered as the wind stayed 12-14 and with sloppy seas barely making 4 knots so threw one reef out and then on daybreak the other - back to full sail in 18-20 steady wind . We dropped quite a few miles on Surreal during the night when we preserved with the deep reef and cat see either them or Taranoui this morning though Taranoui seemed to drift off behind a Little last time we did see her. I suspect we are all within 10 nm however with our mcguiver vhf aerial our range on the AIS is is probably limited to about 4 nm we suspect.

850nm to Raivavae- the weather grid this morning suggests the wind will turn more to East as we approach so at this stage starting to ease north but maintaining as much east as poss whilst sailing at around 60 apparent wind angle - a good angle for the prevailing wind/sea state and still allowing us to maintain 8-9knots .

Coen is in the galley this morning making some fresh bread .

Another day at the office - the days tend to run into each other - hope we can regain sight of Surreal 2 and Taranoui Note: Sending a brief description of the weather you are experiencing is a great help to David and Patricia (Gulf Harb our Radio) for monitoring the weather.
Thu May 10 10:21 2018 NZST
GPS: 31 02.06s 165 22.73W
Run: 204.6nm (370.3km)
Avg: 8.9knts
24hr: 212.6nm
Weather: S 20-25 knots 3 M swells with chop - building . Sky bit of sun and high cloud but intermittent rain squalls
good sailing yesterday but then wind built before dark so put a reef in and settled in for a bumpy night in 20-25 knots S holding a course of 90T to keep our East gains .we are now into the effects of the front below us and looking like we will have wind in this range until just before Raivavae- would be nice to think it will follow us around and allow us to free off but in fact it may harden up to SE on our approach so we need all the East we can get before starting to ease north.

Last night we had Surreal 2 below and ahead of us by 4 nm and Taranoui somewhere about 10nm to the North. This morn8ng Surreal is just over 1 nm away and Taranoui prob now 3nm to the north. It is amazing that after 1000nm and a week of sailing we have 3 Cats from NZ within a 5 nm radius - this is like the Volvo ! Lol E managed a temporary aerial which has fixed part of the problem with our AIS and we can now pick up boats and presumably they can us which with this close proximity at night is v useful! Must be a problem with our VHF aerial as we have had no readings from it since the Hauraki Gulf.

E are now just over half way to our destination tho it seems longer than that - mainly because of the light winds or tight slower ales we have had to take - not once have we had SW or W ! All good aboard - everyone is in good spirits.

Note: Sending a brief description of the weather you are experiencing is a great help to David and Patricia (Gulf Harbour Radio) for monitoring the weather.
Wed May 9 11:15 2018 NZST
GPS: 31 14.688S 168 49.754W
Run: 207.8nm (376.1km)
Avg: 7.9knts
24hr: 190nm
Weather: E 12 knots seas 1-2 M with slight chop
after beautiful sailing conditions all day yesterday we go interrupted by a front just after dinner -25 knots and we are steaming along at 9-11 knots still holding our east course - however this was to be short lived and 2 hours later the wind died to 8-10 and headed us so we had to start heading NE . Spotted Surreal on our aft windward quarter just before dark prob 5 nm away during the squall she neared away and dropped away and is now 5 nm to leeward and staying with us.lovely day today though the front we were hoping to pick up seems to have faded and moved another day away so we will just have to put up with cruising along in 12 knots meantime. If we pick up the front we should have 3-4days of 20-25 which will be a good push to our destination. Since leaving Auckland a week ago we have been on starboard tack the whole time except when we went walkabout in the light winds a few days back.

Excitement yesterday - we had a good hit on one of the lures yesterday - fought it for 5 mins before it managed to shake the hook - maybe todaywill be our day as we have had hits mins before it shook out didn?t see what it was but would have been worth getting.

14 hr run 169nm - hard to keep the averages up when the wind drops below 12 knots for extended periods Note: Sending a brief description of the weather you are experiencing is a great help to David and Patricia (Gulf Harbour Radio) for monitoring the weather.
Tue May 8 9:00 2018 NZST
GPS: 31 48.547S 172 17.623W
Run: 194.9nm (352.8km)
Avg: 8.3knts
24hr: 199.9nm
Weather: wind S 12-15 knots seas 1-1.5 m and easy .sky clear barometer 1025
since picking up the Southerly around midday yesterday we sailed with screecher making due east in 8-12 apparent dropping the screecher before bed and settling in under jib for the night during which wind picked and stayed around 15 knots. Great to be making good headway after the frustrating day a few days ago where progress was limited to say the least !now blasting along at 8-9 knots in easy seas towards the top of the low which should give us a good help from late Wednesday.

Dinner last night venison steaks on the bbq - what a treat.

Sailing conditions today are as good as you could hope for going up the NZ coast tho still sailing at 60 awa rather than freer angles to make as much east as poss.

In a few hours we sail between the Louisville Ridge mount which comes up from 5800 m to just 200 at its highest - an underwater mountain approx 1.5 times higher than Mt Cook ! Lures are out ! Spirits on board high thankful to be sailing in such beautiful conditions this far from land and to be making good progress to where we need to go.

Note: Sending a brief description of the weather you are experiencing is a great help to David and Patricia (Gulf Harbour Radio) for monitoring the weather.
Mon May 7 9:36 2018 NZST
GPS: 31 43.818S 175 36.604W
Run: 92.7nm (167.8km)
Avg: 4.6knts
24hr: 109.3nm
Weather: wind 2-5 knots seas smooth with an easy swell . Clear sky with high cloud
mmmm this is starting to feel like a long journey ! Wind y/day veered from light SE to light E - even worse ! We came within 12 nm of Surreal but I suspect Alan put the iron horse on and took off like he did at the start while we bit our lip put up the screecher and sailed about 1 Knt below wind speed which was all of 6 knots with a VMG that wasn?t great. During the night dropped screecher and got real and motored - still motoring today trying to get to the top of the next low so we can get sailing again. Think Surreal is about 38 nm ahead this morning - be nice to be sailing again by this afternoon.

Otherwise another day at the office - lines out - no fish yet but Greg has the teasers out and is getting serious so fingers crossed.

Note: Sending a brief description of the weather you are experiencing is a great help to David and Patricia (Gulf Harbour Radio) for monitoring the weather.
Sun May 6 13:15 2018 NZST
GPS: 31 18.822S 177 06.364W
Run: 599.7nm (1085.5km)
Avg: 21.5knts
24hr: 516.8nm
Weather: 10knts NE
sorry no update yesterday - had a fuel issue which was resolved with a good team effort .winds lightened off and we have been sailing low on our course hoping for the wind to swing S allowing us to regain east position. Lovely sail overnight with clear sky and and 12-15 Knt winds.

Saw someone on radar 43 nm south of us - presume it was Surreal but not sure .

Everyone good Note: Sending a brief description of the weather you are experiencing is a great help to David and Patricia (Gulf Harbour Radio) for monitoring the weather.
Sat May 5 9:24 2018 NZST
GPS: 36 49.90S 174 47.956E
Run: 170.7nm (309km)
Avg: 8.5knts
24hr: 203.3nm
Weather: 20knts NE
Friday afternoon provided the odd rainsquall with SE up to 30 knots but generally no more than 25. Reefed we trucked along at between 55-60 AWA - would be nice if we were running! Sea state 2-3 m swell and bit confused. During the night a front passed through giving us a rainsquall then clear skies with a lovely moon lighting up the sea . Today looks much the same as yesterday tho winds lighter at the moment but rainsquall son the horizon.

Everyone aboard is good and getting settled in a routine . This course is taking us close to the rhumb line so fingers crossed we can maintain that .

Today 2 albatrosses have come by and checked us out :) Note: Sending a brief description of the weather you are experiencing is a great help to David and Patricia (Gulf Harbour Radio) for monitoring the weather.
Fri May 4 13:15 2018 NZST
GPS: 35 32.61S 177 24.68E
Run: 172nm (311.3km)
Avg: 3.8knts
24hr: 92.1nm
Weather: 20knts SE
After motoring for 8 hours we picked up the SE breeze (10knts) that we hoped would propel us off the coast up to the back of the low that went through a few days earlier and is fairly slow moving.

Had to motor for 1 hour during the night but now tucked into a solid 20 Knt ( apparent) SE that is pushing along over a slightly lumpy sea at a good rate . Crayfish mournay pre cooked meal for our first night out at sea .

All is well - all are glad that the high behind us isn?t descending on us resulting in further motoring - in fact we probably will have a fresh wind for next few days Note: Sending a brief description of the weather you are experiencing is a great help to David and Patricia (Gulf Harbour Radio) for monitoring the weather.
Wed May 2 16:27 2018 NZST
GPS: 36 49.29S 174 45.94E
Weather: 10knts SE
beautiful clear day - doing final packing of stores and getting crew aboard . Surreal 2 came down from Gulf Harbour and we will get cleared 9am tomorrow morning then get underway for our passage to Raivavae ( Austral Islands) . We have gone from potentially having too much wind to start to probably not having enough but will take what we get.

Be great to get under way . Note: Sending a brief description of the weather you are experiencing is a great help to David and Patricia (Gulf Harbour Radio) for monitoring the weather.
Tue May 1 20:16 2018 NZST
Waiting for the front to move further offshore before we leave first thing Thursday morning. Hope we don't miss the back of the front
No blogs available for this yacht.
Loading map and updates ....
Loading track, please wait ....