Pilgrim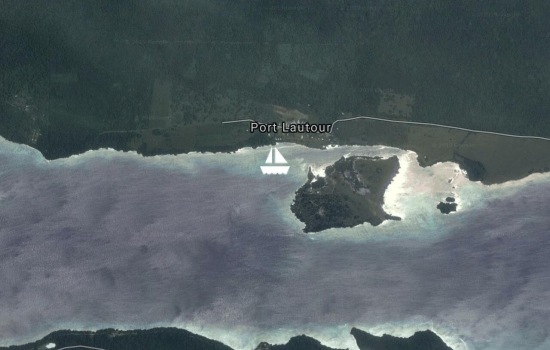 Fri Sep 20 7:27 2019 NZST
Speed:
0.2
knts
GPS: 15 36.66S 167 10.50E
Run: 6.1nm (11km)
Weather: there is a bit of cloud build up perhaps some rain for us today. wind has freshened 5/10 kts SE 1012 27c inside
We are still at Ratua island finding a great place to chill out turtles and the odd dugeon can be seen . looking at moving on over to makula next week.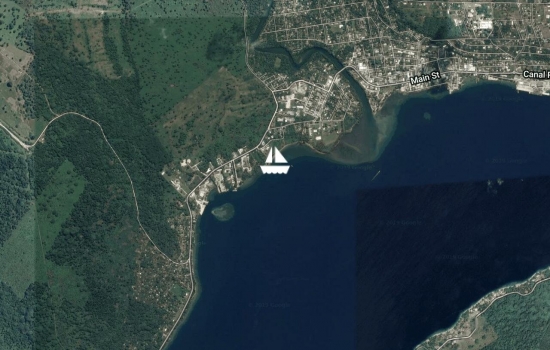 Tue Sep 17 7:15 2019 NZST
Speed:
0.0
knts
GPS: 15 31.41S 167 09.78E
Weather: winds of up to 20kts at times 100% OC misty rain at times Bar steady 1015
Delayed our departure until this morning,as it took us longer than expected to do the last round shopping ( trying to get a signature and official stamp on documentation proves to be a not so easy task) its only 10nm to our destination on Mala as the cloud and misty rain is persisting we are heading out this morning.
Mon Sep 16 7:00 2019 NZST
Speed:
0.0
knts
GPS: 15 31.41S 167 09.79E
Run: 74.7nm (135.2km)
Weather: we have misty rain here today with wind of 10kts out of the SSE 1015 on the bar
Have been holed up at Luganville for awhile, looking at our options for the rest of our time here, to head up to The banks and Torres Islands is going to have to wait untill another trip this way as time would not allow us the benifit of looking around properly. So the dicision is to head out of here over to the top of Malakula with view to cross over to Ambrym then start working our way south.
Thu Sep 5 8:27 2019 NZST
Speed:
0.3
knts
GPS: 15 57.91S 168 11.30E
Run: 21.5nm (38.9km)
Weather: a clear sky this morning very calm no wind to speak of
Good morning we are now back over on Malakula isl after coming over from Pentecost yesterday when the wind went into the SW and made things uncomfortable there, anchored up in Norsup bay just up from port Stanley. this is the area that hold the largely french speaking population. Our intention is to move up to Wala island this morning to check out that area.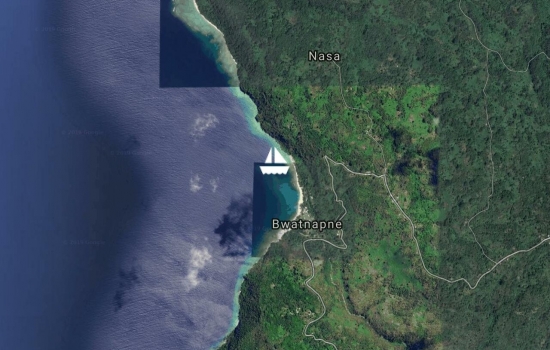 Tue Sep 3 8:00 2019 NZST
Speed:
0.3
knts
GPS: 15 39.67S 168 07.10E
Weather: a clear sky this morning only a odd cloud to be seen no wind at this stage
We are moving on down Pentecost island today to waterfall bay, Highly reckomend Bwatnapne bay as a stop off to anyone cruising this area .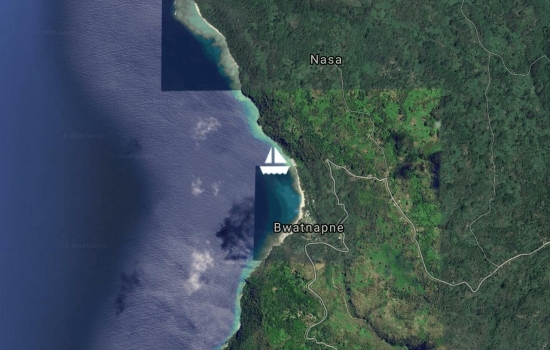 Sun Sep 1 8:39 2019 NZST
Speed:
0.0
knts
GPS: 15 39.65S 168 07.09E
Run: 19.7nm (35.7km)
Weather: had some rain overnight, have very little wind but what is there is from the E
We departed Maewo island in the aftrnoon after snorkeling the reef toward the point of Asanvari bay while there was current one was able to take in the abundant fish life in that area. while we saw a few Nudibranch if we had used lungs we could have taken in the full extent of what was there. Now anchored up in Batnavine Bay in calm water on Pentecost island a very pretty spot with a long beach in front of what appears a substainal village ( yet to go into shore) . Have noted that it is turtle heaven here, with some 15 to 20 seen last evening.
Sat Aug 31 8:33 2019 NZST
Speed:
0.0
knts
GPS: 15 22.58S 168 07.97E
Run: 13.4nm (24.3km)
Weather: Over cast again this morning with light rain during the night, wind is around the 10kts SE
at the most popular anchorage on Maewo island , Asanvari is by far the best spot down the western side. Not only do we have good protection in a great bay with good holding, One can go ashore to view the impressive waterfall and follow that up by walking up the track to the top where there is a lookout, the view is fantastic and well worth the climb.

Alex asked if we wanted to walk around, if given this chance take it as it meanders through and under some very impressive tropical forest. the highlight was the massive Banyon trees that drop airal roots down some 70 to 80 feet which serve to support there branches, how they survive hurricanes even the locals are not sure but use there massive trunk systems as protection during the blows.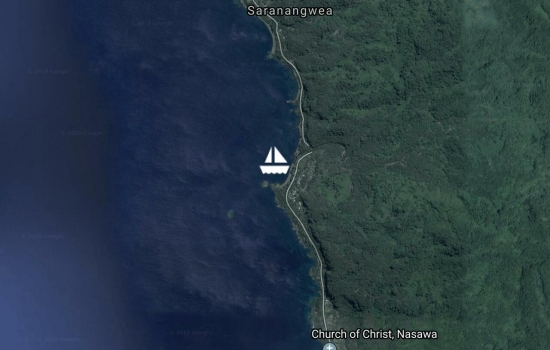 Fri Aug 30 9:03 2019 NZST
Speed:
0.0
knts
GPS: 15 11.03S 168 06.41E
Run: 11nm (19.9km)
Weather: There is some persistent clouds around this morning as can be considered the norm with the mountainous high islands that seem the norm. wind is only light trades from the SE.
We parked off Naronova village on Maewo island, Which allows one good holding and avoid the slop if you move right in close to the shore. 5/6mtrs about 30 mrts from the beach. The people here are happy to receive visitors found that they like all the islands produce copra and by crop of kava. We are moving down Maewo today to the bottom of it to Asanvari where there is a good spot that we can go ashore and walk up to what is reported as, a spectacular water fall.
Thu Aug 29 8:18 2019 NZST
Speed:
0.0
knts
GPS: 15 16.56S 167 58.31E
Run: 54.9nm (99.4km)
Weather: there is a little cloud about but otherwise looks like the sun is going to shine for us.
Have over the last couple of days been making our way up Ambae island ,having made the jump across from Hog harbour ( Champagne beach) while this island has no real defined bays on te western side there are indentations that do give some protection from the slop that can find its way into the lee side. We are currently at the top of Ambae island where there is a true black sandy beach that affords good shelter and anchorage right in close to it, toward the south end one can find boulders the holding appears good. we are going to move on over to Maewo Island a 8nm run where it is hoped that we find some good diving and snorkeling.
Sun Aug 18 20:12 2019 NZST
Speed:
0.0
knts
GPS: 15 34.13S 167 12.34E
Run: 95.3nm (172.5km)
Weather: had a steady 10 to 15 SE all day great sailing conditions only afew clouds to be seen no rain.
We are anchored up in a Aore bay on having hopped our way up from Epi island stopping at the Maskelynes islands for afew days, known for there healthy population of mossies, plenty of repellant of detol and baby oil. they were very friendly non demanding but happy to trade ,the island of Sako is only about 1 mtr above high tide consisted of 6 villages with well worn path that one can walk around the whole way from one tidy village to the next. attempts to swim with dugongs was a failure due to clarity of the water could only see the outline of them.

Headed up the coast of Malakula to Crab bay such a neat spot in calm still waters.

Tomorrow we have about 3nm to Luganville to await our passengers and restock
Wed Aug 14 8:57 2019 NZST
Speed:
0.1
knts
GPS: 16 35.72S 168 09.77E
Run: 79.6nm (144.1km)
Departing Lamen bay on Epi island for Malakula only a 20nm hop, te stay here has been interesting as this is the island high school added to that the 50yr celebrations of independence which was carried out over the last 5 days, lots singing , games and heaps of speeches. the bay here holds a goodly number of turtles that are not worried by us. reports of a manatee was seen yesterday here as well.
Fri Aug 2 8:21 2019 NZST
Speed:
0.0
knts
GPS: 17 44.31S 168 18.65E
Run: 82.1nm (148.6km)
Avg: 3.2knts
24hr: 77.4nm
Weather: overcast and rain this morning. very still.
We arrived port vila Vanuatu at 1800 hrs, after what can be described a pretty fast passage , motorsailing all but the last 20hrs. Sea state was considered calm, Have to track down customs and get ourselves here officially. what have noticed is the bird song is great, haven't heard it like this hear at other islands that we have visited.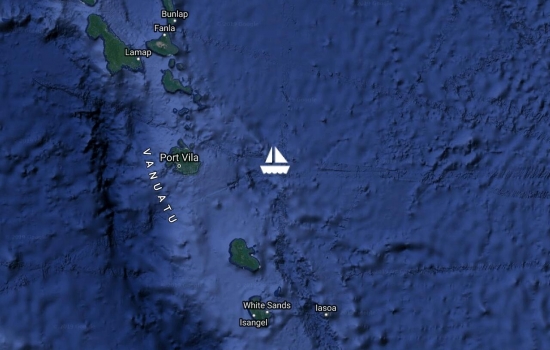 Thu Aug 1 6:54 2019 NZST
Speed:
6.7
knts
GPS: 17 50.69S 169 33.24E
Run: 191.9nm (347.3km)
Avg: 8.2knts
24hr: 196.4nm
Weather: scattered cloud and spotted a shower on radar. wind SE 12/15 bar up 2 1014 seas up slightly with SE swell 1.5 mtr
this report finds us with 83nm to run to Port Villa @ 0630hrs. We manage to off the motor around 2300hrs and enjoy a peaceful sail now have a breeze of 12/15kts.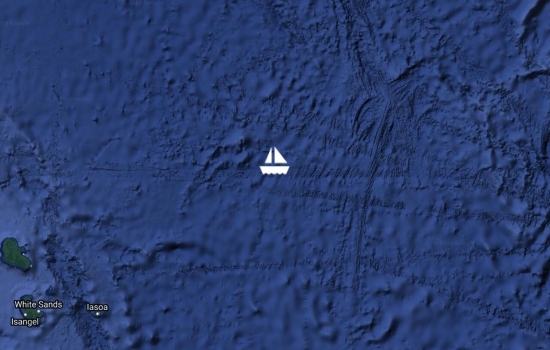 Wed Jul 31 7:27 2019 NZST
Speed:
7.8
knts
GPS: 17 51.51S 172 28.28E
Run: 190.9nm (345.5km)
Avg: 8.3knts
24hr: 198.3nm
Weather: we have some heavy cloud around this morning so a chance of some rain perhaps. SE of 8 SE swell of 1mtr 1012 on the bar a.
The wind has filled and we now have 8 to 10 kts not quite enough to allow us to sail and keep up a reasonable speed . we have 235 nm to go so looking like friday morning arrival.
Tue Jul 30 8:21 2019 NZST
Speed:
5.9
knts
GPS: 17 44.71S 175 22.19E
Run: 133.4nm (241.5km)
Avg: 2.7knts
24hr: 65.6nm
Weather: theres a splatter of cloud around dont see any rain in it, have a SE 8kts SE swell of 1mtr bar of 1012
cleared out of fiji yesterday, and got underway at 1200. we are now 403 NM away from port Villa, the seas are quite mild so making progress easy .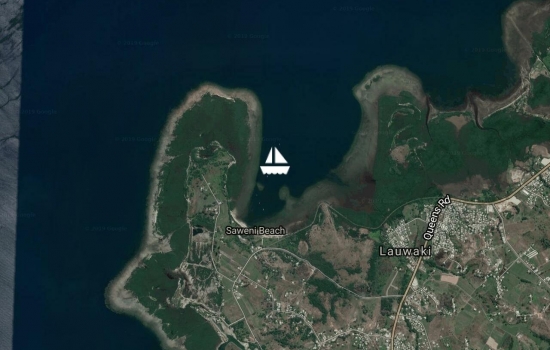 Sun Jul 28 7:33 2019 NZST
Speed:
0.0
knts
GPS: 17 38.55S 177 23.61E
Weather: around 10% cloud cover SE 5 Bar steady 1012
Our last day in Saweni Bay as we get ourselves ready for our trip across to Vanuatu it appears that the rain has passed with the sun shining and very little cloud around.
Sat Jul 27 8:45 2019 NZST
Speed:
0.0
knts
GPS: 17 38.56S 177 23.61E
Run: 29nm (52.5km)
Weather: overcast and raining with further falls predicted for tomorrow S/E 10 bar 1012
sitting in Saweni Bay on a wet saturday , about to venture into Latoka to do a reprovisioning in prep for our departure to Vanuatu on monday some 600nm to the west.
Fri Jun 28 7:15 2019 NZST
Speed:
1.1
knts
GPS: 17 18.63S 177 07.47E
Run: 29.5nm (53.4km)
Weather: the sun is doing its best to poke it nose through the high scattered cloud there has been a increase in the amount of cloud since last night, wind is around the 5kts out of the what appears the SE but could well be E and coming around the head land . have 1012 on the bar and alittle S slop from time to time.
have moved up to Waya island with the intention of seeing the weather system out, south is the only direction that could exposed.
Wed Jun 19 7:03 2019 NZST
Speed:
0.4
knts
GPS: 16 57.08S 177 22.03E
Run: 19.7nm (35.7km)
Weather: Have broken cloud over us this morning 15kts of E wind and the bar is 1011
now down in the Blue lagoon area , after the quite of our last couple of weeks there is a marked increase of activity.
Fri Jun 14 7:06 2019 NZST
Speed:
0.3
knts
GPS: 16 44.12S 177 33.63E
Run: 0.2nm (0.4km)
Weather: there is patches of broken cloud around this morning dont think there is any rain to be had form what I can see wind is blowing a steady 10kts from SE and the bar is steady on 1011
looks like another stunner day for us sun is already up and will be including going up to the main village to do our Sevusevu in our activities
Thu Jun 13 7:06 2019 NZST
Speed:
0.2
knts
GPS: 16 43.95S 177 33.52E
Run: 48.2nm (87.2km)
Weather: clear skies this morning apart from a rather heavy looking bank of cloud to the north a breeze of 5kts out of the South bar of 1011
Arrived at Yasawa island at 1700 hrs last night after a very enjoyable sail from Yadua looking forward to our time out here as it has been 5yrs since we were last here.
Wed Jun 12 6:45 2019 NZST
Speed:
0.0
knts
GPS: 16 49.05S 178 16.93E
Weather: mialy clear sky with some cloud build up toward the main land wind is about 5kts SE 1011 OTB
We are moving camp today, departing Yadua to the Yasawa's so its a early start for us to avoid making the pass before the light fads
Tue Jun 11 7:15 2019 NZST
Speed:
0.2
knts
GPS: 16 49.08S 178 16.93E
Weather: overcast raining wind now out of the Nth 10/15 1010 OTB
the front/low has found us and w have had light to moderate rain most of the night .
Mon Jun 10 7:00 2019 NZST
Speed:
0.1
knts
GPS: 16 49.05S 178 16.93E
Weather: we have overcast skies this morning with light rain at times, the wind of 10 gusting up to 20 at times bar of 1012
this report finds us still at Yadua with intention of moving on around Wed
Fri Jun 7 9:00 2019 NZST
Speed:
0.0
knts
GPS: 16 49.05S 178 16.94E
Weather: scattered cloud around today wind 10/15 out the east and bar is steady 1012
Things are going great here at Yadua Sean and I took the run around to the village while the wind was down to a gentle zypher around 7 miles. There are 70 people in there village with well established gardens solar power to all homes and the chief was able to tell us the score for the sevens as well as the Crusaders and Chiefs matches.

we ended up returning back to pilgrim via the weathered side, encircled the island we did.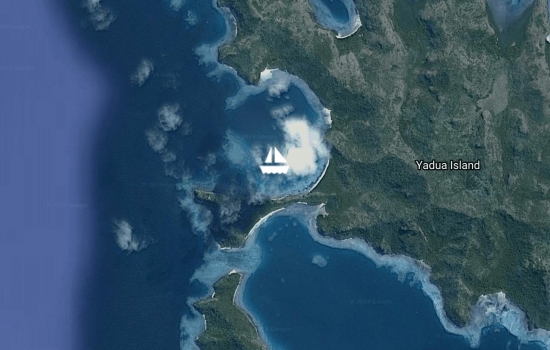 Wed Jun 5 7:24 2019 NZST
Speed:
0.0
knts
GPS: 16 49.06S 178 16.94E
Weather: Clear sky and breeze of around 5 out of the Easterly quarter Bar of 1011 OTB
been out snorkeling and finding good coral growth here well stocked with reef fish along with our targeted Nudibranchs with such vast area we are going to have our time cut out covering as much as we can. At least the wind is not so bad now and the day is shaping up to be a hot one.
Tue Jun 4 7:06 2019 NZST
Speed:
0.0
knts
GPS: 16 49.05S 178 16.94E
Weather: about 60 % Cloud cover this morning light showers at times 10E wind though up to 25 over night 1010 OTB
This morning finds use out at the Ladua Islands which we visited some 5 years ago they are unique from the point of view that Fiji's iguana was discovered here and only on the smallest island, hence we are are not allowed to land on it as they are endangered and there is a protector who lives there. Ladua is at the other end of the Bligh straight so is subjected to the wind that can honk through the area ( no power issues as wind generator keeps pumping away)
Mon Jun 3 17:21 2019 NZST
Speed:
0.1
knts
GPS: 16 49.05S 178 16.94E
Run: 20nm (36.2km)
Now at Yadua island intend spending sometime here.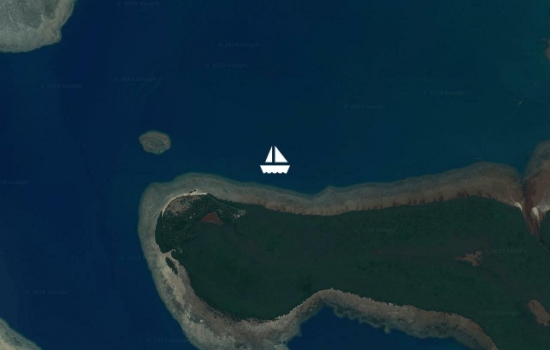 Mon Jun 3 7:00 2019 NZST
Speed:
0.0
knts
GPS: 16 52.11S 178 34.76E
Run: 50.1nm (90.7km)
Weather: we have some rain back in the hills to the east of us with some cloud breaking away and and heading off to the west wind is E 5kts 1010 OTB
we have moved on from Savusavu an dare now in Bau Bay around from coconut point. Apparently was a base for the removal of the sandlewood. today we make the short hop over to Yandua island , looking forward to going back there again.
Fri May 31 7:15 2019 NZST
Speed:
0.0
knts
GPS: 16 46.70S 179 19.80E
Weather: had shower of rain this morning only light with chance of more looking at the clouds back in the hills light air coming down valley ? direction guessing E to N/E Bar steady on 1012
yah! the pump arrived can now plan on moving in the direction of Yadua, putting pump to work today cleaning up our fuel, getting supplies from the well stocked shops already done the market, mustnot forget the sevusevu packs.
Thu May 30 7:21 2019 NZST
Speed:
0.0
knts
GPS: 16 46.69S 179 19.80E
Weather: 100% OC here today 5/10 breeze coming down anchorage here in savusavu 1012 OTB poor reception this morning.
Going to be here in savusavu for duration of at least the rest of the week not, that its a bad place to be.

there is a lesson here for other folk if ordering in parts from overseas never ever use the postal service, DHL may cost but there service is great. I ordered from NZ 2 x packages both departed nz they same day Thursday so the paper work said.

I had the one that was sent DHL in my hands on Monday , How ever the other which I requested DHL they sent NZ postal it still has not arrived and wont be here until sometime in the weekend. Not happy with the people who did not send as requested.
Mon May 27 7:12 2019 NZST
Speed:
0.0
knts
GPS: 16 46.70S 179 19.80E
Weather: another stunning day here in Savusavu not a cloud to be seen as has been the case over the last few days. no breeze at this stage very still have a bar of 1011 28c onboard
getting twitchy waiting for parts to arrive , once they do we will move on undecided where to but would like to head up Rambi way and around the top via Ring golds. Our permit has all islands on it Hmmm don't think that's possible in one season.
Fri May 24 7:24 2019 NZST
Speed:
0.0
knts
GPS: 16 46.70S 179 19.82E
Stunning morning in Savusavu cloudless sky, we are awaiting the arrival of DHL packages that should be here Monday, Once they arrive we are out of here, not that we dont enjoy it here
Fri May 17 6:39 2019 NZST
Speed:
0.0
knts
GPS: 16 46.69S 179 19.80E
Run: 1nm (1.8km)
Weather: A chance of a shower today , Savusavu is always up for that, the breeze is keeping things coolish around the 10kts coming down the valley Bar of 1011
we are going to be holed up in Savusavu for awhile just catching up with all those little jobs that one never got done before departure or got added on the trip ( part of the joy of cruising ) maintenance in exotic places , but hey it is a great place to undertake and tackle that list.
Thu May 16 7:03 2019 NZST
Speed:
2.1
knts
GPS: 16 45.93S 179 20.19E
Run: 18nm (32.6km)
Weather: Its Savusavu ! rains every day so overcast light breeze coming down the valley Bar is 1011
big welcome backs ! tells us that we are in Fiji check is a breeze. Customs informed us that we are number 13 , no dought that will change over the coming weeks
Wed May 15 6:42 2019 NZST
Speed:
6.6
knts
GPS: 17 01.40S 179 22.45E
Run: 174.8nm (316.4km)
Avg: 7.4knts
24hr: 178.1nm
Weather: cloudless sky very little wind overnite 5/6 SE now 2/3 SSE near on calm sea Bar of 1012
this morning finds us approaching Savusavu , should be making our way up for check in around 0830. so to all those folk that have been following us on YIT Pilgrim is now in Fiji. What a goergious day it is to there is nothing but blue to be seen overhead so picking 30deg will be on the cards for us.
Tue May 14 7:09 2019 NZST
Speed:
5.8
knts
GPS: 19 27.16S 179 53.21W
Run: 162nm (293.2km)
Avg: 6.6knts
24hr: 159nm
Weather: Overcast with light rain at times 0/5.0kts of breeze from the SSE slight seas with 1/2mtr SE swell 1012 OTB
this morning finds us 18NM from the pass between Matuku and Toyata leaving us 163NM from Savu Savu we have been motoring since about lunchtime yesterday as the wind has moved on without us the sun is shining in under a blanket of cloud that is dropping light rain from time to time we are hoping that wind will return at some point
Mon May 13 6:42 2019 NZST
Speed:
6.6
knts
GPS: 21 46.74S 179 35.08W
Run: 152.4nm (275.8km)
Avg: 6.4knts
24hr: 154nm
Weather: 20% CC and not enough of a E breeze of 6/8kts for us to move the concrete footpath 1015 OTB
the sun is rising on what looks to be a very nice day as we motor sail toward Fiji the wind fell away around 2400hrs so are making use of the iron sail.
Sun May 12 6:57 2019 NZST
Speed:
0.2
knts
GPS: 23 56.39S 179 06.42W
Weather: Clear skies with some cloud on the SW horizon 15/16 S/E winds bar 1017
The wind has dropped back from the 25 plus range to a sedate 15/16 time to Say our goodbyes to sth Minerva today and the folk that are in here it has been fun the fish are tasty along with the cray certainly will call in here again if we pass this way again. Savu Savu here we come reckon Wed
Sat May 11 8:33 2019 NZST
Speed:
0.3
knts
GPS: 23 56.40S 179 06.40W
Weather: Scattered Cloud of 50% the odd cell producing light rain Bar is steady 1018
Our time at sth minerva in coming to a end with plans to move onto SavuSavu tomorrow , Glad that we made it to here ,fascinating place and yes I would return, less wind would make getting around to the prime snorkeling spots
Thu May 9 7:45 2019 NZST
Speed:
0.2
knts
GPS: 23 56.40S 179 06.39W
Run: 0.8nm (1.4km)
Weather: perhaps 20% CC SE 20/25 1015.5 OTB
What a ideal spot to take a break and catch up on things and fellow yachties
Wed May 8 7:00 2019 NZST
Speed:
0.4
knts
GPS: 23 56.53S 179 07.12W
Run: 81.7nm (147.9km)
Avg: 3.4knts
24hr: 81.2nm
Weather: well David you are right the wind is blowing a steady 25 ESE with rain as I write appears 100% CC 1017 On my bar ( not being callerbrated)
We made it South Minerva last Night now caught up on the sleep and enjoying this place looking forward to exploring
Tue May 7 6:51 2019 NZST
Speed:
7.3
knts
GPS: 25 03.42S 179 32.97W
Run: 178.4nm (322.9km)
Avg: 7.5knts
24hr: 181nm
Weather: we are still getting the patches of cloud drifting in on us some light rain 15/18 ESE wind 1.5 with the odd 2mtr swell Bar steady 1019
Making good progress toward Minerva with ETA around 2200hrs was hoping to make sth before dark but not counting on it. My repair seems to be ok so we have a motor again. enjoying the sailing conditions
Mon May 6 7:12 2019 NZST
Speed:
6.1
knts
GPS: 27 21.08S 179 07.84E
Run: 154.9nm (280.4km)
Avg: 6.5knts
24hr: 156.2nm
Weather: the odd passing shower with 20kts E mmostly 12/15kts 1mtr swell E confused seas 1019 OTB
should make Minerva wed Morning, had to do a repair on the exhaust accumulator tank as it sprung a leak going to refit today providing the repair is a success we carry on as planned otherwise it is on to Savu Savu.
Sun May 5 7:24 2019 NZST
Speed:
5.3
knts
GPS: 29 24.53S 178 07.26E
Run: 167.8nm (303.7km)
Avg: 7.2knts
24hr: 173.6nm
Weather: Clear skys not a cloud to be seen wind S?E 12/15 COG 028T Bar is down 1 to 1019.5
made pretty good progress in the last 24hrs now 381 from Minerva nice morning clear skys enjoying the passage
Sat May 4 8:12 2019 NZST
Speed:
5.7
knts
GPS: 31 36.56S 176 55.70E
Run: 160.3nm (290.1km)
Avg: 6.4knts
24hr: 153.3nm
Weather: 70 % CC E 12/15 1/2 mtr swell 017T 1020.5 OTB
A quite last 24 hrs except for the motor as we crawled our way toward the wind which was above us now at last have enough to shut the motor down we are 525 away from Minerva and should make better progress
Fri May 3 7:06 2019 NZST
Speed:
5.1
knts
GPS: 33 41.42S 175 42.65E
Run: 142.6nm (258.1km)
Avg: 5.9knts
24hr: 142.6nm
Weather: 80% CC wind 12kts SE the odd swell of 1.5mtr my bar is 1020.5
Day one finds us 120NM off the coast and 665 from minerva we had a starry night now the odd rainy looking cloud
Thu May 2 7:06 2019 NZST
Speed:
0.0
knts
GPS: 35 16.83S 174 06.96E
Run: 1.4nm (2.5km)
Weather: breeze appears to be out of the S and feels like it have 1021 OTB
We are checking out today and making tracks towards the warmth. Intend on stopping at Minerva on the way to Fiji ( Savu Savu)
Tue Apr 30 7:57 2019 NZST
Speed:
0.0
knts
GPS: 35 16.42S 174 05.55E
Run: 15.9nm (28.8km)
Weather: have scattered cloud very little wind ? from s/w 1111.5 OTB
Good morning, Pilgrim is in Opua awaiting departure to places warmer, looking at Thurs day departure at this time enroute to Fiji via Minerva.
No blogs available for this yacht.
Loading map and updates ....
Loading track, please wait ....