Ransom
Sun Dec 20 10:26 2015 NZDT
GPS: 32 55.2828S 151 45.7122E
Position report sent via Iridium GO
Wed Oct 7 14:36 2015 NZDT
No position sent.
Mon Oct 5 9:44 2015 NZDT
No position sent.
5:30 Friday oct 2. We are inside the eastern island group of Fiji cruising...

Tim...use exact subject and password and status with parenthesis ...best to copy and paste it that way.

Then write your comments and send to send@yit.co.nz
Fri Oct 2 6:43 2015 NZDT
No position sent.
Morning has broken...5:30 Friday oct 2. We are inside the eastern island group of Fiji cruis g along at 7 kts in 25 kts of breeze from our starboard quarter. Jib is reefed slightly for the comfort of those sleeping below. Rain ahead and to leeward and behind and to leeward...works for me! We made a route change a couple of days ago that had us arriving into Fiji waters from the south, instead of the original plan of entering from the north. This change added some extra time to our passage, but, had us sailing a much more comfortable sailing angle. We hope to arrive Savusavu before the sun sets today. Three books finished yesterday. Homeland and game of thrones bingeing are keeping the crew entertained. Fishing hasn't been fruitful but today is another day.
Wed Sep 30 6:48 2015 NZDT
No position sent.
Malo e Piti Vava'u, Tonga! Fiji here we come! Five weeks of "playing" in the Vava'u island group was wonderful. Some of the highlights were; beautiful weather, picturesque islands and anchorages, crystal clear waters, friendly locals, fun cruisers, interesting hikes, great paddleboarding, great snorkeling spots (including caves accessed only by swimming underwater through tunnels), and the icing on the cake was swimming with humpback whales. John, Ceci me I had a chance to swim very close to (10' away) from a mother and her 4-6 week old baby. We were in the water with them for an hour watching them interact. It was magical! So we are off to our next port of call, Savusavu, Fiji. The trip is 420miles and with the forecasted weather of 15-25 kts of wind from the East, Southeast we expect the trip to take us 3 days. We left Neiafu 9 am Tuesday the 29 (don't forget we are a day ahead of you on the east coast) and have sailed close to 130 miles already. All is well aboard and we are back in our offshore watch system and routine.
Fri Sep 4 8:00 2015 NZST
No position sent.
Vava'u update. I've waited to write about Vava'u until I was defrosted. The sun is out, the winds have lightened, the air temp has risen and we are loving Vava'u. The first week was the opposite and we spent most of our time in Neiafu supporting local restaurants, bars and Internet cafes. The town needs a major cleanup which is sad. Litter is abundant, pigs and dogs run wild. Good news is that the local people are very friendly and fun. Tim and Ceci are back in Australia moving the new boat from Sydney to New Castle and sorting out the project lists. They say the boat sailed beautifully and they are over the moon happy with her. John and I are exploring the southern anchorages and have found a beautiful spot. Snorkeling, swimming, paddleboarding, beach-combing and whale watching. The Vava'u islands are in the height of their busy whale watching season. Licensed boats bring visitors out to see and SWIM with the humpbacks cows and calves daily. Reports and videos from other cr uisers that have swam with the whales have been spectacular.
Sun Aug 23 11:21 2015 NZST
No position sent.
Arrive safely 11am in Tonga. Sounds so common, clearly it is not. We are tidy up at the customs dock in Nieafu waiting to check in tomorrow morning. Sunday's are church days and nothing happens, except church. As mentioned earlier we are in the Vava'u island group. Sailing in along the coast looked nothing like French Polynesia or the cooks. The islands are not dramatic looking. Low green hills, no soaring volcanic masterpieces. The green goes right done to the water with beaches every so often. The harbor we are in is very well protected, said to be one of the safest in the region, look at it on google earth. Plan is to checkin, spend a few days here seeing the important sights and picking up some groceries. Then it's off to explore the 61 islands in the group. Nap time for all!
Sat Aug 22 4:58 2015 NZST
No position sent.
Exciting times! In the blink of the eye we've been launched into the future. It was 1pm Thursday the 20th and the next second it was noon on Friday the 21st. Took us a while to work out the date and times on our weather forecasts and a few other date related issues but we've got it now. As I write this it is 5:30 am Saturday the 22nd. We have 135nm to go, and expect a midday (local Sunday) arrival in Tonga. We are heading for the Vava'u island group which is in northern Tonga (closer to the equator and hopefully warm). The group is shaped like a jellyfish with its tentacles hanging south. There are 61 islands in the group surrounded by reefs and turquoise waters. This is a cruisers paradise! Probably the most popular sheltered cruising area on the planet. Like Niue, Tonga is also a breeding ground for humpback whales from June through October. It is one of the only places on earth where you can actually swim with the whales. Watching the mothers raise their calves in the prot ected waters as well as watching the elaborate mating rituals might be in our future.
Thu Aug 20 9:28 2015 NZST
No position sent.
DANG! Bad news came our way when we woke from our naps...bad weather on its way. Gale force winds and 15 ft waves predicted to hit Beveridge reef Monday and Tuesday. We think we would be safe inside the lagoon, but, the forecast for our onward westward March wouldn't look good until the following Monday, the 31st. It was only discussed for a minute or two, we had to leave the reef and head for Niue or Tonga. Niue was high on our list of places to visit as it is a whale mating spot and thousands (of whales) arrive for the fun this time of year. Problem with Niue is the anchorage is not at all protected from SE winds and the only way to get ashore is to dinghy to a crane which plucks you and your dinghy out of the water. Sounds like fun in normal conditions, not so much in gales and rotten weather. So Vava'u, Tonga it is, 2 1/2 day sail west. We did force ourselves to snorkel in Beveridge. It was spectacular! The water clarity has not been matched in all our travels to date. Th e coral was out of this world, white tipped sharks, huge trumpet and puffer fish and the usual multitude of amazing other fish. We were shivering but it was worth it. Quiet night and we were off around 9am. Again many whales were at the pass for our entertainment.
Wed Aug 19 9:42 2015 NZST
No position sent.
We've arrived! As predicted the winds picked up yesterday afternoon and we sailed in 15-25kts just forward of the beam all the way to Beveridge Reef. Try as we may we were not able to slow ole Ransom down and we arrived outside the reef around 4am. Skyus was right by our side. We had to wait outside the reef until 8ish before making our entrances. We had a conversation with one of the 5 boats already anchored who shared GPS coordinates of the middle of the pass. To keep us amused while we waited we were witness to many whales, moms and calves humpbacks breaching and frolicking all around us. They put on quite a show. As we entered the pass we were again greeted with many more whales inside the lagoon. We headed towards the other 5 anchored boats and one of the boats, a solo sailor from Toronto, gave us his advice on he best place to anchor. We are anchored in 12 feet of crystal clear water with a white sandy bottom along the inside rim of the reef. The sun is breaking through ...bad news is...it's freezing! 70 degrees and blowing 20. Well deserved naps with hopes of waking to better swimming conditions.
Tue Aug 18 7:42 2015 NZST
No position sent.
Slow going! We are really paying the price of extending our Aitutaki departure. Winds have been less than 5 kts since midday yesterday...but...we still standby our choice to stay for the amazing celebration we witnessed in Aitutaki. With all this light air the seas have flatten and sleeping was heavenly. The purr of the engine was the icing on the cake. Looks like we might get some breeze later this afternoon and we expect to arrive at Bevridge reef first light tomorrow morning. The reef is supposed to be "out of this world". It's a completely submerged atoll, alone and isolated in the middle of the ocean. Kidney shaped, 6 miles N-S x 4 miles E-W with a deep water, turquoise colored, center lagoon and a 12' deep sandy bottomed shelf running around the inside rim of the reef. Lots of fish, coral, great snorkeling and diving. Excellent tuna fishing and lobsters hunting and a great anchorage makes this place very special. Once anchored we will be protected even in a huge blow ( up to 50 kts). At high tide the reef is totally under water and all you can see is the waves breaking on the outside of reef and the remains of fishing boat that was claimed by the reef. We are looking forward to lots of fun at Bevridge Reef!
Mon Aug 17 2:48 2015 NZST
No position sent.
Rocking and Rolling across the Pacific! We stayed an extra day in Aitutaki to experience a great all day celebration of their winning dance and singing teams return to the island. We are paying the price for this delay in our departure. Light winds, 2 meter southerly swells and wind driven Southeast waves. Ughhh. Top it off the centerboard shims have left the boat and the darn board flops side to side with an annoying shutter. So far all of us maintain the opinion that it was worth staying the extra day. Our buddy boat, Skyus, is a mile away which brings an amazing amount of mental comfort to us. Luke is a physician which is even more comforting. We will be performing an at sea delivery this morning to Skyus of our parasailor for them to try. The delivery should be interesting. Motoring at 4kts on a course of 250. Only 245 miles to Bevridge Reef.
Sat Aug 15 8:33 2015 NZST
No position sent.
Anchors away 0930! Aitutaki will forever be in our memories as a highlight of our sailing adventures. The island is beautiful with many opportunities to explore and experience the Cook Island culture. However the people are the real treasures of this island. Warm, welcoming, fun, interested and interesting. We extended our stay by one day to share in the islands celebration of the return of their dance and singing team that was in Rarotonga the last 3 weeks. They won the inter island competition and the day long celebrations were caped with a 3 hour performance of their winning numbers. We were overwhelmed by the experience. We said our goodbyes to our new friends and left with our new friends aboard Skyus, a catamaran sailing with a fun and energetic young family of 5. We will buddy travel with them to our next destination...Beveridge Reef. 440 miles to the West. Beautiful sunny day,fishing lines are in, light winds (8-10kts) with 2 meter southerly swells.
Thu Aug 6 5:09 2015 NZST
GPS: 18 50.2692S 159 49.3284W
Run: 10.6nm (19.2km)
Settled into the anchorage in Aitutaki. Interesting night to say the least. We attempted to nose our way up to the reef outside the lagoon to anchor for the night. We crept closer and closer to the reef in the pitch black, hearing the breaking waves. Finally our spotlight revealed the waves over the reef, very close to our now and we were still in 80' feet of water. Plan B was made on the spot, to try another area on the other side of the entrance to the lagoon. We thought there would be 40' of water to anchor in. Nope...deep and the reef was right I. Front of us again. Enough Duma no games. We hove to for the night, drifting 1knot/hr. We entered the pass into the lagoon around 1pm at the high tide, we skimmed the bottom anyway. We slid by another boat who had lost his engine in the middle of the pass...crazy! We counted 16 kite surfers in the lagoon, will inflate our paddleboards tomorrow and investigate.
Wed Aug 5 8:30 2015 NZST
Run: 85.9nm (155.5km)
Avg: 35.3knts
24hr: 847.3nm
Another nice day sailing in 15-20 kts, gusting to 25, just forward of the beam.icing on the cake was sunshine all day long. We knew there would be no way to make it to the entrance to the pass by sunset so we reefed everything and slowed down. Zoom in on this island and you will see the man made cut through the reef. It is 40' wide and 6 feet deep. Many boats would like to visit Aitutaki but can't due to their draft. We draw 5 1/2 with our centerboard up so we have a shot of making it through. The current is a factor too, runs 5+ kts. We are an hour out now, 8:30pm our time. Plan was to heave to for the night an enter in the morning. New plan is to try to anchor outside the pass for the night. Should be interesting as it's pitch black and we've never been here before. In the morning we will enter 1hr before high tide.
Tue Aug 4 1:51 2015 NZST
Run: 109.5nm (198.2km)
Avg: 15.6knts
24hr: 374.5nm
Nice sailing in 15-20 kts, gusting to 25, just forward of the beam. All of us had to find our long pants and jackets, hard to believe it but we are freezing at night. Must be in the low 70's. No fishing as the freezer is full of Mahi. Excellent Mahi dinner last night. Listening on the SSB to other boat west of us getting gale force winds. Hoping we make it to Aitutaki, less than 200 nm at a course of 250, before the system reaches us.
Sun Aug 2 0:00 2015 NZST
Run: 174.2nm (315.3km)
Avg: 10.2knts
24hr: 245.7nm
Fish On! John caught a beautiful 3' 35lb Mahi Mahi yesterday on his favorite lure, the green machine. Mahi Mahi will be on the menu for a long time. Enjoyable first day, 134nm run. No other boats in sight. Aitutaki 326nm away.

12-15 SE overcast baro1002 1meter southerly swell
Sat Aug 1 0:00 2015 NZST
Run: 89.2nm (161.5km)
Avg: 3.9knts
24hr: 92.9nm
Left Bora Bora and heading to Aitutaki Island in the Southern Cooks Islands. The first European to weigh anchor in Aitutaki was Capt Bligh on board the Bounty, just two weeks before the infamous mutiny. The Cook Islands are a self governing commonwealth of New Zealand.
Wed Jul 29 18:52 2015 NZST
GPS: 17 32.4168S 149 34.2498W
Automatic position report sent via Iridium GO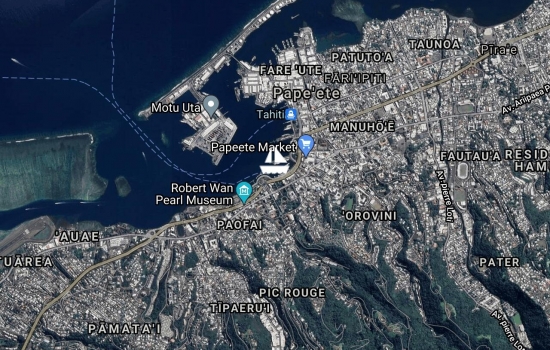 Tue Jul 28 12:58 2015 NZST
GPS: 17 32.4168S 149 34.2498W
Automatic position report sent via Iridium GO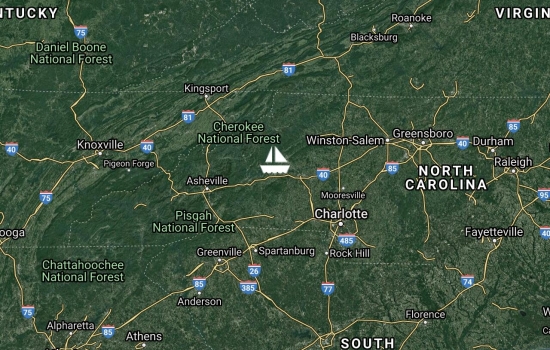 Tue Jul 28 8:02 2015 NZST
No position sent.
Successful trip to Sydney, Tim and Ceci now own a beautiful Camper Nicholson 60' Ketch. They are headed back to Tahiti and the plan is to leave French Polynesia later in the week for Palmerston.
Mon Jul 27 16:19 2015 NZST
GPS: 17 32.4168S 149 34.2498W
Automatic position report sent via Iridium GO
Mon Jul 20 9:09 2015 NZST
GPS: 17 32.429s 149 34.252w


resting at Marina Papette while Tim and Ceci fly to Australia to look for bigger boat. 
No blogs available for this yacht.
Loading map and updates ....
Loading track, please wait ....