Rehua
Mon May 22 9:19 2017 NZST
GPS: 6 42.93151S 146 59.99430E
Auto positioning has us in Lae, this is a myth we are in Rabaul, Kokopo Beach ;)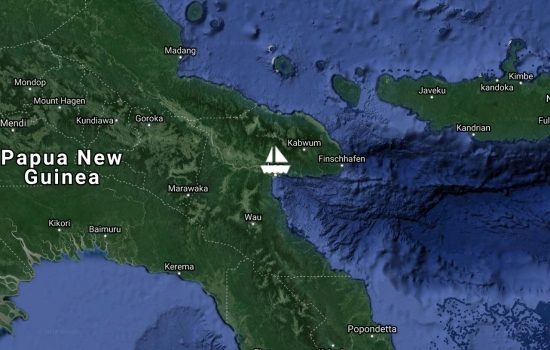 Mon May 22 9:18 2017 NZST
GPS: 6 42.93151S 146 59.99430E
Run: 915.3nm (1656.7km)
PNG, Rabaul, great safe anchorage outside the Yacht Club and now over at Kokopo where the new centre of town is really based. Off to the Duke of Yorks tomorrow, finally the dry season has arrived mmmm, will have to be nice to the watermaker again!
Mon Feb 20 10:42 2017 NZDT
Run: 6.3nm (11.4km)
Still in Tulagi, anchored in front of Raiders Hotel. Probably the most protected anchorage in the entire area and the diving here is amazing. Our favourite was the Twin Tunnels but we also did some great wreck dives, all organised by Raiders (who also do superbe meals)
Fri Jan 13 11:27 2017 NZDT
GPS: 09 01.058S 160 07.444E
Run: 1021.4nm (1848.7km)
On the hook In Roderick Bay in 40 meters, shallow sand is a rarity here, weather tropical, moving tomorrow to Avi Avi near Tualagi to get hauled for new shaft seals, apparently this is the yard to use in the Solomons, we'll see!
Sun Sep 25 8:51 2016 NZDT
GPS: 22 19.278S 166 49.677E
Run: 25.4nm (46km)
Prony village in Prony Bay
Fri Sep 9 22:00 2016 NZST
GPS: 22 16.722S 166 25.975E
Run: 212.8nm (385.2km)
Avg: 8.1knts
24hr: 194.2nm
arrived in New Cal after a rough but fast crossing (3 days and 20 hours from Fiji). Happy to be here!
Thu Sep 8 19:42 2016 NZST
Speed:
9+knts
knts
GPS: 21 23.88s 169 36.70e
Run: 237.5nm (429.9km)
Avg: 6.6knts
24hr: 157.2nm
Weather: 100
100% cloud cover, squalls, messy 3mtr sea, gusting 25, I'd rather be in the bar with a rum and coke!
Wed Sep 7 7:27 2016 NZST
Speed:
9+knts
knts
GPS: 19 58.075s 172 57.110e
Run: 180nm (325.8km)
Avg: 12.7knts
24hr: 305.3nm
Weather: 100
Enjoying a fast passage, a few squalls out here last night, sea 2mtr+ from East, pressure 1016Mb, wind ~20knts true from 110.

Halfway mark today at this rate 48hrs to run into Port Moselle, I can smell the Brie from here ;-).

Rehua.
Tue Sep 6 17:18 2016 NZST
Speed:
5+knts
knts
GPS: 18 48.402s 175 25.389e
Run: 150.5nm (272.4km)
Avg: 3.4knts
24hr: 82.4nm
Weather: 100
Strange to be heading SW again after all the hard work leaving NZ, still that's where New Cal is! 18-25 knts till early this morning when it died off and went E, now 11 knts true, so the pace has altered slightly. Its going to be a different story come Friday.

Rehua.
Sun Sep 4 21:27 2016 NZST
GPS: 17 40.898S 177 23.201E
Run: 14.5nm (26.2km)
at the diesel dock... Planning to clear out tomorrow
Sun Aug 28 9:33 2016 NZST
GPS: 17 46.284S 177 11.300E
Run: 7.8nm (14.1km)
back at musket cove for some supplies and to catch up with old friends!
Thu Aug 25 14:09 2016 NZST
GPS: 17 40.275S 177 07.990E
Run: 24nm (43.4km)
lunchtime stop for a snorkel and a swim on Nukuimana reef. Gorgeous.
Tue Aug 23 15:30 2016 NZST
GPS: 17 19.480S 177 7.933E
Run: 3.8nm (6.9km)
Yalobi bay, Waya island, anchored in front of the village, beautiful bay and very welcoming people
Mon Aug 22 19:06 2016 NZST
GPS: 17 16.621S 177 6.238E
Run: 7.6nm (13.8km)
anchored in Likuliku bay, Yawa island
Sun Aug 21 16:30 2016 NZST
GPS: 17 11.726S 177 10.862E
Run: 31nm (56.1km)
anchored in Mocelutu passage
Sat Aug 20 7:09 2016 NZST
GPS: 16 50.383S 177 28.063E
Run: 9.7nm (17.6km)
anchored next to Sawa-I-Lau island to visit the caves. Beautiful anchorage and very quiet.
Sun Aug 14 12:48 2016 NZST
GPS: 16 56.617S 177 22.083E
Run: 19.7nm (35.7km)
Anchored in the blue lagoon
Sat Aug 13 20:03 2016 NZST
GPS: 17 10.250S 177 11.285E
Run: 42.8nm (77.5km)
Avg: 3.8knts
24hr: 90.9nm
at anchor near Drawaqa island in the Yasawas. Nice quiet anchorage
Sat Aug 13 8:45 2016 NZST
Speed:
6.2knts
knts
GPS: 17 47.390S 177 12.984E
Run: 2.5nm (4.5km)
Avg: 8knts
24hr: 191.8nm
Weather: cloudy 5/8 wind 10knts ESE
en route to Yasawas today
Sat Aug 13 8:26 2016 NZST
GPS: 17 46.383S 177 10.981E
Run: 5.4nm (9.8km)
Overnight anchorage, on our way to Yasawas
Mon Aug 1 13:44 2016 NZST
No position sent.
All Yachts, big favour to ask, is anyone transiting from Auckland or close by NZ to Fiji in the next couple of weeks, we have a warranty replacement flexible solar panel thats going to cost more to ship than its worth! Its 1200 x 700 and weighs 8kgs packaged, we are here for a month or so. Will supply cocktails and canapes when we hook up :-)

Thankyou Rehua
Fri Jul 29 12:47 2016 NZST
Speed:
7.5
knts
GPS: 17 45.140s 177 15.702e
Run: 85.3nm (154.4km)
Wed Jul 27 10:28 2016 NZST
Speed:
5.5
knts
GPS: 17 33.360s 178 32.415e
Run: 29.1nm (52.7km)
On our way from Naigani to another anchorage
Mon Jul 25 13:24 2016 NZST
Speed:
8.5
knts
Run: 29.6nm (53.6km)
Avg: 31.7knts
24hr: 761.1nm
Updated position, last automated entry was incorrect. On our way to Naigani island
Mon Jul 25 13:24 2016 NZST
Speed:
8.5
knts
GPS: 17 33.096s 178 58.916e
Run: 13nm (23.5km)
Mon Jul 25 12:28 2016 NZST
GPS: 17 6.772s 179 5.554e
Run: 28nm (50.7km)
Namena island inside a nature reserve
Fri Jul 22 8:53 2016 NZST
GPS: 16 46.698S 179 19.870E
Run: 109.7nm (198.6km)
Avg: 8.1knts
24hr: 193.9nm
Just updating our position as the auto function put us in Suva, sunshine, no wind, rain showers, Oh and the moorings are too close together as we found out at 0600hrs this morning, not the best way to "meet the neighbours". Awaiting our cruising permit so we can cruise the islands!
Thu Jul 21 19:18 2016 NZST
GPS: 18 7.48852S 178 27.00473E
Run: 332.1nm (601.1km)
Avg: 4.2knts
24hr: 101.5nm
Safely arrived in Savu Savu last night and surprise, its raining, ah well at least its warm rain.

Rehua out

PS THe auto-geoposition function has put us in Suva, but we are in in fact in Savu Savu, scrabble anyone? :-)
Mon Jul 18 12:48 2016 NZST
Speed:
6+knts
knts
GPS: 22 51.402s 179 20.389e
Run: 138.6nm (250.9km)
Avg: 6.6knts
24hr: 158nm
Weather: 100
Slowly shuffling our way north, watching the latitude drop is akin to watching a glacier calve, we had some decent breeze for 6 hours last night which had us reefing and raising at all hours, at least the shifts seem shorter when you're busy.

We have 14knts from 210-240 oscillating and keeping our watch on their toes. Should be in Thursday am ;-)
Sun Jul 17 15:45 2016 NZST
Speed:
5knts
knts
GPS: 24 51.678s 179 19.206e
Run: 214.4nm (388.1km)
Avg: 7.5knts
24hr: 179nm
Dallying along in 8-10 knts of southerly, dead square under goosewing, cant be bothered gybing away all day for an extra mile, no luck with the SSB again today, I heard Whitehawk trying to raise Roxanne then nothing more, very strange as the pactor is working fine, I will have to go through from tip to tuner cleaning everything as I go.

Water has warmed to 25+ degrees so we should start to get warmer evenings although the southerly today is as fresh as ever, its come a long way you would think it would've warmed up a bit by now! Very squally the last two days not much power in them today max 20knts and just a smattering of rain, not enough to desalt the old girl.

Rehua out.
Sat Jul 16 11:00 2016 NZST
Speed:
8-9knts
knts
GPS: 27 57.531s 179 29.507e
Run: 206.7nm (374.1km)
Avg: 9.3knts
24hr: 223nm
Double reefed with half genoa in 27+knts true, getting slapped around by a WSW steep 4mtr sea, we are running off until we regain the southerly component, hopefully today some time. No luck with GHR the last three days but still getting weather from sailmail so all is well.

Past halfway this morning so 600 to go, its all going too fast :-)looks like we are going to have to side step Minerva tomorrow morning, how did we do it before all these electronics, every chance without the right charts you would be spinning the chamber out here, Reef Roulette! Rehua surfing by.
Fri Jul 15 12:45 2016 NZST
Speed:
8knts (top 15.4:-)
knts
GPS: 30 47.531s 178 23.507e
Run: 170.9nm (309.3km)
Avg: 8.3knts
24hr: 199.6nm
Ran last night under genoa alone just a wee bit too knarly with the old swell on the beam, however today is champagne sailing wind 20-27knts from 210M, pres 1020, cir over cum 20C, running with everything up some surfing to be had in the 3 mtr swell, thankyou Huey yer back on the Xmas list. What is this yellow orb in the sky? Seathan Rehua
Thu Jul 14 16:12 2016 NZST
Speed:
10knts
knts
GPS: 33 11.531s 177 41.507e
Run: 292.6nm (529.6km)
Avg: 6.1knts
24hr: 147.2nm
Just punched through that b*gg*r of a front and now in the SW breeze which is still gusting over 30knts T, what a relief to be running with it rather than knocking our heads against the wall.

Thanks Mike for all your help and we will try to continue updating as we go.

Seathan Rehua
Tue Jul 12 16:30 2016 NZST
Speed:
5.8
knts
GPS: 36 43.478s 174 50.516e
Run: 8.7nm (15.7km)
Weather: Calm
Heading out of Auckland and on our way to Fiji!
Tue Jul 12 10:52 2016 NZST
GPS: 36 50.885S 174 48.534E
Rehua is checked out, ETD 1300hrs, customs tell us there are 5 other boats leaving Auckland today, great minds and all that.

Looking forward to an interesting 48 hours lets hope we can clear the worst of the new front. Delorme updates to follow if we can sort it out this morning!

Savu Savu here we come.
Mon Jul 11 9:24 2016 NZST
GPS: 36 50.885S 174 48.534E
Analysis paralysis in Auckland, Tuesday departure is beckoning.... the head says wait until the next front passes through.
Sun Jul 10 9:19 2016 NZST
GPS: 36 50.885S 174 48.534E
Tuesday next week continues to tease, it will be a last minute decision as at the moment the sea state looks daunting to say the least.
Sat Jul 9 10:03 2016 NZST
GPS: 36 50.885s 174 48.534e
Still in Auckland waiting for a weather window to head north
Fri Jul 8 16:33 2016 NZST
No position sent.
Convalescing in Auckland hope to head north mid July.
No blogs available for this yacht.
Loading map and updates ....
Loading track, please wait ....