Roxanne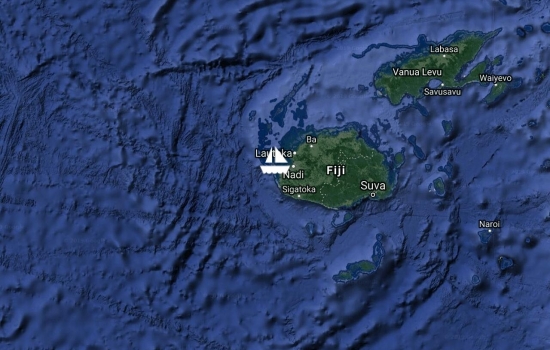 Sat Sep 15 9:06 2018 NZST
GPS: 17 52.978S 177 11.850E
Run: 77.6nm (140.5km)
Weather: Feathery stratus cloudcover with 7 knots of SE
Anchored just south of the heart-shaped island of Tavarua, within dinghy distance of the renown surf spots of Cloudbreak, Restaurants and Tavy Rights. Last evening, we had the pleasure of a striking orangey pink sunset and in the foreground of our visual, the silhouette of the spectator stands. In spite of the swell abeam, not a bad anchorage at all....added benefit is hearing the surf day and night....
Thu Aug 23 7:06 2018 NZST
GPS: 17 19.404S 178 13.105E
Run: 837.8nm (1516.4km)
Weather: 7 knots of SE. Bit of chop in the bay. Overhead mostly clear.
Time for an update because we've been in Fiji awhile.
Wed Jun 20 10:13 2018 NZST
GPS: 22 17.871S 166 27.664E
Run: 6.9nm (12.5km)
Weather: 20 knots SW with gusts, 100% cloud cover with rain
Staying protected from the gusting westerlies in this very civilized bay.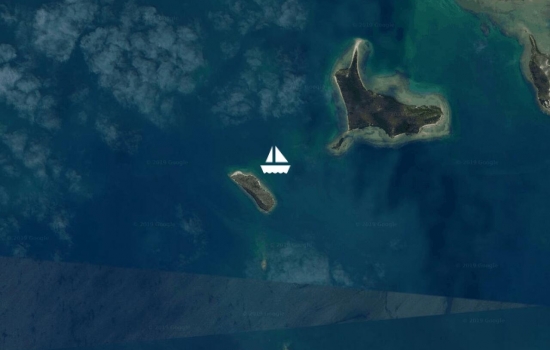 Wed Jun 13 11:33 2018 NZST
GPS: 22 18.535S 166 34.144E
Run: 10.6nm (19.2km)
Weather: 2 knots of NE breeze, glassy seas with light cloud cover
Time for an update!
We've been hanging around Noumea and Ilot Maitre since arriving in New Cal but with no wind forecasted for kiting, we're motoring around exploring anchorages we've not previously visited. Ilot Charron is surrounded by healthy coral, which is surprising given the lack of water clarity. Simply a lovely anchorage.
Sat May 19 9:49 2018 NZST
GPS: 22 20.012S 166 24.332E
Run: 899.5nm (1628.1km)
Avg: 4.4knts
24hr: 106.8nm
Weather: Overcast with 14 knots of ESE breeze
Even on this leeward side of Ilot Maitre, we have a bit of swell. Surprisingly, only 3 boats are here even though it's a 3 day holiday weekend. Must be because rain is forecasted but wind too, so the kites will be out....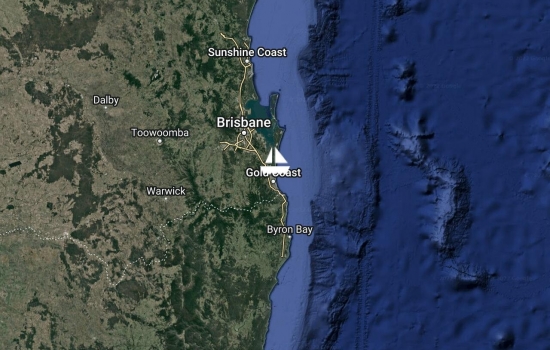 Thu May 10 23:40 2018 NZST
GPS: 27 57.00S 153 25.36E
Run: 337.1nm (610.2km)
Weather: Light NW, clear skies, flat seas inside Gold Coast waterway
Enjoyed Coffs Harbour the first of April and have enjoyed Southport since mid April. Starting to get cold here in Australia's early winter so it's time to head to the warmer clime of New Cal in a few days.
Thu Mar 15 13:00 2018 NZDT
Run: 178.1nm (322.4km)
Weather: Very light SW breeze, glassy seas, sun with light clouds
Enjoying uninhabited Fame Cove with four other boats. We watched a solo pelican fishing off the eastern shore last night while dolphins swam around our perimeter. This morning, kookaburras laughed us awake, crows and magpies joined in and we tuned into a unique orchestra of birdsong. Lovely, lovely...
Tue Feb 13 15:36 2018 NZDT
GPS: 35 01.869S 150 46.929E
Run: 85.9nm (155.5km)
Weather: 8 knots of SE
Enjoying seeing the white sands of Jervis Bay.
Sun Dec 24 10:08 2017 NZDT
GPS: 33 50.774S 151 14.294E
Run: 2.4nm (4.3km)
Weather: 1.2 knots of SW--glassy seas
Anchored in front of Taronga Zoo so awoke to animal calls we cannot identify. Sydney's handsome skyline, including the iconic Opera House, just off our starboard bow. How lucky are we to have this view!
Wed Dec 20 11:22 2017 NZDT
GPS: 33 48.730S 151 14.929E
Run: 266.8nm (482.9km)
Weather: 6 knots of S, SE / Clear skies
Sydney's forecast is for hot, hot temperatures today. Beaches will be full of those wanting to cool off in the water. We will be joining in...
Fri Dec 15 22:03 2017 NZDT
GPS: 30 18.197S 153 08.778E
Run: 987.8nm (1787.9km)
Avg: 2.7knts
24hr: 64.9nm
Weather: 17 knots at 7 degrees
Rapid trip from New Cal to Aus with 20+ winds for the last 3 hours before Roxanne surfed into Coffs yesterday. What a nice ride!
Thu Nov 30 16:41 2017 NZDT
GPS: 22 19.969S 166 24.354E
Run: 3.6nm (6.5km)
Weather: 20+ of easterlies with light cloud cover
Enjoying a few days of kiting here at Ilot Maitre for the crew of Roxanne.
Sat Nov 4 8:50 2017 NZDT
GPS: 22 17.183S 166 25.879E
Run: 353.4nm (639.7km)
Weather: 4 knots of SE
Anchored outside Port du Sud in Noumea. Completed arrival formalities 2 days ago after a light wind 1.5 day trip from Port Vila.
Sat Oct 21 14:31 2017 NZDT
GPS: 17 31.125S 168 23.844E
Run: 16.2nm (29.3km)
Weather: 15-20 of SE
Returned here to do a bit more kite-flying learning for one crew and a bit more kiting for another. Doesn't hurt to do it in such a stunning anchorage either.
Mon Oct 16 10:15 2017 NZDT
GPS: 17 44.188S 168 18.499E
Run: 16.2nm (29.3km)
Weather: 10 knots of NE
Back in Vila to provision.
Thu Sep 28 23:05 2017 NZDT
GPS: 17 31.125S 168 23.844E
Weather: 10 knots of SE
Upped the hook yesterday to return to this spot in front of Kakula, where we spent several weeks last year. Lovely white sand spit in front of us, a peaked volcanic island in back of it and off our right shoulder, the lush green panorama of Efate. Took the dinghy ashore at 6 am, thumbed a ride on a bus and 45 minutes later, we were in Vila with empty shopping bags. Another two hours later, our bags were full and we were thumbing a ride on another bus back to the dock where we left the dingy. We arrived back at the boat in time to enjoy the wares of our shopping trip for lunch....
Wed Sep 27 22:52 2017 NZDT
GPS: 17 31.136S 168 23.838E
Run: 110nm (199.1km)
Weather: 10 knots of 130
Anchored in 20 feet of sand/grass in this every-way-you-look-it's-stunning area. How lucky we are to be back here!
Fri Sep 22 13:34 2017 NZST
GPS: 16 09.780S 167 31.6501 E
Run: 44.8nm (81.1km)
Weather: 10-15 of E, SE wind
Anchored in 20 feet of white sand. Lined with mangroves, Crab Bay is aptly named because there are, indeed, crabs here. Green turtles too, despite the reef being mostly dead. This AM, a local paddled over with a gift of mangoes, which we reciprocated with 4 seed packets, new children's sandals and "rope for cow."
Thu Sep 21 8:52 2017 NZST
GPS: 15 36.690 S 167 10.443E
Run: 40.3nm (72.9km)
Weather: Solid cloudcover with 9 knots of 120 degrees
Anchored in 18 feet of white sand. Off both port and starboard, green turtles pop up their heads every 10 minutes, get a gulp of air and take a peek before diving for more food. Such a nice place to clean Roxanne's hull which we did over a two day period. Should get another knot of speed out of her now!
Tue Sep 12 12:00 2017 NZST
GPS: 15 02.1232S 167 04.6787 E
Run: 6.5nm (11.8km)
Weather: 10-20 knots of S, SE
Motorsailed to this anchorage and dropped hook in 35 feet of white sand (again). The panorama here in Port Olry is hard to beat. Thion, the island just east is a flat topped plateau (escarpment) covered in green foliage which stretches out to a white sand spit. Lorikeets squawk in the trees, swallows dip in and out of the tree canopy and in the late afternoon, fruit bats circle over the escarpment and the anchorage. At low tide, one could walk from the sand spit to the next island and onto the mainland...The view to the mainland is equally impressive--a coconut plantation south of the river and silhouetting behind, a high ridge of solid green ascends with a low, flat escarpment in front. Walked the beach in front of Port Olry--barefoot, uniformed kids in the school were frolicking outside at recess alongside cows munching on the school grounds' offering. As we headed south on the beach, we met welcoming locals shoving dugouts into the surf to fish, other locals filling gunny-sacks for cement--making and women sweeping their houses which are located just above high tide. Accommodation bungalows are located further south and in front of them, tourists occupied the hammocks while their kids dove in and out of incoming waves. After completing our shore exploration, we got back in the dinghy and headed back to Roxanne. On the way, we encountered a local in a dugout so offered him and his canoe a ride, which, of course, he agreed to. We gave him our tow line and drug him to where he was meeting his mates on Thion. After we arrived at his drop-off point, he gave us a huge smile and a "Thank you tumas!" as well! Spent 3 short days here before continuing on to Luganville.
Fri Sep 8 12:00 2017 NZST
GPS: 15 03.168S 166 58.902E
Run: 8.4nm (15.2km)
Weather: 10-15 knots of S, SW turning SE
White sand with a few bombies below us--anchored in 22 feet just south of a plug of limestone covered in foliage. Fine, pinkish sand ashore, decent coral surrounding the coasts and no other boats in sight. Villagers from the ridge enter the area one afternoon, spend the night in the caves ashore and the next day, we venture ashore and meet the group--a couple, their 1 year old son, three pre-teen nephews and one niece and seven, yes, seven dogs. They welcome us to their bay, which they come into once a month for "holiday." Each night, dolphins come into the bay around sunset but are shy and stand off. We'll easily be here a few days!
Thu Sep 7 12:00 2017 NZST
GPS: 15 09.7972S 166 55.7211 EE
Run: 23.2nm (42km)
Weather: 7 knots at 117
No other boats in this bay--we're here to take bird tour with local Matantas village guide in the Vatthe conservation area. Black sand beach, laughing kids running on shore and diving in fresh water of river that feeds into bay.
Thu Aug 31 19:49 2017 NZST
GPS: 15 22.761S 167 11.707E
Run: 4.1nm (7.4km)
Weather: 4 knots of SW
Anchored in 30' of sand between two small islands. Moved to this stunning anchorage this AM and even though we followed waypoints closely, on the way in, we found the reef! Fortunately, we were pulled off by helpful cruisers in their dinghies as tide rose higher so spent only a short time stuck and fretting. With so many cruisers assisting, moments like this reaffirm the grace of this community. Less than an hour later, another boat transited the same area and like us, they also found the reef! Having just gone through the drill, we were able to assist them with our dinghy to safety. While the excitement was happening, locals in dugouts paddled by and when it was all over, returned to us at anchor offering smiles, fresh papayas and a request for us to join them in their village tomorrow. Of course, we said, "Yes!"
Wed Aug 30 9:24 2017 NZST
GPS: 15 25.278S 167 14.343E
Run: 1209.7nm (2189.6km)
Weather: 6 knots of SE wind
Time for an update! Anchored in 24 feet of sand/coral with a fine golden sand beach--perplexing why no other boats are here. Snorkeled yesterday and discovered a surprising variety of coral and reef fish surrounding the boat with healthy-looking reef both north and south.
Tue May 2 9:44 2017 NZST
GPS: 27 17.63356S 153 23.38697E
Run: 381.7nm (690.9km)
Sailed up from Coffs on overnight--wind from astern made for a tiring trip of gybes and because the coast is shallow, romping seas. Good thing Roxanne handles big waves so well!
Current wind direction 180 at less than 8 knots. Seas calm.
Tue Apr 11 12:26 2017 NZST
GPS: 32 42.86271S 152 10.07220E
Run: 92.8nm (168km)
13 knots of SW wind. Flat calm in anchorage. Overcast and chilly--time to head north.
Tue Mar 28 19:59 2017 NZDT
GPS: 33 49.436S 151 15.771E
Run: 14nm (25.3km)
Anchored in Manly last night but moved near Balmoral this AM to get out of today's southerly. Wind abated this PM and though we're rocking in swell, this harbor is also spectacular.
Sun Mar 26 11:55 2017 NZDT
GPS: 33 37.409S 151 17.521E
Run: 1300.9nm (2354.6km)
Flat calm seas with full sun and 2 knots of NE wind. Arrived in Australia a month ago--checked into Coffs Harbour with efficient ease and stayed in same slip in the very friendly marina for the duration of our Coffs stay. Really enjoyed touring the area via land. Sailed south to Broken Bay where we are currently at anchor in Pittwater. Off to Sydney tomorrow...
Thu Feb 9 8:35 2017 NZDT
GPS: 35 11.038S 174 04.583E
Run: 9.3nm (16.8km)
At anchor with heavy rain, limited visibility, slight swell and 15-20 knots of SE wind starting last night and continuing this morning. With the forecast to Aus not favorable until next week, we departed marina yesterday to enjoy NZ's late summer but it's not summer here this morning! Should clear this afternoon when we'll venture out via paddleboard or dinghy.
Tue Jan 31 11:58 2017 NZDT
GPS: 35 18.815S 174 07.334E
Run: 5.8nm (10.5km)
Sunny, warm bordering on hot day in Northland NZ. Tucked into Opua marina for boat work. Following completion of boat work, wait for wind and then, off to Aus.
Fri Jan 27 14:28 2017 NZDT
GPS: 35 16.029S 174 12.527E
Run: 115.5nm (209.1km)
Anchored in scenic Jacks Bay in Bay of Islands. Wind has clocked in last 24 with speeds from 4 knots to 17 knots. Heaps of live oysters ashore along with oyster shells. Paddleboarded this AM around adjacent bays, left boards on beach and hiked ashore to get a feel for the neighborhood. Simply lovely.
Sun Dec 25 14:08 2016 NZDT
GPS: 36 44.651 S 175 10.460E
Run: 115.1nm (208.3km)
Anchored on this eastern side of Waiheke with our son Jack and his girl Canon to relax on Christmas Eve and Christmas Day. Lovely view of Pohutakawas blossoming on shore and numerous sheep with the accompanying sheet bleets. Wind is 15 knots from the SW with occasional clouds and fortunately no rain! Merry Christmas to all.
Tue Nov 29 12:23 2016 NZDT
GPS: 35 18.658S 174 07.577E
Run: 1280.7nm (2318.1km)
Arrived in Opua earlier this month and have been working on boat projects. Looking to sail south to Auckland soon.
Wed Oct 19 12:41 2016 NZDT
GPS: 17 29.723S 168 23.642E
Run: 17.6nm (31.9km)
Wind from SE at 17 knots--kiteboarding conditions. Anchored west of Pele where it appears wind funnels through surrounding islands. Went ashore yesterday and was presented with fresh drinking coconuts & papaya, courtesy of the locals.
Tue Oct 11 20:20 2016 NZDT
GPS: 17 44.173S 168 18.483E
Run: 597.3nm (1081.1km)
Arrived in Vanuatu a week ago after relaxed, enjoyable downwind sail from Fiji. Love being back in Vanuatu. Ni-Vans are kind, smiling, warm folks. Sailed north to Havana Harbor and then back to Vila in the last week. On the return, we had a double hook-up of tuna but since we don't eat bonito/skipjack tuna, we threw them back. This is the kind of fishing we remember!
Thu Sep 29 13:00 2016 NZDT
GPS: 17 46.366S 177 23.000E
Run: 21nm (38km)
Arrived in Denarau Marina on Fiji's east coast two days ago and have been flat out giving Roxanne and crew the attention we all deserve. The boat is clean and provisioned while the crew has been enjoying the fruits of being ashore--laundry, restaurants and catching up with other cruisers.
Sun Sep 25 13:00 2016 NZDT
GPS: 17 29.530S 177 15.591E
Run: 14.4nm (26.1km)
Avg: 3.6knts
24hr: 86.3nm
Anchored for the night to stage crossing to marina in Nadi.
Sun Sep 25 8:59 2016 NZDT
GPS: 17 19.249S 177 08.176E
Run: 562.8nm (1018.7km)
Sat Jul 16 1:06 2016 NZST
Speed:
7.5
knts
GPS: 25 13.303s 179 15.284e
Run: 163.9nm (296.7km)
Avg: 9.4knts
24hr: 224.4nm
Weather: 7kts SSW sea flat 50% cover bar 1020 steady
light wind dead astern. so we are motoring
Fri Jul 15 7:34 2016 NZST
Speed:
9
knts
Run: 65.1nm (117.8km)
Avg: 15.8knts
24hr: 379.1nm
Weather: 18S, 1m swell SW, 50%cc
no problem with radio today. It has the habit of going to high power - unrequested
Fri Jul 15 3:27 2016 NZST
Speed:
10.5Knts
knts
GPS: 27 26.506s 177 28.446e
Run: 187.2nm (338.8km)
Avg: 9.6knts
24hr: 230.9nm
Weather: 25knts SW
Steady wind slowly clocking form W to S. Fiji or Tonga still to be determined.
Thu Jul 14 7:59 2016 NZST
Speed:
8
knts
Run: 393.8nm (712.8km)
Avg: 5.9knts
24hr: 140.9nm
Weather: 15SW
on passage to Suva Fiji - I think that is the correct destination but their radio transmission is very distorted. Strong but hard to understand.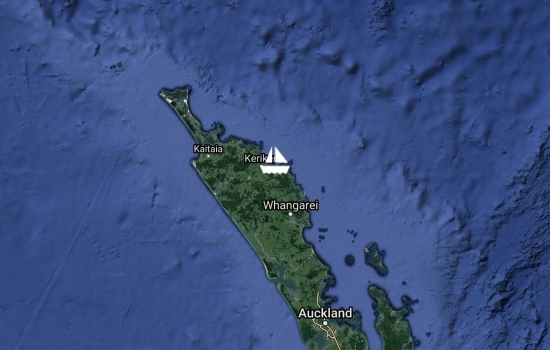 Mon Jul 11 12:55 2016 NZST
GPS: 35 18.91065S 174 7.27207E
Departing Opua tomorrow for warmer climes.
No blogs available for this yacht.
Loading map and updates ....
Loading track, please wait ....