SCOOTS
Thu Nov 21 14:21 2019 NZDT
Speed:
7.6kn
knts
Run: 197.3nm (357.1km)
Avg: 8.2knts
24hr: 197.3nm
Weather: Sunny and warm. Wind 16kn SSE. Seas 1.5m building. 1014mb.
Today we begin what looks to be the windy/wavey middle portion of our passage. We've enjoyed three days of absolutely superb sailing so far. We're still heading more west than we'd like, with the wind having so much south in it, and a big Low that we want to avoid that will be bulging in from the east over the next few days. Hopefully, we'll be able to turn toward NZ before we get to Norfolk Island! All well on board.
Wed Nov 20 14:21 2019 NZDT
Speed:
7.4kn
knts
Run: 161.2nm (291.8km)
Avg: 6.4knts
24hr: 154.4nm
Weather: Sunny and warm. Wind 12kn SE. Seas
We're enjoying another day of lovely South Pacific sailing weather. We've been keeping SCOOTS on a tight reach for the past two days to get as far south as we can, before eventually heading more to the west. It's actually been quite a pleasant ride. We're monitoring ECMWF and GFS models, keeping a close eye on the Low and squash zone forming to the east of us, as well as on the squash zone that's setting up in front of us, doing our best to minimize the effects of both. AWOB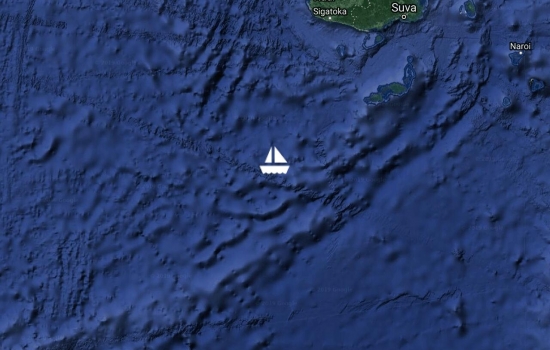 Tue Nov 19 13:18 2019 NZDT
Speed:
6.4kn motorsailing
knts
Run: 160.8nm (291km)
Weather: Sunny and warm. 5kn SE wind. Long-period SE swell
Getting our sea legs after our first night at sea. Leaving Navula Pass we had plenty of wind 15-20kn and choppy 1m seas, but these calmed down to 12kn and <1m seas for a pleasant night. This morning we awoke to nearly-flat seas and no wind. There is plenty of wind in our future. Miles gone 146. Miles to Opua 912. A small private jet just circled us three times before flying away toward Fiji.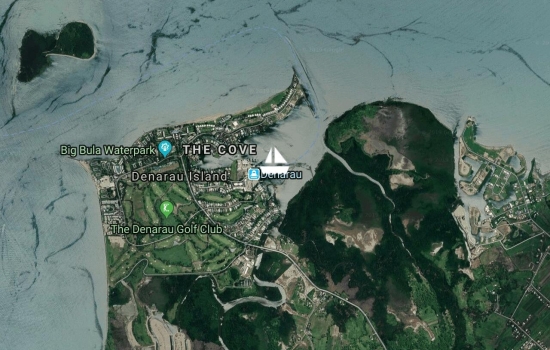 Sat Nov 16 10:06 2019 NZDT
Speed:
0kn
knts
GPS: 17 46.36S 177 22.99E
Weather: A beautiful warm sunny day
Still enjoying Denarau. We're now looking at a Monday departure for Opua.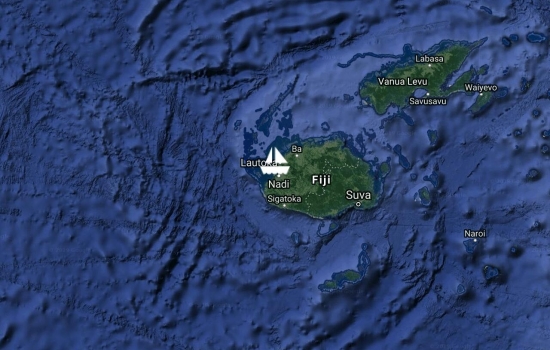 Wed Nov 13 6:00 2019 NZDT
GPS: 17 46.36S 177 22.99E
Run: 141.2nm (255.6km)
Weather: Partly cloudy
Enjoying our time at Denarau while we await good weather for sailing to NZ.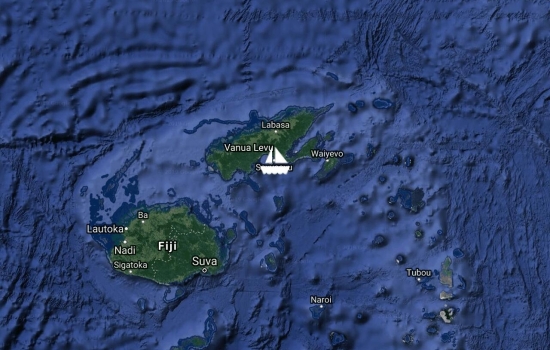 Mon Jun 24 6:12 2019 NZST
Speed:
4.5-5.5kn
knts
Run: 204.5nm (370.1km)
Avg: 11.7knts
24hr: 281.3nm
Weather: 60% cloud, wind
All well on board. Watching the sun rise over the southern coast of Vanua Levu with a parade of several other boats who have also planned their arrival for daylight. The Savusavu Customs officials will be busy today! Less than 10 miles to the entrance to Savusavu Bay. We can smell the earthy fragrance of the island.
Sun Jun 23 12:45 2019 NZST
Speed:
6.1kn motorsailing
knts
Run: 113.9nm (206.2km)
Avg: 4.8knts
24hr: 114.4nm
Weather: 10% cloud, wind 10kn ENE, baro 1015, air temp 83F, water temp 79F, seas < 1m
All well on board. This morning is sunny and warm, as SCOOTS just passed between Totoya and Matuku Islands and is about to pass to the west of Moala Island. After our first night, which was bumpy, the sailing has been great! Last night was spectacular sailing...about 12-16 knots just forward of the beam, and not much wave action. No convective activity at all on this trip! We started the motor a little while ago, to keep us arriving at Savusavu tomorrow morning. The crew is stoked.
Sat Jun 22 12:51 2019 NZST
Speed:
7.5kn
knts
GPS: 21 19.87S 179 17.05W
Run: 160.9nm (291.2km)
Avg: 3knts
24hr: 72nm
Weather: 40% cloud, wind 15kn ENE, baro 1014, air temp 79F, water temp 77F
All well on board. Not a particularly comfortable night, though the weather was spectacular. On a close reach into 15 knots with waves on the beam plus others from different directions, just to add texture. SCOOTS was going too fast with one reef in...we want to arrive at Savusavu in daylight...so we just put the second reef in. All the handholds on board are getting a good workout...moving around is like playing on monkey bars. We pumped the water from port tank to starboard to add some weight to the starboard side to lessen the heel angle.
Thu Jun 20 7:12 2019 NZST
Speed:
0.0kn anchored
knts
GPS: 23 37.88S 178 53.67W
Weather: 60%, wind 15kn SE, baro 1017, air temp 73F,
All well on board. There are now 9 boats anchored in N Minerva: SCOOTS, Rewa, Gone With the Wind, Persuasion, Muscat, Cetacea, Avalon, Aka, Where II. After a lovely, sunny day yesterday with calm wind, the wind has picked up this morning and there are squally on the horizon.
Wed Jun 19 7:18 2019 NZST
Speed:
0.0kn anchored
knts
GPS: 23 37.90S 178 53.67W
Run: 31.6nm (57.2km)
Weather: 30%, wind 7kn SE, baro 1017, air temp 73F,
All well on board. We arrived at the entrance to N Minerva Reef at 4pm local time and had the anchor down about 20 minutes later. Gone With the Wind and AKA were already here. Persuasion arrived after dark and anchored without incident. We expect a parade of boats coming through the pass today.
Tue Jun 18 12:45 2019 NZST
Speed:
7.2kn motorsailing
knts
GPS: 23 58.05S 179 14.02W
Run: 53.4nm (96.7km)
Avg: 7.9knts
24hr: 189.9nm
Weather: 30% cloud but none above us, wind 5kn SE, baro 1018, water temp 73F, air temp 74F, seas
All well on board. Only 25 miles to the pass at N Minerva! Looks like we will be there this afternoon. Beautiful blue sky and sparkly, almost-calm water. Not great for sailing, but with the motor on, we can enjoy it. We can see the breakers on S Minerva, about 2 miles away. This morning just before dawn, after sleeping peacefully for 12 hours perched on top of our chartplotter under the dodger, oblivious to (or unruffled by) our comings and goings throughout the night, the little welcome swallow woke up, stretched, preened a bit, and looked around. She and I quietly watched the sun rise up above the horizon. When the sky had lightened, I offered her some water in a small bottle cap, but she wasn't interested. A moment later, she took flight, flew in a small circle, and returned to perch on a lifeline. Then, a few minutes later, she took off, heading SW, in the general direction of NZ...700 miles away.
Tue Jun 18 6:00 2019 NZST
Speed:
7.5kn motorsailing
knts
GPS: 24 40.31S 179 34.89W
Run: 144.3nm (261.2km)
Avg: 9knts
24hr: 215.1nm
Weather: 70% cloud, wind 8-12kn SSW-SE, baro 1018, water temp 73F, air temp 71F, seas
All well on board. Still motorsailing to reach N Minerva before sunset today. At sunset last night, hundreds of miles from land, a welcome swallow flew into our cockpit and perched on our chartplotter, under the hard dodger, where it's been sleeping, head tucked under its wing, for the past 12 hours. Not sure what will happen at sunrise, but we have food and water ready, just in case.
Mon Jun 17 13:54 2019 NZST
Speed:
7kn motoring
knts
GPS: 26 32.11S 179 22.51E
Run: 181.5nm (328.5km)
Avg: 7.3knts
24hr: 174.2nm
Weather: 30% cloud mostly friendly cumulus tho some rain in the distance, wind 7kn SSW, baro 1018, water temp 73F, air temp 74F, seas
All well on board. Have been motoring for most of the past 24 hours after the wind left us. We either have to slow down to reach N Minerva at dawn on Weds, or speed up to get there before sunset on Tuesday. We're not good at slowing down, hence the motoring. The sun is out, the weather is warm, the sea is lovely, and some dolphins came by today to wish Eric a happy Father's Day. Life is good.
Sun Jun 16 12:54 2019 NZST
Speed:
6kn motoring
knts
GPS: 28 51.62S 177 59.74E
Run: 194.2nm (351.5km)
Avg: 8knts
24hr: 192.6nm
Weather: 100% cloud cover, wind 9kn SSW (DFDW), baro 1018, water temp 70F, air temp 71F
All well on board. Motoring in light wind from behind us. We enjoyed a lovely sail last night, with just the right amount of wind from a good direction. Now, it's begun backing and will come at us from the SE sometime in the next 24 hours. We'll tack then, which will give all the things that shifted to the starboard side of the boat a couple of days ago the opportunity to move to the port side.
Sat Jun 15 12:42 2019 NZST
Speed:
8.8kn
knts
GPS: 31 27.12S 176 44.36E
Run: 179.1nm (324.2km)
Avg: 7.5knts
24hr: 179.1nm
Weather: 40% cloud cover, wind 16kn WSW, bar 1014 (up from 1007 yesterday), water temp 68F
All well on board. Quite a bit of SW wind all last night, 20-25kn, with some periods of 25-30kn. All as expected. But only 2m seas, which was nice. Had the main down and our jib and staysail out when the sun set, so we went with that setup overnight. Still managed to maintain 7-9 knots, and hit 11kn once while surfing down a wave - a new record for us.

Earlier, before the wind came up, we'd been flying our Code 0 - the apparent wind was well within the workable limits for the sail - when a gust came and Bam! the Code 0 exploded. The clew pulled out, the remaining part of the sail that was still attached to the furler flapped in the wind, and shreds of sailcloth fluttered down to the ocean. It was a sad sight. Admittedly, our Code 0 was old and on its way out, but we didn't expect it to go out with a bang! We were able to furl in what remained of the sail and pack it away in its cover, though this required some acrobatics, and quite a bit of effort on both our parts. Aided, of course, by the incessantly rolling deck. Harnesses were a must! This morning the wind, which had been West, now seems to be backing through WSW on its way back to SW. The main and jib are up, we're on a port tack now, instead of rolling downwind. It's sunny, and we had a nice breakfast, so we're happy. An albatross did a flyby, too, which always thrills me. Damn, they're big birds!
Fri Jun 14 12:42 2019 NZST
Speed:
7.7kn
knts
GPS: 33 52.44S 175 38.58E
Run: 151.2nm (273.7km)
Avg: 3.1knts
24hr: 74nm
Weather: 60% cloud cover, increasing, seems warmer than precious passages
All well on board. Getting our sealegs back after six months in port.
Wed Jun 12 11:39 2019 NZST
Speed:
0knts
knts
GPS: 35 50.30S 174 28.13E
Run: 11.2nm (20.3km)
Weather: overcast, light rain, no wind
Looking forward to a Thursday departure to points north. Fiji for sure, maybe N. Minerva, too.
Tue May 14 12:48 2019 NZST
Speed:
0 kn
knts
GPS: 35 43.45s 174 19.58e
Run: 10.9nm (19.7km)
Weather: coolish, overcast, calm
Still enjoying the Town Basin Marina in Whangarei.
No blogs available for this yacht.
Loading map and updates ....
Loading track, please wait ....