Scott-Free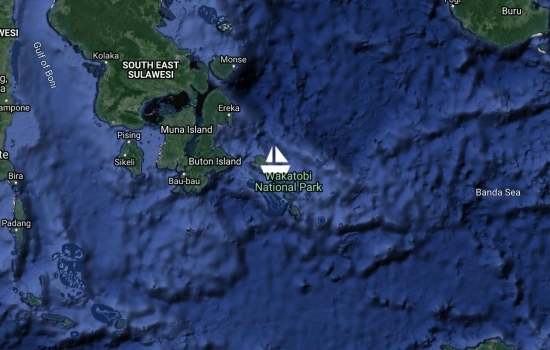 Wed Aug 9 16:47 2017 NZST
GPS: 5 28.801s 123 45.954e
Run: 86.8nm (157.1km)
Avg: 3.4knts
24hr: 82.7nm
Arrived safely in Hoga Island in the Wakatobi's. Will stay here for a few days R&R before moving up 30nm to Wangi Wangi.
Tue Aug 8 15:36 2017 NZST
Run: 148nm (267.9km)
Avg: 6.2knts
24hr: 149.2nm
All well aboard S-F. Only vessels we saw last night had AIS and lights! Mind you one decided to cross in front of us rather than behind....

Going along under main alone to reduce speed for an early am arrival at Hoga Island. May well have to reef or scandalise the main as still going too fast
Mon Aug 7 15:48 2017 NZST
Speed:
6kts
knts
Run: 389nm (704.1km)
Left Banda Neira yesterday at 0900 for a 400nm trip to the Wakatobi's. Hoga and then Wangi Wangi.

All well on board S-F, making good speed but will have to slow down as we get closer to make a morning approach on the 9th.

In convey with about 6 other vessels and more departing. "Chi" is about 2.5 nm astern and has been on AIS continually.
Fri Jul 21 17:09 2017 NZST
Run: 158.8nm (287.4km)
Avg: 5.4knts
24hr: 129.4nm
Arrived safely in Debut at 1200 Australian time (think it's 1100 here?!). Plenty of room in the anchorage. Had our anchoring beer and our traditional Bacon Butties and Bolly.
Thu Jul 20 11:42 2017 NZST
Run: 174.7nm (316.2km)
Avg: 7.3knts
24hr: 175.8nm
All well on board. No dramas in the night, only light we saw all night was Mawari's. 150nm to run, should be in early tomorrow morning.
Wed Jul 19 11:51 2017 NZST
Run: 150.8nm (272.9km)
Avg: 7.2knts
24hr: 172.8nm
All well on board. Keeping speed about an average 6.5kts should get us to Debut early morning Friday. Had Mawari and Xamala in visual and AIS all night - very comforting.
Tue Jul 18 14:54 2017 NZST
Speed:
6.5
knts
Run: 131.5nm (238km)
Avg: 5knts
24hr: 120.5nm
Only 80nm this last 24 hours, not bad considering we spent 12 of those trapped by a huge surface net!! A pretty horrible night was spent bobbing about. At daylight the net had dropped off and we were able to sail off YAY. Bob and Sue on Mawari were very good and held station off of us all night in case we needed help.

All well on board, just SO pleased to be underway again.
Mon Jul 17 12:42 2017 NZST
Run: 138.4nm (250.5km)
Avg: 6.6knts
24hr: 158.5nm
0800 posn. First night at sea (Arafura Sea!), all well on board. Running under poled twin headsails. Still in VHF contact with Mawari. Some other boats in fleet behind us.
Sun Jul 16 15:45 2017 NZST
GPS: 10 35.895s 142 14.294e
Leaving for Indonesia shortly, should take 5-6 days.
Mon Jul 10 15:54 2017 NZST
GPS: 10 35.911s 142 14.294e
Run: 1531.9nm (2772.7km)
Arrived safely in Horn Island after overnight from Margaret Bay. A pretty good passage, even went through Albany Passage!

Now to prep to check out on 14/15th for Indonesia.
Sat Nov 7 9:40 2015 NZDT
Run: 161.9nm (293km)
Avg: 6.8knts
24hr: 162.6nm
Anchored safely in Coffs Harbour after 887nm in 6 days and 17 hours. Off to sleep to await marina and customs opening.
Fri Nov 6 9:46 2015 NZDT
Speed:
5-6kts
knts
Run: 155.8nm (282km)
Avg: 6.3knts
24hr: 150.9nm
Weather: 20-25kts NNE, swell 2-3m SE, 70% cover, 1014, water 21.2 air 23.4
On the home strait, 140nm to go to Coffs. Course a bit north for Coffs but expecting a day of northerly winds which should give us the southing we need. Sun and some blue sky appeared for the first time in two days. All well on board, looking forward to making landafall tomorrow morning.
Thu Nov 5 8:59 2015 NZDT
Speed:
5
knts
Run: 132.9nm (240.5km)
Avg: 5.9knts
24hr: 140.7nm
Weather: 8-10 knots wind from West, 100% cloud cover, 1-2 metre swell, barometer 1015
Woke up to a grey day with 100% cloud cover. Motoring into light winds from west with reefed main, waiting for front to pass and wind to pick up from east. Very different from the sunny days we've had so far! 270 nmiles to Coff's Harbour which is now our destination unless there is a drastic change in the forecast. All well on board.
Wed Nov 4 10:19 2015 NZDT
Run: 134.7nm (243.8km)
Avg: 5.4knts
24hr: 130.5nm
Weather: NNW 6-8kts, sea slight, 10% cover, 1019, sea temp 20.4, air 24
Still motorsailing through the high. Wind went to NNW in night so managed to keep genoa filled and reduce engine revs. All well on board. 390nm to Coffs. On schedule for a Saturday arrival.
Tue Nov 3 9:33 2015 NZDT
Speed:
5-5.5
knts
Run: 4808.7nm (8703.7km)
Avg: 198.8knts
24hr: 4772.2nm
Weather: 10-12kts ENE, sea calm, 1020, 24degrees, 0% cover
Motorsailing since late yesterday. Had an adverse current and could only make SOG 4.4 with boat speed 6.5kts at 2000rpm!At 0600 managed to reduce rpm as both reading 6kts Phew... Beautiful cloudless day - deck shower day methinks.
Mon Nov 2 9:22 2015 NZDT
Speed:
4.5-5
knts
Run: 5084.6nm (9203.1km)
Avg: 214.2knts
24hr: 5141.7nm
Weather: ENE 13-17, swell 1.5m SE, 50% cover, 1021
going along quite nicely, wind has come more north so a tad rolly. Had 1kt of current against us all night, now have 1.5kt... All well onboard. On track for Sunday lunchtime arrival at Newcastle.
Sun Nov 1 9:38 2015 NZDT
Speed:
6.5
knts
Run: 133.1nm (240.9km)
Weather: ESE 10-15, swell 1-2m, 1021 10% cover
Left Noumea at 1400 yesterday, managed to sail all way out once clear Port Moselle - Fab! Winds died overnnight 15-20 to 10-15. Now full main and genoa.
Wed Oct 14 13:17 2015 NZDT
Run: 800.4nm (1448.7km)
Avg: 28.2knts
24hr: 677.2nm
Weather: Sunny, 50% cover, 25C, 1020, SE 15 (at anchor)
Arrived safely in New Cal. Thru' Havana pass at 0630 (HW 0800), no problems and carried the flood to anchorage. Will sleep and go to Noumea in the morning.
Tue Oct 13 8:55 2015 NZDT
Speed:
6.5
knts
Run: 634.9nm (1149.2km)
Avg: 26.8knts
24hr: 644.3nm
Weather: 17-22kts ESE, 3M sea, 90% cover, 1019
Lumpy start to passage. Wind and seas eased overnight. 120nm to Noumea. Hope to make 0800 tide at Havana Pass. All well onboard
Mon Oct 12 9:16 2015 NZDT
Run: 1339.3nm (2424.1km)
Avg: 3.5knts
24hr: 83.8nm
Leaving Port Resolution 0900 for Noumea.
Sat Sep 26 8:42 2015 NZST
Speed:
6kts
knts
Run: 1184.6nm (2144.1km)
Avg: 46.7knts
24hr: 1120nm
Weather: S 6-8kts, 1016, 40% cloud cover
SE of Anatom, ETA 1000. Funny old weather through the night, clear skies so no squalls but wind 12-22kts. Very difficult to set sails; if set for bottom end, then over canvassed and vice versa. Wind dropped so now motor sailing.
Fri Sep 25 7:19 2015 NZST
Speed:
3.6
knts
Run: 99.7nm (180.5km)
Avg: 4.4knts
24hr: 104.6nm
Weather: v. light and var mostly from S. 1013, 10% cover, sea smooth
Motoring in no wind and flat seas. Waiting for wind to pick up from the South....
Thu Sep 24 8:27 2015 NZST
Speed:
3-4
knts
Run: 147.5nm (267km)
Avg: 6.4knts
24hr: 153.7nm
Weather: SE 6-9, sea slight, 5% cloud cover, 1015, 25deg C
Wind has eased more than expected. 200 miles to go to Anatom, ETA now Saturday am.
Wed Sep 23 9:25 2015 NZST
Speed:
5.5-6.5
knts
GPS: 18 40.14s 175 16.04e
Run: 404.6nm (732.3km)
Weather: 12-15kts SE, clear blue sky, swell 1-1.5S, 1015
On passage to Anatom from Fiji. Left 1300 Tuesday. ETA Friday
Fri Jul 17 8:32 2015 NZST
Run: 2487.1nm (4501.7km)
Avg: 3knts
24hr: 71nm
Anchored in Fulanga yesterday afternoon after a brisk overnight passage from Vanua Balava.
Fri Jun 12 8:16 2015 NZST
Run: 2539.5nm (4596.5km)
Avg: 21.1knts
24hr: 506.2nm
Arrived safely in Savusavu on Monday
Sun Jun 7 7:52 2015 NZST
Speed:
5.5
knts
GPS: 19 57.56s 178 37.386e
Run: 231nm (418.1km)
Avg: 9.5knts
24hr: 229.1nm
Weather: 12-14 kts E, 40% cloud cover, 1017
Boisterous and damp last night but been making good speed.

Now on the run in to Savusavu, should be there Tuesday morning.

All well on board
Sat Jun 6 7:40 2015 NZST
Speed:
5-6
knts
GPS: 22 16.65s 178 47.70w
Run: 93nm (168.3km)
Weather: 100% cloud cover, drizzle, 12-15 SE, Baro 1020
Left Minerva N yesterday 1500.

Motor sailed till 0400. All well onboard
Wed Jun 3 8:24 2015 NZST
At anchor in minerva.

Should be leaving at the weekend for Savusavu
Tue Jun 2 11:16 2015 NZST
GPS: 23 37.07s 178 54.83w
Run: 124.1nm (224.6km)
Avg: 34.6knts
24hr: 831.2nm
Weather: Clear blue sunny skies and 26 degrees! 1018 HPa
1030 hrs arrived safely in North Minerva Reef.
Tue Jun 2 7:41 2015 NZST
Speed:
4.5
knts
Run: 79.4nm (143.7km)
Avg: 3.2knts
24hr: 77.8nm
Weather: ESE 5-8 1018
10nm from Minerva North. Will enter about 1000 hours. Will wait here until the wind picks up again. Looks like that will Friday or Saturday.

All well on board.
Mon Jun 1 7:12 2015 NZST
Speed:
5
knts
Run: 372.1nm (673.5km)
Avg: 5.2knts
24hr: 125.5nm
Weather: SSE light all night, now 7-9Kts still from SSE 1018
All well on board.

Wind really quite light all way to Fiji now...

Not enough diesel to motor all the way, so rather than drift around will motor to Minerva N and wait a few days before carrying on.
Fri May 29 8:01 2015 NZST
Speed:
6.0
knts
Run: 134.2nm (242.9km)
Avg: 5.6knts
24hr: 134.5nm
Weather: Wind just shifted from SE to E 1025Hpa
Great day yesterday, good breeze in slight seas. One or two squalls at 0400 but looking good now.

Fancied first hot food yesterday lunch time-yippee
Thu May 28 8:04 2015 NZST
Speed:
4.0
knts
Run: 271.1nm (490.7km)
Avg: 11.5knts
24hr: 276.7nm
Weather: ESE 5-10 with 20+ gusts in squalls
Squally morning yesterday and woken to more of the same! Will let more sail out once squalls pass or start engine if wind too low All well onboard.
Wed May 27 8:33 2015 NZST
Speed:
6.5
knts
Run: 55.4nm (100.3km)
Weather: SW 15-18
Good run from Opua. All well on board
Mon May 25 12:28 2015 NZST
Waiting in Opua. Hope to leave tomorrow for Fiji.
No blogs available for this yacht.
Loading map and updates ....
Loading track, please wait ....