Seabride
Fri Aug 21 6:57 2015 NZST
GPS: 17 46.172S 177 11.21E
Back in Musket again. Engine problems defeated our final attempt to go north. Will chill here until we pick up bro Norm and head up Yasawa way next week.
Sun Aug 2 10:17 2015 NZST
GPS: 17 46.172S 177 11.219E
Run: 14.5nm (26.2km)
First post for the season although w've been here for 3 months already! It's been a busy boat work time this year with weeks spent in Vuda. A jewel amongst all the toil was a family get together at Musket that was complete magic from start to finish. Great to see the grandkids having all out fun in this stunning environment. Weather is holding us back but next destination is Makogai Savusavu area.
Mon Oct 13 8:11 2014 NZDT
GPS: 17 40.87S 177 23.22E
Run: 14.5nm (26.2km)
Last post from Seabride. We are put away for the summer with just a few cyclone proofing jobs to go. Soon we will sail away on Just in Time back to NZ ! Looking forward to catching up with family friends and our other life. Great season, great weather! Here's to next year in Fiji.
Tue Sep 30 11:06 2014 NZDT
Run: 2.7nm (4.9km)
In Musket relaxing before the arduous task of preparing SeaBride for her cyclone hole. It's raining! But maybe not enough to break the drought. We have a week left on Seabride . Time went quickly this year!
Fri Sep 26 7:40 2014 NZST
GPS: 17 45.05S 177 09.14E
Run: 57.6nm (104.3km)
We reluctantly extracted ourselves from the Yasawas and are now back on Malolo via Somosomo and Yalobi. Both anchorages were a tad rolly and the sail down often slow with flukey changeable winds. But beautiful weather. When will these poor guys get rain? The Islands are brown and dry and often burnt out. We are now round the corner from Musket and are bracing ourselves for lots of work putting SeaBride in her cyclone pit and then the return home on Just in Time. It's all coming to an end.
Sat Sep 20 8:23 2014 NZST
Still in glorious Blue Lagoon! Best weather ever and not in a hurry to move. Good times snorkelling swimming eating mud crabs SUP kite surfing practice. Will head south soon... I think.
Fri Sep 12 10:12 2014 NZST
Run: 58.3nm (105.5km)
Lazy about entering our position lately but here we are relaxing at Blue Lagoon. Had a food time at Octopus and mantas staying several days at each one. The mantas put a good show. Big news is that having spent the last month tangling with Fiji bureaucracy we have successfully imported her into Fiji. Suits us oldies! Beautiful islands , great people and no more trips home or to Futuna! It was quite a battle so we may rename Seabride 'Fiji Time'.
Wed Aug 13 0:00 2014 NZST
GPS: 17 46.18S 177 11.25E
Run: 14.5nm (26.2km)
Musket is as relaxing as ever. The anchorage was full including 3 super yachts. The numbers are increasing every year. We enjoyed shlomping at the pool ,walking, eating cheese rolls and chilling out with friends at the new spiced up $5.50 bar. No more wood fired BBQ 's , a totally new bar setup with loungers etc what is the
Mon Aug 11 0:00 2014 NZST
GPS: 17 40.87S 177 23.22E
Run: 2.7nm (4.9km)
Squeezed ourselves into Vuda. We thought we may make progress on our battle to get SeaBride imported into Fiji. Being FIFO's is rather appealing as we love this country and the people and there's endless places to cruise to, with beautiful anchorages and wonderful coral and tropical fish to enjoy. The correspondence has become a comedy of errors with emails never arriving or going to the wrong people. A few days in then off to Musket in desperation.
Sun Aug 10 0:00 2014 NZST
GPS: 17 38.56S 177 23.58E
Run: 59.2nm (107.2km)
Flew down the reef passage in company with Katie M 11. We had all sorts of winds but managed to make it to Saweni Bay and the familiar smell of cane fires and ash! There was also an early morning n'golovan taking cane to the mill in Lautoka. Memories of a South African childhood. Quiet anchorage and we managed to stay awY from the ever welcoming horns of the reef which has had quite a few 'customers'!
Fri Aug 8 0:00 2014 NZST
GPS: 17 19.12S 178 13.48E
Run: 48.8nm (88.3km)
Another fantastic run from Makogai all the way to Nanani I cake. As usual the wind picked up on approaching through the reef. There's a reason why this area is famous for kitesurfing. We were happy to sink the anchor into mud and relax out of the wind in this quiet anchorage.
Thu Aug 7 0:00 2014 NZST
Run: 52.2nm (94.5km)
Avg: 3.9knts
24hr: 93.3nm
Left Savusavu in company with Vixen 7 Tusi2 and Slice of Heaven heading to Viani Bay but SeaBride decided that battling into wind again was not on so we turned and had a fab. Sail to Makogai. Sometimes even doing 8 knots! Peaceful night in with several kiwi boats but out again at dawn.
Wed Aug 6 10:34 2014 NZST
GPS: 16 46.69S 179 19.973E
Run: 52.2nm (94.5km)
We've been in Savusavu for 10 days having a jolly old time of it with 128 boats all sheltering from windy rainy weather. There was a huge contingent of kiwi boats and we all got together to celebrate Rayfiki Ray's birthday. We were going to leave but not being party poopers we have stayed to welcome in JIT. It's Jock's birthday today! We ARE going to leave tomorrow although we are still not certain where we are going to!! The tempting local restaurants are making us plump and sleek.
Fri Jul 25 0:00 2014 NZST
Run: 10.9nm (19.7km)
Tucked in here for an uneventful night and an early morning start for Savusavu. Only 'happening' was a longboat visit . They'd run out of kava on the island and were desperate. They offered fruit in return but we were leaving too early to take them up on it. No worries we were happy to oblige as they are always friendly and helpful here and we come here often.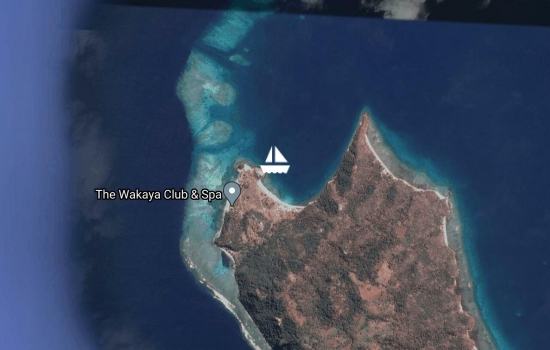 Thu Jul 24 9:13 2014 NZST
Run: 34.3nm (62.1km)
We've been back in our favourite spot for a few nights after 5 very interesting days on Gau. SeaBride had a leaking through hole fitting repaired with mega help from JIT and Vixen but more about that in a blog, we saw whales, Mantas and Turtles and spent time in the village. Wakaya has been great as usual with a special treat. of a young whale breaching within the reef. Today we head to Makogai and tomorrow to Savusavu again.
Wed Jul 16 0:00 2014 NZST
GPS: 18 01.24S 179 15.44E
Run: 36.3nm (65.7km)
pleasant sail to Gau from Levuka yesterday. IQ waypoint a bit close to reef in our rolly conditions(with strong current)so a bit of a nailbiter getting in. We anchored in Herald bay but decided to move here as wind was onshore and the coral growly. Calm here with mud so we had a good night. Just wondering if Vixen and JIT will come today. This looks like an intriguing area to explore. No whales and mantas yet but we are hopeful.
Mon Jul 14 9:31 2014 NZST
GPS: 17 40.94S 178 50.17E
Run: 11.8nm (21.4km)
After 5 idyllic days at Wakaya we up chorded and motored across to Levuka. Talk about a time warp! Blink your eyes and you're back 100 years. We had a wander with Ross and Pam and then a highly recommended Chinese meal upstairs at Kim's. We can't wait to explore with cameras and Lonely Planet guide.
Wed Jul 9 20:40 2014 NZST
Run: 11nm (19.9km)
We sailed here in light winds this morning. This is a private island owned by millionaire Gilmour. We are not allowed on land although there are no people apart from a village of 300 workers who maintain the 'club' resort and the private millionaire houses. We had a dive but it's not in the same league as Namena or even Makogai. BUT we have 3 G so a great opportunity to catch up on the world and the storms in NZ!
Fri Jul 4 0:00 2014 NZST
Run: 24.6nm (44.5km)
Had a dive in the am then headed to Makogai again. Seabride should have left earlier as we hit 20+kts on the nose winds and short chop and anchored just after dark. Wet and windy and so slow! makogai spun the magic again and we chilled out, went for a walk and one or 2 dives. Grat place. with an intriguing history. 5.000 lepers used to live there ntil the centre closed in the early 70's. Lots of the building remain but the jungle is taking over. There must be so many untold stories.
Tue Jul 1 0:00 2014 NZST
Run: 24.6nm (44.5km)
Avg: 3.7knts
24hr: 89.2nm
Great sail to Namena Marine reserve in cimpany with Just in Time and Vixen 7. We spent a few nights here and had some spectacular dives. This is the reef as it used to be. A profusion of fish and a riot of coral colour and form. Spellbinding stuff. Fun anchorage with the boobies shrieking and performing.
Mon Jun 30 17:22 2014 NZST
Run: 3.7nm (6.7km)
We've finally left Savusavu and are poised ready to sail to Namena early tomorrow to make use of some calm weather for diving. Many people believe the diving at Namena is some of the best in the world. Our satphone is not working too well so we may not be able to update until we are in cellphone range again.
Sun Jun 22 13:30 2014 NZST
GPS: 16 46.65S 179 19.99E
Run: 52.3nm (94.7km)
Lovely sail from Makogai with JIT. We got in just as the wind was picking up so perfect timing. It's great to be back in Savusavu. It's the jewel of all the Fiji towns we've been to. We'll be here for a while as we have a few issues to fix on the boat but that's no hardship. We have good company - Vixen 7 and JIT amongst others. Great game last night! Go Black!
Mon Jun 16 0:00 2014 NZST
Run: 24.4nm (44.2km)
In Makogai with JIT and 2 other boats. Went for a beautiful snorkel while most of the others had a scuba. The bommy was covered in myriads of fish like a golden shower with Trevally coming in for a feed after herding them together. Survival is tough on the reef! We then burnt rubbish and had a cozy dinner on Lionel and Irene's boat. Today is a bit more blustery. Tomorrow we'll head for Savusavu if we can get in with the Oyster rally coming in.
Sat Jun 14 0:00 2014 NZST
Run: 22nm (39.8km)
Dribbled our way in in zero wind by lunch yesterday and went for a pretty dive with Just in Time. What a great anchorage. We're going to stay put for a while. No reception here so satmail please family! Last night it rained with a light SE but looks to be clearing. Ian is anxious to try out his new divegear and I'll be trying my new paddle on the SUP.
Wed Jun 11 16:45 2014 NZST
We're slogging our way across to Savusavu. Have had strong headwinds so slow progress for SeaBride. We've never investigated so many anchorages on this route before. Tonight in Viti Levu Bay and then Naigani and on to Makogai where we hope to see Just in Time!
Seabride - Vuda vapours
We are endeavouring to resurrect SeaBride from her cyclone grave here at Vuda Marina and after 10 days of hard yakka we think we'll 'splash' and go on Friday. First stop Musket for a shakedown systems test and then we'll be Savusavu bound. I hope this first blog attempt works!
Loading map and updates ....
Loading track, please wait ....