Seeker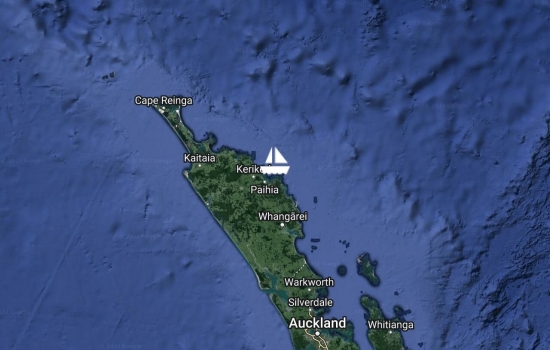 Sat Nov 17 7:06 2018 NZDT
GPS: 35 12.780S 174 13.402E
Run: 959.8nm (1737.2km)
Avg: 4knts
24hr: 96.4nm
Weather: Beautiful calm Summer NZ day!
Back in Bay Of Islands New Zealand again! Had a great passage from New Caledonia last week. Exactly 5 day passage from Illes des Pins---wonderful place! Will spend the southern Summer here sailing in NZ and make a plan for next season.
l
Wed Nov 7 8:03 2018 NZDT
Run: 1199.6nm (2171.3km)
Weather: Clear blue Sky, light easterly wind
Getting ready to head from New Caledonia to New Zealand today. Have had a great time cruising here since arriving from Queensland Australia in early October.
Looking forward to being back in NZ!
Sat May 5 15:23 2018 NZST
GPS: 20 20(750)S 148 56(987)E
Run: 1562.5nm (2828.1km)
Just arrived at Hamilton Islands in the Whitsundays. Departed Hobart,Tasmania on April 18 and then had a great 4 day sail nonstop up to Sydney in great following winds and seas. One night pit stop in Sydney to retrovision and take on an additional crew member and then 6 days nonstop to Mackay, Queensland--again in great following winds and seas. A bit lumpy in the final 24 hours but overall a wonderful sail riding the southerlies all the way. Took a 2 day rest in Mackay and then have island hopped up to Hamilton over the past few days where the southeast trades are perfect!
Thu Dec 21 14:09 2017 NZDT
GPS: 42 54.036S 147 20.118E
Run: 206.7nm (374.1km)
Been back sailing in Tasmania for this past month and will be cruising here for another Tassie Summer! Has been a great one so far and looking forward to the finish of the Sydney-Hobart here next week. Happy Holidays and New Year!
Mon May 1 20:22 2017 NZST
GPS: 45 53.48S 147 20.33E
Run: 207.9nm (376.3km)
Still cruising in Tasmania and loving it! Has generally been a very settled beautiful Autumn here but nights are starting to cool down now. Will fly back to Colorado for most of the Southern Winter to have a Northern Summer and then do another Summer cruising here next season in this incredible place! Hope all is well with everyone!
Wed Mar 1 11:19 2017 NZDT
Run: 662nm (1198.2km)
Sailed down the East Coast of mainland Australia in early January and in Mid-January made the crossing from Eden to Wineglass Bay, Tasmania. Have had a wonderful time sailing throughout SE Tasmania and enjoyed some great diving ,fishing, cycling ,and hiking in this wonderful land! Have met very many very nice Tassie sailing folks on their boats and looking forward to spending another year here exploring before moving on. One season is far too short to see all that Tasmania has to offer.
Sun Dec 4 19:02 2016 NZDT
Been back aboard Seeker in Sydney Harbor for the past month after a great Northern Hemisphere Summer and Autumn on land in the mountains of Colorado and the northern lakes of Minnesota. Weather has been beautiful here for sailing in Sydney this past month--very dry actually--this part of Australia could use more rain. Very little activity out in the Harbor except for weekends and most nights we have great anchorages to ourselves or shared with another boat or two. Have seen no other foreign cruising boats here just yet this season. Some of the Sydney to Hobart boats showing up for daytime training out on the Harbor and out the heads which is fun to watch. A Chinese team blew out their very large spinnaker right next to us a couple days ago--torn to shreds. I guess they need a little more practice!
Flying to Bay of Islands,NZ this week for about 10 days of sailing and diving with friends there--need to check on my Paua, Cray, and Scallop spots! Then back here for Christmas,start of Sydney to Hobart race, and New Year. Then sailing down to Tasmania--most likely be there through this southern Summer and next. After that maybe sail back to NZ....who knows for sure!
Merry Christmas to all and safe sailing!
Fri Apr 29 10:24 2016 NZST
Run: 629.4nm (1139.2km)
After a great Summer sailing in Australia, Seeker is taking a well deserved rest for the Winter tucked away in Sydney Harbor. Will resume cruising in about 6 months sailing down to Tasmania and spending the southern Summer there hopefully.

Fair winds to all the boats heading up to the tropics for the season!
Sat Oct 17 8:33 2015 NZDT
GPS: 24 45.643s 152 23.25822e
Run: 199.3nm (360.7km)
Avg: 8.3knts
24hr: 198.2nm
Weather: calm seas, 5%cc, 18SE
actually 40m to go but who is counting! Enjoy Aus.
Fri Oct 16 8:25 2015 NZDT
Speed:
7.2
knts
Run: 180.3nm (326.3km)
Avg: 7.5knts
24hr: 181.1nm
Weather: 18SE, SE swell 1m, 20%cc
170m to Bundaberg, eta tomorrow morning
Thu Oct 15 8:31 2015 NZDT
Speed:
7.2
knts
Run: 188.5nm (341.2km)
Avg: 7.9knts
24hr: 188.8nm
Weather: 18-20ESE, 1.5m ese swell, 5%cc, 1017
fishing yesterday a bust getting only a bent hook. beautiful sailing conditions with a starry night
Wed Oct 14 8:33 2015 NZDT
Speed:
7.4
knts
Run: 192.5nm (348.4km)
Avg: 8knts
24hr: 192.6nm
Weather: 14ESE, 1m swell, 10%cc, calm seas
sounds great and peter is planning a fishing day. Eta is friday night to saturday in Bundaberg
Tue Oct 13 8:34 2015 NZDT
Speed:
8.5
knts
Run: 225.3nm (407.8km)
Weather: ese 16-22, SE swell 1.5m, 10%cc
great starry night. Good conditions
Tue Oct 6 8:35 2015 NZDT
Speed:
7.0
knts
Run: 185nm (334.9km)
Avg: 7.7knts
24hr: 185.1nm
Weather: 1019, light wind, 14ese, 1m swell, 98%cc
32m from Havannah pass and will continue on to Noume
Mon Oct 5 8:36 2015 NZDT
Speed:
7.5ms
knts
Run: 350.7nm (634.8km)
Avg: 7.4knts
24hr: 178.4nm
Weather: 12-14SE, 10%cc, calm seas, 1016
great radio signal and thanks from GHR for relay
Sat Oct 3 9:26 2015 NZDT
Speed:
8.5
knts
Run: 161.4nm (292.1km)
Weather: 15-20E
eta Tuesday ad will have strong winds thru trip
Sat Jun 13 7:31 2015 NZST
Run: 198.8nm (359.8km)
Avg: 4.1knts
24hr: 99.5nm
arrived yesterday morning
Thu Jun 11 7:33 2015 NZST
Speed:
8.9
knts
Run: 190.7nm (345.2km)
Avg: 7.9knts
24hr: 190.6nm
Weather: 50%cc, swell down to 1m but lumpy seas, 20-25se
Wed Jun 10 7:33 2015 NZST
Speed:
002t
knts
Run: 200.7nm (363.3km)
Avg: 4.6knts
24hr: 110.6nm
Weather: 20-30ese, 2.5m swell
Mon Jun 8 12:00 2015 NZST
Run: 180.5nm (326.7km)
Avg: 7.5knts
24hr: 180.5nm
Sun Jun 7 12:00 2015 NZST
SE 16-25, speed 6.5 om 019t
No blogs available for this yacht.
Loading map and updates ....
Loading track, please wait ....