Sel Citron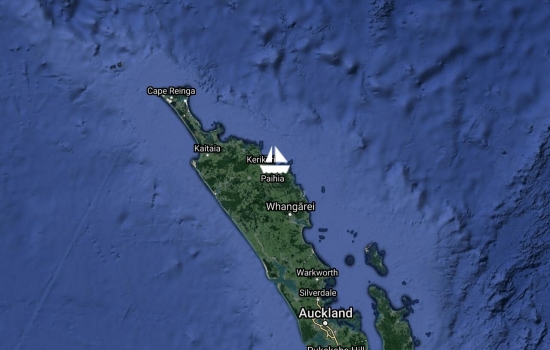 Thu Dec 8 14:48 2016 NZDT
GPS: 35 18.810S 174 07.359E
Run: 158.4nm (286.7km)
Avg: 8.6knts
24hr: 207.1nm
A wet night of motoring, and a foggy, chilly morning: welcome to Inzud! Touched down on the Q dock at Opua at 11.50am NZ time. Irene and Lionel from Kiapa there to take our lines - thank you! Cleared Customs and had a late breakfast. Thanks to Marine for being great crew! Overall, despite creating a few new items for the 'To Do' list, a pretty good passage, even if it was our slowest ever - every day beat the record set the day before for slowest 24hr run, but we'll happily take 'slow' over some of our previous, more 'exciting' passages...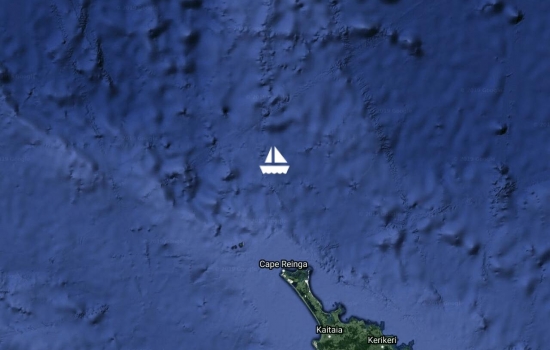 Wed Dec 7 20:27 2016 NZDT
Speed:
7.0knts
knts
GPS: 33 24.86s 172 34.15e
Run: 401.4nm (726.5km)
Avg: 7knts
24hr: 167.5nm
Weather: light overcast
Several of our emails went missing inexplicably yesterday.... We motor-sailed through the afternoon and evening. All good until the 2am change of watch when we tried to shake out the reef and ... nothing happened. Bit of a hiccup with the main halyard which saw us heading NE, head to wind, for a couple of hours while we sorted stuff out. Why do these things only happen in the middle of the night?? On the positive side, the sea was calm and there was almost no wind and we don't have that far to go. Motored with the genoa, then screecher in light winds today. Looking forward to landfall tomorrow.
Mon Dec 5 10:57 2016 NZDT
Speed:
5.5knts
knts
GPS: 28 39.418s 168 40.675e
Run: 284.7nm (515.3km)
Avg: 11.6knts
24hr: 278.9nm
Missed doing an update yesterday afternoon, sorry. We kept 2 reefs in the main until mid afternoon, then shook one and continued with full genoa. Very pleasant sailing with a low swell - just wish it were in the right direction... Norfolk Island is in our sights! Overnight the wind died to under 10k SE so we've been motoring since 01:00 - but looks like we might be able to get sailing soon. Currently about 40nm from Norfolk (1900 utc), but we're now heading more SE, so all good!
Sun Dec 4 10:27 2016 NZDT
Speed:
6.5-7knts
knts
GPS: 24 36.461s 169 31.566e
Run: 173.3nm (313.7km)
Avg: 4.4knts
24hr: 105.3nm
Weather: 20-25k SSE.
A boisterous time with TWS 15-30k SSE and us as hard on the wind as we can without making it too uncomfortable. Slowing the boat down to that end: 2 reefs in the main and sometimes down to the handkerchief reef in the genoa. Fortunately, seas are only about 1.5-2m, so not bad. Max TWS 47k! Still not exactly eating up the miles - 152nm for 24 hours.
Fri Dec 2 18:57 2016 NZDT
Speed:
6.5-7knts
knts
GPS: 22 22.587s 170 46.427e
Run: 161.2nm (291.8km)
Weather: 8-13k, showers.
A nice comfy start to the trip - winds out of the NW quarter for the first 12 hours or so, then all around the clock before settling into SE 10-15k. Still a few rain squalls around, but seas are slight so we're happy about that. Buddy-boating with Kiapa who are about 4 miles away from us after 24 hours. Not the fastest sail we've had, but we'll take comfort over speed... Marine, our crew is back to almost 100% and all's well on board. 156nm for 24 hours.
Sat Nov 26 8:04 2016 NZDT
GPS: 20 14.238S 169 46.645E
Arrived in Aneityum 0830 yesterday morning. Quite a bumpy - but fast - ride yesterday, with winds 15-30k, but then dropping to nothing overnight. We motored all the way from Tanna. All well, though Marine is still finding her sea legs. A wonderful welcome from our buddy-boating, hula-dancing mates on Kiapa, who broke out the grass skirts in our honour! We jointly decided to miss this weather window and wait for the next one. So we will be here for a few days at least. Not a hardship!
Sat Nov 26 0:00 2016 NZDT
GPS: 20 14.238S 169 46.645E
Run: 197.2nm (356.9km)
Avg: 3.8knts
24hr: 91.5nm
Hanging out in Aneityum. Looking like we'll have to weather a tropical low sometime this week, and no windows opening before Saturday, by the look of it. Managing to keep ourselves amused: cocktail competition with the Kiapas last night: Salty Lemons, Mango Madness, Kiapa Painkillers... should perhaps have been some aspirin in the Painkiller...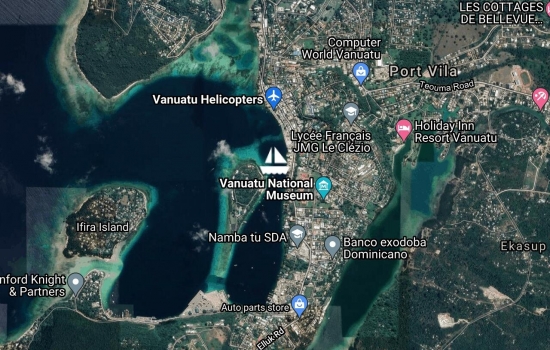 Wed Nov 23 20:15 2016 NZDT
GPS: 17 44.589S 168 18.749E
Run: 0.1nm (0.2km)
Hmm. This reads like we've been in Port Vila since July 21... Well, rest assured we haven't! We've had a great season cruising Vanuatu, from Aneityum all the way north to Espiritu Santo, across Ambae to Maewo, Pentecost and down to Ambrym, back to Santo and then down via Malekula back to PV. Really not wanting to leave, but cyclone season is looming, so we're looking southwards... Leaving here (Port Vila) tomorrow morning for Aneityum, and possible departure Friday for Opua. We have a young crew member on board, a lovely girl from French Guyana called, suitably, Marine. We'll do daily updates en route...
Thu Jul 21 11:19 2016 NZST
GPS: 17 44.58277S 168 18.80705E
Run: 97.7nm (176.8km)
Anchored off Iririki resort in Port Vila Harbour. Enjoying the creature comforts of a tropical port: fabulous local market with great fruit, veg and flowers; friendly locals; glorious clear warm water; catching up with friends...accessing internet! We'll be here a few more days then start heading north.
Sat Jul 16 14:12 2016 NZST
Speed:
09.5knts
knts
GPS: 18 58.40s 169 02.76e
Run: 99.7nm (180.5km)
Weather: 15-18k, 1.5m swell, sunshine.
After a few days of rest and recuperation in Aneityum, we left yesterday and had a great sail north to Tanna Island, anchoring in Port Resolution: a really beautiful anchorage, with the sunset lighting up the smoke cloud from Mt Yasur, the live volcano just to our north. Having been to see the volcano on a previous trip, we just stopped for the night and left at daybreak this morning. Currently on a downwind fly under gennaker, en route to Dillons Bay on Erromango. Damian hooked a cracker Spanish mack as we sailed past the belching volcano this morning and we finally busted out the BK and boardies for the first time since NZ! 'Normal' internet is glacial, so still using satellite: we'll write in more detail and reply to emails when we get to Port Vila in a few days' time.
Sat Jul 9 18:06 2016 NZST
Speed:
0knts
knts
GPS: 20 14.41s 169 46.68e
Run: 125.8nm (227.7km)
Avg: 6.4knts
24hr: 154nm
Weather: 0-5k, calm anchorage, sunshine.
We have arrived! Motored the last 90nm in no wind, slowed down a bit for some light to navigate our way into the anchorage and dropped anchor at 7.15am. Met by friends Mark and Sarah on Field Trip with pamplemousse, coconut and fresh bread! Had a nap, cleared Customs and now heading for sundowners and BBQ on Field Trip. Aneityum (southernmost island in Vanuatu) is a beautiful spot - so nice to be looking out at palm trees, lush mountains and beach instead of the 'blue disk' of the last six days. Think we'll sleep well tonight...
Fri Jul 8 22:30 2016 NZST
Speed:
8.5knts
knts
GPS: 21 39.99s 170 59.32e
Run: 188.7nm (341.5km)
Avg: 6.7knts
24hr: 161.7nm
Weather: 10-12knts 1m swell. Overcast.
A busy night, with lots of rain squalls around. Sailing close hauled, double-reefed with winds in the 20s-30s, gusts to 40k, but slight seas, so manageable. It was 'interesting' but not for the expected reason (ie predicted storms). In the midst of a torrential downpour, we discovered about a foot of water in the port engine room and the bilge pump decided not to work. Damian to the rescue - all sorted now. Then we somehow stepped through the looking glass... At 05:00 the NW wind stopped and just as suddenly sprung up out of the SW, but the band of thunderstorms that was supposed to separate these two events never eventuated. Phew!!! Today under gennaker, headed directly for Aneityum at last! 24 hour run: 177.5nm
Thu Jul 7 18:30 2016 NZST
Speed:
8knts
knts
GPS: 23 19.10s 173 20.53e
Run: 208.8nm (377.9km)
Avg: 10.3knts
24hr: 247.5nm
Weather: 20-25knts 1m swell. Clear skies.
Going well, close hauled with 2 reefs in both main and genoa, averaging about 8 knots... shame it's not quite in the right direction! Trying to get north ASAP to outrun the thunderstorms predicted for tomorrow morning south of 21S, but the wind has turned northerly, so we're getting headed, and that means we might not make it far enough to dodge the storms... Could be an interesting next 24 hours.

24 hour run: 188nm
Wed Jul 6 22:15 2016 NZST
Speed:
11.5knts
knts
GPS: 25 52.66s 175 06.44e
Run: 365.8nm (662.1km)
Avg: 31.1knts
24hr: 747.2nm
Weather: 10-17knts 1m swell. Clear skies and sunshine.
Champagne sailing at last... shame we're doing a dry trip! Flying along doing 10-12k in 10-15k of easterly breeze, with double-reefed main and gennaker. Sun is shining and seas are calm. It's not likely to last that long, but while it does, we're just going to ride it as far and fast as possible to keep ahead of the low on our tail. Great day's sailing. All well on board.
Wed Jul 6 10:30 2016 NZST
Speed:
6.5knts
knts
GPS: 31 05.642s 176 07.486e
Run: 11.9nm (21.5km)
Weather: 5-10knts var 1m swell. Clear skies
Wind died to light and variable. Motoring in calm seas and sunshine - starting to feel a bit warmer! All well on board. Run for 24 hours is probably our third slowest day ever: 156nm. Ended up about 200nm east of our rhum line so now trying to head back, while still getting as much north in as possible, ahead of the ECL due on Thurs. All well on board.
Mon Jul 4 22:27 2016 NZST
Speed:
6.0knts
knts
GPS: 30 55.340s 176 08.550e
Run: 172.2nm (311.7km)
Avg: 5.7knts
24hr: 138nm
Weather: 5-10knts var 1m swell. Clear skies
Last night was pretty boisterous, with lots of squalls, wind out of the north 25-40T and top gust 51.2k. Luckily the seas, while messy, weren't too big. Aiming to head north, but not very successfully at this stage. Supposed to be sailing weather today, but more rain squalls and wind still out of the NNW. Broke yesterday's record for slowest day ever: 146.9nm. Wind died quite suddenly so now motoring due north. All well on board.
Sun Jul 3 16:30 2016 NZST
Speed:
7.5knts
knts
GPS: 33 06.500s 174 44.000e
Run: 148.5nm (268.8km)
Avg: 6.2knts
24hr: 147.9nm
Weather: 20-25knts N 1m swell, some chop. 100% cloud cover
A nice quiet night motor-sailing to start - although we lost all our Raymarine wind instruments for most of it. Damian the NMEA genius managed to diagnose the problem and get them working, so fingers crossed we're OK now. Wind now building to 20-25k out of the north and seas getting lumpier ahead of the front due tonight. Squalls up ahead. Hoping to dodge predicted thunder storms.Possibly our slowest 24 hours ever, but we're doing OK: currently on track for North Minerva!!??
Sat Jul 2 16:24 2016 NZST
GPS: 35 11.947S 174 07.999E
Run: 47.9nm (86.7km)
Finally! We can hardly believe it ourselves, but we're underway, Vanuatu- bound. Looking like a lot of headwinds, but I guess that's what you get in the middle of winter. Gorgeous day here in the Bay of Islands but looking forward to some SERIOUS warmth! Anyone else out there or am I hearing my own echo???
Wed Dec 9 9:30 2015 NZDT
Speed:
0knts
knts
GPS: 35 50.205s 174 28.127e
Run: 233.1nm (421.9km)
Avg: 5.5knts
24hr: 133nm
Weather: 5knts S 0m swell. 100% cloud cover
Pretty unpleasant final run down the coast, but overall a great passage. Engines off at Marsden Cove at 23:55. Six days, 11.5 hours Vuda-Marsden, 1200 nm exactly. Good to be here, but man, it's COLD!
Tue Dec 8 16:47 2015 NZDT
Speed:
8.5knts
knts
Weather: 25-30knts S 1m swell, bad chop. 90% cloud cover
Land ho! Southerlies kicked in, building to 25k and bumpy. Sailing close hauled, 2 reefs main, reefed h'sail. The sting in the tail...Estimate arrival into Marsden Cove late this evening.
Mon Dec 7 15:27 2015 NZDT
Speed:
10knts
knts
GPS: 32 31.105s 173 44.655e
Run: 197.7nm (357.8km)
Avg: 8.2knts
24hr: 197.7nm
Weather: 10-15knts WNW 1.5m swell 15% cloud cover
Stunning day yesterday despite lack of wind. Gorgeous sunset, including a green flash! True! Wind filled in now, full main and gennaker, broad reaching in sunshine and low swell - doesn't get much better. May head for Marsden to avoid bad weather. 190nm to go.
Sun Dec 6 15:27 2015 NZDT
Speed:
6.5knts
knts
GPS: 29 39.577s 173 37.611e
Run: 187.6nm (339.6km)
Avg: 7.2knts
24hr: 173.5nm
Weather: 3-5knts variable 1m swell from SE 5% cloud cover
Motoring through the axis of the high, smooth seas, long low swell. Beautiful sunny day, but can feel a touch of Kiwi chill... Off to the foredeck for the last of the 'kini weather!
Sat Dec 5 13:30 2015 NZDT
Speed:
7.5knts
knts
GPS: 26 56.789s 173 41.375e
Run: 226.4nm (409.8km)
Avg: 9.2knts
24hr: 220.7nm
Weather: 5-10knts E 1m swell from SE 90% cloud cover
Things calmed down overnight and at 0600 we shook out the reefs and cracked the big heady. Made good time overnight - 196nm for 24 hours. Lovely sailing along in sunshine and slight seas this morning, but now wind has dropped and the iron genny has been deployed...
Fri Dec 4 12:53 2015 NZDT
Speed:
9.5knts
knts
GPS: 23 42.867s 174 16.538e
Run: 212.7nm (385km)
Avg: 10.7knts
24hr: 257.2nm
Weather: 20-25knts ESE 2.5m swell from SE 40% cloud cover
Another bouncy 24 hours - slowed the boat down due to confused seas making for an uncomfortable motion (ok, we're wimps). 200nm for 24 hours nevertheless. Still close reaching with 2 reefs in main and headsail. Seas abating and wind backing so we're getting closer to desired course. A few squalls around.
Thu Dec 3 17:02 2015 NZDT
Speed:
8.5
knts
GPS: 20 51.717s 175 31.540e
Run: 246.5nm (446.2km)
Avg: 7.4knts
24hr: 176.6nm
Weather: 18-23knts ESE 2m swell from SE 15% cloud cover
A boisterous first 24 hour, 210nm run from Vuda Pt. Seas 2.5m and lumpy, mainly SE. Winds ESE up to 35k. Close reaching with 2 reefs in main and reefed headsail, but the sun is shining! All well on board.
Wed Dec 2 7:32 2015 NZDT
Speed:
0.0
knts
GPS: 17 45.578s 177 23.354e
Weather: 5knts NE 0m swell from the N 5% cloud cover.
Anchored off Denarau, Fiji. Getting ready to head to Vuda Point to clear out. Heading off to NZ today. Looks like a lumpy start, but getting better along the way!
No blogs available for this yacht.
Loading map and updates ....
Loading track, please wait ....