SHANGO
Sun Oct 28 13:13 2018 NZDT
GPS: 9 22.035N 79 57.049W
Arrived back in Panama on 10/23. We were surveyed for insurance and put back in the water on 10/26. We are now putting things back together and will probably start waiting for a weather window to head North in a week or two. Good friends from Rutea are here and we have been enjoying reminiscing about all our times together in the Pacific. We are going to help them bring their boat through the Panama Canal on 11/1.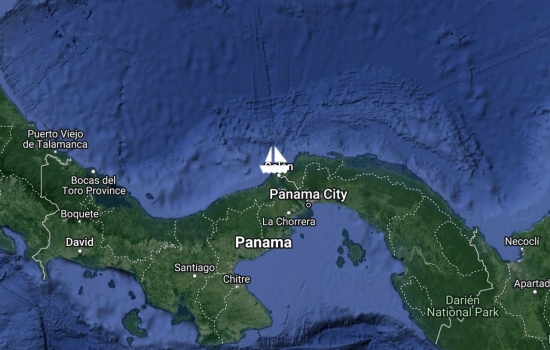 Mon Oct 8 2:22 2018 NZDT
GPS: 9 22.035N 79 57.049W
Run: 1016.3nm (1839.5km)
We are in Newburyport and Shango has been in Panama for hurricane season. We return to Panama on October 23 to get Shango ready for a sail to the Bahamas where we plan to spend the winter.
Wed Jan 24 18:00 2018 NZDT
GPS: 23 30.81N 75 45.059W
Run: 1103.4nm (1997.2km)
Back in Georgetown after Xmas/New Years at home with family and friends.Great time but a bit cold and snowy. We moved out of our hurricane hole to an anchorage in the harbor. Shango survived the separation except for a misbehaving watermaker. Might need to order a part which is not aboard. Strong front supposed to come through tonight producing some wind, steady 25-35, for the next 3-4 days. We have a good anchorage with plenty of chain out. Good time for boat projects.
Wed Oct 18 17:00 2017 NZDT
GPS: 39 28.644N 75 56.371W
Run: 129.4nm (234.2km)
Avg: 5.4knts
24hr: 129.4nm
As forecast, the wind stayed light beginning yesterday at noon and we had to motor all day and night to the Chesapeake. We are anchored where we usually do in Veasey Cove right below the mouth of the Chesapeake and Delaware Canal in the Chesapeake. We were able to ride favorable tides up the Delaware Bay and through the Canal which made the motoring easier. It was a beautiful night and today is crystal clear and warm as well. All in all a good passage and both of us are glad that this first leg of our trip south is over since it can be cold, blustery and often delayed by adverse winds. We are both in good spirits and will probably celebrate with a good meal and glass or two of wine before catching up with our sleep. Off tomorrow for Baltimore to see a friend of Amy who was her best ever boss.
Tue Oct 17 17:00 2017 NZDT
GPS: 39 50.371N 73 33.208W
Run: 248.4nm (449.6km)
Left Ptown bright and early Monday morning to catch the tide at the Cape Cod Canal. Once we were through the Canal and into Buzzards Bay the wind was NW 15-25 as forecast and we were able to sail all day and through the night until Noon today. We are now motoring with minimal wind dead down wind. We're hoping to catch a favorable tide at the mouth of the Delaware Bay at 3:30 am Wednesday morning and ride it up the Bay to the C & D Canal. We shall see. Our boisterous sail was a nice change from this summer.
Mon Aug 14 0:00 2017 NZST
GPS: 42 49.474N 70 53.204W
Run: 111.5nm (201.8km)
Back at Merri Mar in Newburyport after an overnight from Port Clyde. Good wind till mid night then the wind died. Bright moon and stars made for pleasant night. Our mini-cruise to Nova Scotia was a good re-entry for us. Looking forward to our trip south in October.
Sat Aug 12 0:00 2017 NZST
GPS: 43 55.501N 69 15.764W
Run: 32nm (57.9km)
Port Clyde. Linda Bean has done her best to create her "Perfect Maine." I must admit the general store was an attractive store. Port Clyde despite the influx of tourists is still a pretty harbor.
Fri Aug 11 0:00 2017 NZST
GPS: 44 2.973N 68 38.578W
Run: 4.2nm (7.6km)
Our favorite spot on Isle au Haut, Duck Harbor, had no room. Wind was out of east which is fine for Moore's Harbor. Nice spot when the wind is right.All by ourselves.
Thu Aug 10 0:00 2017 NZST
GPS: 44 6.575N 68 38.712W
Run: 16.8nm (30.4km)
Merchant Island. In all our visits to Merchant's Row over the years we have never anchored here. Great spot and all by ourselves with excellent views. Saw 2 eagles perched together and roaming about. Can't remember ever seeing a pair together.
Wed Aug 9 0:00 2017 NZST
GPS: 44 20.158N 68 46.082W
Run: 15.1nm (27.3km)
Seal Cove Boatyard. Not much has changed in last 10 years. Moored next to 90 year old Herschoff Desparate Lark. In great shape as always. Had wonderful visit with high school classmate at his Cape Rosier home.
Mon Aug 7 0:00 2017 NZST
GPS: 44 7.362N 68 50.179W
Run: 13nm (23.5km)
Great sail over from Rockland. Anchored next to windjammer Victory Chimes.
Sat Aug 5 0:00 2017 NZST
Run: 189.2nm (342.5km)
Avg: 2.6knts
24hr: 63.1nm
Uneventful crossing back to Rockland, Me. Full moon and very favorable current push around southern tip of Nova Scotia. Unfortunately very little wind and all deeply off the quarter.
Wed Aug 2 0:00 2017 NZST
GPS: 43 45.501N 65 19.438W
Run: 27.3nm (49.4km)
Shelburne. Nice to be back. A couple nice walks around the area and another very good dinner at Charlotte Lane.
Tue Aug 1 0:00 2017 NZST
GPS: 43 54.5333N 64 49.0W
Run: 40.8nm (73.8km)
Port Mouton. Beautiful day but wind on the noise. Bumpy motor sail but good to be here again.
Sun Jul 30 0:00 2017 NZST
GPS: 44 22.345N 64 18.469W
Run: 36.2nm (65.5km)
FINALLY blue sky and some wind. Great sail to Lunenburg. Nice to be back.
Sat Jul 29 0:00 2017 NZST
GPS: 44 28.863N 63 35.462W
Run: 50.5nm (91.4km)
Sanbro Harbor just south of Halifax. Motored all day in fog and 0 wind. Good spot for expected strong NE winds tonight. One more day till Lunenburg!
Fri Jul 28 0:00 2017 NZST
Run: 39.2nm (71km)
Sally's Cove. Another grey day of motor sailing but getting here again makes it easier to take.
Thu Jul 27 0:00 2017 NZST
GPS: 45 3.332N 61 57.275W
Run: 43.9nm (79.5km)
Gegogan Hbr. Very remote and barren. A few houses on the way in from the coast and one semi-abandoned camp in the harbor/cove.Too bad it is such a grey day.
Wed Jul 26 0:00 2017 NZST
GPS: 45 14.358N 61 5.538W
Run: 31.1nm (56.3km)
Great to be back at Port Howe. Perfect weather for this beautiful spot.Surprised that we haven't seen much wildlife especially eagles.
Sun Jul 23 0:00 2017 NZST
GPS: 45 39.727N 60 52.402W
Run: 13nm (23.5km)
Back at St. Peter's. Will head through the canal tomorrow or the next day. Very nice Bras D'Or lake trip.
Fri Jul 21 0:00 2017 NZST
Run: 19.9nm (36km)
Pellelier Island. Wonderful spot right off the lake in a very protected cove.We saw a grey wolf 3 times during our 2 day stay. He was very wary but interested in the strangers on a boat in his cove.
Thu Jul 20 0:00 2017 NZST
GPS: 46 5.973N 60 44.682W
Run: 5.8nm (10.5km)
Baddeck. Home to Alexander Graham Bell. Will visit museum before heading back south. A bunch of sailboats in harbor. Nice to see so much sailing interest in Nova Scotia. Every town seems to have very active youth sailing schools.
Wed Jul 19 0:00 2017 NZST
Run: 17.4nm (31.5km)
Maskell's Harbor.Home of the CCA. Huge anchorage.Very pretty with great protection.
Sun Jul 16 0:00 2017 NZST
GPS: 45 58.89N 60. 25.85W
Run: 22.2nm (40.2km)
Ben Eoin Marina outside Sydney. Renting a car for a couple days to tour the Cabot Trail and see Louisburg.
Sat Jul 15 0:00 2017 NZST
Run: 8.5nm (15.4km)
Johstown Harbor. Another great spot on the eastern shore of lakes. Views of open wide area of the lake and back to the land. Good mud in 16 feet.
Fri Jul 14 0:00 2017 NZST
Run: 31.1nm (56.3km)
On mooring at St. Peter's Marina in Bras D'Or lakes. Great weather continues and getting ready to go into a Lobster Fest for dinner.
Thu Jul 13 0:00 2017 NZST
Run: 49nm (88.7km)
Port Howe. Favorite spot so far. Another beautiful and well protected anchorage all to ourselves. Spent a lay day to enjoy the setting.
Tue Jul 11 0:00 2017 NZST
Run: 33.8nm (61.2km)
Liscombe River. Another remote anchorage. Looks a bit like Alaska with several cabins around. A bald eagle in a nearby tree is overlooking us. A couple miles further up the river is a small lodge with 2 dock spots and meals.
Mon Jul 10 0:00 2017 NZST
Run: 51.2nm (92.7km)
Sally's Cove. Beautiful anchorage. Great protection. It is good to experience a a more remote part of Nova Scotia.
Sun Jul 9 0:00 2017 NZST
Run: 35.9nm (65km)
Inner Sambro. Nice spot in settled SW winds. We're off to Bras D'Or lakes. Ujam'n is going to Halifax and Kite to Bras D'or as well before they head to Newfoundland. Nice time in Lunenburg. Good town to visit/eat/drink and look at art.
Fri Jul 7 0:00 2017 NZST
GPS: 44 22.295N 64 18.491W
Run: 40.7nm (73.7km)
Lunenburg, NS. Met up with U'Jamn.Great to catch up.Will spend a couple days here enjoying the town.
Thu Jul 6 0:00 2017 NZST
GPS: 43 54.536N 64 48.984W
Run: 27.4nm (49.6km)
Cape Mouton is like a mini Roque Island in Maine. Beautiful sandy beach and quiet setting
Tue Jul 4 0:00 2017 NZST
GPS: 43 45.454N 65 19.432W
Run: 189.2nm (342.5km)
Connected with Kite for the passage to Shelburne, NS. Just like old times! Shelburne is quite a nice spot to make landfall.
Thu Jun 29 0:00 2017 NZST
Run: 68.3nm (123.6km)
Avg: 2.8knts
24hr: 68.3nm
Motored to Rockland, Maine with no further issues. We think we identified the problem and will avoid the action that caused the problem. Fingers crossed.
Wed Jun 28 0:00 2017 NZST
GPS: 43 33.059N 70 14.257W
Run: 43.9nm (79.5km)
Unexpected transmission issue caused us to bail on our Nova Scotia passage and return to Maine for a closer look
Tue Jun 27 0:00 2017 NZST
GPS: 42 58.655N 70 36.635W
Run: 17.5nm (31.7km)
Nice to be away from the dock.Isle of Shoals is a great spot for our first night aboard
Thu Jun 15 0:00 2017 NZST
GPS: 42 49.48N 70 53.205W
Shango is back in the water. We're now making final preparations to get ready for a departure sometime in the week of June 26
No blogs available for this yacht.
Loading map and updates ....
Loading track, please wait ....