Silver Light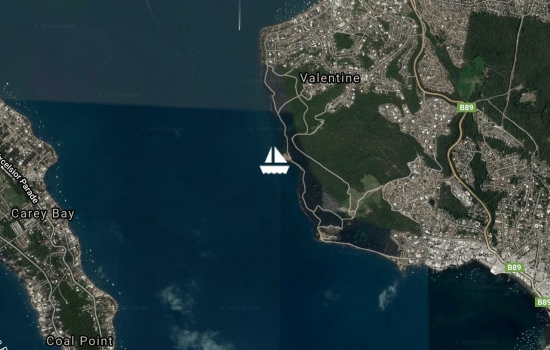 Fri Jan 24 15:30 2020 NZDT
GPS: 33 01.388S 151 37.769E
Run: 5.3nm (9.6km)
Weather: Partly cloudy, southerly winds
Moved up to Green point to be closer for morning breakfast event in Croudace Bay.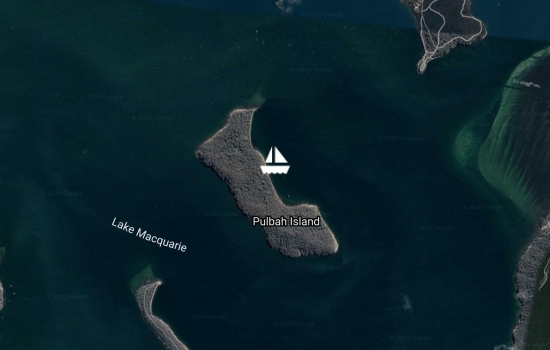 Fri Jan 24 7:00 2020 NZDT
GPS: 33 05.622S 151 35.568E
Run: 1.3nm (2.4km)
Weather: Partly cloudy, wind from the South, 15kts.
Wind changed to South requiring a move to Bulbah Island into sheltered waters.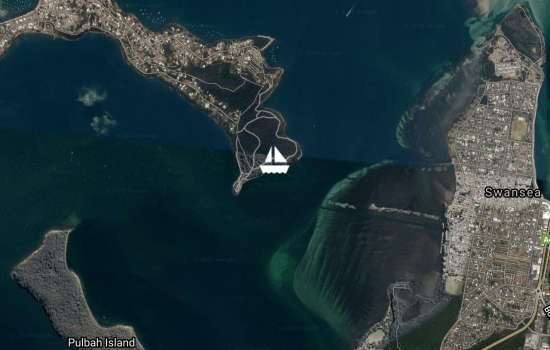 Thu Jan 23 14:00 2020 NZDT
GPS: 33 05.012S 151 36.672E
Run: 7.3nm (13.2km)
Weather: Some cloud, NW 20kts and very hot - 40plus degrees.
Moved to more sheltered anchorage in Southern end of lake. Found the end of Wangiwangi point to be very sheltered. There for the night. Several dips in the water to cool off required.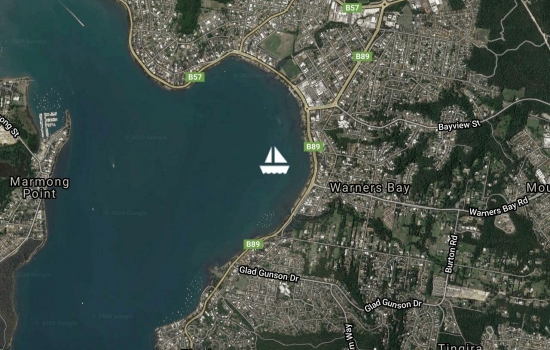 Wed Jan 22 5:00 2020 NZDT
GPS: 32 58.857S 151 38.491E
Run: 48.7nm (88.1km)
Weather: Partly cloudy, SE breeze.
Early morning departure heading for Lake MacQuarrie. Motored all the way as wind not enough to keep us sailing along. Got to Swansea passage after midday on an outgoing tide. Once inside lake headed up to Warners Bay and anchored. SE wind came up during afternoon. Ashore following day to update laptop again through cafe wi-fi. Back to boat by midday as wind had come up and moved Northely. Temp for the day climbed to over 40.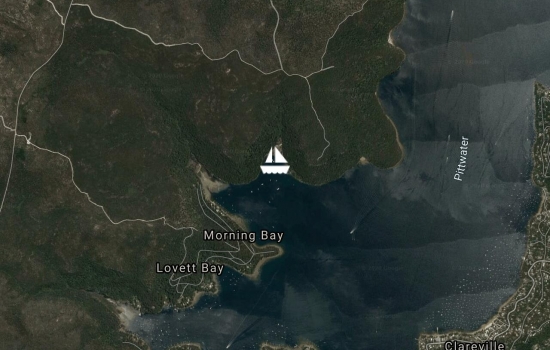 Mon Jan 20 13:00 2020 NZDT
GPS: 33 37.319S 151 17.408E
Run: 2.6nm (4.7km)
Weather: Fine with SE breeze.
Headed back out to morning bay and wait for a weather window to head North.
Sun Jan 19 10:00 2020 NZDT
GPS: 33 39.459S 151 18.269E
Run: 2.6nm (4.7km)
Weather: Cloudy, light winds
Booked a night at the Royal Prince Alfred YC so can top up with water etc. Very tight berth, had to go bow in. Great setting for a YC, nicely laid out. Caught up with Megan and Bruce from Margarita, yacht we met in Port Stephens. They took us out to do some shopping. Mona, Milton, Virginia and her partner came to boat for late afternoon.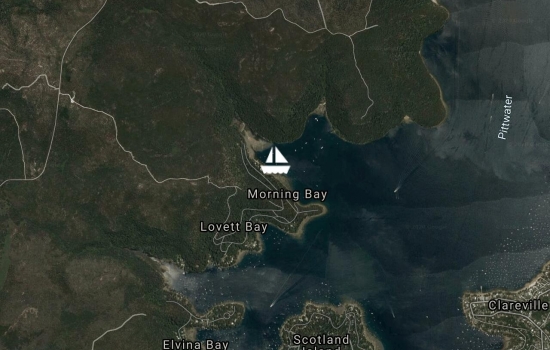 Sat Jan 18 11:00 2020 NZDT
GPS: 33 37.287S 151 17.403E
Run: 4.8nm (8.7km)
Weather: Raining, SW 15kts
Motored around to Pittwater during morning, checked out a few bays on the way and finally settled on Morning Bay, sheltered and numerous empty moorings that we could pick up.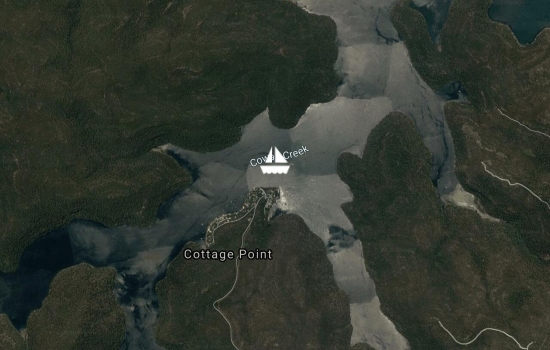 Thu Jan 16 10:15 2020 NZDT
GPS: 33 36.859S 151 12.418E
Run: 1.1nm (2km)
Weather: Cloudy and smoke haze, little wind.
Another day just slowly motoring along one of the arms of the river. Got to Bobbin Head, site of a modern day marina. Has historical value in that people from North Sydney used to come overland to this location for holidays. Lots of places to stop and get a secluded spot away from it all. Came back to Cottage Point and moored for night. Spent the next couple of nights here. Rain for the next 2 days, badly needed and helped clear the air. Ash and soot all over the boats deck as the rain helps clear things.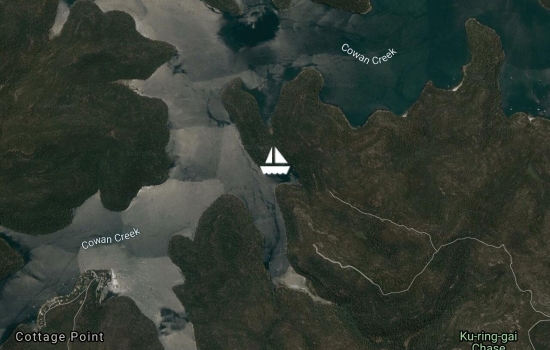 Wed Jan 15 10:33 2020 NZDT
GPS: 33 36.450S 151 13.427E
Run: 0.9nm (1.6km)
Weather: Cloudy, little wind.
Quiet motor today up a couple of inlets just checking out the scenery. This place has numerous public moorings that obviously save the sea floor from anchor damage. Amazing scenes of trees appearing to grow straight out of the rock. Stopped in Castle Bay for the night, beautiful enclosed anchorage.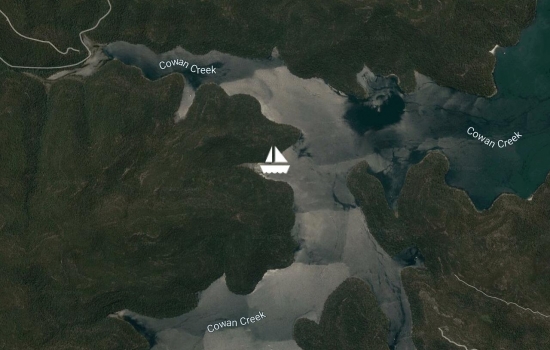 Tue Jan 14 10:00 2020 NZDT
GPS: 33 36.031S 151 12.676E
Run: 14.4nm (26.1km)
Weather: Partly cloudy, SE breeze at 12kts
Depart Sydney harbour today after 2 weeks. Some great spots like middle harbour, but generally very busy with the subsequent wash that occurs. Heading north again into the Pittwater area. First stop is up Cowan Creek at Little Jerusalem in the Kur-ring-gai National park similar to the Marlborough Sounds. Lots of trees and some amazing rock formations.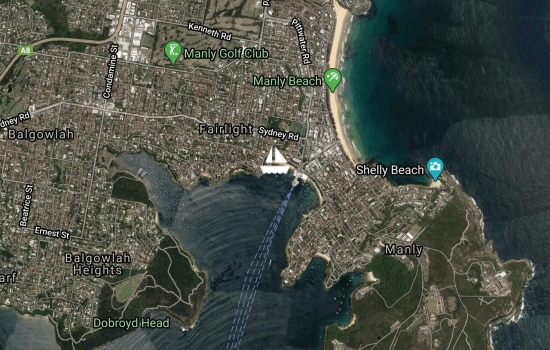 Mon Jan 13 12:00 2020 NZDT
GPS: 33 47.991S 151 16.914E
Run: 3.2nm (5.8km)
Weather: Cloudy, slight SE.
Motored out to Manly, now sitting on another public mooring just along from ferry terminal. Spent time ashore updating computer at cafe with free wi-fi. Find Manly a great place. Caught up with Katie MII. Martin heading off for NZ doing a solo sail, Angela flying and will meet him there.
Fri Jan 10 9:00 2020 NZDT
GPS: 33 46.835S 151 13.847E
Run: 5.6nm (10.1km)
Weather: Fine, NE wind at 15kts.
Short hop to Athol Bay this morning for breakfast and then drop Hong at the ferry terminal. We carried on up into middle harbour and under Spit Bridge. Motored on into Bantry Bay and a public mooring. Very sheltered location. Spent a few days here just relaxing, also caught up with Mona and Milton for a day ashore.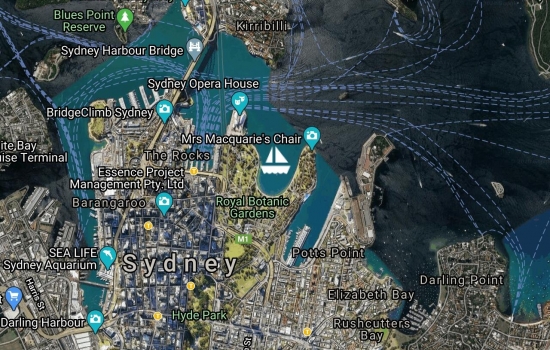 Thu Jan 9 17:30 2020 NZDT
GPS: 33 51.690S 151 13.132E
Run: 2nm (3.6km)
Weather: Cloudy, no wind
Decision to move, Mort Bay too tight so off to Farm Cove near the opera house. Anchored for the night, however a very rolly anchorage due to ferry and boat wash.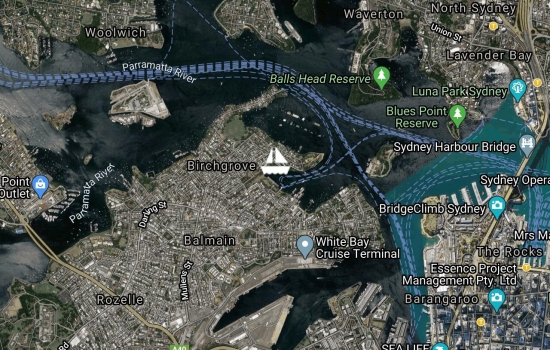 Thu Jan 9 11:14 2020 NZDT
GPS: 33 51.213S 151 11.139E
Run: 1.3nm (2.4km)
Weather: Cloudy, no wind
After a week in Black Wattle a maritime control came and suggested we needed to move to get back inside the anchorage limits. Not something we could actually achieve due to insufficient room so time to move on. They suggested Mort Bay might work so off we motored. Dropped anchor and spent the afternoon in peace.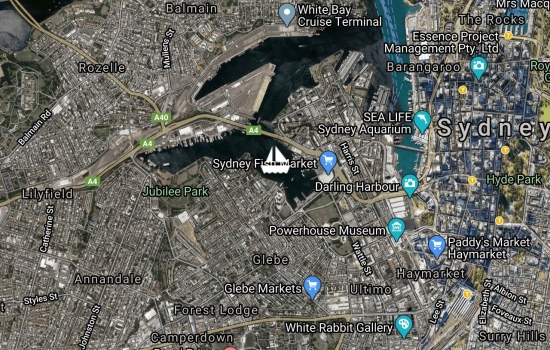 Wed Jan 1 11:30 2020 NZDT
GPS: 33 52.364S 151 11.247E
Run: 3.5nm (6.3km)
Weather: Fine, southerly breeze, hazy from smoke.
Moved from Zoo area to Black Wattle Bay in the Glebe area. A number of other boats here including 3 who we have sailed/met up with in Fiji and New Caledonia. Bay is a great location for getting ashore and into downtown Sydney. A lot of history in the area. Anchorage is restricted due to defined location and you have to reset if the wind shifts too much.
Loading map and updates ....
Loading track, please wait ....