Silver Light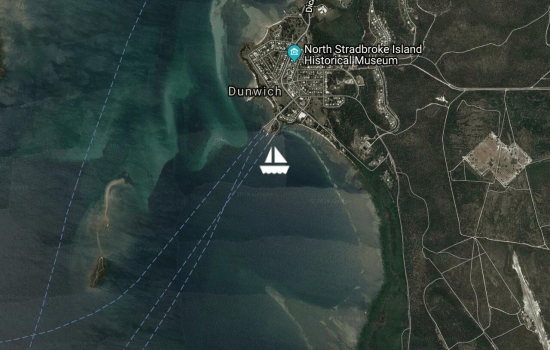 Fri Nov 1 11:45 2019 NZDT
GPS: 27 30.446S 153 24.119E
Run: 2.6nm (4.7km)
Weather: Showers, cloudy and Easterly.
Wind moved further east so moved this morning to Deanbilla Bay off Adams Beach, Dunwich. Another nice anchorage. Went ashore into Dunwich on 2nd and did some exploring at the museum and a couple of art/craft shops. Very interesting place with fascinating history. Was an asylum for several decade in mid 1800s and into 1900s. All of Queeslands inebriates and older people who couldn't support themselves or had deteriorated mental conditions were bundled off to Dunwich. The local aboriginal community living here at the time carried most of the workload to keep it operating.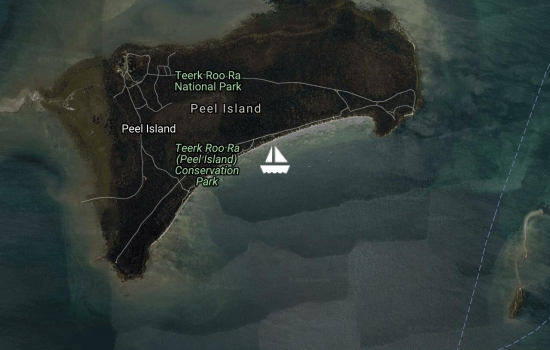 Thu Oct 31 12:30 2019 NZDT
GPS: 27 30.280S 153 21.614E
Run: 19.9nm (36km)
Weather: Fine with E breeze at 15kts.
Departed Dockside and headed out to Peel Island, anchored in Horseshoe Bay. Great sail under genoa. once out of the river and port area. Nice anchorage.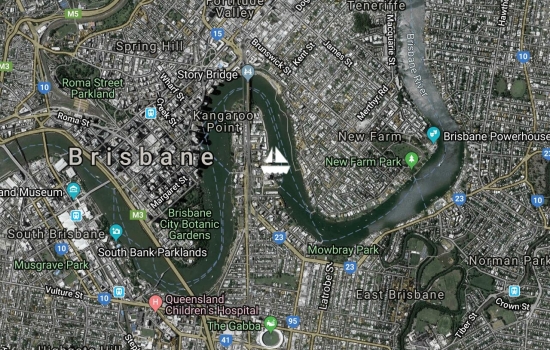 Tue Oct 22 11:00 2019 NZDT
GPS: 27 28.285S 153 02.313E
Run: 19.5nm (35.3km)
Weather: Fine with nice SE breeze at 15kts.
Dropped back in water yesterday and spent night on berth. Left marian late morning heading for Dockside Marina up Brisbane river. Arrived 17.00 on high tide. Berth C14 this time. Spent another great week in Brisbane, bit more exploring. Manager Ken is great, lent us his car one day. Caught up with Tony and Zara for dinner one night, then out for 24hrs with David and Helen who we met in Longreach, some sightseeing in the hinterland and and overnight stay at Helen's in Caboolture. During the week we caught up with Dennis O'Neill again on Bribie Is, he is looking and well and really hanging in at the moment.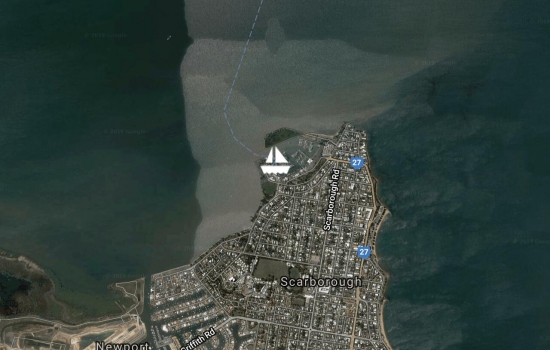 Thu Oct 17 8:00 2019 NZDT
GPS: 27 11.715S 153 06.340E
Run: 1nm (1.8km)
Weather: Fine weather, NE breeze.
Easy trip into Scarborough to lift out. Staff at marina very experienced and haulout went smoothly. Silver light just fitted into the haulout crane . Spent four days doing sanding, fixing antifoul, prop speed, anodes etc. Silver Light in good condition and copper coat working really well. Stayed at cabin in local camping ground, great accommodation. Met a great South African family. Also met up with Lane and Suzie from Bella Vita. Good marina for servicing.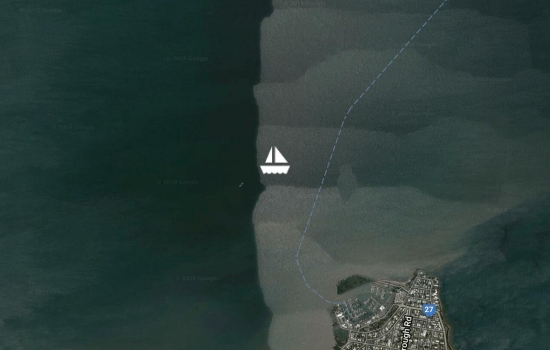 Wed Oct 16 12:00 2019 NZDT
GPS: 27 10.932S 153 05.907E
Run: 2nm (3.6km)
Weather: Fine, strengthening NE.
Departed Newport midday to anchor in Deception Bay before going onto hard in Scarborough. Good to be out again, however wind getting up. Wind finally got to around the 30knts level during afternoon and evening, not pleasant. Very bouncy and anchor dragged a bit during night. Relief to have morning arrive.
Mon Sep 2 19:58 2019 NZST
GPS: 27 12.672S 153 05.659E
Run: 2nm (3.6km)
Weather: Partly cloudy with 15 knot westerly in the morning.
High tide at 8.30. Departed anchorage shortly after to make our way into Newport Marina. On the berth by 0930 with help from the great staff at newport. Silver Light now tucked away securely for the next 5 weeks while we are in the UK. This will be our last update on YIT for a few weeks. Planning for October on already under way which will see us heading South towards Sydney for the end of December.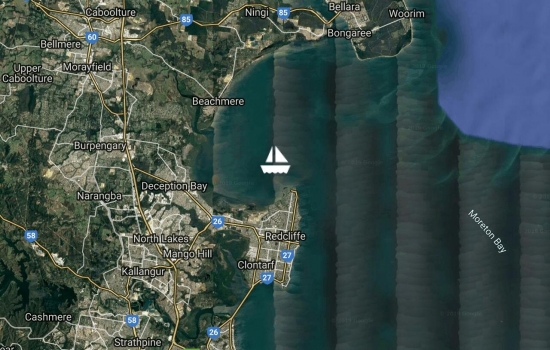 Wed Aug 28 13:00 2019 NZST
GPS: 27 10.938S 153 05.893E
Run: 16.7nm (30.2km)
Weather: Partly cloudy with no wind. Flat sea
Motored across Moreton Bay to Deception Bay and anchored for the night. An absolutely flat sea at night, so quiet.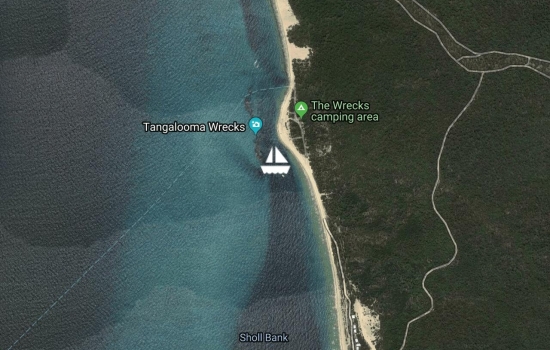 Sun Aug 25 13:35 2019 NZST
GPS: 27 09.901S 153 22.152E
Run: 95.6nm (173km)
Weather: Fine, nice sailing breeze from north.
Left Innskip on beautiful afternoon, great crossing of wide bay bar. Great sailing breeze from port quarter meant we are able to sail with no motor. Wind held right through night into morning before fading as we came into Moreton Bay. Lovely nights sail. Kept regular contact through out the night with a fellow solo yachtie sailing South with us into the bay. Arrived at northern bay on daylight and finally into the Tangalooma anchorage by 10.30am. Great couple of days at anchor including swimming in beautiful clear water.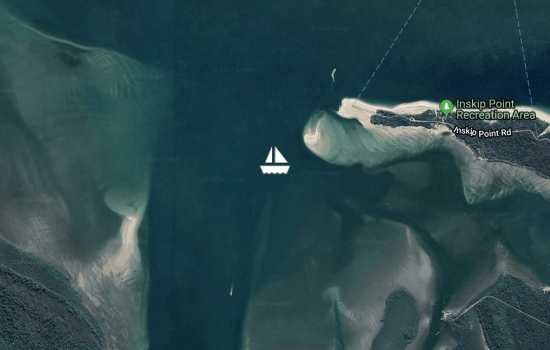 Thu Aug 22 16:00 2019 NZST
GPS: 25 48.874S 153 02.240E
Run: 20.4nm (36.9km)
Weather: Sunny day, wind from SW in varying strengths as day wore on, including 25kts mid pm.
Decided to go on 23rd and get through shallows. Checked out Gary,s. A bit crowded, lots of boats in a very narrow channel so moved on. Call made to push on down to Inskip. Arrived 1700, wind had dropped back to 10kts so looks like a good call. Expected Southerly came through at midnight blowing 20kts. but due to good holding here have no worries. Silver Light not moving too much so comfortable for next couple of days. Weather and swell forecast looking like a mid Sunday departure across the Wide Bay Bar and then a non stop overnight run down into Moreton Bay - 100 nm trip.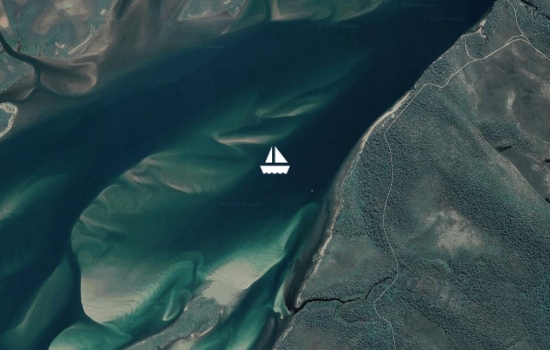 Wed Aug 21 14:30 2019 NZST
GPS: 25 31.622S 152 57.754E
Run: 16.4nm (29.7km)
Weather: Fine, slight sea breeze, turned SW 10 kts in mid pm as we entered anchorage
Anchored for the night at Yankee Jacks or South White cliffs or Sheridan Flats as it is also known. Great anchorage shared with 6 other boats of various brands. This is the kick off point for going through the shallow parts of Sandy Straight, decision to be made if we go tomorrow or wait for a day as there is a southerly blow coming through Thursday which will affect the whole area - this anchorage might be a bit more sheltered. However having to go on the high tide means that going a day or two later pushes the transit into mid afternoon shortening our travel for that day.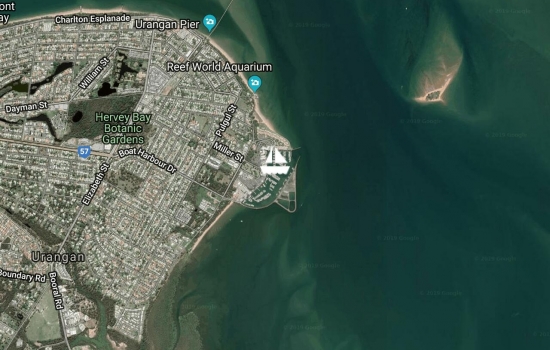 Sun Aug 18 13:30 2019 NZST
GPS: 25 17.710S 152 54.617E
Run: 49.4nm (89.4km)
Weather: Fine, sunny, again winds variable during morning before setting in from Nth at 16kts.
Motor sailed down to Hervey Bay into Boat Club marina. Departed 0630, arrived 1430. Another nice day travelling. Following sea had built by our arrival time so doing a bit of swinging back and forth in the entrance channel.Took a couple of goes to get into berth due to wind but landed with no major bangs. Will stay in here for a couple of nights to let troughs go through before heading down Sandy St.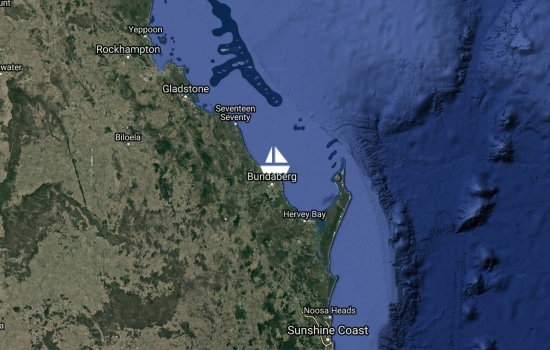 Sat Aug 17 14:50 2019 NZST
GPS: 24 45.535S 152 23.320E
Run: 66nm (119.5km)
Avg: 2.7knts
24hr: 65.1nm
Weather: Sunny, light winds variable.
Departed Pancake at 5.30am and headed for Burnett Heads. Motor sail again with friendly sea state. Getting along at time up over 7kts. Accompanied by a Leopard 47 cat, GENIET LEWE who departed 30 minutes behind us. Arrived Burnett Hds 1530, not bad for 60 nms. First night on the Bundaberg Marina second night anchored off in the indicated spot. Had David and Janet Hollier from Geniet Lewe over for drinks 1st night, and joined them for dinner 2nd night. A NZ couple who sailed their Leopard from the USA 4 years ago. They are heading to Vanuatu for a couple of months before going back to NZ. Great to be back in Bundaberg where our Aussi sailing experience first began last year.
Fri Aug 16 14:30 2019 NZST
GPS: 24 00.660S 151 44.200E
Run: 33.4nm (60.5km)
Weather: Partly cloudy, steady SE breeze
Motor sailed from Gladstone marina down to Pancake creek today, nice easy 30nm trip. Wind was hard on nose but easy enough to provide some lift without creating too much swell problem. Anchored in the outer anchorage this time as departing early. Several other boats joined us for the night. Nice flat anchorage this time as not much swell further out.
Wed Aug 14 9:15 2019 NZST
GPS: 23 49.961S 151 14.708E
Run: 7.3nm (13.2km)
Weather: Partly cloudy with sun peeking through, brisk, cool SE breeze.
Hauled anchor at 0715 this morning. Had the quite narrow and at times shallow North Channel to navigate on a rising tide this morning. High tide at 0830 and needed to get the 5 nms though it by around that time. No incidents to report but we certainly had to keep a sharp focus and right on the track marked by the chart plotter. Always a good experience. Passed through into the main shipping channel and then up to Gladstone Marina. Very nice marina with lots of room to navigate around, set among beautiful park. Here now for two nights before heading back to Pancake Creek and then hopefully out to Lady Musgrave Island and coral kay.
Tue Aug 13 16:00 2019 NZST
GPS: 23 45.448S 151 19.514E
Run: 47.3nm (85.6km)
Weather: Fine and sunny with SE breeze between 8 -15kts through the day.
Departed GKI anchorage at 0630 this morning. Nice sailing breeze, just coming right from where we had to go. 43 nm trip that ended up being almost 70 nms given we had to tack back and forward across our direct direction of travel several several times. Finally managed to get a straight run along the coast from Cape Capricorn for the last 16 nms as the wind moved east during the afternoon. Did have to use the assistance of the iron spinnaker to make sure we got to our current location before dark. Great days motor sailing though, very relaxing. Anchorage is just inside the North passage into Gladstone Harbour - we can see the lights of the city in the distance. Good anchorage with very little swell considering the open sea is just around the corner of Facing Island. Couple of rums consumed to celebrate a great day at sea.
Mon Aug 12 11:00 2019 NZST
GPS: 23 09.865S 150 57.180E
Run: 0.7nm (1.3km)
Weather: Fine with light variabl winds.
Udder life and Breeze left shortly after 0600 heading north to the Percy Islands - next year for us. Ay midday we moved across to Svensons beach due to expected wind shift to SE and ready for early departure in the morning. Hauled dinghy back on board and secured everything ready to go to sea. Took a swim mid afternoon, water at 20 degrees, really nice and refreshing.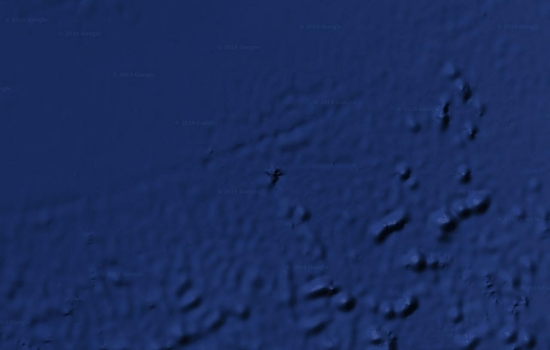 Sat Aug 10 11:00 2019 NZST
No position sent.
Still at Leeks Beach. Udder Life - Bavaria 56 from Auckland - with Wally and Celia aboard joined us late morning having come up from Cape Capricorn. They are accompanied by Breeze, a Moody 65 from Tasmania. Enjoyed a good catch up and then drinks and nibbles on Udder Life. Wind came through at 20kts from the SW during the night, all good.

Following day 11th went ashore in the pm to the sailors camp and lit a fire. Enjoyed that along with some music provided by the Ukelele's and guitar played by crew of Udder Life and Breeze accompanied with some liquid refreshment. Great afternoon, and back to the yacht at dusk.
Fri Aug 9 10:00 2019 NZST
GPS: 23 10.132S 150 56.551E
Run: 1.8nm (3.3km)
Weather: Calm sunny morning, light breeze has swung to SSW. Stronger winds expected later this evening and during the night.
Left previous anchorage before 0900 and motored slowly around to the North side of GKI via the east end. Needing protected anchorage from expected blow coming through. Anchored off Leeks Beach, site of our first arrival at GKI. Again finding other boats arriving during the day seeking the shelter.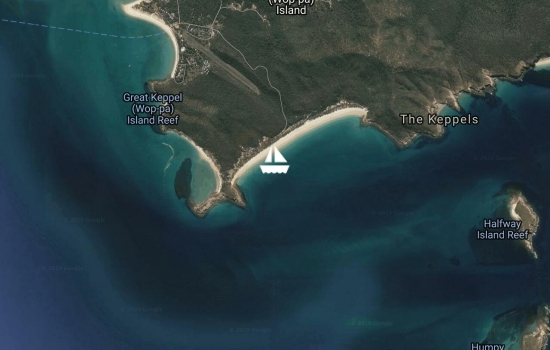 Thu Aug 8 14:38 2019 NZST
GPS: 23 11.673S 150 56.792E
Run: 10.5nm (19km)
Weather: Sunny, light northerly breeze
Anchored off Long Beach, GKI, along with 20 other boats all seeking the same shelter from the Northerly. Great to be back out here. Water beautiful and clear down to sandy bottom at 6 mtrs. Nice gentle motor/sail across. Great to relax into the anchoring life again after enjoying the land based activity of last week or more. Refueled at the marina - first since leaving Manly on 11/7 - 208 ltrs including topping up 5 jerry cans used over that time.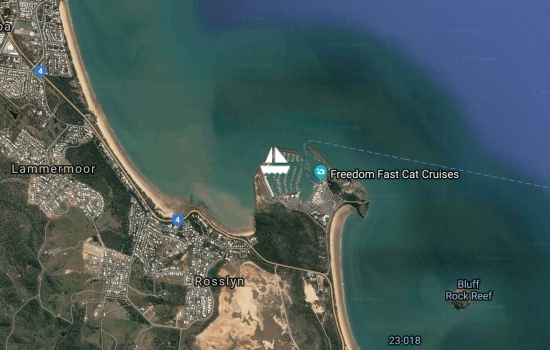 Thu Jul 25 15:00 2019 NZST
GPS: 23 09.687S 150 47.129E
Run: 10.7nm (19.4km)
Weather: Fine
Moored back in Keppel Bay Marina for a couple of weeks. Hong departed Friday 26th. Spent the weekend getting thiungs ship shape before picking up a rental car and doing a big inland trip to Longreach. What a fantastic journey into Queenslands outback. Learnt a lot about the life of the stockmen and run holders that settled out there. Place is well set up for for people to visit and learn about their life and the land. Also visited the coal museum at Blackwater and tried our hand at gem mining in Saphire and Gemstone. Found some smallish saphires which we will keep. 8/8/19 Now back on Silver Light and ready to head back to Keppel Island and then start our way South again.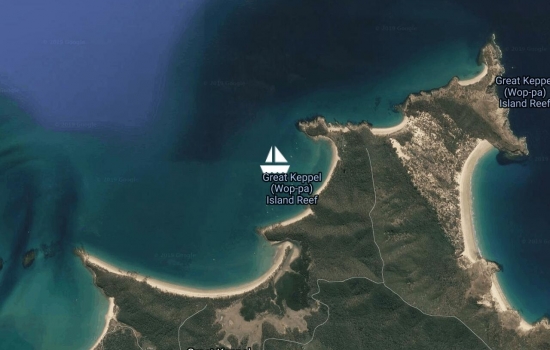 Sun Jul 21 9:59 2019 NZST
GPS: 23 09.660S 150 57.226E
Run: 10.7nm (19.4km)
Weather: Fine all week.
Anchored off Svensons beach with a number of other yachts. Spent the week doing trips ashore, a walk across the Island to the cafe - lots of mossies - and a catch up with the other boaties around a camp fire and sing along. Also did some bottom cleaning in the really clear water. Great week with Hong, lots of fun.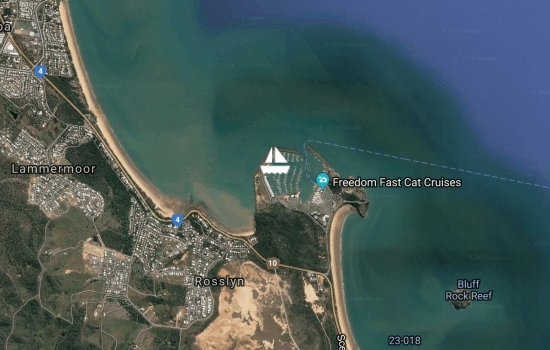 Thu Jul 18 10:30 2019 NZST
GPS: 23 09.685S 150 47.128E
Run: 9.8nm (17.7km)
Weather: Fine and sunny, sea breezes.
Tied up in Keppel Bay Marina for next 3 nights. Our friend Hong from Wellington arriving tomorrow through Rockhampton. Also catching up with Kay and Steven who are staying a few nights in Yappoon.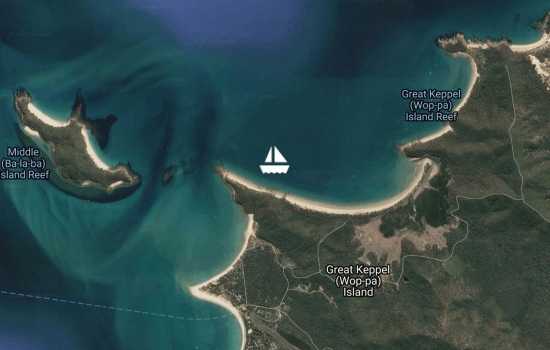 Wed Jul 17 10:00 2019 NZST
GPS: 23 10.120S 150 56.391E
Run: 21nm (38km)
Weather: Fine sunny conditions with normal wind patterns for time of year.
Anchored off North side Great Keppel Island. Great anchorage, sandy bottom with crystal clear water. Nice gentle 3 hour motor sail up this morning. SW wind slowly dropping as morning progressed. Little wind by time we anchored. Plenty of other cruisers in this stretch. Took run about around to the west end of Island and went ashore to explore. Number of private houses, a backpackers, chalets, glamping and camping sites plus bar/cafe, pizza place and shop.
Tue Jul 16 15:00 2019 NZST
GPS: 23 23.897S 151 09.320E
Run: 57.2nm (103.5km)
Weather: Clear sunny weather with normal seasonal wind patterns - S/SW coming in during early morning and dying out by midday to sea breezes.
Anchored in sheltered north side of Hummocky Island after a day sail from Pancake Creek. Departed at daybreak and got in several hours straight sailing before having to resort to the support of the motor again as winds dropped off.ailed through 25 large tankers and various cargo ships from many overseas destinations anchored off Gladstone. All waiting to be loaded with various mineral cargoes. Heard there was a big backlog. Listening to the VHF there are certainly ships there with no dates for berthing, could be weeks. Got into Hummocky well before dusk so enjoyed some sun while anchored. Sthly swell makes itself felt in here a bit.
Thu Jul 11 11:30 2019 NZST
GPS: 24 01.672S 151 44.555E
Run: 253.6nm (459km)
Avg: 2.6knts
24hr: 63.4nm
Weather: Good fine spell, normal seasonal wind patterns, SW early morning dying out dying out by midday with sea breezes.
Stop off in Pancake Creek anchorage on way North. Departed Manly marina with nice SW breeze, sailed up Moreton Bay and out into open sea heading up the East side of Frazer Island. 370nm mile trip lasting some 50 plus hours. Two good nights sailing with various wind changes. Motor had to be used most of the way to ensure we kept moving forward. North end of Fraser Island saw us going through a number of whale pods, including mothers with young and individuals. Had a great close up view of a whale engaged in tail slapping for 10 minutes at 100 meters. Pancake creek a great calm anchorage, lots of boats using it over the time we are here - up to 25 boats.
Sun Jul 7 11:30 2019 NZST
GPS: 27 27.471S 153 11.375E
Run: 6nm (10.9km)
Weather: SSE at 18kts, passing showers.
Left St Helena at 1200 and motored to East Coast Marina, Many. Lots of yachts of all sizes out racing, passed through a couple of dinghy fleets. Manly an easy place to get into and easy to navigate around given its size. In spite of wind in the bay, very calm in the marina. Great service from the marina staff, came out to meet us in their runabout and helped direct us in to berth. Great facilities here. Easy walk into village for shopping at IGA. Will spend next 3-5 days here replacing diesel heater before heading North.
Wed Jul 3 13:00 2019 NZST
GPS: 27 22.641S 153 13.620E
Run: 13.3nm (24.1km)
Weather: Strong SE wind, up to 30 kts. Some showers.
Departed dockside marina heading for NW side of St Helena Island to wait out the SE blow for a few days. Great motor down the Brisbane river and out into Moreton Bay. Short hop to anchorage and settled down for 4 days. Good anchorage, great holding, some minor swell at times.
Fri Jun 14 13:00 2019 NZST
GPS: 27 28.315S 153 02.336E
Run: 25nm (45.3km)
Weather: Yet another glorious day, no wind but still hazy.
Motored across to the Brisbane river and up into Dockside Marina. Great trip and arrived on slack tide. Will spend the next week or so here. Mark & Jude left on the 16/6/19 after a days sightseeing and out to dinner a couple of times. Has been a fantastic week with them aboard doing boating things these yachties don't normally do - inland waterways. Now looking and planning the next phase of the adventure.
Thu Jun 13 13:00 2019 NZST
GPS: 27 17.369S 153 23.408E
Run: 8.6nm (15.6km)
Weather: Sunny day but not great visibility, almost a smoke haze over the bay. NW picked up to around 12knts by mid afternoon.
Moved down to The Sandhills after doing a round of the wrecks and going ashore for coffee at the resort. Signage makes it clear that only resort dwellers and those from cruise ships are welcome. However never got stopped or questioned. Mark and Ian walked up the big Sandhill mid afternoon for some exercise. Had to anchor the dingy a considerable distance off and walk to shore due to shallow depth. Great views from top.
Wed Jun 12 15:00 2019 NZST
GPS: 27 10.021S 153 22.173E
Run: 21.6nm (39.1km)
Weather: Sunny day with small SW breeze in morning dropping to no wind by midday.
Moved to Tangalooma today. Tried sailing but had to revert to motor assist after a couple of hours. Glorious day on Moreton Bay. Anchored by 1600 abnd had a quick swim before doing an early evening round of the wrecks in the dinghy.
Tue Jun 11 14:00 2019 NZST
GPS: 27 28.780S 153 21.211E
Run: 20.8nm (37.6km)
Weather: Another glorious day, little wind
Left Jacobs Well at 0800, motored all the way to Peel Island. Lunched in Horseshoe Bay after a swim. Anchored for night back in Lazarette. Glorious night with lights of Brisbane twinkling in distance.
Mon Jun 10 15:00 2019 NZST
GPS: 27 46.850S 153 22.131E
Run: 3.5nm (6.3km)
Weather: Another glorious day, no wind, temps in mid 20's
Did the Tipplers run and walked across Sth Stradbroke to ocean this morning. Fantastic day on the beach. Left anchorage with 2hrs to run to high tide to get through to Jacobs well. No hickups but depth did hit 0 a couple of times. Anchored just St of the VMR in good depth. Went ashore for quick walk around and then a visit to the local watering hole. Great overnight stay.
Sun Jun 9 15:00 2019 NZST
GPS: 27 49.096S 153 24.432E
Run: 10.5nm (19km)
Weather: Sunny and calm, beautiful
Mark and Jude on board last night. Out to dinner in Main Beach. Motored from Mariner Cover this morning and up the broadwater including swinging by Sanctuary Cove for a quick look. Anchored off the end of Tipplers passage. Doing a run into Couran Cove to show M&J and then up to Tipplers Cafe in the morning.
Thu Jun 6 10:00 2019 NZST
GPS: 27 58.185S 153 25.487E
Run: 0.4nm (0.7km)
Weather: Fine, SE breeze.
Moved into Mariners Cover to wait for arrival of Mark and Jude Aldridge. Rented car for 24hrs on 8/6/19 to do airport run as well as some shopping. Met up with Christine Bird, ex Busfields, staying with her brother Kevin and his wife Lucy.
Mon Jun 3 13:00 2019 NZST
GPS: 27 57.983S 153 25.212E
Run: 8.2nm (14.8km)
Weather: Fine with moderate westerly.
Moved from Hope Island to Southport this morning and anchored off beach near Australia Fair. Will stay here for a couple of days before going into Mariners Cove Marina to set up for Mark and Jude from Four Seasons, Waikawa SI, who are flying and with us for a week. More Party Time!!!!. This is as far South as we come this time around, now going to head North for the winter.
Wed May 29 10:00 2019 NZST
GPS: 27 52.005S 153 20.885E
Run: 3.3nm (6km)
Weather: Fine, brisk westerly in morning dies out by late am.
Moved at 8.30am to catch tide and move up the Coomera River to Hope Island Marina. Passed Sanctuary Cove on way through, lots of large boats being moved around after the boat show. Mooring here for a few days. Caught up with John and Beth Borsboom for her birthday on 29th. Spent the weekend with them at Merrimac.
Tue May 28 7:00 2019 NZST
GPS: 27 52.544S 153 24.035E
Run: 1.1nm (2km)
Weather: Fine, a little chilly in the am.
Moved into this tight anchorage early this morning while tide was still up. Tight passage to get in with some very shallow areas again, but great once in - very sheltered. Went ashore to the Paradise Point shopping centre for some supplies. Neat little location. Rob & Caroline from Gallivanta joined us for dinner, great catch up.
Mon May 27 13:00 2019 NZST
GPS: 27 51.799S 153 24.724E
Run: 3.9nm (7.1km)
Weather: Fine with brisk westerly
Spent 2 nights at Never Fail Island before coming down to this anchorage just across from Paradise Point. Visited Couran Marina for a sundowner last night, not great, like having a drink in a morgue. Checked out Tipplers passage on the way this morning, narrow and shallow not much room for us to anchor, but will drop into Tipplers Cafe on the way north.
Sat May 25 15:00 2019 NZST
GPS: 27 48.402S 153 24.689E
Run: 22.9nm (41.4km)
Weather: Fine with light SE breeze.
Left Peel Is. at 10.00am and motored down to the entrance of the main inland passage heading for Southport. Not unlike Fraser Island but a few more twists and turns. Had hoped to anchor up just North of Jacobs well but nothing that really took our fancy. Made the call to continue through as high tide had not long come through. Some very shallow readings - like 00mts - under the keel a couple of times but didn't seem to touch. Ended up anchoring to side of the channel just north of Courans Cove. Great overnight spot, quiet, still, but when daylight comes along this stretch of water is like the M1. We covered 20nm yesterday so have got ourselves into the Southport area a day or so ahead of our intentions.
Thu May 23 13:00 2019 NZST
GPS: 27 28.790S 153 21.216E
Run: 19.3nm (34.9km)
Weather: Gentle Southerlies and fine.
Left Dockside today and motored down river and out to Peel Island. No sailing as wind right on nose. Great to be out anchoring off again and enjoying the quiet of an anchorage. Dropped the pick in the Lazerette gutter off the North side. Spent 2 nights here in beautiful conditions. Lots of distant night lights from the city and suburbs. This a definite return location.
Thu May 16 12:39 2019 NZST
GPS: 27 28.314S 153 02.335E
Run: 18.3nm (33.1km)
Weather: Settled , fine with some showers
Motored from Newport to Brisbane port and then up the river to the CBD. Coming in up the river is such a great way to see this city. Tied up in the Dockside Marina just along from the Story Bridge. Spent a week here exploring the sights of Brisbane and learning about its history. Great location with the free city hopper ferry stop only 40 mtrs away. Brisbane is such an easy city to get around with lots of interesting things to see and explore and some great restaurants. We are coming back here before we head North later in June.
Sat May 4 8:26 2019 NZST
GPS: 27 12.662S 153 05.647E
Run: 9.4nm (17km)
Weather: Fine with some showers.
Tied up in Northport Marina. Came in for a few days and ended up almost 2 weeks. Really enjoyed the area and people. John & Beth stayed for a couple of days, very enjoyable, checked out some display homes and got in a mornings sailing out from Red Cliffs.
Thu May 2 20:58 2019 NZST
GPS: 27 05.239S 153 09.484E
Run: 20.2nm (36.6km)
Weather: Easterly, mostly sunny with odd cloud, warm.
Sailed across to Bribie Island today and parked up just of Bongaree in Pumicestone. Great days sailing on Moreton Bay. Beautiful calm anchorage here. Heading for Newport Marina for the weekend to catch up with John and Beth Borsboom who will be staying on board. Really enjoying the Moreton Bay area and looking forward to exploring more of it.
Wed May 1 17:47 2019 NZST
GPS: 27 17.347S 153 23.691E
Run: 8.5nm (15.4km)
Weather: Sunny 25 degrees with easterly.
This afternoon moved South to the Sandhill anchorage off Moreton Island. Beautiful motor sail in 12kts down the coast. Now anchored up in a lovely bay with a slight easterly breeze coming across the Island, 4 other boats anchored across the bay and fantastic view of the sandhills this location if famous for. Will attempt the big sandhill climb in the morning. Just saw four people part way up through the bino's, and given how small they look this climb could a bit of a haul. Across the other side of Moreton bay we can see high rises of Brisbane.
Wed May 1 11:56 2019 NZST
GPS: 27 10.064S 153 22.163E
Run: 2.8nm (5.1km)
Weather: Sunny periods with passing showers, easterly wind.
Moved to Tanaglooma yesterday and anchored close to the wrecks. Lovely spot, southerly swell had cleared during the day so nice calm night. Get a great view from here of the ships heading in and out of Brisbane port. In the distance we can see the high rise towers of downtown Brisbane and at night the skyline is well lit up.
Wed May 1 10:45 2019 NZST
GPS: 27 07.624S 153 21.742E
Run: 33.7nm (61km)
Weather: SW's most of day with passing showers
Motor sailed south from Moolooaba across the top of Moreton Bay. Took three hours to get to the channel, lovely gentle swells with nice breeze. Changed just as we got to the channel entrance, wind moved SSE and several heavy showers came through with associated gusty wind. Sea became confused and quite bouncy until we hit the NW corner of Moreton Island. Lovley passge down the island to Cowan Cowan. Anchored for night, small swell kept us moving about but manageable.
Wed Apr 10 12:12 2019 NZST
GPS: 26 41.200S 153 07.640E
Run: 54.5nm (98.6km)
Weather: Fine with a southerly front just blowing in.
Now moored up in Mooloolaba at the yacht club marina. Left Tin Can 2 days ago, parked for the night inside Inskip point. Lovely calm anchorage. Left yesterday morning and crossed the infamous Wide Bay Bar at 8.00am. Just over an hour to get through the set waypoints. Bit of a washing machine affect for good part of it, really glad of our Karori rip experience over the years crossing Cook St.

Once through into beautiful calm long gentle swells with 8kt offshore wind. Motor sailed down the coast until 1700hrs when we reached here. Great day on the sea. Here now until after Easter. Looking forward to some exploring of local waterways and some land based places.
Wed Mar 27 20:42 2019 NZDT
GPS: 25 54.370S 153 00.417E
Run: 26.3nm (47.6km)
Weather: raining today, cooler temp. welcome.
Arrived here in Tin Can Bay Marina yesterday after motoring down from anchorage at Figtree Creek - just South of Gary's anchorage. Great little marina, very clean and helpful staff. They provide a vehicle you can borrow for up to one and a half hours to do shopping or other bits. Cheryl went to doctor over ongoing stomach bug problem. Could be here for up to 2 weeks until all tests etc worked through.
Sun Mar 24 15:16 2019 NZDT
GPS: 25 31.678S 152 57.782E
Run: 10.5nm (19km)
Weather: Fine, no wind.
Anchored South Whitecliffs in Yankee Jacks anchorage. Motored from Kingfisher bay during morning. Very calm here and hot. Surrounded by mangroves on various sandbars interspersed with channels.
Fri Mar 22 20:33 2019 NZDT
GPS: 25 23.231S 153 01.616E
Run: 4.4nm (8km)
Weather: Fine, light NE breeze. No thunderstorms today
Anchored just off the North end of King Fisher Bay next to the wharf. Spent the last week off South Point, Big Woody Island. Cheryl not well so spent some down time. We are now slowly making our way down through the straight heading for Tin Can Bay in 4 days time. All well on board.
Sat Mar 16 13:21 2019 NZDT
GPS: 25 19.980S 152 59.312E
Run: 5.6nm (10.1km)
Weather: Calm, overcast, humid. Heading for 30 dgrs plus again with chance of rain and thunderstorms.
Anchored South Point, SW corner of Big Woody Island. Left Hervey Bay marina 2 days ago. Anchored fist night at Sandy Point, anchorage a bit rolly with winds and slight swell from North plus effects of tidal flow. Motored down channel yesterday to current location. Great spot. Thunderstorm passed over last night, bit of rain and westerly winds for a couple of hours. Heading for Tin Can Bay marina over next 10 days - South end of great sandy straights about 50 miles away. Slowly working away at various boat jobs. Crew and boat all well.
Tue Mar 12 20:55 2019 NZDT
GPS: 25 17.705S 152 54.600E
Run: 49.3nm (89.2km)
Weather: Blustery northerly, warm and sunny during day, 35 degrees, thunder storms brewing during late afternoon.
Currently tied up in Hervey Bay Boat Club marina, Urangan. Motor sailed here from Bundaberg two days ago just as wind turned to light northerly. Monday picked up part for water maker from engineering shop in Hervey Bay. Spent today in Maryborough, place with a very interesting history, including the connection to Mary Poppins. Off on a driving tour of Fraser Island tomorrow.
Mon Mar 4 14:49 2019 NZDT
GPS: 24 45.621S 152 23.295E
Weather: Fine, south east trades at 15-20kts most days and odd showers during the night.
After almost 4 months enjoying some land adventures and activity we arrived back in Bundaberg a week ago and moved aboard Silver Light 3 days ago after some cleaning and TLC for the good ship. Great to be home again. Will look to head South into Hervey Bay and into Urangan later this week.
Loading map and updates ....
Loading track, please wait ....