Site Office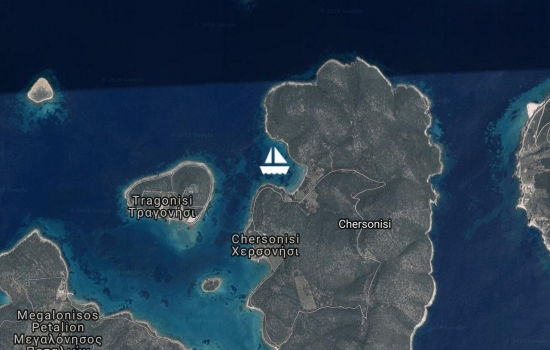 Mon Jun 3 1:36 2019 NZST
GPS: 38 1.708N 24 16.831E
Run: 17.5nm (31.7km)
Weather: Sunny and pleasant
After the noisy bay last night, we moved off the mainland to a little deserted bay on an island. Well, deserted on the land part, the bay is full of day trip small fizz boats (being a Sunday) and jet skis ..... most cleared out later in the afternoon to leave the place peaceful and quiet.
Sun Jun 2 15:33 2019 NZST
GPS: 37 53.443N 24 0.686E
Run: 16.2nm (29.3km)
Weather: warm, sunny, and whatever wind there is, it's always on the nose!
After traveling up a very industrial coastline, we stopped in here for one night to get some groceries, and listen to the loud nightclubs/bars play their music all night ;)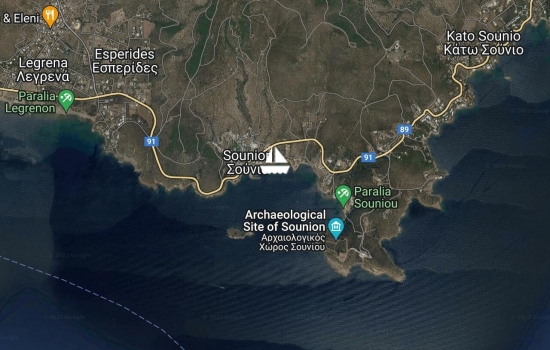 Sat Jun 1 15:31 2019 NZST
GPS: 37 39.407N 24 1.075E
Run: 26.8nm (48.5km)
Weather: fine, high 20s, wind always on the nose
Stopped in this little bay where there's another temple up on the headland of the bay. Not in as good a condition as the last one though, but still pretty, especially when lit up at night.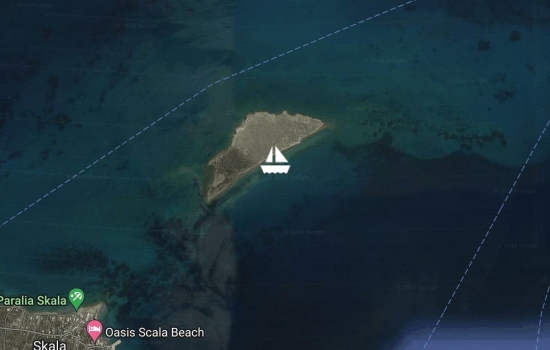 Fri May 31 2:51 2019 NZST
GPS: 37 43.276N 23 23.045E
Run: 4.7nm (8.5km)
Avg: 169.2knts
24hr: 4060.8nm
Weather: Sunny.
Nice little sandy island with goats and nesting seagulls.
Fri May 31 2:49 2019 NZST
GPS: 37 41.962N 23 27.964E
Run: 13.6nm (24.6km)
Weather: Sunny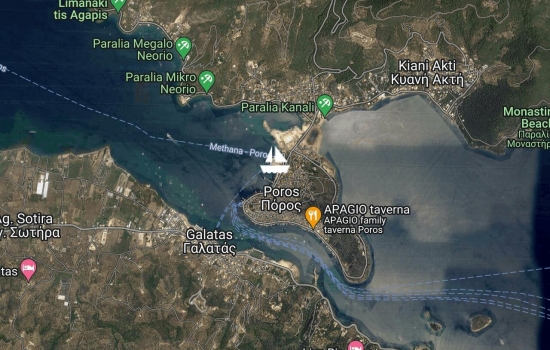 Tue May 28 11:51 2019 NZST
GPS: 37 30.127N 23 27.267E
Run: 36.2nm (65.5km)
Weather: Fine
Stopped in Poros for 4 nights - 2 at anchor and 2 against the town quay
Tue May 21 10:47 2019 NZST
GPS: 37 34.073N 22 47.909E
Run: 20.9nm (37.8km)
Weather: fine
Nafplion, East Peloponnese 🇬🇷 Day 1.

We arrived about midday, and since there was no one anchored out in the port, we decided to tie up to the town quay. This is quite handy for exploring the place as it's obviously easier to just step off the boat rather than go ashore in the tender, so as long as the weather is settled, it's great. We sorted out buses for tomorrow (Jo is leaving us and flying out of Athens) and then decided to tackle the steep cliff to the Venetian fort at the top of the hill. (See a separate post about this). We loved exploring "old town" Nafplion as well as it is all alleyways and bougainvillea everywhere displaying beautiful bright colours. It's quite touristy, but we didn't mind grabbing a gelato and strolling the streets looking at shops and people watching. We then retired to the boat for a nice bbq meal to celebrate Jo's last night on board - she will be sorely missed! 😢
Sun May 19 10:47 2019 NZST
GPS: 37 24.962N 23 7.681E
Run: 4.9nm (8.9km)
Weather: Some cloud, otherwise sunny.
Koiladas, East Peloponnese 🇬🇷


This is a very shallow anchorage, but Jim managed to expertly park us just out from the pier so we didn't have too far to go 😂🤣. We went ashore for a look, and had a nice lunch. On the way out there was a bit of a miscommunication as to who was paying, so we all walked out and the poor guy had to chase us down the road on his scooter. He said the money was "too low", so we asked how much we were short by, to which he replied "all of it"! 😂🤣. Good guy and honest mistake that even earned him a tip. We wandered around and looked at the big yard for boats on the hard, with a few being worked on getting them ready for the season. We then passed a guy tenderising his catch of octopus by smashing it on the rocks 😳.
Sat May 18 19:21 2019 NZST
GPS: 37 21.685N 23 4.337E
Run: 5.2nm (9.4km)
Weather: Partly cloudy
Korakonisia, East Peloponnese 🇬🇷

Jim's two friends (Cathy & Jo) arrived just before 11pm after a long days traveling, but we still managed to keep the girls up til 1am talking over a wine or two. After a bit of a provisioning shop on Saturday morning, we headed north to a secluded little bay for the night. There was a lovely property on shore with a couple of young Greek guys doing the gardening - us girls didn't sit there with binoculars watching them ... honest 🤔🤣. After a lovely swim in the 22C water, the girls both tried the paddle board and fell off even though they'd only tried it once before - well done!
Thu May 16 23:08 2019 NZST
GPS: 37 19.041N 23 8.917E
Run: 3.7nm (6.7km)
Weather: Fine
Porto Heli, 🇬🇷


We've come in to this large and lovely bay as we have some friends arriving on Friday night. We met some cool locals, paid the Greek cruising tax (which has just come out and is specifically designed to be as difficult as possible to pay, and also has huge fines if you don't pay 🤦‍♀️). We'll get some provisions Saturday morning and then make our way up the coast which is suppose to have many nice anchorages and then on to Nafplion which is also suppose to be very nice.
Wed May 15 22:32 2019 NZST
GPS: 37 16.599N 23 6.339E
Run: 15.4nm (27.9km)
Weather: Fine
Zogeria, Spetses Island 🇬🇷

We have some guests arriving on Friday so have crossed the channel towards a bit bigger port with ferry services to Athens. On the way we stopped in at this little bay and encountered our first "charter boats" - two cats full of loud drunk tourists 🤦‍♀️🤷🏻‍♀️. They were entertaining to watch as their dingy floated away, and then a woman finally spotted it heading out of the bay, and jumped in and took about 10 mins to swim to it as it was being blown further away. We were anchoring at the time, so we were a bit busy to help. Another guy then jumped in, and the dingy from the other boat tried to rescue as well, but the outboard kept cutting out every few meters. He finally arrived at the first woman but couldn't get her on board and she was obviously exhausted. By that point we were anchored and the boys launched the tender to go help. The woman did the biggest splits ever between the two charter tenders and finally got on board, and they towed it back and got the second guy out of the water on the way. They then consumed more alcohol and proceeded to chase each other around the bay in the dingys, pushing bow to bow, and having tug of wars. 🤦‍♀️ It came time to leave and one nearly rammed the other while they were upping anchor and stormed out of the bay, put their sails up, and then went backwards for 10 minutes 🤦‍♀️🤦‍♀️
Tue May 14 22:17 2019 NZST
GPS: 37 6.594N 22 55.278E
Run: 3.7nm (6.7km)
Weather: Fine
Poulithra, Peloponnese🇬🇷

Another stop on our way up the coast - a very sleepy little village.
Mon May 13 22:13 2019 NZST
GPS: 37 4.294N 22 58.047E
Run: 6.9nm (12.5km)
Weather: Fine
Fokianas, Peloponnese 🇬🇷

We headed up the coast a bit past spore cool mountains and scenery, and stopped in a little remote bay with just two tavernas on the beach and a beach bar. It's obviously set up for the tourist trade and just waiting for the season to start.
Sun May 12 22:06 2019 NZST
GPS: 36 58.430N 22 59.561E
Run: 19.7nm (35.7km)
Weather: Partly cloudy
Motored up the coast to this little bay. Apparently there's a rock climbing festival on this weekend. Could be entertaining as the bay is surrounded by huge mountains with steep cliffs.
Fri May 10 12:59 2019 NZST
GPS: 36 41.421N 23 2.255E
Run: 14.9nm (27km)
Weather: Warm and sunny
Arrived in Monemvasia ... wow, just ... WOW! Go to Facebook and look at all the photos that I've uploaded. Spent three nights here and helped a fellow cruiser celebrate her birthday.
Thu May 9 19:14 2019 NZST
GPS: 36 28.720N 22 59.020E
Run: 61.5nm (111.3km)
Weather: Fine with light breezes
Weather has finally settled, so left Kalamata, overnighted here, and now off to Monemvasia, which is spose to be georgeous.
Thu May 2 1:07 2019 NZST
GPS: 37 01.441N 22 06.331E
Run: 10.6nm (19.2km)
Avg: 86.7knts
24hr: 2081.5nm
Weather: Cloudy today.
After 6.5 weeks at anchor, we are heading into a marina at Kalamata (home of the fabulous olives by the same name). There is some shit weather coming, and might be nice for a change, and we get to use lots of marina electricity and water. Muhahahahaha >:)
Thu May 2 1:00 2019 NZST
Run: 15.8nm (28.6km)
Weather: Sunny
Stopped here overnight. Small town but yummy gyros!
Sun Apr 28 18:16 2019 NZST
GPS: 36 48.931N 21 42.594E
Run: 7nm (12.7km)
Weather: Variable
After 3-4 days of crap weather, we are on the move again. This time to a cute little village with an awesome castle called Methoni. Will try to add a photo later after flying the drone.
Mon Apr 22 19:53 2019 NZST
GPS: 36 54.986N 21 41.773E
Run: 12.1nm (21.9km)
Weather: Sunny for the last 4-5 days, but overcast today and wind on the way.
We moved down the Peloppenesian coast a bit and are now in a huge bay (Navainou Bay) waiting for some crap weather to blow through tomorrow. This bay is famous for a naval battle in 1827 where Admiral Codrington of the Royal British Navy sailed his fleet of 26 ships into a three quarter circle formed by 89 battle ships of the Turkish and Egyptian Navies, whereupon the Brits dropped anchor and proceeded to pound the Turko-Egyptian Naval force into smithereens over a 4 hour period, thus paving the way for Greek independence from Turkey and building a reputation for British Naval gunnery at the same time. Interestingly, at that time the British were not at war with either Turkey or Egypt, but were "keeping the peace" – through superior firepower apparently.
Fri Apr 19 6:04 2019 NZST
GPS: 37 3.741N 21 34.487E
Run: 43.1nm (78km)
Weather: Sunny and calm
Anchored off a tired little fishing port for the night on our way south. Nothing much to report here, although we did get "big blue" (the gennaker) out for a while which was nice.
Tue Apr 16 22:31 2019 NZST
GPS: 37 39.161N 21 19.370E
Run: 26.5nm (48km)
Weather: Sunny
Arrived at mainland Greece. Low on internet so about to go ashore to explore, and get a local SIM card.

(Ps also visited ancient Olympia while here - where the first olympics were held 2700 odd years ago - see Facebook for photos and write up!).
Tue Apr 16 4:47 2019 NZST
GPS: 37 40.834N 20 50.396E
Run: 17.2nm (31.1km)
Avg: 274knts
24hr: 6575.6nm
Weather: Rain and thunderstorms
We left shipwreck bay and motorsailed down the western side of the island, past more caves, dramatic landscapes, and have anchored in a large bay that is the most important Loggerhead sea turtle breeding area in the Mediterranean. We will stay here a day or two and then head east towards the mainland of Greece.
Tue Apr 16 4:44 2019 NZST
GPS: 37 51.694N 20 37.386E
Run: 8.5nm (15.4km)
Shipwreck Cove (Navagio Beach), Zakinthos Island, Greece 🇬🇷
After a lovely sunny day yesterday that saw us all happily harvesting Vitamin D, we awoke to grey skies, and left the anchorage to head north around the tip of the island. There are lots of caves here, called "blue caves", but you need the sun to be shining for them to show their true potential, so we didn't stop for a look. We arrived at Shipwreck Cove just as the rain stopped and the sun intermittently came out. We flew the drone but wanted to wait for the sun to get higher so that part of the beach wasn't in shade. The bay was quite lumpy due to a swell coming in, so we tried our first ever hand launch and hand landings with the drone, which was entertaining. The first one was fine, but the second one the boat lurched up when Steve went to catch it, and got a "drone bite" when his finger hit some of the blades. Luckily the drone quickly recovered and he was able to grab her again without any loss of control.
So, here are some of the images. This lovely deep cove, has a ship wrecked on the beach. The ship was wrecked here in 1980 during stormy weather, and was reported to be smuggling cigarettes for the Italian mafia, and got into trouble while trying to evade the Greek navy. She's 157ft in length, 26ft wide, had a draft of 14ft, and a GRT of 452 tonnes. She's now a great tourist attraction, and only accessible by sea.
The other awesome thing about this bay, is the amazing colour of the water. It's the most bright turquoise colour, almost fluorescent, and it was great to just sit and stare at it. The sheer cliff faces on either side are very dramatic, and made for great photos.
Sun Apr 14 18:42 2019 NZST
GPS: 37 50.568N 20 46.652E
Run: 29.2nm (52.9km)
Weather: Variable
Zakinthos Island 🇬🇷

We crossed from Kefalonia to Zakinthos, and stopped in briefly at Nicolaos for a look. Not much to see here except lots of boats getting ready for the tourist season - they do tours of the blue caves and shipwreck bay. We moved to Alikanas for the night and spent 3 nights there. There was a kiwi boat in the bay with an English couple who live in NZ on board. They have been cruising Greece for 3 seasons, so gave us some great tips. There was not much on shore at this place either - mostly bars and restuarants all water blasting, cleaning, touching up the paint, and generally getting ready for the tourist season to kick off in a few weeks time. Yesterday gave us a taste of summer with a lovely calm hot sunny day - it was fantastic. It also gave us a chance to clean the boat after the previous day's "dirty rain" - that's when the desert sands in the atmosphere come down with the rain and cover your boat 😕. After a good day cleaning, we soaked up the sun and almost considered a swim, until we dipped our toes in to find it was still very cold - might have to wait a while longer for that to warm up.
Tue Apr 9 3:19 2019 NZST
GPS: 38 15.183N 20 38.853E
Run: 10.5nm (19km)
Weather: Rain and then thunderstorms, but sunny now.
Sami, Kefalonia Island 🇬🇷

We motored around the top of Kefalonia, and went in to Fiskardo Port for a look. It's another cute little fishing village that apparently survived the 1953 earthquake. We needed to head further south to Sami to drop our guests off at the bus tomorrow, so continued on down the coast. We stopped for a while for a look at some dolphins hanging around a fish farm, and then continued on. A thunderstorm developed around us, but it mostly passed before we arrived in Sami. We did, though, get poured on while tying up to the pier in Sami. Ten minutes after we tied up the sun came out, which was most welcome! Sami is another cute little village, which seems to rely on the tourist trade. There's some underground lake caves an easy bike ride away, so we'll hopefully check those out on Wednesday when they open. There are two other cruising boats tied up beside us - one French boat who are keeping to themselves, and a couple of German guys who we had a great chat to. It's always nice to meet new people and hear their stories and about their lives.
Mon Apr 8 20:22 2019 NZST
GPS: 38 22.695N 20 32.307E
Run: 13.7nm (24.8km)
Weather: Overcast and occasional rain, and no wind.
Assos, Kefalonia Island 🇬🇷

Late on Friday night we had two friends turn up to stay for a few days. On Saturday it started out very windy and rainy, but cleared enough for a look around on shore. The next day the wind was gone, but it's still overcast. We motored around to the cutest little village you've ever seen called Assos. After flying the drone for some photos, we walked up the hill to a Venetian Fort for a look. It started drizzling on the way back so it was a movie night on board while listening to the rain.
Sat Apr 6 0:22 2019 NZDT
GPS: 38 11.013N 20 29.676E
Run: 294.8nm (533.6km)
Avg: 5.8knts
24hr: 138.2nm
Weather: Rainy and windy
Greece 🇬🇷.

We anchored up in Greece safe and sound at about 10 pm last night. We have cleared customs, got our transit cruising log, and will have two guests joining us tonight for a few days. Unfortunately the weather for the next few days is rain. 😢
After motoring from Tunisia to Palermo, and then most of the way around to Siracusa, we finally had an awesome sail from Siracusa to Kefalonia, Greece. We had the big shhhhh 🤫 sail up and were doing 8-9 knots most of the way, with speeds increasing as the wind did, allowing us to finish in the 9-10knot range, and a top recorded speed of 12.9knots! By our rough calculations we did a 198nm day - so close to the magic 200nm! To top it off, we landed a nice sized tuna. About 4 hours after we arrived the wind got up, and it's blowing and raining here today, so we timed it perfectly.
It may sound strange but it's starting to feel like we actually cruising. It's starting to warm up and we're also starting to meet and see other cruisers. We met an Aussie couple (on "Bilby") in Siracusa who we briefly met way back in Monastir in Tunisia. They'd been from Tunisia to Malta, and then anchored up next to us one morning in Siracusa. Needless to say there was much talk, beers, and we got taught to play Mexican Train Dominoes. They are a lovely couple and also have a dog on board - Sally the whippet, so we got plenty of doggie loving 🥰. Unfortunately, we experienced some of the bad side of cruising in Siracusa. The first day we decided to lock the tender to the dingy dock, someone got on board and stole our 20L of spare fuel. We were pretty pissed, but the next day, Bilby had their whole dingy stolen! We were gutted for Liz and Rob, especially since they had locked it, but the thief had cut through the handle the dingy was chained by. The local marina had footage of the perpetrator, so they gave all the info to the local police. Unfortunately I'm not sure what their chances of recovering it are. The insurance company of being assholes too, saying they have to pay 20% of the replacement dingy & outboard cost, plus wait 3 months before they pay out in case it's recovered. What they don't realise is that without their dingy, they have no way of getting from their boat to shore to take Sally to the toilet, so have to pay €100 per night for a marina (which the insurance won't pay for either). But don't get me started with insurance companies just at the moment (just renewing ours for Seaforth .... they really do exclude all sorts of risk and won't cover Steve's guitars, but then claim to cover you for silly things like cutlery and food that no one would bother claiming for 🤬😡).
Anyway, enough of that. It's a good reminder for us to be more careful, and we have modified the way we do things with regards to security.
At the same time we arrived in Kefalonia, two big boats arrived. One was a giant gin palace, and the other a strange looking boat covered in smaller boats and a helicopter! Turns out the second one is the "toy carrier" for the first - Ace & Garçon (4 Ace). Imagine the money you'd have to fork out to have a completely separate boat to carry your toys! Jim was talking about getting Steve to drive the tender with the paddleboard and drone in it behind Site Office where ever we go. 😂🤣
Wed Apr 3 21:09 2019 NZDT
GPS: 37 2.942N 15 18.219E
Run: 1.5nm (2.7km)
Weather: Sunny, 5knot nosilies
Farewell Sicily/Italy! It's been an awesome 3 months, but time to move on. Ciao!
Mon Apr 1 8:50 2019 NZDT
GPS: 37 03.636N 15 16.844E
Run: 54.4nm (98.5km)
Weather: Fine, sunn, light winds.
Siracusa 🇮🇹

This is a well protected harbour that once rivalled Athens as the centre of the Greek empire. It consists of a large bay with an island (Ortygia) extending out from one headland and halfway across to the other headland. it is separated from the mainland by a narrow canal, but the differences between the two are striking. The mainland (apart from the archeological park .. more on that later) is just a busy city. Ortygia though, is a step back in time as you wander the narrow alleyways and streets. It is surrounded by sparkling waters and drenched in sun, so no wonder there has been evidence of humans here from 2000 BC. There was lots of turbulent history here, thanks to fighting with Athens and Carthage, and it finally fell to the Romans around 211 BC (followed by the Arabs, and then the Spanish I think, then the Austrians, and finally Naples before the unification of Italy). There are, as always, amazing old buildings, ruins, and lots to see. I'll write a separate post on Facebook on each place as we go along.
Sun Mar 24 12:07 2019 NZDT
GPS: 37 50.822N 15 17.354E
Run: 36.3nm (65.7km)
Avg: 3.9knts
24hr: 94.8nm
Weather: Sunny and warm
Taormina, Sicily 🇮🇹

We arrived and anchored about 2pm and discovered some nylon trailing behind one of our sail drives. With fingers crossed, Jim plunged into the jellyfish infested waters, wearing his long John's and long sleeve thermal top to avoid being stung. Jim reports that it was still b*$*y cold. I stood by with the boat hook ready to remove any jellyfish - or was it to agrivate them into stinging? 😂🤣. Luckily it turned out to be a simple piece of nylon on a prop blade, and not wrapped around anything. Once that was sorted we high tailed it to shore and started the 55min climb up the hill to the town of Taormina. It's the cutest little town you've ever seen, with only pedestrian streets, full of touristy stuff and cool old alleyways leading to little Ristorante's. We were short of time so headed straight up to the theatre before it closed. I've loaded lots of photos including the text explaining a bit about it. It started life in the 2nd century BC as a Greek theatre, and was rebuilt by the Romans in about 2nd century AD. It's had quite of bit of restoration but is still pretty cool. Apart from the one in Siracusa, this one is the second largest in Italy and North Africa. Tomorrow we head south to Siracusa, which rivalled Athens as the centre of the Greek empire. Looking to visiting there!
Sun Mar 24 2:55 2019 NZDT
GPS: 38 15.272N 15 42.656E
Run: 42.6nm (77.1km)
Weather: Sunny and very little wind
Have left Aeolian Islands and started first of 3 day-hops to get to Siracusa. First stop tonight in Scilla - a very pretty little fishing village. It marks the first time we have been on mainland Italy, and also the first time since Port Ginesta (south of Barcelona) since we have been on mainland Europe.
Thu Mar 21 15:31 2019 NZDT
GPS: 38 25.179N 14 57.247E
Run: 15.8nm (28.6km)
Weather: Overcast, and a few windy rainy days forecast
We headed around the western side of Lapari but couldn't find a suitable anchorage for the forecast SE winds, so are back in Vulcano. When the weather improves we will hike up the volcano for a look, and hopefully hire a car and go for a drive around the island. See Facebook for photos!
Wed Mar 20 15:27 2019 NZDT
GPS: 38 37.725N 15 4.200E
Run: 15.8nm (28.6km)
Weather: fine and sunny with little wind
We went to panarea for a day trip and it was lovely. Unfortunately there's some SE winds coming so we headed back to Vulcano.
Tue Mar 19 4:46 2019 NZDT
GPS: 38 25.173N 14 57.234E
Run: 56.5nm (102.3km)
Weather: Warm and sunny
Moved to the island called Volcano 🌋. There is, surprise surprise, an active volcano right next to the anchorage, and about 6 other islands around us with active or dormant volcanos - including Etna - Europe's biggest active volcano. What can possibly go wrong?
Sun Mar 17 22:42 2019 NZDT
Run: 36.7nm (66.4km)
Weather: 5knts E, slight seas, no clouds
Time to move on! After 2 months wintering over in Palermo, Site Office is finally ready to get going again. Jim spent most of that time back in NZ, while Ade & Steve did some travelling around Europe via cheap flights on Ryan Air. After a week of sorting a few jobs on board, we left and stopped overnight in a lovely little quaint fishing village called Cefalu. It?s cathedral dating back to the 11th century was cool to see, along with the centuries old buildings clinging to the rocks on the edge of the sea. The backdrop to the town was the huge cliff face of a rock jutting out straight up above the town. See FB for photos - very pretty place.
Sun Dec 30 4:59 2018 NZDT
GPS: 38 07.299N 13 22.132E
Run: 214nm (387.3km)
Weather: Fine
Yay! Made it to Italy! We motored in flat calm from Monastir, Tunisia 🇹🇳 and have arrived safe and sound at Sitimar Marina, Palermo, Sicily 🇮🇹
Fri Dec 21 22:19 2018 NZDT
GPS: 35 46.836N 10 49.979E
Run: 141.1nm (255.4km)
Weather: Fine, sunny, and calm
Monastir, 🇹🇳.
We had a calm weather window and ended up motoring all the way. We saw 5 lots of dolphins, but only two groups came to play for a while - one right outside the marina.
We also saw lots of little fishing boats who seem to like to save electricity by not having navigation lights on at night - until you get close, and then they turn them on and/or shine spotlights at you. When I say lights, this can mean anything from proper navigation lights, all the way through to a cell phone light .... an old Nokia flip phone from the looks of it 😂🤣. As you can imagine, we got quite close to come of these boats - accidentally.
But we made it safe and sound just on dusk, and didn't pick up any of the many fishing nets all around the entrance to the marina.
Here's some photos of the marina at Monastir. It's a lot cleaner here - and more expensive. There's some pretty looking buildings and sights around the place which we will explore soon, once we have moved off the temporary dock and into our berth for the next week or so.
Sun Dec 9 1:41 2018 NZDT
GPS: 36 57.444N 8 45.621E
Run: 161nm (291.4km)
Avg: 332.9knts
24hr: 7989.9nm
Weather: Showers
We never got visited by the NATO warship, but we did get called up by the Algerian Coastguard. They asked us to repeat our boat's country of registration (the Cook Islands) about 3 times - they obviously didn't know where that was! We thought Algeria was not the sort of place you go being a tourist - and maybe not - but there are apparent plenty of Algerian tourists in Tabarka, Tunisia. We've been told there is nothing to do in Algeria (no hotels, bars, not even a cinema), so they all come here. We've also been told that we can stop there just to get fuel - you don't check in, just tie up to the dock and pay €0.20 per litre for diesel! It's €0.60 here in Tunisia (20M up the coast), and €1.20 back in Mallorca!!
So we arrived and were met at the dock by the local port captain and the police who then took Jim off to do the paperwork. It was a bit difficult since they only speak French or Arabic and we only speak English, but we got a couple of bits of paper and some stamps in our passports, and seem to be all cleared in. Jim reported the police station was very basic - a desk with a typewriter, and nothing else, not even a phone. We also got a visit from immigration who also took copies of things - not sure why, but that's bureaucracy for you.
The port captain had us tie up next to a large old boat from Italy, so we're rafted up and have to climb over his boat to get on board. It's probably a good thing cos the locals (or maybe tourists from Algeria?) keep climbing on the boats next to the wall to have their photos taken. The port captain is forever running around telling them to get off and pointing to all the signs saying to keep off the boats.
We went for lunch which was yummy with a great spicy soup to start, and then French influence mains, with French fries, vegie salad, and flavoured rice. We thought it was going to be about equal NZD to Tunisian Dinar, but turns out a Dinar is about €0.30 or NZD$0.50, which makes a nice change (and makes everything very cheap) compared to euro (about nz$6.50 for a huge two course lunch in the tourist area). The last marina in Mallorca was nzd$500 per night .... here we are rafted up to another yacht but it cost nzd$7.50 per night.
After exchanging some euro for Dinar (luckily we had euro to exchange as the money machines here don't seem to work with our cards) we went for a wander around the streets and markets. I wish I could take more photos! I've never been to places like India or Indonesia, but I'm guessing it's similar - a mix of vibrant energy, colour, filth, poverty, commerce, and smiling faces. The stall sellers were not pushy at all, and the fruit and veg all looked very .. um... "organic" (ie, kinda wilted and not very fresh).
Speaking of fresh, we have fresh cat pee on the boat thanks to the very confident Tom cat that jumped on board shortly after we tied up to the customs wharf. He sprayed on our window, and despite washing it off, the smell still remains. We've seen other cats on board so are keeping all windows and doors closed to prevent any getting inside and doing the same thing!
We meet a couple on a boat next door who have been very helpful with tips for places to travel to. She is Italian, and he is French, but raised in Morocco and then they have lived here for 3 years. They speak great English, and also French and Arabic, so have offered to help translate for us - everyone speaks French here (or Arabic) so we are pretty much completely lost. We have to apologetically explain we are from New Zealand, to which they reply "oh, so you speak Dutch". No, that's old Zealand! 😂🤣. We have also heard that we are the unusual people with the weird black passports! 🤣
We went for a wander around town through all the markets selling Knick knacks, clothes, shoes, food, and even kitchen sinks. We plan to climb the hill near the port to the old fort and have a look at the amphitheater in the next bay tomorrow. Until then, good nite!
Sun Dec 9 1:12 2018 NZDT
Speed:
8.5
knts
GPS: 38 01.614N 6 09.179E
Run: 218.4nm (395.3km)
Avg: 3knts
24hr: 71nm
Weather: sunny, 10-12AWS aft of the beam
We lifted anchor at approximately 10.30am Wednesday the 5th of December. Jim had gone into town to clear us through customs while Steve and I did a quick supermarket visit for some fresh supplies. We motored through fog for the first day and night which was quite eerie, in flat calm seas and little to no wind. It was my birthday and Jim bought a cake while in town, and it made for a great passage snack. We were audience to an awesome sunset when we emerged from some fog, which we eventually left behind overnight. There?s lots of tankers, fishing boats, and cargo vessels out here so watches are busy keeping clear of everyone. In the morning we put the lures out and caught a nice fat little tuna. The wind gradually picked up and we hoisted the sails and shut off the engines. We?re now just waiting to see if the Nato warship that has been visiting and questioning other boats will come see us or not.
Wed Dec 5 23:22 2018 NZDT
GPS: 39 29.045N 02 33.445E
Run: 2.4nm (4.3km)
Weather: Calm and Foggy
We have cleared customs and are heading for Tunisia. We will be out of contact for 2.5 days. Internet sounds like it's a bit patchy in Tunisia, so not sure when we'll be posting again. Looking forward to a nice sail.
Wed Nov 28 0:00 2018 NZDT
GPS: 39 30.946N 2 32.479E
Run: 3.8nm (6.9km)
Weather: Fine and calm
Left marina and anchored up in Palma nova bay.
Mon Nov 26 0:47 2018 NZDT
GPS: 39 32.906N 2 35.923E
Run: 0.4nm (0.7km)
Weather: Sunny but wind getting up
It's due to blow a bit over the next three days, so decided to duck into a Marina for good protection, get some washing done, re fuel, and get some parts that were ordered a few weeks ago in Palma.
Sat Nov 24 0:00 2018 NZDT
GPS: 39 33.025N 2 36.401E
Run: 10.1nm (18.3km)
Anchored around the corner from Palma to drop a friend off to the Palma airport.
Fri Nov 23 0:00 2018 NZDT
GPS: 39 32.196N 2 25.069E
Run: 43.3nm (78.4km)
Weather: flat calm and sunny
Motored in flat calm conditions down the western side of Mallorca and around to Camp de Mar.
Thu Nov 22 0:00 2018 NZDT
Run: 109.8nm (198.7km)
Weather: slightly warmer than Barcelona! :)
Finally got all issues sorted and left Port Ginesta to continue our circumnavigation of Mallorca.
Thu Nov 15 0:00 2018 NZDT
GPS: 41 15.566N 1 55.666E
Run: 111.6nm (202km)
We moved back to Port Ginesta to try to get a resolution to our B&G chart plotter issues. Hoping to get it sorted - finally - this week and head back to Mallorca on weds/thurs.
Mon Nov 12 0:00 2018 NZDT
GPS: 39 57.219N 3 10.678E
Run: 21.7nm (39.3km)
Weather: Mostly fine
We moved around the top of Mallorca and found an amazing bay but didn't have internet coverage. It was surrounded by steep cliffs and stunning landscape. I tried a few photos with the drone, but couldn't go high enough to capture it all. We are now back in Port Ginesta to try and sort out the B&G chart plotter which is proving very hard to get back from the local B&G agent in a fixed condition!
Sun Nov 11 1:44 2018 NZDT
Run: 26.9nm (48.7km)
Weather: Overcast. Occasional showers
We moved up the coast a bit and anchored up in Cala de s'Aguilla. It was a bit of a rolly night. Now we're heading further north west so that we get to the western side of Mallorca before the winds turn to the east.
Tue Nov 6 6:11 2018 NZDT
GPS: 39 28.360N 002 31.341E
Run: 3.4nm (6.2km)
Weather: Overcast.
After an enjoyable evening on Site Office 2, we had a slow day today. We were going to head around to the west side of Mallorca, but after bashing into wind and waves, we decided to duck into Portels Vells. It was a pleasant surprise as there are some cool caves to explore. See Office Gossip on Facebook for more info and photos.
Mon Nov 5 10:04 2018 NZDT
GPS: 39 31.131N 002 32.532E
Run: 7.3nm (13.2km)
Weather: Fair winds, sunny.
We awoke to a lovely sunny day and after basking in the sun for a bit, headed off around to the next large bay. Had a lovely sail, and anchored up next to Site Office (2). Went for drinkies and had a great time chatting to previous owners of Site Office and picking their brains about the boat. Their new boat (63ft lagoon motor vessel, obviously also called Site Office) is stunning and getting ready for her trip to the Carribean. Hopefully we'll catch up with them again before they leave! Great day!!
Fri Nov 2 20:30 2018 NZDT
GPS: 39 32.104N 2 24.461E
Run: 119.9nm (217km)
Avg: 6.8knts
24hr: 163nm
Weather: Mostly fine
Arrived in Mallorca after overnight motorsail. Few teething problems on board but otherwise all well. Nice to be at anchor again!
Fri Nov 2 2:51 2018 NZDT
GPS: 41 13.751N 1 54.981E
Run: 2.2nm (4km)
Weather: Fine
Leaving Port Ginesta and heading to Mallorca. Yay! ETA tomorrow morning local time (approx 20 hour passage).
Tue Oct 23 20:52 2018 NZDT
No position sent.
Weather: Low 20s and fine.
Adrienne here. I decided to write a bit of a blog since I've been a bit slack with posting what we've been up to.
First up, I must admit something a bit silly. I don't know why, but for some reason I thought most people in Spain would speak English as well as Spanish - maybe not fluently, but enough to get by. I don't know why I thought that, but there you have it. Turned out I was wrong. Most of the time it doesn't matter. You can go places, see the sights, and the touristy places have English signs and English speaking guides anyway. The place where it gets difficult is simple things like going to the supermarket. Not only do they not have any of the familiar brands of products here as we have back in NZ, but everything is only in Spanish (or Catalan). Google translate on the phone (once we got a local sim card and therefore some internet) is brilliant, but it does take time. So 'popping' in to the supermarket for a few items turns into a very long procedure for finding what you think you need, typing the name on the packaging into Google translate, finding out that that was the brand name, not a description of what it actually is, then starting out all over again. Buying simple things like shampoo and conditioner was "fun". The checkout ladies also jabber away at you and you just stand there looking all stupid and confused and point to your t-shirt with "New Zealand" on it and shrug and apologise.
That aside, it's fascinating to see the different types of foods here. The cheese and salami sections are huge. Back in NZ, there may be two shelves in one section for olives. Here there's half an aisle of olives. Canned tomatoes and chickpeas (but in jars) are easy enough to find, but coconut cream is a tough one. Maybe they don't cook many curries here? There's only milk in UHT tetrapaks – nothing "fresh". The bread aisle is, of course huge, but man, you have to hunt high and low for crackers to put your cheese and salami on. Biscuits, no problem, or pre-toasted toast, but where are all the Huntley & Palmers? Snax? Meal Mates? Not here mate!!! When you can find them, there's only one variety of cracker and that's all you get!
The meat section is also very different. There's lots of pork, beef, chicken (very yellow looking which is odd), and other things like rabbit and turkey, but I haven't seen any lamb yet. We're hoping there'll be more lamb in Morocco, but probably not much pork (being a Muslim country), so will stock up on the pork products here in Spain while we can (along with the beer and wine!).
We've been here for a month now, and are slowly getting used to how things work. The driving is all over the place, with lane markings just a suggestion, but it's all relaxed and no road rage. Getting things done seems to take ages – "Mañana" they say … "tomorrow" … but that doesn't actually mean tomorrow - it could mean next week, or next month, but just not today. Shops are often closed for an hour or two any time between noon and 4pm, but then open to 8pm most days. Except Saturday afternoon and Sunday – even the supermarkets are closed. "Morning" is considered to be up until 2pm. After 2pm it's "afternoon" until 8pm. After 8pm it is finally "evening". Restaurants don't open until 8pm. Cops are wandering around with pistols on their hips, and occasionally carrying machine guns. The public transport system is pretty good, and reasonably priced. Dogs are a lot more accepted here, and you see them on buses & trains. The temperature is mostly in the low 20s, and mostly fine (although we have had a few thunderstorms overnight with great displays of lightning).
We are currently in Port Ginesta, about 30 minutes south of Barcelona. We are here having a few things done and servicing completed. Both engines have been serviced, and the generator as well. We had an issue with charging so have had electronic guys in to sort things out. Turned out a relay was "open" instead of "closed" which we didn't know how to switch (or that it even needed to be switched). The boat's systems are quite complicated and there's not really anything in the owner's manual on how things work and there has been absolutely no "hand over" or time spent with us to get us familiar with all the systems. So when, for example, the passarelle stopped working, it turned out it was a simple relay turned off in the electrical system for the port engine alternator. But since the Spanish electrician doesn't really speak English, we don't know why it turned off. We went out today to make water, but once out there, couldn't figure out how to turn the 240v system on to the generator – it worked before it was serviced, so we figured the technician has maybe changed something, but do you think we can figure out what it is? Nope. All the manual says is to push a setting on the touch screen controller, but nothing happens when we do it. And there's no trouble shooting section. Ahhhhrrrr!!! Turns out the technician turned off the 240V circuit breaker (which is hidden on the side of the generator away from the control panel) during the service and forgot to turn it back on.
The most frustrating issue is the washing machine. It was identified back at Easter, when Jim and Steve flew over to inspect the boat; it wasn't working and the broker promised to have it fixed. Five months later when Jim turned up, it was still not working. We've been here a month and Miele still haven't sent their technicians to sort the problem out (which is assumed to be an electronic board problem). We're not sure if they will actually turn up before we have to leave, or if we should just turf it over the side and put in a completely manual washing machine with no electronics!!
In the mean time, we're stuck here waiting for the crates of stuff Jim sent up from NZ that were due in the 1st or 2nd week of October. It has all sorts of things in it, including all the cookware, which has meant we've only been eating what can be cooked in the microwave or on the BBQ. We're getting good at it though. The good news is that they tell us the crate "should" arrive some time this next week – fingers crossed! And lets hope the bloody Miele technicans turn up before then, or we'll be tempted to float-test the damn thing.
Phew. Ok, rant over and done with.
At the end of the day, it's not a bad place to be 'stuck' in. It's close to Barcelona by bus and train, and we've explored the city quite a bit.
As for Site Office, I'm sure it's just a matter of us sorting out all the details on how things work. She's a complex girl, and apart from the electrical/electronic glitches, she runs beautifully. She's a lovely boat, is spacious, has all the bells and whistles, and is more than comfortable. She's got a great sound system, electric fresh water flush toilets, and the showers are spacious. We've only had a small sail so far, but she seems to go well. We are all chomping at the bit to get out of here and let her stretch her legs.
On the huge plus side of being in one place for a while is that we have made friends with a couple who live on their boat here. Steve and I initially got chatting to Louise because they have two Border Collies (April and Blue) and a Chihuahua (Annabelle, or as I call her, Trouble Maker). Louise and her husband James have lived on their old boat for about 7 years around the Med. They have just purchased a bigger boat and have moved to Port Ginesta to live here for a year. James is a pilot and commutes to Italy for his job flying A320s around Europe. They are both awesomely good fun, and James has been helping us a lot with IT type issues on board. He's got our wifi system sorted and shown us how to use it. I think we've been a bad influence on them though, and we've had a few very late nights (or rather, very early mornings) with them that have resulted in not a lot being done the next day due to sore heads. D'oh! It'll be sad leaving here and having to say farewell, and we'll miss the doggie cuddles, but hopefully they'll join us in the future for a holiday on Site Office, maybe when we get to the South Pacific.
Tue Oct 9 9:10 2018 NZDT
GPS: 41 15.566N 1 55.666E
Run: 37.4nm (67.7km)
Weather: Had first rain in two week - plus lightning and thunder.
Came up to Port Ginesta on Friday evening. Jim Med style moored the boat like a champ. Washed her down Saturday and did a few chores. Relaxed Sunday and visited Barcelona. Monday we organised some servicing and parts, and found the not-so-local supermarket for some supplies. Met some other boaties and will do drinkies tomorrow. Barcelona boat show on this week so will go visit. All good and getting things sorted slowly.
Tue Oct 2 18:12 2018 NZDT
Weather: mid 20s and sunny.
Here we are! First YIT update. Site Office is on the hard at Port Taragona. She has had her antifoul done, and we are waiting on a few more jobs to be done before she can go back into the water. Various things are off being serviced - sails, fire extinguishers, life raft etc. The crew are busy sorting things, provisioning, and cleaning the boat. Another big job is learning how everything works. She?s a big girl and has lots of toys onboard, including the crew!
No blogs available for this yacht.
Loading map and updates ....
Loading track, please wait ....