Sula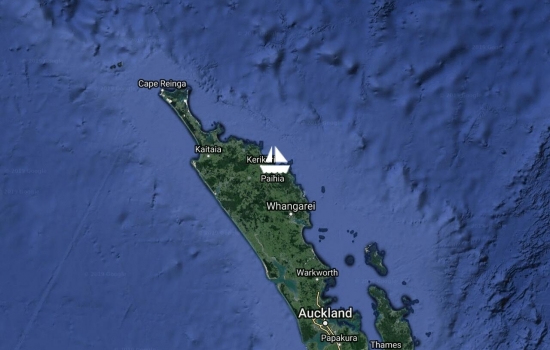 Sat Nov 18 8:45 2017 NZDT
GPS: 35 18.854s 174 7.303e
Run: 1239.8nm (2244km)
Avg: 5.4knts
24hr: 128.7nm
Hi everyone we are in Opua after having a great 7 day passage from Fiji. We arrived 0100 on the 16/11 cleared customs am and now in the marina waited for our boat importation process, might be a week before we head south. Has been great catching up with fellow cruisers and enjoying the All Points Rally fun put in by ICA
Wed Nov 8 17:33 2017 NZDT
Speed:
6.5
knts
GPS: 17 36.897s 177 24.152e
Run: 3.2nm (5.8km)
just leaving Lautoka for Opua with a tight weather window from Clouds- theo on board for this leg which will be great- leaving with another NZ yacht Kapai
Thu Nov 2 18:36 2017 NZDT
GPS: 17 35.426s 177 26.650e
Run: 21.2nm (38.4km)
Sitting off Lautoka having done a few prep jobs towards next week homeward sail to NZ/
Mon Oct 9 7:57 2017 NZDT
GPS: 17 46.012s 177 10.879e
Run: 41.2nm (74.6km)
Anchored at Musket Cove. Great sail over from Vuda Marina yesterday- calm and still this morning though lots of boats here
Thu Sep 28 19:49 2017 NZDT
GPS: 17 10.280s 177 11.261e
Run: 139nm (251.6km)
Anchored up at Mantaray pass- great snorkelling with these big guys- lots of boats and people here- caught another nice Walu on the way in- weather great and water warm
Tue Sep 19 18:45 2017 NZST
GPS: 16 26.177s 179 8.634e
Run: 26.8nm (48.5km)
Having a great explore around the north Coast of Vanua Levu- stopped at Also Is then Malau and now anchored at Naduri - all well
Mon Sep 4 17:01 2017 NZST
GPS: 16 46.704s 179 19.987e
Run: 458.8nm (830.4km)
Avg: 3.8knts
24hr: 91.4nm
Arrived at Savusavu this morning from Vava'u, a great fast trip just over 2 1/2 days- great to be here and now I'm easterly longitude and same time zone as NZ- first time in two years
Wed Aug 30 16:33 2017 NZST
GPS: 18 39.673s 173 58.993w
Run: 6.5nm (11.8km)
Weather: se 15-18 knots clear
Still in Vava'u but heading up to Nuiatoputapu ( new potatoes) 160mls tomorrow morning- weather looks great but left over swell still up-
Tue Aug 22 6:30 2017 NZST
GPS: 18 42.394s 174 4.162w
Run: 81.6nm (147.7km)
Heading Hunga today- had great fun yesterday snorkeling with Noah & Aiden saw whales close as well
Mon Aug 7 16:33 2017 NZST
GPS: 19 50.563s 174 24.499w
Run: 297.5nm (538.5km)
Weather: 21-25 knts SE
Anchored up in the lee of Ouleva Is - Ha'apais - pretty windy today, up to 28 knts- a bit chilly too- must be getting soft- all well on board- will head back to Foa Is e d of week and Vava'u in the weekend
Tue Aug 1 16:00 2017 NZST
GPS: 19 3.29039S 169 55.22271W
Run: 1206.8nm (2184.3km)
Weather: clear
Anchored in Alofi Harbour - our 4th night here in Niue. stunning place. tomorrow we're off to Ha'apais Tonga. getting closer to New Zealand now
Tue Jul 4 5:36 2017 NZST
GPS: 16 30.738s 151 46.228w
Run: 163.7nm (296.3km)
Bora Bora- French Poly our last stop before the Cook Is Raro - lovely here just like the travel photos portray
Sat Jun 17 11:41 2017 NZST
GPS: 17 31.340s 149 31.822w
Run: 870.4nm (1575.4km)
anchored in 30ft in Papawa harbour outside Yacht Club Tahiti after a 245 mile trip down from the Tuamotus hopefully no more hand steering
Fri Jun 2 10:28 2017 NZST
Speed:
8
knts
GPS: 8 56.055s 140 3.440w
Run: 2.9nm (5.2km)
Weather: o/c
halfway to Oa Pou from Nuku Hiva- wind 24-28 ese with lumpy seas- two reefs in main and small headsail- nicely balanced- handsteering-
Mon May 15 13:51 2017 NZST
GPS: 8 54.890s 140 5.733w
Run: 3233.3nm (5852.3km)
Avg: 3.2knts
24hr: 75.8nm
Weather: clear ESE
Anchored up at Taiaohae Bay, Nuka Hiva after a 70 mile overnight we from Tahuata Is- started out very pleasant and ended with a welcoming 35 knt rain squal on entering- all good in board- will be at Nuka Hiva for a couple of weeks
Fri Apr 28 9:03 2017 NZST
Speed:
7knts
knts
Weather: 15-18knts ESE, lumpy seas with a 2.5 m S swell
moving along nicely although having to sail a little higher than we would like as the wind is directly behind. We are approximately 380 miles (1200 local time ) from Futu Hiva our destination at the Marquesas. It's been 17 days at sea soo far, another two hopefully. Daily runs have had us making great progress. All well on board. Sula going really well. Caught o very big Skipjack tuna yesterday nudging 30+ Lbs. Stu & Lesley Sula
Fri Apr 21 0:48 2017 NZST
Speed:
6knts
knts
Weather: 10-12 knts ESE, slight seas with a 1.5 m S swell
gliding along at 0500 local time, warm with flat seas, we have just got to our halfway point between Galapagos and Marquesas, 9 days, woohoo, counting down now, all well on board with lots of fish, reading, sleeping and the odd repair and maintenance.
Tue Apr 11 8:02 2017 NZST
No position sent.
Just leaving Puerto Ayora, Santa Cruz for Marquesas hopefully will be able to get s bit of wind early
Sun Apr 2 21:57 2017 NZST
GPS: 2 5.21644S 93 33.57422W
Run: 304.9nm (551.9km)
Anchored noe off Puerto Ayora on Santa Cruz with stern anchor out- great town with lots to see- small sharks, turtles and seals around the boat, even skipjack tuna
Sun Mar 26 4:47 2017 NZDT
No position sent.
Weather: Clear NE6 27C
Sitting at anchor in Villamil. Just been to the local Saturday markets, checking emails etc- will be heading to Santa Cruz tomorrow night for a slow overnight sail. no seals in the boat cockpit last night
Thu Mar 16 11:16 2017 NZDT
No position sent.
Arrived in San Cristobal two days ago , Clearing in was easy with the friendly officials coming on board. Fascinating place place and a privilege to be here, we will make the most of it. Weather warm and sea cool. big job trying to keep the sealions from making their home in the cockpit.
Mon Mar 13 19:24 2017 NZDT
Speed:
2 knts
knts
GPS: 00 40.44S 089 22.76W
Run: 957nm (1732.2km)
Weather: 5 knt NE, flat seas, cloudy, warm,
midnight $ drifting towards our waypoint off Puerto Moreno on San Cristobal for a morning arrival with a double reefed main. Lots of yellowfin tuna caught yesterday. All well on board. Mostly Motored the last 2 days although did have the big genny up the odd time.
Tue Mar 7 5:15 2017 NZDT
No position sent.
left Las Perlas yesterday with a great weather window but after 14 hours of great sailing, now in doldrum conditions. 7knt Northerly, clear sky's and lumpy seas, all well on board. 3 tuna so far. Stu & Lesley
Sun Feb 19 11:14 2017 NZDT
Run: 37nm (67km)
Weather: calm 4 knots clear sky's
Isla Mogo Mogo- lovely anchorage- calm night with light winds - nice
Sun Feb 12 15:18 2017 NZDT
GPS: 8 56.144n 79 33.324w
Run: 34.1nm (61.7km)
Anchored up at Zbalboa Yacht Club. Noisey with lots of ships and water chilly- nice to be in the pacific
Thu Feb 9 11:25 2017 NZDT
GPS: 9 16.679n 79 54.954w
Run: 10.3nm (18.6km)
Just in the second Gatun lock heading for Gatun Lake for the night- halfway through Panama Canal all going well
Thu Feb 2 2:53 2017 NZDT
Speed:
7
knts
GPS: 9 25.188n 79 52.224w
Run: 696.2nm (1260.1km)
just about at Shelter Bay on the Caribbean side of Pamama Canal
Fri Dec 30 4:59 2016 NZDT
Speed:
5.5
knts
GPS: 12 29.649n 70 5.489w
Run: 4.1nm (7.4km)
Weather: 30% cloud - 30deg. 20knts ene trades
just left Aruba for Panama- this time with a new rudder
Sat Nov 26 12:22 2016 NZDT
GPS: 12 30.488N 70 1.955W
Run: 0.1nm (0.2km)
at anchor in Airport Anchorage, Aruba. Cleared out this afternoon and will be setting off for Panama in the morning first thing. delayed our exit for Otto to pass through San Blas. 650 miles to San Blas. will try to post using Iridium Go along the way
Mon Nov 14 8:52 2016 NZDT
GPS: 12 30.538n 70 1.991w
Run: 86.7nm (156.9km)
Weather: Clear and warm
We are now at anchor in Airport Bay, Oranjestad, Aruba after a windless rolly night motorsail from Curacao.
Sun Nov 6 0:48 2016 NZDT
GPS: 12 3.323n 68 50.164w
Anchored in Fuik Baai - Curacao lovely spot
Tue Oct 25 8:15 2016 NZDT
GPS: 12 6.262n 68 55.988w
Run: 44.1nm (79.8km)
Arrived in Curacao after a great sail across from Bonaire- spent the night at Klein Curacao on the way
Sun Oct 9 12:52 2016 NZDT
GPS: 12 9.573n 68 16.937w
Run: 0.3nm (0.5km)
Weather: 10-12 knots ese- sky's clear with 30deg temps - water same
Bonaire- fantastic diving and hiking- Mathew has left unscathed with ripple effects from a large system. Settling down now. Bonaire is a Marine Park so anchoring prohibited- must pick up and pay for a Park mooring ball off the town beach.
Wed Sep 21 5:26 2016 NZST
GPS: 12 9.812n 68 17.054w
Run: 479nm (867km)
Avg: 4.8knts
24hr: 115.8nm
Weather: 15knts Easterly trades
Just arrived from Bequia via Aves de Sotavento for a night- Venezuela. Great trip of 480mls. 15-25 knts easterly trades. Good passage. Great Customs, Immigration and Coast Guard experience. Looking forward to the diving and land exploring
Sat Sep 17 2:08 2016 NZST
GPS: 13 0.603n 61 14.139w
Run: 8.6nm (15.6km)
Leaving Bequia for Bonaire
Thu Sep 15 3:35 2016 NZST
GPS: 13 7.688n 61 11.700w
Run: 9nm (16.3km)
Weather: clear and warm 31-
at anchor outside Blue Lagoon. Over on St Vincent for the day
Wed Aug 31 4:31 2016 NZST
GPS: 13 0.382N 61 14.425W
Run: 76.7nm (138.8km)
Arrived back in Port Elizabeth, Bequia 2am this morning after a great 70mile beat in mostly 15-18knts and flat water average of 6 knts. no fish!!! nice to be back for a few weeks visiting friends and preparing for the next passage south to Bonaire around the middle of Sept. beautiful clear water here compared to the southern bays of Grenada.
Thu Aug 25 0:31 2016 NZST
GPS: 12 0.31260N 61 43.84428W
Run: 0.1nm (0.2km)
Back in the water now after a bottom job and a polish. ready for Bequia next week then Bonaire passage during full moon September.
Thu Aug 25 0:26 2016 NZST
GPS: 12 0.38194N 61 43.80559W
Run: 0.1nm (0.2km)
Sun Aug 14 1:36 2016 NZST
GPS: 12 0.31789N 61 43.84550W
Run: 2.3nm (4.2km)
Anchored up in Benjie's Bay opposite Clarkes Court Marina getting Sula ready for her haulout on Monday for and antifoul and bottom check. last time before heading home across the Pacific via Panama at the end of the year. Hurricane season here at present. Will be in Bonaire and the ABC's end of Sept
Fri Aug 12 6:05 2016 NZST
GPS: 12 0.40305N 61 45.91670W
Run: 5.9nm (10.7km)
Sat Aug 6 10:23 2016 NZST
GPS: 12 1.226n 61 40.726w
Run: 3.5nm (6.3km)
Just arrived here in St David's Harbour after a great sail down the windward side of Grenada. Nobody here!!! Great after a very social fun time in Tyrell Bay, Cariacou. Two barracouta and a Bigeye Jack. Yum. Average 6.4 knots (9.3 max)for the 40 miles. Carnival her this weekend and hash house harriers tomorrow.
Wed Jul 27 2:18 2016 NZST
GPS: 12 0.339N 61 43.741W
Run: 2.8nm (5.1km)
Now at Clarkes Court Bay. less rolly here and good wifi
Fri Jul 22 1:48 2016 NZST
GPS: 12 2.287n 61 45.225w
Weather: o/cast with tropical wave over us now- showers, some heavy
At anchor off St Georges - Grenada
No blogs available for this yacht.
Loading map and updates ....
Loading track, please wait ....