Surreal II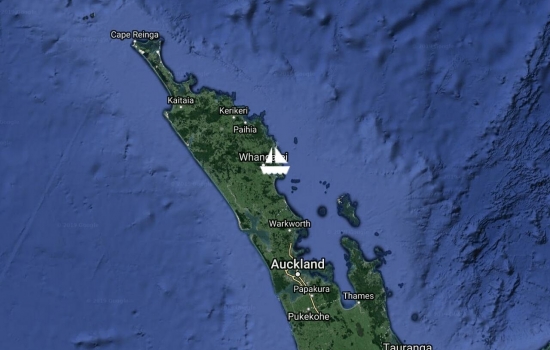 Mon Oct 22 16:09 2018 NZDT
GPS: 35 49.86s 174 28.44e
Run: 160.8nm (291km)
Avg: 6.1knts
24hr: 145.9nm
Monday 22nd October and now mid afternoon, the big news today is we made it to Marsden Cove marina just after 11am, so we are legally back in NZ waters and territory. The Biosecurity and Customs procedures were done very sensibly and professionally a welcome reprieve from some of our 'island formality' experiences, although we think we helped ourselves by having the boat cleaned and prepped ready for their visits.

Since yesterday's blog, we have relaxed and motored through glassy seas all day, seeing occasional sharks and dolphins, a spectacular sunset last night was a fitting end to the day, and another fabulous sunrise this morning was a great start to the end of our voyage and final leg, it was then so warm by mid morning that we were back to Tongan island attire as we sat on deck and watched the world go by! Dirk & Claire drove up to Marsden Cove to take Ron & Anihera home, so as the cupboards are all fairly bare, given that everything perishable was eaten, tossed overboard or confiscated (not much) by Biosecurity, we all went ashore for a leisurely lunch. Later after Claire had had a look around the boat, the 3 boys left on board departed Marsden Cove, and as its fairly late we are just going out to the Hen & Chickens overnight, before heading to Gulf Harbour tomorrow ready for Surreal to be lifted out of the water on Wednesday afternoon.

This is the final 'blog' of our times and experiences on our fabulous travels and adventures around the South Pacific, we have seen some extraordinary things and met some very interesting people during the last 6months as have all our variousp 'crew members' who have assisted in getting Surreal around 'the circuit'. For her part Surreal has looked after us all well, okay she's a bit boisterous and noisy at sometimes when the going gets tough and she's thrown up a number of technical challenges to keep Barry on his toes, but all in all she is in very good shape given the 8000 or so nm we've covered on our voyage! Thanks for showing interest in our blogs and posting the many comments ........ from Surreal II over & out!!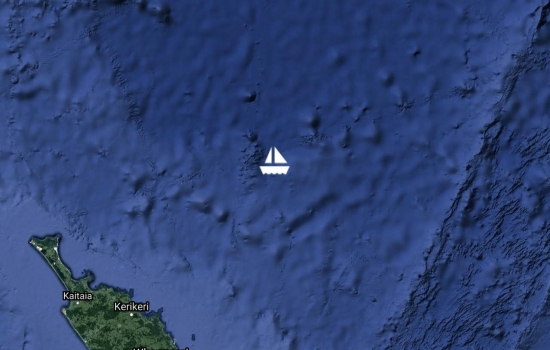 Sun Oct 21 13:42 2018 NZDT
Run: 156.9nm (284km)
Avg: 5.9knts
24hr: 140.8nm
Sunday 21st October late morning & less than 24hrs to go to Marsden Point, the sun is shining, the sky is clear blue and there's hardly a ripple on the water ..... which means one thing - no wind, well very little, so both engines have been purring away since last night to speed us on our way! So yesterday we continued basically the same as the previous days, fairly flat seas, beam reaching under variable winds, with the wind gradually decreasing as the day progressed, until at 20.30hrs last night and after chasing what little wind there was for over an hour Barry admitted defeat and put the port engine on. Then during the later evening as the wind disappeared even more we needed both engines on so we can reach our destination by tomorrow late morning, which is the situation we are now in. We've seen lots of wildlife, including sharks, dolphins and flying fish, whilst Anihera is still convinced we will see an elusive 'whale' before we reach our destination! As it was cloudless last night, the temperature initially was fairly cold, however, as the wind dropped and wind chill disappeared it was then a very pleasant night, although not ideal for star gazing as the moon is now nearly full. Today with the sun out its back to 'shorts' & t-shirts weather ...... which we like a lot! Yesterday we had a relaxing day, today very busy ....... washing salt off and cleaning windows, cleaning the cockpit arwa, washing storm sail bags and drying storm sails, cleaning out all the food cupboards, fridges and freezer, vacuuming up and removing any bugs etc so we're as clean as we can be for the Biosecurity tomorrow. The outside freezer also appears to have stopped working as it has defrosted, whilst still switched on, checks reveal there is power getting to the compressor but its not running ....... after reconnecting again it now runs, possibly it did not reset itself after the low battery voltage yesterday and something to check in the future! Apart from that everyone is well on board and excited to get to our destination at the end of what has been a fabulous last leg with brilliant sailing conditions ...... what more could we ask for! Position 11.00nzt. 24hr run 141nm. DTG 138nm.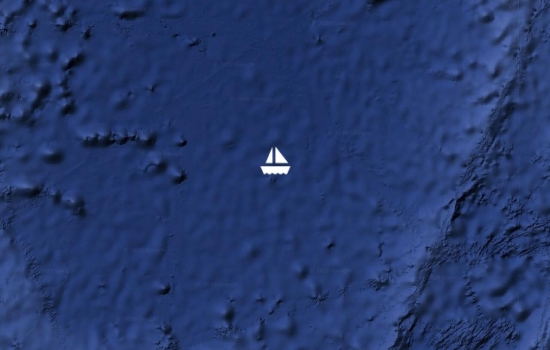 Sat Oct 20 10:57 2018 NZDT
Run: 211.5nm (382.8km)
Avg: 9knts
24hr: 216.9nm
Saturday 20th October late morning & we're still heading south with all haste, in fact this blog could quite easily be 'ditto yesterday', although over the last hour our progress has slowed to around 6kts! We have continued our excellent progress and speed, completing 200nm in around 25hrs 35mins up to 8am this morning, nearly 8kt average and by far the best sailing conditions and progress for any leg on the whole trip! So what do we report ..... well for dinner last night Anahera & Tony made a huge quiche in the large roasting tray, which went down very well! Overnight the house bank battery voltage dropped to 21.4v, cue Barry & multi-meter to main saloon ...... yes another one of the 'old' 6v batteries has failed, so once Allan could 'manually drive' and everything could be shut down we're now back to half a house bank of power ..... although on the positive side(no pun intended) this is from the 'new' batteries purchased in Papeete. The cockpit wind instrument continues to work, although occasionally gives a flicker and stopped working periodically during the night! Apart from a bit of sail trimming and that's only very occasionally, nothing much else to report, apart from the latest gribs showing we have no wind? ......... well only about 12kts speeding us along on a beautiful beam reach! & its getting cold at night, Barry & Allan feeling it worse than the other crew members who have just had a NZ winter, so extra layers needed! Fabulous night skies, Ron saw 3 shooting stars last night, the moon is getting bigger too, today beautiful sunrise, clear blue sky and sun warming our day, seas fairly flat, so again ideal sailing conditions! Position 11.00nzt. 24hr run 183nm. DTG 279nm.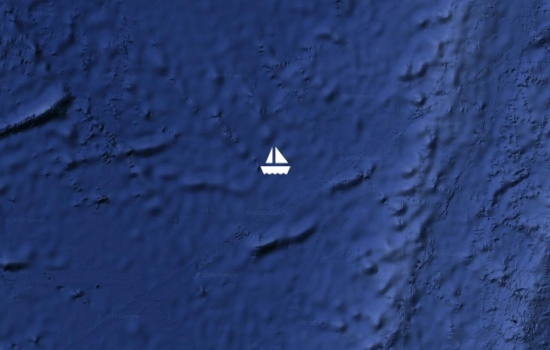 Fri Oct 19 11:33 2018 NZDT
Run: 198.4nm (359.1km)
Avg: 8.1knts
24hr: 195.1nm
Friday 19th October late morning & we're still heading south with all haste, having made good speed for the last 24hrs since our previous blog & currently doing 9kts in 20kts breeze direct to our target of Whangarei! Not a lot of activity has been done over the last 24hrs, same sail plan, same heading, slight variations in course as the wind moves around, a bit of sail trimming here or there, but generally same as ..... still champagne sailing! We saw one other yacht yesterday Ganesh/Capt Fatty, he called us up on the radio as we sped past and is heading for Opua. We've had a problem with our cockpit wind instrument failing overnight, Barry found a loose connection on the inside wind instrument (the master) which he's managed to tighten, and although the one at the helm works most of the time, is still occasionally intermittent.

We had the last of the Spanish Mackerel Dirk caught for dinner last night, with chips & peas, which again went down well with the crew, who are all on fine form as the sea is 'fairly' calm. Tony cooked Pikelets (Scottish Pancakes) last night, apparently a NZ delicacy and again these were scrummy, the chefs will need to be inspired over the next few days as we gradually empty the freezer and fridges ready for the strict NZ Biosecurity inspection once we get to Whangarei and Marsden Cove.

The gribs show a large 'no wind' area for the last part of our voyage, but we should have wind until late tomorrow before we need to motor, currently we have more wind than the gribs show ...... not that we are complaining! Again we'll update daily on our progress and ETA 'home'! Position 11.00nzt. 24hr run 174nm. DTG 462nm.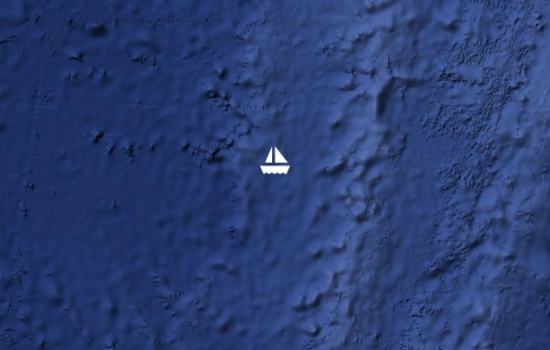 Thu Oct 18 11:09 2018 NZDT
GPS: 26 18.29s 179 42.93e
Run: 202.2nm (366km)
Avg: 7.2knts
24hr: 172.1nm
Thursday 18th October late morning & we're heading south with all haste, having left Minerva Reef yesterday just after 11am.

The first of the 11 boats hunkering down in Minerva Reef started leaving around 07.30 yesterday, a gradual procession continued all morning with everyone leaving for NZ, after breakfast we launched the dinghy (which needed pumping up as the cooler temperatures had softened the tubes) and ventured across to the reef. A rather damp experience due to the wind and waves being against our progress, once safely on to the reef and photos taken, Ron, Anahera & Tony ventured across to the far side (outside) of the reef, progress being fairly difficult due to treading through 6inches of water that was flowing rapidly against their progress and the very uneven surface of the reef, hence the reason Barry & Allan didn't attempt this feat! Anyway on their return the intrepid trio decided to snorkel inside the main reef, which they all did and were extremely satisfied with what they saw, back to the boat and prep for sea, Barry issued Stugeron sea sickness pills to everyone else! We then raised our anchor around 11am, being the 10th yacht to depart from Minerva yesterday. Once outside the reef we set off with 3rd reef in main and reefed genoa, as the seas were still fairly big and wind 20+kts, as the day progressed the seas settled and we had a full genoa out by around 6pm. Ron cooked a lovely spaghetti bolognese for dinner, which was scrummy ...... everyone participating, so either the Stugeron was working or they've all found their sea legs? later on at 9pm shift change Allan & Barry shook out the main sail reefs as the wind had eased too. However, a short while later the wind rose again and Allan was sailing at over 10kts in the dark, just on the edge of his comfort zone, but by the time Tony took over at midnight things had settled and we've maintained good boat speed overnight and throughout the last 24hrs.

At 07.45 this morning we passed from a 'W' to 'E' Longitude, we now have around 15kts wind, sailing at between 60-90 AWA and 6-8kts SOG, the seas are currently running a 1m swell, and we've clear blue skies ..... so what some people would call 'champagne' sailing conditions, we're all certainly enjoying it! We've also started feeling the cold and needed blankets on beds from 3 nights ago for the first time since a week after leaving Auckland in May, also needing more personal attire for nighttime sailing shifts! The gribs predict a large 'no wind' area ahead of us, so its difficult to accurately give any prediction on our ETA at Whangarei, but we'll keep those interested updated daily via these blogs! Position 11.00nzt. 24hr run 176nm. DTG 636nm.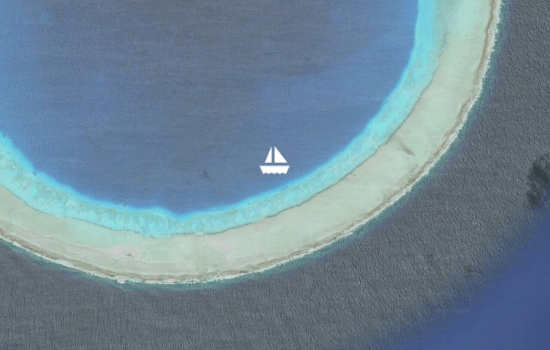 Wed Oct 17 6:57 2018 NZDT
Wednesday 17th October late morning & we're still safely anchored in Minerva reef along with 10 other boats after another 2 arrived yesterday morning. The wind has continued howling since we got here, at times gusting up to 30kts, hence everyone hunkered down and no one moving from their boats! On Monday we got a couple of loads of washing done and since then we've achieved 'not a lot', we've ate very well ....... including eating the last of Pam's sirloin steak for dinner last night ....... "I didn't realise you could eat so well on a boat" said Tony, whilst Anahera made a chocolate, date & almond cake yesterday....... all absolutely delicious, so we're all well rested now ready for any challenges ahead.

Allan has confirmation that there's room for us at Whangarei where we 'plan' to make landfall for our Customs & Biosecurity clearances, the only issue could be the 3day holiday weekend due to Labour Day next Monday. Once this is completed then next stop is Gulf Harbour ready for haul out and underwater repairs /other boat maintenance, as there are now quite a few jobs on the 'To Do' list, but generally Surreal has stood up well to the challenges posed on what will have been a 6mth and circa 8000nm voyage by the time we get back to NZ! The gribs now indicate the wind easing this afternoon, and although decreasing further over the next few days, it looks like it is forecast to be in a favourable direction the whole way and hence the sea should be fairly flat, so hopefully a fairly comfortable last leg for the crew! Position 07.00nzt.
Mon Oct 15 12:42 2018 NZDT
Run: 207.9nm (376.3km)
Avg: 7knts
24hr: 167.2nm
Weather: 20knts SE, 2.5m swell from the SE, 75% cloud cover.
Monday 15th October late morning & we're now safely anchored in Minerva reef along with 7 monohulls and 1 catamaran, entering through the reef around 10.20 after significantly reducing our sail plan and slowing down for the previous 16hrs so we arrived with good daylight! Yesterday we continued with good winds all day 20-25kts true, so we were beam reaching at up to 10kts SOG, however, as the seas gradually built firstly into a short chop and later bigger 2m swells with breaking waves, the downside was a very very noisy boat, jarring and bouncing around, which made everyone apart from 'cast iron stomach' Barry either feel or actually be sick .... even the skipper succumbing! We initially reefed the main and then at dinner time put the third reef in and only exposed a small hanky for a headsail, we now only had 85nm to go, yet we were still doing over 7kts, and would have arrived at the unmarked reef entrance around 5am, so by over-sheeting both sails, we could achieve a reduced speed of 5-5.5kts and an eta at the entrance of 10am, the bonus being the boat calmed down and everyone managed to get some decent sleep overnight ...... so all in all a far happier crew.

We are now anchored with plenty of scope out as the wind is still 20+kts in the gusts, the gribs look fairly good for a departure tomorrow, although the first 24-36hrs may be in conditions similar to the last 36hrs, after that there's a period of little wind, then headwinds, before beam reach conditions after that. So rather a mixed bag, but that's what you get with ocean passage making sailing.

Position 11.00nzt. 174nm run in 24hrs
Sun Oct 14 6:51 2018 NZDT
Speed:
8.6kts
knts
GPS: 21 44.87s 176 23.24w
Run: 89.8nm (162.5km)
Weather: 20knts SE, 1.5m swell from the SE, 100% cloud cover.
Sunday 14th October early morning & 15hrs in to our homeward journey to NZ having cleared customs and departed from Nuku'alofa just after 16.30 yesterday afternoon, currently fairly hard on the 20kts of wind with 8+kts SOG, heading directly to Minerva Reef.

On Thursday Allan completed the official paperwork and we then departed back across to the Pangaimotu anchorage, we ventured ashore for a walk along the beach and then the ladies (Pam & Anihera) decided to swim back out to the boat, as it was Pam & Lyn's last night on the boat it was decided that we would eat onboard.

Friday we went back across to the small boat harbour and again managed to tie alongside, the pre-booked taxi arrived and Lyn & Pam departed for the airport, the other grown-ups then went for some retail therapy, leaving Barry on board. The pre-ordered fuel arrived in 3x 200ltr drums, delivered to the jetty ....... do you need a pump? we were asked! Well yes! A while later the small hand rotary pump arrived ...... complete with just 1m of hose, to save pumping in to jerry cans and then pouring into our tanks, Barry used some 1 inch diameter white sanitary hose, connected to pump hose and was then long enough to reach our tank fillers directly. After much turning of the hand pump, we had filled our tanks and 3 small fuel containers with diesel, so we now have over 850ltrs to get us home to NZ. After these exertions we decided to anchor off Atata island for the night, so departed, once anchored we had a quick swim off the boat, dinner watched a turtle swim by, lots of lightn ing flashes on the horizon and turned in ...... around 3am the wind started howling, Barry got up to get the washing in, just as the heavens opened and on returning to the saloon, found 3 other crew members awake and with the same idea! After breakfast on Saturday, we headed back to the harbour to collect Tony, having reviewed the gribs for the next few days we decided that it was a good idea to leave immediately if we could clear with Customs, so after lunch and once Tony arrived so Allan had all the passports, he duly departed on his 'mission' ......... 1hr 40mins later, with mission accomplished we were ready to depart, as 'the crew' had prepped the boat and rigged the storm sails whilst Allan was away. We left the quay around 16.30hrs, raised the sails and had a quick reefing practice, before departing on our way, around 6pm, with many heavy clouds forming we put up the clears and just after the heavens opened and we had torrential rain ...... at least this gave us some wind for a while. For the next 3hrs we had an almost continuous lightning show, although it was some way off, the variable wind dropping meaning we also had to start an engine to maintain progress ...... good job we've 800ltrs to play wit h! Overnight, the wind has built until we have 20kts from 135degrees, as dawn has broken the sky is full of clouds and the wind has chopped the sea up, causing all our new crew members to succumb to the dreaded seasickness from the violet motion of the good vessel Surreal II. The wind is forecast to maintain the 20kts so we should reach Minerva early/mid morning tomorrow, whether we stop or continue southwards is grib weather information dependent, but for now we're making great progress! Position 06.30nzt. 74nm run in 12hrs, DTG 178nm.
Thu Oct 11 16:36 2018 NZDT
GPS: 21 07.55s 175 09.74w
Run: 63.1nm (114.2km)
Thursday 11th October early afternoon and currently alongside in the small boat harbour in Nukualofa having spent last night anchored of Pangaimotu island.

So after a fairly pleasant night anchored off Nomuka Iki, we decided to go snorkelling in the morning before departing for Kelefesia, so Allan, Barry & Pam departed in the dinghy to snorkel inside the main reef ....... well what a spectacle we had, probably the best snorkelling of this whole trip; the coral was fantastic, including loads of stag horn and also other stuff that looked like giant mushrooms (tall stem and large flat top), the water was crystal clear, the fish extremely plentiful, so all in all a very noteworthy experience, even though Pam did require assistance in re-boarding the dinghy, but thankfully not to the same extent as her previous snorkelling efforts required! We then departed for Kelefesia and motored the 14nm to the anchorage ........ slightly disconcerting to be anchored and surrounded by breaking waves, it was also a bit 'jobbly' but not enough to disturb our sleep. We managed to seal the top of the port engine battery with epoxy and ice cream container plastic as a temporary measure. After breakfast on Wednesday we then set off for Nukulofa, once clear of the anchorage we were beam reaching in 12kts wind with full main and genoa, but the wind then moved further behind us so we set the gennaker and had a wonderful sail all day, quickly covering the 40+nm to where we are now. We saw many whales during the trip, including one that jumped completely out of the water and flipped it's tail up, quite remarkable. It is a long entrance into the huge harbour area and as it was approaching 16.30 we decided to go across to Pangaimotu island and anchor with the other yachts for the night. After quick swims and showers we went ashore and met up with 5 other crews in the yacht club/ bar, we all had a good catch up and it would appear that at least 5 boats will all be leaving on Monday to head for NZ, so we should have company along our final leg home!! So we came alongside in the small boat harbour, so that Ron & Anihera could come on board, we could resupply the boat and Allan could do the necessary official bits! We were unable to source a battery of the correct capacity and size to fit into the port engine battery box, and certainly not a marine battery so as we are happy with the repair and it is holding a good charge, if there's no deterioration in it before we depart on Monday then we'll run with what we've got. The official bits are taking slightly longer than expected due to siesta time! Once this is completed then we're heading back out to Pangaimotu island for the night and will probably venture ashore for dinner!
Tue Oct 9 12:42 2018 NZDT
GPS: 20 16.63s 174 48.24w
Run: 51.5nm (93.2km)
Tuesday 9th October morning and we're anchored just off the island of Nomuka Iki, we arrived here late yesterday afternoon, having sailed from Ha'afeva Island.

On Sunday morning we awoke at Ofolanga reef and the other two boats had already departed, the sun was hot, we had 1kt of wind and, as there was nothing to disturb it, the sea had an oily appearance. We had no choice but to motor to our next destination and with no wind forecast we even left the sunshade up, as we meandered through the various island paradises, it became apparent that the stbd main water pump wasn't working, time for Barry to depart under the stairs ...... an hour or so later the pump was running and we also found out why the stbd heads blow bubbles between them ....... the black tank vent filter is completely blocked (foul water has contaminated the charcoal filter) ....... nothing we can really do about that until back in NZ and source a new filter! As the day progressed we again had our fill of whales and saw dozens of flying fish ....... its so much easier to see them when there's not a ripple on the sea surface! As we approached our destination we cou ld see big rain clouds forming ahead of us and as we got nearer we closed all the hatches, the rain then started, wind increasing to 14kts, visibility dropping significantly, so we slowed to let this pass over. Once it had cleared the wind also stayed in, so we decided to change our anchoring plan and go to the other side of the island ........ again more whales appeared beside us. Once inside the reef and anchored, it was time for a swim before our dinner, which was absolutely delicious ..... sirloin steak, chips, peas, grilled beef steak tomatoes and onions, all washed down with a nice glass of the red stuff ....... we even had a turtle swim by about 20m from the boat as our entertainment and all this with the most spectacular sunset going ........ an amazing red coloured sky reflected on the sea and probably the best one of this trip (hopefully we can upload a picture once we get decent internet) ........ all in all a great evening! Monday morning, we're fairly sure there was a pod of dolphins inside the reef, and as the wind was still blowing a little, we took the sunshade down so we could actually attempt to sail to our next destination, off we went ...... full main & genoa, wind variable 8-11kts, sailing at 40degrees AWA, making 3-5kts SOG, as we didn't have a huge distance to go it would be a nice leisurely sail for the day ........ well leisurely until the port black tank wouldn't empty, the pump was running but the gauge still shows full ..... time to lift the carpet and investigate. The port pump is a macerator type, to cope with the manual toilet, once removed and stripped down, we found the macerator blade was loose as the end of the centre spindle had corroded away and the rubber impeller had probably less than 10% of the blade area left on it, so hardly surprising it wouldn't empty the tank ...... after a good clean, fitting an electric toilet impeller (seemed like the same size), some judicious use of 5min Araldite on the macerator blade, the pump was refitted and hey presto the tank again empties and the temporary repair will last for another 3 weeks to get us to NZ! After a spot of lunch, Barry took over the 'driving' and as the afternoon wore on and the wind had eased we decided to use the diesel spinnaker, so we tried to start the port engine ........ turned the key and absolutely nothing happened ..... so stbd engine was started and Barry complete with multi-meter went below to investigate, particularly as we'd used the port engine earlier in the day to leave the overnight anchorage without any issues! At first it looked like the engine start battery main terminal post was a bit loose, the starter solenoid was clicking but no engine turning' generally an indication of low power getting to the starter, we then found out that the starter was fed from the secondary battery terminal, this is hidden under the main terminal and had obviously come loose at some stage, as there were signs of burning and a hole had appeared/been melted into the top of the battery ........ once this lead had been cleaned and connected to the main battery termi nal post, we had the second hey presto moment of the day when the engine could be started. As this battery is no longer sealed, we will need to source a new one in Tongatapu later this week! We then motored up to where we are now, between two islands (Nomuka & Nomuka Iki) and pretty much surrounded by reefs, it was a fabulous sail getting here, passing many beautiful small islands, reefs and atolls along the way, unfortunately interspersed with some engineering issues ...... but hey after all 'Cruising' is defined as 'fixing a boat in exotic locations' ...... & I think we can all agree on that definition so far!
Sat Oct 6 17:30 2018 NZDT
GPS: 19 36.39s 174 27.48w
Run: 71.3nm (129.1km)
Saturday 6th October and we're anchored just outside Ofolanga reef, its very hot and virtually no wind, so we've just put up the sun shade tent for the first time in many months! So on Thursday we did everything we needed to on shore and then departed from Neaifu, sailing under just the genoa to an anchorage off Falevai village, after lunch we fixed the broken batten holder on the main sail (the 6th one we've replaced on this trip!), went swimming off the back of the boat and generally relaxing ready to depart on Friday morning ........ overnight we had many rain showers and just before 6am the winds again started to get up very strongly, the rain was lashing down and after prepping the boat ready to depart at 7am, we then added thunder and lightning into the mix, visibility by now had dropped to less than 150m, so raising the anchor was delayed for a while....... 45mins or so later the conditions eased and with the thunder and lightning by now abated and visibility fairly good we decided to depart. At first we were just under engine, then as we exited the islands we raised the full main and genoa, the wind had by now eased to 9kts from the NW, despit e all forecasts and gribs indicating a NE wind flow. Anyway we were motor sailing toward our destination some 57nm away, the wind did very little apart from ease to the point we were only getting 3-4kts at times, the sea was confused, with big swells from SE & NE at the same time, making the boat motion fairly unpleasant, requiring Pam to take some seasickness pills to prevent her talking to the ocean! In all a fairly uneventful trip, but we did have numerous whale sightings on the way, from just occasional spouts, to breaching whales and lots of pectoral fin slapping, so this kept us occupied on our journey, we then got down to Haano island, just as the sun was setting, this is a fairly open anchorage as you don't actually go in through the reef. There was another NZ boat already anchored in there but that was it, so we had a peaceful relaxed night, the sailing books indicated that there was good snorkelling here, so after breakfast we donned our kit and departed for the rocks near the boat, yes the snorkelling was good, plenty of fish, excellent visibility and lots of coral the likes of which we've not seen before. There was virtually no wind so we then set off to where we are now ....... and guess what? ...... yes more whales even on the short 10nm trip across to here. This anchorage is only suitable in settled calm weather as there is virtually no protection, as the gr ibs show little or no wind until the middle of next week, we think we'll be ok overnight ......... 2 other boats here; a monohull and 24m catamaran! This afternoon we ventured ashore to explore ...... the island looks uninhabited, but has fabulous sandy beaches, we didn't get too far as there are no paths and the rocks on the shore line are very slippery, not sure where to next after this, but it will definitely be a 'motor' sail!
Thu Oct 4 10:12 2018 NZDT
GPS: 18 39.92s 174 00.55w
Run: 2.3nm (4.2km)
Thursday 4th October and we're anchored just outside Neiafu main harbour, near Lotuma Island, its early morning and the rain has just started again! So, we stayed hidden away in Pangaimotu Bay all weekend until Monday morning, going ashore for walks on Saturday & Sunday, doing occasional boat jobs or swimming off the back of the boat, as the wind consistently blew quite hard and we could see across the other side of the enclosed bay where the white caps and waves were rolling by! Anyway on Monday we decided to leave for Neiafu, so set off with reefed main & reefed genoa, sailing through the islands with 30kts wind, we went out through the main entrance, to dump our biodegradable rubbish and see if there were any whales about ....... which there were. We think there were at least two whales this time and they were breaching and pectoral fin slapping, this we believe is a mating/courtship ritual, we watched this for about an hour before we continued on our way up to Neiafu. After a tour of the harbour we anchored in our usual spot and had a quiet afternoon as the wind was still blowing hard.

Tuesday morning we did a run to the shops, for fresh supplies, then in the afternoon Barry & Pam went for a walk & explore ashore, nothing much to see apart from a huge Catholic school and a dilapidated Paradise Hotel, not sure when it last had any residents, but it is seriously rotting & falling down and it doesn't look like cyclone damage! After dinner, Allan, Pam & Barry ventured ashore to the 'Rocking Rooster' for a local dancers show ....... not sure what we expected, but certainly not what we got .......... a bunch of fafafines dressed up in various female attires, miming to music and suggestively dancing! Anyhow, it was different and it gave us all a laugh! There have been a number of super yachts anchored in the bay and yesterday morning we watched the crew of Twizzle (58m long!) trying to recover a lost anchor and chain, they'd been diving and putting buoys out on Tuesday, which we couldn't understand anyway after 3hours yesterday it all made sense as they had the chain lashed with some ropes to their bow and looked like they were then contemplating what to do next or how to get the chain over the port bow roller, to pull it in ....... at which point we departed for our current location to get more protection from the wind, so we're not sure of the outcome. We anchored here and swam off the boat, Lyn had 'Hector' out, a 6ft child's inflatable unicorn that Allan gave her for her birthday! So, to today, we've had rain on and off overnight, the wind has also decreased, we're planning to stock up on supplies, 'clear out' with customs ready to head south to Haapi group tomorrow.
Sat Sep 29 14:24 2018 NZST
GPS: 18 41.79s 173 59.88w
Run: 4.5nm (8.1km)
Saturday 29th September late afternoon and anchored in Pangaimotu Bay, a very quiet and still anchorage, well protected from the 15-20kts of wind blowing on the other side.

On Thursday morning we left our anchorage by Kenutu Island and worked our way out the through the inner reef, as we were doing so we saw a couple of turtles swimming on the surface, although once they saw us, they quickly disappeared. We then motored down to Old Neiafu Harbour, and after looking at a couple of mooring buoys and deciding they were not suitable, we dropped anchor on the eastern side in 6m of water. We then launched the dinghy and ventured ashore to 'top up on essential supplies'! Well, 2 hrs later the 'essentials' were too much to carry so we had to get a taxi back down to the wharf where we had left the dinghy. Fortunately there was still enough water in the narrow inlet, as by now it was low tide, for us to get out into the deeper main harbour, after a spot of lunch it was a restful afternoon, although Barry did repair the broken stbd fwd lazarette hinge after he bought some new twist drill bits at the local hardware shop! It was a very quiet night with no other boats around us, the following morning Friday, we then ventured ashore to the local village of Makave for a good walk. This village has probably the best houses and gardens we have seen on this trip, there is obviously more 'money' here, the Methodist Church was also very large and they were holding a lunchtime service as we were returning from our walk to look at the Kilikilitefua Wall ....... this is a wall made from volcanic stones, when the first son is born a stone is added to the wall to signify a new generation. The wall was first established some 400 years ago (according to folk lore) and at one time was 1.5m high, however, many of the stones were removed for more practical uses. The name comes from kilikili - small volcanic rock/pebble and tefua meaning 'first'; referring to first born. The village name Makave also has relevance; maka means 'stone', whilst ave means 'take', hence Makave means 'take a stone'. After a late lun ch, we then motored around the corner a short distance and anchored between Otuatea and Olu'ua islands, we watched from a distance as the locals from the village commune were harvesting something from the beach, not quite sure what they were doing as we didn't launch the dinghy to find out, but it was clearly a team effort, after a bit of swimming to cool down we then had a quiet evening although the wind did pick up overnight.

And so to today, after breakfast as we lifted our anchor we also picked up a mooring rope, which was clearly tethered to the seabed under Surreal and had the other end disappearing off towards shore, so once freed from our anchor we tied a plastic drinks bottle to mark it, as we think it was maybe a local one that had lost its marker. We then set off with a reefed main and genoa, soon making 8.5kts in 15kts wind, rolling the headsail away whilst we negotiated the shallows of the inner reef, before sailing down to where we are now in Pangaimotu bay. There are now 5 other boats here sheltering from the wind as it is expected to get stronger over the coming days ....... for us our original idea of departing here for Haapi on Monday now looks to have been put on hold, as the current forecast is for 25+kts until the end of the week, and whilst Allan & Barry would clearly enjoy having a fantastic and quick sail south, we don't think our female crew members would share our glee to t he same extent! We have also found out that the Vava'u Tourism Association are hosting the 5th Annual Vava'u Blue Water Festival for a week starting today, so tomorrow we will probably go back around to Neiafu main harbour to participate in these activities.
Wed Sep 26 17:57 2018 NZST
Run: 12.9nm (23.3km)
Wednesday 26th September late afternoon and anchored to the west of Kenutu island.

We had a wonderfully quiet Sunday evening and night in Hunga lagoon on the mooring buoy ....... no anchor chain dragging across the ground to disturb our beauty sleep, then on Monday morning we had a fair bit of rain again, although this didn't stop us from cleaning and flushing the small outboard motor, as we don't think we'll need it again on this trip ....... probably tempting fate here, but hey ho! Then on Monday afternoon the weather picked up a bit, Barry went ashore mid afternoon to explore Hunga village ..... after a steep climb up the hill to the village it turned out to be just the normal for Tonga, plenty of free roaming pigs and wildlife, evidence of various foreign aid to the community through solar panels and water catchment etc etc. The wind stayed in all day, so we decided not to leave the comfort of our mooring buoy, and had the fish Barry caught on Sunday for dinner, still not sure what it was, as it had a texture very much like fillet steak and not like t he tuna we've been eating to date ........ but whatever it was it was absolutely fabulous! Tuesday morning the wind was still blowing and we decide to move to explore somewhere else, as we had just exited through the narrow entrance to the lagoon on the ebb tide, within 300m we nearly ran over a whale, it had two 'local whale watching' boats in near proximity and despite Allan putting our engines in reverse the whale was virtually directly in front of us when it breeched the surface ....... again a spectacular occurrence for us all, we then spent a good hour watching the whale and the local boats putting snorkelers in the water for their "swim with a whale" experience! We count ourselves very lucky to have seen these fabulous animals up close on a number of occasions, we then put our sails up and had a great sail between the islands, before eventually going through a narrow reef to get to an anchorage between Mafana and Ofu islands, this was a great location as there were no other boats any where near us! This morning we left the anchorage and motored around the bottom of Ofu and through another narrow reef to get to where we currently are, anchored just to the west of Kenutu island. We all went ashore for a good walk this afternoon, climbing through the undergrowth to the far side to see the waves crashing in to the rocks, whereas we are anchored in an almost flat calm despite the wind blowing 12-15kts all day. Tomorrow we're going to go back around to the 'Old Harbour' to top up on fresh supplies, this will save a 5hr detour around the islands to get to the other (main side) of Neiafu! Apart from that Barry went snorkelling this afternoon, but found nothing much to see, we've had great weather and everything is well on board.

Our more observant followers may have noticed that we've managed to upload a few photos of our recent exploits to the blogs ...... enjoy!
Sun Sep 23 19:45 2018 NZST
Run: 6.3nm (11.4km)
Sunday 23rd September late afternoon in Hunga Lagoon, Tonga, the sun has been shining unabated for the last 3 days and today has been very hot as we've had not a breath of wind all day ........ this cruising life is sooo hard! The wind and rain eventually abated late on Thursday afternoon and after a fairly quiet night in the anchorage, on Friday morning with very little wind we took the opportunity to replace the broken batten car on the mainsail ...... this was the final task that we had been awaiting spares for, so now the list of jobs to do is mainly for those when Surreal II gets back to NZ. We then departed to see if we could see any whales, so went back out into the islands entrance and after initially thinking we would again be disappointed Barry saw some spouts near the north shoreline in a similar position to when we saw them last Thursday. There were a couple of 'local' tourist boats looking for the whales too and we were then very fortunate to spend probably the next 2 hours watching these magnificent creatures, although we would only see them for about a minute in every 10, when they came to the surface to spout, breech and and get air before they dived down again. Not quite as spectacular as last time when they were leaping out of the water and fin slapping, but a fabulous sight nonetheless, seeing their huge tails in the air! We then continued on and anchored in a bay to the north of Vaka'eitu Island, initially being the only yacht in there, however, a bit later a couple of other yachts arrived. During the afternoon we went across to the coral gardens to go snorkelling, but it was quite disappointing, lots of dead coral debris and breaking waves making it difficult and certainly not good viewing. However, far easier for Pam to re-enter the dinghy from the beach and then on the way back to the big boat, Allan saw a turtle swimming on the surface, as we turned the dinghy to get a closer look, it took one look at us and then decided to dive below the surface. A bit later as we were eating dinner a local man from the village came out in his boat and said there was a Tongan Feast going to be held the following evening ashore and we were invited.

After another quiet night at anchor, on Saturday morning we departed for Neaifu to restock with essential supplies, we managed to sail some of the way there which helped to dry the sails after Thursday deluge and on our way back flew the gennaker for a good few miles to again dry that out too. We then returned to the Vaka'eitu anchorage where there were now 4 other boats, us making five and a Sunsail Cat arriving a bit later, we waited until just before 6pm to go ashore for the feast (the time we were told it would start), all the crews from the other boats were already there ....... anyhow there was plenty of food for everyone, the cost being 50Tongan (about £17UK / 30$NZ) a head. The local family have 11 children, the eldest 3 are at boarding school in Nukalofa and these 'feasts' help to pay their boarding school fees ..... which is very enterprising. We chatted to many other crews and the hosting family, who when we enquired about church today asked if we could take 2 of their youngest children with us, as the church was across the other side of the bay and they were going early to prepare.

And so to today ....... we had an early morning call (circa 7am) from the 'Sunsail Cat' crew (all NZ from Auckland!), they had flattened the generator battery using their windlass, without the generator running ....... so now they couldn't raise their anchor or start their generator and did we have any jump leads and tools to change a battery. After they changed a battery over, they were back up and running, returning our loaned items before they disappeared. So after breakfast and a run ashore to pick up the two young children, we went across the bay and church again, another very pleasant experience and shorter than last week at around 70mins! Back to the boat we then went around the bottom of Vaka'eitu Island to again snorkel the Coral Gardens, but from the other side, as we were told it was a lot better. On the way there Barry put a fishing lure in the water and despite some derision from the 'female crew' ..... 10mins later had caught a fish, not as big as the one Dirk caught, but we have 1.2kgs of filleted fish to eat, of what we think was a skipjack tuna. Lyn stayed on board Surreal motoring around as the depth was over 70m, whilst the rest of us went snorkelling on the coral garden reef, from the far side it was much better, good growing coral, loads of fish etc etc, well worth the effort and certainly far better than a few days ago! We then motored further up the island, to try and find "Mariner's Cave", this time Pam & Lyn stayed on board Surreal motoring around whilst Allan & Barry tried to find the cave ....... without success, so we then departed for Hunga Lagoon where we are now. After a fairly tight entry to the lagoon, we have picked up a mooring buoy in an absolutely idyllic and beautiful anchorage. No wind, tide, current or other factors to spoil our enjoyment!
Thu Sep 20 13:42 2018 NZST
Run: 4.3nm (7.8km)
Thursday 20th September afternoon in Fangakima Bay/Port Maurelle, Tonga and the weather is terrible, we've had torrential rain since first thing this morning, although it is easing a little now.

So, after we got the ladies back to the boat on Monday, we had a quiet evening, eating on board after unpacking all the goodies and spares the ladies had brought with them whilst getting over the travel chaos of the previous few days. Tuesday morning we went ashore to have a general restock of everything we needed including getting a gas bottle refilled after it ran out the night before ....... a far easier process than in Tahiti, here you jump in a taxi, go to the refilling station, they refill it while you wait and then jump in the taxi to whence you had came from ...... oh, and its half the price of Tahiti too! After dumping all our rubbish ashore our local friendly Frenchman from Ty Baloo spoke to Barry, offering to pay for the repairs or purchase gelcoat etc for us, we told him to pop across later on and speak to Allan about what he wanted in this regard. Anyway, after a spot of lunch we then departed to try and see the whales again, however, despite going out through t he harbour entrance where we spotted them last Thursday, we were disappointed ..... maybe another day we'll be more successful, we then continued on to Port Maurelle and anchored for the night.

Wednesday morning after breakfast, we changed the watermaker filters, then departed out of the bay and around past Swallows Cave to Mala Island, where we anchored and then used the dinghy to get to the 'Japanese Gardens' where we could snorkel. The coral was pretty and the fish plentiful, especially 'blue' starfish, we also saw a sea snake which had a bit of an attitude problem, rearing up with its head if we got near to him! The only other problem was getting Pam back in the dinghy, despite Barry's best efforts Pam ended up flat on her front in the bottom of the dinghy, needing a short 'rest' before we could get her sitting upright! No harm done, just need to rethink our boarding process from the sea for the future ....... we then pulled up the anchor and went back around to Port Maurelle, as the forecast was for high winds and rain later, and the anchorage would give us good protection along with the other 12 yachts there. After a spot of late lunch most of the crew de cided it was siesta time after their morning's exertions ....... Barry removed the covering from the epoxy repair and then used wet and dry to get a good profile to his repair ....... all ready for the gelcoat when we get a warm sunny day! After this Barry took the dinghy ashore to explore, walking all the way down to Falevai Tahi Village, on the way there through the undergrowth & 'jungle' he saw lots of small plantations that are fenced off to keep the local pigs out ...... it is quite refreshing to see the locals making the most of their circumstances and using the land, which looks to have quite a good soil, to sustain themselves and something we have not really witnessed in French Polynesia. The forecast rain did not materialise and we had a very pleasant evening, plus it was not too windy.

And so on to today, from quite early we have had rain ....... absolutely torrential at times ....... well most of the time, so we've done a few maintenance tasks ....... replaced both the leaking anti-syphon tubes on the the stbd heads, joker valve on stbd forward toilet, checked the engines over and topped up oil levels, including stbd sail drive which is emulsifying, so drained out and refilled with fresh ....... this needs the boat lifting to replace the propellor output shaft seals when we get back to NZ, so just managing it as best we can! Its now after lunch and Allan has donned his snorkelling kit to again clean the long haired growth we have been accumulating on the boat's undersides since our last visit to Papeete Marina in Tahiti and with the current weather we don't feel the need to depart from this location today.
Mon Sep 17 16:03 2018 NZST
Monday 17th September late afternoon in Neiafu, Tonga and today is a Tongan Public holiday to celebrate the Birthday of HRH Crown Prince Tupouto'a 'Ulukalala, the heir apparent.

Anyway, on Friday we did all the jobs we needed to, the 'formalities' were relatively straightforward and conducted in a relaxed fashion, we got the shopping we required and once Dirk had paid his 'one way exit fee' he was then duly removed from the boat's manifest, so hopefully no issues there when we need to depart! We had a relaxed evening on the boat, although a bit of excitement as we were having a beer ........ we saw someone in a dinghy in the middle of the bay, frantically trying to start the engine ........ without success, as there was no attempt being made to row ashore and as it was drifting on the wind, we 'launched' our dinghy to rescue the unfortunate soul ....... it turns he was the bar owner who had 'borrowed' the dinghy from 'Moorings' yacht charter and it had just cut out on him ....... there was no sign of any secondary propulsion, he had been out to collect the Friday afternoon racing marks that his bar sponsors, so we took him in-tow and safely deliver ed him back to his bar's pontoon ........ much to the derision of the "locals"! Dirk & Barry were invited in for a beer or pizza, but as Allan was still on the boat and we were having tuna curry for dinner we politely declined! So, everyting was ready for the 'crew' changes on Saturday .......

Saturday, we went ashore first thing to get fresh bread as everything is closed on a Sunday, Dirk went to enquire about his flight, Lyn had phoned to say there was an issue with the aeroplane still being in Vavau after it went unserviceable on Friday evening ....... all in all, about the only thing we achieved on Saturday was two loads of washing completed and dried, the flights were on then off, eventually being cancelled for the day around 4.30pm due to a waterlogged runway in Tongatapu and there are no flights on a Sunday. So Allan & Barry went to the bar and sent Dirk a text message as he had been at the airport since midday, Dirk duly arrived at the bar around 6pm and was then trying to rearrange his homeward passage. We had dinner a couple of 'cold ones' and retired! Sunday after breakfast we decided to attend 'church' so went ashore ready for the 10am service at the Free Wesleyan Church, all the locals were there in their best finery, we'd even dressed for the occasion in long trousers and proper shirts. The church was packed must have been over 200 people there, including a brass ensemble to help with the singing. We truly enjoyed the experience although towards the end of the 100minute service our backsides were slightly numb from the hard wooden pews! After lunch Barry & Dirk then set off to climb Mt Talua, the highest point on Vavau at 131m, after a meander through the local roads we were at the foot of the hill ........ some 177 difficult steps later we were at the top, giving us magnificent views around the whole bay and further afield. The cameras were well exercised and we then returned back down the steps, they are very steep and the 'treads' can be up to 20 degrees off horizontal from front to back, with the green growth and dampness making them very slippery, the saving grace being a decent handrail, anyway safely negotiated we returned to the boat and had a roast chicken dinner to end the day! To today ...... the clean bedding was again washed ready for Lyn to arrive, Dirk went ashore mid morning to try and get his flight brought forward as he was booked on the 10pm one, Allan & Barry were trying to get the SSB weather fax working, when suddenly Allan looked up and saw another yacht that was adrift about 10ft from our bows, we rushed to the bows just arriving as this steel yacht hit the port bow ........ it had broken the mooring buoy rope, bearing in mind that it had only been on the buoy circa 1hr and been shown there by a local, the singlehanded sailor having gone ashore to sort out his customs paperwork ......... we managed to get fenders in-between us and with some help from the crew of Excel (another NZ yacht) who had seen the drifting yacht complete with broken mooring rope and sped in their dinghy to help us, we safely tethered 'Ty Baloo' alongside us. An hour or two later a very embarrassed French sailor came back from shore, he had sailed overnight from Niue and was fairly tired, after finding a suitable mooring he eventually cast off and left. The damage to Surreal's port bow is not too severe, considering it was hit by a solid steel/aluminium boat, this pm Barry has cleaned the damage out, prepped it for repair and then filled it with Epiglue (an epoxy glue), once this hardens we can then compete the repair with gelcoat tomorrow .....weather permitting, we count ourselves as being very lucky to get away so lightly! We've now had an e-mail from Dirk to say he has completed the first leg of his journey home and is in Tongatapu, where Michael (our additional crew member) is meeting him and hosting him overnight, before Dirk then flies to Auckland tomorrow! Latest news, Allan & Barry were going ashore to pick up Lyn & Pam ........ Barry overbalanced as he went to step into the back of the dinghy ......... big splosh! So after a quick shower, we are now safely ashore, dry and completing writing this blog! Lyn & Pam have now arrived and we are all heading back to the boat!
Fri Sep 14 8:54 2018 NZST
Run: 188.3nm (340.8km)
Avg: 2.9knts
24hr: 69.5nm
Friday 14th September in Neiafu, Tonga on a cool, overcast and breezy morning.

So, on Tuesday at 4pm, Allan duly received our clearance paperwork, complete with additional crew member 'Michael' the dentist/health worker/ government employee details inserted and Michael would arrive at 8am in the morning! During the afternoon we had been speaking to the crew of Aloha a Catamaran registered in Hawaii; Jack & Nicole the crew had left Florida 2 1/2yrs ago and have just become engaged, anyway Dirk was invited to go night snorkelling with Jack to try and catch crayfish that live out on the reef. Around 19.30 when it was by now pitch dark, the intrepid duo set off ....... we'll be back within 2hrs ....... watching from Surreal we could occasionally see flashes of light out near the reef but nothing more, then 2hrs later the snorkelers returned, not the most successful expedition with only 1 large crab & no crayfish to show for their efforts ......... but Dirk clearly enjoyed this first nighttime snorkelling experience! Wednesday morning we were getting ready to leave, when Michael was delivered to the boat, the gribs showed a good breeze from the NE until early afternoon when it would die, before filling in from the South and then going SE during the night, so not ideal winds for an almost due south passage but workable and the 165nm should be accomplished before nightfall on Thursday. Once out of the reef, we had full main & genoa, beam reaching at 8kts in almost ideal conditions, soon leaving Aloha in our wake as they had left an hour before and were also going to Vavau, but of course it isn't a race! Then around 13.30hrs the wind started to drop and we had to put the engines on to maintain momentum, the sea state varied between bouncy and fairly rough, resulting in Michael suffering from mal de mer, this was the first time he'd been on a sailing catamaran, and apart from occasionally visiting the stern rails spent the whole trip recumbent on the port side of the cockpit, wrapped in a bl anket! Michael didn't participate in dinner, but thought we were crazy sitting at the cockpit table eating dinner with the boat bouncing around, taking pictures to show his friends later, as the evening and night wore on the breeze certainly filled in and with gusts up to 28kts we put a deep reef into the main at 21.30, by now punching head first into the increasing waves and only making 3kts headway. This continued for a number of hours as we waited for the wind to back more to the SE, so we could get the genoa out and drive towards our destination, which was being hampered by our need to not go westwards to avoid shallow reefs that apparently kick the seas up significantly. At the 5am watch changeover we had 69nm to go to our waypoint outside the harbour entrance, which was looking like a daunting task before nightfall, however, the wind moved a little to the East we trimmed everything we could and 10hrs later, after a rough and very, very wet ride, made it to our waypoint ......

averaging 7kts which we thought was excellent, but upsetting most of the crew in the process! As we headed up to enter the harbour through Faihava Bay we put the reefed genoa away and a short time after, and just off our port beam (200-300m), we had humpback whales leaping out of the water and turning over, splashing their big fins in the water in the process ....... we thought we were incredibly lucky to witness first hand such an incredible display. A little while after this as we went through the islands (it's approx 6nm from entrance to actual harbour), we had another humpback whale spouting directly in front of us, we throttled back and turned to port, he then broke the surface and as it started to dive, the huge tail flukes came out of the water ...... truly spectacular to be so close to these giant creatures in their wild habitat! We then proceeded up to the harbour and anchorage area, Michael having quickly recovered from his seasickness and telling us various information about Vavau, then after failing to find a vacant mooring buoy, the place is incredibly busy with yachts, we then finally anchored just after 5pm ....... after quick showers we went ashore, Michael got rid of our rubbish for us and he is going to meet Dirk in Tongatapu on Saturday to help him get from the domestic airport to the international one! We then went to a local waterfront bar/restaurant, had a few drinks, a lovely meal and some proper wifi/internet, by 8pm we were all fairly exhausted from our recent travails so it was back to the boat for an early night. It is a lot cooler, now that we are further south (over 5 degrees of latitude from our most northern position), necessitating wind proofs for sailing at night and a blanket on the bed rather than just a top sheet covering being too much for us to comfortably sleep, a lot different to just the shorts & t shirts when sailing over the past few months! Today, we need to visit Customs, go to immigration to extend Allan & Barry's '1 month only' standard visitor's visas, get some outboard fuel, a few fresh groceries and then tidy the boat before Lyn & her friend Pam arrive tomorrow, hopefully the heavy overnight rain will have washed most of the salt off the outside to make our cleaning duties somewhat easier.
Tue Sep 11 15:54 2018 NZST
GPS: 15 56.44s 173 46.11w
Tuesday 11th September on a bright, sunny and hot mid afternoon and again from Niuatoputapu, Tonga.

We had a very quiet night at anchor on Sunday after a roast beef dinner washed down with some fine Bordeaux ......, Monday morning we had to go and visit Customs ....... apparently a 1 1/2m walk to another village, "but don't worry someone will stop and give you a lift"! Well after approx 2m with no indication of a Customs place or the 'bank next door' and no lift, a friendly local person stopped and asked where we were going, to the customs and bank we replied, well hop in and I'll take you there ....... this was 1/2m back in the direction we had come from and next to a big school ...... the Customs Office, Bank next door and Police Station, being 3 large wooden sheds / garages set back from the 'main road' by some 150metres with no outward signs as to what they were for! Anyhow, the very kind Customs lady made a few phone calls and said they would meet us in an hour back at the wharf ...... they could also arrange for us to get a lift back ........ needless to say we took up this offer! After changing some money in the bank, we were eventually dropped off back at the wharf at 11.50, and found that the tide had gone out by about 1m so it was now well below the wharf height and there was even a step at the end of the slipway. Barry started to go down the slipway to move the dinghy, promptly started to slide, despite it looking dry, fell flat on his backside and still kept sliding towards the water's edge, despite his best efforts to try and dig in with everything he had to stop the progress ...... fortunately, he stopped just short of the edge and with some help from Dirk and one of the locals on the wharf, managed to regain his feet and reach safety ..... only suffering damaged pride, dirty shorts, hands and knees.

Back to the boat, Customs +2 arrived around 12.30 at the wharf and we duly ferried them out ....... a fairly painless experience apart from the environmental health guy, who found a flying ant in the stbd forward heads, then having lifted mattresses and carpets found a tiny 'money' spider under the stbd pontoon carpet ........ the fiasco and palaver that then followed was comical ..... we were not sure what his end game was, but he kept on about the biosecurity fines levied in NZ ..... we did not rise to the bait and eventually he calmed down and after paying the appropriate fees we were cleared into Tonga! We were then asked if we would take the local dentist to Vavau with us, he needs to get there urgently and the next plane (only 2 flights per month) isn't due for another 10days, this has been provisionally agreed, providing they give us an authorisation letter and customs add him to our crew list. After a lazy afternoon swimming and reading, we had sundowners and tuna cu rry for dinner, by now the wind had picked up and probably for the first time on this adventure we had a fair bit of shearing on the anchor ...... it didn't stop us from sleeping though.

This morning we ventured ashore, planning to climb the big hill and visit a fresh water stream that had a swimming area, the guide books stating to just ask a local where the path up the hill was ....... after a number of attempts we were told the path up was too overgrown and dangerous so we then went for the fresh water stream option, this required walking out past where we had got to yesterday, before being taken back to Customs ........ after a long and hot walk (not as humid as yesterday as the cloud cover was lesser and higher) we eventually got to the fresh water pool, Dirk went for a swim, Allan paddled his toes. A local lad (who was obviously 3 sheets to the wind at 11am, slightly concerning), got in to the water and was trying to get Dirk to swim down and enter an underwater cavern, armed with Barry's underwater video camera Dirk attempted this feat ....... only achieving some very dark underwater video that can't be seen and a cut to his right eyebrow, where he di dn't go deep enough and hit the sharp lava rocks! Anyway we then set off back to the boat and within half a mile were picked up by a local flatbed truck and ferried back to near the wharf.

This is a fabulous location and completely unspoilt island, there are some very nice houses, but most appear to be people living hand to mouth, there are pigs and chickens roaming freely everywhere, quite a few horses and in one village a number of sheep. The 'petrol station' is a simple wired off enclosure, with 45gal drums and hand stirrup pumps to discharge the fuels. We should hopefully get our clearance paperwork at 4pm ready to depart tomorrow morning for Vavau, with or without our additional crew member!
Sun Sep 9 15:27 2018 NZST
GPS: 15 56.44s 173 46.11w
Run: 198.1nm (358.6km)
Avg: 4.3knts
24hr: 102.6nm
Sunday 9th September late afternoon and again very soon beer o'clock ........ in Niuatoputapu, a small island in the Niuas group of Tonga.

So, after a pleasant evening ashore with company from Complicite crew & Aussie Nick, eating at The Edge the marina restaurant and following up with drinks at the Samoa Game Fishing Club, we retired quite late for us, particularly with the early planned start ........ Barry went ashore for the 06.30 clearance paperwork pick-up and after some discussion as to when we would actually be leaving ...... "we're just having some quick breakfast and leaving" was not exact enough! But "we'll be gone by 07.30" stated twice was sufficient to finally get the signed paperwork in our hands!! So we had our breakfast, checked the engines over, before starting them and raising our anchor ....... there was barely a breath of wind so we motored for a good hour before raising any sails, in the mean time ever hopeful Dirk had again deployed the fishing lines ...... after another hour or so, there were shouts of joy as he had finally caught a fish ........ and very nice it was too. We think it was a Spanish Mackerel and around 7kgs in weight, certainly enough for 4 meals for the 3 of us on board and just reward for all the broken hooks and lures we've had on this trip. So last night we had raw fish sashami as a starter followed by fresh fish for main course ...... it certainly tastes better when you've caught it yourself! Anyway, we've basically had to motor the whole 180nm here, only occasionally getting some wind assistance to our endeavours, the small volcanic island of Tafahi just to our north and initially very prominent from 20nm away regularly disappeared in the rain & clouds. In fact we lost Niuatoputapu in the mirk and we were only 1 1/2nm from the pass ....... after some consternation about how long the rain and gloom would last, we eventually spotted the two entrance outer markers and then as the weather brightened a bit more the lead in marks too. After that it was a straightforward entry through the pass, particularly as the chart plotter and all the marker posts corresponded perfectly! There are 3monohulls and 1 Cat anchored in this idyllic bay, tomorrow we will visit customs, there are no shops here and the supply boat only visits 3-4 times per year, so another amazing and remote location to spend a few days!
Fri Sep 7 17:06 2018 NZST
GPS: 13 49.75s 171 45.76w
Run: 48.3nm (87.4km)
Friday 7th September late afternoon and very soon beer o'clock ........ welcome to all our readers from the bureaucratic hell of Apia! So we left Matautu Bay on Savai'i after lunch on Wednesday and sailed further up the north coast and went into Asau, a difficult entry through the pass as we missed the small marker posts for the deeper channel in amongst the breaking waves, but with spotters on the bow, google maps indicating our position as the chart plotter was showing us traversing the 'green' stuff, we safely negotiated the rocky bottom and safely anchored in a most beautiful bay, we even saw another turtle during our pass entrance.

After a quiet night we ventured ashore for a walk, there are still significant signs of the devastation caused to this island from the cyclone in 1991, but there are a lot of new buildings that have received funding assistance from: NZ, USA & Australia to name a few! The people here obviously care about their properties and their grounds. After some fresh supplies from a local shop, back to the boat for a swim, had some lunch and recce the pass in the dinghy, using a hand held gps to mark the deep water exit. Allan then decided we should move further around the island to another anchorage to make today's trip back to Apia easier ........ this turned out to be further than expected and when we rounded the NW point of Savai'i with wind and current/waves against us, it was a bridge too far. The identified anchorage close to us had breaking waves and Asau we couldn't return to as it would be dark when we got there, so the only option was an overnight sail back to Apia, so we w ere again anchored around 11am today in Apia harbour.

So we then ventured ashore for the formalities, so we can leave tomorrow for Tonga ..... Port Authority wanted 100US$ for nothing, just allowing us to anchor it seems, then to immigration, more paperwork and passport clearances to get a letter for customs, customs had more forms to complete, identical to the entry forms, needing 2copies, and listing ships stores again, copies of passports again and Ron's outbound ticket that Barry had already emailed to them on Sunday ....... after paying 54Talal and waiting considerable time we got the passports back but no clearance certificate ....... you have to leave immediately it is issued and as we said we're departing at 7am tomorrow, they will only issue it at 06.30hrs, so we'll have to go ashore and collect it then! So all in all a fairly wasted afternoon, dealing with a bureaucratic job creation scheme! You may well get the impression that we are not impressed ...... you will be correct!!
Wed Sep 5 12:21 2018 NZST
GPS: 13 26.82s 172 21.89w
Run: 48.3nm (87.4km)
Wednesday 5th September late morning and anchored in Matautu Bay on Savai'i ........ we arrived here last evening around 5pm having left Apia just after 10am.

So on Sunday we waited all day on the boat and then some time after 3pm the delegation (6 people) arrived for the formalities, a Customs man went through the boat examining the contents in most of the lockers/cupboards ........ apart from the forepeaks on either side of the boat ........ why ....... because he was too round to fit through the doorway! Anyway having completed several pieces of paper ...... including some wrong ones they provided ...... obviously thought we needed the practice, and also wanting copies of passports, boat registration etc ........ not sure what they do with boats that haven't got a printer/scanner. Anyway they eventually left after 4pm, which we decided was close enough for beer o'clock! After a spot of roast dinner we then dinghied ashore as our visitors had spoken about some church singing competition going on ....... failing to find the "singing" we did find the main arena where they are holding the 28th Annual Teuila Festival celebration ac tivities all this week and watched a group of youth dancers practising for a competition later in the programme. This was very different to what we have previously witnessed on this trip and very enjoyable.

Monday we went ashore and made contact with the marina manager, no room for us at this stage, so we then went to immigration to retrieve our passports' that had been taken away on Sunday afternoon' and get a 'cruising permit' to allow us to venture from Apia ....... unfortunately they have as recently as 2 weeks ago changed the rules and you now have to go back and clear from Apia after 'cruising' rather than clearing and with your permit, 'cruising' and departing from where you like. This is an inconvenience but we do have enough time, so not a show stopper! After this we sorted 'internet' stuff, watched some of the goings on at the celebration arena, then went to the market for fresh fruit & food etc and booked Ron a taxi to the airport for later on. We went ashore to the marina bar for supper, Ron departed to the airport and we had a pleasant evening with Pzazz crew and Aussie Nick.

After another quiet night at anchor ....... interspersed with heavy rain showers, which seem a regular occurrence in these parts, we weighed anchor just before 10am and set sail for where we are now ....... we had a good breeze (15+kts) most of the way and once tucked in behind the small headland, are now in a nice peaceful and very pretty anchorage. This morning was a very lazy and relaxed start, and we again had numerous very heavy bouts of rain through the night, first off we needed to look at the main batteries as we've been getting a voltage drop despite having plenty of power left. It quickly became apparent that one of the 'old' set of four 6v batteries had failed at 4.3v, fortunately, when Allan bought the new ones in Papeete in early June we still had one old battery that was good and was kept in a locker. So this was dusted down and fitted in place of the failed one and we are now back up and running with a balanced working set of house batteries ........ hopeful ly these will see us back to NZ without any further hiccups! We then saw a local dive boat come and anchor about 50m from us and put a group of 'tourists' over the side to go snorkelling ....... once they left, we donned our snorkelling equipment and swam over to where they had been, we saw numerous different types of fish although the visibility was fairly poor, Barry then got some good video of a couple of turtles leisurely swimming along ....... & no we don't know what type they are! We may move further along the north coast of this island to another sheltered bay a bit later today, but the wind is still gusting 30kts outside of the bay ...... so who knows we may decide to just stay put! Ron is now safely back in Auckland and getting used to the cold again!
Sun Sep 2 10:27 2018 NZST
GPS: 13 49.74s 171 45.77w
Run: 77.7nm (140.6km)
Sunday 2nd September morning in Apia we are now just 1hr ahead of NZ time ........ we came through the entrance pass around 9am this morning and are now anchored in the main harbour ...... the Port Authority chap came out a while ago and said they would visit to do the formalities around 3pm! So nothing for it apart from a few boat jobs, general tidy and relax ........ this cruising life is so hard! Anyway 2 days ago (our Thursday) we went ashore, completed our departure paperwork and paid our boat 'dues' for the visit ...... these are just one off arrival and clearance fees, so the longer you stay the cheaper the 'daily rate' costs would be! We then caught a bus to Tafuna (generally there is a flat fee of $US1 per journey, although some of the longer destinations are $US1.50), it took around 45mins to get there as we had a magical mystery tour of the suburbs on the way. We then did our essential 'dry goods' and fresh veg restock and caught another bus back to Pago Pago .... by then it was beer o'clock! Yesterday, Ron & Allan caught a bus and went in the opposite direction to the day before, Barry & Dirk decided to walk the WWII Heritage Trail, this short hike, turned in to a bit of a marathon; Barry's phone App indicated 5miles, 10,500 steps and 67 floors climbed ......it was a very pretty trail, although very steep, slippery and narrow in many places. There were some good views and seeing the gun emplacements was excellent, however, with the heat & humidity 2 rather tired gents got back to the boat around 2pm! We then weighed our 2 anchors, refuelled the boat before departing Pago Pago, once out of the harbour we again had 15-20kts wind behind us, and were quickly doing over 8kts ........ this gave us an eta of 1-2am, which was no good as we wanted to enter in daylight hour. So we put a big reef in the main, furled away the genoa and tried our best to slow our boat speed to around 5kts ........ with some deviation and zigzagging we arrived safely this morning at 9am having completely missed out on Saturday 1st September as we crossed the dateline.

Nothing major planned for our stay here, apart from Ron returning to NZ on a flight late tomorrow evening Monday 3rd Sept.
Fri Aug 31 8:33 2018 NZST
GPS: 14 16.36s 170 41.84w
Run: 372nm (673.3km)
Avg: 5.3knts
24hr: 126.2nm
Thursday 30th August morning (American Samoa time = NZ -23hrs) ........ and we made it into Pago Pago, American Samoa around 10am local time yesterday, initially tying alongside the container port wharf to do the necessary formalities.

So, the wind stayed with us all the way here ...... on Monday evening just before dinner we put a big reef in the mainsail as the wind was gusting over 20kts, throughout the evening the wind strengthened to regularly +25kts and then around 9pm it was hitting 32kts, so we deep reefed the main and only had a small headsail out ....... still maintaining 7kts through the water, beam/broad reaching. It was an uncomfortable ride, regularly the swell was 3m high and with only 4-5secs between the crests you can imagine the merry dance that Surreal was performing.

At dawn on Tuesday, the wind had eased slightly ....... down to the low 20kts, so we left the deep reef in the main and set the full genoa, our speed varying between 6-9kts, with direction changing by up to 50degrees, regular rain showers etc etc. This set up we maintained until we got to just outside the entrance to Pago Pago yesterday morning, but it had been an uncomfortable, although quick passage (450nm in 70hrs) from Suwarrow, and had made most of the crew feel rather sea sick! To complete the formalities we had to go to the government building and immigration, this necessitated a 'bus' journey, once we found the right office they were very helpful and allowed us to check in and out at the same time ....... useful given that Friday when we are due to leave is a public holiday. We then walked back to the wharf and continued into the main town, finally back to the wharf we then went to Port Control Authority for more paperwork.

After a quick bite to eat for lunch, we left the wharf to anchor in the main anchorage, initially the anchor set, but 30mins later we dragged ...... wind still gusting +25kts and 50m chain out in 10m water, so we decided to pick up a vacant buoy. This white buoy didn't have a particularly good rope on it and we were informed on the radio that it was a marker buoy and probably wouldn't hold us. We identified another buoy further down the anchorage and similar to buoys that other yachts were using ........ this is where the "fun" started, boat manoeuvring was difficult with the gusts and the way it accelerates as it funnels through the bay ....... we picked the buoy up at the stern and were starting to move it forward, a gust came and the buoy's rope got tangled in the stbd prop ......... so we were well and truly tethered to the bottom. Some 3+hrs later, having cut the rope and buoy off, we were anchored by our secondary anchor, chain and some 100m of strong rope! For a 2nd time we then put the main anchor and chain in the dinghy and deployed this to its full extent, so we have since then had 2 anchors deployed and have certainly not 'dragged' overnight, despite regular heavy squalls and winds.

Last evening we had a wonderful meal ashore in Paradise Pizza, although none of us had a pizza! Today we're going to explore ashore, complete clearance paperwork, do some shopping and get ready to depart for Apia tomorrow. When we get to Apia we will have crossed the international dateline, so will lose a day and then only be 1hr ahead of NZ.
Tue Aug 28 9:48 2018 NZST
GPS: 13 30.75s 165 12.46w
Run: 142.3nm (257.6km)
Avg: 2.8knts
24hr: 66.1nm
Monday 27th August at midday (FP time) ........ and in the middle of the deep blue sea ...... we left the beautiful atoll of Suwarrow yesterday, checking out with customs formalities, getting the requisite passport stamp, before weighing anchor just after 11am. Out through the pass we set our fishing lines and once around the northern most point of the reef set course for Samoa. With little wind and from directly behind us we initially just set the gennaker, but a little while later with an improved wind angle we then raised the full main, with the stbd engine on fast idle to keep us going through the lulls! Saturday morning we completed all the jobs on our 'to do' list, then in the afternoon we went snorkeling to two of the reefs near the lagoon entrance, lots of fish and sharks, again the coral looked in wonderful condition and is recovering from the cyclone of a number of years ago. Then in the evening we all had sundowners on Pzazz (us, the crew from Complicite and Aussie Nick), again Martin starred by providing two wonderful plates of raw fish. Nick & Complicite are both leaving Suwarrow today, we expect to meet up with them again in Apia towards the end of this week / weekend.

We eventually switched off the stbd engine around midnight, as the wind had risen to 12kts, we then had a good sail all night, under a full moon ....... at times it was so light it seemed that someone was driving behind us with their headlights on full beam! This morning at sunrise was also spectacular, in the west we had the moon still shining brightly through the clouds, whilst behind us in the east the sun was lighting the sky as it began to rise, something that can only be experienced when far out at sea with no obstructions. After sunrise the wind gradually veered through 70 degrees and increased in speed to 15kts, so we dropped the gennaker and set the genoa. The skies by now were beginning to darken menacingly, with black clouds stacked high from forward of our stbd beam, right around behind us to our port beam, the wind gradually increased to 20kts and we could see numerous rain squalls around us. The swell increased to about 3m and we were bouncing along at 8-8.5 kts, the rain eventually came and as it finished the wind backed through 80 degrees and dropped to 4kts. The autopilot found this all too difficult so tripped out, we hand steered back on to a proper course, set the sails and then 5mins later it veered around the 80degrees again, so now back to square one, but with little wind. Which is where we find ourselves now 7-9kts from the SE, a rolly 1m swell and about 90% light cloud cover. So progress to Pago Pago may be slower than we would like, but hopefully we'll be there before dark on Wednesday.

We made 130nm over the last 24hrs and currently have 318nm to run to our waypoint just south of Pago Pago entrance!
Sun Aug 26 6:06 2018 NZST
Saturday 25th August ........ and we're still here in the beautiful Suwarrow atoll, apparently we are the 85th boat to visit this season, the 'rangers' John & Harry visited us just after 5pm on Wednesday to go through and complete far too much paperwork ....... a bit over officious really, but safely negotiated. The 'rules' for this National Park are fairly strict ........ no fishing or catching land crabs, no dumping of anything or cleaning of the boat in the lagoon, no taking any booze or food ashore etc etc. So what have we been up to since the last blog ......... in a nutshell ....... not a lot! We had a couple of drinks and an early night on Wednesday, then Thursday morning the cat and one of the monohulls departed on their voyages, we did washing and a few jobs on the boat, then in the afternoon went ashore and walked halfway around Anchorage island. At the far side we met up with 'Aussie' Nick from Sea Urchin ...... he left Greece about 2yrs ago, has different crew that turn up and depart along the way, but currently solo. Then there were Lucas & Ella from Switzerland on yacht Bajka, they left Europe 18mths ago and are taking a 2yr sabbatical with their two boys (4&5yrs old), they plan to get to NZ, sell their yacht and go home ready for the boys to start school.

Back to Surreal we saw a yacht approaching outside the lagoon .......... some time later 'Complicite' was anchored not far from us in the lagoon, this yacht which left Montreal in October 2017 had just come up from Rarotonga via Palmerston and had a new radio for the rangers. Its owner is a late middle aged guy called Peter, who retired early, sold his house and bought the boat last September ...... having absolutely no sailing experience, he then employed a professional skipper to get him to the Bahamas and he picks up crew along the way ........ currently 3 very young ladies, 2 who joined him in Panama and the other a younger sister of one of the 2 who has just completed high school in Canada and joined in Rarotonga.

Yesterday we went out to a reef in the lagoon to snorkel and try to see the huge manta rays, unfortunately the sea was too rough and windy, then we saw P'zazz arriving so went across to see them as they were starting to anchor and let them know they could park nearer to shore ........ they'd just caught a 4ft long Spanish Mackerel just outside the pass entrance! More jobs then done on the boat including removing the stbd black tank overboard pump, as the stbd tank has been filling by itself in about 10-12hrs! The joker valves were jammed up with what looked like pebbles, but is more probably calcification from the tank, and hence the reason the stbd tank takes 3-4 times as long as the port one to empty. We're hopeful this will now work better and the indications so far look good as the tank is still indicating 'low' after nearly 24hrs! Paul from Pzazz kindly gave us some of their fresh fish yesterday afternoon, some Marlin they caught 2days ago and the Spanish Mackerel ......... He then returned later with Graham & Martin (his current crew) for sundowners, Martin is originally from Brazil but has lived in NZ for many years and he had carefully prepared 2 plates of raw fish for our sundowner accompaniment ..... with some soya sauce, wasabi and sushi sauce, this was absolutely delicious. When they left we then had the Marlin cooked on the bbq which was again absolutely fantastic! So today, we're again going to try and see the manta rays, hopefully with the wind forecast to be a lot lighter we can do some more minor repairs to the mainsail chafe areas, we will probably be leaving here over the next 48hrs en route to Pago Pago in Western Samoa.
Thu Aug 23 14:42 2018 NZST
Run: 406.5nm (735.8km)
Avg: 7.5knts
24hr: 181nm
Weather: 15-20knts from SE, 1.5m swell from the East, 10% cloud cover.
Wednesday 22nd August mid afternoon ........ and we're safely here in Suwarrow atoll, over the past 48hours we've had every combination of sails set (full/reefed main, genoa or gennaker) and engine (port/stbd or both) assistance to maintain a 7kt average to get us here in good daylight and through the unmarked pass into the lagoon. The sea was a variety of different and beautiful blue colours as we came through the pass, which although not marked is nice and wide despite the chart plotter indicating our positioning approx 200m north of where we actually were. There are 5 other boats in the anchorage ...... 4 monohulls and one other catamaran, this is a National Park and the 'ranger' is due to visit us a bit later to complete the check in formalities.

We've had fabulous sunsets and sun rises, cloud and rain squalls surrounding us, the moon has gradually got bigger to light the long night time periods on this ocean passage. The wind has been predominantly from about 110-120 degrees magnetic, so we've spent large periods of time since yesterday with a gull winged sail set up, which is not easy to maintain with often 2-3m following seas, as we corkscrew down the waves. Apart from some drying out required in the two rear berths, everything else is pretty shipshape.

The chef still hasn't decided the menu for dinner tonight, yesterday we had fresh potato & onion soup for lunch and last evening we had roast chicken dinner, whilst the night before it was beef stir fry and egg fried rice, which all the crew seemed to enjoy! Position. 15.00hrs FP time. At Suwarrow, 169nm 24hr run.
Tue Aug 21 8:48 2018 NZST
Speed:
6.5kts
knts
GPS: 15 27.24s 157 28.84w
Run: 233nm (421.7km)
Avg: 5.3knts
24hr: 128.1nm
Weather: 14knts from SE, 0.5m swell from the East, 70% cloud cover.
Monday 20th August late morning ........ and another beautiful day at sea, we have alternating clear blue skies above us and cloud with about 12kts of wind from the port rear quarter.

The gennaker that we set as we left Maupihaa, stayed set until 11am yesterday, although we did put the engine on around midnight and then raise the mainsail around 8am when the engine went off as the wind moved slightly forward, as the wind continued to move forwards we then dropped the gennnaker around 11am and set the genoa, but the port engine was started as the wind was now less than 6kts.

Just as it was getting to dusk on Saturday we took on board a passenger, quite a large bird with a long beak, black top and white underbelly, which none of us recognised ........ and no not a penguin! Anyway, we saw this bird circling us for a while, it then tried to land on the solar panels and slipped off, as we were a moving target sailing downwind at about 5kts and it was approaching in to wind, it then had another attempt and fell off the solar panels and then bounced off the dinghy, after another couple of circuits and aborted landings it then managed to land on the metal frame holding the mainsheet track. There it remained for about 15mins, before hopping across to the solar panels, all the time this was going on the wind generator is spinning its blades madly around and this bird is very close to them. The bird hitched a lift with us for the next 5hrs, until Ron thinks he disturbed it when he went outside the cockpit, the bird not even leaving us when we passed wit hin 2nm of isle Manuae atoll around 9pm.

Since then we've had no wild life to speak of, clear blue skies, beautiful moon and star gazing, at times little or no wind ...... the wind did start to fill in around 10.30pm last night and has been with us since, it is very variable, but earlier this morning we did manage 8.5kts SOG, with the help of a little cloud cover! The wind is due to settle around 15kts from SE for the next few days according to the gribs, so hopefully the engines will only be needed to charge the batteries.

The crab meat was really nice again for dinner yesterday, accompanying new potatoes and stir fry veg! Position. 10.00hrs FP time. 352nm to Suwarrow, 110nm 24hr run.
Sun Aug 19 13:09 2018 NZST
Speed:
5.5kts
knts
Run: 19.1nm (34.6km)
Weather: 12knts from east, 0.5m swell from the East, 0% cloud cover, clear sky
Saturday 17th August mid afternoon ........ another weekend back on the high seas! We managed to break in to the coconut crabs and extract the wonderful flesh that tasted just like cray fish last evening, we had a nice portion each as an accompaniment to our tuna curry and bottle of red wine ...... after the exertions and excitement of yesterday we were all ready for our beds well before it got too late. We then had a really peaceful night at anchor and during breakfast were trying to decide what we could give our host from yesterday to pay back his hospitality, deciding on some rope and a small head torch. Dirk departed to shore with the gifts whilst the rest of us did some washing and repaired some damage to the mainsail, when Dirk returned he told us that there was a lady ashore who spoke some english and the 'host', although grateful for the presents, would really like some whisky, he was also presented with another 2 large crabs ........ although these were still 'alive & kicking' so we'd need to cook them! Allan & Dirk were now scrubbing some weed off the waterline & Barry was fishing off the back of the boat using ham as bait, very quickly catching 5 fish and losing a few more that had stolen his bait. Although he had to be careful as the reef sharks were in lively abundance and he didn't fancy catching one of them! Anyhow, a quick search of the drinks cabinet revealed a bottle of Teachers Scotch Whisky, so once they had tired of their 'scrubbing' duties Dirk set off for shore again, with the bottle of whisky and bucket of freshly caught fish to find out if they were edible? Dirk returned a short while later with a large bag of fresh paw paw fruit and the knowledge that the fish were no good for eating only for 'shark food'! By now it was late morning and time for us to make a move to get through the pass at midday slack water, this we successfully achieved and shortly after clearing the pass, there was briefly a huge whale breaking the surface just off our stbd rear quarter, unfortunately despite having cameras available it quickly submerged and despite our best efforts to locate it we didn't see it surface again. As the wind is directly behind us, we have decided to sail under just the gennaker, to stop the banging from the boom on the pulleys, we have at times seen 14kts breeze which has given 6.5kts SOG, but more generally we're progressing at around 5.5kts, which is a very peaceful and sedate motion. The gribs show the wind progressively decreasing over the next 24hrs, until we have no wind for a further 24hrs, so our progress to Suwarrow we expect to be fairly slow.

The crabs have now been cooked and Dirk has just finishing hammering their shells to extract the wonderful flesh, as we have already defrosted lamb chops for dinner this evening the crab meat will be kept as a delight for tomorrow. Apart from this all is well on Surreal.

Position. 15.00hrs FP time. 554nm to Suwarrow
Sat Aug 18 18:21 2018 NZST
Run: 145.6nm (263.5km)
Avg: 4.5knts
24hr: 109nm
Friday 17th August from Maupihaa atoll at beer o'clock ...... with variable winds and the chance to stop without deviating too far from our target of Suwarrow we have decided to pitstop overnight in Maupihaa a small atoll approx 100nm due west from Maupiti and after coming through the narrow pass we are anchored inside the NE of the atoll. There are only a few families that live here and the supply vessel from Maupiti only calls once a month, so somewhat a remote location and no other yachts are here, which is nice! Yesterday we persisted with the diesel sailing until 4pm when the wind filled in, then about 8pm with the wind dropping and wanting to get to Maupihaa for around lunchtime today, it was time for both engines again to maintain the required 6kt average overnight. During yesterday morning we saw dolphins and then more whales just ahead of us during the late afternoon, breaking the surface and spouting. Overnight with the variable wind we had many combinations of sails/engines and reached the pass into the atoll just before 12 noon. We successfully negotiated the pass - very narrow in places and with only 2 white posts to mark the extremities of the reef, then we transited up the inside, keeping a careful watch for bombies and abandoned pearl farm floats that lurk just beneath the surface. Once anchored we immediately had numerous reef sharks swimming around the boat and also a darker shark, which we couldn't identify and all approx 4ft in length, not surprisingly, there were n o volunteers to go swimming! After lunch we decided to take the dinghy back to the pass and do some snorkelling, however, when we got there, there were a number of small sharks in the water being rather amorous towards each other and then we spotted a large hump back whale leaping out of the water about 1/2 mile away and just outside the reef. So we took the dinghy outside the reef in the hope that we would get a better view, however, it had by then disappeared on its travels. Back inside the reef we tried to locate the wreck of the 'Sea Adler' a German raider, but without success, Allan then donned flippers and snorkel and dropped over the side, not long after he was quickly back aboard as the sharks were rather large and looked particularly menacing as they started circling him.

Back to Surreal, we then decided to venture ashore as the beaches looked nice, white and inviting, we motored across close to where we had seen a local fisherman land his 'tinny' earlier. He greeted us as we beached the dinghy and although he only spoke french, at which we are poor, he offered us coconut water to drink, which we accepted. A little while later, he then took Ron around the back of his 'shack', we're not sure what Ron did but he was presented with two huge coconut crabs, that were still warm having just been cooked. Apparently these crabs are a local delicacy and we look forward to eating them later! We then decided to walk further up the island ...... slight mistake as 5mins later the heavens absolutely opened, with the rain persisting extremely heavily for about 30mins ...... fortunately not too many hatches were open - although Ron has had to change his bedding and with 3 of us still in swimming gear ....... it was just a pity we didn't have the shampoo and shower gel with us! Position Ile Maupihaa and 570nm to Suwarrow our next destination.
Fri Aug 17 10:18 2018 NZST
Speed:
4.6kts
knts
Run: 143.9nm (260.5km)
Avg: 5.6knts
24hr: 133.9nm
Weather: 2knts Variable, 0.5m swell from the E, 100% cloud cover.
Thursday 16th August late morning ........ after a couple hours of motoring from Papeete across to Moorea, there was sufficient wind to sail under the gennaker, so engines off and although not going at a great speed we were progressing sedately to our target. Some time later we could see bad weather over Moorea and also further to our north, with a rain squall looking imminent we dropped the gennaker just as the first drops of rain started falling, back to genoa and main, however, this only lasted a short time before the stbd engine was back on to help us progress as the wind disappeared. Throughout the afternoon the genoa was unfurled and furled several times as the windex was going around in circles ...... then an hour after our roast chicken dinner, it's back to meagre rations now we're on passage again! The wind filled in sufficiently to allow us stop the engine and sail properly, although we were 20-25 degrees off our best course to have a quiet boat and get s ome sleep. Through the dark hours we gybed a couple of times to keep a 130-150AWA with the 9-14kts breeze and as dawn broke we were about 15nm from the bottom SW corner of Raiatea doing between 5-6kts SOG. The cloud cover was 100%, with several heavy rain squalls showing from ahead of us in the SW all the way through the north sector to our NE, with Huahine & Raiatea regularly disappearing behind large black rain squalls. Just after 8.30am, the wind died, so we're back under stbd engine propulsion again pottering along at 5kts.

Currently we're making slow but steady progress, it was good that we had a steady breeze overnight so that Dirk & Ron could get used to both sailing in the dark and the 3hr watch system. The gribs for the next few days show variable winds up to 15kts, hopefully some of it will be in the right direction to assist our progress! Position. 11.30 FP Time. 692nm to go 130nm 24hrs run
Thu Aug 16 8:30 2018 NZST
Speed:
6.1kts
knts
Run: 7.3nm (13.2km)
Weather: 5knts Variable, 0.5m swell from the N, 50% cloud cover.
Wednesday 15th August morning ........ & we've just left Papeete Marina and are en route to Suwarrow & Samoa, 50% cloud cover and very little wind, so although we have a full main and genoa set, both engines are purring away to propel us to our destination.

As we said in the last blog, we got into Papeete Marina on Sunday afternoon and have spent the last few days sorting the boat out, doing shopping and laundry etc ready for us to depart today. On Monday we dropped off the gas bottle and found out that today was a Public Holiday so they very kindly arranged for us to collect the refilled bottle yesterday, Allan then went to Customs and the Port Authority to get our clearance sorted and on to the 'duty free' shop to arrange some wine and beer for our onward voyage. Yesterday afternoon (Tuesday) we took Lyn & Jan to the airport and once Dirk arrived went to the Immigration Police (IP) to get our final clearance ........ not the easiest experience in the world and because the Port Authority had put on our form that we were leaving this morning, the IP wouldn't let us clear out last night. So back to the boat for the night and then back to the airport at 8am this morning to complete the formalities. In short, we were back to the boat and casting off our lines at 09.05, so we're currently halfway across the gap between Tahiti & Moorea, and starting to get in to our 3hr watch patterns. Our track will take us the north of Moorea and south of Raiatea, but the gribs show little or no wind for the next few days, so it could be a slow passage to Suwarrow ....... we'll let you know how we progress! Position 10.00 FP time. DTG 816nm
Mon Aug 13 14:12 2018 NZST
Run: 112.5nm (203.6km)
Sunday 12th Aug early afternoon ...... from Papeete Marina.

So on Wednesday late afternoon as the wind continued its anticlockwise directional change we moved from the anchorage inside the passe to some 400-600m away where we would get better protection from any swell, after a comfortable night we were up early, anchor up, mainsail set and out through the passe by 06.50hrs on Thursday, although we had 10-15kts from NW we had to motor sail to Moorea as the apparent wind was less than 8kts most of the time, however, running down wind meant we didn't experience too much banging and we went through the reef at 19.00 and safely anchored by 20.00hrs, so a fairly quick crossing for the 85+nm.

Friday morning it was decided to take Jan & Ron to see the reef sharks and rays, so we moved out of the bay to an anchorage nearer the rays, although still 1.5nm in the dinghy. The intrepid crew set off upwind to follow the markers through the narrow inner channel, leaving Barry on the boat to do some odd jobs ......... quite some time later Barry looked over the side of the boat to find 4 wet and bedraggled 'intrepid crew' rowing towards him in the dinghy and moving at quite a speed as the wind had certainly piped up! The dinghy painter was thrown across the gap and Barry managed to catch it and bring the dinghy alongside ....... they were over 3/4 of the way to the rays & sharks when the outboard suddenly died and no matter what was tried it just cut out above idle ...... so carburettor again removed, again loads of small bits of debris were found in the filter bowl, so everything cleaned again using the solvent and reassembled, outboard now running a lot better, but not a s good as before, so spark plugs removed and although looking clean and with a good mixture colour, we adjusted the gaps and reassembled. Now we were back in business, so after a spot of lunch the intrepid crew set off again and were not disappointed with the wide array of underwater wildlife they saw. On their return We then went back into the main bay and anchored for the night. The source of the outboard fuel debris will need investigating further at some point! Saturday morning and a supermarket run was required, so we left our anchorage went out through the reef and back in to Cook Bay, where Allan had also arranged for the 'fridge man' to meet us and look at the faulty fridge. Fridge man arrived just after lunch, did some tests ..... basically said that everything we had previously tried was right, couldn't find anything wrong, suggested we put a small relay in between the supply and the fans to remove excess current through the controller etc etc. Although we briefly fitted the new controller and the fridge was working, we are still not convinced this is the right long term approach and we prefer to keep our new spare controller in reserve in case we get a problem with our 3 working cooling assets. With the gribs showing the wind going from S to E overnight, we made a swift exit from Cook Bay and had a fabulous sail back across to Tahiti, entering through the reef at Passe De Taunoa around 5pm and anchoring not far from Tahiti Yacht Club.

Sunday morning we left our anchorage and motored against the easterly wind (17+kts) and anchored not far from Venus Point, as we neared the anchorage we could see spouts of water outside the reef .......... these turned out to be a pod of rather large whales, Barry managed to get some video footage of these amazing creatures, the first we have seen on this trip. Once the 'culture' of Venus Point was completed we left and sailed back down wind under just our head sail and went through the main passe into Papeete, where we are again fortunate to have found a berth in the town marina. For the next few days will be prepping to leave for Suwarrow and then on to Samoa.

Lyn & Jan fly home on Tuesday evening and Dirk also arrives, unfortunately Lachlan will no longer be joining us and we wish him a speedy recover from his illness, so Ron is now staying onboard for the next leg.
Thu Aug 9 12:54 2018 NZST
Run: 32.2nm (58.3km)
Wednesday 8th Aug early afternoon ....... anchored back in Fare on Huahine Nui, not far from the Huahine Yacht Club.

On Saturday we left our mooring and went to the Love Pearl farm, they again made us very welcome and even though it was a Saturday and only a skeleton staff there they gave us a good tour and explanation of the process, Jan also got some pearls. We then headed down to Uturoa and a couple of hours later came alongside the fuel berth ..... only to find everything was all shuttered up and chains across the garage forecourt entrance ...... so we waited until 2pm, the 3 big charter cats (Lagoon 62s) had by now left the town quay and when there were no signs of anything reopening with the garage / fuelling berth moved cross to the other side for the night ......... lo and behold at 3pm other boats went alongside the fuelling berth and it then opened up for the afternoon ........ obviously having been closed for their siesta! Ron was dispatched to walk around and find out their Sunday opening hours, so we could fuel before we left ....... 06.30-12.00 was the response, which meant we could stay put! Leisurely afternoon, sundowners and expecting the 'dancers' to make an appearance, particularly as Wind Spirit the big cruising schooner was alongside for the night, we had a quiet dinner ...... no music or dancing was taking place on the town square. However, our peace and quiet did not last too long and we had a very noisy and disturbed night ...... yes all night; it started at 20.00 and lasted right through until 06.30 in the morning, several local youths playing loud music and generally making a blessed nuisance of themselves ........ the first time we have had to witness this sort of thing since we started this adventure. Anyway this meant we were ready to move early on Sunday morning, so we refuelled and then went down to Taputapuatea to visit the Marea. After a leisurely hour or two ashore we then went around the corner into Baie Hotopuu, as where we had stopped to go ashore was exposed to the north wind, we managed to pick up a vacant buoy it was very pleasant and quiet area, necessitating an afternoon inspecting inside of eyelids, particularly after the previous disturbed night, a quiet evening and night that followed was also just what the doctor ordered! Monday morning we then left here, went out through the reef via Passe Teavamo and around the bottom of Raiatea and in through Passe Naonao, we then managed to get another buoy in Baie Tuatau. After a short foray ashore it was time for some snorkelling, the reef beside the small Piton island we were moored near had very little fish and the water was quite murky, however, we then went out to the Isle Naonao beside the main reef entrance ........ the coral was fabulous, the fish were also in abundance and the clarity of the water was much improved ....... Barry was busy taking pictures and videos, when suddenly he saw to big sting rays swimming quite close ...... now swimming with the rays & reef sharks off Moorea in chest high water where they're almost tame is one thing ...... but these two creatures here where the water is 20+metres deep was a whole different ball game!! Back to the boat for another pleasant evening ready to depart to Huahine in the morning.

Tuesday dawned with a fairly fresh wind, that looked like it might allow us to sail across to Huahine, out through a very bumpy sea at the Passe that was clearly being exacerbated by a classic wind over current ....... we had a double reef in the main and full headsail, the sea was extremely confused, the boat was pitching and rocking like something demented and the wind was topping 30+kts, we ploughed on like this for well over an hour, but only made 3nm progress towards our target despite 6kts SOG, so headsail went away and was replaced by our two 75hp diesels! Nearly 6hrs after we left Raiatea we entered through the Huahine reef via Passe Avapehi and then anchored just off the Huahine yacht club at Fare. The grown ups went ashore whilst Barry & Ron changed the oil & filter on the Stbd engine ....... as it was all nice and hot after its exertions! We had a fairly quiet night, although the wind did seem to howl at times, today the wind has gone around more to the north, we have restocked with important items from the supermarket, the rest of the Stbd engine servicing has been completed a lot easier with a cool engine and we've cleaned off lots of the salt deposits from yesterday's activities! The 'gribs' indicate the wind will go further anticlockwise overnight and drop in strength, so although we're likely to be motor sailing tomorrow to get to Moorea, at least we wont be banging away upwind!
Sun Aug 5 6:45 2018 NZST
Run: 24.1nm (43.6km)
Saturday 4th Aug morning ...... currently on a buoy in Tahaa and planning to go to Uturoa town on Raitea a bit later to initially refuel and then hopefully get a spot alongside the town quay to watch the 'dancing' this evening.

On Wednesday morning we again all boarded the dinghy and went around the back of the motu to experience the great snorkelling, the coral is in remarkably good condition and even in some areas where there are large piles of dead and broken coral, new coral is starting to grow through it. We have some great underwater pictures as memories and we are sure that, when we return home, family and friends will be surprised at the underwater vistas we have seen! We left our anchorage late morning and motored back around to the other side, picking up a Bora Bora YC buoy using our new technique of picking it up from a rear transom - rather than straining over the bow to pull it up 6-7ft, and then once 'roped' walking the buoy forward, we completed this just as the heavens opened and after the rain had stopped Allan & Lyn went ashore briefly. Once they returned we had lunch and more bouts of rain, then once these had cleared we motored down to Bloody Mary's, again collecting a buoy eas ily with our new technique. More rain followed throughout the afternoon, necessitating putting the "clears" up, it was so heavy at one time that Barry went and got shampoo and shower gel and he and Ron then had fresh water showers on deck without using any "boat water", a truly refreshing experience! The rain finally ceased for the day and we then had another great meal & evening in Bloody Mary's.

Thursday morning we dropped off the buoy and headed across to Vaitape town quay, managing to get a slot right in the corner, a quick run ashore for fresh supplies before we headed away from Bora Bora and across to Tahaa. With the NE wind of 14-18kts and a 60degree AWA we galloped across the 16nm from the light on the SW corner of the Bora Bora reef to the Passe Paipai in around 2hrs, which was another great sail and then easily picked up a buoy in Baie Tapuamau ready to visit the Pari Pari distillery in the morning.

After another quiet night, on Friday morning Barry took Ron & Jan across to the distillery and on returning to the boat we all jumped aboard the dinghy and went across to the Coral Garden, again everyone snorkelled. However, this time the current was a lot stronger than before and the water levels seemed to also be lower, but we again saw hundreds of fish and extremely healthy coral, so another successful foray. After the exertions of the morning it was a fairly quiet afternoon on board, only interrupted by the occasional "snore", or bout of rain! Two supply ships came and went from the main quay, which also provided some interesting entertainment! So the weekend has now arrived, as we said at the start of the blog we're off to Uturoa a bit later, on the way there we're going to a Pearl Farm off Pte Toamara, then tomorrow we're going down to the Marea at Taputapuatea and hopefully launching from there through the bottom Passe Teavamoa across to Fare on Huahine the day after.
Thu Aug 2 7:09 2018 NZST
Run: 131.5nm (238km)
Wednesday 1st Aug morning ....... Hi from Bora Bora ........ we had a great sail all day from Moorea to Huahine on Friday, getting through the "reef pass" around 8pm and anchoring in our favourite spot a short time after. There were a lot more yachts anchored there this time and we were very surprised how many didn't have anchor lights showing, particularly those that appeared to be anchored in the main channel, as there were 2 cargo ships coming and going over the next couple of hours! Saturday morning dawned fair and the grown ups went ashore for wifi and some supplies, supplies good, wifi not so as internet cafe was closed, Barry serviced the watermaker, when the crew returned from their run ashore they reported that the dinghy outboard was running badly, a quick check of outboard fuel filter and pump, when Barry stupidly managed to drop the fuel filter 'O' ring seal into the deep, whilst getting rid of the crud from the filter bowl ....... it's surprisingly quick how fast things disappear with a 2-3kt current, but hey ho, nothing that some trusty ptfe plumbing tape wouldn't fix! The outboard still wouldn't run properly, so more invest required. We then left Fare and motored down to the little secluded Haapu Bay and had a very quiet night before we depart further west.

Sunday morning, we had a "gentleman's" start and departed for Bora Bora about a 50nm passage and again downwind, so after getting out into the breeze we set the gennaker and had another fab sail, going through Passe Teavanui just after dark. We had decided to anchor down the back of Toopua Island and whilst motoring down towards it and not even thinking we were anywhere near getting to the narrow channel, clipped a bombie with the port skeg ....... we immediately turned tail and headed across to the Bora Bora Yacht Club, with no mooring buoys available we dropped anchor.

Monday morning .... Allan & Lyn departed ashore in the small dinghy for wifi, whilst Barry & Ron removed big outboard and stripped the carburettor, we found the main jet blocked, so a quick reassemble and test run ....... everything 'seemed' fine, we then departed for Vaitape town quay, a quick run ashore for essential supplies before we went to the narrow channel just off Toopua Iti to an area that Charlie's Charts identifies as good for snorkelling. Well it is good, but you just need to be an Olympic class swimmer to get back to the boat against a 3+kt current! ...... Barry was certainly glad he had flippers on! We then motored around the back of the island, past the hotels and anchored where we had originally planned to the previous evening! Allan & Barry then spent an hour or so scrubbing the weed, that had grown during the stay in Papeete Marina, off the hulls, also checking the port skeg for damage from the previous evening's coming together ......... nothing that a b it of filler, rub down and anti foul won't sort, it hurt our pride more.

Tuesday morning dawned bright again and we could see loads of tourist boats heading out across the bay towards the reef where they were anchoring/mooring and everyone was in the water, so we decided to launch the big dinghy and find out what was going on ........ outboard was again back to its old tricks, so carb off and after another strip/inspection/clean/reassemble made no difference there was some scratching of heads. Barry did some internet searching via 3G and found that these faults with 2stroke carburettors were normally sorted by ultrasonically cleaning the carbs ....... obviously not an option for us, however, we thought some carb cleaning solvent might do the trick. Off to Vaitape again and past the area where we clipped the bombie, we found that the chart plotter in that area is over 30m out from reality, whereas in other areas of Bora Bora it is spot on. Unfortunately, there was no room at the town quay, so whilst most of the crew held off in the bay, Barry & Lyn launched in the small dinghy, the town was very busy with tourists as: Aranui 5, Wind Spirit & Paul Gauguin were all anchored in the bay, eventually after failing to find carb cleaner Barry sourced some 3in1 Solvent Degreaser, that came with a fine tube to squirt down 'jet orifices' .... and the only one left in the shop! Back to Surreal and Allan set off towards the top of the island and around past the airport, after carefully picking our way through the reefs and bombies and going past all the hotels on the eastern motus we eventually dropped anchor in the south eastern corner of the reef near Taurare. It was now time to see if the 3in1 would work ....... 40mins later, its surprising and even without a maintenance manual, how quick you can strip and reassemble a carburettor with a little practice, the outboard was now running like a dream, although Ron was again disappointed that we didn't have any bits left over or spare! So we all climbed aboard the big dinghy a nd departed around the back of the motu for what Charlie's identifies as the "best snorkelling in Bora Bora", this time even Lyn participated as her leg is now sufficiently healed to allow her to get it wet. The snorkelling was pretty good, we then got back to the boat for showers, sundowners and roast leg of lamb for dinner ....... absolutely scrummy after another successful day! The cruising life is hard, but you'll be pleased to know we are all bearing up well under the strain!
Sat Jul 28 7:33 2018 NZST
GPS: 17 21.16s 150. 00.5w
Run: 29.7nm (53.8km)
Friday ...... and nearly a week since our last blog ..... we got back to Papeete at lunchtime on Sunday and were very fortunate to get a berth in Papeete Marina as it made resupplying and airport change overs a lot easier. Barry & Ruth departed to a hotel for 3 days, Mitch returned home on Tuesday, Allan & Lyn were busy with the boat, getting the empty gas bottle recharged (not easy as it has to go to another island and takes 3 days), visiting customs and sorting final departure paperwork for 14th Aug when we ultimately depart from these shores for our return to NZ voyage.

Ruth caught her flight to the UK late on Wednesday evening and Jan & Ron arrived on the same aircraft, so back up to a crew of five for our next adventures. Jan & Ron brought out new fridge controllers, so we've now resurrected the inside freezer, which has been adjusted to become a fridge, the bottom and top fridges have been swopped over to prevent excessive bending and we'll wait until we can source a fridge expert before doing anything further with the old 'top' fridge, we also completed the servicing of the port engine. We left Papeete yesterday just before lunch and after waiting at the entrance for a large container ship to enter through the narrow 'pass' had a very pleasant sail across to Cook Bay on Moorea. We sailed past a large catamaran 'Hemisphere' in the bay (48m long by 16m wide) wider than Surreal is long, the stairs at the stern wouldn't have looked out of place in a country mansion or palace ..... obviously no envy! Anyway this morning it was an early start ...... well at 7am we started engines and lifted the anchor as we've 85nm to cover to get to Huahine ...... currently sailing with full main and genoa in 16-18kts breeze and making 7-8kts over the ground. A bit of a swell is making us corkscrew downwind which is not to the liking of the 'new' crew, hopefully some tablets will sort that out! As we left Moorea, the hills looked absolutely fantastic it was the first time we have seen them with a completely clear sky, giving brilliant definition to all the peaks and pointy bits!f
Sun Jul 22 17:18 2018 NZST
GPS: 17 30.10s 149 35.20w
Run: 110.4nm (199.8km)
Saturday ........ & we've been in Moorea since early hours of Thursday morning ....... the saga with the top fridge continues, the inside fan had stopped working on Wednesday morning, hardly surprising given that the same fan on the lower fridge had to be replaced as we left Auckland! Anyhow, once we found we couldn't get it to work, Barry had some inspiration departed to the local internet cafe in Fare and managed to get a 12v computer fan ...... after a bit of fettling said fan was fitted and working, so both fridges then sorted.

We decided on Thursday morning to make a dash for Moorea (85nm away and in to 15-20kt headwinds and swell), we departed at 8am and got through the pass into Moorea Opunohu Baie around 01.30am, much relieved after the constant banging all day! After a fairly quiet night at anchor we had decided to again go swimming with the reef sharks and rays ......... however, the port rear electric toilet had stopped working & was now blocked .......... some 2hrs later, having removed the electric pump assembly and finding the macerator blade and impeller loose and numerous years of calcification needing to be cleaned off, it was reassembled and worked fine! By this time the wind was gusting +20kts and with white caps, we decided the fish snorkelling was off the menu for the day, so we went into Cook Bay to do a run ashore for supplies, this also gave Barry the chance to change the oil & filters on the port engine. Whilst outside the reef and between the 2 bays we again had a smell of burning from the top fridge ........ it has now been switched off and will just be used as a cupboard! We then anchored in 20m and with circa 60m of chain out were well settled, however, throughout the night there were many heavy squalls and gusts ....... in short at 5am we hadn't moved but at 8am today we had dragged our anchor some 100m and were now in 14m and still moving. Engines on, we raised the anchor, to find it was wrapped in a large plastic bag and a multitude of other debris, hardly surprising it wouldn't dig in! We motored around back in to the extremities of the other bay and even though the wind was still strong, we did manage to go and swim/snorkel with the sharks and rays. After a lazy afternoon, we are now well anchored in Opunohu Baie, as the wind and rain have been rather too frequent and strong for our liking.

Tomorrow, we're making the short dash across to Papeete, so Ruth & Barry can have a few days ashore in a hotel, before Ruth departs to the UK, and then Ron & Jan join the boat for the next episode of this adventure!
Thu Jul 19 15:12 2018 NZST
GPS: 16 42.74s 151 02.39w
Run: 26.7nm (48.3km)
Wednesday ........ since our last blog, we have left Raiatea and are now in Huahine, the weather and seas abated sufficiently for us to motor across the 25nm between the islands and we dropped anchor near the town of Fare. There is a very well stocked supermarket that was even open on Saturday 14th Bastille Day ........ unfortunately the weather since we got here has not been great, winds from E / SE gusting 25kts and regular very heavy rain squalls, some lasting up to an hour or two, necessitating regular bouts of emptying the dinghy! We ventured down to the bottom of Huahine Iti on Sunday ....... on the way there was an 'electrical burning' smell from somewhere in the cabin ...... lots of crawling around and sniffing in cupboards ensued until it was eventually found to be coming from the 'top' fridge! Fridge emptied and removed ....... multimeter once again used to diagnose the fault which ended up being the electronic controller ........ after some discussion is was decided that it was a higher priority to have 2 working fridges rather than 2 working freezers, so we removed the electronic controller from the inside freezer to get the fridge working again, then rationalised the frozen stuff into the remaining working freezer. We now just need to source a new electronic controller, which may need to come from NZ as our contact in Papeete is struggling to source one there! After a brief lunch stop at Avea we then moved and anchored in a small bay at Haapu ........ absolute bliss as we were the only boat in there, only downside was the colour of the water which was very muddy from 'run off' from the hills following the torrential bouts of rain! After a very quiet night we then moved on Monday into Baie Bourayne and picked up a very large mooring buoy, a quick lunch and we then ventured ashore to the village of Maroe, unfortunately the rain again caught us out and there was also no shop there so we went back to the boat. On the way back we had to pass under a road bridge connecting the two parts of the island and one of the local 'youths' decided it was a good idea to jump in the water and try to get us wet, not that we weren't wet enough already ......... there were only 6 boats in this large bay, 3 gin palaces at anchor and 3 yachts on mooring buoys. Tuesday morning we went out to a reef in the bay and did some snorkelling, there were hundre ds of tiny brightly coloured fish, then it was back up to Fare for a resupply of essentials. After 'happy hour' with the crews from P'zazz and Tusi 2, we then had a great meal in the Huahine yacht club last night.

Today is forecast for high winds again and it has been blowing up to 25kts overnight ........ regularly accompanied by the torrential rain, the gribs for the end of the week look better, so we'll then be making a push for Tahiti / Papeete, as Ruth flies to the UK and Mitch back to NZ on Wednesday 25th Jul!
Fri Jul 13 8:54 2018 NZST
GPS: 16 43.74s 151 26.55w
Run: 26.3nm (47.6km)
Thursday 12th Jul ....... so we left Bora Bora on Sunday morning and had a fabulous sail across to Tahaa 15-20kts from NW meant our journey eastwards was fairly quick, however, the clouds had been gathering and as we approached the channel through the reef it started to rain, by the time we got to the end of the channel approx 0.5Nm, we had 30kts wind and torrential rain which reduced visibility to less than 100metres! We quickly rolled away the genoa and motored very slowly up the inside of the reef, spotting other boats via our radar, 15mins later the wind had eased and gone right around to the SE. So we continued up the west side of Tahaa and picked up a mooring buoy in Baie Tapuamau, with the intention of visiting the Pari Pari distillery the following day. The wind had by now risen again and was gusting 20-25kts across the bay, the other 2 mooring buoys were quickly taken and then another 5 yachts came in to anchor and try and get some protection from the con ditions. Needless to say, there was no swimming or venturing ashore for the afternoon.

Monday morning and the wind was still blowing hard, one of the charter yachts had dragged their anchor overnight and were quite near to us in the morning, Ruth, Allan & Barry decided to dinghy ashore to visit said distillery and get fresh bread for lunch ......... a rather wet ride ensued even though it was less than 200m. The distillery visit was fantastic, they process vanilla, cocoa nuts and sugar cane, making various flavours of rum, soap, oils etc, after a walk to main village for the bread, we had a rather drier run back to the boat, but decided that would be the extent of our adventures for the day! Tuesday morning, we dropped off our buoy and went a few miles further up the coast to a Pearl Farm, they gave us a 'tour, and detailed explanation and demonstration of how they 'culture' the pearls ......... a very complicated and precise process that requires 5years of training. The ladies purchased some pearls before we departed around the top of Tahaa and down the eastern side. We went into Baie Haamene ( a recognised 'hurricane hole' with the intention of visiting a vanilla farm), and all the way to the village at the bottom, however, with white caps, gusting wind and muddy green water, quickly decided this was not for us. About half way back up the bay, there was a mooring buoy tucked in around a corner and no white caps, so we decided to avail ourselves of the facility ........ not quite so easy as it would appear, a diamond round shaped buoy and no pick up rope ........ however, Barry in dinghy threaded rope through shackle beneath buoy and handed said rope to rest of the crew ....... mission accomplished! We then went ashore and walked to the Hotel Hibiscus ....... according to Charlie's Charts a turtle sanctuary ...... well no turtles but a nice cold beer and excellent wifi, also finding out it was a long way to a vanilla farm, so well worth the effort! Wednesday morning ..... dropping off the buoy was far easier than picking it up, we motored back across the bay to Uturoa, the town quay had 2 x 62ft charter catamarans alongside, so we refuelled and then re-moored further down, after lunch the 'big cats' departed so we're back alongside the town quay. The supermarkets here are very well stocked, so an afternoon of foraging ensued, then just after sundowners the local youth dancers and band struck up, so we had music with our dinner and then ventured ashore to witness their efforts ........ truly splendid. Just after we turned in the rains reappeared, we've certainly had plenty of heavy showers over the last week or so.

Its now Thursday morning, the wind is still howling from the east and not forecast to ease for a few days, as Huahine our next destination is directly east from here we are delaying our departure until more favourable conditions arrive!! From 'yachts in transit' we can see that P'zazz are within our vicinity, so maybe we'll see them before we go!
Sun Jul 8 14:33 2018 NZST
Run: 20.2nm (36.6km)
Thursday ..... and after a quiet night at anchor in Tahaa, we moved just after breakfast on Wednesday across the channel to the top side of the Tahaa Hotel & Spa and dropped anchor, so we could go ashore in the dinghy and explore the Coral Gardens. The idea is to anchor the dinghy or beach it and then walk to the far end of the little Motu (200m or so) get into the water and then drift back down to the dinghy on the current ........ well what a treat we had, literally thousands of fish and multitudes of different types of coral .... it certainly made the drift through the pass at Rangiroa pale into insignificance!! Back to the boat we then had a little trouble (1st time since we set off) in lifting the anchor the chain had wrapped around a rock and the anchor become wedged in, fortunately we were only in 6m so Allan was able to duck dive down and shake it free.

We then went on the look out for a pearl farm, Allan and Lyn had visited one when they did a cruise of the area a few years ago, memories were a little jaded as we motored around Baie Apu without success, eventually spotting it as we rounded the point on our way back to Raiatea ........ where we were heading to see the youth dancers 'live' show at 7pm. After looking at anchorages we found an alongside berth behind the town petrol station, but were warned about possible thefts overnight! So after the show we moved to a free berth alongside the main quay, where we were previously and now directly behind Ross & Jo Blackman, who were still awaiting (4days) for their customs clearance to leave.

After a quiet night alongside we left to go down to the SE side of the island and do a bit of 'culture' by visiting Marae Taputapuatea, as we were leaving Ross found out that his 'agent' in Papeete had now obtained the necessary clearance, so it was a quick visit to the Gendarmerie before they set off for a quick overnight stop in Bora Bora and then head to Suwarrow, Samoa and on to Fiji! The Marae is now a world heritage site, so there are plenty of signs and explanations translated into various languages including english, which made the visit so much more worthwhile. We'd picked up a buoy and had another extremely quiet night, although by morning it was obvious we'd been spinning in circles! Friday morning dawned and there was only a little wind, so we decided to take Mitch across to Bora Bora, initially motor sailing gradually the wind filled in and we had a fabulous sail back across to Bora Bora, certainly a lot easier than our transit a week ago! Once through the reef we headed down to the SW side of the island and managed to get another buoy just off Bloody Mary';, for 'yachties' a world famous bar & restaurant. After a quick swim, Barry went ashore and managed to book a table for us, a quick shower and sundowner on board we were off for 'happy hour'. This was followed by a fabulous meal in a quite exotic setting ........ a very pleasant evening was had by all and although the wind picked up overnight a very quiet night onboard! This morning we ventured around to the bottom of the island in the dinghy to go to the big white beach, loads of fish, but not much else exciting, a rather wet dinghy ride into the wind and waves back to Surreal. We then dropped off the buoy and headed up to the town quay in Vaitape, for much needed supplies ...... beer, wine, bread etc etc and fuel for the outboard. We then departed to the NE side of the island, where we currently are, anchored just off a Motu in 2m of water. We can see the airport a couple of miles away on our left and in the other direction a big hotel, but again miles away, apart from that we have the place to ourselves, with a wonderful view of the sun bathed Bora Bora hills and rocks behind us.

Tomorrow we're heading back towards Tahaa, for the pearl farms and distillery visit, before the winds go to the SE and make life difficult for us. After that next stop will be Huahine!
Wed Jul 4 16:12 2018 NZST
Run: 36.5nm (66.1km)
Tuesday ..... and we are now in Tahaa ........ the 'vanilla' island, where apparently they produce 80% of all the vanilla produced in French Polynesia! So on Friday we made it back to Bora Bora just after dark and anchored off the yacht club again. On Saturday Allan went ashore to the yacht club and made good use of the internet, throughout the morning there were a number of races being held in the bay for the locals in their canoes, from 4man boats to 6man boats, all closely chased by a posse of supporters in motor boats or on jet skis! Around lunch time we had to make a move for Raiatea, as Mitch was due to fly in on Sunday late pm, we had another encounter with the 'local canoes' as we made our exit through the channel, as they were using the channel marker as a turning point. Once outside and around the SE end of the reef, we fully realised how fortunate our decision to leave Maupiti the previous day had been ...... 15-20kts and a short sharp chop, both on the nose, together with the long lazy SW swell, it was a long and noisy afternoon motoring across to Raiatea, but we entered their reef and then anchored on the NW end of the island ready to get to the town quay the following morning.

A rather noisy night followed, not helped when the wind increased and pulled us back to the full scope of the anchor causing us to have a mooring buoy banging against the port hull at stupid o'clock in the morning, Ruth waking Barry who was not impressed with her "worries" about the banging noise! As it was now Sunday morning and the shops closed at 11.30, we had breakfast and motored around past the airport, coming alongside the town quay about 10.45, the crews from a couple of other boats took our lines and then informed us that it was free to stay there and there was 'free' village wifi available ...... a double success, the supermarket was also just the other side of the quay and was open until 12.00, so a quick foray ashore and we found everything we needed, fresh bread, fruit and veg etc etc! A relaxing afternoon, Barry & Ruth went walkabout for a few hours, Lyn met a local guy on the quay who told of where she could find a local doctor to look at her leg which she had previously injured! Some other "kiwis" popped across to chat just as it was getting dark ...... Ross & Jo Blackman (who are sailing their yacht back to NZ from Italy) were off to the airport to collect a new crew member and they offered to bring Mitch back with them! Just after 18.30 Mitch duly arrived, so we had a couple of 'cold' ones and some 'red', to celebrate! Monday ..... Ruth and Barry decided to walk up the local hill .......... 2hours later this venture was abandoned due to the heat, humidity and steepness of the concrete road. Lyn spent most of the day in and out of the doctors, but the leg injury has been suitably addressed, which is a great relief to all! A few more cold ones and red accompanied dinner, as did the local "youth" dancers who were rehearsing on the town square about 100m from where we were alongside. Their practice lasted for a solid 2hrs and we all had chance to go across and watch, a very impressive display and credit to them all! Tuesday ....... the weather forecast was for little or no wind ......... constant 26kts and heavy rain showers every 30mins is not our idea of 'little' wind and our plans to go down the east side of Raiatea into this wind to Marae Taputapuatea a heritage site was not the best option. So we have sailed up to the west side of Tahaa and are sat in a nice quiet bay, not too far from the coral gardens, where hopefully tomorrow we can snorkel and explore.

Apart from that ....... another day "cruising", in the beauty of the FP islands, we wish all our readers the very best until the next instalment of our adventure!
Sat Jun 30 14:21 2018 NZST
GPS: 16 29.74s 152 02.86w
Run: 19.1nm (34.6km)
Friday ..... an FP bank holiday to celebrate "Autonomy" day, since Tuesday we have left Bora Bora and ar enow on our way back there again! After a very peaceful night off Toopua Motu, Wednesday dawned with a few clouds over the hills ...... we had quite a few heavy showers throughout the night, which gave the boat a good rinse off! Ruth was a bit off colour, possibly due to some tomato juice she'd consumed the day before ........ anyhow, we needed to collect the washing from the yacht club and restock the larder from the supermarket. The washing wasn't ready till mid pm, so the supermarket was dealt with and then after lunch back to the 'yacht club' not quite a 5 minute job, but successfully completed, we then went around the bottom of Toopua Motu and past Paul Gaugin and Wind Spirit cruise ships, to stop fairly near our previous anchorage, so we could see the "big hill" and the nearly full moon rising, by this time Ruth had recovered from her malaise.

Thursday morning, we lifted our anchor after breakfast and headed off to Maupiti, another island with a"big hill" surrounded by coral reefs approx 25nm away. The single entrance through the reef is very narrow and impassable with any wind /swell from SW-SE, as the forecast was for none or only little wind from the north for 3 days, it seemed an appropriate time to visit. We arrived at what appeared to be slack water, easily getting in through the entrance with fairly big breaking waves only 20 or so metres away, once inside there is a clearly marked channel to the main island & town, it needs to be as it winds its way through the rocks & coral. There were 3 other yachts inside, but well spaced out about 1/2nm apart, we dropped our anchor in 4m in flat calm water. The 'motus' here look absolutely beautiful, with white sand beaches and palm trees all over them, the main island has fabulously spectacular rock hills, we all thought we were in paradise and this is easily the m ost beautiful island we have seen so far...... Allan said it was the most beautiful island he had ever seen, so it must be good! We went swimming then headed across to Motu Tuanai, complete with chilly bag of cold beers, the wild life was incredible, from land crabs to hermit crabs (so quite large) running around, to the multitude of small fish in the sea, after a walk and explore we sat on the sand and watched the sun disappear behind the hill with a cold beer in hand ......... a fabulous end to the day! After another quiet night at anchor with the sea like glass, we ventured ashore after breakfast, as it is a bank holiday our expectations of shops being open were low, however, a couple of small 'magazins' were open but didn't stock anything we wanted. The bread shop was closed and wouldn't open until Sunday morning, but you need to be there at 5am or they'll be sold out! At the top end of town, they were holding the children's games, we watched them sack racing and doing tug of war, but they were clearly set up for the whole day, so we retraced our steps and went to the other end of town and new wharf, before getting back to the boat. Over lunch ....... Ruth had cooked Guinness bread, we then debated about moving the boat when the engines were running to charge the batteries, however, once Allan had downloaded the latest gribs with the wind showing increasing to 15kts from SE by Saturday morning and we'd also seen the wave action over the reef, it was a no brainer to depart back to Bora Bora with all haste. To say we have some spectacular photos of our exit through the pass would be an understatement, needless to say we got through safely and are now halfway back to Bora Bora, thankful that we aren't stuck in a beautiful anchorage awaiting a weather window to depart, as Mitch is due to fly in from Auckland over the next few days! The heavy clouds have now disappeared, we have 10kts wind on the nose and we're motoring at 6.5kts eastwards to Bora Bora, the swell is from the SW and probably the reason why our exit from the entrance was a bit wild and bumpy!
Wed Jun 27 16:12 2018 NZST
Run: 273.6nm (495.2km)
Avg: 2.8knts
24hr: 66.4nm
Tuesday ..... and we're now in Bora Bora ........ the weather stayed fair and we had the best sail since we departed Auckland some 8weeks ago, arriving off Bora Bora at 10pm on Saturday evening (some 32hrs after departing Rangiroa) and cracking open a cold beer at midnight once safely anchored outside the Bora Bora Yacht Club ....... the ladies were extremely happy!! Sunday morning was a slow start but came with the added bonus that a number of yachts left early so we could pick up a buoy and not be anchored in 26m, we ventured ashore and then walked 25mins to the 'main town' Vaitape, unfortunately virtually everything was closed, but we did manage to get some fresh baguettes from the 'Chinese' run supermarket. Back to the yacht club for a late lunch ...... & a few beers, followed by an afternoon nap ...... this cruising life is really hard!! Monday and with the shops /facilities now open we again ventured ashore, this time taking a taxi to Vaitape, with the intention of hiring a car for the day to explore ........ 120US$ for a day +fuel was considered rather steep, and as the taxi driver had offered us a 2hr island tour in his air conditioned minibus for 150, that was the option we took. A very interesting time was had by all, including seeing land crabs and visiting a local artisan workshop where they dye and make the pareos, which FP is known for. We had lunch in a cafe and then after a relaxing afternoon went ashore for Steve's last supper, as he was leaving us today. The dinner in the Bora Bora Yacht Club was absolutely outstanding and we would highly recommend their facilities to any other visiting yachts people! Tuesday, a leisurely start and then Barry took Steve down to the Vaitape port in the dinghy to pick up the airport shuttle ferry, which is a free ride out to the airport located on one of the 'motus'. Barry also had a failed attempt to get a haircut ..... much needed after 9 weeks since his previous trim, anyhow the barber shop was busy and a 1hr+ wait was not an option. Back to the boat and the skipper was keen that we moved to a different anchorage, so after untangling the mooring buoy, the boat had spent the first 24hrs going round in circles, we did a tour of the bay outside Vaitape and then motored out to the far side of a motu and dropped our anchor in 3m of crystal clear water! An afternoon swimming and doing some boat jobs, the starboard trampoline needed some help as the stitching is showing some signs of fatigue, was followed by a cold beer accompanied by a beautiful sunset. A chilli con carne is on the menu shortly!
Sat Jun 23 13:21 2018 NZST
Speed:
8-9.5kts
knts
Run: 9676.1nm (17513.7km)
Weather: 16kts E, 1m swell from the E, 10% cloud cover.
Friday ..... and we've now departed from Rangiroa and are enroute to Bora Bora approx 250nm & hopefully around 30hrs sailing time away! So since our last blog on Tuesday, Pzazz & Katariana have both arrived in Rangiroa and were parked close by us for their respective crew changes etc! After Tuesday's superb snorkelling we decided on Wednesday to go across the lagoon to the 'blue lagoon' apparently another must see spectacle, after motor sailing across there for 4hrs, the wind and waves were much to rough for us to get ashore and it was certainly not suitable for an overnight anchorage, so we returned to the anchorage outside the Kia Ora Hotel and had a very peaceful night.

Thursday we did a bit of boat maintenance, the topping lift strop had broken during the rough seas the previous day and we then went ashore to see what delights had been delivered from "Dory" the 'island supply boat' that had been alongside the wharf overnight and all day. Some fresh vegetables had appeared but we needed to wait until Friday morning to get more lettuce & tomatoes. Barry, Ruth & Steven then took the water taxi across to the village on the other side of the pass ...... it was far too wet and wild to use the dinghy, there were also regular bouts of heavy rain, which was great for getting the boat clean, we had lunch ashore and visited the ATM to restock our wallets! On the way back we saw 'eagle' rays, flapping their wings in the shallows to stir up the sand and get food, another first for us. All 3 crews then met up and went ashore for sundowners (very expensive!) at the Pensione Josephine, where they have a balcony out over the water at the "pass" where yo u can watch the dolphins playing in the surf from the incoming/outgoing tides. A very enjoyable couple of hours were had by all.

Which brings us to today, after a quick foray ashore we lifted the anchor at 11.30 and headed off out through the pass as it was high water (slack tide) at 11.50 ........ or so it was supposed to be ........ a 3kt current was still coming through against our progress, but the water was relatively flat. Once outside it was full main and genoa goose winged out with 15kts breeze directly behind, another catamaran Muskoka had left at the same time and are also heading for Bora Bora, initially they were ahead of us, going well with the "reacher" sail out, but as the wind built and we rounded the top corner of the atoll, we hardened up on the wind to aproper beam reach and overtook them ........ its obviously not a race, but currently the AIS shows we are travelling at 1.5kts faster than they are! The sun is shining, the gribs show 15-20kts for the next 48+hrs from the east, so hopefully we'll have a fast downwind sail to keep the ladies happy with a boat that is stable and not banging away upwind on the waves & swell! Position 13.00 nzst. DTG 239nm
Sat Jun 23 13:21 2018 NZST
Speed:
8-9.5kts
knts
Run: 9633.1nm (17435.9km)
Avg: 130.4knts
24hr: 3128.5nm
Weather: 16kts E, 1m swell from the E, 10% cloud cover.
Friday ..... and we've now departed from Rangiroa and are enroute to Bora Bora approx 250nm & hopefully around 30hrs sailing time away! So since our last blog on Tuesday, Pzazz & Katariana have both arrived in Rangiroa and were parked close by us for their respective crew changes etc! After Tuesday's superb snorkelling we decided on Wednesday to go across the lagoon to the 'blue lagoon' apparently another must see spectacle, after motor sailing across there for 4hrs, the wind and waves were much to rough for us to get ashore and it was certainly not suitable for an overnight anchorage, so we returned to the anchorage outside the Kia Ora Hotel and had a very peaceful night.

Thursday we did a bit of boat maintenance, the topping lift strop had broken during the rough seas the previous day and we then went ashore to see what delights had been delivered from "Dory" the 'island supply boat' that had been alongside the wharf overnight and all day. Some fresh vegetables had appeared but we needed to wait until Friday morning to get more lettuce & tomatoes. Barry, Ruth & Steven then took the water taxi across to the village on the other side of the pass ...... it was far too wet and wild to use the dinghy, there were also regular bouts of heavy rain, which was great for getting the boat clean, we had lunch ashore and visited the ATM to restock our wallets! On the way back we saw 'eagle' rays, flapping their wings in the shallows to stir up the sand and get food, another first for us. All 3 crews then met up and went ashore for sundowners (very expensive!) at the Pensione Josephine, where they have a balcony out over the water at the "pass" where yo u can watch the dolphins playing in the surf from the incoming/outgoing tides. A very enjoyable couple of hours were had by all.

Which brings us to today, after a quick foray ashore we lifted the anchor at 11.30 and headed off out through the pass as it was high water (slack tide) at 11.50 ........ or so it was supposed to be ........ a 3kt current was still coming through against our progress, but the water was relatively flat. Once outside it was full main and genoa goose winged out with 15kts breeze directly behind, another catamaran Muskoka had left at the same time and are also heading for Bora Bora, initially they were ahead of us, going well with the "reacher" sail out, but as the wind built and we rounded the top corner of the atoll, we hardened up on the wind to aproper beam reach and overtook them ........ its obviously not a race, but currently the AIS shows we are travelling at 1.5kts faster than they are! The sun is shining, the gribs show 15-20kts for the next 48+hrs from the east, so hopefully we'll have a fast downwind sail to keep the ladies happy with a boat that is stable and not banging away upwind on the waves & swell! Position 13.00 nzst. DTG 239nm
Wed Jun 20 11:27 2018 NZST
Run: 24.1nm (43.6km)
Tuesday (FP time) ..... as we got nearer to Rangiroa on Sunday evening the clouds mostly cleared and we had a lovely starry night, the moon also making an occasional appearance. We motored up the western end and along the top of the atoll (which is the second biggest in the world at 40miles long & 17 wide) and past the first entrance Passe de Avatoru which is quite narrow and tricky, however, it was clearly marked and the leading lights coincided exactly with where we were on the chart plotter. Another 5miles later and we could see the wider entrance Passe de Tiputa with a clear 'red' port hand marker, however, despite being exactly on 'track' on the chart plotter no leading lights were visible, we could make out a southerly cardinal flashing away inside the reef entrance and not far off where the leading lights should have been showing, so we entered with caution and the engines on idle as the 'flood' tide carried us in at 3.5kts on a flat sea. The information on Charlie's Charts identifies overfalls and rip currents through these passes when the tide runs, but we had a smooth passage. Once inside we headed on towards the southerly cardinal to go around an island just inside the entrance, then headed back up to the anchorage where we could see 10 or so other yachts already settled for the night.

The 205nm passage had taken us about 32hrs, so a cold beer was consumed before turning in! Monday dawned with a clear sky and virtual millpond sea, we are surrounded by hundreds of different fish, which gave us a great early snorkelling opportunity, we then ventured ashore to locate the gendarmerie and check in, it is no longer located just past the Kia Ora Hotel, and is now close to the first pass into the lagoon. So we walked back down to the main wharf area, spoke to some of the dive shops about the 'drift snorkelling' through the pass (6000FP - 80$NZ each and done in the morning when the tide is flowing in, for that you get 3 drifts and a snorkelling opportunity) then got some fresh bread for lunch and returned aboard. Early afternoon a party set off to find the gendarmerie and book us in, a bit of an epic dinghy ride later to the other side of the airport and near the western most pass, mission was accomplished. A bit more snorkelling then followed until it was time for sundowners and put the oven on as we cooked roast chicken for dinner. Bizarrely and comp letely against the norm for this area we had no wind all day, which meant the temperatures were on the rather hot side. Overnight the wind did get up, so Ruth dug Barry in the ribs at stupid o'clock to turn the wind generator off ...... as it was keeping her awake, and something of a repeat of similar occasions on our yacht Summer Wine! This morning Allan ventured ashore first thing to do his drift snorkelling (a long time wish list item of his), but the dive shop wasn't open, so the 3 amigos set off in the dinghy, against a building wind and white caps to get to the pass. A rather wet and bumpy ride later Steve stayed on the dinghy Allan & Barry went over the side and drifted through the pass. Quite spectacular fish life and coral could be seen as we drifted at probably 3kts back into the lagoon, back outside again we went to repeat the operation, and then a 3rd time, this time Steve & Barry swopping roles as safety man in the dinghy. The only downside was Barry's underwater camera had a flat battery ........ despite changing it for one from his 'charger' before departing, the bonus being we saved ourselves some money and will go again another day with a 'charged' camera battery! We're currently not sure how long we'll stay here or where else in the lagoon we'll explore before departing elsewhere.
Mon Jun 18 12:54 2018 NZST
Speed:
8kts
knts
Run: 226.8nm (410.5km)
Avg: 3.4knts
24hr: 81.2nm
Weather: 16kts NW, 1m swell from the W, 50% cloud cover.
Sunday ..... and another day on the high seas in a yacht named Surreal II ....... after our false start on Thursday to go to Rangaroa we remained at anchor on Friday in Cooks Bay on Moorea, as we could see yachts/boats bouncing around outside of the reef so decided to stay put. Nothing much else to report: a couple of forays ashore for essentials ........ well fresh bread & beer, then a wander around and a few quick glances in the Black Pearl shops/workshops ...... interestingly Steve was immediately offered a 40% discount on prices when they found out we were on a yacht and not a cruise ship! Anyhow, Katariana had now followed us around into Cooks Bay, they came across for a chat and we invited them across for sundowners later in the day, also another 'kiwi' yacht "Off 2 Sea" were moored near so they joined in too. A very pleasant and convivial evening followed, then Saturday morning dawned and after a quick run ashore for more "essentials" we decided to go outside the reef to empty the "black" tanks and if the sea was ok to proceed to Rangaroa as originally planned, the gribs were showing little wind that would eventually drop to nothing, so it would be a diesel sail anyway.

The sea was ok so we departed on our way, motor sailing to Tetiaroa (Marlon Brando's Island) at around 16.00hrs, there are some 'charter' boat buoys there that can be used overnight, as its too deep to anchor, however, there were 6 catamarans already there and they were tied on in rows on lines stern to bow, so we decided to keep going, as we rounded the top of the island the wind gradually filled in, necessitating a reef at 20.00hrs. Throughout the night the wind varied up and down in strength, we had heavy rain for two and a half hours ...... so a pretty mixed bag, with engines on and off ....... the bonus being fully charged batteries and full water tanks! Today we are now beam reaching in 15kts wind making 8-9kts to our destination. We have passed Makatea earlier and are now approaching Tikehau, the atoll to the west of Rangaroa. Visibility is not great with a fair bit of cloud and haze, so whether we can see the marks to get through the reef channel in the dark is debatable.

Everyone is well on board and looking forward to exploring our first FP atoll! Position 14.00 nzst. DTG 39nm
Fri Jun 15 17:51 2018 NZST
Run: 27.6nm (50km)
Thursday 14th June ....... now in Moorea, so we left Papeete Marina on Tuesday after we handed back the hire car ......... with all the major and most of the minor "boat jobs to do list" completed! Our departure to Moorea was met with head winds initially but we started sailing and then a major wind shift gave us a reach across the 15nm gap to Moorea! We went past Cook Bay and then entered through the reef and anchored at the top (south) of Opohuna Bay ...... a very pleasant anchorage and beautiful sunset followed. Wednesday morning we did a quick run ashore as we were aware that the "local" prawn farm sold their wares between 10.00-14.30 on Wednesdays ......... we were not disappointed and after a spot of lunch moved out of the bay and re-anchored inside the lagoon entrance on the western side. This gave Allan the opportunity to scrub the hulls, whilst the rest of us went snorkelling over the reef .......... a feast of various fish rewarded our snorkelling efforts.

Our fresh prawns were then barbecued along with coleslaw and bread fruit chips ..... another excellent meal! We then had an aquarium display of local fish around the boat including various species of 'rays', throughout the evening! First thing this morning we then boarded the dinghy and went further up the lagoon to where all the 'tourists' go to swim & feed the reef sharks and manta/ sting rays .......... what an incredible experience this was ........ especially for Ruth who was confronted by a large ray (probably 4ft wing tip to wing tip) literally 3 inches from her mask as she entered the water from the dinghy ......... needless to say we have some wonderful pictures & videos to remember this experience by!! Whilst we were snorkelling the wind quickly got up to 20+kts, so it was a rather wet dinghy ride upwind to Surreal ......... in fact we took on so much water it was nearly up to the dinghy transom! Anyhow, the 'gribs' looked good for a launch across to Rangaroa, so we went back into Opohuna Bay to have lunch and set our sails for the "off", we saw yacht Katariana in the bay so went over for a chat, had a quick bite to eat and then sorted our sails ...... 3 reefs in main and half a genoa. Out through the reef, the wind gradually built to 35+kts with a sea to match, hard on the wind and after 5nm of bashing with no signs of the conditions abating we tacked back towards shore and headed for Cooks Bay ........ which is where this 'blog' is being written.

Hopefully tomorrow the weather will be more conducive to a better passage to Rangaroa, as we would really like to see the Toumotos before we further explore the Society Group.
Fri Jun 15 4:15 2018 NZST
Run: 7.2nm (13km)
Monday 11th June ....... still in Tahiti, and the ladies have arrived! So Thursday evening/night was the airport runs and crew change time ........ Andrew departing Lyn & Zuni arriving ......... midnight was the time we needed to leave the boat to get Andrew there in time for check in ........ fortunately Barry received a text from Lyn at 9pm local time as he was going to bed, saying that Zuni & her were delayed ........ which prompted Andrew to look at his phone to see his 2am departure was delayed until 5.30am ....... so in short we 'managed' the delay in bed and not at the airport. So we collected Lyn & Zuni, including a suitcase full of boat spares, got back from to the boat for 6am ..... despite the morning rush hour, quick sleep and Barry then took Zuni back to the airport for her island hopping flight to Paul & P'zazz, Barry & Steven then changed the perished pipes on the engines and spent the afternoon fettling the water maker, which is also now working! Early to bed, Barry was then up at 4.30am to collect Ruth ........ no airport delays this time and also no 'rush hour' to contend with as it was Saturday! In the afternoon we went out to Venus Point ...... where Captain Cook was sent to view the Venus transition of the sun! Steven fixed the autopilot and washing machine and as it was Lyn's birthday on Friday we had booked a table at the La Belvedere restaurant (where Lyn had celebrated her birthday in 1981!) for the evening! Finding the restaurant was something of a challenge 2000ft up the mountain and the final 5km on a single track winding mountain track ...... but we got there and then had an absolutely fabulous meal! Sunday we had a lazy start, Barry & Ruth went and extended the car hire to make the alternator and gas bottle run easier, then on to Carrefour for a major boat restock! In the afternoon we then went to the Polynesian Island museum which was extremely interesting! Monday ..... well Barry was extremely grateful that we had the hire car ..... as buying a new alternator (the NZ one is officially lost and the courier company are picking up the bill with the supplier) and getting the double pulley changed over was a similar "exercise" to the previous alternator travails of last week! However, the new alternator is now fitted and working ...... so all the major 'boat jobs to do' are now resolved. We have taken our wine sommelier (Ruth) to the duty free shop and identified what we would like to purchase before we eventually 'launch' from French Polynesia in mid August.

We are leaving tomorrow for Moorea (circa 25nm away) for a few days and after that our destination is very much weather dependent.
Fri Jun 15 4:15 2018 NZST
Thursday 7th June ....... still in Tahiti, well Papeete Marina to be precise, so right in the centre of town! We moved from outside Taina Marina down to here via both ends of the runway ...... we had to get clearance to pass through on Tuesday morning, safely down in Papeete Marina, we then set about various tasks, not the least being filling up with water so we could get some washing done .....but more about that later! Allan went to the Marina Office we then filled with water and had some lunch ..... Steven set his first load of washing going ..... so everything going to plan, we went and ordered the batteries and tried to get some new fuse-holders to replace corroded ones in battery bay, couldn't find any so went for a beer and a walk around town then through the local market, back to the boat for spag bol for dinner only to find the washing machine wouldn't empty/drain out the water! Wednesday morning batteries were delivered at 08.30 and we tried to fit them shortly afterwards ........ only to find that the connecting cables were now too short as the new batteries, although measuring the same size, the terminals were in a slightly different configuration meaning 3 of the cables were 5mm too short, bizarrely enough 10mm cables don't stretch! Also our new 'big' alternator is still AWOL with the courier, so we put the old alternator (15kgs) into a ruck sack and set off to get new battery cables and hopefully the alternator repaired ........ 3 1/2miles & 2hrs later a very hot and sweaty Barry & Andrew get back to the boat, with the new cables and old alternator!! Some measure of success ..... we also ascertained that the alternator can't/won't be repaired here, we believe they have the capability, but they don't want to order the parts ....... why, well they have a new one in stock that they want to sell us! After much angst and removing various amounts of debris from washing machine pipes, Steven managed to get it back together again and working, so we went into town had a beer again and then decided to go out for dinner to the local roullette ....... an outdoor dining experience in the local park ........ trestle tables and stools, caravans/vans cooking the local/chinese/thai type food. Whilst eating there, a big 4 masted schooner came in and moored alongside where we were eating ........ quite a sight!! We also managed to book online a hire car for 3 days to make the airport runs a lot easier, so we collected that at 11am today, picked up the fuse holders from a local shop, following a tip during our marathon alternator hunt yesterday, got rid of the old batteries and took the empty gas bottle to the local Mobil for filling ...... not sure of logistics to return it to the boat without a hire car on Monday, but we've all weekend to think that out! This afternoon, we went for a drive around the whole of the main Tahiti island, stopping at Venus Point for a walkabout and photos and found a nice anchorage right at the bottom of the island we may visit next week! We stopped at the Carrefour on our way back, to restock on essentials and Andrew cooked a nice Chicken curry for dinner, before we take him to the airport around midnight, collecting Lyn & Zuny at the same time.

Weather is very warm and some days the humidity makes life a little difficult ........ well it stops the washing drying properly, however, we man-up and struggle on by just having another beer!
Tue Jun 5 19:54 2018 NZST
Run: 100.2nm (181.4km)
Avg: 3.4knts
24hr: 81nm
Monday ..... short, sharp & sweet ...........we got here to Tahiti!! After nearly 6 days of frustrating sailing and a last night where we did everything to slow the boat down ....... not easy with wind gusting 28kts behind pushing you towards your destination ....... however, we ended up just off the entrance through the reef at Taapuna at 9am, and with the sun shining we could easily see any dangers, but the channel is well marked so no dramas. Once through the gap, we motored up to Marina Taina ....... "no need to book just turn up" to be told "there was no room at the inn", maybe a place for you on Wednesday, but we don't take advance bookings or reservations, just turn up on the day! Particularly frustrating when we can clearly see many empty berths that are more than big enough to take Surreal! So we've anchored about 1/3mm from the marina, got sorted and headed ashore, to clear in with customs and hopefully source new batteries, having found the bus stop .... first major obstacle we got to town. A quick visit to Tourist Information and Allan off in one direction Andrew & Barry in the other ........... 2hrs later after missing each other numerous times we ended up having a beer and pizza for a late lunch. Allan failed to find customs, Barry & Andrew managed to source new batteries ..... so at 3pm we then decided to catch a bus back to the Marina ........ 40 mins later and no bus appearing at our "bus stop" Barry goes back to TI only to find out our return bus stop is some 500m away in the middle of town ........... we got back to the boat at 5pm after a quick visit to Carrefour for some fresh croissants and pain chocolat for tomorrow's breakfast.

Allan did manage to book us into the Marina Papeete in centre of town, so we will move tomorrow, tonight we ate ashore in a little Italian restaurant that is part of the marina complex ....... a pleasant change from all our own cooking for the last few weeks! So all in all, a safe conclusion to the first major part of our South Pacific extravaganza! Position 11.00 nzst.
Mon Jun 4 14:12 2018 NZST
Speed:
6kts
knts
Run: 154.8nm (280.2km)
Avg: 6.3knts
24hr: 152.3nm
Weather: 16kts SE, 2m swell from the SE, 100% cloud cover.
Sunday ..... and another day on the high seas in a yacht named Surreal II ....... around 9pm last night we gybed back on to stbd tack as the wind had backed far enough for us to head almost due north and lay a good course to Papeete. After a moonlit night we had a really nice sunrise, however, within an hour it started to cloud over and although Allan had the sunshade out over the helm position during late morning, we now have 100% cloud cover, but fortunately no rain.

We put the 4 trolling lines out early, but still the fish fail to play the game, so all is peaceful and relaxed on board and we've now got mince out of the freezer for spaghetti bolognese for dinner ...... did you know that things take far longer to defrost when the freezer is working properly!! Allan has been busy studying; Charlie's Charts, the Pacific Pilot and other sources of information in preparation for our arrival, and the current plan is to go straight to Marina Taina; as it is convenient for the airport, the "proper" big Carrefour supermarket is within easy walking distance, we can get spares and help to fix all the bits that need outside assistance and has regular transport links into Papeete itself..... hopefuly they'll have space and we won't need to anchor off like P'zazz earlier in the week! We currently have less than 80nm to go and should arrive off the reef entrance in the early hours, so we'll hang around outside until proper daylight before we make our entrance Position 13.00 nzst. DTG 86nm
Sun Jun 3 13:48 2018 NZST
Speed:
6kts
knts
Run: 166.4nm (301.2km)
Avg: 7.5knts
24hr: 179.9nm
Weather: 12kts SSE, 1.5m swell from the SW, 30% cloud cover.
late yesterday evening we gybed back onto a port tack and have continued this way ever since, the wind is from the south and we're heading NE to Papeete, the sun came out mid morning after some early heavy clouds, that only gave a short burst of light rain, had dispersed.

Everyone is relaxing on board, boat is fairly stable with only occasional banging when we get one of the larger swells come through, we're looking forward to getting to Tahiti sometime tomorrow night/early hours Monday morning, hence not putting up the gennaker today as we can't possibly make it before dark so not rushing to get there as we want to enter through the channel in daylight! Not much else to report, we've changed out another battery that was beginning to fail / showing low voltage and the inside freezer is staying frozen, now we're keeping the voltages up. We've a consolidated list of "boat jobs to do" for when we get there ......... Happy weekend to all our readers! Position 13.00 nzst. DTG 220nm
Sat Jun 2 15:36 2018 NZST
Speed:
5kts
knts
Run: 130.8nm (236.7km)
Avg: 5knts
24hr: 120.7nm
Weather: 11kts SE, 1.5m swell from the SW, 100% cloud cover.
well the last 24hrs have certainly been different ....... just after nightfall we could see lightning on the horizon behind us, then the moon came up briefly amongst the clouds and overnight we had numerous heavy rain squalls come through, which although they gave the boat a good clean didn't help our progress much. At dawn, although we couldn't see it through the thick cloud cover, the wind had dropped to 5kts and was veering through 90+degrees, so it was time for the diesel spinnaker. Around 9ish the wind then filled in to about 12-15kts and from behind us so we got the gennaker out, as the wind was still all over the place it made hard work keeping it filled and holding a course in the general direction of Papeete, however, at 1300 the wind was building and there were some ominous clouds ahead, so gennaker away and back to headsail and reefed main (we reefed this morning when we found a broken batten car to mainsail track attachment - to prevent further damage u ntil we can replace it). Throughout the day it has been cool with frequent rain showers, some quite heavy and as we get to the end of another 'day' we are surrounded with thick cloud, so what the weather has in store for us tonight will be interesting.

Nothing much else to report other than Andrew continues to feel better, the inside freezer cuts out when battery voltage drops below 24v ...... we need to keep a close eye on this until back to a full house bank! No other issues with the boat to report! Having until today been tacking up wind, the wind is now directly behind us, so now we'll need to gybe to keep on track, unless it continues its anti-clockwise rotation and gives us a beam reach to Papeete, which will be a real bonus in helping us on our way after the pain of the last 4 days! Position 13.00 nzst. DTG 364nm
Fri Jun 1 13:36 2018 NZST
Speed:
6.5kts
knts
Run: 105nm (190.1km)
Avg: 5knts
24hr: 121.2nm
Weather: 16knts NW, 1.5m swell from the W, 80% cloud cover.
so another day in the South Pacific battling against a wind that doesn't want play ball ........ we stayed on our northerly tack all night and tacked back to the west at daybreak as we hadn't made much progress towards Tubuai over the previous 10hrs. Late morning we started to get 'headed' so we again tacked back to the north, but by this time our new destination was Papeete, as we've lost too much time to get to Tubuai and then to Tahiti, before we run out of time for crew change flights etc.

The weather is just the same, pleasantly warm, sunny, a few clouds, beautiful sunrises, moonlit nights, what more is there to say? Oh, we've been fishing again since first thing with 4 lines out, still nothing caught! We're still hard on the wind at 35AWA, hoping the wind will back over the next few hours as we're currently 30degrees off the direct course to Tahiti and once we can sail a better angle our comfort on board will be significantly improved. Talking of improvement Andrew took one of Allan's sea sickness "Bombs" this morning and appears to be far better placed than he has been since we left Rapa! Our "Moaning Mini" still continues her fine work in the starboard rear lazerette, making life "on watch" so much easier for our seasoned sailors, as she holds a constant selected course! Hopefully we should be in Papeete in 3-3 1/2 days time when she can have a rest again! Position 13.00 nzst. DTG 486nm
Thu May 31 16:48 2018 NZST
Speed:
5kts
knts
GPS: 26 30.54s 146 08.53w
Run: 128.8nm (233.1km)
Avg: 4.6knts
24hr: 111.2nm
Weather: 9knts NW, 1.5m swell from the W, dark.
we had a bumpy sail all night, fairly hard on the wind (40 degrees AWA) tacking north around midnight and then back west this morning, before final tacking back north just before nightfall at 5pm Tahiti time. We hope the Predict Wind gribs come true and get us a progressively better wind angle as the night finishes and hopefully by mid/late morning tomorrow we should be aiming straight at Tubuai! The 'bumpy' sailing is significantly affecting 2 of the crew, they still can't get used to motion of the 47foot washing machine, even after over 4 weeks on board! Last night sailing under the stars and full moon was excellent, today has been a mixed bag of clouds, some sun, then more clouds, not the best weather we've had, but still pleasant compared to what our families are experiencing in the NZ winter! Nothing much else to report from the good yacht Surreal II today, apart from "Moaning Mini" our autopilot and that it continues to work after the 'motor rebuild' in Rapa! That's put the kiss of death on it holding out much longer!! Position 17.00 nzst. DTG 248nm
Wed May 30 13:00 2018 NZST
Speed:
8kts
knts
Run: 33.8nm (61.2km)
Weather: 15knts NW, 1.5m swell from the W, 30% cloud cover.
today dawned with a mixture of clouds and blue sky, it was another peaceful night in the anchorage and at times a clear sky and full moon lighting the whole bay so it was nearly like daylight. We had our second serving of Tuna for dinner, Andrew cooked it in a coconut and fish curry mix absolutely fab! After a leisurely breakfast we wandered ashore to look around the north-side village; Area. Again there was a very nice church, slightly 'posher' than the other one as this one has wooden strip panelling covering the ceiling rather than bare concrete, we meandered down the road, viewing people's 'allotments' where they appeared to be cultivating salad vegetables and then back to Surreal for a brew, to await our 11am allotted hour to collect the fresh bread.

Bread collected we lifted our anchor and motored to the wharf to fill up with water, a few odd jobs on the boat and a load of washing later we then had a send off party stood on the wharf: Octavia (taxi driver), Allain (police municipal) & Bernard (diesel pump attendant), although at this stage we still hadn't committed to leaving today. We bade them goodbye just before 13.00hrs and decided to depart, as there was nothing else to see on Rapa and we had everything on board for our next circa 650-700nm ocean leg! We've had lunch and are now motor sailing under full main & genoa past the top of the island in a westerly direction, which although not ideal is far better than the other tack where we'd be 60 degrees off course, more tales of our adventures and progress tomorrow.

Position 13.00 nzst.
Tue May 29 15:09 2018 NZST
Rapa - after yesterdays adverse weather throughout the day, by 4pm the winds started to abate, the waves in the bay disappeared and 'normal' service returned, it even started to feel a little warmer. The roast chicken dinner was another huge success and we all retired fairly early ready for our walk up the hill today! Today was another nice sunrise, after breakfast it was time to don 'walking' footwear, fill up the water bottles and head for shore. We had a brief look around the church, seeing as how we missed out yesterday, a spotlessly clean and functional establishment. We walked past the shop that was again closed at just after 9am and proceeded down the 'high street', a few houses down a lady came bounding out of a house, we exchanged greetings and "cheek kisses" and she asked if we were going up the hill to the old fort ...... to which we said yes. After much gesticulating and talk of "plastic" she disappeared to shortly return with a plastic bag and a frozen punnet of guava, telling us we could pick them up the hill, she then disappeared again as we didn't each have a plastic collection bag and as she didn't have enough promptly went to her neighbour for more .......... anyhow, we were now on our way, each with our own plastic bag and then confirmed the start of the walk up the h ill with the local municipal worker who was strimming the road verge! A long, steep and winding route on a very warm/hot day certainly gets you breathing hard, but the views were fabulous and from half way up we could see right over the top to the bay on the western side. The path became increasingly difficult, but we persevered and eventually after about 2hrs reached the top and the 'fort' ........ a stone edifice perched on high! After a few photos, a drink and a breather it was time to come back down, obviously stopping along the way to pick our guava, as previously directed, the fruit is very plenty on each side of the track and it didn't take us long to pick 4 plastic bags of guava. We felt obliged to give the plastic bag donator 2 on the way past her house and kept 2 for ourselves, which will shortly be in the freezer! We got back to Surreal just before 1pm, had some lunch and then a siesta for the next few hours, to recuperate from our earlier exertions ....... this 'cruising' is such a hard life! We've ordered more bread for tomorrow, when we'll also fill up with water again ready to depart North Eastwards on Wednesday, destination tbc, possibly Tubuai or more probably direct to Papeete as the wind direction forecast is against us.
Mon May 28 15:57 2018 NZST
Rapa - another day in the remote wilderness, and today we found out how wild it can be ........ from before sunrise the boat was being battered by 30+kt winds and shearing around on our anchor, white caps covered the whole bay and heavy rain showers came bursting through. After some early debate we raised our anchor and tried to find a more sheltered location, settling on an area that provided a little more protection, but the wind shearing down the steep rock faces, still made Surreal II dance around the 80m of chain we had deployed! After breakfast we discussed our church visit and decided that with white caps everywhere and waves breaking right over the pontoon where we go ashore, that maybe Surreal was the best place to be! Andrew set about swopping out another 6v battery that has given up the ghost, so we now have a decent half house bank again! After a good discussion with James from Enertec and between the frequent ran squalls we then dismantled the water maker membrane high pressure tube, nothing obvious was found so we reassembled, waited for a weather window before reinstalling and testing....... unfortunately the high salinity and undrinkable water persists, so this will now have to wait until Papeete to be fixed! As our sojourn ashore has been postponed for the day, its a Sunday roast chicken for dinner again! The weather gribs do not look good for a departure from here before later in the week. The weather is a lot colder down here than Raivavae, in fact we've even had to get the 'duvets' back out to get cosy at night!
Mon May 28 6:10 2018 NZST
Weather: Grand!
Rapa - the remote wilderness, our fish supper last evening was very pleasant and washed down with a glass or two of vino! Another peaceful night at anchor, although there was a rain storm that came through around 3am which the skipper felt coming and closed all the open hatches before we got wet! A slow start to the day and a bit of fishing before breakfast, saw Andrew catch a small cod, but that was the token fish for the morning.
After breakfast we set about investigating the autopilot issue, motor removed and stripped down, thoroughly cleaned to remove the grim of circa 10yrs of abuse, then reassembled ...... lo and behold it was now running, so we installed back onto the hydraulic pump and now appear to have a working autopilot again ............ however, exactly long our joy lasts remains to be seen, given our previous efforts with the water maker, so we have sent the details through to Vaughan in Auckland and hope he can source a new motor for us!
We had a quick bite of lunch (no pun intended with the fishing), and were just about to go ashore when a local boat came alongside and promptly threw a 1m long Tuna onto our deck, a bit of talking through the language barriers and he wanted some rope, so we got out a reel of rope and another 1m long (15kg) Tuna arrived on the deck! ...... plans to go ashore were temporarily suspended as we spent the next hour or so, filleting and packing Tuna away into our freezers ....... 21 packs of tuna (x4 people serving size) later the boat needed a good clean, as did we before departing ashore for our walkabout.
We tried to find the 'waterfall' but only managed to find the local water storage tanks, before the track we were following dwindled to nothing, back down to the village and we collected our bread order, before walking along the shore line to the top end of the bay, attempting to find fruit that could be picked. Our sole rewards being 3 pumplemouse, however, we did manage to get some bananas from a local on the way back.
Tonight we will be having fresh Tuna for dinner .... no surprises there then!
Quick note to our avid blog readers: we write the daily blog and send it via email to "yachts in transit - (yit)" via our iridium go, due to the slow transfer speed this is only a small word document, therefore, we cannot send pictures nor can we view directly the yit website or your "posted comments". So we are not ignoring you nor any requests posted on the blog, we just cant see it until we get to "modern civilisation " and a good wifi connection!
Sat May 26 15:39 2018 NZST
Run: 69.5nm (125.8km)
Avg: 2.6knts
24hr: 62.2nm
we made it to Rapa yesterday just as the light was fading ...... in fact the first green mark on the entrance channel started to 'flash' green as we approached it! We managed this by continuing our excellent progress throughout the afternoon, including a period of time when a hooligan on the helm was surfing at over 10kts down the waves, but oh what fun! This is another beautiful island and anchorage although completely different to Raivavae, and after a very peaceful night at anchor we were visited just after 9am by the local "Police Municipal" who turned up at the boat on the cross harbour taxi, he spent a good 40mins on board with the taxi driver and his children who were all keenly interested on where we came from and our future plans.

We then went ashore to get our passports "Rapa" stamped, a local lady was translating for us at the Gendarmerie and told us about the Rapa Commune, we are invited to the church service on Sunday when both sides of the harbour all come together and then have a big lunch afterwards, we feel we must attend to not be rude. We then visited the local shop and ordered bread and langoustines for tomorrow. Back to the boat and we changed the filters on the water maker as it is now giving us high salinity readings and cutting out, however, this has not worked and we now fear this can't be fixed until we get a new membrane in Tahiti. The locals told us there is water available at the wharf so after lunch we went to the wharf and filled our fresh water tanks for free, whilst there it was established that they could also supply diesel at a reasonable price, so back down to the village to pay for the diesel and we then filled these tanks as well. ....... whilst this was all going on Steven managed to 'blag' some fresh fish from the locals, so tonight fish is on the menu for the first time ........ and not down to our fishing prowess, but the generosity of the local inhabitants.

Tomorrow we are going to venture ashore and do a walkabout and see if we can find some of the hilltop forts.

We could say "wish you were here", but we don't want the crowds enjoying our peace, serenity and the beauty ...... not that that is likely to happen with no airport and the supply ship only coming here every 2 months and the nearest island 300nm away!
Fri May 25 12:51 2018 NZST
Speed:
9.1kts
knts
Run: 249.9nm (452.3km)
Avg: 5.5knts
24hr: 132.4nm
Weather: 25knts SW, 1.5m swell from the SW, 30% cloud cover.
after the fun of sailing under gennaker yesterday, we dropped this big sail an hour before dark and were under full main & genoa set up for the night, initially the wind was too far aft for us to make really good progress hence only making good 67nm over the 12 'dark' hours. As dawn broke, not as spectacular today as some of the recent ones ...... but still very pretty, we had 85nm to go to Rapa, we now had 15kts of wind from directly behind and unless the wind started to move we wouldn't make Rapa before nightfall. The boat was again corkscrewing down the waves/swell making sleeping and moving around the boat difficult.

Big rain clouds had been gathering off our Stbd rear quarter from first light and were gradually moving towards us, we started to sail lower and slower to try and let these clouds, carried on 16-20kt winds overtake us, without us having to reduce sail. Around 7.15 we caught the back end of these clouds, with light rain, the wind increased to 25kts and the sea became flat, we started to steer back to our best course for Rapa ........ our speed increased topping out at 11.1kts!! As we came out the other side, the wind angle was 30 degrees to the better and since then we have been consistently making 8-9.5kts, the seas have built, but the boat is going very well. "Land ahoy" ...... At 13.45 we spotted Rapa on the horizon some 17nm away, although we have about 25nm to go to the harbour entrance on the eastern side, we are hopeful that we will make it with enough light to get inside tonight, but it will be tight! Crew are all as well as can be expected under the circumstances, we've only been 'sailing' the boat ........ not fixing or breaking anything on the boat for 24hrs, a quiet night at anchor will certainly help us and the boat recuperate! Position 10.00 nzst. 149nm run in 24hrs, DTG 34nm.
Thu May 24 13:27 2018 NZST
Speed:
4.5kts
knts
Weather: 8kts SW wind, flat swell, variable cloud cover.
just after the amazing sunset last night we felt there was enough wind to sail, and after setting our sails and turning of the engine we were quite happily trundling along at 5kts, however, our joy was short lived as gradually the breeze died over the coming hours until eventually at 2.30am it was back on with the engine. After a rather slow night, sunrise at 6am was as equally spectacular as the previous sunset, but we still had a glassy sea. A few zephyrs of wind came and went through the morning until 11am when we seemed to have a steady 5kts from the stbd rear quarter ........ "Gennaker time" was the call from the Skipper. We raised the big red, white and blue sail at the front and have been quite happily sailing along at 3-4.5kts in peace and quiet since then! In fact we have had a multitude of coloured sails hoisted today in different positions around the boat ?? ah, they're not sails ......... we've just been washing and drying all our bedding! The fishing lines have been deployed again since first light, but again those pesky fish are proving to be too elusive for us.

On a good note ...... we have managed to fix one of our big snags ...... the water maker is running again in auto mode! We managed to talk to James from EnertecMarine this morning, who was again extremely helpful, he confirmed our diagnosis and remedial action to date, however, he told us that the Roto flowmeters are very reliable and it was more likely to be a wiring issue ..... so back down into the rear lazerette and closer inspection of the wiring, this initially didn't show anything, but when pulling with increasing pressure on the very thin wires where they are crimped to other bigger wires the thin 'red' began to "stretch" ...... replacing the inline crimp was all it took to get us back up and running fine ........ if only alternators & auto pilots were that easy to fix!! So a huge thanks to James for his wise advice! If the wind continues to be good to us, we should hopefully be in Rapa tomorrow, the "gribs" from Predict Wind have so far been fairly accurate and shows the wind gradually increasing in strength from the west, which is ideal to propel us south eastwards to our destination! Position 15.00 nzst. DTG 169nm.
Wed May 23 15:33 2018 NZST
Speed:
5.8kts
knts
GPS: 24 12.18s 147 15.86w
Run: 35.2nm (63.7km)
Weather: wind negligible, flat swell, 50% cloud cover.
Tuesday morning and another beautiful sunrise ......... How do I know? Because we were up early to meet the "breadman" at 7am and collect our pre-ordered French Sticks ...... the first one didn't last long once it had fried eggs deposited down its middle! Next we downloaded the latest 'grib' files to help us decide on our next course of action on this great adventure, over a "brew" we pondered what to do, you can't beat a good cup of tea for a good ponder! The wind is virtually zero for a couple of days, however, if we take the pain now of motoring for 24-36hrs then the wind will fill in and help us on our journey to Rapa, additionally, a high pressure system is developing and moving SE that should then give us good S-E wind from the weekend on to help us get back to Tubuai our last planned stop before meeting our ladies in Papeete! After the ponder we went back ashore to book out with the gendarmes and stock up on supplies etc, the shopkeeper also gave us a huge bunch of small sweet bananas for free. Steven stayed on board and got a visit from the local shark, which Andrew managed to capture on video cam when he returned to deliver the frozen stuff from our excursion ashore.

This island is absolutely beautiful, the 'locals' are extremely friendly and helpful, and it seems to help that the whole place is totally uncommercialised! We hope that Rapa is of similar vein.

10.30 we ran up the port engine, pulled up our anchor and set off out through the reef, we saw Pzazz & Taranui inside the reef making their way back to whence we had come, as we rounded the NE of the island reef, we could see Tuna jumping in the water about 2 hundred metres ahead, but despite having our trolling lines deployed failed to get any 'bites'! The bonus of motoring is that our half bank of house batteries are now fully charged and the water maker has filled our tanks.

Today's boat snag .......... the auto pilot is not working ......... it obviously thinks it is still due a longer rest after the 14days hard slog from Auckland ........ initial invest indicates the hydraulic pump electric motor has failed, we will investigate further once we get to Rapa! We are all having a great time and currently seeing the most amazing sunset, the sky is a vivid red and the sea around the whole boat has turned pink! Not really trying to make our shore-based followers jealous!! Position 15.00 nzst. DTG 255nm.
Mon May 21 19:06 2018 NZST
i could start this blog off the same as yesterday ........ another day dawned .......... again bright blue skies and wonderfully sunny, anyhow the next bit changes ...... the clouds didn't materialise late morning and there was no light rain before lunch, it was just HOT! We spent all morning working through our "Boat To Do" list, cleaning storm sails, re-affixing jack stays, replacing the reefing line and main halyard pulley in which the bearing had collapsed etc etc, the only items now left 'to do' require spares / outside assistance! Paul from Pzazz kayaked around the island this morning and reported back that it was possible to get to the inside of the eastern side of the reef by the 'north' passage, so after lunch and when the Pzazz crew had stopped playing with the local shark ........ yes one of those big fishy things with huge teeth! All 3 boats set off in convoy thru the north passage, arriving mid afternoon and anchoring inside Motu Araoo, we then dinghied ashore and after a short stroll on the white sandy beach, sat down with the Pzazz crew and had a couple of nice cold beers as the sun went down ............ it was a spectacular sunset, the colours in the sky were amazing and as it quickly became dark we had to get back to Surreal II.

As described briefly in yesterdays blog, we had our planned roast chicken for dinner tonight, with roast potatoes & pumpkin, sage & onion stuffing balls, carrots & cabbage, with a yummy gravy! There are no signs of scurvy in the crew as yet! Tomorrow we are planning to explore more of this side of the island and decide where are travels should take us next ........ watch out for our next exciting instalment!
Sun May 20 19:48 2018 NZST
Weather: wonderful, light winds E going N, little cloud cover.
well another day dawned .......... again bright blue skies and generally sunny, a few clouds late morning and some light rain before lunch, which was quite pleasant.

An early morning sojourn ashore resulted in a fresh french stick for lunch and 2 more ordered for Tuesday, the next day they deliver ...... result!! The 'big' alternator was removed from the stbd engine and a visit to the gendarmerie resulted in knowledge that there are 2 'garages' within walking distance on the other side of the island ....... so after our fresh bread lunch, we went ashore took the 'short route' over the hill and 15mins later were on the south side .......... no garage at the first gendarmes identified location, a mile or so later we think we identified the potential garage next to "pension chez linda", well it was the only property with 3phase electric going to it! On Monday we may return but at the moment are not overly optimistic at locating any spares for our faulty alternator in Raivavae, we have asked for advice from our local friendly electrical expert in Auckland and will then decide the best course of action. We then walked on to the new airport, before heading back to the boat, stopping on the way to buy a large tub of chocolate & orange ice cream for today and a frozen chicken for tomorrow's dinner ........ when a full roast is on the menu! The other boats spent all day offshore & outside the reef fishing, this time there was a lack of stories about "the one that got away", and nothing was caught ....... so our near miss with the 'garage' was possibly the more productive day! We then hosted Pzazz & Taronui for sundowners ....... another convivial evening!! We're currently watching the grib files to ascertain when we depart for Rapa with the mid week weather looking the most promising. Everyone is well on board, we continue to fix and manage our snags and hopefully Lyn won't need to carry a 150amp alternator in her hand luggage to Papeete in 3 weeks time!!
Sat May 19 11:27 2018 NZST
Run: 0.4nm (0.7km)
today is our 3rd day in Raivavae, yesterday we spent the morning fixing faults on the boat and continuing to 'dry' everything out. We had problems with both shower sumps on the port side, fwd was purely electrical, rear electrical and a sheared pump impeller, all now sorted and dry carpet refitted! Over-volting on the big stbd alternator appeared to have been sorted, but came back late yesterday so today we looked at that and also found that one of our house batteries has a "dead cell". Alternator belts removed today and we will remove the alternator to identify the regulator type and hopefully order a new one for when we get to Papeete. Now also only using half of house battery bank again until Papeete and we can source a replacement 6v battery.

The watermaker had also stopped working in "auto mode", it is making water of the correct standard but it is all being diverted overboard, it looks like like the flowmeter has stopped working - which stalls the system and shuts it down, so with a bit of swopping pipes and using 'manual' mode we are again able to make water! Whoever said expect a snag a day when sailing ....... is probably right! ......... enough of the boat woes ...... around lunch time yesterday we went for a stroll to the "BIG" supermarket ........ 1hr 40mins later we arrived at BS, well another tin shack ...... although it was slightly better stocked and had more variety than the 2 local mini markets! Allan bought a very expensive souvenir T shirt, we bought ice creams, biscuits & crisps, and set off on our stroll back to the boat. Getting some frozen sliced bread and burgers at the local shop when we got back! During our walkabout we met many locals who all pass the time of day, saw pigs in the undergrowth tethered by a rope to their foreleg, a couple of quite young horses tethered on the side of the road. The views of the reef on one side and the rock outcrops of the "big hill" were quite spectacular........ but no one seemed overly keen to repeat the exercise today! By the time we got back it was 4pm and we were invited across to Taronui for sundowner drinks at 4.30, we had a very convivial couple of hours with them and the Pzazz crew before we struck up the bbq and had a few glasses of red to help us sleep well! We again failed to locate the "bread-man" this morning ........ having been told variously that he gets here in a white car at 8am, Steve & Barry departed ashore at 7.30 ......... only to find out at 7.45 that he had been and gone at 7am, you have to order the day before and he doesn't deliver on Sunday or Monday ........ looks like Guinness bread be back on the menu soon! Overnight the winds dropped, but again today it is making the wind generator "howl", the sun is shining it is hot and later we're going snorkelling around the small island out by the reef ...... as Pzazz told us it is teeming with fish! Skipper quote: " just another sh***y day in paradise"!
Thu May 17 19:06 2018 NZST
GPS: 23 51.88s 147 41.33w
Run: 124.7nm (225.7km)
Avg: 4knts
24hr: 96.1nm
hi followers, apologies for being later than normal today with our daily blog, but we've been rather busy today .......... the good news is we safely arrived in Raivavae this morning and dropped our anchor at 10.30 which is (within a few minutes) exactly 14 days since we left Bayswater Marina in Auckland on our epic journey across the South Pacific Ocean.

P'zazz & Taronui entered through the reef approx 1hr before us, but we are now all safely anchored within 100meters of each other, the closest we have been since our mid ocean rendezvous some 1000nm ago! The next few days will be sorting out our 'jobs list' and drying out the boat, she needs a bit of tlc following the 11day uphill bashing she has endured, whilst we will also be getting ashore to explore this beautiful island. We can see the waves crashing over the reef from our anchorage and witnessed a magical sunset this evening, whilst enjoying our first beer for 14 days with the gallant crew from P'zazz! The "at sea" duty chef had a night off ....... Andrew cooked us very nice meal of matured rump steak, all washed down with a nice glass of red. Position 10.30 FP (Tahiti) time. 0 miles to destination, for now! Details of our next leg to Rapa, will follow in due course, once we've recuperated from our exertions so far!!!
Wed May 16 11:57 2018 NZST
Speed:
7.2kts
knts
Run: 147.9nm (267.7km)
Avg: 5.7knts
24hr: 136.5nm
Weather: wind 20knts SE, 2m swells from both the E, 95% cloud cover.
still hard on the wind and getting back on track after losing 25nm of easting overnight, we unfurled some of our pocket handkerchief at the front early this morning, when we had numerous squalls and rain for over an hour and the boat was being pushed sideways, since then we've taken a reef out of the main which is helping too.

Although hard on the wind the small sail plan helped us have a more peaceful night, and given our current rate of progress expect to get to Raivavae in the early hours, and will wait until proper light to get through the reef to our anchorage. That will be a welcome relief to us all.

We understand that Pzazz have been making fabulous progress despite their steering wheel issues, our slower relaxed last 36hrs mean they will now probably be in Raivavae before us.

The fridge and fresh food are nearly all gone/empty, but we have eaten well for the last two weeks, the current chef is looking forward to others sharing the cooking chores once we get to anchor! Last night's menu was, roast potatoes & pumpkin, chicken in a sage & onion gravy with vegetables, judging by the empty plates and smiling faces it seemed to hit all the right spots.

Position 09.00 nzst. 106 nm to destination, 127nm run in 24hrs.
Tue May 15 9:57 2018 NZST
Speed:
6.2kts
knts
Run: 164.9nm (298.5km)
Avg: 329.8knts
24hr: 7915.2nm
Weather: wind 25knts ESE, 3m+ swells from both the E, overcast & 100% cloud cover.
apologies to our regular readers ....... we wrote & sent the blog yesterday, but it appears somewhere between; ipad, iridium & yachts in transit website it has disappeared forever! Anyhow, we are now sailing (as we have been for the last 3days) with 3 reefs in the main and a pocket handkerchief for a headsail, still sailing at 50-60 AWA, making 6kts in wind 25-35kts, with at times a 4m swell / breaking waves, after 10days consecutively hard on the wind the fun is definitely starting wane. We have also 'hove to' the last 2 evenings for dinner, after the cook came fairly close to 'losing it'! Our previous target of getting to Raivavae before dark on Wed (nzst) won't now be possible, even with only 230 miles to go, we should arrive during darkness and plan to hold off until daybreak on Thursday (or Wed Tahiti time) to go through the reef channel and anchor for a well earned rest.

Our onshore spy provides us with a regular update on Pzazz from their blog, yesterday we were pleased to find out that we were some 50nm closer to our destination than they were, however, overnight we have now heard they have a problem with their steering wheel bearing - needing to steer via the emergency tiller. All on board Surreal wish them a safe passage to Raivavae as it will no doubt be a trying time for them.

We are all in fine spirits but tired from the constant pounding / washing machine motion. The good yacht Surreal II is taking everything the seas throw at us and keeping us all safe, hopefully less than 2days to a cold beer and peaceful nights rest! Nothing exciting for dinner yesterday, just simple: sausage, egg, chips & beans ........ delicious!! Position 09.00 nzst. 142nm run in 24hrs.
Tue May 15 9:27 2018 NZST
Speed:
5.8kts
knts
Run: 187.1nm (338.7km)
Avg: 4knts
24hr: 96.2nm
Weather: wind 23knts E, 3m swells from both the E, 30% cloud cover.
yesterday after sailing under reefed main and full genoa for most of the morning, we gradually reduced sail as the day unfolded, finally 'hoving to' at 18.00 when "the cook" was just about to "lose it", with huge seas and wind gusting +35kts! 45mins later we set off again with 3reefs in the main and a pocket handkerchief for a headsail, still making +7kts into a large swell and waves at 60 AWA. At dawn the wind and seas again increased to circa 4m at 4sec intervals, so we have persisted with our small sail plan throughout this morning although the seas have now abated slightly. The good yacht Surreal II takes all this in her stride, she grinds on up wind and protects us from at times crazy seas, which is a reassuring relief for all on board.

The sun is out and it is warm, but this constant pounding up wind for 8days continuously has now lost its sparkle, however, our current slow rate of progress 6kts means that although we're likely to reach Raivavae on this tack and be there by late Wednesday, we will probably have to hold off overnight, before entering through the reef at daybreak! The good news yesterday morning from our shore-based spy was that P'zazz & Taronui were both sailing close together again and at 9am were 50nm almost directly behind us to our south.

We had another flying fish last evening, it arrived on a huge 'greenie' that deluged the boat, with the flying fish deposited on the coaming, having popped through our 'lines' gap between coaming and windscreen, as this one was still alive we popped him back from whence he came! Position 09.00 nzst. 162nm run in 24hrs.
Sun May 13 10:45 2018 NZST
Speed:
7.8kts
knts
Run: 152.4nm (275.8km)
Avg: 7knts
24hr: 167.4nm
Weather: 20knts @ 120 , 1.5m swell from the E, 30% cloud cover.
another day rolls by, pretty much the same as the previous few, we're still fairly hard on wind sailing between 50-60 AWA. Similar to Pzazz we reef the headsail at dusk as wind speed increases, but have been sailing with a double reefed main for the last 40hrs, still a very large swell and generally confused sea, but wind direction and strength is a little more stable today.

This morning we found to additional stowaways on board .........2 kamikaze flying fish, who took up residence overnight, unfortunately not big enough to eat, but maybe fish bait to tempt something bigger during today's fishing efforts! Everyone is in fine spirits on board, although getting a little fed up with the stbd tack uphill sailing! A much brighter day today, we now hope that we have made enough easting, given the predicted weather, to lay Raivavae without tacking.

Position 09.00 nzst. 160nm run in 24hrs, DTG 537nm.
Sat May 12 12:54 2018 NZST
Speed:
8.2kts
knts
Run: 184.8nm (334.5km)
Avg: 7.7knts
24hr: 186nm
Weather: wind 25knts ESE, 1.5m swells from both the S & E, 80% cloud cover.
we followed what now seems the standard approach of reefing both sails just before dark as the wind gradually increases, the sea seems permanently confused with a large swell from the south @ 15sec intervals acting against an astern swell every 5secs! The wind for the last 18hrs has been interesting; 8-20kts, with a 60 degree difference in direction cycling through up to 10times an hour, making holding a consistent course difficult, since late morning it seems to have stabilised more and we're sailing at 50 degrees AWA, making 060T towards Raivavae.

Still no signs of Pzazz or Toranui over the last 40hrs, when they were behind us, we assume they are also fairly hard on the wind, trying to make best course for Raivavae as the wind progressively goes to a more easterly direction.

The good news is that we now have 670nm to run, all crew in fine spirits and in line with the latest fads of "haute cuisine" we had "deconstructed cottage pie" for dinner last night. Position 13.00 nzst. 162nm run in 24hrs.
Fri May 11 13:03 2018 NZST
Speed:
7-8 kts
knts
GPS: 30 19.83s 161 29.03w
Run: 220.5nm (399.1km)
Avg: 9.2knts
24hr: 221nm
Weather: 16knts SE, 1.5m swell from the E, 90% cloud cover.
we sailed most of yesterday in company with P'zazz & Taronui, gradually increasing our sail area to keep up with them, as night fell it was again time to reef both sails as the wind gradually increased to the high 20kts. Gradually as the evening wore on first Taronui and then P'zazz disappeared behind us on the AIS. The sea was again very confused with a large swell making holding course and sleeping difficult, at dawn as the wind abated we shook out the reefs and noticed Pzazz on the AIS again just to leeward of us some 7nm behind, we seemed to have a piece of elastic between us as the distance ebbed and flowed between 5-7nm, until late morning they disappeared when 7.5nm behind, which appears to be the limit of AIS out here..

Just before lunch we again reefed both sails as the wind and seas increased, we are now sailing at 060 of apparent wind and think we need to maintain this approach for the next 500nm, as the wind is due to gradually back over the next 4days.

We managed to complete the alternator repair and fix a leaking engine coolant pipe yesterday afternoon, not an easy task with the energetic sea, but we are confident that our bodge-it and scarper fix will see us to Tahiti where we can get the right spares for a more permanent fix! All is well on board, we made Chinese stir fry pork and egg fried rice for dinner last night and made fresh onion & potato soup for lunch! Position 13.00 nzst. Again 185nm run in 24hrs, DTG 829nm.
Thu May 10 13:06 2018 NZST
Speed:
7.8kts
knts
GPS: 30 98.57s 164 52.56w
Run: 222.3nm (402.4km)
Avg: 9.1knts
24hr: 219.1nm
Weather: 16knts S, 1.5m swell from the SE, 30% cloud cover.
we reefed both sails just before/ after dark as the wind gradually increased to the high 20kts, the sea was very confused with a large swell making holding course and sleeping difficult, this has continued unabated since dawn break today.

The good news is that now over 1000nm from NZ, ourselves, Taronui & P'zazz are all with 1.5 miles of each other charging eastwards on these excellent southerly winds.

Predict wind now shows us holding these winds all the way to Raivavae, so we're over half way there and should have a good sail to our destination.

The stbd engine alarm has resurfaced today, with an electrical burning smell the cause, we have identified it as one of the output wires coming from the 2nd 100amp alternator, once it has cooled and the seas allow easier access we will investigate further.

All is well on board, we had rump steak for dinner last night and made fresh Guinness bread for lunch!, which seemed to hit all the right places with the crew! Position 13.00 nzst. 185nm run in 24hrs, DTG 1015nm.
Wed May 9 12:45 2018 NZST
Speed:
8.3kts
knts
Run: 186.5nm (337.6km)
Avg: 8knts
24hr: 192.1nm
Weather: 14knts SE, 1.5m swell from the SE, 20% cloud cover.
we have continued on at a pace with good winds from 115/150 T, on a course as close to eastwards as we can over the last 24hrs, typically 060T sometimes 15 degrees either side. We saw a yacht just before dusk yesterday on the horizon / our pt fwd qtr, during the night we came within about 1nm of them and despite calling on the radio received no response, this morning the yacht is on the horizon and our stbd beam. We had thought this could be Taronui who were due to leave Opua the same time as we did, however, our "shore-based spies" monitoring Yachts in Transit inform us that it is most probably P'zazz as we are shown to be within 20-30nm of their position over the last few days!. Crew are all on fine form, we are eating well and enjoying the glorious sailing conditions. Position 12.00 nzst, 172nm run in last 24hrs.
Tue May 8 13:27 2018 NZST
Speed:
8.6kts
knts
GPS: 31 55.13s 171 42.17w
Run: 223.5nm (404.5km)
Weather: wind 14knts S, 1m swell from the S, 30% cloud cover.
We flew the gennaker for most of daylight hours yesterday, but as the wind built we changed to normal full sail set up, trundling along at a fairly steady 7-8kts since 5pm yesterday on a good southerly breeze of 12-15kts. The current wind predictions indicate that this wind will be with us for the next 5days or so, which will help considerably on our journey.

A spot of fishing yesterday resulted in "the one that got away", a nice sized mahemahe that evaded the gaff and jumped off the lure as we pulled it alongside. All is well on the high seas! Position 13.00 nzst, 178nm run in last 24hrs.
Tue May 8 13:27 2018 NZST
Speed:
5kts
knts
Weather: 8knts S, 1.5m swell from the E, 40% cloud cover.
Had a pleasant day & night, with mostly light /little wind, decided to motor last evening, but kept getting a spurious alarm in the stbd engine bay, so used the port engine instead, motoring slowly all night at 4kts on 070 heading, as the wind rose to 7kts at dawn, we started sailing again. Investigation on the stbd engine in daylight revealed a faulty smoke detector battery, that set off its warning whenever the engine went above idle ........ new battery fitted all is now well! Beautiful day 7kts wind abaft the beam, so now flying the gennaker in the southerly winds we were seeking overnight. All is well on the high seas! Position 09.00 nzst
Mon May 7 11:33 2018 NZST
Speed:
5kts
knts
Weather: 8knts S, 1.5m swell from the E, 40% cloud cover.
Had a pleasant day & night, with mostly light /little wind, decided to motor last evening, but kept getting a spurious alarm in the stbd engine bay, so used the port engine instead, motoring slowly all night at 4kts on 070 heading, as the wind rose to 7kts at dawn, we started sailing again. Investigation on the stbd engine in daylight revealed a faulty smoke detector battery, that set off its warning whenever the engine went above idle ........ new battery fitted all is now well! Beautiful day 7kts wind abaft the beam, so now flying the gennaker in the southerly winds we were seeking overnight. All is well on the high seas! Position 09.00 nzst
Mon May 7 11:30 2018 NZST
Speed:
5kts
knts
Run: 142.4nm (257.7km)
Avg: 5.8knts
24hr: 138.1nm
Weather: 8knts S, 1.5m swell from the E, 40% cloud cover.
Had a pleasant day & night, with mostly light /little wind, decided to motor last evening, but kept getting a spurious alarm in the stbd engine bay, so used the port engine instead, motoring slowly all night at 4kts on 070 heading, as the wind rose to 7kts at dawn, we started sailing again. Investigation on the stbd engine in daylight revealed a faulty smoke detector battery, that set off its warning whenever the engine went above idle ........ new battery fitted all is now well! Beautiful day 7kts wind abaft the beam, so now flying the gennaker in the southerly winds we were seeking overnight. All is good on the high seas! Position 09.00 nzst
Sun May 6 10:45 2018 NZST
Speed:
7kts
knts
Run: 160.6nm (290.7km)
Avg: 6.6knts
24hr: 158.3nm
Weather: 11kts ESE, 1.5m swell from SE, bright blue sky with a few puffy clouds
still making good progress in a NE direction, the forecast indicates wind dropping and moving to a more southerly direction, which will help us with more easting in our course over the next 24hrs. All crew now fully recovered from motion sickness and eating well. Position taken at 2100z (09.00 nzst), distance run (24hrs) 159Nm, to go 1652Nm.
Sat May 5 10:24 2018 NZST
Speed:
7.5kts 175Nm 24hrs
knts
GPS: 34 07.611s 179 56.12w
Run: 161.7nm (292.7km)
Avg: 10.6knts
24hr: 255nm
Weather: cloudy day 90% cover, wind 15-22kts S/SE, swell 1-2.5m SE.
another fairly bumpy night with a confused and variable swell in the sea, we put a reef in late afternoon when the wind was in the high 20s, which has helped. Speed consistently in 7.5-9kts range, crew now getting over some motion sickness! Having adjusted our final waypoint from Raiatia to Raivavae our distance to go is now less than 1800Nms. Position as at 09.00 NZST.
Fri May 4 19:10 2018 NZST
Speed:
7-8
knts
GPS: 33 23.595S 177 23.5E
Run: 279.2nm (505.4km)
Avg: 8.5knts
24hr: 204nm
Weather: Weather: Overcast, with cool SE wind 15-20kts
Boat speed: 7-8Kts

Distance run: 145Nm
Following customs clearance and delivery of the fridge fan, we departed Bayswater Marina at approx 10.30hrs, just after P'zazz, once into the harbour we did a quick autopilot compass calibration, to reduce the differences with chart-plotter and ships compass. Virtually no wind in the harbour and approaches so mainsail raised and motor-sailed out to the Colville Channel, a pod of dolphins accompanying us on our way.

Wind started to then fill in (8kts) headsail set and engines off after 7 1/2hrs of motoring, during the night the wind gradually rose to 15kts and since 6am on Friday is between 15-20kts gusting 28. A very confused sea is making for a bumpy ride, but we're making good progress out into the South Pacific Ocean and our planned destination in Raivavae.
Position:

33 degrees 23.595S

177 Degrees 23.5E
Thu May 3 10:19 2018 NZST
GPS: 36 49.21159S 174 46.65216E
Weather: Fine, bright blue sky, slight cold wind from SE
All ready to go, customs cleared, just waiting for a new fridge fan to be delivered by courier!
No blogs available for this yacht.
Loading map and updates ....
Loading track, please wait ....