Taranui 111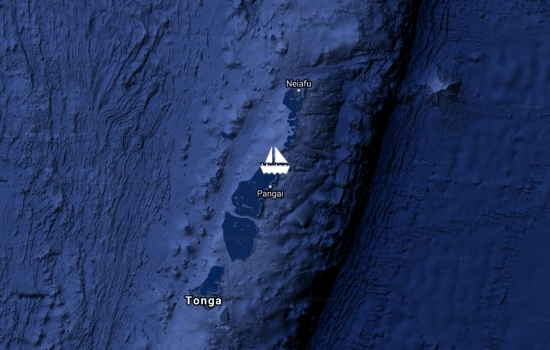 Fri Oct 11 7:39 2019 NZDT
GPS: 19 40.440S 174 17.330W
Run: 69.3nm (125.4km)
Weather: 5 kts East, clear & sunny. Barometer abt 1012. At Mushroom bat, Ha?ano Island. Some whales but great snorkelling
At Mushroom Bay on Ha'ano Island, gorgeous. Only a few Humpback Whales left but great snorkelling..

Slowly threading our way South. ETD Nuku'alofa 28th Oct
Sun Sep 22 8:03 2019 NZST
Speed:
0.0
knts
GPS: 18 42.690s 173 59.480w
Run: 1930.3nm (3493.8km)
Weather: 18kn SE CC , SS 0.0
After a wonderful 3 months cruising around the many beautiful islands of French Polynesia we sailed from Bora Bora on the 1st September to Suwarrow. Spent 9 wonderful days in that pristine National Park founded by the forward thinking Cook Islands government. We sailed on to Vava'u in Tonga and arrived here a few days ago. Lovely to be back here , our 3rd visit in "Taranui 3" in 6 years and we still really enjoy this place, very easy cruising and friendly locals, many handi crafts and a good local market.

We are currently in Tapana Island.

We plan to sail towards the Ha'api's and down to Tongatapu by the end of next month. Our planned departure for Minerva, then NZ is late October. Will update as we get closer.

Have a great day.

Capt'n T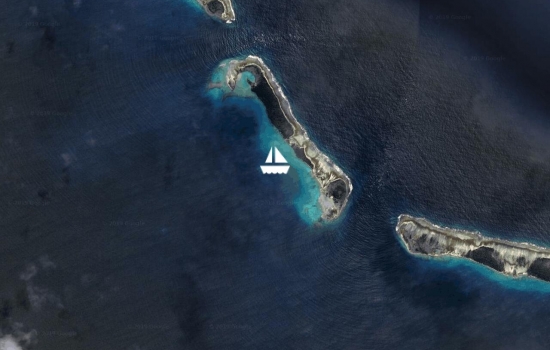 Tue Jun 4 13:05 2019 NZST
Speed:
0.0
knts
GPS: 16 50.970s 144 41.650w
Run: 10.7nm (19.4km)
Weather: 10kn NE, CC , SS 0.0
Anchored in the Tahanea lagoon, boom tent up. It is amazing that this lagoon is one of 77 atolls in the Tuamotos and we can barely see the motus on the other side of the lagoon ( our horizon is 4 miles, this lagoon abt 6 miles wide and 12 N miles long, there are several bigger too!) Diving into the water is just lovely, abt 25 degree water and as clear as gin. We went for a snorkel in the pass yesterday, lots of fish and a couple of reef sharks cruising along, so gracefully, just checking out these new arrivals.

After a chill out day or two, we will head for the village and try and get some fruit, lets see. Not much here & that's fine. The fish are jumping and the bird life is great, Frigate birds soaring overhead as I write this.

Have a great day.

Capt'n T
Sun Jun 2 13:20 2019 NZST
Speed:
6.5
knts
GPS: 16 53.890s 144 32.430w
Run: 183.2nm (331.6km)
Avg: 7.7knts
24hr: 183.8nm
Weather: 5kn ESE, CC , SS 0.5 - 1.0M SE
We are definatley in a different climate zone, light airs and warm enough to sleep outside in a T shirt. A gorgeous night with lots of luminescence and the Milky Way very clear. At first light, having motor sailed most of the night, we were directly in the middle of the channel between Tahanea & Motutunga. I had to fine tune the radar to get a reflection & confirm that coconut trees don't give much reflection. These low lying atolls are hard to see, even during the day, it's little wonder the early sailors avoided them, I don't think they had radar either, mmm. Ahh, they did have rum and i can confirm it helps, at many different levels.

We hooked up a big fish at sundown last night and the big Penn reel just screamed out, whoa, slow the boat down and we bought this big tuna to the back, slowly with a lot of strain and lost it getting it to the transom, Sefton with the gaff at the ready. The other line was just taken, ping, one of our good lures gone, bugger.

Sliding down the side of the reef now, motus in sight, birds around, no other fish yet, but hoping. Hope to be in the pass and anchored by abt 10am, swim time. Isn't it nice of Queenie to give most of you a day off! Capt'n T
Sat Jun 1 13:25 2019 NZST
Speed:
6.5
knts
GPS: 19 26.490s 145 19.480w
Run: 180.3nm (326.3km)
Avg: 7.5knts
24hr: 180.3nm
Weather: 9kn ESE, CC , SS 0.5 - 1.0M SE
We think we passed through the South Pacific Convergence Zone (SPCZ) last night and it sure felt like it, what little we know. The wind died and came from all quarters so we motored through and from early on, there were flashes of lightening all around, fortunatley at some distance, when we counted, the claps of thunder put them about 15 - 20 miles away. We had a few rain squalls and one on Westies watch was 30 knots, lucky we only had a reefed main. We only have 150N Miles to run now and the ESE trade winds have started to kick back in, initially at 9 -10 knots on a calm sea. Our Tropicbird leads the way.

Papaya for breakfast, sounds good.

Have a great day all.

Capt'n T
Fri May 31 13:25 2019 NZST
Speed:
8.0
knts
GPS: 21 44.450s 146 38.480w
Run: 142.8nm (258.5km)
Avg: 8.9knts
24hr: 213.1nm
Weather: 15kn SE, CC , SS 1.0 - 1.5M SE
We have had a lovely night with steady winds between 14 & 18 knots just forward of the beam, mainsail reefed some and full # 2 genoa, sliding along in a moderate sea state at 8 - 9 knots, making good time. We expect the breeze to lighten today and if we slow too much we use our trusty Yanmar topush us along. Don't like the idea of a late afternoon reef passage. Some of these attols have outgoing currents from the lagoons of 7 - 8 knots, we will try and choose well.

Capt'n T
Thu May 30 21:20 2019 NZST
Speed:
7.5
knts
GPS: 23 37.450s 147 33.710w
Run: 18.4nm (33.3km)
Weather: 15kn SE, CC , SS 1.0 - 1.5M SE
Once the front passed over the Austral group and we endured 35 knots of wind at anchor, plus rain ( we were pleased to be there!) it all settled down and yesterday was improving and today was gorgeous. Ian & Sefton went by small local boat out to Motu Piscine on the edge of the reef, this is across the beautiful big lagoon and the landscape of the main island is outstanding, very interesting rock formations and as we learnt, delightful local people, mostly Polynesian descendants of the early navigators and settlers more than 1000 years ago. Very gracious people that want to greet you & shake your hand with a real smile, old Polynesia, it's gorgeous.

The weather was coming right so after 5 days here we have put to sea and are now on course for Tahanea in the Tuamotos. This is abt 440 Nm away and with a 15 knot SE trade wind on the beam T3 just slides along. We are hoping to be there Sunday morning, Tahiti time. Monday morning NZ time.

Better yet, Ian just hooked up a lovely Albacore Tuna, he is dealing to this fish now on the back scoop, keeps the cockpit clean. I hear the high pressure salt water pump cycling clearing up the mess, good idea Mal! Have a great day and we will update this in the morning.

Capt'n T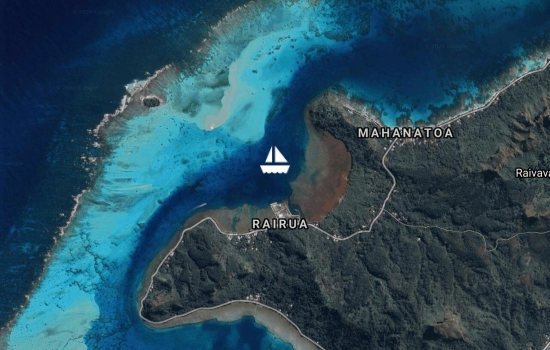 Mon May 27 12:00 2019 NZST
Speed:
0.0
knts
GPS: 23 51.910s 147 41.230w
Run: 31.1nm (56.3km)
Avg: 6.7knts
24hr: 159.9nm
Weather: 18-25kn SE, CC , SS 1.0 - 1.5M SE
We have just dropped anchor in the beautiful lagoon at Raivavae, a spectacular island. So much fun seeing this rising out of the deep sea with its jagged peaks and to see green (other than the brocolli) for the first time in 13 days. We ran right down the reef with its turquoise waters and the big ocean rollers crashing in. We came straight in through the leads, excellent. At rest now after 13 days and 2 hrs, Westhaven to Raivavae anchorage, a great run. My many thanks to Ian & Sefton, an excellent crew and of course our lovely, fast and capable ship. looks to be abt 2350 N Mile run.

Will update this when we head to the Tuamotos, mid week ? Having a well deserved rum in the cockpit. Nearly swim time.

Capt'n T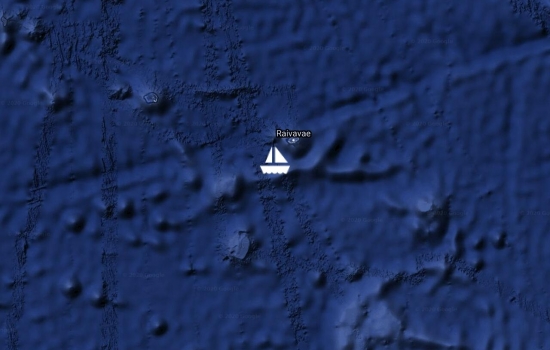 Mon May 27 7:20 2019 NZST
Speed:
6.5
knts
GPS: 24 16.620s 147 53.180w
Run: 375.6nm (679.8km)
Avg: 7.7knts
24hr: 184.9nm
Weather: 18-25kn SE, CC , SS 1.0 - 2.5m SE
A lovely starry night with the Milky Way dominant and a few meteorites burning up overhead. Still a confused sea and SE trades running abt 18 - 20 knots. Looks to be abt 30 N Miles only to run to Raivavae now but we cant see it yet. All this ocean, one small island. We are at the "are we there yet mum" stage but overall have had a superb passage, will be 13 days only for abt 2400 N Miles allowing for a few course changes to suit the weather, I think this would be normal.

It looks like a left a dot out of my position report yesterday and the computer didn't like it, hopefully today is better. Will be easier writing from the lagoon when my desk isn't jumping around. Cant wait for the swim and fresh croisants from the French bakery.

Talk soon Capt'n T
Sun May 26 6:50 2019 NZST
Speed:
6.5
knts
Weather: 18-25kn SE, CC , SS 1.0 - 1.5M SE
We finished off Liz Davis's ginger crunch yesterday and then I pulled out a fabulous fruit cake from Christine Anton, very tasty on the night watch. we crossed the 30 degree latitude & 153 degree Longitude line yesterday slowly the famed South east trades started to fill in, gently at first but have built overnight to 18 - 25 knots on and forward of the beam, with a reasonable sea. It's a bit uncomfortable but we are making good speed with a heavily reefed genoa & main. We have abt 180 N miles to run to Raivavae and expect this all day and all night, better get used to it. The ship is fine and the crew is getting rest and fruit cake! We think this weather is due to a big front passing to the North of us, we have been lucky to have updates on this from Bob McD the weather guru plus also Al Reynolds who watches and understands these things. We slowed down some yesterday to miss this frontal band and have adjusted course.

We look forward to a swim in the lagoon tomorrow. No more fish but some interesting new birds, will report when I can find my book.

Have a great day Capt'n T
Sat May 25 6:35 2019 NZST
Speed:
6.0
knts
GPS: 28 34.740s 151 35.680w
Run: 172.4nm (312km)
Avg: 7.1knts
24hr: 170.6nm
Weather: 5-10kn S, CC , SS 0.5-1.0m SW
Another low wind day today with some long slow swells coming up behind. Finally made the call to head straight to Raivavae which is now only abt 340 Nm away, yahoo. Slow reaching along in clear skies but accompanied by our birds. Starting to see tropical birds like the Sooty Tern and the Grey Noddy. The Tuna last night was superb, sashimi first then large pieces cooked lightly on a hot pan, yum. Washed down with one of Westie's "dark & stormy" rums as we slide along.

We expect the SE trades this morning and will then power on to our destination,ETA still Monday morning. NZT All good Capt'n T
Fri May 24 6:20 2019 NZST
Speed:
6.7
knts
GPS: 30 30.130s 153 25.190w
Run: 1172.8nm (2122.8km)
Avg: 8.2knts
24hr: 195.9nm
Weather: 0-5kn W, CC , SS 0.5-1.0m SW
A lovely clear night with not even any rain showers, could have done with the wind. We can't complain about the trip so far though, have had a dream run but we are between two highs so have zero wind so are running our trusty Yanmar. Caught a nice Tuna this morning and is in the fridge, will be great sashimi this afternoon and I'll cook up the balance. Minimal swell now, you could be on your SUP out here, look, there's Pauline & Kirsty just over there! It's amazing, even knowing there is 450 N miles to go to the nearest land, Rapa in this case, you still look at the horizon expecting an island to pop out of the big blue ocean, be patient, read a book. Our ETA Raivavae Monday morning NZT.

Another beautiful big Antipodean (Wanderer) Albatross came cruising by yesterday, with a 3.3 m wingspan & it's wing tips just skimming the waves, it soars past in a glorious arc, don't get much better folks.

Have a great day and I hope the computer liked my position report this morning, not the first time a computer and i have had disagreements. It could be being blocked by the CIA, Trump, the fun police, who knows! Capt'n T
Thu May 23 6:33 2019 NZST
Speed:
7.0
knts
Weather: 8kn S, CC , SS 2.0 - 3.0 S
A gorgeous big rainbow in the East before sun down yesterday and with the moon rising later (we are happy to have the moon)we had a lovely star show last night, very clear, milky way and a planet we are trying to identify. Average to low wind last night so a slow one with a roll but the wind is from behind, not ahead, we are thankful, although it is hard on sails. Also, what takes a hit is the goodies drawer, the Whittakers peanut slabs have seen "severe night watch erosion", mmm. a pity we don't have chocolate fish too, would taste good about now.

We are finally on the French chart and can start thinking about where to go in the Tuamotos, after we clear and have a few days at Raivavae, looks like fun.

Westie, the great fisherman, has two lines out (one of Annie's and one of Matt's lures) and we are hoping for Mahi mahi or Wahoo, wish us luck. It's tough out here. What's for breakfast Sefton? Capt'n T
Wed May 22 6:42 2019 NZST
Speed:
7.5
knts
Weather: 13kn S, CC , SS 1.0 - 1.5M S
The low is sliding through and the high is chasing along on our Eastern journey and other than a few rain squals last night and some light patches that we motor sailed through, we have been sailing well, usually on or aft of the beam. As predicted by Bob McD, we would have an area of large ocean rollers coming through from the Southern Ocean and we got these. These big beauties are 4 - 5 metres but are about 12 seconds between the peaks. Its interesting that when you are in the trough, looking up, you lose the power in your sails, then this big wave slowly picks you up and lifts our ship over the top and we slide down the other side with speed. It appears my mast sealing job was a bit average by the water ( a fre shower) in Ian's bunk, bugger, call the plumber, where are you Mal? We are looking for the SE trades to take us up to Rai'vavae but don't expect this until Friday, NZT. If anybody has insights, send it through.

Happy birthday Katie, 35 today! Capt'n T
Tue May 21 6:30 2019 NZST
Speed:
7.5
knts
Weather: 13kn S, CC , SS 1.0 - 1.5M S
Yesterday was "blue hump day" and we passed our 1/2 way point ahead of schedule. A lovely day out here where we all had showers on the back deck in the mid day sun and a very creative (& delicious) rum concoction called a Stormy Petrel. We are learning that Sefton is a rum conniseur as well as an outstanding sailor. Ian had pre made lasagne this too was enjoyed as we slid along at 8 knots, wing and wing with the stern lifting up on the big ocean swells and we surfed on down, the auto pilot doing its job well. We gybed early this morning and now have a Southerly so are beam reaching at abt 8 knots, only 12 knots of breeze but OK, we are ticking off those easting miles. We left Auckland at 10am a week ago and have covered abt 1300 N miles so far. No complaints (except my smelly socks) Capt'n T
Mon May 20 6:24 2019 NZST
Speed:
8.0
knts
Weather: 16kn NW, CC , SS 1.0 - 1.5M S
We even saw shooting stars with a full moon last night, only one rain squall all night and a steady wind. The NW wind came in abt noon and increased until we were two sail reaching with between 14 & 18 knots on the beam. This is great sailing for us as we slide along at between 8 & 10 knots , now making up for low winds and low speeds. We are at our theoretical 1/2 way point this morning and it depends what breeze we have from here until we hit the SE trade winds, hopefully in a few days time. Still no other boats since we left Gt Barrier 6 days ago. All well on board and well fed too. Enjoying Liz Davis's ginger crunch and had Sharda's butter chicken last night under a setting sun, delicious ! Capt'n T
Sun May 19 6:54 2019 NZST
Speed:
7.0
knts
Weather: 2kn NW, CC , SS 0.5 - 1M S
I came on watch at 0600 to be greeted by no less than 10 Short tailed Sherwaters circling around us, these wonderful migrating birds seem to have adopted us. A freindly black browed albatross cruised by for a look, they always look at you as they gracefully soar past, never turning there aerodynamic heads.

It is glassy calm and we are using the Yanmar to push us East,you could be in your kayak out hereand its 5500 metres deep! There is a big high and we are in the middle of it, we are expecting a NW wind to fill in by noon today. We calculate that we will be at our half way mark this afternoon which is good going. If the second part is as good as the first, we will be very happy. If anybody can give us an idea of where the SE trade winds normally fill in, please email me on ZMW3460@sailmail.com, we are expecting this (hoping) at 30S & 155W but ? All well on board, Capt'n T
Sat May 18 6:39 2019 NZST
Speed:
7.5
knts
GPS: 33 30.54s 173 08.77w
Run: 193.6nm (350.4km)
Avg: 9.3knts
24hr: 222.9nm
Weather: 18kn S, CC , SS 1 - 2 WSW
We had a Southerly shift abt noon yesterday which allowed us to sail due East with speed, now sailing with a reefed main and 1/2 genoa and doing a steady 7.5 kts and more in the gusts. Some rain squalls coming thru but otherwise gorgeous. Saw a Royal Albatross yesterday, came by to encourage us on. Big moon last night, a lovely pathway to sail down, T3 sliding along beautifully and all well on board. It's beautiful out here. Capt'n T
Fri May 17 9:48 2019 NZST
Speed:
7.5
knts
GPS: 33 30.17s 176 30.33w
Run: 206.6nm (373.9km)
Avg: 7.9knts
24hr: 188.9nm
Weather: 18kn wsw, CC , SS 1 - 2 WSW
The ship and crew are settling into a good rythm and we have tacked down our course to avoid running flat off with poles etc in a seaway, wind has been over the aft quarter for 2 days now and we slide down these big waves, heading East quickly now after turning above the Kermadec Trench. We cracked off a 201 NM day yesterday, noon to noon so nobody is complaining. Thanks Tony
Thu May 16 7:33 2019 NZST
Speed:
7.5
knts
GPS: 33 39.66s 179 54.68e
Weather: 18kn wsw, CC , SS 1 -1.5 WSW
We have been sailing well with the increased wind aft of the beam which gives perfect reaching conditions, have done our equivalent 200NM day but now in a confused sea. Lovely morning and all well on board, some rain last night.

Thanks Tony
No blogs available for this yacht.
Loading map and updates ....
Loading track, please wait ....