Vixen 7
Sun Mar 8 21:23 2015 NZDT
GPS: 36 11.771S 175 19.129E
Run: 3.2nm (5.8km)
Back in Oneura Bay after a very breezy night in Fitzroy. Pam 3 snapper Ross 1 this evening. The stream here is undamaged, a complete contrast to Kaiarara stream and the one behind DOC headquarters, both are devastated.
Fri Mar 6 22:21 2015 NZDT
GPS: 36 9.868S 175 21.606E
Run: 1.4nm (2.5km)
Dived for scallops and then inti Fitzroy for shelter. As a bonus got entertained by a newcomer to yachting who anchored too close to a mooring tried re anchoring but with far too little scope and no attempt to set the anchor. 3rd try was not lucky, as he backed away from shallow water he put the dinghy painter around the prop dragging the aluminium dinghy into the side of his yacht and badly gouging it. instant reaction....strip naked grab a knife and jump overboard. Final act, I and another yachtie went over and helped. Definitely a Shakespearean comedy of errors!
Wed Mar 4 20:41 2015 NZDT
GPS: 36 11.07S 175 21.74E
Run: 1.7nm (3.1km)
Anchored in Kaiarara Bay. Just had dinner on Katie M II now a flat calm evening except for the engine noise of Vixen 7 as we run the freezer.
Mon Mar 2 21:51 2015 NZDT
GPS: 36 09.813S 175 20.884E
Run: 1.9nm (3.4km)
Dived just east of Green island. A bit rally, Pam and Angela snorkelled. 2 crays.
Sun Mar 1 19:03 2015 NZDT
GPS: 36 08.434S 175 19.689E
Run: 2.8nm (5.1km)
In Nagel cove for the night. Dived in Katherine Bay, 4 crays and Pam caught a kahawai on the way back .
Sat Feb 28 22:08 2015 NZDT
Run: 0.9nm (1.6km)
"Fixed" problem with smart regulator BUT an hour later it stopped again. Spent next few hours investigating and finally fitted spare alternator without smart reg. it works but wasted a sunny fine day.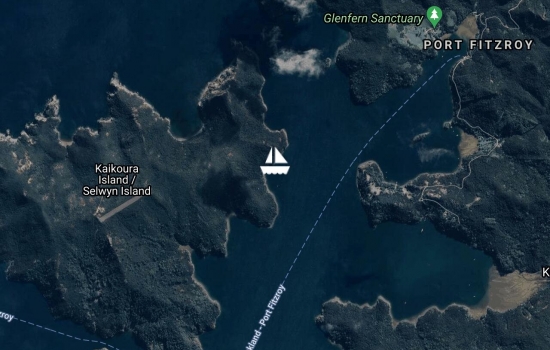 Fri Feb 27 0:00 2015 NZDT
GPS: 36 10.47S 175 20.54E
Run: 1.9nm (3.4km)
Again a calm night in cove between the islands just south of Pagets Rock. Dived with Mike T, 3 crays, the biggest one attacked drew blood inside my cray glove and damaged the main regulator hose! 4 kahawai 1 snapper also. A very good day until alternator stopped working!!!
Thu Feb 26 10:46 2015 NZDT
GPS: 36 11.67S 175 19.09E
Run: 0.6nm (1.1km)
Wed Feb 25 9:22 2015 NZDT
GPS: 36 11.954S 175 18.552E
Run: 30.4nm (55km)
Beautiful morning here in the Broken isles. Anchored next to Tusi 2 and Katie M Ii after a long motorsail, mostly motor, over from Kawau yesterday. Passed chameleon going the other way and having a great sail. Had first dive since pneumonia, saw 2 crays ... Got both. Pam caught good kahawai and we collected mussels for dinner. Back into hunter gathering mode! Into Oneura Bay for the night.
Tue Feb 24 11:06 2015 NZDT
GPS: 36 24.616S 174 49.789E
Run: 5.8nm (10.5km)
Sitting in North cove Kawau waiting for wind to either drop or change direction for an easier trip to Great Barrier. Definitely getting soft!
Fri Oct 10 0:00 2014 NZDT
GPS: 36 23.183S 174 43.772E
Run: 116.3nm (210.5km)
Avg: 7.5knts
24hr: 181.2nm
Sandspit entrance 1759 after a quick MS down from Marsden Cove. Home again after 5 months away and a welcoming group on the Sandspit wharf. Great to be home but sorry that another offshore cruise is finished!
Thu Oct 9 8:35 2014 NZDT
Speed:
7m
knts
Run: 75.9nm (137.4km)
Avg: 8.8knts
24hr: 212nm
Weather: 14NW
Thu Oct 9 0:00 2014 NZDT
GPS: 35 50.21S 174 28.14E
Run: 264.6nm (478.9km)
Avg: 17.2knts
24hr: 412.3nm
Arrived Marsden Cove 1930. 8days 8hours after leaving Fiji. A few days fast sailing but a lot of motorsailing and motoring right through the middle of a high that stopped north of NZ and refused to move east. Just as well that we were able to fix the massive oil leak by getting the auxiliary dip stick to stay in place. Max wind on passage only about 25knots.
Wed Oct 8 8:35 2014 NZDT
Speed:
6.5
knts
Run: 152.4nm (275.8km)
Avg: 6.4knts
24hr: 152.5nm
Weather: 0%cc, W5, var o/n
Fri am for Marsden Cove fuel station
Tue Oct 7 8:36 2014 NZDT
Speed:
5.5
knts
Run: 140.9nm (255km)
Avg: 5.8knts
24hr: 138.3nm
Weather: 90%cc, 10SSW
Mon Oct 6 8:09 2014 NZDT
Speed:
4.5m
knts
Run: 260.7nm (471.9km)
Avg: 5.5knts
24hr: 131.7nm
Weather: 90%cc, 3SSW 3m swell from S, long period and bad current
Tusi near by on port, eta Fri
Sat Oct 4 8:39 2014 NZDT
Speed:
4.8
knts
Run: 137.3nm (248.5km)
Avg: 5.7knts
24hr: 136.7nm
Weather: SSW7, 10%cc, slow swells 2 directions
all well and fixed. Swell slowing them down
Fri Oct 3 8:33 2014 NZDT
Speed:
5.3
knts
Run: 213.6nm (386.6km)
Avg: 9knts
24hr: 216.4nm
Weather: 0%cc, 9SE, 1016
needed relay for report. Tusi is 2nm astern!
Thu Oct 2 8:52 2014 NZDT
Run: 126.1nm (228.2km)
Avg: 2.5knts
24hr: 61.2nm
Weather: 15SE, 10%cc
Tusi 2 is 2m to south. ETA is before Thursday 9th next week
Tue Sep 30 7:23 2014 NZDT
GPS: 17 40.887S 177 23.195E
In Vuda again after a quick 2 day trip out to Musket for some snorkeling. Getting ready to leave very shortly weather permitting.
Mon Sep 22 0:00 2014 NZST
GPS: 17 40.887S 177 23.195E
Run: 14.4nm (26.1km)
Avg: 4.6knts
24hr: 110.9nm
Back at Vuda marina after reach back from Musket in 25knots. Tricky getting onto berth as very tight between boats and we got 2 stern lines around rudder. Tomorrow start reconfiguring Vixen for offshore.
Sun Sep 21 20:53 2014 NZST
GPS: 17 46.22S 177 11.359E
Run: 8.4nm (15.2km)
A couple of tank dives in the last 2 days and now back at Musket Cove. Had a snorkel at the outer reef on the way back, shallow but excellent hard corals and 3 whitetail sharks all harassed by Ross trying to get photos. Weather has been excellent for the last few days.
Sat Sep 20 9:36 2014 NZST
No position sent.
Thu Sep 18 0:00 2014 NZST
Run: 8.3nm (15km)
In Mana lagoon. Two snorkels on the way up from Musket in flat calm sunny conditions. The only problem with Mana is that the ferries, dives boats etc go through the anchorage at high speed throwing up hugh wakes, ignorant bu....rs!
Sat Sep 13 21:18 2014 NZST
GPS: 17 46.221S 177 11.202E
Run: 12.9nm (23.3km)
Departed Denerau 1000 in very light headwinds but about 1/2 way to Musket Cove the wind increased and backed. Headsail up and quick ms into anchorage. No moorings so anchored, 2nd try successful. Wind increased to over 20 knots before dropping to 10 SE at sunset. Hope calmer tomorrow.
Thu Sep 11 21:26 2014 NZST
GPS: 17 46.36S 177 22.957E
Run: 6.4nm (11.6km)
Denerau....culture shock! After a few more jobs on the yacht and 9 passage meals cooked by Pam in 2 days (galley was a sweat box!) we have moved to the real?????? Fiji of Denerau. Shops, malls and 100's of pale no tan tourists.
Mon Sep 8 20:55 2014 NZST
GPS: 17 40.83S 177 23.16E
Run: 1.4nm (2.5km)
Vuda marina and it is HOT! With the help of Mike T. And the hydraulic press at Baobab marine we have refurbished the salt water pump giving it new bearings, new lip seal and new face plate. Touch wood it seems to now be working without leaking! Fingers crossed. But being a worrier I have ordered a new one from Australia as a spare, $1400 !!!!!! And it's not even gold plated!
Sun Sep 7 0:00 2014 NZST
GPS: 17 39.65S 177 22.99E
Run: 60.2nm (109km)
In Dreketi Bay after a long 10 hr motor and motor sail. Hoping to go into Vuda marina tomorrow to repair salt water pump.
Fri Sep 5 0:00 2014 NZST
Run: 35.6nm (64.4km)
A quick snorkel, lots of fish but water milky, and then ms across the top of Viti Levu threading in and out of all the reefs. Anchored at Nananu - I - Ra and went ashore for a very pleasant chilled wine at Sue Scott's house ( ex Warkworth and SYC. )
Thu Sep 4 0:00 2014 NZST
GPS: 17 34.28S 178 40.673E
Run: 13nm (23.5km)
Today we rounded CAPE HORN ! 28C, 0.4m waves and 10 kts Easterly. Sailing is rugged at the Northern end of Ovalau! After a ms anchored for the night at Naigani island. Anchored in calm close to the beach.
Tue Sep 2 17:58 2014 NZST
GPS: 17 40.97S 178 50.19E
Run: 139.3nm (252.1km)
Avg: 3.3knts
24hr: 79.6nm
1342 anchor down Levuka. A fast sail during the night but the wind gradually dropped during today and we had to motorsail the last 35 miles. Levuka is flat calm and HOT! Amazing what a difference 160 miles north has made. Not quiet here, the shoreside generator providing power to the town is a constant background rumble of engine noise. Also they must be canning fish today as the whole anchorage smells strongly of warmed canned tuna. At least we get to dine out tonight at Kim Paak Kum Loong's chinese restaurant.
Mon Sep 1 0:00 2014 NZST
Run: 43.1nm (78km)
Position at 1800 Monday. Left Namuka-i-Lau 1025 this morning and for most of the day light 10kt. breeze from astern as we and Tusi 2 head for Levuka. One positive about the calm conditions Pam has been able to read while on passage. Usually a definite no-no.
Sun Aug 31 0:00 2014 NZST
GPS: 18 50.874S 178 40.216W
Run: 22nm (39.8km)
A quick beam reach sail north to Namuka-i-Lau after 10 days at Fulaga, diving the pass exploring the dozens of amazing undercut islands, fixing Colini's longboat, climbing the "telephone" hill (no reception!), exploring beaches, pestering Alfredi for Pam's parrot carving and meeting interesting people from the 3 villages.
Thu Aug 21 0:00 2014 NZST
GPS: 19 09.009S 178 33.917W
Run: 67.4nm (122km)
Avg: 2.8knts
24hr: 67.4nm
Departed Lakeba 0500 and motorsailed south in light E/ESE breeze. Ha d a VHF call from Allegresse & so after anchoring immediately walked over the hill to the village for sevusevu, AND $50 fee! About a dozen yachties were gathered with nearly all the village for a "concert/fundraiser" for youth activities. We were introduced to our host family, Ma , George , Junior and Kai. George is the senior class teacher. All the village very friendly.
Wed Aug 20 0:00 2014 NZST
GPS: 18 12.662S 178 50.531W
Run: 60.6nm (109.7km)
Lakeba. Anchored in "notch" in reef. Surprisingly calm although ca
n here waves breaking on reef both sides. Off to Fulaga Thursday early.
Mon Aug 18 19:29 2014 NZST
GPS: 17 20.407S 178 56.911W
Run: 11.2nm (20.3km)
Motored down to Susui Island during the middle of the day today. Our 1st visit to this island, a good anchorage well protected from the prevailing winds. Went ahore to do sevusevu and were geeted by Jacob whom we met a few days ago in Lomaloma. The chief had his door shut and was taking a nap and it was interesting to see how reluctant Jacob was to wake him.
Sun Aug 17 0:00 2014 NZST
GPS: 17 11.202S 179 00.06W
Run: 1.3nm (2.4km)
Bavatu Hbr. Beautiful and very sheltered. Went ashore to do sevusevu at plantation, and then climbed hill to Tony Phelps house to get email connection.
Fri Aug 15 8:10 2014 NZST
GPS: 17 10.56S 179 1.046 W
Run: 58nm (105km)
Anchored in Bay of Islands Vanua Balavu. Lumpy on the nose motor across on Wednesday but nice and calm in Islands.
Wed Aug 13 7:31 2014 NZST
No position sent.
Weather: 60cloud 15 ese
on the way to Vanua Balavu with Tusi2
Sun Aug 10 17:45 2014 NZST
GPS: 16 44.665S 179 46.227W
Run: 22.4nm (40.5km)
A little lumpy last night in Viani bay and we have now moved on. As usual our Navman plotter spat the dummy as we crossed 180 longitude and refused to tell us where we were. Bloody softwear geeks! Ross caught a 4.5 kg Walu on the way and Pam's toothpaste lure had a strike but it got off. Now on Northern side of Qamea island.
Fri Aug 8 22:48 2014 NZST
Run: 4.1nm (7.4km)
Viani Bay tonight after motoring very cautiously around from Dakuniba via the inside passage. Anchored in our usual spot close to the school. 12 yachts here in Viani Bay.
Fri Aug 8 7:32 2014 NZST
Run: 33nm (59.7km)
Weather: 100% lo cloud, no wind, good anchorage, Tusi2 here too
Fri Jul 25 0:00 2014 NZST
Run: 52.4nm (94.8km)
Early start, anchor up 06:50, and out the northern pass headed for Savusavu. Small headsail and 2reefs in the main on a broad reach to the end of Namena reef. Averaged 7.5 knots max. 9.1. 5 miles short of point light Pam hooked a marlin, we saw it strke, on the Colgates toothpaste lure. 1+ hour later we got to the yacht and I grabbed the swivel. It went ballistic and snapped the trace! BUGGER ! Got the last mooring in Savusavu.
Thu Jul 24 0:00 2014 NZST
Run: 11nm (19.9km)
Departed Wakaya approx. 11:00 in company with Seabride. Main only almost flat off run in 10 to 17 knots SE . Anchor down Makogai 13:50. An excellent calm anchorage.
Sun Jul 20 13:09 2014 NZST
GPS: 17 35.783S 178 59.434E
Run: 32.7nm (59.2km)
Swam with a whale yesterday and about 4pm 2 manta rays came into the bay. Anchor up 0630 this morning and a motorsail back to Wakaya where Keith Richards fell out of coconut palm in 2006. One good Mahimahi on the way.
Wed Jul 16 0:00 2014 NZST
GPS: 18 00.375S 179 14.362E
Run: 34.7nm (62.8km)
Fixed freezer, I hope, with a bolt from Pafco fish factory. Fast sail across to Gau. Entrance passage rough with wind against current. Anchored Somosomo Bay. 1800 a police boat with customs, Ali, checked our papers.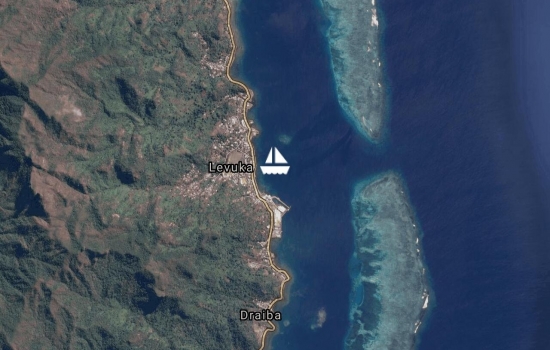 Sun Jul 13 21:55 2014 NZST
GPS: 17 40.95S 178 50.205E
Run: 11.7nm (21.2km)
Started the day with a dive on Vatu Vai dive site at Wakaya. Good dive, clear water, lots of small fish and a sleepy nurse shark.Then in no wind we motored across to Levuka. The Colgates toothpaste lure struck again and Pam landed a very nice mahimahi. Bad news tonight, the pivot bolt on the freezer compressor sheared!! Guess what tomorrows 1st job is.
Wed Jul 9 0:00 2014 NZST
Run: 11.5nm (20.8km)
Motored in 4kts breeze to Wakaya. Very good anchorage for prevailing winds.
Thu Jul 3 0:00 2014 NZST
Run: 24nm (43.4km)
M/S to Makogai after tank dive at Mushrooms. Crossed reef at "Jock's" WP , a little worrying as it was late in day and poor conditions. Anchorage calm.
Tue Jul 1 0:00 2014 NZST
Run: 24nm (43.4km)
Motor sail to Namena. 2 mahimahi one on Colgates toothpaste tube lure.
Mon Jun 30 0:00 2014 NZST
Run: 4nm (7.2km)
At Cousteau's ready for early start to go south
Fri Jun 20 0:00 2014 NZST
Run: 458.7nm (830.2km)
Avg: 5.2knts
24hr: 124.4nm
Savusavu. Cleared into Fiji. $80 to health to spray inside yacht for chikungyun mosquito!
Mon Jun 16 7:30 2014 NZST
GPS: 18 39.6843s 173 58.9575w
Weather: SE10-12, 90%cl
trip to Fiji delayed til Tues as crew did not arrive. Plane did not land!
Mon Jun 9 7:31 2014 NZST
GPS: 18 39.6843s 173 58.9575w
Run: 92.2nm (166.9km)
Weather: SE10-15, 70%cl
Thu Jun 5 7:32 2014 NZST
No position sent.
Weather: SE7, sounds lovely
Sat May 24 7:31 2014 NZST
Speed:
6.4
knts
Run: 82.5nm (149.3km)
Weather: SE15 no swell
10m from Uoleva, and anchoring!
Fri May 23 7:37 2014 NZST
No position sent.
Weather: 0 wind and mostly clear
leaving today for Pangaii
Thu May 22 7:31 2014 NZST
Run: 160.8nm (291km)
Avg: 6.8knts
24hr: 163.4nm
Weather: SE12 30% low cloud
anchored inside and will go into Tongatapu later
Wed May 21 7:54 2014 NZST
Speed:
6
knts
Run: 142nm (257km)
Weather: wsw 10 2m swell 30%cl
Looking good for rest of trip to Tonga
Tue May 20 7:41 2014 NZST
No position sent.
leaving minerva today for Tongatapu - a 2 day trip
Mon May 19 7:31 2014 NZST
No position sent.
still waiting in N Minerva
Fri May 16 7:31 2014 NZST
Run: 55.3nm (100.1km)
Weather: 100%cloud, S5
Thu May 15 7:32 2014 NZST
Speed:
3
knts
Run: 181.2nm (328km)
Avg: 7.5knts
24hr: 181nm
Weather: SE8 100%cl, 25C!,
Wed May 14 7:30 2014 NZST
Speed:
6
knts
Run: 169nm (305.9km)
Avg: 7.1knts
24hr: 169.3nm
Weather: E 6-8
motored all night and motor still on to make sure they get t
Tue May 13 7:32 2014 NZST
Speed:
4.5
knts
Run: 185.2nm (335.2km)
Avg: 7.7knts
24hr: 185.4nm
Weather: s8-9
disturbed overnight but steady now
Mon May 12 7:34 2014 NZST
Speed:
6.5
knts
Run: 316.4nm (572.7km)
Avg: 7.1knts
24hr: 169.3nm
Weather: ESE 10-14, 30%cl 1022hPa
Sat May 10 10:43 2014 NZST
Run: 11.2nm (20.3km)
Finally departed, motoring out of BOI
Tue May 6 10:36 2014 NZST


waiting for weather window may leave Opua tomorrow Wednesday

Sent from my iPad
No blogs available for this yacht.
Loading map and updates ....
Loading track, please wait ....