White Hawk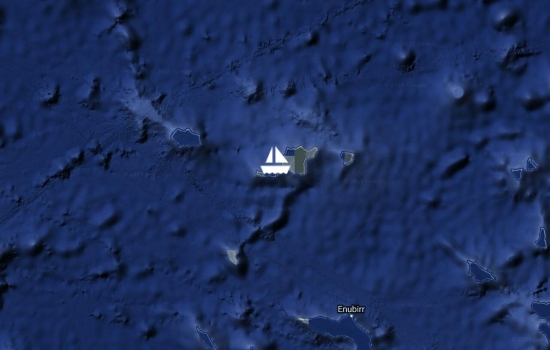 Fri May 3 9:06 2019 NZST
Speed:
0.0
knts
GPS: 11 08.25N 166 31.48E
Run: 202nm (365.6km)
Avg: 4.4knts
24hr: 106.7nm
Weather: Sunny and dry. Wind 19-22k 070T. 5/2/2019 1:05 AM UTC
Anchor down Thursday around 1PM local at one of our favorite places after a fabulous passage beam reaching all the way.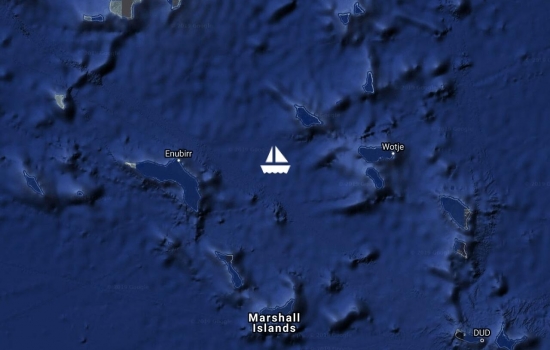 Wed May 1 11:39 2019 NZST
Speed:
8.5
knts
GPS: 09 10.98N 168 44.00E
Run: 230.8nm (417.7km)
Weather: Wind 15-18k 068T. 70% thin cloud cover. Seas 1.5-2m. Bar 1013. 4/30/2019 7:45 PM UTC
Departed Majuro Tuesday morning bound for atolls in the Ralik "Sunset" chain. Nice first day's sail on a beam reach making approximately 190 miles under double reefed main and full genoa.
Mon Mar 4 9:54 2019 NZDT
Speed:
0.0
knts
GPS: 07 06.22N 171 22.34E
Run: 187.6nm (339.6km)
Avg: 2.6knts
24hr: 61.5nm
Weather: 3/3/2019 7:44 AM UTC
Arrived back in Majuro Sunday morning to take care of some business after a glorious 6+ weeks snorkeling and exploring the interesting WWII relics on Maloelap and Wotje atolls. On our foray to the atolls we added 10 or 12 new species to our nudibranch list, had several close encounters with zebra sharks, octopuses and turtles, and witnessed a newborn yellow boxfish smaller than a dime attempting to learn to swim without the benefit of fins and tail.
Fri Mar 1 8:42 2019 NZDT
Speed:
0.2
knts
GPS: 09 32.33N 170 09.66E
Run: 2.9nm (5.2km)
Weather: 2/27/2019 7:58 AM UTC
Moved to nearby Anearmej Wednesday after being unable to find suitable anchorage under current conditions at the village islet of Ormed due to swell wrapping in to the anchorage.
Tue Feb 26 8:42 2019 NZDT
Speed:
0.0
knts
GPS: 09 30.54N 170 11.40E
Run: 5.3nm (9.6km)
Weather: 2/23/2019 9:19 AM UTC
Back to Anebing Friday night after snorkeling the wreck of the Toyotsu Maru at Egmedio.
Wed Feb 20 9:18 2019 NZDT
Speed:
0.0
knts
GPS: 09 26.68N 170 13.88E
Run: 6.5nm (11.8km)
Weather: 17-25k, 077-090T. 2/19/2019 9:15 AM UTC
Sailed in brisk gusty trades to the anchorage south of the main village on Wotje Islet Tuesday afternoon in order that we may further explore the WWII relics onshore.
Sun Feb 17 12:57 2019 NZDT
Speed:
0.0
knts
GPS: 09 31.31N 170 10.67E
Run: 1.1nm (2km)
Weather: Wind 9-12k 055T in lee. 90% cloud. Bar 1012. Sea temp 85F and feeling cold! 2/13/2019 11:25 PM UTC
Moved north Thursday to Toleej.
Thu Feb 14 10:57 2019 NZDT
Speed:
0.5
knts
GPS: 09 30.62N 170 11.31E
Run: 1.8nm (3.3km)
Weather: Wind 11-20kt 054T. 2/12/2019 8:10 AM UTC
Moved Tuesday to Anebing Island. Great protection here and another gorgeous pink sand beach to explore!
Sun Feb 10 9:18 2019 NZDT
Speed:
0.0
knts
GPS: 09 29.41N 170 12.27E
Run: 1.6nm (2.9km)
Weather: Wind 22-25k, gusting 32k. 061 T. 2/8/2019 8:32 AM UTC
Interesting snorkeling Thursday around Bwodao and the cut to the north where we filmed a small sea turtle wedged under a rock that allowed us to assist in lightly cleaning its shell, an eagle ray that was missing its tail hunting for food in the sand, and the nudibranch Dolabrifera dolabrifera. Moved Friday to Anea Island where an 8' zebra shark startled John when it suddenly appeared within a few yards of him. We also witnessed an octopus changing color while sitting atop of a coral head, a very large stingray with broken tail, and a colorful Phyllidia nudibranch. We're happy to be in Wotje where the protection is good during the current trade wind surge conditions.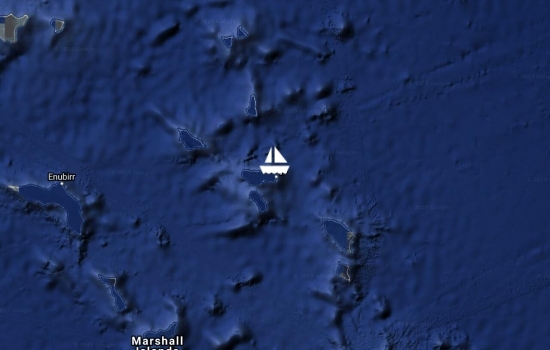 Sat Feb 9 9:51 2019 NZDT
Speed:
0.0
knts
GPS: 09 28.31N 170 13.16E
Run: 90.2nm (163.3km)
Weather: Wind 15k 063T. 2/6/2019 7:50 AM UTC
Checked in at Wotje Island Wednesday after a short overnight passage from Maloelap, RMI. Anchored at well protected Bwodao Island for the night to avoid the heavy smoke coming from the main village.
Tue Feb 5 10:21 2019 NZDT
Speed:
0.0
knts
GPS: 08 34.00N 171 10.27E
Run: 12nm (21.7km)
Weather: Wind 15kt 057Tm down from 21kt 086T around midday while sailing south under sunny skies with a bit of haze. 2/3/2019 7:31 AM UTC
Anchored Sunday at beautiful Kumaru Island after a nice sail south from Pigeeyato. Snorkeling Sunday and Monday in the lee of the island, the cut to the south, and near the next islet south revealed gorgeous corals, 3 spotted eagle rays, a very close encounter with a turtle, a plethora of grouper, including pretty Chinese and lyretail, huge sling jaw wrasses and parrot fish, pink anemones with symbiotic crabs, big pink jellyfish, juvenile fish of every sort, and a very tiny new (to us) nudibranch which escaped before we could get a photo because we had already exhausted our camera batteries. It really doesn't get much better than this!
Tue Jan 29 20:00 2019 NZDT
Speed:
0.0
knts
GPS: 08 44.32N 171 11.60E
Run: 2.2nm (4km)
Weather: Light winds, sunny skies! 1/28/2019 6:21 AM UTC
Anchored at Pigeeyatto Island after a great day snorkeling the 2 Japanese ship wrecks at Ollot Island and the pristine reefs off the 2 small islets to the north of Ollot that were teeming with fish. Love sailing across the protected waters of beautiful lagoons!
Sun Jan 27 10:27 2019 NZDT
Speed:
0.0
knts
GPS: 08 45.82N 171 10.42E
Run: 10.1nm (18.3km)
Weather: Wind 13-19k. 67-81T. No rain, just beautiful weather for exploring! 1/26/2019 7:26 AM UTC
After a rolly Friday night at Tjan, we did a day sail Saturday north to Enea where we anchored in aquiline waters off the pink sand bar to the east. Gorgeous snorkel off the island just to the east of Enea (Talto?) then back to Ollot for the night as there was no protection on the northern islands from the swell wrapping in from the east.
Sat Jan 26 9:15 2019 NZDT
Speed:
0.0
knts
GPS: 08 51.51N 171 03.63E
Run: 10.1nm (18.3km)
Weather: Wind ENE 13-17 kt. 1/25/2019 7:39 AM UTC
Nice beach walk Friday around Bokanajbirok Island - 2nd island south of Ollot - followed by a beautiful snorkel in the crystal clear waters lagoonside. Moved the boat north and anchored off of native thatched structures in the village at Tjan Island, at the NE point of Maloelap Atoll, RMI.
Thu Jan 24 21:00 2019 NZDT
Speed:
0.0
knts
GPS: 08 45.81N 171 10.42E
Run: 5.3nm (9.6km)
Weather: Wind 13-18 kt, 037T. 70% cloud cover. Bar 1010. Air temp 86F. Sea temp 86F. 1/24/2019 6:55 AM UTC 6:55 PM local.
Anchored at beautiful Ollot Island, Maloelap Atoll, RMI.
Wed Jan 16 20:45 2019 NZDT
Speed:
0.0
knts
GPS: 08 42.17N 171 13.21E
Run: 111nm (200.9km)
Weather: Gusty winds ENE 14-22 kt in the anchorage. 60-70 % cloud cover with patchy sun. 1/16/2019 4:21 AM UTC
Anchor down around 1:45 PM Wednesday at beautiful Taroa Island, Maloelap Atoll in the Marshall Islands after an overnight passage from Majuro. The first part of the passage was marked by heavy rain and squalls gusting 37 knots but bringing welcome SE wind, before later turning NE 20-25+ knots. John caught a mahi-mahi outside the lagoon and also landed a "doggie" (Dogtooth tuna) inside while crossing to the anchorage so he's got a smile on his face and the fridge is bursting.

It is wonderful to be free from the clutches of the North Pacific gyre which is particularly strong in Majuro this year, making it difficult for yachts to escape:) We visited Maloelap twice in 2004, and are happy to see that the gun emplacement on the north beach and two wrecks visible above the water near shore are still here. There is much to explore here!
No blogs available for this yacht.
Loading map and updates ....
Loading track, please wait ....