Wild Sweet
Fri Oct 27 20:12 2017 NZDT
GPS: 35 18.436s 174 6.852e
Run: 310.5nm (562km)
Avg: 5.2knts
24hr: 124.6nm
Arrived home at Opua this morning at 0800 nzdt.

Thankful for a safe passage.

Thank you Patricia and David for your watch.
Wed Oct 25 8:24 2017 NZDT
Run: 140.6nm (254.5km)
Avg: 5.9knts
24hr: 141.9nm
via relay from Freycinet. Hopefully the Wild Sweet radio installation will be worked on over summer! ref the yit library and scroll down to the discussion paper on what to look for.
Tue Oct 24 8:37 2017 NZDT
Speed:
6
knts
Run: 161.2nm (291.8km)
Avg: 6.7knts
24hr: 160.7nm
Weather: SSW10, 1m swell
Mon Oct 23 8:33 2017 NZDT
Speed:
6
knts
Run: 313.1nm (566.7km)
Avg: 6.6knts
24hr: 157.5nm
Weather: 100%cc, NNE12, N 2.5m, 1014
pretty good radio signal from Kerry today
Sat Oct 21 8:51 2017 NZDT
Run: 130.4nm (236km)
radio conditions really poor today so that is all we could get
Wed Oct 18 14:41 2017 NZDT
GPS: 22 16.628s 166 26.388e
Run: 20.4nm (36.9km)
Wet and windy in Noumea harbour waiting for a weather window to head home.
Wed Oct 11 20:02 2017 NZDT
GPS: 22 20.521s 166 45.081e
Run: 14.8nm (26.8km)
Weather: Wind SE 15, cloud 80% baro 1016
Anchored in Bay Uie just off the Canal Woodin.

Really gusty in here, water is green and really murky. Quite different from the last 4 days we have been in the southern lagoon at Mato then Ua watching turtles on the bottom in 10 metres just by looking over the side.

We've had dolphins in the anchorage, black tip sharks, turtles, sea snakes and the most amazing snorkelling ever at Ua.

Having run out of fresh provisions, wine, cheese and chocolate we are heading backwards to Noumea to go shopping again.
Sat Oct 7 13:22 2017 NZDT
GPS: 22 33.120s 166 47.779e
Run: 13.8nm (25km)
Weather: SE 10-15 knots no swell behind the reef, 30% cloud cover baro 1015, air temp 26, sea temp 26.
Anchored behind the reef in Ilot Mato. Saw a HUGE turtle on the way in past the reef, it's a bit breezy and weird only having a reef in front of us and the island behind. Off for a snorkel now, the fish finder is alive with fishes. To look at, not to catch.
Tue Oct 3 13:59 2017 NZDT
GPS: 22 21.435s 166 50.560e
Run: 0.4nm (0.7km)
Weather: Se 10-15, cloud 30%, calm in the anchorage.
On a mooring by Ilot Casy again after a brief sojourn out to port Koube on Isle Ouen.

Tried to get into Anse Majic to walk up to the lighthouse at Ndua but the ICA are in town so it's full up. Hopefully we can get in there in the next few days.

Meanwhile the water is so clear we are watching the parrotfish swimming around in the coral under the boat in 5-6 m water from the deck!
Sat Sep 30 12:53 2017 NZDT
GPS: 22 21.068s 166 50.598e
Run: 43.8nm (79.3km)
Weather: Baro 1015, wind SE 5-10 cloud 5%
On a mooring on the north side of Ilot Casy.

Walked around the island this morning and swam back to the boat afterwards.

Met Moose the resident dog and saw some amazing landscapes and cool plants 😊
Sat Sep 23 17:49 2017 NZST
GPS: 22 39.519s 167 26.624e
Run: 39.6nm (71.7km)
Weather: Se 5kn, swell southerly, 40% cloud cover, baro 1017, water temp a brisk 26!
Anchored in Kuto Bay, Isle Des Pins. Beautiful.

Bit of a lumpy passage driving into the southerly swells but at least there wasn't much wind on the nose. We got rained on and it's still pretty grey.

Hopefully the sun will come out tomorrow and we can have a snorkel around
Fri Sep 22 15:55 2017 NZST
GPS: 22 23.651s 166 53.581e
Run: 30.1nm (54.5km)
Weather: Wind SE 10, cloud cover 80% high stratus. 24?C minimum swell from the S outside the anchorage.
On a mooring in Anse Majic, Rade de l'est, Baie de Prony.

Eating baguette with emmental yum yum.

It's so tranquil in here, looking forward to our trip to Isle de Pines tomorrow.
Thu Sep 21 8:57 2017 NZST
GPS: 22 16.622s 166 26.415e
Run: 273.9nm (495.8km)
At Port Moselle marina in Noumea, trying not to spend all our pocket money in Carrefour. Hired a car for the day yesterday to explore and go on a stocking up trip only to find that they don't sell alcohol on Wednesdays!

Had a good trip over from Vanuatu - sailed all the way for a nice change and got in with the tide through the Havannah passage.

Will be off to the southern lagoon area tomorrow.
Fri Sep 8 14:44 2017 NZST
GPS: 19 31.571s 169 29.652e
Run: 0.1nm (0.2km)
Weather: 100% cloud cover, winds ese 5-10. Baro 1017.
Anchored in Port Resolution, Tanna, Vanuatu.

Have made lots of friends due to our ability to charge phones, tablets and laptops.

Hopefully the cloud will lift tomorrow or the next day and we can get up the volcano.
Fri Sep 8 7:54 2017 NZST
GPS: 19 31.64562s 169 29.5794e
Run: 52.5nm (95km)
Will be in Tanna for a few days before moving on to New Cal
Thu Aug 31 11:21 2017 NZST
GPS: 20 14.293s 169 46.679e
Run: 205.9nm (372.7km)
Avg: 7.4knts
24hr: 178.4nm
Weather: SE 8-10. 100% cloud, showers.
Arrived Anelghowhat Bay, Anatom, Vanuatu at 0830 nzdt. Found the trough at 3pm yesterday, wind not over 18kn generally 10-15 from NE then SW then S then SE. Seas understandably horrible till we got in here.

Rescued a small wading bird that isn't doing too well now :(

Found a flying fish on the deck, have filleted it for later.

Got followed by a 'fishing vessel' for about 2 hours the other day. Was quite creepy.

Hopefully the weather will clear after tomorrow and we can explore this place a bit.

'Out of the Bag', 'Plastic Plankton', Isebella' and 'Roundabout II' all anchored here.

The Sun Princess cruise ship arrived when we did but didn't stop as it was too windy! pussies!
Wed Aug 30 7:39 2017 NZST
Run: 195.7nm (354.2km)
Avg: 8.2knts
24hr: 195.8nm
Relay from Pilgrim as they are really hard to hear. The position does not look correct but what is correct is the 170nm left to go to Aneityum
Tue Aug 29 7:39 2017 NZST
Speed:
5m
knts
Run: 109.4nm (198km)
Avg: 6.3knts
24hr: 150.1nm
Weather: E7, sw swell 2m, 40%cc, 1014
340n to Aneityum. Thanks to Frecinet 2 for relay.
Mon Aug 28 14:10 2017 NZST
Speed:
7
knts
GPS: 17 51.602s 177 10.971e
Run: 18.2nm (32.9km)
Weather: Wind s6, swell s 1.5-2m 20% cloud - high cirrus with cumulus over land
Bye bye Fiji.

Just cleared the reef at Malolo passage.

Vanuatu here we come.

450m to Anatom approx

ETA Thursday ish
Sat Aug 26 12:14 2017 NZST
GPS: 17 40.849S 177 23.143E
Weather: S5-10 kn 30% cloud
Still sweltering in Vuda marina, very little breeze coming through the boat.

We have decided to make a break for it on Monday to Vanuatu. All provisioned up ready to go. Had a good night at the sunset bar at the Boatshed for our 33rd Anniversary. Will go over there agin later for the 2nd Bledisloe match, theres a few Aussies in here so it should be entertaining.
Sun Aug 20 13:45 2017 NZST
GPS: 17 40.849S 177 23.143E
Run: 14.4nm (26.1km)
Weather: No wind, 100% cloud cover, drizzle, 30 deg C, 1010 baro
In Vuda Marina to provision, fill up with water, fuel, etc for our trip to Vanuatu, hopefully leaving tomorrow as soon as we can clear out from here in the morning. We'll be checking into the GHR

ssb net in the mornings. hopefully Patricia will be updating this for us while we are out of mobile phone coverage.

Had a good time with Kirsty, Colin Lyn and Pete in Momi and we had a good time in Musket apart from the blowy bit, spent some time with Ryan and Ellie and we're now looking forward to being at sea again.
Wed Aug 16 6:58 2017 NZST
GPS: 17 46.213s 177 11.255e
Weather: Currently calm, 100% overcast. Baro 1012
Still on our mooring at Musket Cove.

Had an exciting night as the wind and swell woke us up at about 0030. Peaked in intensity between 0200 and 0300 with sustained 25 knots Northerlies gusting 30 w/rain and 1m swells rolling through the anchorage. Lots of lightning off to the South East. At least one boat had to re anchor during the worst of it but our mooring held strong.

Have very noisy neighbours on a cat with brazillian flag loud music and running genset last evening now at 0700 have started their engines again.

So tired! :/
Sat Aug 12 15:53 2017 NZST
GPS: 17 46.227s 177 11.266e
Run: 6.7nm (12.1km)
Weather: 20% cloud over, afternoon breeze of 10-15 kn from NNW! Water temp about 29*
On the last available mooring at Musket Cove.

A lot more room here now all the ICA fleet have taken off for Vanuatu.

Had a snorkel on the adjacent reef with Ryan and Ellie, spot of lunch then dropped them off on the beach near their resort.

Fixed the hole in the bottom of the dinghy 😳
Fri Aug 11 14:43 2017 NZST
GPS: 17 49.787s 177 16.148e
Run: 11.2nm (20.3km)
Weather: 50% cloud, wind S20, too gusty in the anchorage to get the dinghy off and explore :(
Anchored north of Malolo Lalai island
Mon Aug 7 15:52 2017 NZST
GPS: 17 45.705S 177 25.372E
Run: 65.1nm (117.8km)
Weather: se 15-20 Overcast
Anchored in Nadi Bay, Viti Levu. Hanging around this part as we have family visiting us before we head off to Vanuatu later this month. Its been pleasant but chilly at night - have had to dig out a blanket!
Thu Jun 29 17:02 2017 NZST
GPS: 16 49.230S 177 27.85E
Run: 123.8nm (224.1km)
Had a horrible passage across Bligh Water yesterday to Yasawa Island from Yadua, Followed a Cat called Misto on their way around with the ARC round the world rally. clean up day today, have lost a couple of books due to a deck leak into our book locker, most upset about the brand new RYA weather one which I was looking forward to reading :(

Since our last check in we have been from Savusavu to Koro, Makogai, Levuka on Ovalau, Naigani and Yadua tuning in to GHR when we can for the weather and updates on boats we know. we had some great snorkelling, met some interesting people and seen a few different places. now looking forward to exploring over this side. Its going really well for our first trip to the islands.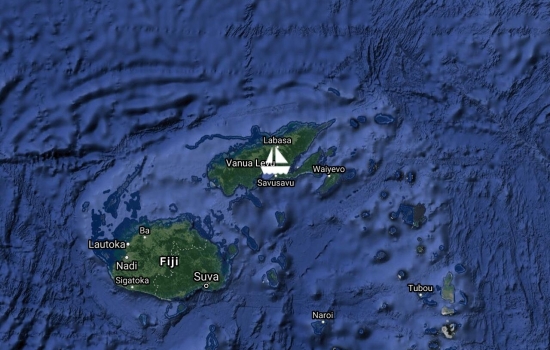 Wed Jun 7 8:05 2017 NZST
GPS: 16 46.670s 179 20.110e
Run: 150.6nm (272.6km)
Avg: 3.1knts
24hr: 74.5nm
Arrived safely yesterday morning. It was a lifesaver having davids forecasts, to know why we were experiencing the weather we were and knowing what was coming next was amazing. Thank you so much to all of you for being there for us. We will be in touch late August when we leave to Vanuatu.
Mon Jun 5 7:34 2017 NZST
Speed:
6
knts
Run: 165nm (298.7km)
Avg: 3.5knts
24hr: 83.3nm
Weather: Se10, SE1.5m swell, 60%cc, 1012
hove to last night in the trough but after a good sleep are enjoying the light sailing conditions
Sat Jun 3 8:02 2017 NZST
Speed:
6
knts
Run: 142.3nm (257.6km)
Avg: 5.9knts
24hr: 140.7nm
Weather: SE15, SW1.5m swell, 100%cc, 1012
have a bit of a problem with fuel filters which need replacing. The sloppy conditions have stirred up the goorah in the tanks!
Fri Jun 2 7:46 2017 NZST
Speed:
5
knts
Run: 273.6nm (495.2km)
Avg: 5.8knts
24hr: 138.1nm
Weather: NE10, NE1m swell
Have been sailing since 5.30pm last night so that must be good in such light conditions. Peaceful. On their passage to Savusavu
Wed May 31 8:12 2017 NZST
Speed:
6m
knts
Run: 600.2nm (1086.4km)
Avg: 6.4knts
24hr: 152.5nm
Weather: NE2, E1m, 80%cc, 1020 st
good signal. Radio conditions have been bad the last few days. Will nt likely stop at Minerva
Sat May 27 9:45 2017 NZST
GPS: 35 18.76693S 174 7.26264E
Run: 0.3nm (0.5km)
Cleared Customs, Last coffee and sausage roll from the General Store, said good bye to the old shop and our friends inside.

Will be a whole new store when we come back. now heading back to the boat to cast off .

A bit nervous but looking forward to it all.
Thu May 25 16:18 2017 NZST
Waiting for the weather window we hope will spin us North to Savusavu. Currently living aboard in the marina in Opua, ducking back to the house when we need a shower or laundry... at least we have a house and car in walking distance from the boat. At the moment the favourable window will be on Saturday 27 May.
No blogs available for this yacht.
Loading map and updates ....
Loading track, please wait ....