Windchase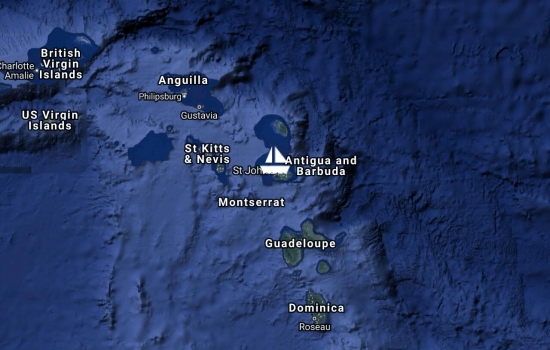 Sun Jan 5 4:09 2020 NZDT
Speed:
0.0
knts
GPS: 17 04.151n 061 53.057w
Run: 477.4nm (864.1km)
Avg: 4.9knts
24hr: 116.7nm
Weather: 15-16 ENE, CC 2/8 SS nil
FINALLY made it to Antigua and now sitting at the customs wharf in Jolly Harbour. Just completed our fomalities and waiting on vet to allow Mili ashore. The last few days we've had some reasonable wind and calm seas, so very comfortable, if not fast. Of course, almost inevitably the best conditions were saved for last, when yesterday we had a nice 15kn N/NE breeze on the beam...However as we still wouldn't make landfall before sunset, we spent the best part of the day trying (and failing) to keep boatspeed under 4kn and in the end chose to 'heave-to' until daybreak about 10nm off shore (kind of like parking the boat using the sails rather than an anchor).

Apart from arrival, almost a bigger highlight occurred on New Years Eve just after the last YiT report, when we received an extended visit from a whale (about 7m long and still to be identified), who cruised alongside and under the boat for a couple of hours, much like we're more used to with dolphins. Fortunately though, it didn't seem to identify with Windchase as a potential enemy, or a mate.

Mili appears to be very much looking forward to some shore leave, while the crew are aiming for Rum Punch and an extended sleep! TTFN! PS Antigua looks beautiful!!! Last few daily runs (noon-noon in nm) 21: 108.7 22: 115.0 23: 109.6 24: 95.4 (+5.4 after noon) (Total 2,801.2nm, in 580hrs at overall av speed of only 4.83kn....Not helped by 5 sub-100 days and only 4 over 130!. The minimum possible great circle route would have been 2,643nm)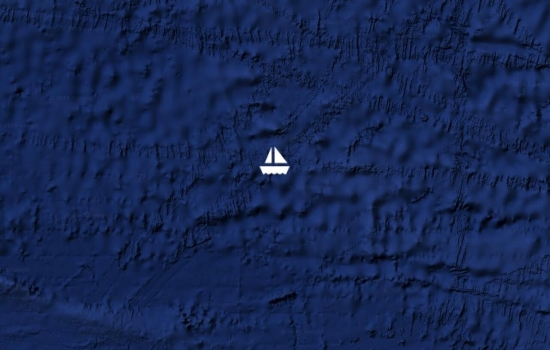 Wed Jan 1 2:00 2020 NZDT
Speed:
5.3
knts
GPS: 18 00.433n 054 42.371w
Run: 431nm (780.1km)
Avg: 5.9knts
24hr: 142nm
Weather: 12-14 ENE, CC 2/8 SS 1.0m NE/1.0m E
Well as you can see from the recent daily run distances below, it looks like we have enjoyed our all-too-brief period of decent wind and are now back to the lighter stuff. Still, at least the seas have settled down from the slightly confused following mush that induced much rolling (and a fair few swear words from the chief cook) over previous days! Yesterday afternoon we passed our previous longest passage time (462hrs) and not long ago the distance on that passage (2,353nm). The fact that we'd traveled further across the Indian Ocean in that time (when it may normally be expected to be a lot slower than the Atlantic) may indicate just how slow we've been on this one! Oh well....

Even most of the recent nights have been (mostly) relatively benign...A bit more exciting when the moon is not shining as then even very-modest waves which may curl over and break nearby, can sound like an oncoming train! Usually we have been able to count on a few squalls, but even most of these haven't amounted to much...The wind has only risen by about 5-15kn ahead of the squall and (because we have Rach steering which keeps us at a constant angle to the wind) we'll speed up and turn 30-50 degress to the North as it does so. Then the winds (and we) swing back on course as the squall passes and 'normal service' is resumed. At night we are usually reefed down, to make sure we're not caught with too much sail up when these squalls pass, but the wind shift on the leading front can sometimes take us a bit too side on to the waves and require us to tweak Rach a bit to correct this....But usually she can be left to take care of things.

During the day or at night when the moon is out you can usually tell ahead of time what may be coming by the more ominous clouds or obvious sheets of rain/drizzle and if there is a lot of activity at night, we'll sometimes switch on the radar too, as this shows up the areas of rain and their path pretty well.

Sailors (and even us lol!) can also see the predicted potential for squalls and lightning ahead via sat phone downloads of something called the CAPE Index in grib files (CAPE being the "Convectively Available Potential Energy" ). However, on Windchase, this is supplemented by a more practical system of eyes and ears, in conjunction with our own empirical "Observer's Fear Under Concentrated Kilowatts" index. This moderately-scientific measure, of audience excitation, is a 10-point scale based on the proximity, frequency and ground strike potential of any lightning, starting from 1 (Comatose). On Monday night we had our first consistent bout of lightning, resulting in excitement levels of around 7 (High) and 8 (Stomach Tightening), but fortunately not rising to the levels 9 (Sphincter Clenching) or 10 (Involuntary Evacuation) we experienced crossing the Java Sea! On that happy note we shall bid you goodbye and wish everyone a very Happy New Year! TTFN Last few daily runs (noon-noon in nm) 18: 135.7 19: 133.0 20: 114.8 (Total 2,364nm, at overall av speed so far of only 4.9kn. DTF approx 430nm)
No blogs available for this yacht.
Loading map and updates ....
Loading track, please wait ....