Fluenta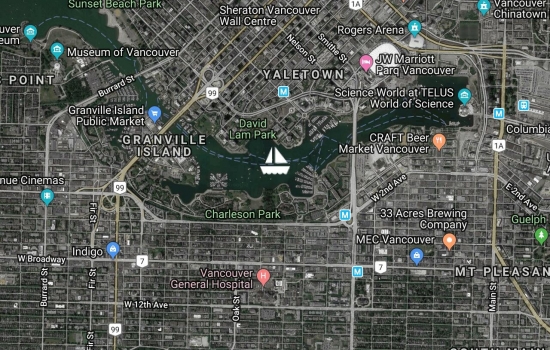 Mon Nov 18 20:43 2019 NZDT
GPS: 49 16.148N 123 07.365W
Run: 1.8nm (3.3km)
Moved over to the anchorage in False Creek. A busy place and a bit surreal with all the tall buildings and bright lights.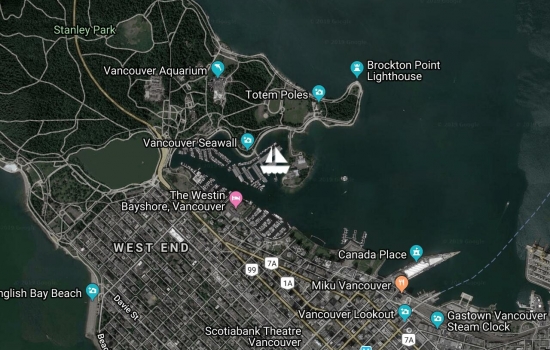 Fri Nov 15 14:46 2019 NZDT
GPS: 49 17.687N 123 07.515W
Run: 30.6nm (55.4km)
Weather: Sunny
Fluenta and crew are in the big city ! On the dock at HMCS DISCOVERY for a few days and then likely to anchor in False Creek.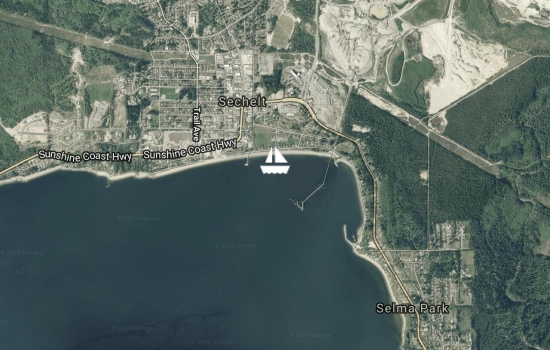 Thu Nov 14 18:31 2019 NZDT
GPS: 49 28.165N 123 45.078W
Run: 54nm (97.7km)
Anchored overnight of Sechelt. Fairly scenic with totem poles along the beach although there is a massive gravel loading facility 700 ft away that supports one of the largest gravel facilities in Canada.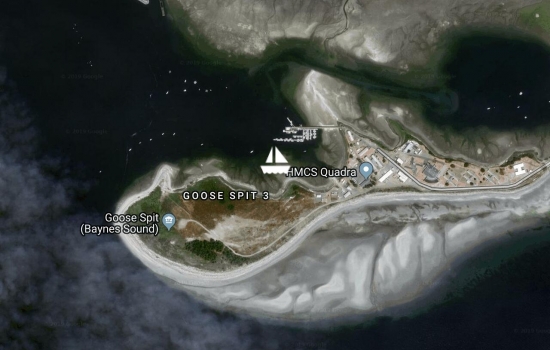 Wed Nov 13 10:36 2019 NZDT
GPS: 49 39.804N 124 55.110W
Run: 29.4nm (53.2km)
Weather: West Coast Drizzle
Alongside HMCS QUADRA to attend Remembrance Day with 19 Wing Comox and to catch up with old friends.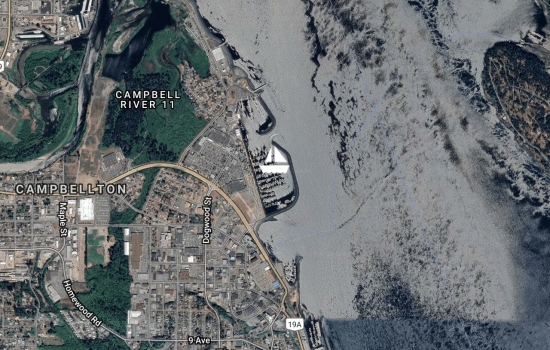 Sun Nov 10 21:29 2019 NZDT
GPS: 50 02.027N 125 14.552W
Run: 9.9nm (17.9km)
An uneventful transit of Seymour Narrows and a nice re-provision and visit with old and new friends in Campbell Harbour.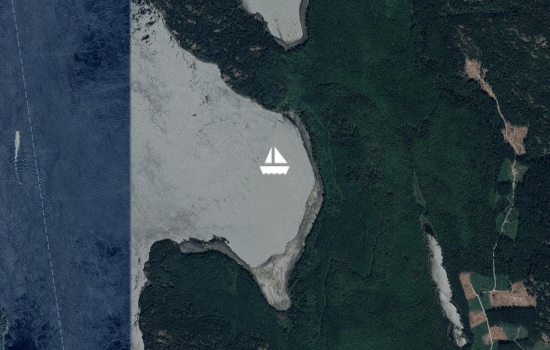 Sat Nov 9 16:24 2019 NZDT
Speed:
0
knts
GPS: 50 09.768N 125 20.217W
Run: 40.2nm (72.8km)
Avg: 3.3knts
24hr: 79.7nm
No bears or cougars sighted at Port Neville. Good progress today as the forecast SE 25-30 kt winds were closer to 5 kt with a bit 15 kt gusts mixed in. Passed through rapids with interesting names like "Whirlpool Rapids" with no drama. Noticeable increase in boat traffic as we get south. Intention is to go through Seymour Narrows tomorrow morning (the rapids can have currents up 17 kts but not surprisingly we intend to go on slack).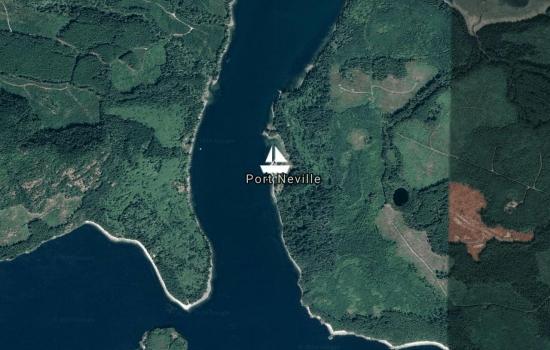 Sat Nov 9 4:17 2019 NZDT
GPS: 50 29.592N 126 05.200W
Run: 37.7nm (68.2km)
Stopped for the night at what is left of the free government dock at Port Neville. Interesting place that was settled in the late 1800's and still has two houses but neither seem to be occupied. The guidebook says to be careful of cougars and bears and that the last cougar attack on the caretaker was thwarted by a boater with a shotgun. We carry a lot of safety equipment on Fluenta but no shotguns ! Slow day yesterday in Johnstone Strait with winds on the nose over 20kts and accompanying waves,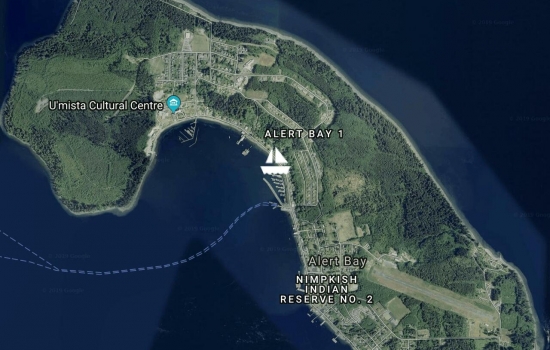 Thu Nov 7 18:49 2019 NZDT
GPS: 50 35.395N 126 55.897W
Run: 5.9nm (10.7km)
A short but interesting trip to Alert Bay. Spent most of the day at the U'mista Cultural Centre (and the world's tallest totem pole) plus a few boat projects and school. Intend to move further south if the weather permits tomorrow.
Tue Nov 5 15:54 2019 NZDT
Speed:
0
knts
GPS: 50 38.363N 127 02.421W
Run: 206.2nm (373.2km)
Avg: 4.5knts
24hr: 107.3nm
Fluenta and crew are across Queen Charlotte Sound and anchored off Sointula near Vancouver Island after an overnight sail from Haida Gwaii.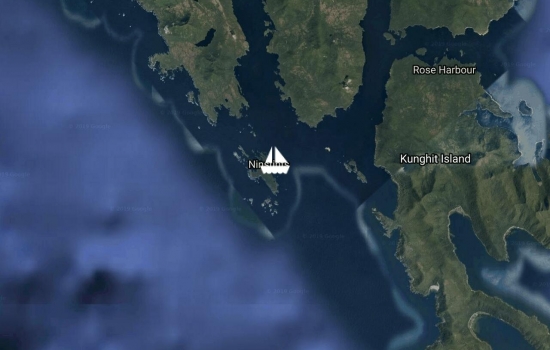 Sun Nov 3 17:48 2019 NZDT
Speed:
0
knts
GPS: 52 05.687N 131 12.712W
Run: 6.7nm (12.1km)
Weather: Fog and drizzle.
The highlight of our time in Haida Gwaii was today's visit to SGang Gwaay Island with a hike through the old growth rain forecast to see the the remains of the LInagaay village. It represents one of the best examples of a traditional Northwest Coast First Nations village site. In the season there is a Haida watchman to provide a tour and and control access (only 12 people are allowed ashore at a time so boats sometime need to wait before than can land their crews) but as we are rather "out of season" - nobody else is foolish enough to visit in November - we had the place to ourselves (in fact according to the rangers we are the only people in the 3400 km2 region). Appropriately, the island was enshrouded in mist and fog all day.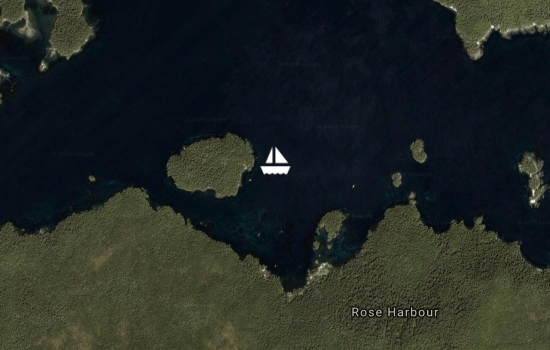 Sat Nov 2 15:06 2019 NZDT
Speed:
0
knts
GPS: 52 09.285N 131 05.310W
Run: 32.7nm (59.2km)
Sailed and motored down to Rose Harbour, an ex-whaling station, in preparation for heading to SGang Gwaay tomorrow.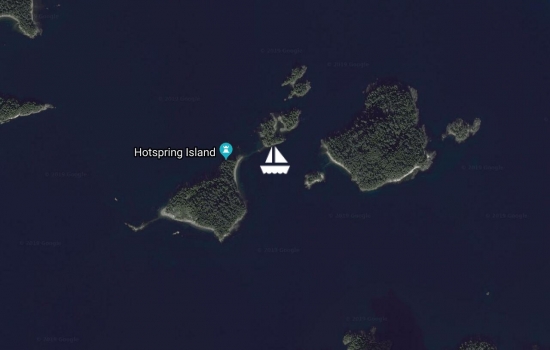 Fri Nov 1 15:03 2019 NZDT
Speed:
0
knts
GPS: 52 34.694N 131 26.029W
Run: 22.3nm (40.4km)
Quite a Halloween for Fluenta and crew. Motored close to the islands in the mist and fog to avoid the south winds. Paused for awhile to watch a grey whale feeding as we passed the site of the 1985 protests that ultimately lead to the creation of Gwaii Haanas Park. We anchored off Gandll K'in Gwaay.yaay (or Hotspring Island) for a trip ashore for a refreshing brief swim (11C water temp, 10C air temp) and a longer soak in the natural hot springs. The island is home to the rare Keens long-eared bats but none were seen (it is one of two known maternity colonies for the species). A brief treasure hunt on the beach in lieu of trick-or-treating (we are the only people in the entire Gwaii Haanas Park so trick or treating would be a brief exercise) and now a pumpkin is being carved.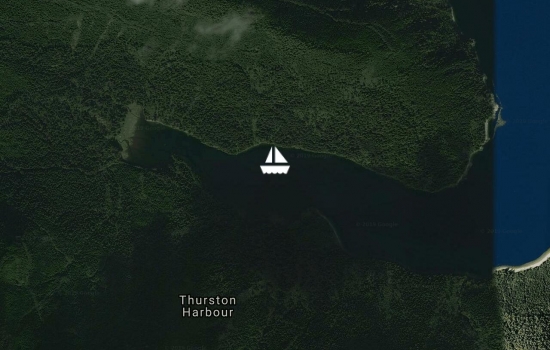 Thu Oct 31 13:48 2019 NZDT
Speed:
0
knts
GPS: 52 50.475N 131 44.595W
Run: 30.1nm (54.5km)
We are into Gwaii Haanas Park and anchored for the night in Thurston Bay. According to the park staff we are the only boat in the whole park area.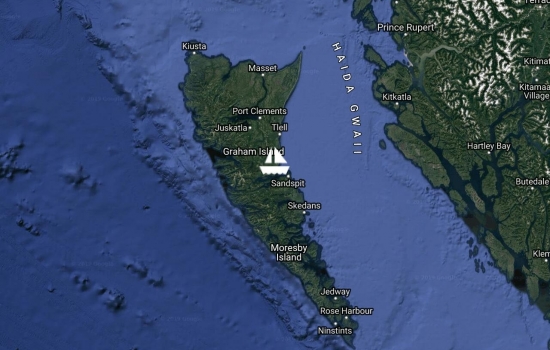 Sun Oct 27 18:28 2019 NZDT
GPS: 53 14.979N 131 59.555W
Run: 100.7nm (182.3km)
Anchored off the Haida Heritage Centre in Haida Gwaii. We tied up to the dock in Queen Charlotte for a brief stop but decided they were asking too much money for transient moorage. A nice overnight sail from Prince Rupert broad reaching and then close hauled. A productive stay in Prince Rupert despite the storm force winds (and hurricane force outside the harbour) and rain. The manager at the Yacht Club I think wins the prize for the most helpful yacht club manager we have ever met.
Mon Oct 21 18:45 2019 NZDT
Speed:
0
knts
GPS: 54 19.241N 130 19.165W
Run: 35.6nm (64.4km)
Weather: Wet
Fluenta and crew are in Canada ! We tied up at the Prince Rupert Rowing and Yacht Club after a bouncy trip from Port Tongass. We had debated waiting for better weather as the US forecasts, the Canadian forecasts and the Gribs all differed but after being up since 0400 on anchor watch it was time go. We blasted across the border as the wind was approaching 30 kts but overall a good short passage.
Sun Oct 20 17:42 2019 NZDT
Speed:
0
knts
GPS: 54 46.559N 130 44.071w
Run: 54.7nm (99km)
Weather: Wet
A bouncy, wet motorboat trip to Port Tongass (where there is no port) as a staging point to go to Prince Rupert.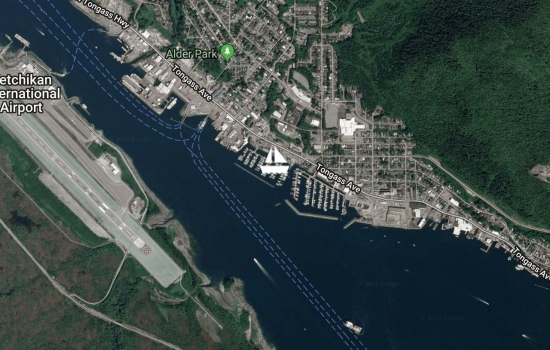 Sun Oct 13 17:18 2019 NZDT
GPS: 55 21.046N 131 41.115W
Run: 51.1nm (92.5km)
Avg: 15.5knts
24hr: 371.7nm
Alongside in Ketchikan to wait out some weather and then clear out of the US of A.
Sun Oct 13 14:00 2019 NZDT
Speed:
0
knts
GPS: 55 52.904N 132 35.857W
Run: 39nm (70.6km)
Weather: Wet
A delightful stop in Red Bay with our new friends - SV Denali Rose - who epitomize Alaska hospitality. After a bouncy wet motorboat trip to windward we are now pulled over to the side of road, so to speak, in Ratz Harbour for the night. Will continue on early tomorrow towards Ketchikan.
Fri Oct 11 11:24 2019 NZDT
Speed:
0
knts
GPS: 56 16.838N 133 18.758W
Run: 3.2nm (5.8km)
Weather: Winds and rain picking up
Tucked safely into Red Bay to wait out the latest gale. Almost 10:1 scope of chain in dense mud so should be secure. Heater repairs in progress.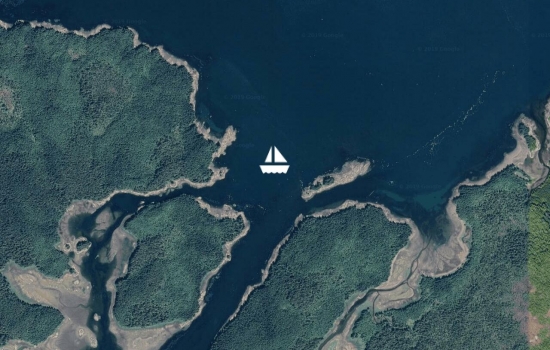 Thu Oct 10 20:36 2019 NZDT
Speed:
0
knts
GPS: 56 19.57N 133 18.447W
Run: 32.8nm (59.4km)
Weather: Winds Calm for now ...
Successfully negotiated Rocky Pass, 16 nm of narrow twisty channels, and now anchored outside Red Bay. On a favourable tide tomorrow morning we will go into Red Bay with Denali Rose to wait out this next gale.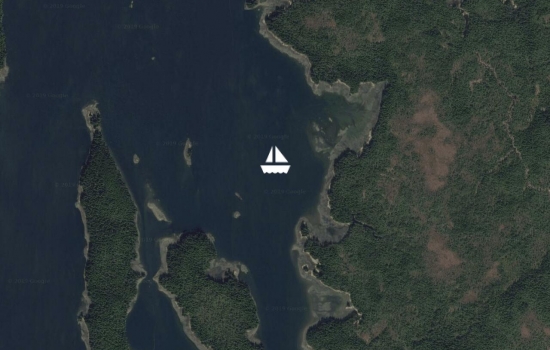 Wed Oct 9 16:21 2019 NZDT
Speed:
0
knts
GPS: 56 44.758N 133 42.488W
Run: 48.6nm (88km)
Weather: Winds Calm.
Pulled over to the side of the road on Ketu Strait in preparation for going through "The Summit" and "Devil's Elbow" tomorrow. Great stay at Warm Spring Bay. As usual in our visits in Alaska we wanted to stay longer ! There were natural hot springs a short hike away and closer to the dock they have piped hot water to private baths near the 100' waterfall. We met some of the caretakers, all welcoming and interesting people, and shared dock space with the fisherman also weathered in. One of the fishing boats gave us a whole halibut so the freezer is full again.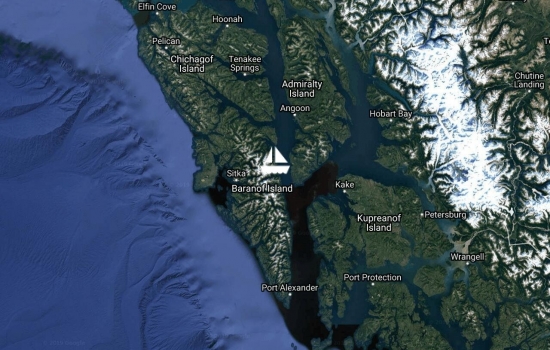 Sat Oct 5 6:09 2019 NZDT
Speed:
0
knts
GPS: 57 05.329N 134 49.980W
Run: 89.7nm (162.4km)
Weather: Winds Calm. Seas glassy
Fluenta is on a free dock at Warm Springs Bay in the sun with a light fog in the hills and some fresh snow on the mountain tops. Being in Alaska you never know what wildlife you will see but seeing two deer swimming across the channel with humpbacks performing in the background at sunset was kind of nice. I though the deer were a big log at first but then I realised that the log had four ears which was a bit odd. Wet and windy weather expected starting tonight so a nice place - with natural hot springs - to hunker down and catch up on boat projects and school.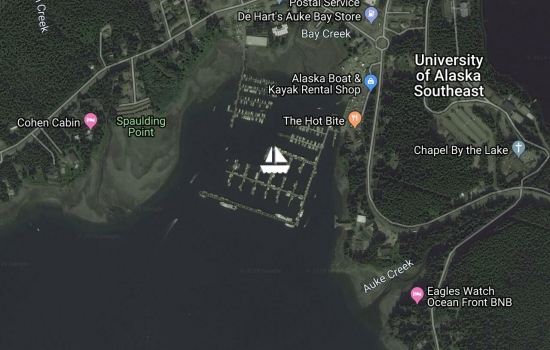 Wed Oct 2 14:09 2019 NZDT
Speed:
0
knts
GPS: 58 22.975N 134 38.966W
Run: 64.8nm (117.3km)
Weather: Winds Calm
Fluenta is back in Juneau to restock and pick up some boat parts before heading further south. Great trip to Tracey Arm and back. A bit chilly with temps down to 2C and sea temps down to 5.2C but clear skies. Saw lots and lots of humpback whales - up to 14 at once by some counts - putting on a show for us on the way back.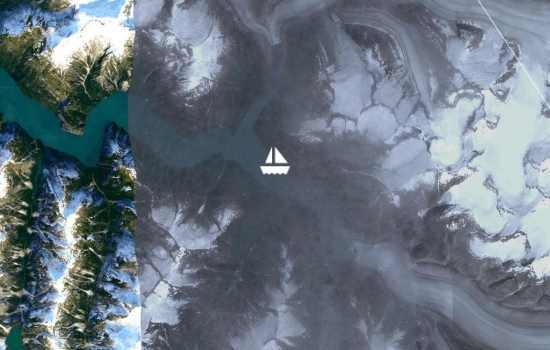 Sun Sep 29 15:39 2019 NZDT
Speed:
0
knts
GPS: 57 52.231N 133 09.785W
Run: 64.8nm (117.3km)
Weather: Winds Calm Air temp 6C Sea Temp 5.2 to 6.0C Baro 1025.7
As far as we could get through the ice towards South Sawyer Glacier in Tracy Arm. After a very Alaskan day (repairing damage from where a bald eagle landed, swimming in 10C water to clean the shag carpet that had grown on the hull, etc) we sailed overnight with hours of amazing northern lights to entertain us and then a sunrise entry over Tracy Arm Bar. Spectacular trip up Tracy Arm with glistening cliffs and white and blue ice. Belated 16th birthday party for Victoria as we drifted through the ice in the sunshine.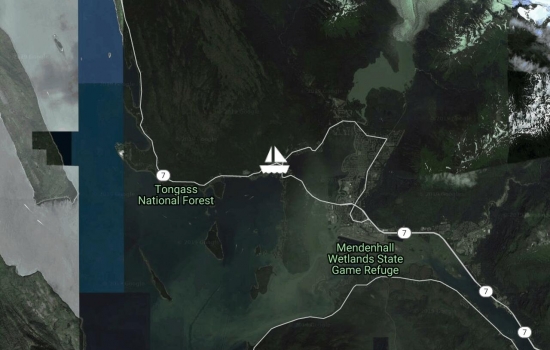 Fri Sep 13 18:13 2019 NZST
GPS: 58 22.965N 134 39.007W
Run: 84.9nm (153.7km)
Left Glacier Bay for an wet overnight passage to Auke Bay. Fluenta will likely be on the dock here at Statter Harbor for a few weeks. It will be the longest time on a dock with shore power since Mexico in 2014.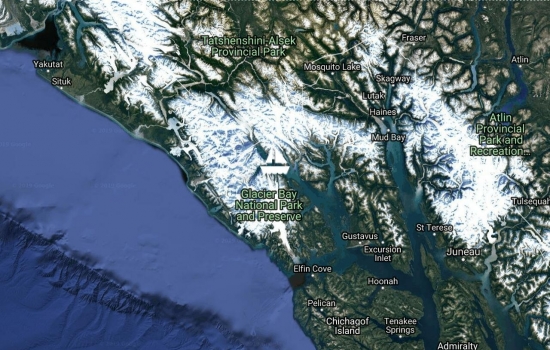 Wed Sep 11 17:36 2019 NZST
Speed:
0
knts
GPS: 58 51.739N 136 49.272W
Run: 14.8nm (26.8km)
Weather: Sunny and calm.
Anchored in front of Reid Glacier with the anchorage to ourselves as has been the norm these last few months. A quiet morning catching up on school and maintenance and the teenagers and I did a scramble/hike up one of the near ridges followed by a family campfire on the beach.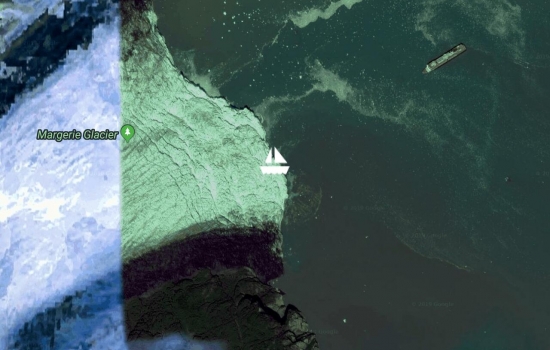 Tue Sep 10 16:09 2019 NZST
Speed:
0
knts
GPS: 59 02.313N 137 03.340W
Run: 0.6nm (1.1km)
Weather: Sunny
Fluenta was in a lot of photos today ! Anchored for the day front row at Margerie Glacier as the ice was open enough to get to a spot where the depth went from 400 to 30 feet. Two cruise ships (1080 to 950 feet long) and two tour boats (170 to 200 feet long) came along to sightsee as well so Fluenta will part of their photos too. Luckily with the height and width of the glacier we were not blocking much of their view.
Mon Sep 9 14:12 2019 NZST
Speed:
0
knts
GPS: 59 02.859N 137 03.482W
Run: 44.5nm (80.5km)
Weather: Sunny
Fluenta was 1.0 nm from Canada ! Left Sandy Cove at 0600 this morning to motor up to see Margerie and Grand Pacific Glacier. The wind was gusty from the north so we did not feel secure anchoring in Tarr Inlet so one adult loitered in Fluenta while kids and the other adult checked out the glacier. Margerie Glacier put on quite a show with massive chunks of ice collapsing into the water from 200' with thunderous splashes. Lots of ice in the water for the last two miles to the glacier. We arrived after the two massive cruise ships so we had it to ourselves for most of the time and then only later with one megayacht. Heading to Reid Inlet to anchor for the night.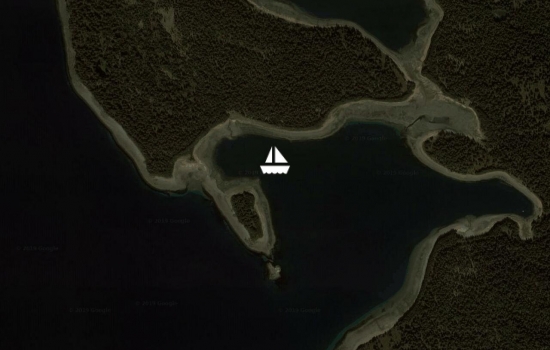 Sun Sep 8 16:45 2019 NZST
Speed:
0
knts
GPS: 58 42.634N 135 59.702W
Run: 53.7nm (97.2km)
Weather: Sunny and calm
Fluenta is out of the Gulf of Alaska (since arriving in the Aleutians we have been told we should be across the Gulf before Sep so we were grateful it was incredibly calm) and into South East Alaska. Nice calm passage last night with a bit of light air sailing from all angles and then motoring in dead calm with the northern lights on display. At one point we were gybing angles to keep the boat moving and we were pointing towards French Polynesia but decided it was too early to head back yet (only 4600 nm way). We stopped at Bartlett Cove to clear into Glacier Bay (it is a National Park), and used their internet to catch up on some admin/logistic dramas, and motored in the glassy calm to Sandy Cove while the humpbacks and sea lions performed. Very beautiful but a bit of a shock after the more remote parts of Alaska. We have been in Glacier Bay for an afternoon and have seen two 980' cruise ships, multiple tour boats and two megayachts.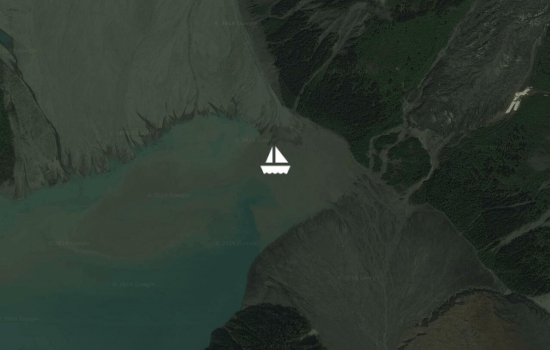 Sat Sep 7 12:27 2019 NZST
Speed:
0
knts
GPS: 58 39.877N 137 29.266W
Run: 7.1nm (12.9km)
Weather: Sunny. Sea temp 7.4C Air Temp 14C 3 kts of wind from SW
Moved up Lituya Fjord to see the effects of the 1958 1,720 foot wave and anchored where Gilbert and Crillion Inlets are supposed to be. Both inlets have disappeared and there are mud flats about 7 ft above chart datum 1.3 miles out from where the beach is supposed to be and Crillion Glacier is 0.9 nm further towards the sea than the charts show (we have Navionics and NOAA charts). Impressive as Crillon Inlet was over 380 feet deep. We anchored Fluenta in 100' (should be about 400' according to the chart) very close to the shore (not an overnight anchorage !) and the kids and I did a minor expedition ashore to walk to the glacier face. Lots of bear (and wolf ?) prints.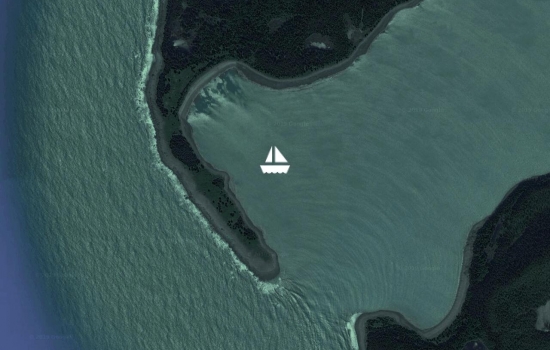 Sat Sep 7 4:06 2019 NZST
Speed:
0
knts
GPS: 58 37.190N 137 39.975W
Run: 38.4nm (69.5km)
Avg: 4.2knts
24hr: 100.7nm
Weather: Sunny. Sea temp 11C Air Temp 9C 5 kts of wind from NE
Anchored in Lituya Bay after short passage from Yakutat. Great views yesterday with the mountains, including Mt St Elias (18,008 ft) and Mt Fairweather (15,300 ft), lit by sunlight and then the northern lights last night. One of the largest tsunami waves was recorded here in Lituya in 1958 with a 1,720 ft wave. This also is the site where La Perouse (a French explorer following a few years after Capt Cook's last voyage) lost over 10% of his crew when their long boat was swept out of the pass on the ebb tide in 1786. Intention is to spend the day here and then depart to arrive in SE Alaska to meet the favourable tidal currents at Inian Pass. Fri Sep 6 18:57 2019 NZST
Speed:
2.5 kts
knts
GPS: 58 56.897N 138 31.956W
Run: 59.3nm (107.3km)
Weather: TWS 7.8kts TWD 300T
On the move again this time heading towards Glacier Bay with an intended day stop at Lituya Bay. Nice stop at Yakutat waiting out the weather. We were warmly welcomed by the people of Yakutat and invited to the school opening with a local native dance troop performing. We also had a tour of the big state trooper ship and visit by one of the local police officers who was curious about our travels. Appears that not a lot of sailboats visit here so lots of questions. We also took the time in the rainy and foggy weather to catch up on a lot of maintenance: oil and transmission fluid changes, oil and air filter changes, fixed some wiring issues, installed a new wind generator controller and a galvanic isolator, replaced the traveller lines and greased the windlass, outboard and main furler. Presently sailing in light winds expecting to be at Lituya for sunrise to enter the bay at slack current.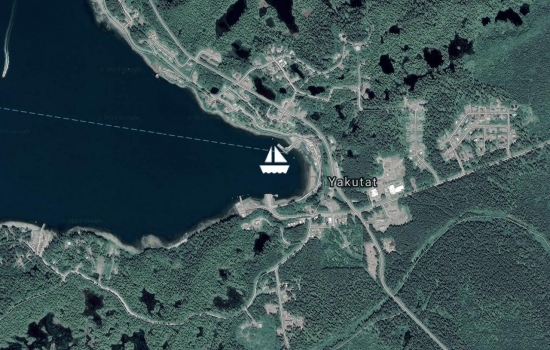 Mon Sep 2 15:48 2019 NZST
Speed:
0 kts
knts
GPS: 59 32.838N 139 44.098W
Run: 1.2nm (2.2km)
Weather: Light rain
Moved to anchor closer to the village. Only a two mile hike from the harbour to the village but we were reminded several times on yesterday's hike to be careful for grizzly bears. Closest we have ever anchored to a playground so Benjamin is impressed. Also anchored close to the visiting State Trooper boat so booked for a tour tomorrow.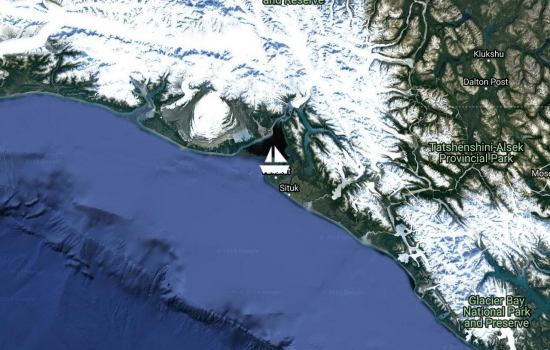 Sun Sep 1 16:09 2019 NZST
Speed:
0 kts
knts
GPS: 59 33.859N 139 44.426W
Run: 241.2nm (436.6km)
Avg: 3.4knts
24hr: 81.2nm
Stopped in the small village of Yakutat to wait for a better weather window to head further south. A nice passage from Prince William Sound broad reaching in 8 to 13 kts of wind and motored the last stretch in absolute calm water with a sunrise over the mountain range inland from from Yakutat.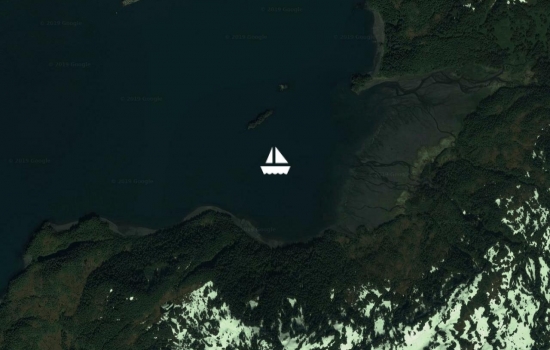 Thu Aug 29 16:54 2019 NZST
Speed:
0 kts
knts
GPS: 60 20.177N 146 32.405W
Run: 59.5nm (107.7km)
Weather: Sunny afternoon with light smoke from the forest fires
A short stay at historic Port Etches. Capt Cook anchored here in May 1778. He obtained a few sea otter pelts from the nearby Nuchek village which spread the word about the rich supply of sea otters in Prince Williams Sound leading eventually to the sea otter's near extinction in the area. The Russians opened a trading post at Nuchek in 1783. We had a chance today to go ashore at Nuchek where the Chugach have set up a camp - Nuuciq Spirit Camp - to teach native culture and history. There is still a well cared for Eastern Orthodox church in the village. The caretaker was very welcoming and gave us great tour of the area while talking about the local history and wildlife. Throughout Prince William Sound we have seen sea otters and sea lions but nothing like the density we have seen here. Despite being so much later coming back to Fluenta from Nuchek than planned we drifted for awhile in the rhib to watch and listen to a large pack (pride ?) of sea lions cavort. Much of the time in Prince William Sound we have been the only boat in the anchorage but here we are sharing the anchorage with a 255' tug and a 400' barge that are here on duty to help prevent another Exxon Valdez disaster.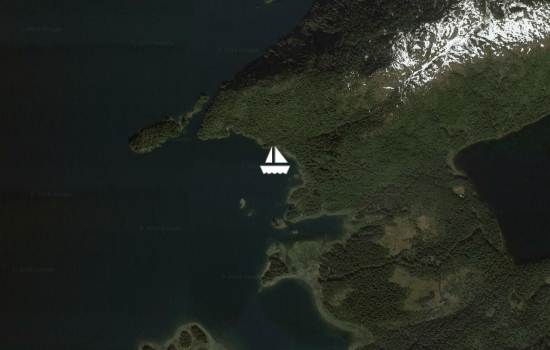 Mon Aug 26 9:31 2019 NZST
GPS: 61 02.946N 147 31.676w
Run: 13.3nm (24.1km)
Avg: 4.3knts
24hr: 104.1nm
Lovely day at Cows Pens anchorage. All members of the crew over the age of six took turns going paddleboarding to see the wildlife in the very calm conditions. From the boat you could see many sea otters and playful sea lions in the water and bald eagles in the sky. From the paddleboard we also saw black bears and herons. At one point I had seven loud sea lions around my paddleboard.
Mon Aug 26 6:27 2019 NZST
Speed:
0 kts
knts
GPS: 60 54.834N 147 48.531W
Run: 31.2nm (56.5km)
Weather: Rain. A record water temp of 18.9C
Finishing off a nice visit to Cascade Bay. Anchored with a view of the waterfall and the warmest water we have seen in Alaska. Paddleboarding is especially nice with calm water and black bears, bald eagles, sea otters and seals and the most amazing density of salmon to watch. The big kids and I snorkelled at the base of the waterfall to watch the salmon and did a small hike but turned around due to the amount of fresh scat.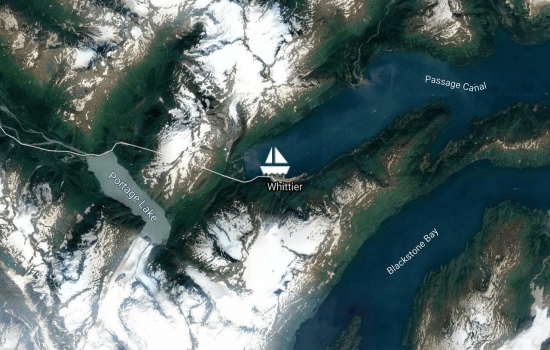 Thu Aug 22 11:12 2019 NZST
GPS: 60 46.648N 148 41.508W
Run: 32.3nm (58.5km)
We had intended to stay out in the quiet wilderness of Prince William Sound (well the loons and glaciers can be a bit noisy) but we had some unanticipated admin drama that needed internet to resolve so we headed to town. Whittier has a permanent population of 300 but is hectic with fishing boats, a cruise ship, tour boats and more. The Harbourmaster was able to find us a place on the dock and our friends from SV Northern Passage now living in Anchorage drove down to pick up Liz and Victoria for a logistics trip to the big city while the boy team cleaned the boat with copious (potable !) water from the dock. A great visit with the Northern Passage crew and then to our delight SV Seal showed up offloading some charter guests giving us time to get to know them and for the kids to have other kids to hang out with. We had been told to look for them by mutual friends (thanks SV Pickles) and they almost have us convinced that really we should settle in Cordova (no, we are still heading to BC but dramas over finding a liveaboard slip in BC is making Alaska pretty attractive plus the skiing is better). Johnathan, Benjamin and I also did the Portage Pass hike which Benjamin managed, thankfully, without needing to be carried.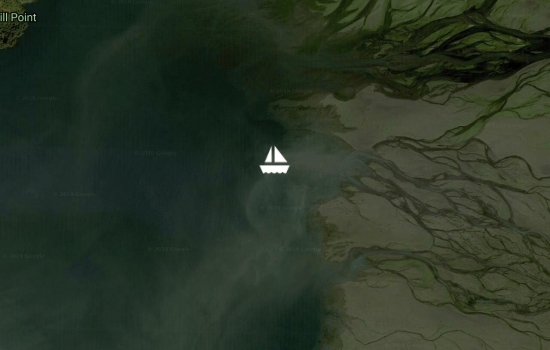 Mon Aug 19 11:01 2019 NZST
GPS: 61 03.880N 147 56.010W
Run: 11.7nm (21.2km)
We had intended to anchor overnight in front of Wellesely Glacier but after we left the calm of Yale Glacier we were blasted with 27 kts of wind funneling through College Fjord making the small anchorage of Wellesely just too dodgy. We anchored in Coghill Bay for the night watching the sea otters and bald eagles.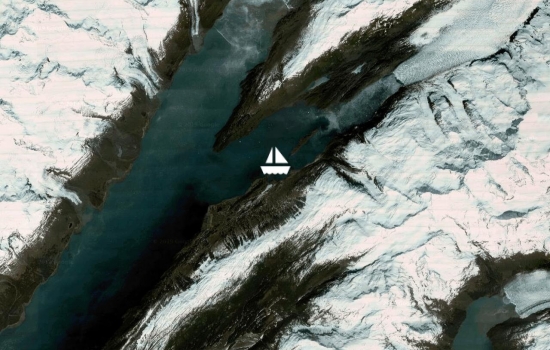 Sun Aug 18 10:54 2019 NZST
GPS: 61 11.804N 147 42.743W
Great stay at Yale Glacier for several days. We could hear and see Yale Glacier calve from the anchorage on one side and a high alpine ridge with 14 glaciers visible on the other side. Other than the seals and sea otters the only other traffic was one small motor boat far off in the distance. We also did several dingy trips up towards the face of the glacier to feel the awesome rubble of the calving glacier. Despite the 30 kt winds in nearby College Fjord we had mostly calm conditions other than a few hours of 20 kts which filled our anchorage completely with glacier ice for a few hours. Great paddle boarding and brief swim and lots of glacier ice collected for evening scotch.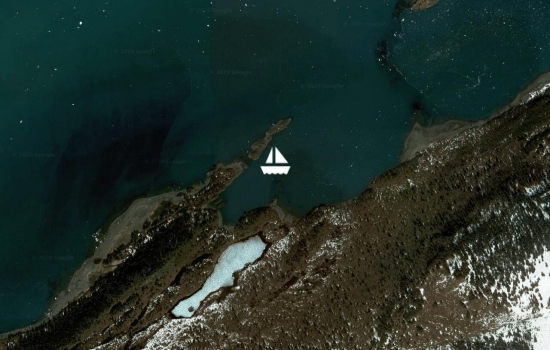 Thu Aug 15 17:36 2019 NZST
Speed:
0 kts
knts
GPS: 61 11.784N 147 42.808W
Run: 53.9nm (97.6km)
Weather: TWS 0.5 TWD N Baro 1022.0 Sea Temp 8-10 C. Air temp 9.C. Mirrored glass calm. Lots of bergy bits.
We had a great stay at Nellie Juan nestled into a quiet nook of anchorage. Very quiet except the occasional loon and the splash of jumping salmon. A few seals came by to visit too. We did three dingy trips to hike and visit the glacier to watch it calve with thunderous rumble similar to the Tanna volcano. Lots of sea otters and their pumps and seals as we traveled up to the glacier. Today we motored up to the College Fiord area in the dead calm. The humpback whales and then pacific white sided dolphins put on a show for us. Lots of bergy bits to get into our deep anchorage in Yale Arm but rewarded with a beautiful view towards Yale Glacier on one side and 8,000 foot mountain ridge and glaciers on the other side. The sea temperature dropped to 8C on the way here but has risen to 10C in our anchorage.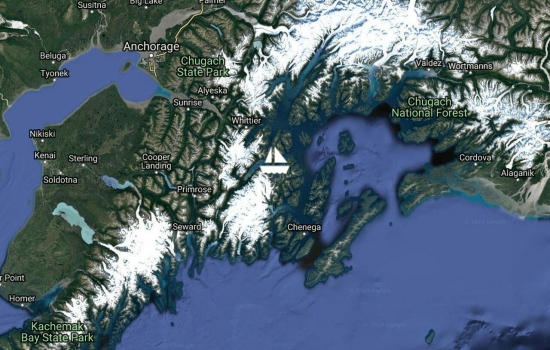 Tue Aug 13 5:18 2019 NZST
Speed:
0 kts
knts
GPS: 60 28.439N 148 19.144W
Run: 122.5nm (221.7km)
Weather: TWS 0.5 ! TWD N Baro 1020.2 Sea Temp 15.7C. Air temp 15.C. Mirrored glass calm. Almost feels like summer.
North of 60 ! A few changes in latitude since leaving New Zealand. Anchored in "Nelllie's Rest" - a small very bight near Nellie Juan Glacier in Prince William Sound. Calm and scenic passage from Homer over two nights. A few whales in the distance and lots of puffins with high mountains and glaciers as the backdrop. Two sea otters at the mouth of the bight to welcome us. Motored past the Barren Islands on the first day. These were named by Capt Cook on his travels up here. That guy covered a lot of ground.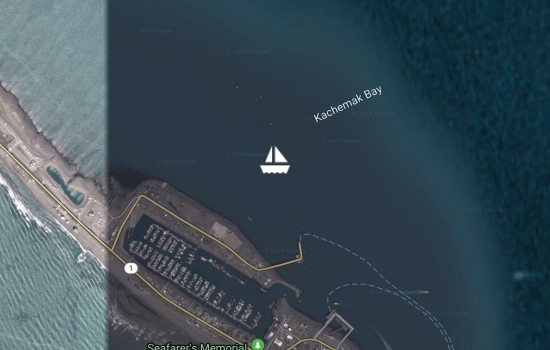 Thu Aug 8 19:18 2019 NZST
Speed:
0 kts
knts
GPS: 59 36.601N 151 25.026W
Run: 16.2nm (29.3km)
Weather: TWS 8 TWD SW Baro 1019.4 Sea Temp 13C. Air temp 14.C.
Anchored off Homer to deliver our friend Jen (SV Northern Passage) back to her van and for some logistics in preparation for our time in Prince William Sound.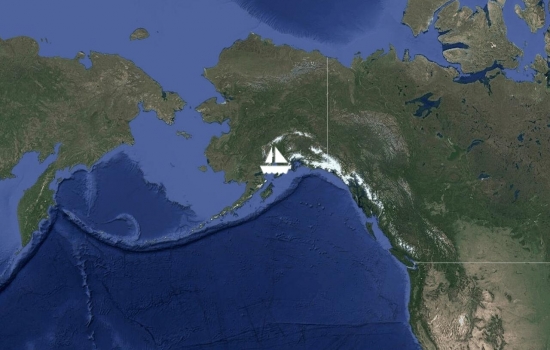 Mon Aug 5 2:12 2019 NZST
Speed:
0 kts
knts
GPS: 59 26.120N 151 43.442W
Run: 97.3nm (176.1km)
Avg: 3.2knts
24hr: 77.1nm
Weather: TWS 1.3 TWD SW Baro 1023.7 Sea Temp 10.8C. Air temp 12.C. Seas calm in the anchorage !
Well that was an interesting little gale. Very scenic in the sunshine with the glacier capped mountains of the Alaska Peninsula on one side and the green hills of Kodiak and Afognak on the other with winds gale force for much of yesterday. Max sustained winds were 37 kts. Winds overnight came down to a more comfortable 30 kts and then to almost zero for our final approach to Seldovia. Anchored in dead calm with the morning twilight. Intend to move into the harbour later this morning to meet up with friends ashore who we cruised with in Mexico in 2012.
Sat Aug 3 19:54 2019 NZST
Speed:
0 kts
knts
GPS: 58 10.993N 152 57.969W
Run: 60nm (108.6km)
Weather: TWS 30+ TWD SW Baro 1026.7 Sea Temp 16C. Air temp 15.C. Dark. Seas approx 2.5m very short period.
Great stay at Geographic Bay and lots of time watching the grizzly bears from land, the dingy and from the cockpit. At high tide we could take the dingy to where the bears were feeding on the salmon and at low tide the shore line was very close to Fluenta - despite being anchored in 80' of water with a 15ft tidal range - so the bears could wander close to the boat. Even had a float plane come over and tie up to Fluenta for a nice visit. Time to get moving east but we found the wind in the strait was building beyond the forecast - peak sustained wind was over 35 ks - and the seas were getting steep so we did the conservative thing and have ducked into Malina Bay for the night along with a bunch of fishing boats.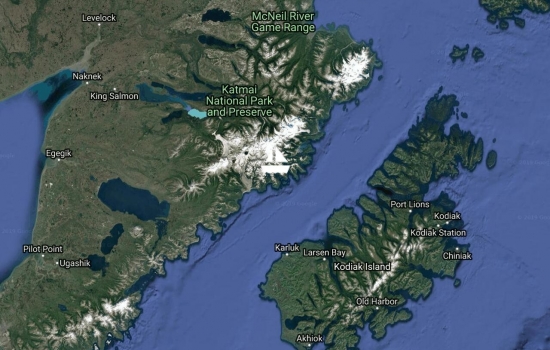 Wed Jul 31 9:06 2019 NZST
Speed:
0 kts
knts
GPS: 58 06.901N 154 36.439W
Run: 140.6nm (254.5km)
Avg: 5.6knts
24hr: 134.4nm
Weather: TWS 6 TWD 095T Baro 1016.0 Sea Temp 17C. Air temp 17.C.
Anchored in Geographic Harbor. Sunny and calm water made for a beautiful motor into the almost landlocked harbor surrounded by mountains. This was the site National Geographic used when they sent a team to investigate the after effects of the massive volcano eruption in the early 1900's. We have already seen quite a few bears - Benjamin spotted the first one - and we have had our first sighting of tourists since arriving in Alaska. The tourists come and go by float plane so I suspect we will have the place to ourselves later. We will have lunch - more salmon - and head ashore for a closer look (at the bears not the tourists).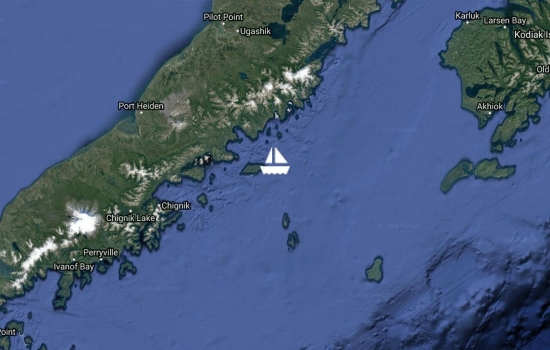 Tue Jul 30 8:00 2019 NZST
Speed:
6.9 kts
knts
Run: 160.6nm (290.7km)
Avg: 3.2knts
24hr: 77.1nm
Weather: TWS 12 TWD 290T Baro 1019.1 Sea Temp 14C. Air temp 14.C.
On passage from Sand Point towards Geographic Harbor. Just over half the way there but no "halfway celebration" chips as a short 280nm trip this time. Certainly different doing coastal passages as I think we gybed more times yesterday going around the various headlands and island in the shifty winds than the whole 3700nm passage from the Marshall Islands. We had expected light winds but have being making good progress with the winds from 2 to 25 kts mostly very deep behind us although we have also been close hauled for a few hours as well. Sailing along the edge of a big mountain range so that must be affecting the winds. Very scenic with snow and glacier covered mountains and the massive Veniaminof Crater visible for most of yesterday and Mount Chiginagak visible today. Lots of puffins as we round the headlands and the fin whales paid us a visit again yesterday. We had a nice visit at Sand Point. Galactic came in for a logistics stop before heading back out to continue their research so the kids were out fishing and berry picking. The salmon season closed for a few days so the harbour was awash in fishing boats and fishermen. In addition to the salmon the older boy on Galactic caught for us, our new fishermen friends on the docks gave us two more salmon as well as a tour of one of the purse seiners. We also had an interesting tour of the Trident fish processing plant with the Production Manager and their Safety Officer giving the tour. Very impressive facility and nice folks.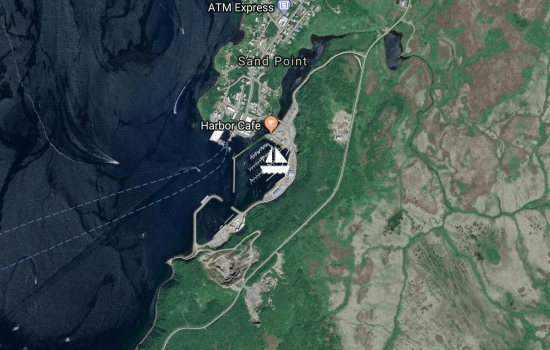 Sun Jul 28 6:00 2019 NZST
Speed:
0
knts
GPS: 55 19.995N 160 29.818W
Run: 7.3nm (13.2km)
Weather: TWS 14 TWD 205T Baro 1011.4 Sea Temp 13C. Air temp 12C.
A nice time at anchor with our friends from Galactic. Fluenta is on the dock at Sand Point so we can get some diesel and propane before heading further east. Had our first Alaskan salmon - yummy. We have been given two more salmon so the fridge and freezer are still full.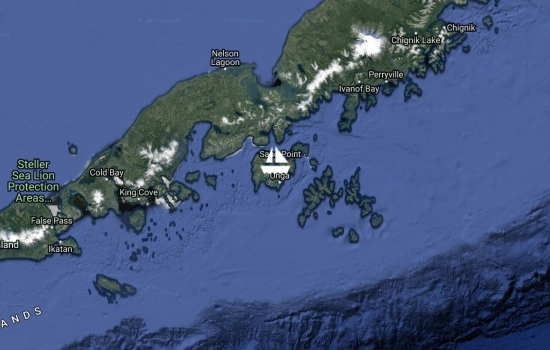 Fri Jul 26 9:21 2019 NZST
Speed:
0
knts
GPS: 55 14.099N 160 33.725W
Run: 111.7nm (202.2km)
Avg: 4.2knts
24hr: 101.5nm
Weather: TWS 14 TWD 205T Baro 1011.4 Sea Temp 13C. Air temp 12C. Fog and drizzle.
At anchor in Baralof Bay to meet up with our friends in SV Galactic (we last saw them in 2014 in French Polynesia). Great passage mostly under sail. Lots of puffins as we left and arrived and then as we approached the Shumagin Islands we saw a greater density and number of humpback whales than even we saw in Tonga. They were surfacing less than a boat length (!) from Fluenta and in the distance lots of breaching. Nice chats with two fishing boats on the VHF radio. Not a lot of sailboats here everybody is curious about our story.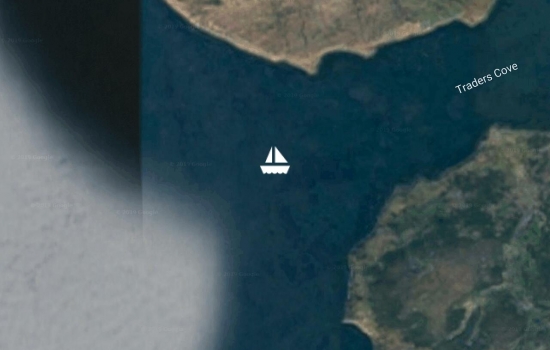 Thu Jul 25 6:57 2019 NZST
Speed:
0
knts
GPS: 54 54.54N 163 19.668W
Run: 4.3nm (7.8km)
Weather: TWS 8.0 TWD167T Baro 1012.4 Sea Temp 11C. Air temp 12C. Fog.
At anchor off False Bay. Later today should be on our way east again after a great two night stop at False Pass. We were adopted by an Aleut family who had their fishing boat on the dock ahead of Fluenta which totally made the visit a delight (and tried to convince us to settle there). The two siblings that run the boat have eight kids between them so lots of fun. The kids went out salmon fishing with the older kids in one of their skiffs and saw a bear. We did not see a bear while we were ashore but the first three people we met warned us about bears - including a truck that pulled over to warn us - and some people travel armed. The village safety officer (a combined police, fire, EMT officer) has maxed out his overtime dealing with bears so is only allowed to respond to "predator" issues if a bear is actively trying to get into a house. The kids still managed to pick some berries without incident and our "salmon fishing" was getting a lovely gift of silver salmon from one of the fishermen. The village has a population of about 50 but now also supporting a group of about 700 at two cannery factories (the cannery workers seem to all be from "away": Ukraine, Cameroon, others)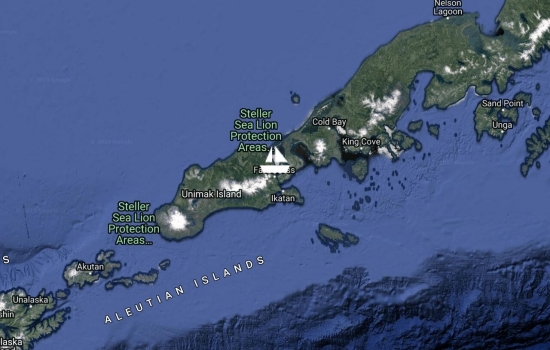 Tue Jul 23 12:42 2019 NZST
Speed:
0
knts
GPS: 54 52.003N 163 24.511W
Run: 78.4nm (141.9km)
Avg: 4.4knts
24hr: 106nm
Weather: TWS 12.0 TWD155T Baro 1015.6 Sea Temp 12C. Air temp 12C. Low overcast with occasional glimpses of sun.
Out of the infamous Bering Sea (as seen on Deadliest Catch etc) after what ended up as a really nice little passage. We thought we might have to motor most of the way but sailed much of it mostly in light winds. It only got a little more sporty towards the end when the winds went hard on the nose in the mid teens. Nice early morning sail in light air downwind - so quiet I could hear the ducks taking flight to get out of our way and then a whale blew about 100 feet beside me which just about made me spill my coffee. Unfortunately also saw a dead small humpback floating (friends called it into the NOAA Marine Mammal Hotline for us). Occasionally able to see the 9000' snow covered volcano and some glaciers during the transit. Now on the dock at False Pass/Isanotski to wait for the weather to turn in our favour for pushing further east. Very much a commercial fishing dock.
Mon Jul 22 18:57 2019 NZST
Speed:
5.1
knts
Run: 73nm (132.1km)
Weather: TWS 6.7 TWD175T Baro 1021.0 Sea Temp 11C. Air temp 9C. Low overcast. A slight NW swell.
After a nice visit to Dutch Harbor we are underway again with a freezer and fridge full of fish we received as gifts. A great time out shooting and fishing with our new friends. We motored for a few hours today and then for most of the day close hauled or close reaching in a relaxing 4 to 8 kts of wind. Just passed and slightly passed through a fleet of 16 fishing ships ranging from 90 to 200' long. So much easier here where the fishing ships have AIS and will talk to us on the radio (and are really friendly even though we are wandering on a varying course following the wind close to their operations).
Tue Jul 16 5:21 2019 NZST
Speed:
0
knts
GPS: 53 52.602N 166 33.095W
Run: 21.2nm (38.4km)
Weather: TWS 0.8 TWD 170T Baro 1008.1 Sea Temp 11C. Air temp 10C. Low overcast. Flat seas.
Fluenta is on the dock at Dutch Harbor waiting to clear Customs. First dock since December and, if we can make it work, first proper shore power since 2014. Lots of bald eagles, a few sea otters and friendly people. On the dock with the designer of our anchor (Rocna).
Mon Jul 15 20:51 2019 NZST
Speed:
6.6
knts
Run: 156.8nm (283.8km)
Avg: 6.4knts
24hr: 154.5nm
Weather: TWS 7.5 TWD 211T Baro 1008.4 Sea Temp 9C. Air temp 10C. Low overcast. Calm seas
Fluenta has left the Pacific and is now in the Bering Sea. Sailing in light air along the Bering Sea towards Dutch Harbor. ETA Dutch Harbor Monday morning Alaska time. Lots of snow covered volcanic mountain peaks including an active one in the distance. Plenty of birds and seals near the floating kelp patches. Nice to be sailing in flat seas. Weather forecast has a small craft advisory for this stretch of water tomorrow so glad we should be tied to a dock tomorrow morning.
Sun Jul 14 20:30 2019 NZST
Speed:
5.9
knts
Run: 167nm (302.3km)
Avg: 6.9knts
24hr: 164.9nm
Weather: TWS 16 TWD 210T Baro 1010.1 Sea Temp 11.9C. Air temp 10C. Low overcast. Long period SSW 1m swells. 1kt warm current just started against us.
Heading on a broad reach toward Samalga Pass in the Aleutians. We decided to take Samalga Pass vice the others as appears timing slack water for the currents in the pass will be less of an issue. Just starting to see some of the mountains on RADAR at 35nm. ETA Dutch Harbor Monday afternoon Alaska time. A few whales sighted as well as our first sightings of kelp. Many more birds too.
Sat Jul 13 20:12 2019 NZST
Speed:
5.6
knts
Run: 186.1nm (336.8km)
Avg: 7.7knts
24hr: 184.9nm
Weather: TWS 12 TWD 265T Baro 1011.1 Sea Temp 10.6C. Air temp 9C. Light fog/overcast. Long period SSW 2m swells.
Good progress today sailing deep downwind with following seas surfing NE. Wind has recently eased a bit so now headed up to a close reach towards Umnak Pass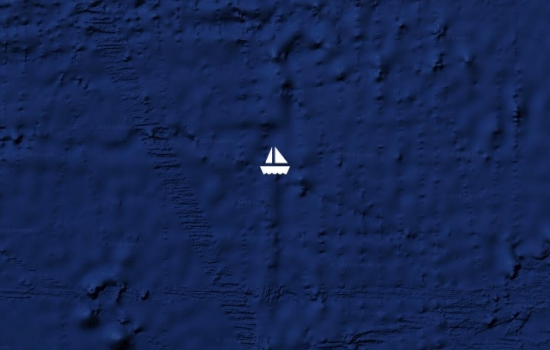 Fri Jul 12 20:03 2019 NZST
Speed:
7.5
knts
Run: 145nm (262.5km)
Avg: 6.3knts
24hr: 151.3nm
Weather: TWS 23 TWD 240T Baro 1000.8 Sea Temp 10.6C. Air temp 10C. Low overcast and drizzle/rain. SW waves approx 2.0m
Pretty bouncy and rolly last night until we made it to SE of the low but now Fluenta is galloping towards the barn. From mid morning we were able to gybe over to port tack and since then have been averaging boat speeds in the mid to high 7's with surfs up to 10 kts with SW winds 20-25 kts tucked to the SE of the low. Nice to be on a broad reach again with following seas. Somehow that had not been a frequent situation since our 2014 Pacific crossing. We were heading for Umnak Pass to enter the Bering Sea but now debating Samalga Pass as less tidal current and can better use the west wind to sail closer to Dutch Harbor.
Thu Jul 11 21:03 2019 NZST
Speed:
6.0
knts
Run: 179.6nm (325.1km)
Avg: 7.3knts
24hr: 174.9nm
Weather: TWS 22 TWD 095T Baro 1001.3 Sea Temp 11.1C. Air temp 11C. Low overcast and drizzle/rain. ESE wind wave and swells - short period mostly less than 2m but a few bigger steep ones.
Sailing since last night making good progress straight towards Dutch Harbor with the settled seas - boat speeds from 7 to 8.5 kts. Less so this afternoon as the steep waves picked up and the wind strengthened to about 28 kts. We have turned downwind a bit to get a more comfortable angle to the waves as well as down to a heavily reefed main and staysail. The low to our west should keep moving north east ahead of us giving us some SW winds tomorrow to push us all the way towards Dutch Harbour. Less than 500 nm to the Umnak Pass (where we intend to pass through to the Bering Sea and then it is about 95nm to Dutch Harbor). No fishing today. Pretty cool watching the albatross swooping down the wave troughs though.
Wed Jul 10 20:24 2019 NZST
Speed:
5.4
knts
Run: 141.4nm (255.9km)
Avg: 5.8knts
24hr: 139.4nm
Weather: TWS 5 TWD 200T Baro 1016.0 Sea Temp 12.7C. Air temp 12C. Overcast and a few rain squalls. Long period 1.5m WNW swell.
A relaxing day motoring towards Dutch Harbor since 1600Z today as we cross a high pressure ridge. Kids excited they can see their breath in the cockpit. Wind expected to fill in this evening. Over 3/4 of the way there by mileage from Majuro to the pass into the Bering Sea.
Tue Jul 9 20:03 2019 NZST
Speed:
7.0
knts
Run: 137.6nm (249.1km)
Avg: 6knts
24hr: 144.2nm
Weather: TWS 14 TWD 250T Baro 1017.4 Sea Temp 14.0C. Air temp 12C. Overcast. Approx 2.0m swell from WNW
There was an error in the latitude in last night's update. Making good progress toward Dutch Harbor as the sea state calms. Lots of traffic as we ended up between six Japanese fishing ships.
Mon Jul 8 21:09 2019 NZST
Speed:
6.7
knts
Run: 151.9nm (274.9km)
Avg: 6.6knts
24hr: 158.2nm
Weather: TWS 24 kts TWD 242T Baro 1011.9 Sea Temp 15.9C. Air temp 15C. Thick low overcast and some drizzle. 3.8m swell from WNW
Cold front was mild - just some rain and a change in trend upwards on the barometer. By the afternoon the wind was heading us southward and the large swells had caught up with us so gybed over to port tack to put the swells on our quarter and, thankfully, a better VMG to the destination. Still sailing deep downwind for comfort but intend to aim closer to Dutch Harbor by the morning. Decided not a good day for fishing. Getting a bit chillier.
Sun Jul 7 22:06 2019 NZST
Speed:
7.0
knts
Run: 188.3nm (340.8km)
Avg: 7.3knts
24hr: 175.8nm
Weather: TWS 23.2 TWD 194T Baro 1007.9 Sea Temp 17.2C. Air temp 17C. Low overcast and drizzle.
Still sailing due east to mitigate the incoming low. Very consistent winds from SSW all day with a bit of wind against current so somewhat bumpy. Still being visited by dolphins and albatrosses. Hope to start pointing more towards Dutch Harbor tomorrow. Less than a 1000 nm to go so 2/3's of the mileage completed.
Sat Jul 6 20:24 2019 NZST
Speed:
8.4
knts
Run: 38.9nm (70.4km)
Weather: TWS 13 TWD 197T Baro 1012.8 Sea Temp 19.4C. Air temp 17C. High, thin overcast
Sailing due east to mitigate the incoming low. Sailing again since early afternoon in increasing winds from the SSW. Still being visited by our dozens of dancing dolphins (and more albatrosses). One small bird flew into our cockpit last night. Preps for heavier weather completed today but looks like it will be not as windy as initially expected as we are making good progress east.
Fri Jul 5 20:24 2019 NZST
Speed:
5.3
knts
Run: 284.3nm (514.6km)
Avg: 11.6knts
24hr: 278.5nm
Weather: TWS 4 TWD 009T Baro 1013.6 Sea Temp 18.2C. Air temp 15C. Overcast.
1160 nm to go to Dutch Harbor - slightly more than a NZ to the Tropics passage. A fickle day of sailing in NW winds 4 to 10 kts. Recently veered to NE as forecast. Aiming to the south of the rhumb line to mitigate some forecast weather. Sailing where we can to conserve diesel. Still being visited by our dozen dancing dolphins (and some albatrosses)
Thu Jul 4 19:54 2019 NZST
Speed:
5.2
knts
Run: 160.2nm (290km)
Avg: 6.6knts
24hr: 159.2nm
Weather: TWS 10 TWD 307T Baro 1012.3 Sea Temp 19.5C. Air temp 16C. Overcast. Small west swell.
Making progress ... 1250 nm to go and getting colder. Finally a fish caught today - our worst fish/nm rate yet. Lots of dolphins came to play by the bow for quite awhile just before supper. For folks watching the Predictwind Tracker on our blog note it appears to be working again.
Wed Jul 3 19:45 2019 NZST
Speed:
6.9
knts
Run: 185.5nm (335.8km)
Avg: 16.1knts
24hr: 385.5nm
Weather: TWS 15 TWD 239T Baro 1011.1 Sea Temp 21.3C. Air temp 21C. Fog. West swell. 2+ kts of NE current.
Turned right towards Dutch Harbour as should be clear enough of the high. Moderate fog but amazingly consistent winds from the SW all day. Predictwind current data shows a strong band of favourable current so we are following that giving us a helpful 2+ kts of push. An easy motion on the boat so we took the time to catch up on maintenance. The kid seized a dynmea chafe sleeve on the staysail halyard while I did some more indepth rig, engine and autopilot checks plus other odd and sods maintenance that needed doing. Over half way there by mileage: 1390 nm to go !
Wed Jul 3 8:12 2019 NZST
Speed:
5.0
knts
Run: 136.3nm (246.7km)
Avg: 3.9knts
24hr: 93.7nm
Weather: TWS 13 TWD 202T Baro 1016.9 Sea Temp 23.5C. Air temp 23C. Solid overcast. Mixed seas and west swell.
Under sail since 0130L today in SW winds ranging from 12 to 17 kts. Feels like the doldrums are done. Came across our first fishing net(s) with AIS. We "saw" the first AIS contact 35nm away and then as we got closer another three AIS contacts popped up. Two were labeled "Net Fishing" and the other two were clearly labeled as buoys and they were spread out 20nm across our path. No ship answered hails or acknowledged DSC calls. We could not see any vessels on radar or visually. I think all four contacts were net buoys but no ship within radar distance which seemed odd. Rather than diverting 10nm around the buoys - rather a pain as we would need to gybe away and back as we were already on a deep broad reach - we approached the line carefully as it was just daylight by then. Nothing could be seen until we were about 100' away when we saw little white marker buoys in a line perpendicular to our path. Turns out the net must be weighted as we managed to sail over it without incident. More fun was seeing a pod of large dolphins followed by a school of tuna beside the boat (hiding from the dolphins ?)
Mon Jul 1 21:18 2019 NZST
Speed:
2.0
knts
Run: 129.7nm (234.8km)
Avg: 5.2knts
24hr: 125nm
Weather: TWS 6.9 TWD 197T Baro 1018.7 Sea Temp 25.0C. Air temp 25C. Clear skies except some high cirrus. Calm seas. 2.0+ kt current to SE
Happy Canada Day from this side of the dateline. Was making decent enough progress northward under power and spinnaker considering stil winds less than nine kts but now a massive tear in our light air spinnaker. Will see if we can move the snuffer over to our 37 year old backup spinnaker and get it into play tomorrow when light again. Now on a broad reach with the the genoa on a running sheet. Mostly light southerly winds today. Crazy currents not helping today. I heard a whale blow nearby in the quiet as we slowly worked our way downwind under spinnaker. Several whales sighted including one that dove a few boat lengths from Fluenta. Still lots of garbage in the water. Canada Day hamburgers onboard. No fireworks.
Sun Jun 30 20:24 2019 NZST
Speed:
6.2
knts
Run: 56.4nm (102.1km)
Weather: TWS 2.2 TWD 338T Baro 1018.1 Sea Temp 28.0C. Air temp 27C. Clear skies except a few big squalls. Calm seas. 1.5+ kt current to NE
Mostly under sail since the last report: SE winds for most of the day and then SW later in the afternoon. Wind dropped an hour ago to almost zero so spinnaker down and engine on. Based on barometer, wind shift and the latest surface analysis possible that we were at the crest of the ridge. Need to push further north as forecast shows ridge will widen and form a separate high pressure area about here.
Sat Jun 29 20:54 2019 NZST
Speed:
4.6
knts
Run: 177.6nm (321.5km)
Avg: 7.2knts
24hr: 172.6nm
Weather: TWS 7.5 TWD 106T Baro 1016.8 Sea Temp 28.0C. Air temp 26C. Clear skies. Calm seas.
The forecast for a large, persistent area of light winds is changing to be a larger, more persistent area of light winds ... Not fast but very comfortable sailing. We have not seen over 8 kts of wind over the last few days and today the winds have been 2 to 7.5 kts TWS. We flew the A2 spinnaker most of the night before switching back to white sails. After a few hours of motoring we were sailing again on a close reach before 0800 and have been undersail all day in winds 4 to 7 kts. No whale sightings today but a far amount of jellyfish. Calm conditions to do some repairs to the spinnaker and transfer diesel from jerry cans to the internal tanks.
Fri Jun 28 20:12 2019 NZST
Speed:
3.1
knts
Run: 111.8nm (202.4km)
Avg: 5knts
24hr: 119.5nm
Weather: TWS 5.6 TWD 195T Baro 1013.6 Sea Temp 28.2C. Air temp 27C. Squalls. Slight long period NW swell.
Busy nature watching day: sailed very close to two sperm whales on the surface (while we were under spinnaker), we have named the tuna that has adopted us "Sashimi" and the the birds are keeping us amused with their antics. Unfortunately also seeing the most garbage in the water than we have seen on passage before. Motored through the night with very light winds and then sailed all day so far with our light air spinnaker with winds from the SW and occasionally SE from 3 to 8 kts TWS.
Thu Jun 27 21:45 2019 NZST
Speed:
6.1
knts
Run: 74.9nm (135.6km)
Avg: 2.9knts
24hr: 68.9nm
Weather: TWS 0.9 TWD 128T Baro 1012.6 Sea Temp 29.1C. Air temp 27C. Clear skies. Slight NE swell.
All is well onboard. We struck sails last night and bobbed/rolled for several hours as insufficient wind to keep the sails from slatting with the leftover swell. From this morning we have managed to sail, albeit slowly in NE, NW, SE and SW winds never above 9 knots for much of the day including a stint with our light spinnaker until the true wind was below four knots - thanks NIRVANA crew for the spinnaker. Kids kept busy with sails in/out up/down tacks etc. Motoring again now in glassy calm. One fish hooked but it tore out the split ring - classic weakest link fails - I finally treated myself to split ring pliers in Majuro and they came with extra rings ... the pliers are nice but noticed that the rings are not robust enough for handline fishing. Luckily I have a good stock of robust hooks so back into fishing tomorrow.
Wed Jun 26 19:39 2019 NZST
Speed:
5.5
knts
Run: 106.2nm (192.2km)
Avg: 4.5knts
24hr: 108.7nm
Weather: TWS 6 TWD 086T Baro 1013.7 Sea Temp 28.5C. Air temp 26C. High overcast. Approx 1.2m NE swell.
All is well onboard. Light shifty winds for most of the day making for slow progress under a grey sky. Lots of squalls and lightening for most of the morning. It felt more like the ITCZ than doldrums. Presently motoring to charge (not a lot of solar or wind generator charging today).
Tue Jun 25 20:12 2019 NZST
Speed:
6
knts
Run: 151.3nm (273.9km)
Avg: 6.2knts
24hr: 149.7nm
Weather: TWS 12 TWD 065T Baro 1015.9 Sea Temp 29.1C. Air temp 27C. We seem to be out of the squally area and into a high overcast. Approx 1.2m NE swell.
All is well onboard as Fluenta leave the tropics in nine miles. First time north of the tropics since the Baja Ha Ha 2012. Liz has been writing lots for the blog which you can check at SV-Fluenta.blogspot.ca
Mon Jun 24 19:57 2019 NZST
Speed:
4
knts
GPS: 20 40.25N 166 44.37E
Run: 137.7nm (249.2km)
Avg: 5.8knts
24hr: 140.3nm
Weather: TWS 7-20 TWD 066T Baro 1015.4 Sea Temp 29C. Air temp 26C. Squally. Just entered a massive drizzly area of light wind after a patch of 20 kts. Approx 1.3m NE swell.
All is well onboard as we progress slowly north through a large region of squalls. Based on miles to go from Majuro and miles to go now, we are approx 1/4 the way through the passage. About 2250nm to go.
Sun Jun 23 20:24 2019 NZST
Speed:
6.8
knts
Run: 155.4nm (281.3km)
Avg: 6.4knts
24hr: 152.5nm
Weather: TWS 12.5 TWD 065T Baro 1013.1 Sea Temp 29C. Air temp 28C. Just some trade wind Cu now but an impressive collection of squalls for about six hours earlier day corresponding I suppose with the forecasted high CAPE for the area. Approx 1.1m NE swell.
All is well onboard as we progress north. A busy morning for Liz and Victoria with playing "Frogger" to dodge the squalls but they managed to miss most of them. Winds were ranging from 6 to 20 kts. No fish yet. We should pass Wake Island tonight.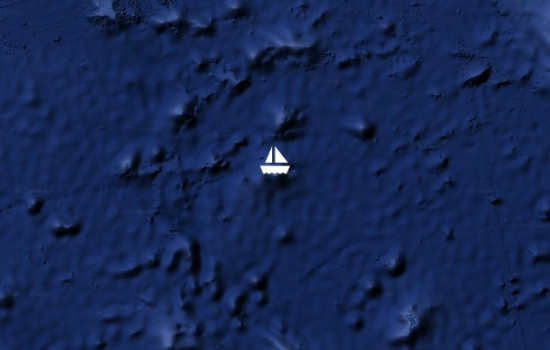 Sat Jun 22 19:57 2019 NZST
Speed:
6.8
knts
Run: 177.7nm (321.6km)
Avg: 7.4knts
24hr: 176.6nm
Weather: TWS 11 TWD 058T Baro 1011.1 Sea Temp 30C. Air temp 28C (29C in the cockpit). Trade wind Cu with some squalls forming. Approx 1.0m NE swell.
All is well onboard as we progress north. We have mostly been heading north or NNE but recently the winds have backed a bit and so heading NNW. We could sail a but harder on the wind but a long ways to go so keeping with a conservative sail configuration. Presently heading towards Russia but not intending landfall there !
Fri Jun 21 19:48 2019 NZST
Speed:
6.7
knts
Run: 174.1nm (315.1km)
Avg: 5.7knts
24hr: 135.7nm
Weather: TWS 13 TWD 068T Baro 1010.2 Sea Temp 29C. Air temp 28C (30C in the saloon). Trade wind Cu with some squalls forming. Approx 1.2m NE swell.
A quiet night last night in 16-18 kts close on the wind with just a staysail and reefed main to keep it comfortable as everybody gets back into passagemaking. Winds down to the 13 to 14 kts range and sailing with reefed main and genoa at 45 degrees to the apparent wind. Mostly heading in a northerly direction and we intend to worry about getting our easting once out of the NE trades. Interview with CBC today. Apparently we will be on a morning show in Alberta this weekend. No fish yet. We did not fish passing the reef as the reef fish are reputed to have cigatera and the large number of sharks. We hooked a shark going into Rongerik and a sailboat we talked to near there hooked three in a short period of time.
Thu Jun 20 13:00 2019 NZST
Speed:
0
knts
GPS: 11 23.069n 167 30.322e
Run: 0.3nm (0.5km)
Weather: TWS 16 TWD 048T Baro 1010.3 Sea Temp 30C. Air temp 29C (and 30C in the saloon)
Fluenta is on the move again. In a few minutes we intend to weigh anchor and head north. Rongerik is a beautiful uninhabited spot - if rumoured to be haunted - and we were fortunate to spend time here working on a bunch of boat projects and waiting for the 'right' weather to head north. Yesterday we finally went out snorkeling and visited one of the small islands: Boobie chicks ashore and big turtles, giant clams, curious sharks and lots of fish around the reef.
Sun Jun 9 11:39 2019 NZST
Speed:
0
knts
GPS: 11 23.146n 167 30.058e
Run: 122.1nm (221km)
Avg: 4.2knts
24hr: 100.7nm
Weather: TWS 12 TWD 052T Baro 1012.4 Sea Temp 29.5C. Air temp 29C (and 30C in the saloon)
All is well onboard but have diverted to Rongerik to make a few repairs and then head north when a good weather window. For anyone looking at Predictwind Tracker, take our position reports with a grain of salt. It appears our Iridium Go is having some issues with its GPS. No fish but, for our first time in seven years of cruising, we caught a shark (we have had many sharks eat fish we have caught but never have hooked a shark directly). We managed to pull him up close enough to remove our lure and set him free. An interesting exercise for sure.
Sat Jun 8 6:33 2019 NZST
Speed:
5.5
knts
GPS: 10 00.595n 168 37.72e
Run: 292.6nm (529.6km)
Avg: 8.7knts
24hr: 209.3nm
Weather: TWS 17.4 TWD 058T Baro 1010.3 Sea Temp 29.8C. Air temp 29C (and 29C in the saloon)
All is well onboard. No fish (yet). Beautiful starry night.
Thu Jun 6 21:00 2019 NZST
Speed:
7.5
knts
Run: 49.9nm (90.3km)
Weather: TWS 15.6 TWD 075T Baro 1010.3 Sea Temp 29.9C. Air temp 28C (and 32C in the saloon)
On passage again after a few delays.
Sun Apr 14 15:48 2019 NZST
Speed:
0
knts
GPS: 7 07.710n 171 18.551e
Run: 4.7nm (8.5km)
Weather: TWS 12 kts TWD 058T Baro 1007.7
A quick trip down to the MIYC moorings for a break from the city and for one of a birthday party on one of the other kid boats.
Fri Mar 29 23:06 2019 NZDT
Speed:
0
knts
GPS: 7 06.214n 171 22.346e
Run: 126.9nm (229.7km)
Avg: 7.2knts
24hr: 172.1nm
Weather: TWS 18 kts TWD 050T Baro 1010.4
Arrived Majuro 2130L today after a bumpy and wet 36 hour passage from Majuro. A nice size mahi mahi and wahoo in the, now working again, fridge. Fun filleting with the beam seas in 20+ kts of wind.
Fri Mar 29 5:24 2019 NZDT
Speed:
7.3 kts
knts
GPS: 8 46.660n 170 36.635e
Run: 109.1nm (197.5km)
Weather: TWS 16 kts TWD 039T Baro 1008.8
Departed Ailuk Thurs mid morning and heading towards the big city of Majuro after a nice two month stint in the outer atolls. Conditions were a bit bumpy close reaching once out of the lee of Ailuk but nice now that we are slightly further off the wind and in the lee of Maloelap.
Sat Mar 23 15:54 2019 NZDT
Speed:
0
knts
GPS: 10 13.702n 169 58.823e
Run: 15.1nm (27.3km)
Weather: TWS 12 kts TWD 045T Baro 1010.0
A lovely time at Enejelar village again seeing friends from our 2017 visit. Now back in front of the main Ailuk village (population approx 200) for a feast with Anious and Emily. We saw the pig for the feast being loaded into a sailing canoe yesterday at Enejalar - not a happy sailing pig.
Mon Mar 18 15:57 2019 NZDT
Speed:
0
knts
GPS: 10 26.695n 169 57.221e
Run: 2.1nm (3.8km)
Weather: TWS 14 kts TWD 058T
Back up to Enjelar village where we spent so much time in 2017.
Mon Feb 25 16:03 2019 NZDT
Speed:
0
knts
GPS: 10 24.931n 169 57.531e
Run: 13.1nm (23.7km)
Weather: TWS 18 kts TWD 058T
and now back to the "Kid's Kite School" location but with Sweet Dreams in tow (not literarily though) ... Pretty good for bonfires as well.
Sun Feb 24 15:27 2019 NZDT
Speed:
0
knts
GPS: 10 13.619n 169 58.683e
Run: 13.1nm (23.7km)
Weather: TWS 18 kts TWD 045T
and now back to the southern end of the atoll to welcome Sweet Dreams to Ailuk. Excited kids.
Tue Feb 19 20:57 2019 NZDT
Speed:
0
knts
GPS: 10 24.921n 169 57.538e
Run: 12.6nm (22.8km)
Weather: TWS 25 kts TWD 060T
Moved back to the "kite school" anchorage in the north of the atoll. Nice visit to the village for Anious's birthday feast.
Sat Feb 16 15:12 2019 NZDT
Speed:
0
knts
GPS: 10 14.022n 169 58.789e
Run: 12.6nm (22.8km)
Weather: TWS 20 kts TWD 035T
Had a great stay at previous anchorage kiting plus catching up on maintenance projects and school. Back to the south end of the atoll for Anious's (aka Pumpkin) birthday feast tonight. Supposed to get some boisterous weather tomorrow so will likely head back north again.
Tue Feb 12 9:30 2019 NZDT
Speed:
0
knts
GPS: 10 24.905n 169 57.555e
Run: 7.3nm (13.2km)
Weather: TWS 22-25 TWD 045T
We have moved a little further north in Ailuk to find a combination of adequate protection from the winds and seas outside the atoll and a good place for the kids (and grown ups) to kiteboard. A quick recce ashore yesterday - looks like a good spot.
Sat Feb 9 20:24 2019 NZDT
Speed:
0
knts
GPS: 10 18.556n 169 57.969e
Run: 5.7nm (10.3km)
Weather: TWS 22-30 kts TWD 050T
Moved further up the atoll in Ailuk for better protection from the building wind and seas. Nice time visiting Enious and Emily again in Ailuk (and fixing his generator) and kiting near the village. Kids making good progress with the kiteboards even in the mid 20 kt winds.
Wed Feb 6 14:30 2019 NZDT
Speed:
0
knts
GPS: 10 13.638n 169 58.733e
Run: 50.1nm (90.7km)
Weather: TWS 15 TWD 049T
Returned to Aliuk after an overnight passage from Wotje. Fishing report: no fish landed and one beast stripped the hook off one of our lures and bend the two treble hooks on the other.
Sat Feb 2 16:18 2019 NZDT
Speed:
0
knts
GPS: 9 31.697n 170 10.320e
Run: 6.3nm (11.4km)
Weather: TWS 18 TWD 042T
Moved Fluenta to a potential kiteboarding location behind Bikanol Island.
Thu Jan 31 18:33 2019 NZDT
Speed:
0
knts
GPS: 9 27.345n 170 13.719e
Run: 124.7nm (225.7km)
Avg: 6.3knts
24hr: 151.9nm
Weather: TWS 13 TWD 015T
Anchored in front the main village in Wotje. Relatively quick passage close reaching the whole way in TWS 14 to 18 kts. Winds only turned to the north in the last few hours. One mahimahi caught and in the fridge.
Wed Jan 30 22:51 2019 NZDT
Speed:
7.2
knts
Run: 57.6nm (104.3km)
Weather: TWS 17 TWD 070T Clear skies
Fluenta and crew has finally escaped the gravitational pull of the city of Majuro and heading towards Wotje.
Fri Jan 4 23:51 2019 NZDT
Speed:
0
knts
GPS: 7 06.020n 171 22.566e
Run: 101.3nm (183.4km)
Avg: 3.1knts
24hr: 74.6nm
Weather: Light winds and overcast. Baro 1010.7
Anchored at Majuro at noon and all checked in just before 1700. Ashore for the first time in three weeks and prepping tomorrow for a potential tropical disturbance Saturday night (GFS says yes, ECMWF says no, Joint Typhoon Centre expresses concern, official weather report does not ...). Caught another mahi mahi and a wahoo yesterday making it 1 fish per 290 nm (I removed the 300 nm or so we did not fish due to the bouncy weather from the stats). Stats would have been much better if we did not lose both mahi mahi that hook at the same time just before entering the pass to Majuro. Full stats to follow in a blog post but that is rather further down the "to do" list.
Thu Jan 3 15:15 2019 NZDT
Speed:
7.0
knts
Run: 118.3nm (214.1km)
Avg: 6.1knts
24hr: 146.7nm
Weather: TWS 25 TWD 070T High overcast with scattered stratus. Light rain
In the first time in three days we have eased the sheets a bit and are not hard on the wind as rounding - at a large distance - Mili Atoll. Much more comfortable now. Thankful for our little tough hank-on staysail that has pulled this far to windward. Still a fair amount of wind averaging in the low 20's peaking so far at 28 kts.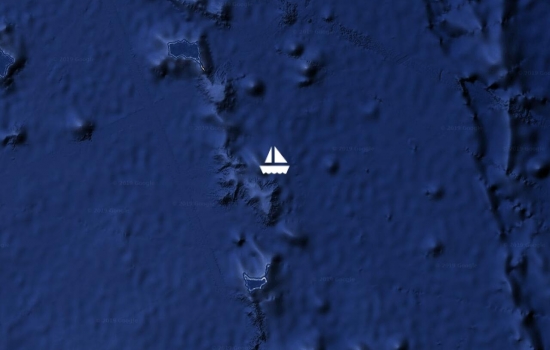 Wed Jan 2 19:54 2019 NZDT
Speed:
6.0
knts
Run: 350.7nm (634.8km)
Avg: 5.6knts
24hr: 134nm
Weather: TWS 15 TWD 030T High overcast
Still heading north ... After days of light winds we went through one big squall and as if we had gone through the Alice in Wonderland looking glass the winds changed. Fluenta has been hard on the wind since 31 Dec (our time) in true winds from 15 to 27 kts. Rather bumpy and wet as we blast through the waves plus amazing amounts of torrential rain. The most dense concentration of squalls and electrical storms we have ever seen so we have been stowing some of the electronics at night including the Iridium Go so you may notice the tracking feature on our blog stops working. Appears we have made it north of the ITCZ so hopefully a bit less squally but stronger winds are forecast. 215nm to go (less than a Marblehead-Halifax race)
No blogs available for this yacht.
Loading map and updates ....
Loading track, please wait ....