ICAROS
Wed Feb 19 3:30 2020 NZDT
GPS: 04 22.185S 031 01.925W
Run: 338.6nm (612.9km)
Avg: 6.6knts
24hr: 157.3nm
Weather: 10 kt SE, mostly sunny, COG 295T
Yesterday we continued to sail wing and wing in a light breeze with a mostly cloudy sky. Late afternoon the wind dropped off and the sky looked more threatening so we tucked away the sails and began motoring. Overnight we had a couple of short downpours - just enough to discover a new leak at one of the salon windows. The winds last night were quite light and from several different directions yet the sea was quite smooth for motoring along. Today has been clear and sunny so we have been doing some wash and drying things out. Hopefully a bit of silicone on the window gets us to the Caribbean. We have put the spinnaker up and are having a slow pleasant sail. We can't make Fernando before sunset so shall coast along and make landfall tomorrow morning.

We have seen a few more ships the past couple of days. A 86m fishing vessel came from the north bound for the Falkland Islands. A couple of tankers from the NW headed for Cape Town and a cargo ship for BRSSZ - somewhere in Brazil? Seeing a few more birds around us busy diving and fishing. Last night we caught a glimpse of the Big Dipper upside down low in the northern sky. Sadly we ran out of bananas yesterday so hoping to restock at Fernando. Our fridge is being a bit temperamental but we have been able to use our freezer as a fridge for the few things that need to keep cool.

1648nm from St Helena and 87nm to Fernando de Noronha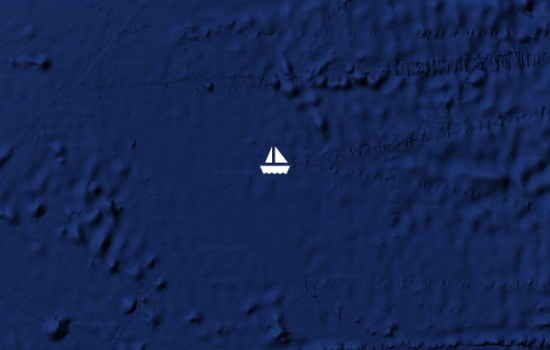 Sun Feb 16 23:51 2020 NZDT
GPS: 06 18.339S 026 30.666W
Run: 319.5nm (578.3km)
Avg: 7knts
24hr: 168nm
Weather: 15 kt SE, mostly cloudy, COG 285T
Looks like we had a stowaway the past couple of nights as we found a nasty smelly mess on the bimini solar panels. Think it was a boobie that we have noticed flying around at sunset. Shall keep a better lookout tonight and try to move him on. The cloud cover is increasing around us and it feels more humid. Doesn't take much effort to break a sweat. The forecast suggests we should soon encounter the ITCZ - inter tropical convergence zone. This is where the NE trade winds of the north Atlantic meet the SE trade winds of the south Atlantic. We can expect a mixture of light winds and motoring as well as periods of heavy rain with squalls and possibly some lightening over the next few days. The position of the ITCZ looks different every time we download the forecast so it's difficult to plan the best way through it. Hopefully we'll be able to duck and dodge any big nasty looking thunderstorms.

We've packed away the Code O and are now sailing wing and wing with the main sail and head sail. We can easily and quickly reduce these sails if the wind picks up due to passing showers.

Possibly witnessed a good omen this morning just before sunrise when a break in the clouds revealed the planets aligning!! Below the half moon high in the sky and down to the eastern horizon was Mars, Jupiter & Saturn.

1350nm from St Helena and 385nm to Fernando de Noronha (Can you hear the drums Fernando?!)
Sat Feb 15 2:12 2020 NZDT
GPS: 08 27.425S 022 23.149W
Run: 351.5nm (636.2km)
Avg: 7.9knts
24hr: 190.2nm
Weather: 15 kt ESE, mostly sunny days and clear nights
Still pretty quiet out here. Night before last we had a large (32m) fishing vessel come within 6 miles. It was between us and Ascension. We also had a couple of terns rest on our stern solar panels overnight. They're welcome to come back as they didn't leave a mess.

Sailing conditions remain very pleasant with light breezes. The forecast shows quite a bit of rain activity in a couple of days as we get closer to Fernando. We have adjusted our course more westerly and will try to remain south of the worst of the weather in the hopes it will improve or move away.

1075nm from St Helena and 660nm to Fernando de Noronha 2720nm from Cape Town and 2560nm to Barbados - Yay! More than half way!
Thu Feb 13 5:51 2020 NZDT
GPS: 09 41.435s 017 23.374w
Run: 346.8nm (627.7km)
Avg: 7.1knts
24hr: 171.3nm
Weather: 15 kt SE, pleasant sunny days
Still pretty quiet out here. No new ships and only a few flying fish spotted. We have been talking twice a day to several other sailboats we know. A bit of drama at the moment as one boat which is between Cape Town and St Helena has a broken prop shaft. All is under control and another boat is traveling alongside but it will be another week before they reach St Helena. Luckily St Helena is equipped to haul the boat out of the water and effect some repairs.

Like us, many sailboats have satellite phones for communications and downloading weather but it is still nice to chat on the radio. Unfortunately it is a bit of a black art as to figuring out the best time of day and frequency to use. We shall pass through six time zones between Cape Town and the Caribbean. We aren't bothered by jet lag but periodically we do need to adjust our shift changes and radio time schedules.

Our downwind sea conditions have been conducive for some boat projects and I even found time to clean the oven. I've got countless hours of podcasts to listen to which I enjoy as they leave my hands free to putter. We've tucked away the Spinnaker and have been sailing with the Code O and mainsail the past couple of days. Just have to time our jibes to keep the solar panels exposed. We enjoy the Spinnaker for those real light days but are always hesitant to leave it up overnight.

770nm from St Helena and 965nm to Fernando de Noronha
Tue Feb 11 5:15 2020 NZDT
GPS: 11 58.697S 012 50.565W
Run: 367.8nm (665.7km)
Avg: 7.3knts
24hr: 176.2nm
Weather: We've been getting a nice steady breeze 15-20kt from ESE, enjoying mainly sunny days and the full moon at night.
It's been pretty quiet out here. Haven't seen any birds and only a few fish. This morning we saw on the AIS our first ship since leaving St Helena. It was a 290m cargo ship doing 10k - the HL Baltimore - bound for KRPDJ. Often the destination abbreviations are difficult to decipher. Given the ship was heading towards the Cape of Good Hope - maybe somewhere in Asia.

We've been listening to the BBC news headlines on our SSB radio. So we are up to date on important events like the Oscar winners. The unfolding saga of the latest coronavirus makes us think that being on our boat in the middle of the Atlantic Ocean is not a bad place to be.

475nm from St Helena and 1260nm to Fernando de Noronho
Sun Feb 9 3:09 2020 NZDT
GPS: 14 37.839S 008 06.112W
Run: 154nm (278.7km)
Avg: 5.7knts
24hr: 136.9nm
Weather: mostly sunny, scattered showers, light ESE winds 10 - 15kn
Yikes, I'm living with a skin head! He's often threatened to shave his head at the start of a passage to see how it looks and feels. I can't say I like the look and think it makes him look sickly.

Hopefully it grows back quick.

Still sailing along under spinnaker in pleasant light wind conditions. The showers we've encountered have been brief and light and haven't affected our breeze much. We have a nice big moon and kept the spinnaker up overnight. 160nm from St Helena and 1575nm to Fernando de Noronho Sat Feb 8 0:09 2020 NZDT
GPS: 15 43.625S 006 05.469W
Run: 28nm (50.7km)
Weather: mostly cloudy, scattered showers, light ESE winds 10-15kn
We departed St Helena at first light this morning. Light variable winds till we were several miles away from the island. The wind has filled in and we are now under spinnaker getting about 6kn.

We enjoyed our stay at St Helena very much. Swimming with the whale sharks was awesome - beautiful, gentle, inquisitive giants. Friendly, welcoming, helpful people ashore. Interesting history.

It was also great to catch up with other boats we knew and meet several new interesting ones.

S/V Neptune's Highway with Laura & Bruce arrived the day after us and left yesterday bound for their home port in the US Virgin Islands. We met first in Malaysia and they also post on YIT. S/V Jaga II with Wendie & Jim arrived on Wed so we were able to introduce them to St Helena and enjoy a few cold ones together. We have been traveling a similar route as Jaga since meeting in Port Moresby, PNG. They'll follow us to the Caribbean and then continue on to visit Jim's family on the east coast of USA.

We met a Spanish family with three young kids doing a quick one year circumnavigation. They'll be back in the Caribbean by April after visiting Brazil and then back to the Med in time for the kids to get back to school.

We met a single hander, John Sanders, from Western Australia. At the age of 80, he is on his eleventh circumnavigation. Three of them done consecutively.

We caught up with a South African family we had met in Hout Bay. Father and son (in his early twenties) have found it difficult to make a living in a South Africa that now predominantly trains and hires black citizens. With very little sailing experience, they are bravely on their way to a new life in the Caribbean.

Could go on and on - lots of interesting people out here!! But for the next couple of weeks - it's just us and maybe a few birds and fish.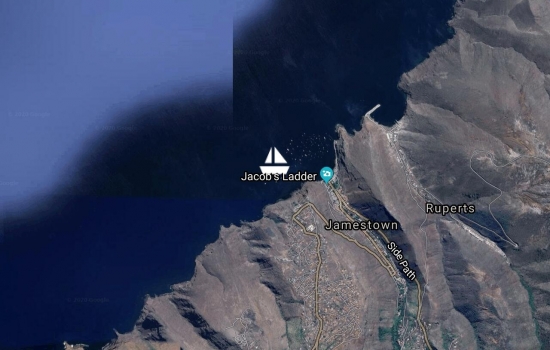 Wed Feb 5 0:09 2020 NZDT
GPS: 15 55.434S 005 43.429W
Weather: mainly sunny, 10-15kt E
I guess we should have been suspicious about the low cost of the car rental. Luckily the questionable brakes and transmission got us around the island and up and down the steep narrow roads full of hair pin turns. Did a few pleasant walks and enjoyed some great scenery. Such a variety of landscapes - lush green valleys with grazing sheep and cows, bare rugged steep cliffs and hills covered in NZ flax from a bygone era.

Going again today to swim with the whale sharks. We had quite a long swim with a 6m one the other day when an even larger one came up from the deep right towards me with a big wide open mouth. Awesome! Nothing but light winds in the forecast. Shall probably depart later in the week. Thinking of stopping at some Brazilian Islands, Fernando de Noronho, to split up the 4000nm trip to Barbados.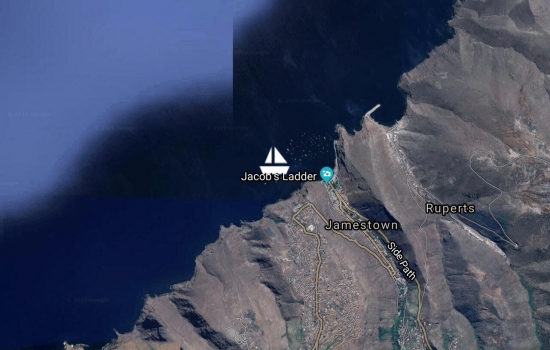 Sat Feb 1 2:45 2020 NZDT
GPS: 15 55.434S 005 43.429W
Weather: mainly sunny, 10-15kt E
St. Helena is exceeding our expectations. Quaint little town loaded with history, gives one the feeling of stepping back a hundred years in time. Swimming with whale sharks today and then a drive around tour tomorrow which will take us to where Napoleon spent his final years.

We are moored next to a sheer cliff a couple hundred meters high. Dozens of tropic birds and terns circling around overhead. Nice clear water below us. The island is spectacular in it's ruggedness. Looking forward to more exploring.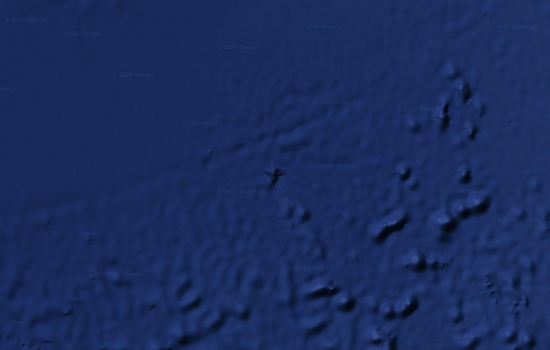 Wed Jan 29 0:12 2020 NZDT
No position sent.
Weather: 12-18kt ESE, partly cloudy with scattered showers, daily high temp mid 20s
We will arrive into St Helena later today. The weather has been a bit unsettled the past couple of days with scattered showers around. The winds have remained light and typically the passing showers have snuffed our wind. Won't complain - we have been talking on the radio with a couple of other boats that recently left Namibia. They have been having 25-30kt and 4m seas. They chose not to leave when we did as they thought the forecasted winds too light. Some of the big old cruising boats like a bit of wind to move.

Our radar has given up the ghost again. We had it serviced in Cape Town and a belt was replaced. Disappointing as it is so useful at night to spot the nearby showers. We also use it to place a guard zone around us as we get a bit slack with keeping a good look around.

We are still find a flying fish or two dead on deck most mornings. Seems we get fewer on deck when there is less swell.

Looking forward to exploring St Helena. We plan to stay just a few days.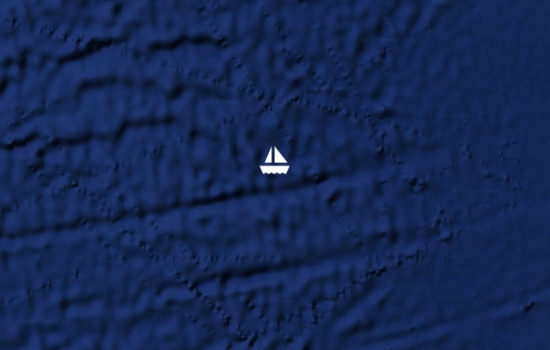 Sun Jan 26 22:48 2020 NZDT
GPS: 17 59.440S 000 23.370W
Run: 316.6nm (573km)
Avg: 6.9knts
24hr: 164.8nm
Weather: partly cloudy with scattered showers around this morning. 15kt SE
We left the eastern hemisphere and crossed into the western hemisphere this morning. Had a Thai green curry last night and will have burritos tonight in honour of the transition.

The wind tends to lighten in the morning and strengthen a bit in the afternoon. We tend to get caught reducing our sails before sunset to make the ride comfortable overnight and then find ourselves short on sail when the wind drops. Difficult to make changes in the dark of night and when one of us is sleeping so we usually wait for sunrise so tend to have a slow start on the day. We talk on the SSB radio twice daily with three other sail boats we know that are also on their way to St Helena. Otherwise not too much happening out here. No fishing boats and only the occasional ship showing up on our AIS.

329 miles to St Helena. Hope to arrive on the 28th.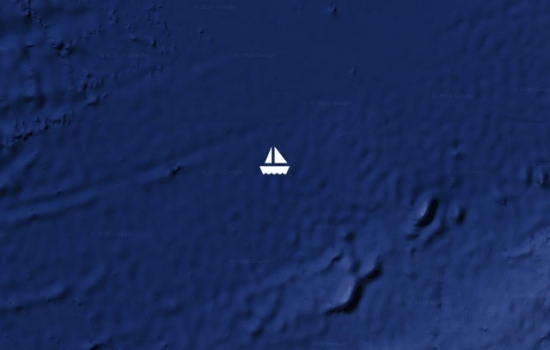 Sat Jan 25 0:42 2020 NZDT
GPS: 19 38.104S 004 07.685E
Run: 349.6nm (632.8km)
Avg: 7.4knts
24hr: 176.6nm
Weather: mainly sunny, 10-15kt SSE, temp mid 20s
we've been sailing along nicely in great conditions. We had a few scattered showers overnight and the wind picked up a bit but it was all quite manageable. We had a stowaway on board last night. A large boobie bird slept on the forward deck and left us a few messes behind. Looks like he's been eating OK. There were no dead flying fish or squid on deck. Maybe the boobie bird is on to a free lunch.

Just passed the half way point between Walvis Bay and St Helena. Forecast looks like more of the same for the next couple days. The wind is getting a bit more behind us so will try flying the Spinnaker this afternoon.
Thu Jan 23 1:12 2020 NZDT
GPS: 21 17.797S 009 13.720E
Run: 354.9nm (642.4km)
Avg: 7.5knts
24hr: 180.7nm
Weather: A few morning clouds on the horizon have cleared off to a brilliant blue sky. 10-15kt S to SSE breeze
We've been having some really nice sailing conditions the past couple of days. 10-20kt on the beam and we've been moving along well in spite of our overladen condition. We are carrying extra diesel on deck to motor across the doldrums and our bilges are full of South African wine! Last week just before arriving into Walvis Bay, we were besieged by a plague of moths. Hundreds of them in various shapes, sizes and colours. Bob found a dozen or more just in his shoes out in the cockpit. Gradually their numbers have diminished each day and I am hopeful that I have just shooed the last one out of the cabin. Unfortunately they've left behind lots of black feathery dust, dead bodies and countless small orange poopy reminders.

Last night was noticeably warmer than the previous night. One less blanket was needed on the bed and I didn't have to wrap myself in my fleecy blanket during my early morning watch. We had a sky full of stars last night and a blue sky this morning instead of the foggy low level cloud we had been experiencing during our stay in Walvis Bay. I think we're escaping the cold Benguela current.

Found dead on deck this morning - three flying fish and one small squid We are 306 miles from Walvis Bay with 907 miles to go to St Helena
Tue Jan 21 2:03 2020 NZDT
GPS: 22 57.193S 014 28.564E
Weather: Gorgeous sunny day with a light breeze
We've had a great time in Walvis Bay. Top spot! Considering we're on the edge of the desert we've seen heaps of wildlife. Thousands of seals, pelicans and flamingos around us. We took a tour into the desert yesterday. Great fun driving around the huge dunes. Our tour guides found us lots of critters - chameleon, scorpion, spiders, geckos, beetles, snakes. Amazing their adaptations which allow them to survive in the harsh climate.
We'll head out this afternoon towards St Helena. Just over 1200nm away. The forecast looks like light breezes so we'll probably be about nine days.
Looking forward to some warmer temperatures as we get a little further north and away from the cold Benguela current.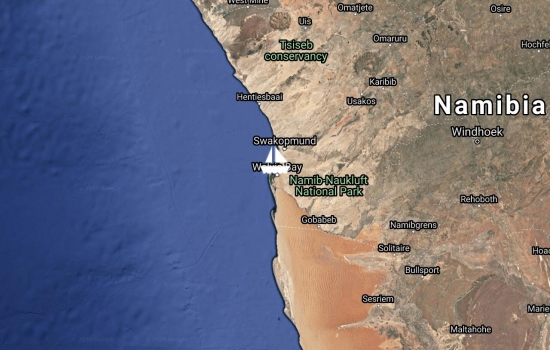 Thu Jan 16 5:05 2020 NZDT
GPS: 22 57.565S 014 28.888E
Run: 194.6nm (352.2km)
Avg: 5knts
24hr: 119nm
Weather: Light breeze, cool, dull and overcast
We arrived into Walvis Bay about lunchtime. Declined the thought of getting a taxi and walked into town to do our clearance with Customs, Immigration & Port Control. We eventually found our way!! The cold Benguella current has followed us up the coast and it definitely does not feel tropical here. The waters around us are full of seals jumping and playing and I guess they are also busy devouring fish but we are spared the gory details. A nearby sand spit is covered with hundreds of seals. Thankfully we are upwind of them.
They have a nice yacht club with restaurant, bar and dinghy dock next to the anchorage. Tomorrow we shall go exploring. Tonight we'll have a good night's sleep!!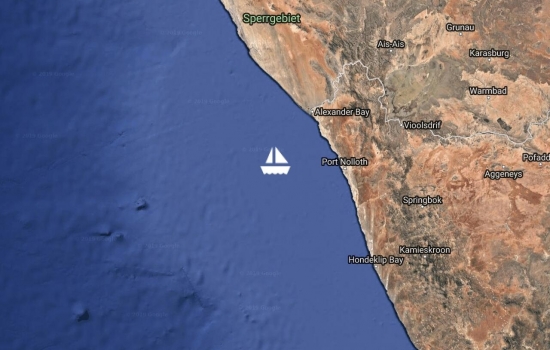 Mon Jan 13 3:00 2020 NZDT
GPS: 29 19.13S 016 00.70E
Run: 98.8nm (178.8km)
Avg: 6.7knts
24hr: 160.8nm
Weather: overcast, 20knS, temps in the low 20s
The first couple of days we had lighter breezes than expected and we had to do a bit of motoring. We had a full moon Friday night and as we were watching it rise a nearby whale put on a bit of a show for us. Not sure what it was doing but it seemed to stand on its head and wave its tail at us for quite some time. That night we also ran into some fog for a couple of hours and everything on the boat was soaking wet which really made it feel quite chilly. Yesterday afternoon the wind filled in a bit and is directly behind us. We had a pleasant overnight sail with just the headsail. This morning we raised the mainsail and were merrily traveling along wing and wing until the sky starting getting cloudy and the wind got gusting close to 30 - so now we are back to just the head sail. Life is much simpler with just a head sail!! All going well we should arrive into Walvis Bay and back into the tropics on Wed. About 400 miles to go.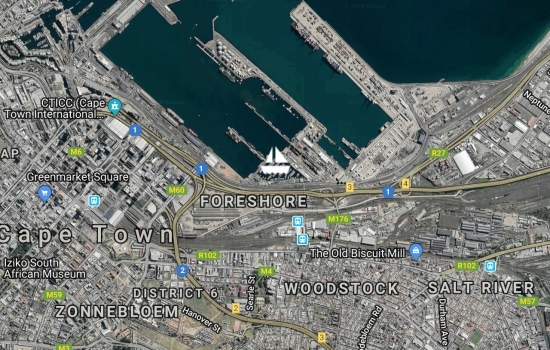 Fri Jan 10 18:01 2020 NZDT
GPS: 33 55.200S 018 26.590E
Run: 1.6nm (2.9km)
Weather: Sunny, pleasant (High 26C Low 18C) and a calm morning
We moved to the Royal Cape Yacht Club yesterday to do our check out procedure with Port Control, Customs & Immigration. Relatively quick and painless with no fees. Enjoyed a pleasant happy hour at the club with Jaga II, Neptune's Highway and Nero. We leave this morning and shall travel in company with them up to Namibia. We are headed to Walvis Bay about 700 miles away and expect to arrive in about five days.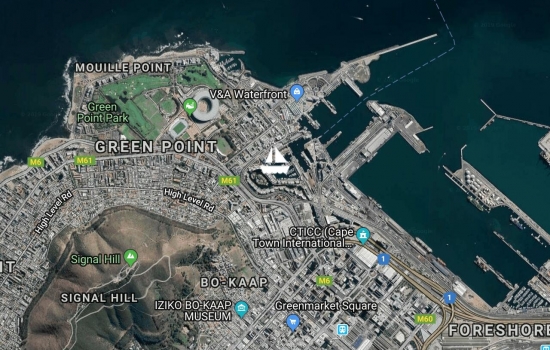 Tue Jan 7 20:45 2020 NZDT
GPS: 33 54.56S 018 25.10E
Weather: partly cloudy, light breeze, temps in the low 20s
Will probably leave Cape Town later this week. Just checking that our new modem is working OK with our satellite phone so that we will be able to download weather and send updates to this website along the way.
No blogs available for this yacht.
Loading map and updates ....
Loading track, please wait ....