ICAROS
Thu Jan 16 7:11 2020 NZDT
Speed:
4
knts
GPS: 22 57.1878S 14 28.5612E
Run: 0.6nm (1.1km)
Automated update - Terestial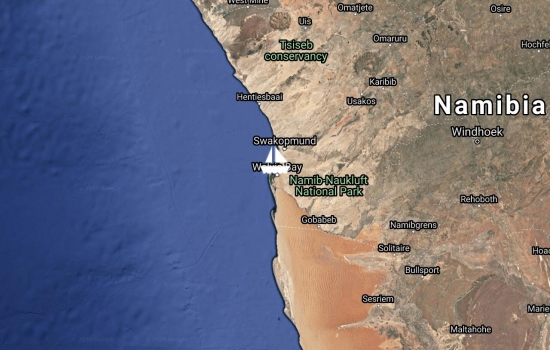 Thu Jan 16 5:05 2020 NZDT
GPS: 22 57.565S 014 28.888E
Run: 194.6nm (352.2km)
Avg: 5knts
24hr: 119nm
Weather: Light breeze, cool, dull and overcast
We arrived into Walvis Bay about lunchtime. Declined the thought of getting a taxi and walked into town to do our clearance with Customs, Immigration & Port Control. We eventually found our way!! The cold Benguella current has followed us up the coast and it definitely does not feel tropical here. The waters around us are full of seals jumping and playing and I guess they are also busy devouring fish but we are spared the gory details. A nearby sand spit is covered with hundreds of seals. Thankfully we are upwind of them.
They have a nice yacht club with restaurant, bar and dinghy dock next to the anchorage. Tomorrow we shall go exploring. Tonight we'll have a good night's sleep!!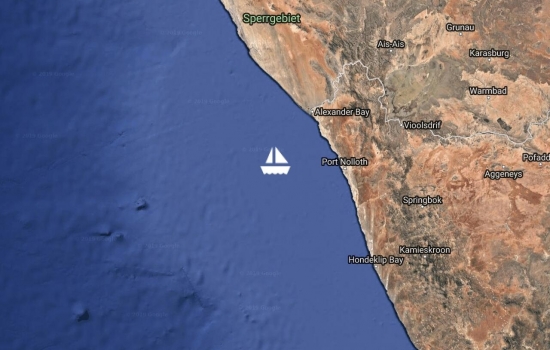 Mon Jan 13 3:00 2020 NZDT
GPS: 29 19.13S 016 00.70E
Run: 98.8nm (178.8km)
Avg: 6.7knts
24hr: 160.8nm
Weather: overcast, 20knS, temps in the low 20s
The first couple of days we had lighter breezes than expected and we had to do a bit of motoring. We had a full moon Friday night and as we were watching it rise a nearby whale put on a bit of a show for us. Not sure what it was doing but it seemed to stand on its head and wave its tail at us for quite some time. That night we also ran into some fog for a couple of hours and everything on the boat was soaking wet which really made it feel quite chilly. Yesterday afternoon the wind filled in a bit and is directly behind us. We had a pleasant overnight sail with just the headsail. This morning we raised the mainsail and were merrily traveling along wing and wing until the sky starting getting cloudy and the wind got gusting close to 30 - so now we are back to just the head sail. Life is much simpler with just a head sail!! All going well we should arrive into Walvis Bay and back into the tropics on Wed. About 400 miles to go.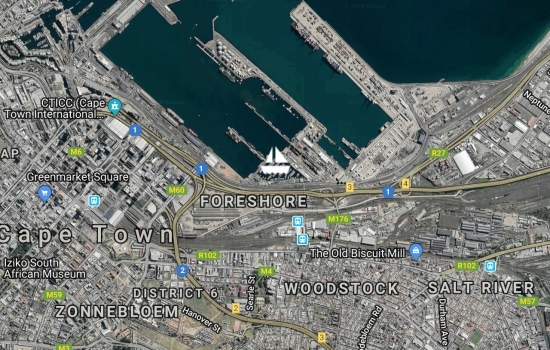 Fri Jan 10 18:01 2020 NZDT
GPS: 33 55.200S 018 26.590E
Run: 1.6nm (2.9km)
Weather: Sunny, pleasant (High 26C Low 18C) and a calm morning
We moved to the Royal Cape Yacht Club yesterday to do our check out procedure with Port Control, Customs & Immigration. Relatively quick and painless with no fees. Enjoyed a pleasant happy hour at the club with Jaga II, Neptune's Highway and Nero. We leave this morning and shall travel in company with them up to Namibia. We are headed to Walvis Bay about 700 miles away and expect to arrive in about five days.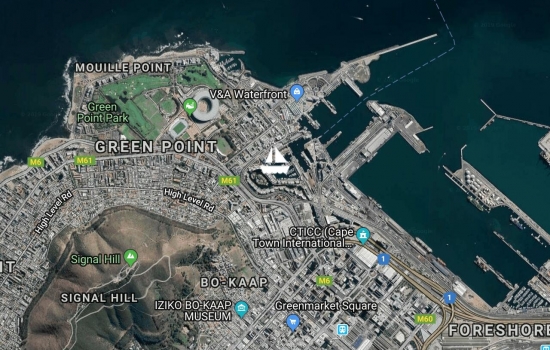 Tue Jan 7 20:45 2020 NZDT
GPS: 33 54.56S 018 25.10E
Weather: partly cloudy, light breeze, temps in the low 20s
Will probably leave Cape Town later this week. Just checking that our new modem is working OK with our satellite phone so that we will be able to download weather and send updates to this website along the way.
No blogs available for this yacht.
Loading map and updates ....
Loading track, please wait ....