Kailani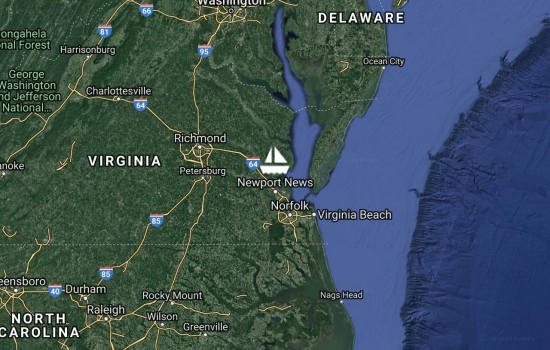 Fri Nov 8 10:27 2019 NZDT
GPS: 37 15.35N 076 28.74W
Run: 97.5nm (176.5km)
Weather: 8kts SW
On dock, downtown Gloucester, VA. Moved the boat 30 nm up the York River across from Yorktown, VA. Here we will leave Kailani for the winter months, taking advantage of dockside living to do a full spring cleaning before flying to Idaho for winter. Mixed feelings as we watched the cruisers streaming past in the opposite direction, all headed for the islands for winter. But then again, we are the Earls - we never do anything the conventional way! So Idaho here we come!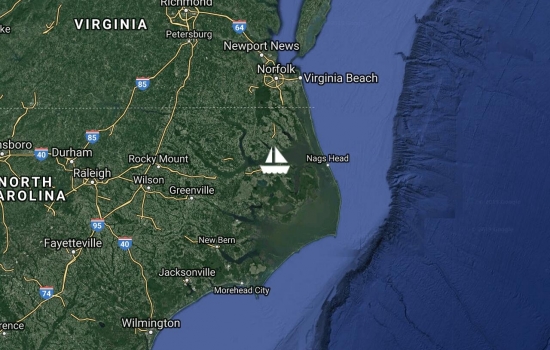 Wed Oct 30 6:00 2019 NZDT
Run: 79.9nm (144.6km)
Weather: 5kts NE
On dock, downtown Norfolk! Moved the boat 10 nm to the S to a dock in downtown Norfolk. A very interesting trip along the channel with the military and commercial ships docks all busy with activity. First time we have ever seen a completely "hot pink" container ship with coordinating pink containers. We will enjoy this slip with the ability to walk to numerous downtown amenities.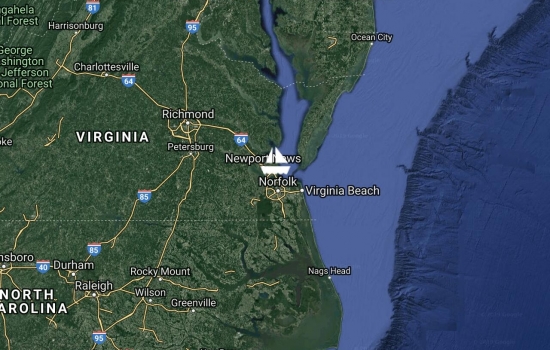 Sun Oct 27 17:45 2019 NZDT
Run: 88.9nm (160.9km)
Avg: 7knts
24hr: 168.7nm
Weather: 10kts E
Day 3 - 0015 local 27 Oct, anchor down, Old Point Comfort, Fort Monroe Anchorage, Norfolk VA. The wind filled in nicely for us to sail for the final 12 hours of this passage on a broad reach with full main and jib. All day long the USCG was putting out pon-pon notices about a single handed sailor who is overdue here in Norfolk, and listening to all the activity related to the search for him/her made for a somber afternoon. Other strange notices were about an injured humpback whale in the vicinity (no, we did not hit it) and we were all startled when a land bird who had lost its way flew down below. We chased him up top, but he hitched a ride under our dinghy until land was near again. Arriving in this very busy port at night was somewhat challenging, and being passed by a 297m container ship going 16kts in the confined channel gave us a HUGE 12foot wake to deal with, thankfully just after we had dropped the main and were under power. It is supposed to blow and rain pretty hard tomorrow, so we may re-anchor in the morning when we can get a better lay of the land. For now it it stow and go to bed, thankful for another safe journey.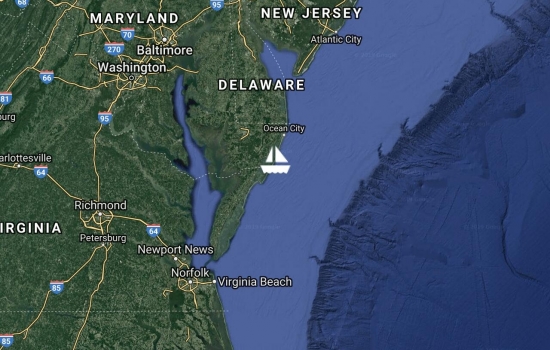 Sun Oct 27 5:06 2019 NZDT
Speed:
8.2 kts
knts
Run: 214.9nm (389km)
Avg: 7.6knts
24hr: 182.9nm
Weather: 10kts NNE cc80%
Day 2 - 89 nm to Norfolk VA. Motorsailing main only, 8.2 kts at 214T. Yesterday morning we had a fabulous time motoring along the East River of Manhattan, particularly enjoying the view from the water of the iconic Chrysler and Empire State Buildings. Of course the highlight was the southernmost end, seeing old Lady Liberty, her statuesque coppery turquoise and gold torch reflecting the brilliant morning sunshine. We timed the tides right, and whipped along at 12+ knots under a total of 8 bridges, the air, sea and land around us a constant hum of noise from helicopters, planes, trains, ferries and cars all hustling to their Friday morning destinations. We totally understood why the northernmost cut is called "Hell's Gate", wicked if one timed it wrong or had major shipping traffic. Once again, it being late in the season and a weekday helped us miss most traffic situations, but we sure did enjoy looking up at all those magnificent buildings and being so close we could see people at their desks working away. In terms of sailing, we have done very little, only about 5 hours last night as we weaved through many anchored container ships outside the Delaware port. The chart is littered with markings of wrecks, a reminder of how this shallow coast with depths ranging from 10-50 feet, would be treacherous in big winds. The wind should fill in nicely from the north shortly, hopefully allowing us to sail the remainder of our miles and get the hook down in the wee hours tonight.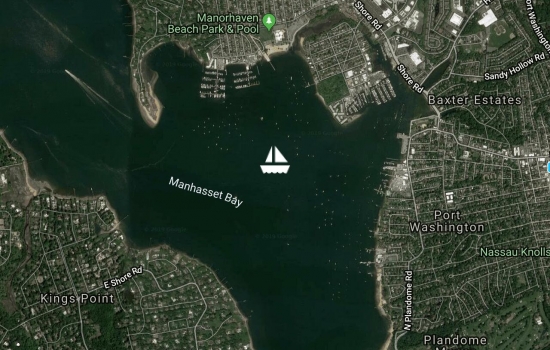 Sat Oct 26 0:54 2019 NZDT
GPS: 40 49.75N 073 42.92W
Weather: 0kts COLD cc30%
Day 1 - off the mooring early for the beginning of our 303nm sail down through New York City then out and along the NJ coast and the Delmarva Peninsula for a coastal passage to make landfall in Norfolk VA, which we anticipate taking just under 48 hours. Weather forecast is for light winds hopefully filling in from the N tonight at 2200 local, so it will be a motorsail for at least 1/3 of the trip. All well on board, excited about sailing along Manhattan.
Wed Oct 23 11:09 2019 NZDT
GPS: 40 49.75N 073 42.92W
Run: 33.8nm (61.2km)
Weather: 5kts NE, rain rain
On mooring, Port Washington, Manhasset Bay, NY, USA. We bid adieu to Black Rock YC and Fairfield CT today, taking advantage of a great NNE wind to sail further down Long Isl Sound, 35 nm closer to NYC. We had a lovely stopover in CT, catching up with friends and making new ones. Due to the extraordinary generosity of our friends we were able to leave Kailani on a mooring while we made major memories by taking Sophia to NYC for the first time via train. We will supplement her view of this iconic city by sailing down along Manhattan on Friday, weather permitting. We felt like the last cruisers up this far north until arriving here today, where there are a handful of cruising sailors waiting anchored out. For today it was all cold and rain, but the lovely wind and lack of traffic were fabulous! Kettle is on and tomorrow should be another Indian Summer sunshine day.
Thu Oct 10 10:27 2019 NZDT
GPS: 41 08.65N 073 13.20W
Run: 54.5nm (98.6km)
Weather: 30kts NE
On mooring, Black Rock Harbor, Fairfield, CT, USA. Another 58 nm of sailing SW today along the CT side of Long Isl Sound. A very sporty beam reach sail with a single reefed main and staysail, winds of 25-30kts and constant rain were a surprisingly welcome relief from our long night in a very rolly anchorage! We are tied up to a friend's mooring bouy at the yacht club here, and will stay for about 10 days as we visit with friends and relations here and in NY. For now we are taking advantage of a brief break in the rain to tidy up Kailani's topsides in prep for further big winds and rain over the next few days.
Wed Oct 9 10:39 2019 NZDT
GPS: 41 18.72N 072 11.75W
Run: 46.5nm (84.2km)
Weather: 10kts NNE
Anchored, Niantic Bay, CT, USA. Great seven hour beam reach sail from Newport today. Cold and grey days of fall are upon us and this current NE wind will continue for the week with some rain moving in tonight. We have set the hook for the night and will set sail at first light to move on from this rolly anchorage. Today we were constrained by having to time the current for entering Long Island Sound at place called "The Race" where a 5kt outgoing current against the 20kts of opposing wind would have been a problem. With that behind us, tomorrow's sail to Bridgeport should be a straightforward run down along the CT shore. It is supposed to crank up to some big winds tonight and tomorrow, but still from a favorable direction for our continued SW passage. We had 3 busy and wonderful days touring Newport RI . We will update our website with details once we are hanging out down in our next port.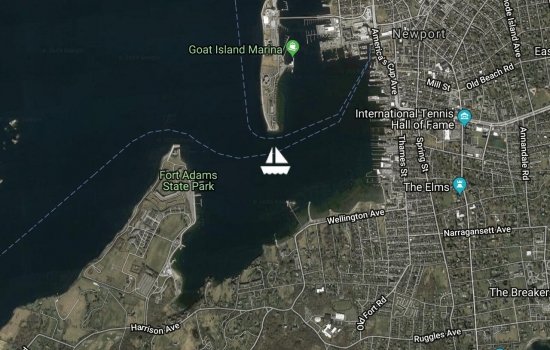 Fri Oct 4 10:06 2019 NZDT
GPS: 41 28.77N 071 19.63W
Run: 33.5nm (60.6km)
Avg: 14.3knts
24hr: 342.1nm
Weather: 19kts NNE
Anchored, Newport, Rhode Isl, USA. Had a glorious 46nm downwind run from Marion today, taking about 6 hours to arrive here in Newport RI. NE winds between 15-20kts kept us togged up in our foul weather gear, with a steady flow of hot drinks to the on watch crew in the cockpit. It is hard to believe that just yesterday in Marion it was 80F and so humid we almost ran our aircon! Today it is a cold and windy 50F and there is a definite feel of fall in the air. The anchorage is much emptier than when we departed just under 4 months ago for our New England and Nova Scotia cruising season, and we appear to be one of the only cruisers still lingering this far north. Here we will wait some weather out, see some museums and sites, then start making our way toward New York in the next favorable sailing wind.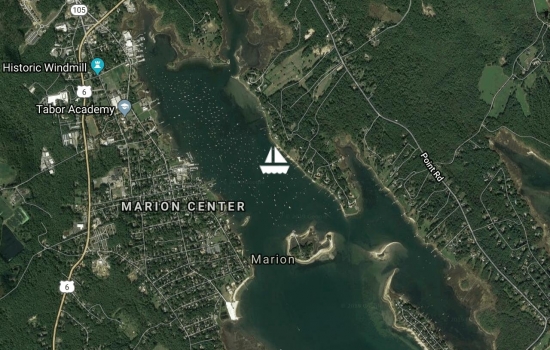 Fri Oct 4 7:45 2019 NZDT
GPS: 41 42.24N 070 45.14W
Weather: 19kts NNE
Anchored, Newport, Rhode Isl, USA. Had a glorious 46nm downwind run from Marion today, taking about 6 hours to arrive here in Newport RI. NE winds between 15-20kts kept us togged up in our foul weather gear, with a steady flow of hot drinks to the on watch crew in the cockpit. It is hard to believe that just yesterday in Marion it was 80F and so humid we almost ran our aircon! Today it is a cold and windy 50F and there is a definite feel of fall in the air. The anchorage is much emptier than when we departed just under 4 months ago for our New England and Nova Scotia cruising season, and we appear to be one of the only cruisers still lingering this far north. Here we will wait some weather out, see some museums and sites, then start making our way toward New York in the next favorable sailing wind.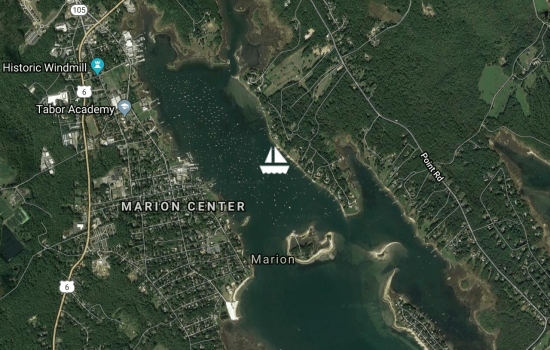 Wed Oct 2 3:30 2019 NZDT
GPS: 41 42.24N 070 45.14W
Run: 6.8nm (12.3km)
Weather: 9kts SSW
On mooring, Marion, Mass, USA. A quick morning motorsail from Phinneys Harbor this morning to Marion, where we will linger for a few days to pick up some parts and shelter from the SWly winds and rain the next few days. We had a nice time in Monument Beach at Phinneys Harbor, visiting with friends and catching up on work and school. Completed our time yesterday afternoon with a lovely town walk, a quiet meal ashore and a final meandor in the chilly wind along the railroad as the glorious sunset was an orange beacon calling us home to Kailani.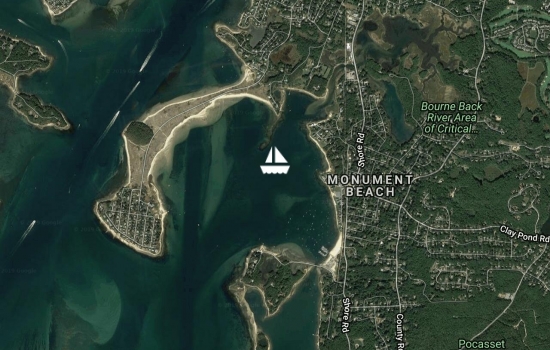 Thu Sep 26 4:03 2019 NZST
GPS: 41 43.22N 070 37.29W
Run: 20.4nm (36.9km)
Weather: 9kts WNW
Anchored, Phinneys Harbor, Cape Cod, Mass, USA. Gorgeous day on the Cape! We up anchored at 0730 to make it to the Canal by 1030 and enjoyed our transit through the Cape Cod Canal without any other traffic and max speed of 10.8kts. Saw some interesting shark or ray fins 5 different times, lots of cormarants and other sea bird life, along with a host of locals fishing, running and biking along both sides and enjoying oerfect sunny weather. We will stay here for a few days, visit with friends, then head out to Marion for the weekend.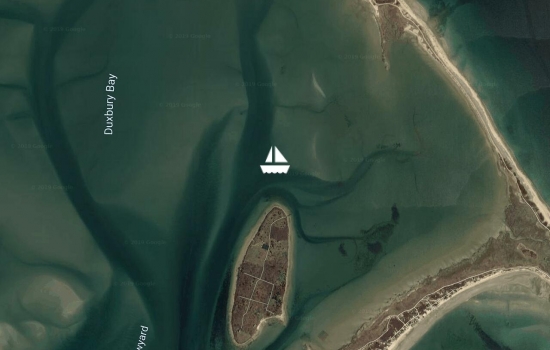 Wed Sep 25 8:03 2019 NZST
GPS: 42 00.92N 070 38.16W
Run: 31.8nm (57.6km)
Weather: 13kts WNW
Anchored, Duxbury Bay, Clarks Is, Mass, USA. After 5 very full days exploring historic Boston, we departed at 0915 this morning for a 50nm sail south toward Cape Cod. We enjoyed light and favorable winds for a lovely beam reach sail here, and are delighted to be in this quiet little bay, worlds away from chaotic Boston harbor. In Boston our mooring allowed us to enjoy planes, trains, ferries, and all manner of pleasure craft zooming around us quite literally, since the mooring field was atop the subway lines and just west of the airport runway. That being said, we barely spent any time aboard Kailani as we daily embarked on touring historic sites, museums, and fabulous meals out in "little Italy" of the North End. Boston did not disappoint, but everyone is pleased to be back on the hook in the peace and quiet. We will rest up tonight, then it is anchor up early to make the favorable current for our Cape Cod canal transit tomorrow.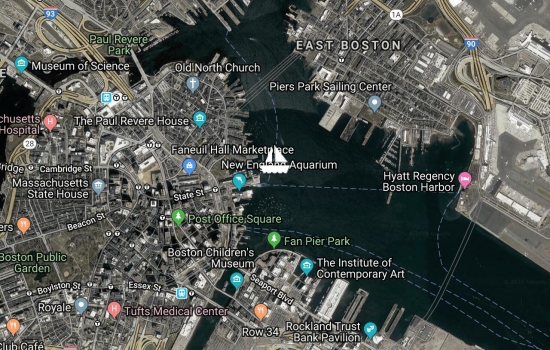 Thu Sep 19 9:03 2019 NZST
GPS: 42 21.64N 071 02.77W
Run: 52.6nm (95.2km)
Weather: 11kts NE
On mooring, Boston Harbor, Boston, Mass, USA. We took advantage of the strong NEly generated by Hurricane Humberto off toward our east in order to sail 63nm to Boston from Pepperrell Cove this morning. Tonight is the first frost advisory for southern Maine, so it is time to get "where the weather suits our clothes" so to speak. Had a fast, feisty and COLD time sailing under a single reefed main and jib, enjoying the fact that the density of lobster pots have diminished. Highlights of our last days in the Portsmouth NH area were Sophia getting to go out with a local fisherman to bait and pull lobster pots (thank you David!). We also visited with many local land friends and yachties to round out school days and enjoying what seems like the last warm days of summer in Maine. The trees have started to turn to gorgeous fall spectrum, and our heater aboard is getting frequent use. We are excited to have a mooring right downtown in front of Fanneuil Hall and easy walking access to all the historical sites we will adventure to during our stay.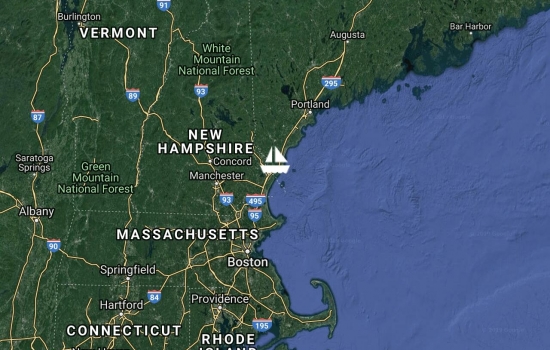 Mon Sep 9 9:42 2019 NZST
GPS: 43 04.77N 070 42.41W
Run: 64.9nm (117.5km)
Weather: 4kts W
On mooring, Pepperrell Cove, Kittery Point Harbor, Maine, USA. Departed in cold cloudy weather 68nm to our north this morning to start our southward journey back down along the coastal US. We arrived at 1700 local to lots of fishing and yachting activity as everyone here is wrapping up their Sunday afternoon of fun in the sun. It was mostly a motorsail, but the wind filled in for the last 2 hours to make it fun to sail under jib alone. First stop of our sojourn southward is here on the border between Maine and New Hampshire, where we started our Maine cruise less than 2 months ago. We will linger here possibly for a few days, visit friends and wait prepare for our next leg onward to Boston Mass.
Sat Sep 7 11:18 2019 NZST
GPS: 43 49.33N 069 54.95W
Run: 38.9nm (70.4km)
Avg: 4.8knts
24hr: 116nm
Weather: 1kts NE, cc 100%
On mooring, Orrs Cove, Quahog Bay, Sebascodegan Isl, Maine, USA. 248 nm in our rear view. We mostly motored on this passage, sailing when we could, and especially had a fun sail up this tiny inlet to tuck away in a quintessential Maine cove. Lots of lobster pots to dodge, and even a submerged red nun buoy required all three sets of eyes to safely navigate and tie up before sunset. Here we will sleep well. Kailani is put to bed, ready for lots of rain starting tonight, with winds forecast to be 20kts from the North at the peak of Dorian's pass to our East. Looking at where we departed, Shelburne, Nova Scotia, the wind and sea forecast is simply scary. They are expecting up to 80mph winds when Dorian makes landfall tomorrow in Nova Scotia. We cross our fingers for all the people we met there, especially the handful of cruisers who chose to stay there instead of run.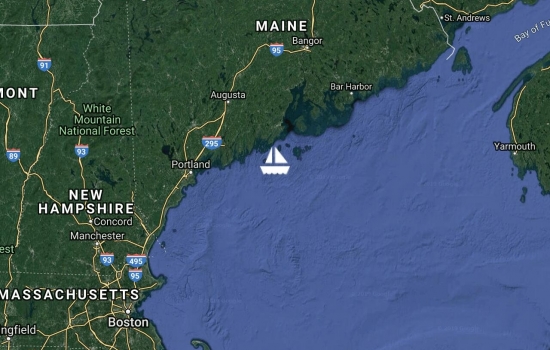 Sat Sep 7 3:15 2019 NZST
Speed:
6.2
knts
GPS: 43 37.98N 069 10.88W
Run: 195.2nm (353.3km)
Avg: 7.9knts
24hr: 189.3nm
Weather: 14kts NE, cc 50%
Day 2. 41 nm to Maine, USA. Sailing 6.2kts at 274T, main plus jib. Mostly been a motor sail until an hour ago, as winds have been light and the seas eerily calm. Last night the sunset was a weird salmon orange haze full of wispy high level clouds and this morning the sky was the exact image of "red sky in the morning, sailors take warning". Our objective is to make landfall before sunset, and we have found a place we think will provide good protection for the storm. We have entered the Maine waters and today will be back to the "lobster pot boogie", dodging the multitude of buoys large and small. We are thankful for the calm seas, no fog, and rain free weather to make our final approach.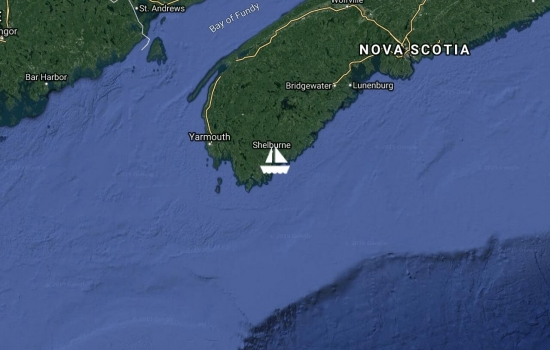 Fri Sep 6 2:30 2019 NZST
Speed:
8.4
knts
Run: 339.4nm (614.3km)
Weather: 10kts WNW
Day 1. 223 nm to Maine, USA. MS 1rM , 8.4kts at 201T. After only 3 weeks cruising here, we are departing Nova Scotia this morning as Hurricane Dorian is due to strike as a Cat 1 here on Friday night , Sat morning. Without any real good harbors to secure from the anticipated potential 19m sea surge we are out of here. Anticipate arrival tomorrow late afternoon, some place near Portland Maine, but that destination may change as we continue to watch the weather.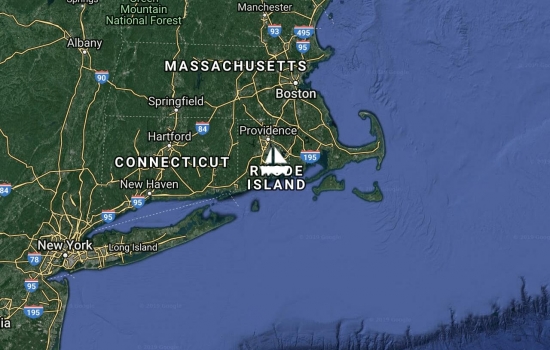 Thu Jun 20 4:21 2019 NZST
Speed:
anchor down
knts
Run: 184nm (333km)
Avg: 7.3knts
24hr: 176.3nm
Weather: 4kts E, cc 80% 1012mb 71F 79%rh
Day 5 Anchor down at 0830 local, Brenton Cove, Newport RI. 650nm. Arrived in the USA! Yesterday right after our noon update, Sophia came down from her scope of the horizon with the notice "we have FOG!". Not really surprising, as of course the New England waters are infamous for it, but believe it or not, this is the first fog we have ever encountered while sailing Kailani. This includes sailing her from Turkey across the Med , across and up to SF, then around the world and up here to the east coast of the US. Our radar, like most of Kailani's electronics, is vintage 1989. OLD. In addition, upon our last inspection while repairing the hole in the fabric radar cover, we noted a new crack in the housing. We have no idea how much rain might have seeped into all of its radar emitting electronics. In fact the only time we have turned this radar on to aid in navigation was in 2015 in Indonesia due to their seasonal practice of palm oil field burning, which causes debilitating visibility and air quality with rancid smoke. While it "worked" then, it never really did so in a manner to effectively pick out the hazards there, like the little old man we almost ran over, sitting in his wooden dugout canoe holding simply a bic lighter for his running light when we neared. So, this is a long way of saying, it was with a bit of trepidation and a lot of hope that we fired up our c. 1989 Raytheon radar, wishing mostly that it actually worked, and more importantly that if it malfunctioned that we would not start a fire, or something worse. Anyway, to our delight and amazement, it worked. We quickly went through the motions of "dialing down the clutter" etc on our giant cathode ray tube screen down below, and boom, we could see all the upcoming fish buoys! Good, but yikes, they were seemingly everywhere, and we could not see them visually as the fog was to the deck. Next was a lesson for Sophia about sea clutter (Jen reaching back to her days of designing guidance systems on radar guided missiles, noting of course that this actually was a time period a few years AFTER the date of our radar) so that Sophia could help tune the radar to separate hazards like buoys from returns like rain clouds and waves, and be our key assistant during our helm watches. Let's just say the next 19 hours of our motorsail into Newport was exhausting. The radar transmit had to happen every 5 mins, and Jen and Harley took turns running up on deck to maneuver as needed around pots, fishing vessels, buoys, etc. And it was COLD. But arrive we did, and exhausted we are. Unable to raise the harbor master we sought out an anchorage and dropped the hook (technically not really approved protocol). Harley completed our immigration and customs clearance into the USA online (cool!) and the delightfully friendly harbor master Steve just dropped by to give us the skinny on local knowledge we need e.g. where we can dinghy in etc. So here we sit, watching geese and kids in sailing dinghies cruise around, every manner of boat out and about, and the nearest channel buoy's brass bell clanging away as it rocks in the waves. A very busy harbor. We have to put the boat to bed now, so it is definitely a second POT of coffee day. To be followed by food, beer, champagne and some sleep (not necessarily in that order!).
Wed Jun 19 3:18 2019 NZST
Speed:
7.7 kts
knts
Run: 208.6nm (377.6km)
Avg: 9knts
24hr: 215.8nm
Weather: 8kts SW, seas 0.5m, cc 100% 1015mb 76F 82%rh
Day 4 159nm to Newport RI USA. Motorsailing, full main, 7.7kts at 335T. Soon after our post yesterday at noon, the wind kicked up and the seas got very messy. We were sailing on a close reach into 8-9ft seas that were 5-6 secs apart, and adding to it there was a remnant swell from the NW coming in to hit us and generally add an extra bounce to anyone transiting the cabin. All in all it made for a very uncomfortable ride. 27T of boat going up a wave then slamming down into the trench, to slam hard again into another wave, repeat, repeat, repeat. It is in these times we take great stock in what a well built boat Kailani is, fast yet stout when we need it most. We were all fairly tired and gulping down the the seasick meds, until all of a sudden by 5pm the seas seemed to cease. The wind was still at about 20kts from the SSW, but we had crossed into the gulf stream, way ahead of where we thought we would. The gulf stream current, running with the wind, had the wonderful effect of flattening those waves. Yay! So on we sailed and we all got a reprieve from the slamming motion, the barometer dropped, from its high of 1023mb to 1017mb, in 4 hours confirming we were out of the H that has dominated this trip so far. The gulf stream current set us a bit east, but that was ok since the forecast said we would get winds from the E and NE after the H passed as the new dominant wx would be a low up near 46N. The wind died by 0130 this morning, and we have been motoring since. Morning broke with us under squally skies, and we were greeted with rain, thunder and lightning around us. In the list of things we sailors worry about out at sea, a lightning strike is right up there. As we breakfasted on warm scones, peaches and coffee (upon each lightning burst each of us counting to ourselves "one-one thousand, two-one thousand...") the storm passed us by, but not before the nearest strike was right behind our boat. We didn't need a second cup of coffee this morning to be alert! We are now technically in US waters, being within 200nm of shore, and all aboard are getting excited about landfall tomorrow afternoon. Ironically, the latest forecast has now come back to what it was when we departed Bermuda, that is, no wind for the remaining miles in to RI. Good thing Harl threw the right engine room words at that engine back on Day 1, as she is running fine.
Tue Jun 18 4:06 2019 NZST
Speed:
7.7 kts
knts
Run: 207.4nm (375.4km)
Avg: 8.3knts
24hr: 198.7nm
Weather: 18kts W, seas 2m, cc 22% 1023mb 81F 80%rh
Day 3 339nm to Newport RI USA. Port reach single reef main and staysail, 7.7kts at 340T. Wind veered and increased last night and we took advantage of the lagging sea state to make some miles at 9.5 to 10 kts with the apparent wind aft of the beam. At breakfast we reefed down and changed out the headsail for the staysail to make it a little more comfortable. Our two wx models have a conflict with one showing a low passing about the time we pect to encounter the Gulf Stream tomorrow, not what we want experience. Weare watching closely and will heave to if necessary to allow what looks to be fast mover go through. Last night we found ourselves on the opposite heading of a Bermuda ocean race with a half dozen smaller boats bashing their way south just off our starboard. Seems like a lot of misery for a dubious honor and a few complimentary dark and stormy rum drinks.
Mon Jun 17 3:03 2019 NZST
Speed:
5.8 kts
knts
Run: 130.2nm (235.7km)
Avg: 6.3knts
24hr: 150.6nm
Weather: 8kts ENE, seas 1m N swell, cc 100% 1023mb 81F 71%rh
Day 2 518nm to Newport RI USA. Stbd close reach full main and jib, 5.8kts at 336T. Been mostly a light air sail so far, with the exception of a few hours after sunset when we got a lift by skirting between squalls, allowing the Kailani "hum" to happen as she cooked along at 9.5kts with minimal seas. In typical Kailani fashion, the most "exciting" thing to happen yesterday was losing our engine while exiting through the Town Cut from St George's harbour. Thankfully there was no major traffic, we were able to flip back around to the bay and we ghosted around with full main and 4 kts of wind, giving Harl time to go down and use some engine room words. Pretty sure it is just a bad fuel / clogged filter issue, and we will address it further today during our light air times. Winds are continuing to veer as this H moves E, so we will eventually motor for a few hours and then flip over to port tack. For now enjoying less humidity and cooler temps!
Sun Jun 16 6:18 2019 NZST
Weather: 5 kts ENE cc 100% 83F 78%rh 1023mb
Day 1 637nm to Newport RI USA. Checked out and in the final throws of stowing the dinghy and kayaks, then we anticipate up anchor by 1600 local. Will post an update to our website when we make landfall in the US, but in a nutshell we really enjoyed our time here in Bermuda: forts, batteries, museums, beaches, long walks, ice cream, etc. We have been watching for a wx window for the past week and are amazed at how much the predictions vary every 6 hrs. So altho not as great a window as it originally looked, it at least has some favorable winds. We are going to skirt the backside of this H that is passing through Bermuda at the moment, which will give us light westerly winds, but hopefully enough to sail until the wee hours. We will likely motor for half of this passage, but at least the winds that are forecast will get us across the gulf stream without wind against tide. So that's our main objective - to cross the gulf stream without getting caught in a NEly. But every time we check the wx it changes pretty dramatically, so we are readying for whatever may come, rigged and ready for all points of sail.
Tue May 28 13:57 2019 NZST
Weather: 5 kts SW cc 75% 69F
Anchored, Convict Bay, St George's Isl, Bermuda. Our plans are to stay here in Bermuda and catch the first wx window after 7 June for the 650 nm run to Newport, RI. For those following us our website, www.laughterjourney.com, has been updated with narrative and photos from Antigua and our first couple of days here in Bermuda. We will resume updates on YIT when we put to sea again.
Sat May 25 1:42 2019 NZST
Run: 139nm (251.6km)
Avg: 6.5knts
24hr: 154.8nm
Weather: 9 kts SSW cc25% sunny 74F
DAY 8 Anchored, Convict Bay, St George's Isl, Bermuda. Yesterday was a long day beating hard to weather close-hauled on starboard, against the confused seas remnant from TS Andrea. Kailani and crew took a beating. The wind died around 9pm local, then it was squally for a few hours so we sailed when we could, and motored on and off as necessary. Finally, the wind just died completely so we had to motor the last 6 hours, making the Town Cut entrance at about 0730 local. We are all checked in, and now anchored amongst many cruising yachts. A big breakfast is brewing and we are happy to be here!
Fri May 24 4:09 2019 NZST
Speed:
4.5kts
knts
Run: 13.8nm (25km)
Weather: 17 kts NE
DAY 7 119 nm to Bermuda. After 16 hrs hove to waiting for the strong Nly to get some E, we set sail this morning at 0715 local. We have a 24 hr window to make landfall before the wind dies completely. We are pounding to windward stretching Kailani and crew limits with the associated pounding thru confused 2m seas.
Thu May 23 7:06 2019 NZST
Speed:
1.5kts
knts
Run: 23.2nm (42km)
Avg: 8.1knts
24hr: 195.4nm
Weather: 20 kts N
DAY6 130 nm to Bermuda. Hove to. Just after posting our noon update we passed through the "Post Tropical Cyclone Andrea" , essentially just a few squalls and gusty variable winds. Coming out the other side, the Nly winds increased and we have decided to heave to hoping wind goes to NE sooner than forecast.
Thu May 23 4:15 2019 NZST
Speed:
9.5kts
knts
Run: 191.4nm (346.4km)
Avg: 8.1knts
24hr: 193.4nm
Weather: 20 kts SE, seas 1.5m SE, cc 100%
DAY6 144 nm to Bermuda. Port beam reach 1st reef main plus staysail, 9.5 kts at 022T. The winds died as forecast and we motored 7 hrs yesterday until they filled in from the SSE. Tropical Storm Andrea at first strengthened and changed heading toward us, but then dissipated in the night. Now our dominant winds are being created by the H to the N of us, and as predicted the wind continues to build and veer. By this evening it is anticipated to be 25-30 from due N, so we will heave to then and wait until there is more E and we can sail again (12-14 hrs). Our arrival ETA is still Friday unless we have to stay hove to longer.
Wed May 22 4:30 2019 NZST
Speed:
5.0kts
knts
Run: 178.4nm (322.9km)
Avg: 7.3knts
24hr: 175.5nm
Weather: 10 kts NE, seas 1m SE, cc 100%
DAY 5 310 nm to Bermuda. Port beam reach main plus jib, 5.0 kts at 310T. As forecast the winds have been waning as a L 300nm off to our NW strengthens. This low has been upgraded to Tropical Storm Andrea, and is headed right for Bermuda, but it is anticipated to dissipate within 48 hrs, which will mean we will extend our arrival ETA to Friday subject to change based on the changing forecasts. Once it passes a H to the East will dominate, giving us wind on the nose for the last leg into Bermuda. We are tracking this TS closely, and will alter sail plan as needed. For now, the humidity has kicked up, the skies are gloomy looking, and the winds are anticipated to strengthen and veer this afternoon.
Tue May 21 4:06 2019 NZST
Speed:
7.0kts
knts
Run: 182.3nm (330km)
Avg: 7.8knts
24hr: 187.4nm
Weather: 12 kts ESE, seas 1m ESE, cc 50%
DAY 4 463 nm to Bermuda. Stbd beam reach main plus jib, 7.0 kts at 001T. Just passed the half way mark, which usually calls for celebration. Maybe a cake, but it is still very hot despite our steady sail north. We motored 6hrs yesterday until the winds filled in just before sundown, and all on board, even our "Elf on the Shelf" (Bill's self proclaimed nickname referencing his high side bunk in the 3rd cabin) finally got restful sleep as Kailani sailed along at 5-7 kts thru the calm night.
Mon May 20 4:45 2019 NZST
Speed:
7.5kts
knts
Run: 180.4nm (326.5km)
Avg: 7.4knts
24hr: 176.7nm
Weather: 8 kts ESE, seas 1m ESE, cc 50%
DAY 3 623 nm to Bermuda. Motor sailing, 7.5 kts at 355T. Winds have been less than 15 kts and this morning veered aft and dropped to 8-9 kts. We are motorsailing on course but the prospect for better winds anytime soon is poor. The forecast for later in the week is for 15-20kts on the nose so it looks like we will be battling upwind to make Bermuda by the weekend. We'll see as the weather has a way of changing, particularly when you consider that none of this was in the forecast 2 days ago!
Sun May 19 4:15 2019 NZST
Speed:
6.8kts
knts
Run: 522.3nm (945.4km)
Avg: 27.9knts
24hr: 668.5nm
Weather: 12 kts ESE, seas 1m E, cc 10%
DAY 2 777 nm to Grenada. Stbd beam reach run sgl rf main and jib, 6.8 kts at 355T. We upped anchor yesterday afternoon at 1600 local, departing Falmouth Harbour in light winds. The wind settled in for great sailing once we were headed north along the west side of Antigua, and it has steadily veered to allow us to be close to the rhumbline humming along. Our stopover in Falmouth Harbour was great for rest, the usual ashore food breaks, and we really enjoyed visiting historic English Harbour and Nelson's Dockyard. Jen and Sophia are both reading Patrick O'Brian's Aubrey Maturin series for the first time so exploring the museum, seeing the old forts, walls, careening pillars, cannons, sail loft, etc made the stopover particularly fun.
Sat May 18 9:30 2019 NZST
Speed:
7.2
knts
GPS: 12 01.380N 061 40.722W
Run: 32.5nm (58.8km)
Weather: 12 kts ENE
Day 1 - 937nm to Bermuda. Sailing 1RM plus Jib. Under way from Antigua! Sorry for no updates here. Jen's hand injury has tightened up our crew situation so no updates until she can type roughly now. Thank goodness our friend Bill has been aboard for our sail since Grenada. We as a family spent about a month in Grenada and St Vincent and had to haul out just the day before departing northward to Antigua. We had a short 36 hour sail to Antigua and awaited arrival of good wx window for this leg to Bermuda. Wish us luck as we head into the TRIANGLE:). If you want to read more of our time in Grenada check out our website Travels and Photo pages LaughterJourney.com. Great to be back to sailing north!
Thu Apr 11 9:21 2019 NZST
GPS: 12 27.403N 061 29.457W
Run: 32.5nm (58.8km)
Weather: partly cloudy, wind E 18-20 gust 25
We are back aboard after an 11 month hiatus taking care of family back home. Anchored in Tyrell Bay on Carriacou, Grenada West Indies. Will be gunkholing around the Grenadines for a month before heading north to Newport via Bermuda.
Kailani - Kailani's ongoing blog
Loading map and updates ....
Loading track, please wait ....