Legacy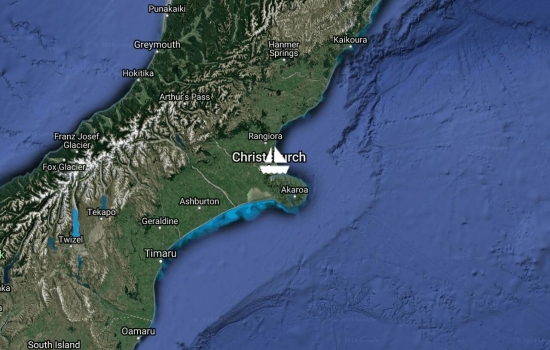 Wed Oct 9 8:52 2019 NZDT
GPS: 43 36.298S 172 42.767E
Run: 4800.1nm (8688.2km)
Weather: Too cold to support human life (especially after just returning from Hawaii!)
We're back in Lyttelton and it's nice to be on Legacy again. We'll hang out here for a month or so, before moving north to Nelson. Hi Y'all.
Sat Jul 20 9:14 2019 NZST
GPS: 19 38.09N 155 59.40W
Run: 2502nm (4528.6km)
Avg: 20.2knts
24hr: 485.1nm
We made the 2400 mile passage from Los Angeles to Kona, Hawaii in just over 5 hours. Eat your hearts out Transpac boats (who are now arriving in Ohau). I love airplanes!
Mon Jul 15 5:27 2019 NZST
GPS: 33 50.666N 118 23.614W
Run: 2549.6nm (4614.8km)
Avg: 2.7knts
24hr: 64nm
Perhaps you've heard about the massive food shortages in Los Angeles? Yep, our bad! We've eaten everything.
It's been a productive visit but there's nothing like two weeks in LA to make every the worst passage look good by comparison.
We'll fly back to Hawaii in a few days. Happy sigh.
Wed Jun 5 9:52 2019 NZST
GPS: 21 17.153N 157 50.364W
Run: 4858.4nm (8793.7km)
Avg: 4.2knts
24hr: 99.9nm
Weather: Oh so nice!
24 Hour Run: 4221nm Average Speed: 574 knots. Yep, that's right. No, not on Legacy, we flew - to Hawaii for a vacation from our cruising lives. It's been seven years and we felt like a rest. We'll stay here four months.
That was our easiest passage ever!
Wed Apr 17 18:12 2019 NZST
GPS: 43 36.290S 172 42.857E
Run: 189.9nm (343.7km)
Avg: 5.7knts
24hr: 136.6nm
We're back in the wonderful Lyttelton (The Ana) Marina after a really nice, 32 hour motorboat ride. We'll hang out here for bit while we try to figure out the meaning of life. Yeah, I know. 42.
Tue Apr 16 8:50 2019 NZST
GPS: 45 52.306S 170 31.663E
Run: 8.1nm (14.7km)
Leaving today for Christchurch (Lyttelton) after another nice stay in Dunedin. We visited Milford and Doubtful Sounds by tour boat during a four day road trip. That was wonderful and made us glad we didn't do it on Legacy. From Lyttelton, who knows?
Thu Apr 4 10:01 2019 NZDT
GPS: 45 47.623S 170 39.182E
Run: 142.1nm (257.2km)
Avg: 3.2knts
24hr: 75.8nm
Back in Otago Harbour, waiting for high tide to move to the Otago Yacht Club. We'll spend some time here and see some more of the South Island by car.
Maybe, after going to Stewart Island, we should call this "the middle island?"
Tue Apr 2 13:01 2019 NZDT
GPS: 46 53.889S 168 08.371E
Run: 4.5nm (8.1km)
Weather: Wind SW 10
We're anchored in Halfmoon Bay, right outside the town of Oban. We'll spend the night here and if the weather forecast doesn't change, leave for Dunedin tomorrow morning (24 hour run).
There's not much room to anchor here as most of the bay is taken up with moorings, but we found a nice corner here in 40 feet of water.
Sun Mar 31 8:28 2019 NZDT
GPS: 46 54.643S 168 02.764E
Run: 7.5nm (13.6km)
We're back at Whalers Base to sit out the bad weather that's due over the next couple of days. There's a monster low that Oz is sending us and forecasts call for gusts to 50.
Fri Mar 29 9:06 2019 NZDT
GPS: 46 58.296s 168 10.633e
Run: 7.5nm (13.6km)
We went on a walk last night to see Kiwis on the beach and we were successful. Mostly. We did get chased off the beach, but not until after we saw some kiwis. It seems that no one is allowed in the Kiwi protection area between 6pm and 6am without some kind of special permit. The guide who kindly escorted us off the beach and back to the jetty ended up giving us quite a tour on the way back. Some would say that the way to do this is to scope out the trail and beach before 6pm, and then go back after the tour boat leaves at 10:30pm.
Wed Mar 27 9:58 2019 NZDT
GPS: 46 54.649S 168 02.804E
Run: 3.4nm (6.2km)
Weather: Wind W 20, Rain, Cold (10C)
We moved away from town to a better anchorage for the blow. It got bad where we were when the wind went further south than advertised. This is one of the most beautiful anchorages we've been in. Stunning! There are a lot of tiny Islands all around us. It's kind of a roaring forties Palau.
Tue Mar 26 7:39 2019 NZDT
GPS: 46 54.325S 168 07.130E
Run: 10.2nm (18.5km)
Weather: Rain, barometer 1001 and falling.
We made it to the big city! Well, I guess it has about the same population, not including tourists, as our dock back in Tauranga, but after a couple of weeks in the wilderness, it's a big city for us.
What did we do there? Got lunch of course, and shopped at the Four Square. It's a bit of a trek up and down a hill to get to Oban, especially carrying eight bottles of wine, but we needed the exercise.
Oban is a cute little town. We didn't get to explore much. We got a break in the rain and took off for home. Maybe tomorrow as it looks like rain and wind today.
By the way, there's plenty of room to anchor here. We were needlessly worried about that.
Sun Mar 24 7:57 2019 NZDT
GPS: 47 02.854s 168 10.495e
Run: 0.9nm (1.6km)
We took a tour in Legacy of Port Adventure yesterday and ended up in the Heron River for the night. Nice spot. We"re anchored in a small, deep hole (7 meters deep) and tied to a tree on shore. "Did you get more Paua?" you ask. Why, yes we did. This time, just wading ankle deep at the rocky end of a beach. "Haven't you had enough yet?" you ask. NO! For us, there's no such thing as enough, and there are plenty here.
Sat Mar 23 7:45 2019 NZDT
GPS: 47 03.63s 168 10.21e
Run: 3252.6nm (5887.2km)
Avg: 141.4knts
24hr: 3394nm
We moved to a nice anchorage in Port Adventure that's called Abraham's Bosom or Redsand Cove depending on where we look. There's a mooring buoy in the middle of the most ideal anchorage area but there's still room around the edges. A tale of two abalone: Yesterday morning at low tide, while we were still in Lords River, we took the dinghy to a kelp bed. I took off my jacket and shirt, put on my mask, and was able to get two abalone by just hanging my head and arms over the front of the dinghy (Cyndi sitting on my legs as a counter balance). What a dinner! This place is paradise!
Fri Mar 22 8:45 2019 NZDT
Run: 3255.7nm (5892.8km)
Avg: 129.5knts
24hr: 3106.8nm
We were expecting some wind last night so we tucked into a spot the Mana Cruising Guide for Stewart Island calls "The Nook". We had some shallow water getting here but we anchored (and as usual, tied back to a line already here) in 17 feet of water (5 meters). It's another great spot. For future reference of those using YIT's incredible Destination Planner, I'll say that The Nook is a Stewart Island must-do.

The sun came out yesterday in it was warm! We sat around in tee-shirts and shorts... And bug spray, although they don't seem to like the sun. When it comes out, they disappear. It got to 77f in the cabin (25C). It was like being back in Fiji again! Well, I guess it wasn't quite that warm.

We might move on to Port Adventure today. The name certainly sounds intriguing.
Thu Mar 21 7:36 2019 NZDT
GPS: 47 06.304s 168 07.759e
Run: 22nm (39.8km)
We moved from Port Pegasus to Lords River, about 12 miles east. What can I say... another day, another beautiful bay. A beautiful bay with a bonus: as we were coming in, we slowed down to talk to three guys on a little tinny. They asked if we'd been getting any fresh fish. "No, we're not doing very good in the fishing department" I said. "How'd you like a feed? When you get settled, I'll bring you some fish. We've got tons!" And an hour later, he dropped off a bag of trumpeter and two abalone (don't know how to spell paua?) Wow, what a dinner. People are so nice here!!! I love you New Zealand!
Wed Mar 20 8:27 2019 NZDT
GPS: 47 10.377s 167 40.306e
Run: 0.7nm (1.3km)
Yesterday started with heavy cloud cover and some fog that turned into a glorious, sunny afternoon. We took the dinghy across this little bay (twice) to find Smuggler's Cove. Our first pass was unsuccessful. After reviewing satellite images, we went on another search. First, we found a great cave. I thought that was it. Cyndi said it didn't match the pictures she'd seen. Then, around the corner, we saw the opening. Wow, what an amazing little keyhole bay (well, pond, really). Inside a narrow opening, there's a sand beach, all flanked by 15 meter tall vertical rock walls and covered by trees growing over the top.

Back at our bay, there were two big pinnipeds relaxing on the beach. (I say pinnipeds because our id skills are somewhat lacking. We think they were NZ sea lions. Once we have internet again, we can use the thousands of pictures we've taken of them to make a more exact id.) Another dropped by to swim around our boat for a few minutes. The background music was a beautiful chorus of bird song. Yep. Doesn't suck to be us right now!
Tue Mar 19 6:36 2019 NZDT
GPS: 47 10.85s 167 39.85e
Run: 1.1nm (2km)
Another day, another beautiful bay, what we saw of it, that is. We mostly had an indoor, rain day in pretty constant drizzle. Our heater is getting a pretty good workout here, but it's keeping us toasty and warm.

Note on the bay: there's room to swing here. There is a buoy that can be used to pull your boat closer to shore, but with the way the sandflies have been the last couple of days, we decided not to use it. We're anchored in about 4 meters with what seems like good holding.
Mon Mar 18 7:18 2019 NZDT
GPS: 47 11.758s 167 40.141e
Run: 2.5nm (4.5km)
We're anchored off a tiny but beautiful white sand beach in about 4 meters of clear water. So far, of the five nights we've been here, all but one time we've had to stern-tie to a buoy, line or tree or stern anchor. The water is pretty deep and the bays we've been in are pretty small. Most of the time, there are lines with buoys on them that you can tie to. Here, we had to put out a stern anchor. Up until yesterday, we didn't think bugs were a problem. Yesterday, the sand flies appeared. We are each nursing a couple of itchy bites. This must be unusual here as someone even said something about it on Meri Leask's radio net (Bluff Fishermans Radio).

We're off to explore the north arm of Port Pegasus today. Happy travels, boat work and sailing everyone.
Sat Mar 16 8:24 2019 NZDT
GPS: 47 12.371s 167 37.070e
Run: 2.6nm (4.7km)
Weather: Wind still. Barometer still 2021 steady.
We're still way down in Port Pegasus, about thirty miles south of Oban. We saw one yacht leaving the area as we entered the other day. They'd been here for five weeks (Night Music). There are a couple of people in tinnies camping about two miles north of here. And of course, the one fishing boat that threw a crawfish into our cockpit. Literally. He told me to stand back and made a perfect toss. I tried to call Meri Leask from Bluff Fishermans Radio but couldn't get through. We really are totally isolated.

Yesterday, right after we anchored where we are now, we threw some less-than-fresh blue cod to what we think was a fur seal. She was skeptical at first, and kept her distance. Then she smelled it and came in to investigate and chow down. After that, she was our best friend. She put on the most amazing acrobatic swimming display right next to our boat. It went on for an hour or so. We giggled, oooh'd and aaah'd the whole time. We got some video that we'll post when we can.

This place where we're anchored/tied up now is really beautiful. Then again, all the places we've been here are really beautiful. We're using the Mana Cruising Guide for Stewart Island but it's not great. It seems there are a lot of places here the author hasn't visited. It does give us a starting point so we still view it as essential. The Navionics charts aren't great for this area either. According to them, we crossed over an island yesterday. It wasn't even bumpy. I'm glad I made satellite charts and it's so handy to be able to display them on our chartplotter (Navico brands).
Fri Mar 15 8:36 2019 NZDT
GPS: 47 14.606s 167 37.123e
Run: 3nm (5.4km)
Weather: Wind still. Barometer 2021 steady.
Wow. I'm tempted to leave it at that, but... We're anchored/stern tied in Disappointment Cove and it's not at all. It's beautiful. We took an arduous hike over the hill to the furthest south white sand beach in NZ. Beautiful. There were NZ sea lions (we think that's what they were) on the beach and they didn't seem to care too much about us. The hike was mostly a game of "which way do you think the trail goes?" and we're sore today. Later in the evening, we had a sea lion playing under Legacy. It's cold here and I play "the air is acid" every morning, trying to keep all my skin under blankets to escape the "acid" cold. Cyndi ran up to turn on the heater this morning. Much appreciated. It does warm up during the day. We had an hour of sitting in the cockpit in tee-shirts yesterday afternoon.
Tue Mar 12 16:45 2019 NZDT
GPS: 47 13.889s 167 33.471e
Run: 177.6nm (321.5km)
Avg: 3.2knts
24hr: 76.6nm
Weather: Can?t comment on the weather as it seems to change every few minutes, with the one consistency so far being COLD.
We made it: Port Pegasus on Stewart Island!!! We had a really nice downwind passage (if you don't count the brutal beat to get out of Otago Harbour and the two hours we spent beating the final 5 miles into Port Pegasus when the wind turned noserly!). At times the wind got to 33 knots, but with it behind us, it was still very pleasant.

I've heard from life-long cruisers that this is one of the most beautiful places on earth. I guess that's not a first impression type thing. It's pretty but so are so many other places we've been. We'll see if this grows on us, and give it every opportunity to do so.
Sun Mar 10 9:08 2019 NZDT
GPS: 45 47.609S 170 39.168E
Run: 8.1nm (14.7km)
After 28 days in Dunedin, we are finally on the move again. We left the marina on high tide and motored a little over half way out the 12 mile channel where we'll anchor for the night. Tomorrow, we're off to Stewart Island.
Cyndi said that she feels like a fan worm that attached itself to Dunedin and has now been set adrift. We really did get attached to the place. It's a wonderful place to stay for a while.
Mon Feb 11 13:08 2019 NZDT
GPS: 45 52.304S 170 31.610E
Run: 1.2nm (2.2km)
We're all tied up at the Otago Yacht Club and have had our first excursion into Dunedin. It looks like we'll be very comfortable here for the next week or two - until we get a weather window to sail to Stewart Island.
Sun Feb 10 16:51 2019 NZDT
GPS: 45 52.82S 170 30.38E
Run: 193.7nm (350.6km)
Avg: 5.9knts
24hr: 142nm
What a welcome we received on our entry into Dunedin Harbor (Otago Harbor). The crew of a dredge all gave us a great big wave while they honked their horn, albatross circled and seals swam by. The 12 mile ride up into the town basin was beautiful and at the dock, we were greeted by 10 local kids doing synchronized, wave-style back flips into the water. Barry, the manager from the Otago Yacht Club was here to show us our temporary spot for the night and help us tie up. We'll move into the club's basin tomorrow morning. We already love this place!
Sat Feb 9 8:06 2019 NZDT
GPS: 43 36.166S 172 48.364E
Run: 4.6nm (8.3km)
Weather: Wind 5 WSW, Seas 1 to 2 meters confused
After a really nice stay at the beautiful new marina in Lytelton, we're off, bound for Dunedin.
Fri Feb 1 10:21 2019 NZDT
GPS: 43 36.27S 172 42.91E
Run: 357.4nm (646.9km)
After 300 miles and change and two days and change, we're in Lyttelton, near Christchurch, way down here in the roaring forties! It's a brand new marina that doesn't even show up on Google Maps yet. We'll hang out here for a while and from there, who knows what we'll do???
Wed Jan 23 22:00 2019 NZDT
GPS: 39 29.015s 176 53.512e
Run: 83nm (150.2km)
We made it to Napier and had a wonderful greeting at the Napier Sailing Club. It made up for the last 6 miles, beating into 27 to 30 knots. It's so nice to be in. We'll stay here for a week or so before heading to the South Island.
Sun Jan 20 7:22 2019 NZDT
Run: 316.6nm (573km)
We made it to Gisborne on our half-hearted quest to circumnavigate the South Island. We might leave as early as tomorrow, bound for Napier.
Legacy - Still in Suva
We're still in Suva, but we have a plan. We are hoping to leave for New Caledonia on Wednesday. From there, Nelson or somewhere in Australia, who knows. -Rich
Legacy - Sitting in Suva
Cyndi and I are sitting in Suva, waiting for weather to sail to Nelson, NZ. You can find out more about what we're up to on our blog at www.twoatsea.com.
Loading map and updates ....
Loading track, please wait ....