Lucy
Tue Oct 15 22:12 2019 NZDT
GPS: 35 01.828S 150 46.766E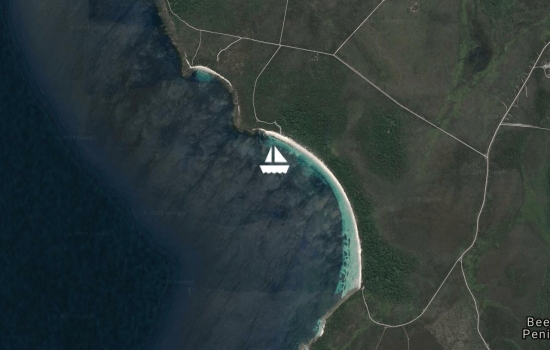 Tue Oct 15 21:33 2019 NZDT
GPS: 35 01.828S 150 46.766E
Run: 7.6nm (13.8km)
moved to Long Bay for the north winds today. All is well aboard.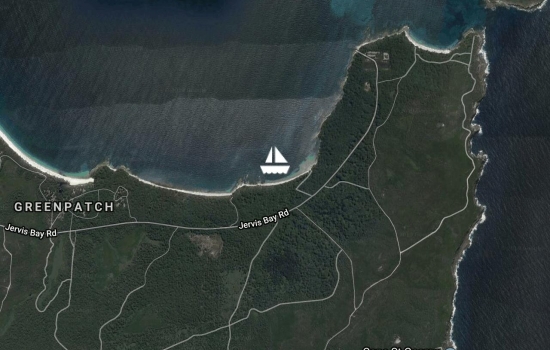 Sat Oct 12 9:48 2019 NZDT
GPS: 35 8.16390S 150 44.63572E
Weather: Wet light winds
After a review of the weather and sailing conditions this morning we have decided to stay put here in Jervis. Looks like nice weather for exploring the bay from tomorrow on, we plan to do a few walks, resupply with fresh veggies and enjoy some sunshine.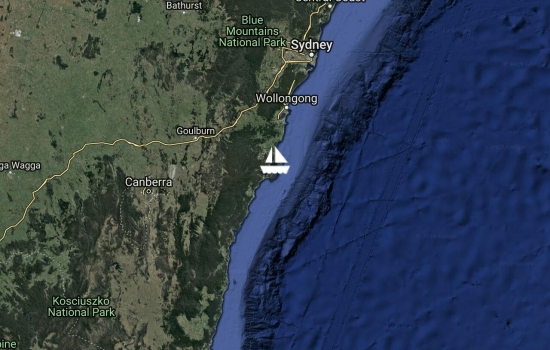 Fri Oct 11 18:19 2019 NZDT
GPS: 35 8.16702S 150 44.64529E
Run: 143.9nm (260.5km)
Avg: 3knts
24hr: 73.1nm
Weather: Rain with a patch of blue!
Arrived here about 10.30am. Too much rain to take a picture. Catching up on some zzzz and heater is on drying out our wet weather gear. Just a little step closer to Japan. :-)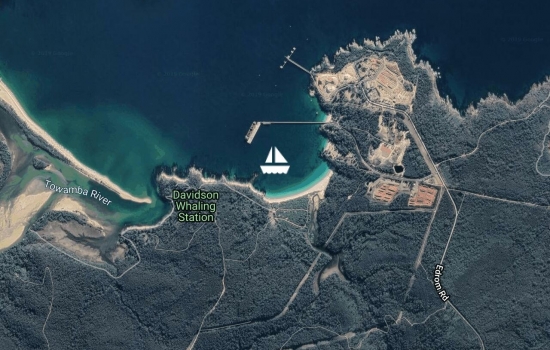 Wed Oct 9 19:05 2019 NZDT
GPS: 37 6.60219S 149 55.48585E
Weather: Same as yesterday!
Looks like our waiting in Eden is coming to an end.... we will be off in the am, no fixed destination Jervis or Sydney see how we are going. We have had this boat along side this week filling up with logs 24/7. Mmm interesting.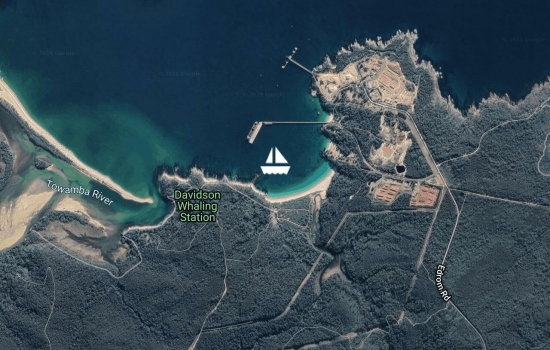 Tue Oct 8 19:20 2019 NZDT
GPS: 37 6.60345S 149 55.47738E
Run: 2.8nm (5.1km)
Weather: Everything .. windy calm rain and sun!
Back to south anchorage Eden. Fingers and toes crossed for a departure on Thursday. Lucy enjoyed a nice rain shower this morning to wash away the salty Bass Strait crossing. All fresh again.
Sun Oct 6 16:59 2019 NZDT
GPS: 37 4.35185S 149 54.33100E
Run: 2.8nm (5.1km)
Weather: Warm and windy
It's a nice start to the day when you see a whale frolicking in the bay! Back in the Nth anchorage. Batten down the hatches for a windy arvo. ! Small visitor on board yesterday. See picture. (We must have upset him as he gave us a good telling off. )

All is well aboard :-)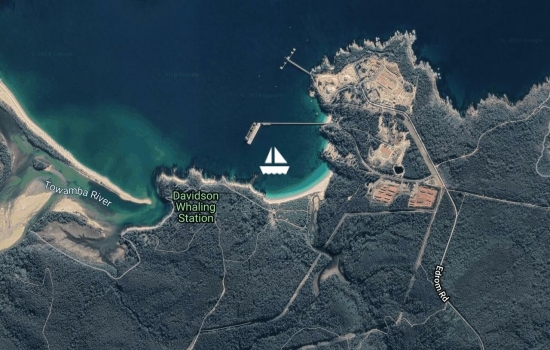 Fri Oct 4 13:54 2019 NZDT
GPS: 37 6.59874S 149 55.48293E
Run: 2.8nm (5.1km)
Weather: Sunny warm and a bit gusty from the SW
We are doing the Eden Shuffle.. back in the Southern anchorage for the southerly wind then back to the northern side of the bay tomorrow for the north winds.

T-Shirts at last and of course last night another stunning sunset.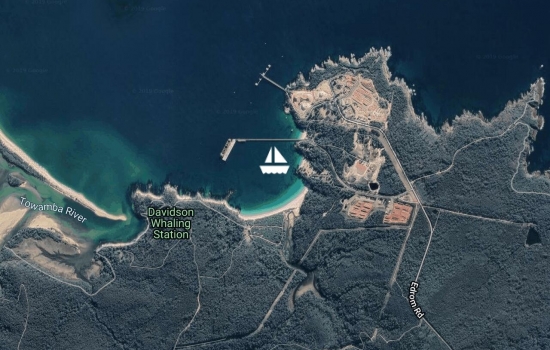 Sun Sep 29 11:08 2019 NZDT
GPS: 37 6.51830S 149 55.63246E
Weather: 17 degrees, sunny and the gusts have stopped, just magic
Finally the wind has eased and it's quiet again. Birds are singing ! A trip ashore is the order for the day. We have not been on land for just over a week and the sandy beach awaits.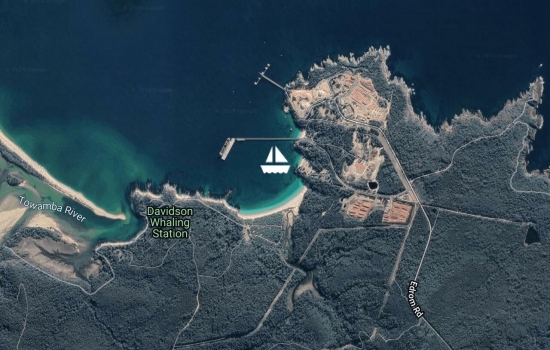 Sat Sep 28 10:15 2019 NZST
GPS: 37 6.52167S 149 55.64167E
Run: 2.8nm (5.1km)
Weather: A little gusty last night and this morning due to abate this afternoon.
Had a relaxing day on anchor recovering from the passage across. Met some other folks on a beautiful sailer/trawler heading South to Tasmania. Will move back to Eden docks tomorrow for a top up of fuel, water and chocolate. Looks promising for a departure to Jervois Bay on Monday first light.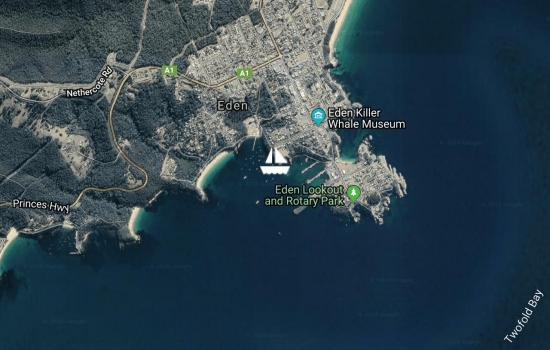 Fri Sep 27 3:58 2019 NZST
GPS: 37 4.33572S 149 54.25338E
Run: 46.1nm (83.4km)
Avg: 3.9knts
24hr: 93.2nm
Weather: All is quiet and calm
On a mooring in Eden!

Zzzzz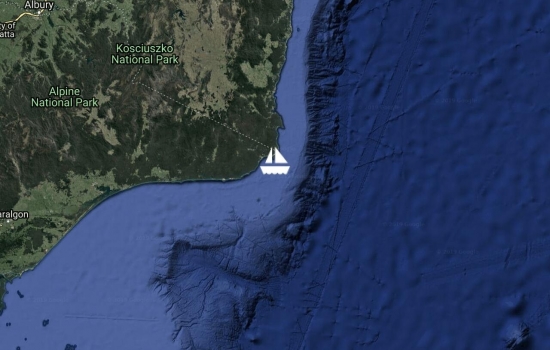 Thu Sep 26 16:06 2019 NZST
GPS: 37 44.321S 149 55.811E
Run: 318.3nm (576.1km)
Avg: 4.7knts
24hr: 112.8nm
Weather: Calm and sunny
All is well onboard

Should be in Eden around 10 ish. Tonight.

Zzzzz xxx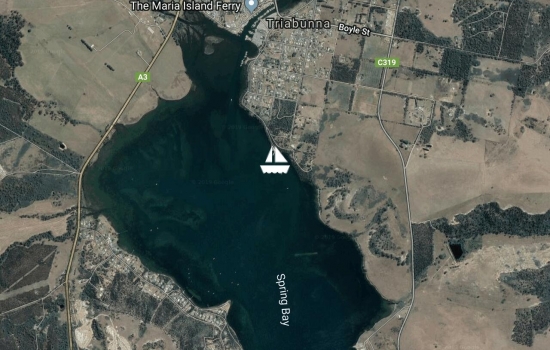 Sun Sep 8 20:03 2019 NZST
GPS: 42 31.28193S 147 55.06585E
Run: 8.4nm (15.2km)
Weather: Damn sight calmer that yesterday !
Survived the Easterly Gale now ready for tomorrow's Sw gale. (Someone was actually surfing the breaking waves at the entrance to Prosser Bay this arvo!)


Stopped here to take the dinghy into Triabunna for a stretch of the legs and a small shop.


Alls well aboard!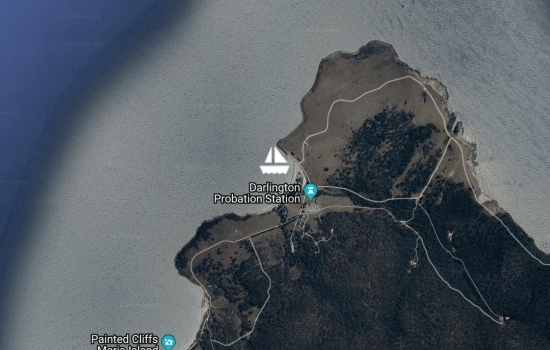 Fri Sep 6 11:20 2019 NZST
GPS: 42 34.74770S 148 3.75186E
Run: 8.6nm (15.6km)
Weather: On its way !
Yesterday we moved to Maria Island, (Darlington) to sit out the Easterly weather on its way. Our 1.5 hour trip over included 2 Dolphin pods, a Whale sighting, stunning sunset and an interesting view of the harbour. Unfortunately the wind won't allow us a trip ashore, but the weather will keep us entertained for the next 24 hours. !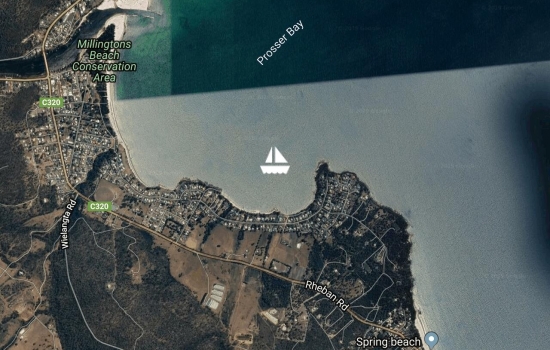 Tue Sep 3 15:42 2019 NZST
GPS: 42 33.96536S 147 53.67493E
Run: 1.3nm (2.4km)
Weather: Sunny and delightful
Painting, reading and relaxing in the sun. The pictures are from the seaside village of Orford. Highlights for today ....seeing some fish (at last), finished painting the bulwarks and gazing into the clear water of the bay.
Thu Aug 29 14:12 2019 NZST
GPS: 42 33.494S 147 52.337E
Run: 1.2nm (2.2km)
Sun is shining, nice dinghy trip into town.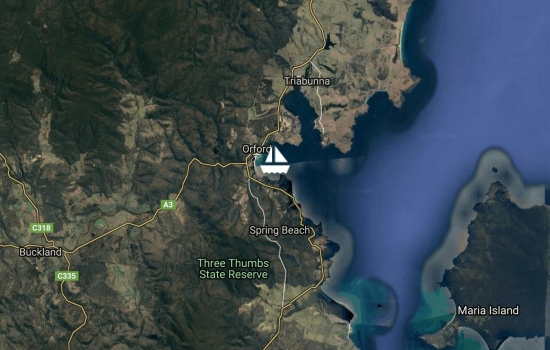 Wed Aug 28 2:00 2019 NZST
GPS: 42 33.92992S 147 53.66713E
Run: 1102.1nm (1994.8km)
Weather: 4 seasons in one day ...
Enjoying the relief of making it through Dunalley! Waiting for weather to cross the ditch..trying to remember how to use YIT again! Planning to visit Maria Island and surrounds for the next week. X
No blogs available for this yacht.
Loading map and updates ....
Loading track, please wait ....