Neptune's Highway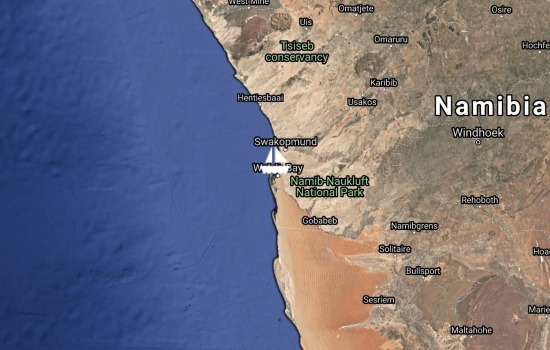 Fri Jan 17 6:15 2020 NZDT
Run: 76.2nm (137.9km)
Avg: 2.7knts
24hr: 65.8nm
Thursday, January 16, 7:00 pm local time.

We arrived in Walvis Bay this morning. Last night we took down all the sails since we only had about 50 miles to go and needed to slow down. We still cruised along at 4-5 knots. So quiet it was easy to get some sleep. It was foggy and cold and around 3am we were invaded by moths who were seeking shelter from the drizzle. What the h were they doing 30 miles from land? It was truly biblical! A plague of moths. When the sun came up they stopped coming. But there were thousands clumped together in every possible nook, cranny, or fold of sail cloth. Laura went into full genocide mode, channeling her years living in New York City in an old tenement building held up by cockroach spit. Now the boat is covered with moth dust inside and out and will require a big clean up. But today's priority was checking in with customs and immigration (a loooong walk). Passports are stamped and we are back on the boat enjoying wine and internet. We will be here about a week and then no more internet until April when we arrive in St. John. But we can be reached at neptuneshighway@myiridium.net. We'd love to hear from you. And Bruce will want to know who wins the Super Bowl. Cheers. Sent from Iridium Mail & Web.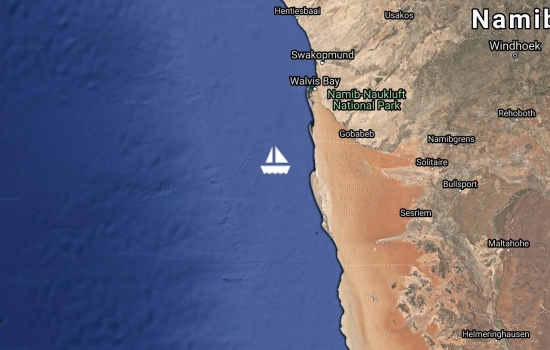 Thu Jan 16 2:27 2020 NZDT
Run: 701.3nm (1269.4km)
Avg: 32.9knts
24hr: 790.2nm
Wednesday, January 15, 15:00 local time Last night we had 24-30 knots of wind behind us and some pretty big seas. This only lasted about 5 hours and then it settled down to a more comfortable 16-19. This morning was pea soup foggy and the boat was dripping wet and everything down below felt damp. Eventually the fog lifted and the wind has died down. It's still overcast but the boat is dry and we've been sailing along with only our reefed main. We want to slow down to about 4.5 kts so we don't arrive before sun-up tomorrow.

It's been cold out on the water and we've been living in our one set of long John's, sweat pants and hoodie, topped by our foul weather gear, heavy socks and sea boots. So it will be nice to get into Port, have a hot shower, clean clothes, and clean sheets.! Laura is reading How Not to Die by Mitchell Gregor, MD and getting inspired to make our daily diet more nutritious. That will be a challenge on our 30 day passage from St. Helena to St. John. Everything in the book is backed by legit research. It's definitely worth reading as there is so much conflicting information out there and this book takes a KISS approach. All is well on board. Cheers! Sent from Iridium Mail & Web.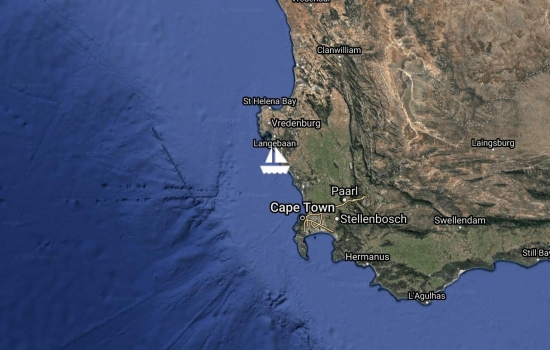 Wed Jan 15 5:09 2020 NZDT
Run: 548.7nm (993.1km)
Avg: 10974knts
24hr: 263376nm
(this post from our first day out didn't send so I am re-posting) Saturday , Jan. 11, 2020 1100UTC We left Capetown early this morning in a pea soup fog and glassy seas. This coastline heats up in the summer months but the water coming up from Antarctica remains cold, resulting in fog very similar to the summer 'Marine Layer' (Californian's won't admit to fog!) that we have in the summer months on the Central CA coast. It is now 2pm, the sun and sails are up and the engine is off. Wind is 14 knt true from SW, seas are flat, and we're cruising along at 7 knots! We should arrive in Walvis Bay on Thursday. All is well on board and we are keeping an eye out for whales. Sent from Iridium Mail & Web.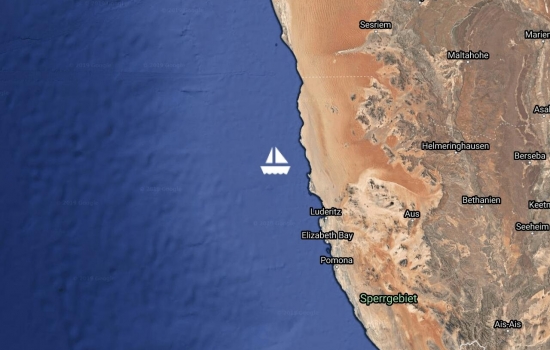 Wed Jan 15 5:06 2020 NZDT
Run: 905.2nm (1638.4km)
Avg: 33.9knts
24hr: 813.7nm
Tuesday, January 13, 7:00pm Still cruising along downwind with sails wing and wing. Yesterday we passed through a fleet of dredgers off the Orange River, which is the border between South Africa and Namibia. They are dredging for diamonds! We were about 30 miles offshore in about 400 ft of water.

Our ETA for Thursday morning still looks good.

Cheers! Sent from Iridium Mail & Web.
Tue Jan 14 2:24 2020 NZDT
Run: 1151.7nm (2084.6km)
Avg: 5.9knts
24hr: 142.1nm
Monday, January 13, 2:00 pm We have crossed the line into Namibian waters. So far, an easy downwind trip (which means we are eating way too well - I count on these offshore trips to cut down!). Still on track for arrival at Walvis Bay on Thursday morning. Cheers! B&L Sent from Iridium Mail & Web.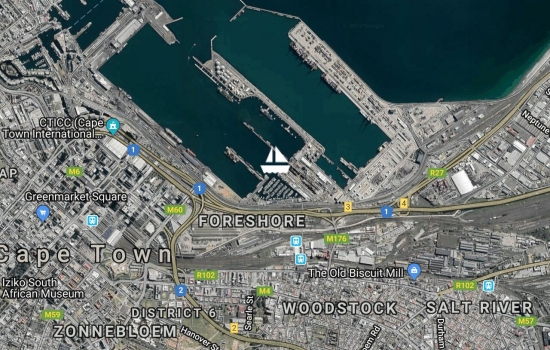 Sun Jan 5 23:54 2020 NZDT
Run: 18.3nm (33.1km)
Sunday, January 5, 2020 We left Simon's Town yesterday and (finally) motor sailed past the Cape of Good Hope. We are now in Cape Town at the Royal Cape Yacht Club. Sounds elegant but is actually a dirty, industrial area. We don't plan to be here long. Just enough time to do a final provision, fuel top off, and check out out of SA. We hope to be on our way to Namibia by the end of the week. Sent from Iridium Mail & Web.
No blogs available for this yacht.
Loading map and updates ....
Loading track, please wait ....