Ranganui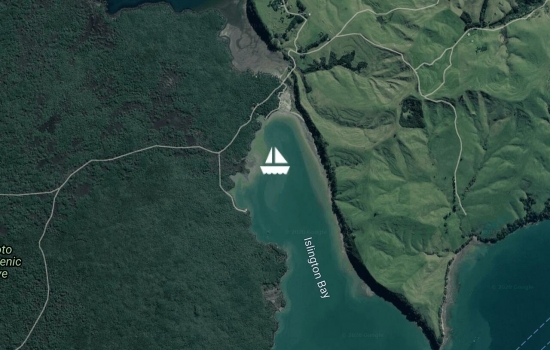 Sat Feb 8 18:09 2020 NZDT
GPS: 36 46.97880S 174 53.75999E
Run: 6.7nm (12.1km)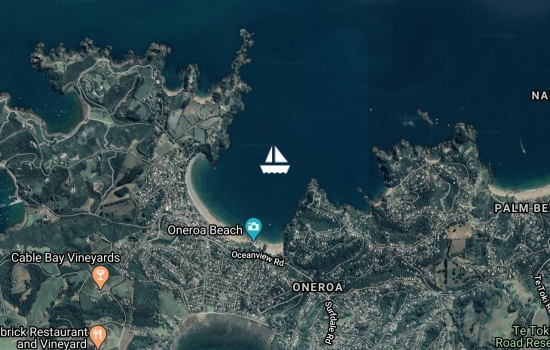 Fri Feb 7 18:07 2020 NZDT
GPS: 36 46.69983S 175 1.06753E
Run: 7.5nm (13.6km)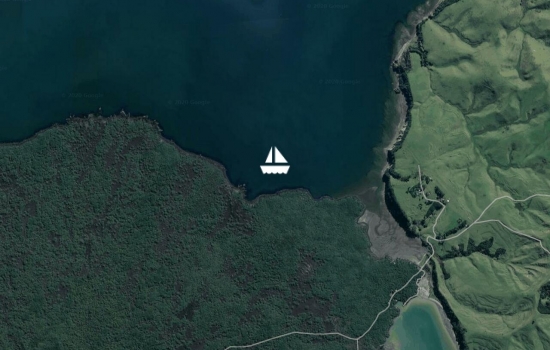 Thu Feb 6 18:05 2020 NZDT
GPS: 36 46.08300S 174 52.93104E
Run: 11.1nm (20.1km)
Out over the Waitangi Day weekend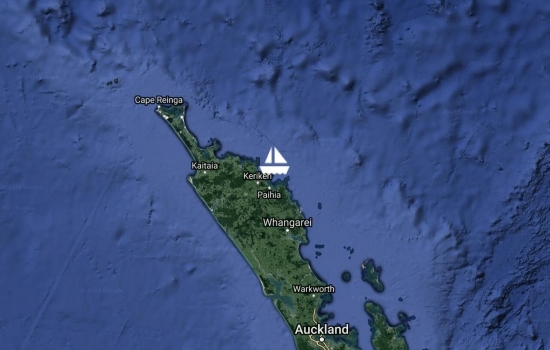 Wed Oct 30 6:00 2019 NZDT
GPS: 35 9.04682S 174 9.68837E
Run: 440nm (796.4km)
Avg: 5knts
24hr: 120.9nm
Passing Nine Pin and heading for the customs dock at Opa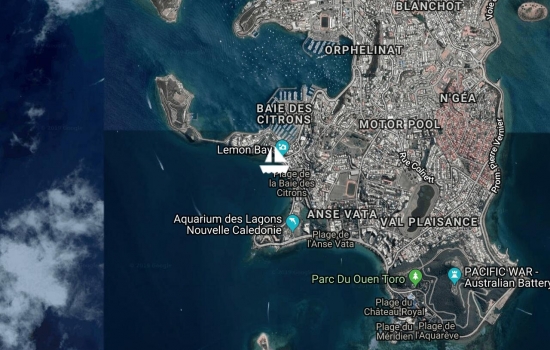 Thu Oct 17 14:42 2019 NZDT
GPS: 22 17.81052S 166 26.19377E
Run: 9.3nm (16.8km)
Back in Noumea for crew collection and final arrangements.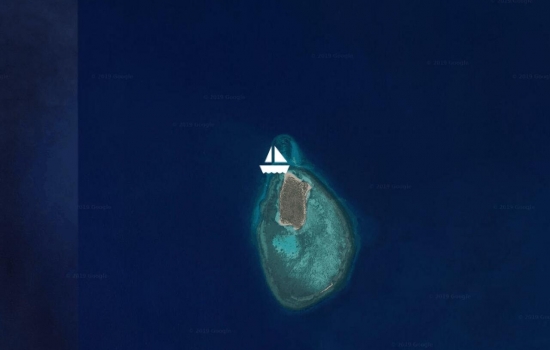 Wed Oct 16 11:08 2019 NZDT
GPS: 22 17.63913S 166 17.46994E
Run: 2.8nm (5.1km)
3 turtles at once! Another mooring at a marine reserve
Tue Oct 15 11:10 2019 NZDT
GPS: 22 19.59733S 166 19.04219E
Run: 14.2nm (25.7km)
A bit rolly due to the wind direction and strength.
Sun Oct 6 11:43 2019 NZDT
GPS: 22 28.63135S 166 28.08632E
Run: 20.2nm (36.6km)
After a quick stop off Noumea for fresh fruit and to top off the water, headed out to commune with the turtles, sharks and sea snakes in Amedee Island.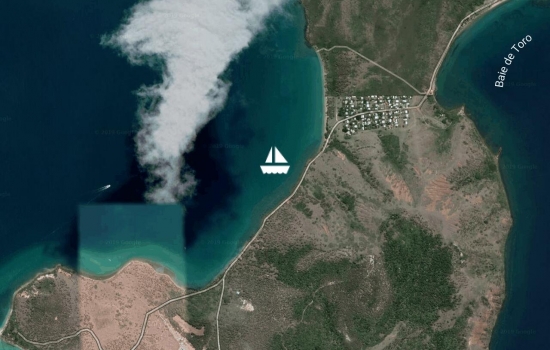 Tue Oct 1 11:47 2019 NZDT
GPS: 22 12.49579S 166 20.70701E
Run: 33.4nm (60.5km)
Weather: Reinforced trades
Hiding out from the reinforced trade winds in Baie Maa. Outside blowing 25-30kn. In here, behind a big hill, about 5kn.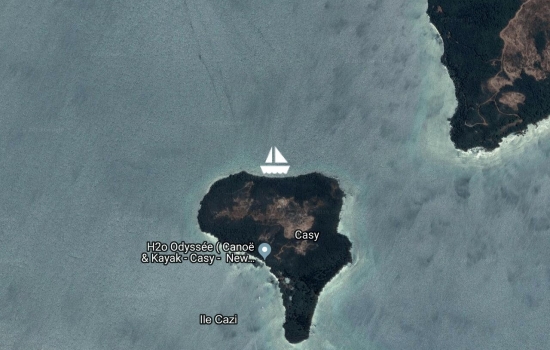 Sun Sep 29 11:49 2019 NZDT
GPS: 22 21.09981S 166 50.58656E
Run: 53nm (95.9km)
Picked up a free park mooring in Isle Casy after scuba diving on the Prony Needle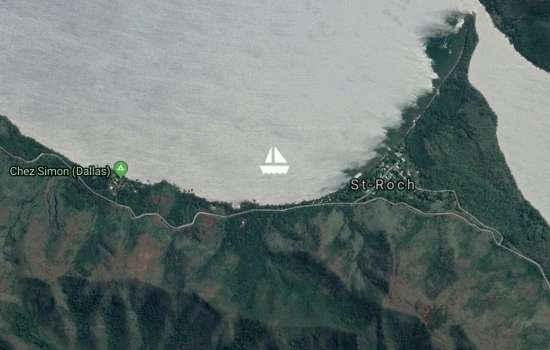 Mon Sep 23 17:00 2019 NZST
GPS: 21 42.26408S 166 23.99628E
Run: 69.5nm (125.8km)
Returned to the mainland and gradually heading back to Noumea. Have caught up with the Island Cruising 'flotilla'
Wed Sep 18 16:44 2019 NZST
GPS: 20 42.06312S 166 27.87030E
Run: 45nm (81.5km)
Anchored in 3.5m on sand off the hotel Paradis d'Ouvea.
Mon Sep 16 16:40 2019 NZST
GPS: 20 42.31400S 167 9.64338E
Run: 16.6nm (30km)
Overnight stop on the way to Ouvea. Great snorkeling in 30m + vis water. Can see the anchor on the bottom in 17m.
Tue Sep 10 0:00 2019 NZST
GPS: 20 55.06026S 167 16.74974E
Run: 80.8nm (146.2km)
In We marina after overnight sail from the mainland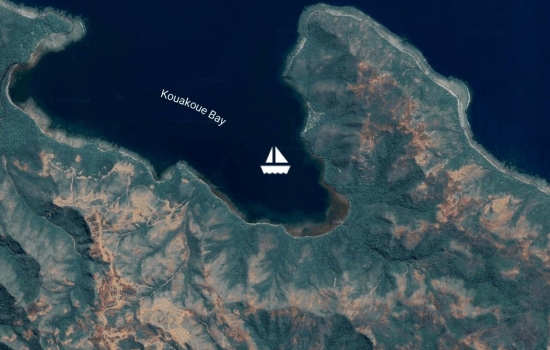 Sun Sep 8 14:50 2019 NZST
GPS: 21 56.28773S 166 39.96944E
Run: 31.8nm (57.6km)
Really isolated spot. About to head to the loyalties but waiting for weather.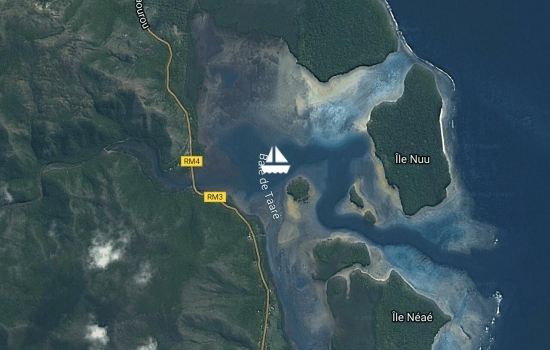 Fri Sep 6 0:00 2019 NZST
GPS: 22 15.61376S 167 1.26874E
Run: 7.7nm (13.9km)
Tucked into a good spot behind the reef but still there is a bit of wind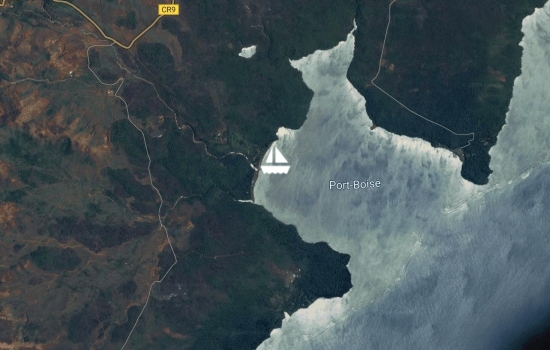 Tue Sep 3 15:00 2019 NZST
GPS: 22 21.138S 166 57.247E
Run: 30.6nm (55.4km)
Anchored in Port Boise sheltering from the strong westerlies. Trip out to the Loyalities is being delayed by the weather
Sun Sep 1 16:00 2019 NZST
GPS: 22 18.800S 166 28.630E
Run: 3.5nm (6.3km)
Escaping the coming westerlies by heading to a sheltered bay near Noumea.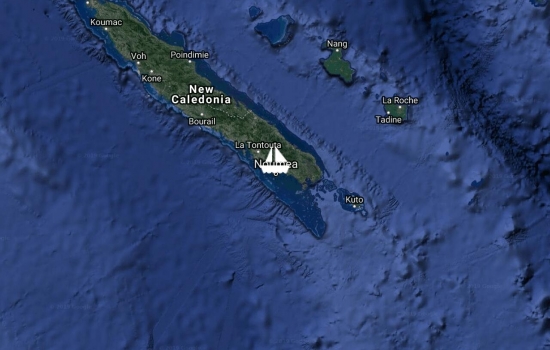 Fri Aug 30 19:00 2019 NZST
GPS: 22 17.14010S 166 25.93514E
Run: 69.4nm (125.6km)
Saturday market and provison restock visis to Noumea. Was a 14hr downwind sail from Kotu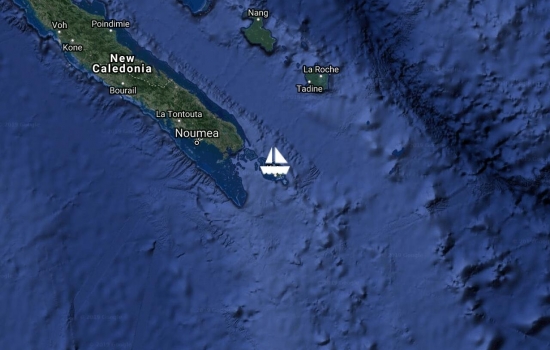 Wed Aug 28 9:00 2019 NZST
GPS: 22 39.57118S 167 26.47793E
Run: 38.6nm (69.9km)
Anchored in Kuto, Isle de Pins. Lovely spot.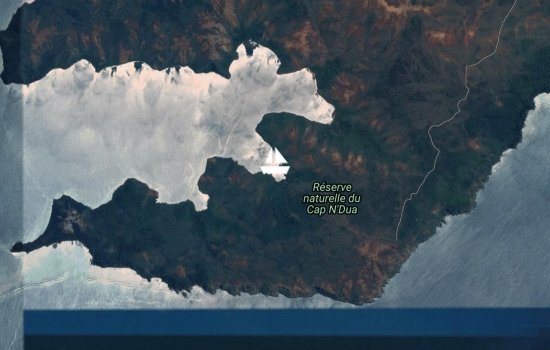 Sun Aug 25 15:00 2019 NZST
GPS: 22 23.00651S 166 54.92273E
Run: 6.8nm (12.3km)
Anse Majic. On a public mooring put down to protect the coral. Track up the hill to the lighthouse and whale watching station.
Sat Aug 24 16:00 2019 NZST
GPS: 22 18.19046S 166 51.22169E
Run: 27nm (48.9km)
Visited the hot pools and the rapids. Interesting place. Very sheltered and remains of iron mining & prison camp.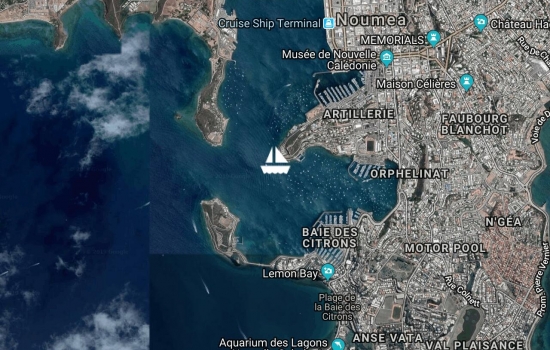 Mon Aug 19 14:22 2019 NZST
GPS: 22 17.12749S 166 25.92474E
Run: 3.7nm (6.7km)
Weather: 8kn out of the east
Apologies to all those that got worried with the lack of updates. I had enabled automatic tracking using our AIS through satellite but it did not seem to work. Let's just say it was an eventful trip! The boat looked after us and we did OK- even though on a few occasions we were heading more for Fiji than Nouméa!
Have returned to Noumea to do Immigration and am now sitting in the Port Moselle cafe enjoying the 'atmosphere'.
Will get a local phone number soon but if anyone needs to contact us Janet has her NZ number still. Just text- the roaming rates are extreme!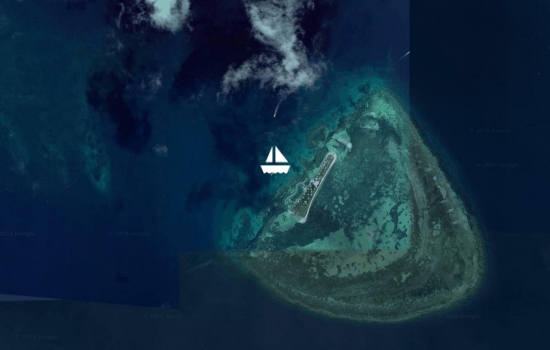 Sat Aug 17 15:00 2019 NZST
GPS: 22 19.96869S 166 24.36516E
Run: 2.1nm (3.8km)
Weather: 15kn out of the south east. Fine and clear
Cleared customs through the marina office on Friday. Quarantine man came down very promptly and left us eggs and bacon for breakfast. Then discovered that is was a public holiday and immigration was closed! Decided to head out to a local Island and chill for the weekend. Great spot. Swimming with turtles.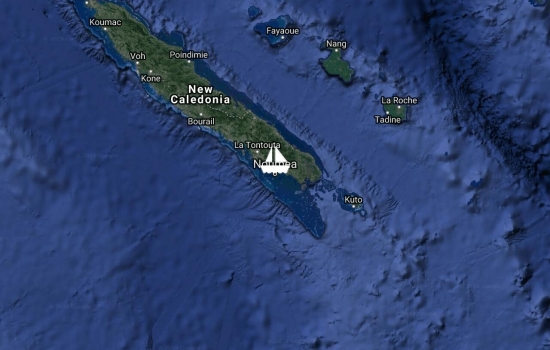 Thu Aug 15 17:00 2019 NZST
GPS: 22 17.16910S 166 26.48425E
Run: 1012.6nm (1832.8km)
Avg: 3.5knts
24hr: 84.7nm
Weather: Fine and clear south eastely (finally)
Tied up at Port du Sud. Have arrived on a public holiday so everything shut so just tied up at the marina amoung superyachts. Start the clearance tomorrow. Now beers and a good sleep!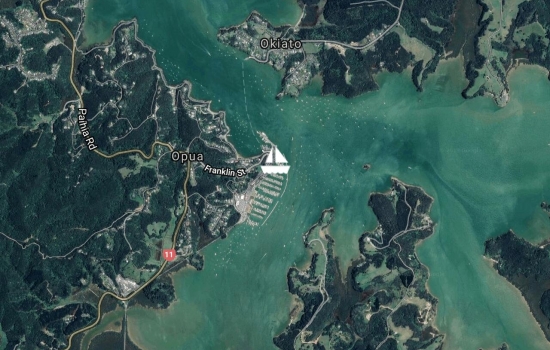 Sat Aug 3 18:00 2019 NZST
GPS: 35 18.87436S 174 7.28971E
Run: 31.2nm (56.5km)
Weather: Fine and clear! (Now that is)
Tied up in Opua Marina after a boost up the coast. 30kn+ winds but sheltered from most of the swell by the land. Exciting time getting around Brett and motored through the islands. Good to be here. Now waiting for a weather window to head north.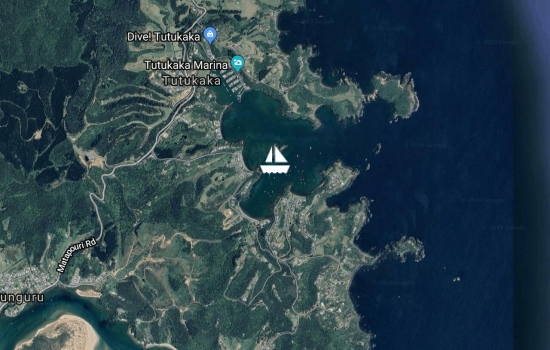 Fri Aug 2 19:55 2019 NZST
GPS: 35 37.08390S 174 31.96062E
Run: 58.5nm (105.9km)
Avg: 2.6knts
24hr: 61.3nm
Weather: 25-45 westerly
Good wind to sail north, but a lot of wind to contend with. Dinghy decided to leave us as we passed the Hen and Chicks so the crew had man OB practice to get it back. A really good intro to the boat for the team. Now anchored up in Tutukaka and having a nice dinner.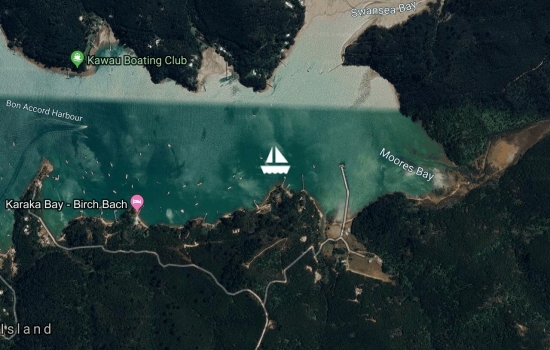 Thu Aug 1 21:00 2019 NZST
GPS: 36 25.55699S 174 50.77370E
Run: 28.7nm (51.9km)
Departed Hobsonville at 1500hrs heading north. Anchored in Bon Accord for the night.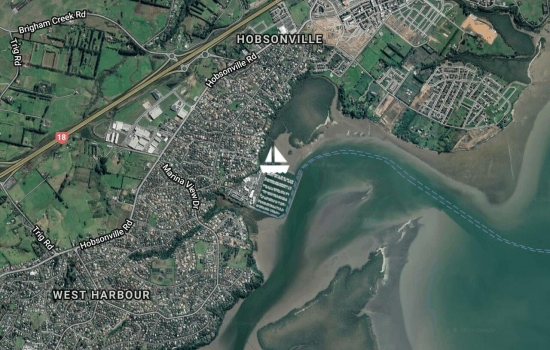 Mon Jul 29 19:33 2019 NZST
GPS: 36 48.55103S 174 38.81824E
Run: 19.4nm (35.1km)
In the final stages of getting ready before our trip north.
Sat Aug 11 0:00 2018 NZST
GPS: 36 46.40261S 174 59.67282E
Run: 10.2nm (18.5km)
Weather: perfect! but cold
Out for the weekend. First bit of nice weather this winter.
Sat Feb 3 19:26 2018 NZDT
GPS: 36 26.53032S 174 49.96410E
Run: 12.7nm (23km)
Weather: Heavy rain.
At Kawau for the annual CYCC Fred Lidgard race. Due to the weather it as been postponed until Monday. Took the opportunity to visit South Cove for tha first time.
Mon Jan 29 19:33 2018 NZDT
GPS: 36 37.35849S 174 47.28667E
Run: 8.3nm (15km)
Back on the marina after a great (and hot) classic yacht Anniversary Weekend at Mahurangi.
Mon Jan 15 0:00 2018 NZDT
GPS: 36 37.36049S 174 47.28538E
Run: 10.8nm (19.5km)
Sat Jan 13 0:00 2018 NZDT
GPS: 36 43.19387S 174 56.48895E
Run: 10.8nm (19.5km)
Weather: Overcast. Warm. 10-15kn northerly
First weekend expedition from Gulf Harbour. Much more convenient than Herald Island! Seems like everyone else from the marina is out here. Water warm for swimming.
Sun Jan 7 17:19 2018 NZDT
GPS: 36 37.35662S 174 47.28924E
Run: 14nm (25.3km)
Weather: Fine and clear- now that the storm has passed
In a borrowed berth at Gulf Harbour for the rest of the summer.
Tue Jan 2 18:03 2018 NZDT
GPS: 36 25.52558S 174 50.88593E
Run: 31.1nm (56.3km)
Weather: 6/10?s cloud. Mid 20 temp. Fine.
Back from the Barrier as storm coming. Tucked at the end of Bon Accord harbour.
Tue Dec 26 13:59 2017 NZDT
GPS: 36 11.86034S 175 19.71989E
Run: 12.8nm (23.2km)
Weather: Overcast but calm
Anchored in Smokehouse Bay after trip across from Mansion House.
Mon Jun 5 16:31 2017 NZST
GPS: 36 46.27961S 174 39.50486E
Run: 13.1nm (23.7km)
Back on the mooring. Perfectly flat calm. A lovely winters evening (except for the jet skiers!)
Sun Jun 4 17:08 2017 NZST
GPS: 36 47.26713S 174 53.68454E
Run: 13.1nm (23.7km)
Celebrating Queens Birthday by a trip out to Islington Bay. Weather not so great yesterday but today has been fine and clear.
Mon Apr 17 16:13 2017 NZST
GPS: 36 46.28377S 174 39.50124E
Run: 22.5nm (40.7km)
Back on the mooring after a great few days away
Sun Apr 16 16:48 2017 NZST
GPS: 36 49.29300S 175 3.56998E
Run: 3.3nm (6km)
Moved to Rocky Bay for the Jazz festival. Friends on 'Audrey' have also shown up.
Sat Apr 15 11:53 2017 NZST
GPS: 36 47.99630S 175 0.39768E
Run: 0.3nm (0.5km)
Moved around the corner and parked up next to a couple of superyachts. Their owners are probably up the hill at Mudbrick!
Fri Apr 14 15:36 2017 NZST
GPS: 36 48.22310S 175 0.19941E
Run: 19.2nm (34.8km)
Late start after waiting for ex-tropical cyclone Cook to pass by. Now beautiful blue skies in Auckland while the rest of NZ gets hammered. Anchored in Te Wharau Bay sheltered out of the wind.
Wed Apr 5 17:34 2017 NZST
GPS: 36 46.28055S 174 39.50677E
Run: 15.7nm (28.4km)
Back on the mooring after a very wet trip back - although the wind was blowing from the right direction!
Sun Apr 2 17:47 2017 NZST
GPS: 36 48.62511S 174 56.28038E
Run: 15.6nm (28.2km)
Anchored off Motuihe Island listening to the birds. Very nice. What was not very nice was discovering the gouge in the topsides left by something or someone over the past week. Out with the filler tomorrow! Should be a magnificent day in the gulf and heading back in on Tuesday as one of us has to work! Flat calm at the moment and have the Hauraki cruise ship and a Canadian yacht 'Island Prism' anchored up next door. Hopefully both will be quiet during the night.
Mon Feb 6 0:00 2017 NZDT
GPS: 36 46.34655S 174 39.56915E
Run: 26.2nm (47.4km)
Back at the mooring after a motor back from Kawau as no wind
Sat Feb 4 16:12 2017 NZDT
GPS: 36 25.31217S 174 50.33875E
Run: 0.9nm (1.6km)
Moved around to Bon Accord Harbour to join up with other members of Clearwater Cove YC. This weekend is a series of races in honour of the Lidgard family who have strong ties to this bay and our club.
Fri Feb 3 14:15 2017 NZDT
GPS: 36 24.62009S 174 49.88428E
Run: 34nm (61.5km)
Good sail over from Great Barrier this morning. Was going to wait until tomorrow to head back, but the wind is turning unfavourable. Anchored in North Cove off the Pardeys place waiting for the rest of Clearwater Cove Yacht Club to come up for their annual 'Fred Lidgard' race.
Thu Feb 2 16:27 2017 NZDT
GPS: 36 8.87602S 175 20.84448E
Run: 2.6nm (4.7km)
After a walk up to the hut, and a shopping expedition to Port Fitzroy, have anchored in Karaka Bay out of the north westerly. Still a beautiful day
Wed Feb 1 16:27 2017 NZDT
GPS: 36 11.13509S 175 21.26935E
Run: 1.7nm (3.1km)
Moved around Kaiarara Bay to get away from the crowd (10 yachts!) at Smokehouse. Tucked in behind the mussel farm. Perhaps fishing tomorrow morning.
Mon Jan 30 9:00 2017 NZDT
GPS: 36 46.16504S 174 39.78802E
Run: 0.3nm (0.5km)
Heading for Great Barrier after the Mahurangi Regatta
Mon Sep 26 18:04 2016 NZDT
GPS: 36 48.57087S 174 38.85199E
Run: 17.5nm (31.7km)
Good sail back to Hobsonville for some maintenance.
Fri Sep 23 0:00 2016 NZST
GPS: 36 43.09996S 174 56.49908E
Run: 4.9nm (8.9km)
In West bay. Not the best weather and difficult to set the anchor. Walk ashore to listen to the birdlife
Wed Sep 21 0:00 2016 NZST
GPS: 36 46.39605S 174 59.81236E
Run: 18.7nm (33.8km)
Tue Mar 29 15:48 2016 NZDT
GPS: 36 46.27895S 174 39.50252E
Run: 15.9nm (28.8km)
Back om the mooring. Great autumn day.
Mon Mar 28 0:00 2016 NZDT
GPS: 36 48.26536S 174 56.55075E
Run: 12.1nm (21.9km)
Was trying for Te Wharau Bay but the wind was blowing straight in, so ended up at Ocean beach. A lot calmer - except for the roll from the ferry's
Sun Mar 27 0:00 2016 NZDT
GPS: 36 47.25914S 175 9.61075E
Run: 3.1nm (5.6km)
Man O'War Bay for a visit to the winery!
Sat Mar 26 17:36 2016 NZDT
GPS: 36 44.62450S 175 10.40221E
Run: 9.2nm (16.7km)
Hooks Bay. Great settled weather and water very clear
Fri Mar 25 13:50 2016 NZDT
GPS: 36 46.66546S 175 0.73355E
Run: 20.3nm (36.7km)
Easter cruise. Anchored at Oneroa, Waiheke.
Wed Feb 3 21:41 2016 NZDT
GPS: 36 48.56243S 174 38.82130E
Run: 14nm (25.3km)
At Hobsonville Marina for a few weeks to catch up on maintaince.
Sat Jan 30 0:00 2016 NZDT
GPS: 36 46.74125S 174 53.79430E
Run: 13.4nm (24.3km)
Tucked up next to the coastguard mooring for Anniversary weekend
Mon Dec 28 19:51 2015 NZDT
GPS: 36 46.40481S 174 39.26145E
Run: 19.3nm (34.9km)
Back on the mooring. Huge walk yesterday. Did not help we got lost!
Sat Dec 26 0:00 2015 NZDT
GPS: 36 48.30943S 175 0.05071E
Run: 19.2nm (34.8km)
At Te Wharau Bay to recover from Christmas celebrations! Planning long walk tomorrow.
Mon Nov 16 21:00 2015 NZDT
GPS: 36 46.33933S 174 39.36573E
Run: 13.2nm (23.9km)
Back on the mooring. A bit wet getting back!
Sat Nov 14 14:21 2015 NZDT
GPS: 36 47.11479S 174 53.58702E
Run: 13.1nm (23.7km)
Anchored in Issy Bay to recover from a busy 2 weeks at wirk
Tue Oct 27 17:47 2015 NZDT
GPS: 36 46.30220S 174 39.44684E
Run: 25.3nm (45.8km)
Back on the mooring. Now comes the work fixing her up after our winter in the sun!
Sat Oct 24 0:00 2015 NZDT
GPS: 36 25.74830S 174 49.11180E
Run: 90.1nm (163.1km)
Avg: 3.8knts
24hr: 90.1nm
Long day but got to Kawau passing the Coastal Classic yachts heading north
Fri Oct 23 0:00 2015 NZDT
GPS: 35 13.60486S 174 11.94347E
Run: 7.3nm (13.2km)
Back on the boat. Heading south to Auckland after an overnight stop. In the Bay of Islands
Sun Oct 4 0:00 2015 NZDT
GPS: 35 18.94691S 174 7.68648E
Run: 238.1nm (431km)
Avg: 4.1knts
24hr: 98.1nm
Back on the mooring at Opua on a beautiful spring day. makes us realise just how wonderful NZ can be!! Ranganui will be staying at Opua for a few weeks until we can bring her back to Auckland. Thanks to all who assisted on the journey. It was great to read all the comments.
Fri Oct 2 19:54 2015 NZDT
No position sent.
Arrived in Opua just ahead of the storm. Customs will come tomorrow morning.
Thu Oct 1 13:46 2015 NZDT
Run: 36.9nm (66.8km)
Avg: 7.1knts
24hr: 171.4nm
Blue Skies but the wind has dropped. Still aiming to arrive in Opua Friday evening but may be too late for customs so will clear Saturday morning
Thu Oct 1 8:36 2015 NZDT
Speed:
5
knts
Run: 130.9nm (236.9km)
Avg: 9.8knts
24hr: 234.2nm
In GHR skip zone so this is from relay from Sweetwaters
Wed Sep 30 19:11 2015 NZDT
Run: 42.6nm (77.1km)
Avg: 4knts
24hr: 95.8nm
Approximately 341 miles to Opua. Yesterdays run was 180 miles but wind dropping. Still hope to arrive Friday.
Wed Sep 30 8:31 2015 NZDT
Speed:
7
knts
Run: 154nm (278.7km)
Avg: 8.8knts
24hr: 210.1nm
Weather: 15e CLOCKING
Still have eta noon friday which is good!
Tue Sep 29 14:56 2015 NZDT
Run: 42.1nm (76.2km)
Avg: 6.3knts
24hr: 151.1nm
New daily run record for us on Ranganui 190 miles.Crew rewarded with a mintie
Tue Sep 29 8:14 2015 NZDT
Speed:
8
knts
Run: 150.7nm (272.8km)
Avg: 8knts
24hr: 192.4nm
Weather: 15-25e, clear skies,
Mon Sep 28 13:26 2015 NZDT
Run: 34.6nm (62.6km)
Avg: 7.2knts
24hr: 171.6nm
Making good progress now that the wind has gone more to the east and increased. Sea a bit jumpy. Crew demanding Rod Stewart on the stero
Mon Sep 28 8:36 2015 NZDT
Speed:
5.5ms
knts
Run: 112nm (202.7km)
Avg: 6.2knts
24hr: 149.2nm
Weather: light o/n, now less than 10SSE backing, 1013rising
Sun Sep 27 14:35 2015 NZDT
Run: 115.9nm (209.8km)
Avg: 14.9knts
24hr: 357.5nm
Motor sailing at 5Kn into a south breeze hoping change to south east we can go straight o NZ. Listening to Amy Winehouse on new cockpit speakers.
Sun Sep 27 6:48 2015 NZDT
Run: 17.8nm (32.2km)
Flat Seas and no wind. Motoring. Fresh fish for lunch. Whale close to us this morning. Possible sperm- not humpback. All good but hot!.
Sat Sep 26 7:33 2015 NZST
Speed:
5
knts
Run: 56.6nm (102.4km)
Avg: 4.2knts
24hr: 100.9nm
Weather: light s to se winds, 10%cc
On passage to opua with hopefuly eta Friday as front comes saturday am
Fri Sep 25 18:06 2015 NZST
Run: 166.3nm (301km)
now heading east as wind has moved to the south.
Thu Sep 24 7:31 2015 NZST
No position sent.
About to clear with Customs here at Vuda Marina and if that goes OK, will be departing about mid-day towards New Zealand.
Tue Sep 22 8:06 2015 NZST
GPS: 17 40.826S 177 23.159E
Run: 18.1nm (32.8km)
We have been at Vuda Point Marina since Friday. The original plan was to depart for NZ yesterday (Monday) but the weather was predicted to be unhelpful approaching NZ, so we are hoping for a Thursday departure.
Thu Sep 17 14:16 2015 NZST
GPS: 17 47.683S 177 08.308E
Run: 3.4nm (6.2km)
partying at CloudNine a floating bar moored at tbe outer reef
Thu Sep 17 0:35 2015 NZST
No position sent.
Spencer had a great night celebrating his 50th birthday with 250 other yachties 3 bands and a fully catered meal- it was also the regatta prizegiving
Mon Sep 14 18:49 2015 NZST
No position sent.
Spencer won the 'Mr Bicepts' contest, we are through to the quarter finals of the Hobie Cat racing, and went to a sandbank party today. The regatta is great fun!
Fri Sep 11 12:11 2015 NZST
GPS: 17 46.352S 177 11.094E
Run: 13nm (23.5km)
Musket Cove for the regatta.
Wed Sep 2 17:58 2015 NZST
GPS: 17 46.257s 177 22.978e
Run: 43.9nm (79.5km)
Just arrived in Denerau marina and hooked up to a mooring buoy. Very busy (and full) with about 10 yachts also anchored outside the entrance. This morning up very early at dawn to see the manta rays swimming through the passage next to the anchorage. They come a specific part of the tide to feed on plankton. Our individual total was 8 manta's as we took turns. Amazing to see these huge fish swim towards you and then turn at the last minute. It started off as a good sail south but the wind died and so we had to motor for about 6 hours to get here before dark. Will be here for a week doing family stuff and people watching.
Tue Sep 1 11:09 2015 NZST
GPS: 17 09.577s 177 12.251e
Run: 3.8nm (6.9km)
After a very rolly night, moved south intending to swim with the manta rays. When we got to the (rolly) anchorage were most yachts moor we learnt that the rays where there at 0700hrs so we kept on going to Cuvu Bay which is a bit more sheltered and still close enough so we can see the rays in the morning before we head to Denarau.
Mon Aug 31 13:59 2015 NZST
GPS: 17 06.50s 177 13.40e
Run: 14.8nm (26.8km)
Finally managed to leave Blue Lagoon after a very enjoyable stay. Great to sit on the beach and watch all the fish. Spent time with Pete and Di from 'Bonaparte', and even managed to have a look through two Amiels (French made cruising yachts) that are on my 'dream list'.
It managed to rain very briefly on our way south, and it was overcast for the first time in a week, but we managed to get the anchor down in Naatuvalo Bay. Nice anchorage with only a sight roll. From here we are moving to Denerau to meet up with the family.
Wed Aug 26 11:15 2015 NZST
GPS: 16 56.633S 177 22.016E
Run: 9.5nm (17.2km)
at Blue Lagoon which seems to be a congregation point for yachties. nice and sheltered with a resort we can go to dinner at!
Tue Aug 25 14:14 2015 NZST
GPS: 16 50.772S 177 28.054E
Run: 9.9nm (17.9km)
this mornong visited flooded limestone caves. hoping that tonight this anchorage less rolly than the past 3 ones! heading soutb to Blue Lagoon tomorrow.
Sat Aug 22 13:32 2015 NZST
GPS: 16 44.125s 177 33.688e
Run: 48.2nm (87.2km)
Anchored Narawa Bay, Yasawa Island, after a good sail across Bligh Water. This area is also known as Chanpagne Beach and is very pretty. Very exciting coming through the narrow pass at the top of the island with big standing waves.
Tue Aug 18 13:32 2015 NZST
GPS: 16 48.979s 178 17.105e
Run: 87.2nm (157.8km)
Avg: 4.2knts
24hr: 100.5nm
Anchored in Cukuvou Harbour, Yandua Island. Been for an excellent snorkel off the western side of Yandua Tamba which is a nature reserve and landing is not permited (like Little Barrier in the Hauraki Gulf). Land is a lot drier than the east side of Fiji.
Mon Aug 17 16:42 2015 NZST
GPS: 16 51.755S 179 36.185E
Run: 18.2nm (32.9km)
just arrived Bua Bay after departing from the anchorage near Savusavu this morning. Has been overcast with occasional rain which makes going through the reeefs exciting- managed to hit the bottom anchoring here. if weather better tomorrow heading to Yadua island, and then onto the Yasawa's.
Wed Aug 12 11:46 2015 NZST
GPS: 16 46.538s 179 20.5900e
Run: 38.5nm (69.7km)
Still tied up at Savusavu Marina's wharf for a few reasons. One is that both Janet and Spencer ave been sick - Janet picked up a sinus issue, and Spencer got a bad dose of the flu which he is finally getting better from after 5 days. It was probably being back around so many people (and germs) after being in 'isolation' on the yacht. It also has not helped that the weather in Savusavu has been 'c**p' with heavy rain and overcast. Today is the first day of blue sky for over a week. Yesterday we managed to escape by hiring a car and driving to Labasa on the leeward side of the island - warmth!! Scored a private tour of the sugar cane factory there and did some clothes shopping. Boat jobs gradually being done with replacement microphone for the long range radio sorted so now we can talk as well as listen. Once we are both well we will be departing for the west.
Thu Jul 30 19:19 2015 NZST
No position sent.
Humpbback whales swimming just past the back of the boat today. Really cool!!!!!! Off to Savusavu tomorrow morning.
Wed Jul 29 17:28 2015 NZST
GPS: 16 56.07S 179 54.06E
Run: 12.7nm (23km)
At a free mooring of Paradise Taveuni resort. all we have to do in return is buy the occazional beer as we sit by the pool! amazing night sky at the moment with shooting stars, Venus and a near full moon.
Tue Jul 28 8:30 2015 NZST
GPS: 16 45.061S 179 54.065E
still at Viani Bay but moving on soon. Have been watching with concern the out of control bush fires that are all around the bay. some have gotten close to the water. caused by the local farmer burning off old grass for his cows. some of the boats in the bay have been covered in ash but we have been ok up till now. hopefully a wind change will dampen the fires down.
Mon Jul 27 13:37 2015 NZST
GPS: 16 45.061s 179 54.065e
Run: 0.1nm (0.2km)
Still in Viani Bay. Diving almost every day using a local Jack Fisher as our guide. Going out on a long boat with yachties from 'Silver Ruffian', 'Tiger' and 'Bonaparte'. Water holding up OK, but just about out of cooking gas so will be heading to SavuSavu towards the end of this week. Looking for crew for the trip back to NZ late September, so if anyone knows someone who would be interested let us know! Best contact is ranganuik3831@gmail.com as we have excellent cell coverage here in Viani so can keep up with the All Black victories!
Tue Jul 21 14:42 2015 NZST
Run: 15.9nm (28.8km)
2 dives on Rainbow Reef this morning. Anchored Viani Bay. strange to see motor vehiles, supermarkets and cellphone coverage after so long in the Lau Group.
Sat Jul 18 17:47 2015 NZST
Run: 9.1nm (16.5km)
anchored Matei north Taveuni. Sightseeing to waterfalls tomorrow, then move to Viani Bay for more diving
Thu Jul 16 11:36 2015 NZST
GPS: 16 43.831S 179 44.555W
Run: 137.3nm (248.5km)
Avg: 8.4knts
24hr: 200.9nm
anchored Matagi Bay. getting ready to do some dives in the 30m+ vis
Wed Jul 15 19:11 2015 NZST
Run: 70.2nm (127.1km)
Sad to say goodbye to the Lau Group but looking forward to some scuba diving around Taveeuni Island and then the supermarket and restaurants in Savusavu. Love Spencer and Janet
Mon Jul 13 0:00 2015 NZST
No position sent.
Back in cellphone range at least for a few hours as we sail past!. Heading back to Bavatu Harbour after a few island stops after we left Fulaga. Will be going to Tavanui island in a few days.
Thu Jul 9 17:51 2015 NZST
Run: 21.2nm (38.4km)
Departed Fulaga Island this morning and now anchored a Nameka. We've had an amazing time.
Tue Jun 23 15:39 2015 NZST
Run: 138.2nm (250.1km)
anchored at Fulaga Island after long sail south. Very pretty here.
Tue Jun 16 8:02 2015 NZST
GPS: 17 10.864S 179 01.337W
Run: 8.4nm (15.2km)
Anchored in the beautiful Bay of Islands in Vanua Balavu. Spent 2 days at Daliconi Village having a feast and going to church. There have been 32 yachts here as we have combined with around the world rally. have met some really interesting people. Will probably stay here for about a week as some strong winds forecast. All good on board.
Fri Jun 12 7:35 2015 NZST
Run: 9nm (16.3km)
had to move to lomulimu harbour due to beaucracy but all cleared in now. went ashore to send postcards and SIM card. thanks to all who have been leaving comments. it was good to read then. soon back ti batavu harbiur harbour an
Wed Jun 10 14:08 2015 NZST
Run: 139.9nm (253.2km)
Avg: 5.7knts
24hr: 136.5nm
Speed 0 kn because the anchor is down! YAY! Arrived Bavatu Harbour at 1130. First boat here so waiting for customs. Swimming and eating frsh tuna.
Tue Jun 9 13:33 2015 NZST
Run: 131.5nm (238km)
Avg: 5.6knts
24hr: 133.7nm
Ranganui heading due north at 5kn with following 10-15kn winds. Just seen first land since nz. Crew very excited! 122 mils to go.
Mon Jun 8 13:56 2015 NZST
Run: 102.3nm (185.2km)
Avg: 5.4knts
24hr: 129.2nm
Wind is 10kn from NW. We are heading north at about 4kn. Warm and sunny. Lasanga for dinner last night and looking forward to chocolate pudding.
Sun Jun 7 18:56 2015 NZST
Run: 153.3nm (277.5km)
Avg: 5.4knts
24hr: 129.3nm
heading north@6 in NE wind 20kn. overcast sky but getting warm. Bypassed minerva reefs last night as wanted to check in before weekend. All ok.
Sat Jun 6 14:28 2015 NZST
Run: 182.2nm (329.8km)
Avg: 7knts
24hr: 168.3nm
Speed 6kn motoring as light winds. Blue sky. Wind expected to rise and come around to the north on Monday. We are not stopping at Minerva.
Fri Jun 5 12:29 2015 NZST
Run: 163.7nm (296.3km)
Avg: 9knts
24hr: 216.9nm
Finally blue sky but not much wind so having to use the motor to keep going. Crew have started quoting the rhyme of the ancient mariner
Thu Jun 4 18:22 2015 NZST
Weather slowly improving Damaged 2 sails in storm. Crew also have a few cuts and bruises but all feeling better. Enjoying bacon and egg pie and cake.
Thu Jun 4 13:04 2015 NZST
Run: 165.8nm (300.1km)
Avg: 6.8knts
24hr: 162.3nm
Weather: wind from west
SSB only works on RX so no info except via sat phone. This position is noon Thursday
Wed Jun 3 12:33 2015 NZST
GPS: 31 48.2'S 178 00.0'E
Run: 102.4nm (185.3km)
Avg: 2.8knts
24hr: 67.2nm
Course 017t speed 6 wind 20-30 SW. Difficult part 3 days with head wind but this seems to have changed. crew says YAY!
Tue Jun 2 0:00 2015 NZST
GPS: 33 11.49'S 177 23.22'E
Run: 111.8nm (202.4km)
Avg: 10.6knts
24hr: 253.2nm
Mon Jun 1 13:24 2015 NZST
Run: 99.5nm (180.1km)
Avg: 4.2knts
24hr: 99.9nm
Course054t wind NE 1.5 kn. we can see the next front approaching so expecting wind to increase. Will then try to head north. all ok on board.
Sun May 31 13:29 2015 NZST
GPS: 34 51.01S 174 45.25E
course 005t speed kn wind 15_20kn NE all men seasick but Janet is ok, hoping for windshift soon to head to fiji. Rough last night with heavy rain
Sun May 31 13:27 2015 NZST
GPS: 34 51.01S 174 45.25E
Run: 137.8nm (249.4km)
Avg: 5.1knts
24hr: 121.8nm
Sat May 30 10:18 2015 NZST
GPS: 36 50.592S 174 46.205E
Run: 7.2nm (13km)
We r in our way! Not the best weather but we will cope!
Thu May 28 9:34 2015 NZST
GPS: 36 48.51S 174 38.82E
Planning for a Sat departure. Needing some warmth!
Fri May 22 18:33 2015 NZST
Run: 2.3nm (4.2km)
At (Hobsonville) Westpark Marina waiting for a weather window. Hopefully later this week.
Mon May 4 18:51 2015 NZST
Run: 2.3nm (4.2km)
Back in the water. One less job before Fiji!
Fri May 1 18:40 2015 NZST
Run: 2.3nm (4.2km)
on the hard for cat one inspection and antifoul
Mon Apr 27 18:12 2015 NZST
Run: 0.2nm (0.4km)
Back at home mooring after a rapid return from waiheke today with 40kn gusts
Fri Apr 24 19:18 2015 NZST
GPS: 36 46.341S 174 38.610E
about to head out for weekend
No blogs available for this yacht.
Loading map and updates ....
Loading track, please wait ....