SwiftSure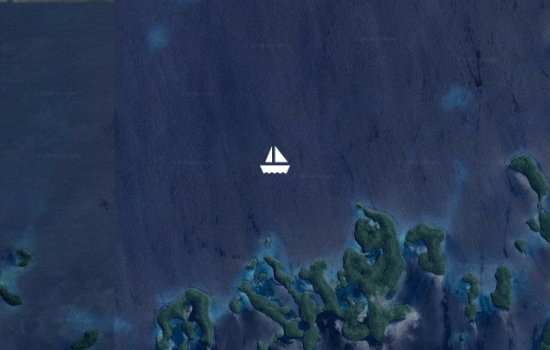 Mon Apr 20 12:53 2020 NZST
Speed:
6
knts
GPS: 07 16.877n 134 22.670e
Run: 5.4nm (9.8km)
Weather: Wind ENE 11; Sea calm inside; Clouds 15%; Bar 1011, Temp 28c; Isolated Showers,Trace rain last 24h
Heading to Malakal Harbor this morning, two hour run.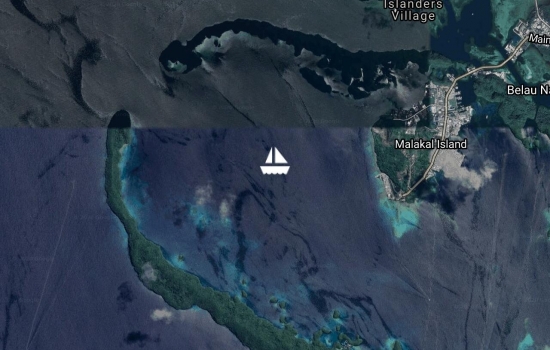 Wed Apr 15 15:55 2020 NZST
Speed:
6
knts
GPS: 07 19.774n 134 26.35e
Run: 1.1nm (2km)
Weather: Wind ESE 7.7kts, Sea calm inside the lagoon, Bar 1010, Clouds 20%, Temp warm
Full load of fuel, water, nitrox and provisions, headed to the Rock Islands. We'll be back in Koror, whenever. Enjoying this beautiful place.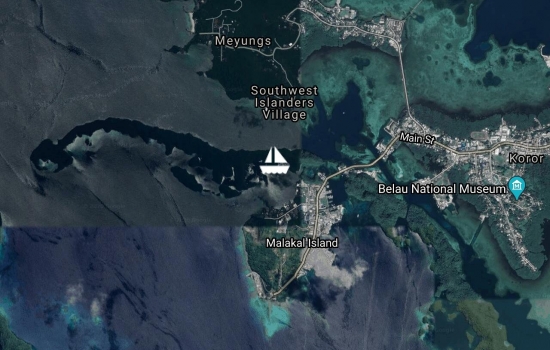 Sun Mar 22 12:21 2020 NZDT
GPS: 7 20.365n 134 27.122e
Weather: Wind 15NE, Sea outside the reef E 1.5m @7secs, Clouds 30%, Temp 82F or 28C, Bar 1010, Warm and Sunny.
Hanging here in Palau's Malakal Harbor on our RBYC mooring. It is sad to see this place shutting down. No more tourists are arriving and many in the diving and hotel industry are being laid-off. A number of foreign nationals have left on the last few flights. United will keep one weekly flight to Guam. We were planning to be here until May so no big change for us.
Provisioning is still arriving via container, we expect the stores will be overstocked for a while as restaurants/hotels scale back or shutdown.
Staying longer in Palau is not a hardship! Most every country in this part of the Pacific is not allowing yachts entry or to move around, in country. We can sail to the other islands of the group and dive in the national park. All is Well on Board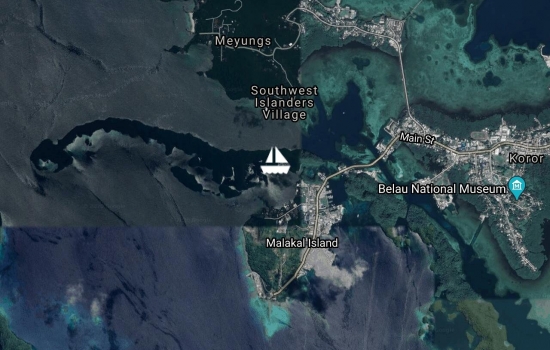 Thu Mar 12 12:45 2020 NZDT
GPS: 7 20.365n 134 27.125e
Run: 11.6nm (21km)
We are back on our RBYC mooring in Koror for a few days.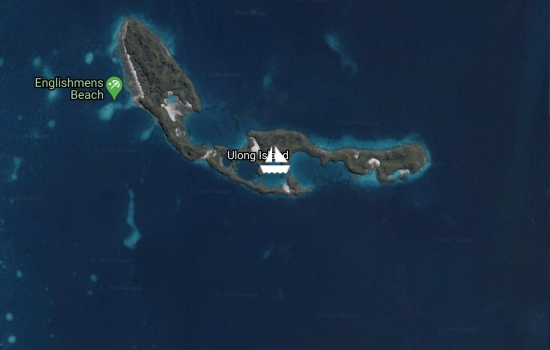 Fri Mar 6 18:21 2020 NZDT
GPS: 07 16.52n 134 17.745e
Run: 11.6nm (21km)
Just arrive in Swiftlet Bay, Ulong, Palau. Perfect deserted island marine lake, we are snuggly surrounded by green hills with only a shallow narrow opening. Swinging room for one. So shallow even Cat drivers hesitate to cross the reef entrance. ;-)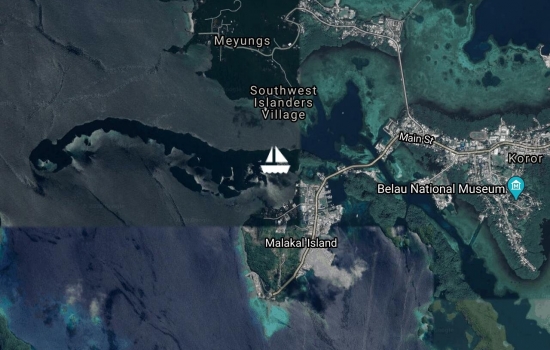 Sat Feb 8 12:03 2020 NZDT
GPS: 7 20.366n 134 27.131e
Hanging on our mooring at the Royal Belau YC. Still enjoying Palau and still receiving replacement and upgrade gear. New code 0 sail, main-sail bag, and trampolines are installed. Lithium batteries arrived yesterday, direct from China; more work! We'll head to the gorgeous Rock Islands for a few days, get in a some dive/fun time before we start the lithium install.
Sun Jan 12 12:08 2020 NZDT
GPS: 7 20.365n 134 27.136e
Weather: Wind SE 5kts, Sea outside 1m NE @ 9 sec, Bar 1006, Temp 27c, Water 26c, Clouds 20%, Trace of rain last 24h
Still enjoying Palau!

We are doing some replacements/upgrades: New Code 0, Mainsail Bag, Trampolines, Lithium Batteries and some related electrical gear. This is the last place we will have access to the US Postal System as we proceed west from here. All of Micronesia is still in the US Domestic Postal System, an odd legacy we happily enjoy. Our US internet purchases arrive in 5-7 days.
No plans to depart soon.
No blogs available for this yacht.
Loading map and updates ....
Loading track, please wait ....