Tehani-li
Sat Aug 8 9:09 2020 NZST
GPS: 06 17.48N 080 57.35W
Run: 168.2nm (304.4km)
Avg: 6.8knts
24hr: 162.1nm
Day 2... Woke up to a beautiful sun and flat seas. We are still motor sailing and trying to push as west as we can before turning south. The nights are cool and are a refreshing change from the humidity felt on the mainland. We even had some whales and dolphins wave us goodbye as we exited the Gulf of Panama. All in all a good start and with luck the sail across this huge ocean will be smooth and enjoyable.
Fri Aug 7 8:15 2020 NZST
GPS: 08 16.11N 079 31.48W
Run: 45.2nm (81.8km)
Weather: Overcast, light head winds
Day 1 of ... who knows?? We left Panama this morning under heavy clouds. How does one feel facing such a long voyage? Hard to describe; lots of mixed emotions. But like a friend the saying goes "We can only eat an elephant one bite at a time". So we are motor-sailing in light head winds and toasting to a good start.
Wed Aug 5 5:53 2020 NZST
GPS: 08 55.38N 079 31.76W
Run: 41.8nm (75.7km)
Weather: Thunder storms
Panama Canal! We made it through safely. Now anchored in Las Brisas, enjoying a drink to welcoming ourselves in the Pacific. Leaving shortly, possibly Thursday for a long trek West!
Tue Aug 4 10:12 2020 NZST
GPS: 09 22.16N 079 56.56W
Run: 0.5nm (0.9km)
Weather: Hot ?
Finally left the marina getting ready for the canal transit. Bitter sweet moment as made lots of friends!
Sat Jun 13 1:31 2020 NZST
Run: 0.4nm (0.7km)
Weather: Calm, hot, sticky
Wooooohoooo! In the marina at Shelter Bay, earlier than we thought! Happy to touch land after 14 days!!
Wed Jun 3 18:55 2020 NZST
Run: 79.6nm (144.1km)
Avg: 7.2knts
24hr: 171.9nm
Weather: Sun coming out; clouds leaving!!
Just anchored in Shelter Bay; ready for 14 days quarantine on board!

Last 12 hours; tedious with huge squalls, 25k on the nose and bouncy seas! Happy for a break!!
Wed Jun 3 7:48 2020 NZST
GPS: 10 00.67N 078 58.45W
Run: 165.3nm (299.2km)
Avg: 6.9knts
24hr: 166nm
Motoring and some motor sailing since last night. A mixed bag of conditions. Overcast skies, thunderstorms, lightening. Almost there though. Should arrive in another 12 hours or so.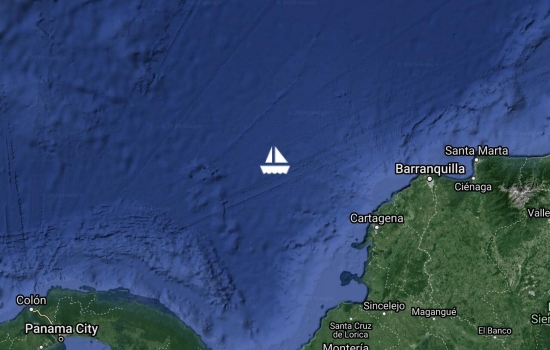 Tue Jun 2 7:54 2020 NZST
GPS: 11 02.95N 076 46.94W
Run: 149.8nm (271.1km)
Avg: 6.3knts
24hr: 152.3nm
Slow going... There has been no wind for the last 12 hours. Fortunately, seas are flat, sun is out, so it's quite enjoyable, despite the heat. In 4 knots of breeze from the East, we are raging along at 4.5 knots, with a poled headsail and a spinnaker!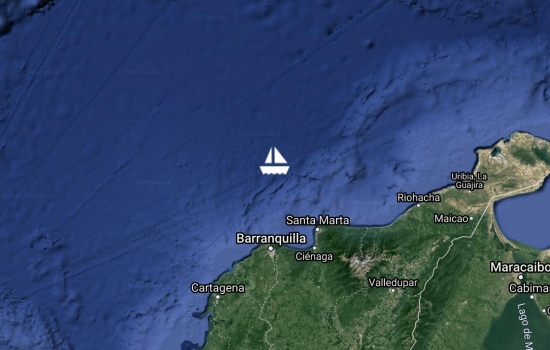 Mon Jun 1 8:18 2020 NZST
GPS: 11 55.06N 074 45.35W
Run: 157.2nm (284.5km)
Avg: 6.5knts
24hr: 156.2nm
After a grey, rainy night and morning, sun just showed up. Trades also left. We have been nicely bobbing all afternoon at 3-4 knots of speed with all sails up. Might resort to diesel soon, if we want to make it to Panama this year!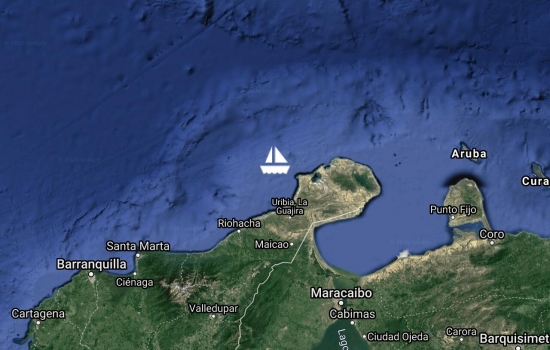 Sun May 31 8:09 2020 NZST
GPS: 12 14.67N 072 27.22w
Run: 193.7nm (350.6km)
Avg: 8.1knts
24hr: 193.7nm
Caught 2 yellow fin tunas for diner yesterday but no one was hungry as conditions were boisterous. At the moment, sailing at 7-8 knots in 15-20 ENE winds. Poled headsail and one reef in main. All good, less than 500nm to go. Sat May 30 8:09 2020 NZST
GPS: 12 13.84N 069 35.18W
Run: 50nm (90.5km)
Sailing at 7.5 knots with one reef in main and 2 in headsail. Poled out with 25knots ESE. Sunny skies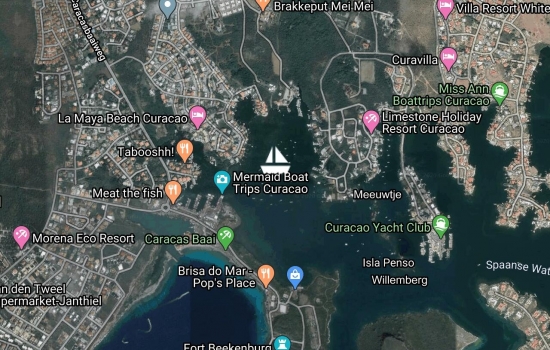 Fri May 29 2:21 2020 NZST
Run: 0.1nm (0.2km)
Weather: Sunny & dry
Leaving tomorrow for Panama!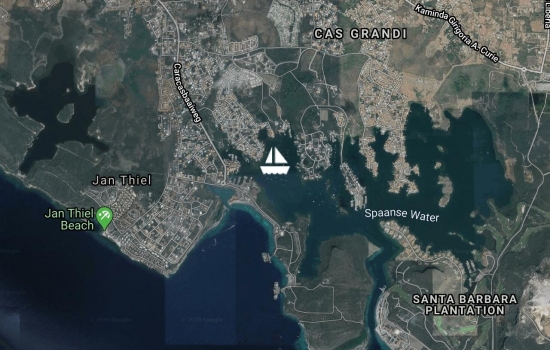 Fri Mar 13 21:16 2020 NZDT
Run: 39.6nm (71.7km)
A beautiful spinnaker run from Bonaire to Curaçao!

Now anchored in calm Spanish Waters!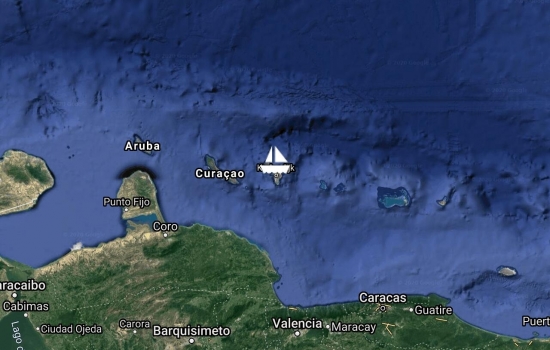 Tue Mar 10 0:30 2020 NZDT
GPS: 12 09.12N 068 16.83W
Run: 111.5nm (201.8km)
Avg: 7.2knts
24hr: 173.8nm
Weather: Glorious
Picked up mooring in the absoluteclear waters of Bonaire!!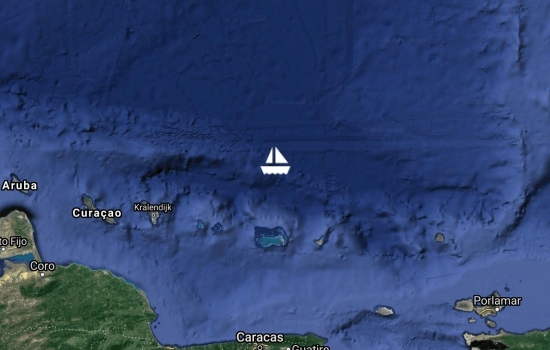 Mon Mar 9 9:06 2020 NZDT
GPS: 12 38.10N 066 42.27W
Run: 174.8nm (316.4km)
Avg: 7.5knts
24hr: 180.1nm
Beautiful sailing in calm weather; flat seas, 10-12 knots of ESE winds. Poled out genoa with spinnaker. Under a 100NM to go... Bonaire tomorrow morning!!
Sun Mar 8 9:48 2020 NZDT
GPS: 13 24.28N 064 13.93W
Run: 188.7nm (341.5km)
Avg: 8knts
24hr: 193.1nm
Sailing on a rolly sea with full sails under a lovely sun. 252NM to go to Bonaire Sat Mar 7 10:21 2020 NZDT
GPS: 14 25.21N 061 37.27W
Run: 38.9nm (70.4km)
On the road again... After about 3 hours to get out of the shadow of Martinique we are now sSiling west at 8 knots towards Bonaire with reefed main and full jib. 413nm to go!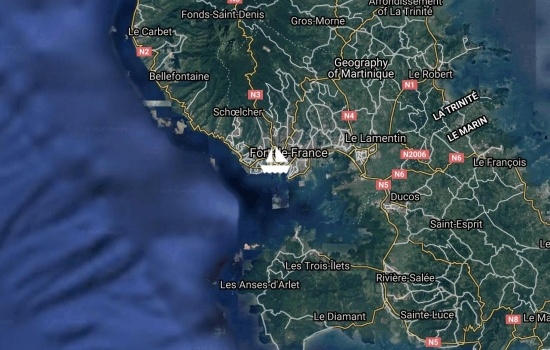 Fri Mar 6 6:53 2020 NZDT
Run: 273.5nm (495km)
Weather: Lovely
Getting ready to move west again...

Bonaire, here we come!!
No blogs available for this yacht.
Loading map and updates ....
Loading track, please wait ....