Double Bubble
Tue Feb 25 15:44 2020 NZDT
GPS: 27 16.150S 153 30.920E
Run: 7.5nm (13.6km)
Weather: Drizzly - 29 deg, 10 kn ESE 1009 baro
Have had a great, past few days, with get togethers & a long walk along the beach, through what appears to be a Stingray, Shovel nosed Skate & puffer fish nursery! It's not a particularly comfortable anchorage at Sandhills in a Southerly so we have left our friends & come over to Raby Bay (not a very nice trip, I should add) to collect a new thermostat for the fridge (which of course now appears to be working just fine)! It's exactly 1 year ago today that we first met Alcatraz on the slip in Adelaide.
Sat Feb 22 12:56 2020 NZDT
GPS: 27 17.478S 153 23.759E
Run: 21.1nm (38.2km)
Weather: Partly cloudy - 28 deg 10 kn ESE 1014 baro
After having all met up on Alcatraz on the 19th for a bbq & excellent lightning show, we had a day of chill waiting for the weather to mosey on down to Tangalooma Sth for my birthday & after a bit of a lumpy trip we had an excellent afternoon - evening onboard Double Bubble & a fab day had by all. We have now up anchored & moved further down to Sand Hills as a bit too tidal & swelly where we were.
Wed Feb 19 13:48 2020 NZDT
GPS: 27 04.509S 153 09.271E
Run: 10.1nm (18.3km)
Weather: Cloudy - 33 deg, 18 kn N 1002 baro
Departed Newport @ 7.30 arrived at Bongaree, Bribie Island 10.30 w/ Tramp II, waiting on Alcatraz to join us. Tangalooma, Moreton Island is an easterly anchorage and with the current northerly no good for today, so will chill out here & enjoy the peace.
Mon Feb 17 20:49 2020 NZDT
GPS: 27 12.628S 153 05.623E
Run: 19.4nm (35.1km)
Weather: Sunny -29 deg, 20 kn SE 1006 baro
We have accomplished quite a bit in the last few days as planned, with Skipper completely re-doing the companion way (think hallway into Saloon) something we've wanted for a very long time & had hoped to achieve at The Boatworks! Been great having "the Tramps" within co-eee & catching up w/ Gypsy Lover John once again allowing us both the use of his car, very kind. We are now prepping/re-loading our vessels ready for departure on Wed to Tangalooma to meet up w/ "the Thieves" ergo Alcatraz ready to celebrate my birthday swimming & snorkelling w/ the turtles and having some very much needed rest & relaxation, yay!
Sat Feb 15 12:48 2020 NZDT
GPS: 27 17.478S 153 23.759E
Run: 19.4nm (35.1km)
Weather: Partly cloudy - 28 deg 10 kn ESE
Having all met up on Alcatraz on the 19th with bbq & incredible lightning show across the skies we all had a day of chill waiting for weather to move on down to Tangalooma Sth for my birthday & after a bumby trip there, we all enjoyed an excellent afternoon/evening & a great night had by all, cheers!
Wed Feb 12 12:13 2020 NZDT
GPS: 27 12.628S 153 05.623E
Run: 28nm (50.7km)
Weather: Overcast - 25 deg, 12 kn NE 1001 baro
Had a great night onboard Alcatraz Sunday, with return dinner Monday night on Double Bubble & a great catch up. With the approaching Cyclone we decided Tuesday to mosey on up to Newport marina & finalise some jobs onboard & catch up with the "Tramps", we were greeted by Mandy & Paul, Ali & Sol & John who helped tie up as the skipper skillfully got pulled into last spot in the marina between to commercial whale watching vessels. We all went over to the BBQ area for drinks & a gasbag & a great evening.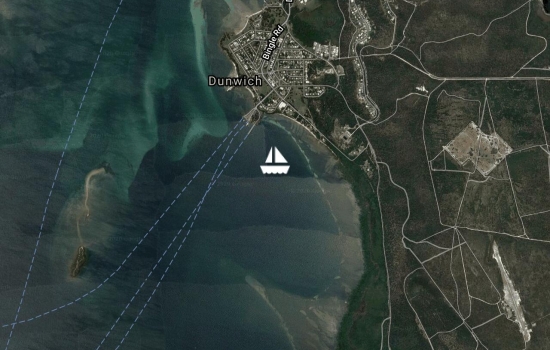 Sun Feb 9 16:00 2020 NZDT
GPS: 27 30.500S 153 24.240E
Run: 11.8nm (21.4km)
Weather: Overcast, drizzly 27 deg 15kn SSE
After travelling on through Moreton bay we are now anchored at Dunwich and just seen the arrival of Alcatraz to join us for a long overdue catch up. It was the 18th Aug, (Ali's bday Tramp II) last we've seen them. Just need the rain to stop for dinghy ride over!
Sat Feb 8 17:18 2020 NZDT
GPS: 27 40.518S 153 21.953E
Run: 13.6nm (24.6km)
Weather: Wet, rainy, 25 deg 3.8kn ESE 1004 baro
After saying our goodbyes to all at the yard we have finally departed from Coomera & travelled 20 nm upstream towards Moreton Bay having to anchor for the night due to non stop rain & poor visibility. There is so much rubbish, logs, branches etc floating along that we would prefer not to hit & take out a prop!! At last we're free!
Fri Feb 7 18:39 2020 NZDT
GPS: 27 52.257S 153 20.127E
Weather: Cloudy - 31 deg, 12kn SE 1007 baro
Well woo hoo & "whoopty doo" finally ready to leave in the morning, 102 days later! 1st little man did a fab job on welding our gooseneck unfortunately welds brought tangs in too tight so had to find 2nd little man to adjust "uni joint", took all week! Now painted, greased, in place & working, with mainsail rolled up on boom & boom bag & lazyjacks in place. Massive weather system with lots of rain passing overhead & NO leaky windows - hooray! So we will depart back down the Coomera river & start making our way up north through The Broadwater to join up 1st with Alcatraz & then the "Tramps" yay.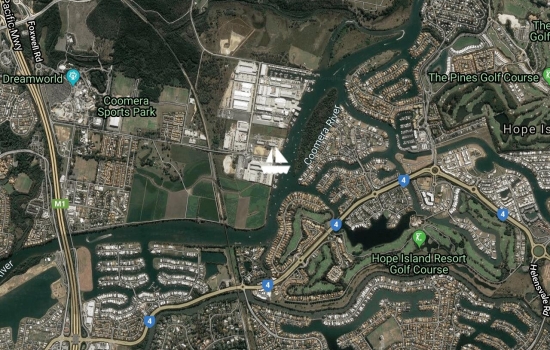 Fri Jan 31 20:00 2020 NZDT
GPS: 27 52.257S 153 20.127E
Weather: Partly cloudy - 28 deg 3kn 1011 baro
All went according to plan, 25 mins from lift in the shed to drop in the water, hang around for crane at midday with Col - Quinrig doing an awesome job stepping mast in 35 mins & all new rigging & furler attached by 3pm in stinking hot temperature, then we uncovered a problem! Luckily (& I use the term loosely) we discovered 2 cracks in the gooseneck in the boom furler which connects to the mast (think universal joint). Imagine sail up, under load, & it breaks, it could've have taken off your head or smashed in the cockpit roof so have spent all day trying to come up with a solution, find a replacement part which are long since discontinued or find a little man to fix it, weld cast iron!! so we think we may have had a win, stay tuned!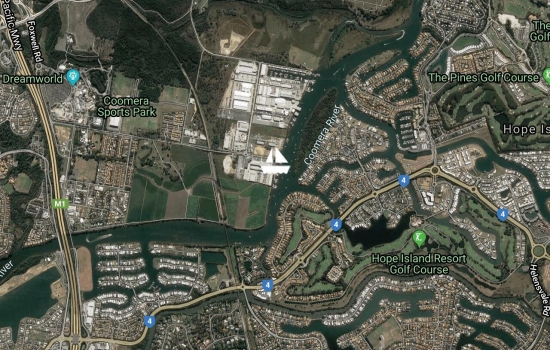 Wed Jan 29 3:13 2020 NZDT
GPS: 27 52.257S 153 20.127E
Weather: Dark, 25 deg, 84% deg humidity, 1008 baro
Well that's it folks, we're done, 7.30am in the drink, 12pm for mast, let there be no kibosh on it! Michelle has come down bringing her awesome curry, to feed us & to assist with the stepping of the mast. The boom & furler being lifted this morning with the help of Jess & his mates, thank you. We had a great catch up with Liberty II, Darren & Tracey over the weekend & met up with Bruce from Astrid who we met through mutual friends on Australia day in Adelaide exactly 1 year ago to the day, amazing things happen!! Here's hoping we're floating..ha!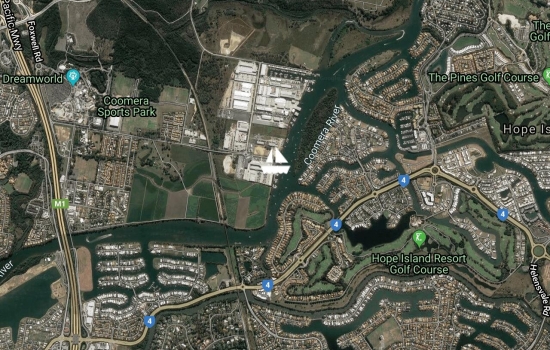 Thu Jan 23 22:22 2020 NZDT
GPS: 27 52.257S 153 20.127E
Weather: Dark, 26 deg, 5kn
Had a lovely visit with Pa albeit too hot for him in the end with temp 28% & 84% humidity @ 21.31pm. We also had a return visit from 2nd cousin Kelly & a nice reprieve from work. The new trampoline is finished (my fingers will never recover I'm sure) & the final bastion on a slip has been reached with primer, tie coat & antifoul finished, props & anodes in place, all she needs now is propspeed painted on & we're good to go. The new furler has arrived & Col & Rod spent the day putting that together & connecting up all the stays "for deployment" when the mast goes in. Due to the long weekend it currently looks like Wed next week we finally get back in the water & the mast to go in an hour later, here's hoping!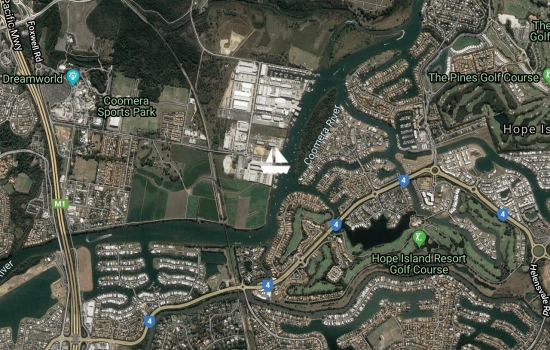 Fri Jan 17 0:08 2020 NZDT
GPS: 27 52.257S 153 20.127E
Weather: Dark, 24 deg, 0kn 1003 baro
Hallelujah, our girl is finally painted with non skid on deck (13th) so off to Tweed Heads for the night to see Aunty Eva & her kin, lovely, lovely people & a great night was had in NSW! So back to the boat in the morning to unwrap our girl which took all day, celebrating with champagne & bubble bath under the boat. We are now having our windows coved & setting up for our new trampoline, with our rigger Col- Quinrig ( our friend coming to set up the 29yr old Profurl thankfully discovering furler ready to die in months (which it seems parts are no longer able to be replaced) ergo $3600 for new furler! On a good note however I drove back to NSW today & collected Pa from the Coolangatta airport & he will be staying with us for a few days!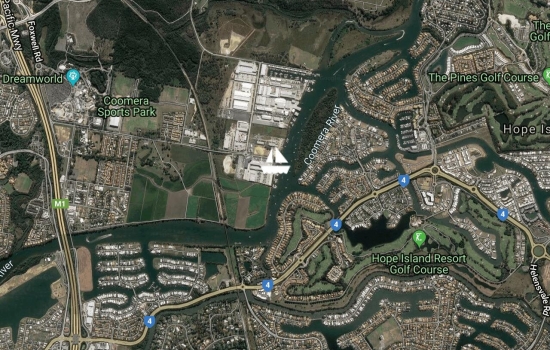 Mon Jan 13 1:30 2020 NZDT
GPS: 27 52.257S 153 20.127E
Weather: Warm, 24 deg 0kn 1008 baro
After 68 days in the shed we've reached the summit, Double Bubble has been hand sanded, hand washed, the shed cleared & hosed out & DB wrapped AGAIN & for the final time (locked in, with no hatch access, getting good at this).We are prepped & ready for the non skid paint to be sprayed on, assuming there's no rain in the morning (too much moisture in the air makes the paint de-laminate).! So with a bit of luck Aunty here we come for an overnight visit. Oh and apparently, red, is oh so nineties!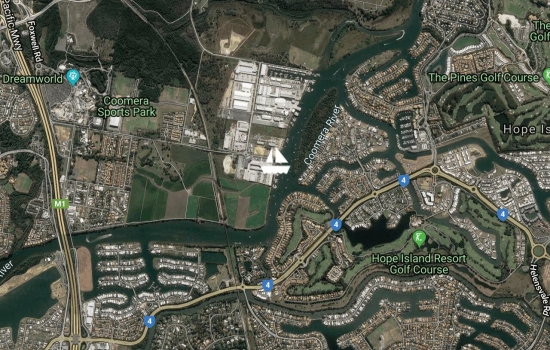 Wed Jan 8 11:01 2020 NZDT
GPS: 27 52.257S 153 20.127E
Weather: Overcast - 29 deg 0kn 1008 baro
Monday saw the return of the Boatworks tradies & opening of The Galley for food & ice from Christmas break, much has been achieved. The hull has been sanded & wet rubbed ready for a few fills, primer & prep coat for different (warm water temperature) antifoul. Masking up of the boat has nearly been completed, working out the rounds & lay of non skid is time consuming & complicated. Lifelines are tied on & ferrules covered with amalgamating tape. The dolphin striker timbers are now coated (4) in DWD as is the repairs to winch & block bases (when you remove masking tape sometimes the coatings are damaged). So we wait now for Choice Stainless to measure & whip up inner railings for new trampoline hopefully today.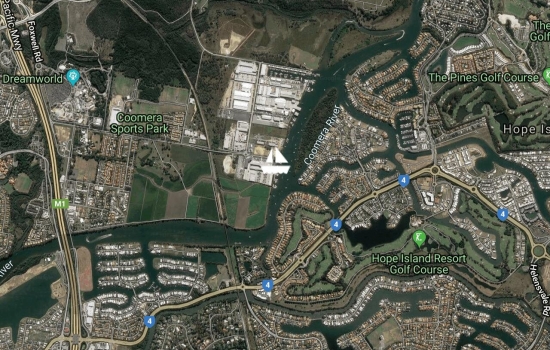 Wed Jan 1 19:06 2020 NZDT
GPS: 27 52.257S 153 20.127E
Weather: Cloudy - 31 deg, 0kn 1008
Well Happy New Year all, after approximately $1200 worth of Fixtech's been used the windows are now finally in & absolute huge thank you to Ally & Sol aka "The Tramps" for arriving in time as our spirits were waning & helping us to get them completed, as well as the deck & window hatches, painted. As usual we have had a couple of great days/nights together, & lots of fun & fireworks were had last night. Next we move onto antifoul whilst windows set for 7-10 days, pre having final coving applied.
No blogs available for this yacht.
Loading map and updates ....
Loading track, please wait ....